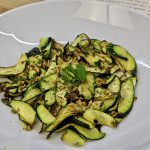 Concia di Zucchine - Marinated Zucchini
Ingredients
1 1/2

lbs.

Zucchini

2-3

Garlic cloves

finely chopped

Basil or mint

few sprigs finely chopped

4

Tbls.

Wine vinegar

Extra virgin olive oil

Salt and Pepper to taste
Instructions
Trim ends of zucchini and cut in thin slices diagonally.

Fry in batches in olive oil until browned all over. Lift out and drain.

Fry garlic. Lay onto layers of zucchini slices, sprinkling each layer with drained, fried garlic and basil/mint.

Leave to marinate a few hours before serving cold.