Fava Bean Fritters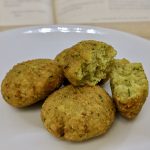 Falafel
Soak and rest time
1
day
1
hour
Ingredients
1

lb.

Dried fava beans

large and skinless

1

Cup

Flat leafed parsley or cilantro

or a mixture of the two

8

Scallions

chopped

1/4

tsp.

Cayenne or red chili powder

2

tsp.

Cumin

2

tsp.

Coriander

6

Garlic cloves

crushed

1

tsp.

Baking powder

Oil

for frying

Salt
Instructions
Soak beans for 24 hours. Drain, rinse, and drain well. Pat dry.

Pat herbs dry. Chop with scallions in food processor and set aside. Place beans in food processor and blend to a smooth, soft paste.

Add salt, cayenne pepper, cumin, coriander, garlic, baking powder, and continue to process until paste is very soft and holds well together.

Add herb/scallion mixture and blend briefly - just enough to mix them together. Rest paste for 1 hour.

Heat 1 inch of oil in a pan to medium-hot. Make walnut-sized lumps and make round flat cakes about 1 1/2 inches in diameter and deep-fry a few at a time.

The oil should be hot enough to start with a sizzle as the falafel go in - reduce heat to low.

Fry until golden brown, turning over once. Lift out and drain.