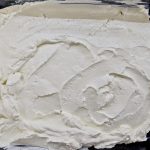 Gebna Beida Keso Blanco - White Cheese
Ingredients
10

Cups

Milk

1/2 - 1

tsp.

Salt

or to taste

1

Tbls.

Buttermilk

Rennet
Instructions
Heat milk to lukewarm only. In a bowl, beat 1 tablespoon of buttermilk and pour into milk, stirring well. Leave for 90 minutes in warm place, covered with a cloth.

Count 20 drops of rennet and dilute in 10 times its volume of water that has been boiled and cooled (or follow instructions on bottle).

Stir into warm milk and let stand again for 60 minutes in warm area, until it sets.

Cut the curd with spatula, After 30 minutes, tip into a colander lined with thin cheesecloth and let drain for at least 60 minutes.

Turn soft cheese out of cloth straight into the clander and leave to drain in a bowl in the fridge for 12-24 hours.

After 2 - 3 days, the cheese becomes firm, almost like a soft mozzarella.