Little Meat Triangles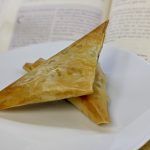 Les Fila à la Viande
Ingredients
1/2

lb.

Filo pastry

1

Egg yolk

Oil

1

Onion

chopped

2

Tbsp.

Oil

1

tsp.

Cinnamon

1/2

tsp.

Allspice

2

Tbsp.

Pine nuts

lightly toasted

Salt and pepper
Instructions
Fry onion till golden. Add meat and fry until it changes color. Season with salt, pepper, cinnamon, and allspice. Stir in pine nuts

Cut sheets of filo into 4 rectangles, 12x4 inches and pile them on top of each other.

Brush top strip lightly with melted butter or oil, take a heaping teaspoon of filling, place at one short end of strip about 1 1/4 inches from edge, and fold end over filling.

Pick up a corner and lift it up with filling, folding diagonally, making a triangle. Continue to fold, picking up one corner after another until whole strip has been folded into a triangular package.

Place packages close to each on greased baking sheet and brush tops with oil, melted butter, or egg yolk wash.

Bake at 350°F (180°C) for 30 minutes or until golden and crisp.