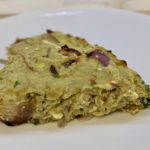 Marcoude aux Aubergines
Ingredients
2 1/2

lbs.

Eggplants

1

lb.

Onions

5

Tbsp.

Oil

4

Garlic cloves

crushed

6

Eggs

3/4

Cup

Flat leafed parsley

coarsley chopped

1

tsp.

Caraway seed

grounded

1/2

tsp.

Ground coriander

1

Lemon

cut in wedges

Salt and pepper
Instructions
Poke holes all over eggplant and roast under broiler for 30 minutes or until tender. Peel eggplant and press eggplant through colander to remove as much juices as possible.

Fry onions until very soft and golden. Add garlic and cook until lightly colored.

Beat eggs lightly in bowl. Add mashed eggplants, fried onions and garlic, parsley, carway, coriander, salt, and pepper and mix well.

Heat oil in nonstick pan. Pour mixture in and cook covered over very low heat for about 10 minutes, until bottom sets.

Put pan under broiler and cook until top sets firm, lightly browned. Serve hot with lemon wedges.