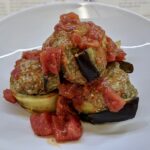 Rulos de Berengena
Eggplant Rolls Stuffed with Meat
Ingredients
2

lbs.

Eggplant

2

lbs.

Tomatoes

peeled and chopped

1-2

tsp.

Sugar

3

Tbsp.

Flat leafed parsley

chopped

1

Onion

finely chopped

2

Slices

Bread

soaked in water

12

oz.

Ground beef

1/2

tsp.

Allspice

Oil

Salt and pepper
Instructions
Peel eggplants, slice them lengthwise about 1/3 inch thick. Sprinkle with salt and leave for 1 hour to drain.

Place tomatoes in a pan with salt, sugar, pepper, and simmer for 20 minutes.

Place parsley, onion, ground meat, salt, pepper, allspice, and soaked bread squeezed dry in a food processor and blend to a soft paste.

Rinse eggplant and pat dry. Fry briefly in very hot oil until just browned, turning once. Drain on paper towels.

Take walnut sized lumps of meat paste and roll into balls.

Wrap a slice of eggplant around each ball. Hold together with a toothpick pierced right through the roll.

Carefully place rolls into tomato sauce and simmer for about 25 minutes.