Creamy Cheese Flan with Filo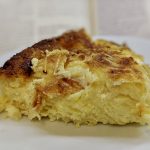 Boghatcha
Creamy Cheese Flan with Filo
Ingredients
1

lb.

Feta

mashed

3/4

lb.

Gruyère

grated

1/2

cup

Parmesan or kashkaval cheese

6

Eggs

1/2

lb.

Filo

about 7-8 sheets

3

tbsp.

Butter

melted

2 1/2

cups

Milk
Instructions
Mix feta, Gruyère, and about 3/4 of the parmesan or kashkaval cheese with 2 of the eggs.

Open sheets of filo, leaving them in a pile. Brush the top with melted butter and put a line of filling about 1 inch thick along one long side. Roll up, making a long thin roll.

Fold ends about halfway to stop filling from oozing out. Crease roll like an accordion by pushing ends towards center with both hands.

Place in the middle of a round baking dish about 12 inches in diameter, curving it like a snail.

Do the same with the other sheets and place rolls end to end to form a long coil like snake.

Lightly beat remaining eggs with milk and cover cheese filled coil.

Sprinkle with remaining kashkaval or parmesan and bake at 350°F (180°C) for about one hour or until cream is absorbed and set and the top of pastry is brown.