The Book of Jewish Food: An Odyssey from Samarkand to New York
by: Claudi Roden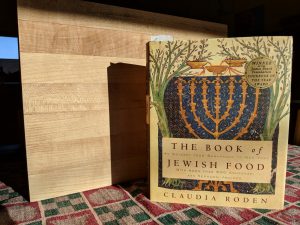 The Start Of Our Collection
Gary and I received this cookbook as a wedding gift six years ago. I had made a couple of its enclosed recipes but largely felt uncomfortable with its unfamiliar tastes and ingredients. While we have had a mild end of year Santa Fe, it still is winter, and this cookbook seemed like a perfect start for Made In Marrow with its stock-based recipes and winter fruits and vegetables. Gary's exposure to Jewish food is limited, and mine is largely due to a wonderful Jewish family that I grew up with in Southern California. While in elementary school, my family and I got to share several Hanukkahs with their family, as well as attend both of their daughters' Bat Mitzvahs. Gary and I also recently attended a beautiful Catholic/Jewish wedding, which mixed traditions from both, Gary being very familiar with the Catholic observances, coming from a Catholic family himself.
So what better cookbook to start off Made In Marrow, than the appropriate to the season and mildly foreign piece of literature: The Book of Jewish Food by Claudia Roden! Gary and I try to follow the seasons via fruits and vegetables, which the cabbage and green apple-based recipes of The Book of Jewish Food allow us to do. We also try to minimize waste and use as much of each ingredient as possible, so if old bones and vegetable peels can go into the next stock, they do (or they make a fancy little feast for our dog, Oliver). We typically tackle meals on a Sunday evening, which allows us to savor the leftovers and mull over our blog postings for the upcoming week.
"There is really no such thing as Jewish food. What is familiar here as Jewish food is totally unknown to the Jews of Egypt, Morocco, and India. Local regional food becomes Jewish when it travels with Jews to new homelands". -Claudia Roden
Claudia Roden – Writer & Anthropologist
Claudia Roden does an excellent job of mixing historical backgrounds with tried and true recipes making for a page-turner of a guide to Jewish food. Claudia Roden is not only a cookbook writer but also a cultural anthropologist who was born in Cairo, Egypt. Having written more than 15 cookbooks, she has traveled the world, working as a food writer and presenter for the BBC. The Book of Jewish Food has been awarded the prestigious James Beard Award for Cookbook of the Year, which is among the food's industry's highest honor.
Growing up in an Egypt being pulled both towards the Middle East and Europe, Roden demonstrates her love for Jewish food via recipes from family and friends. When asked to define Jewish food, Roden states, "There is really no such thing as Jewish food. What is familiar here as Jewish food is totally unknown to the Jews of Egypt, Morocco, and India. Local regional food becomes Jewish when it travels with Jews to new homelands". I think this is a perfect descriptor of all cultures with regards to the foods that they hold dear and near to their hearts. It is a pattern of cooking and use of ingredients that is practiced over generations. These are shared amongst families with tradition and habit becoming ingrained into daily routines, creating a rich tapestry which eventually defines a grouping of people with similar beliefs. Each ingredient depicts a step in migration to other countries, a way of life that allowed for survival, and a translation of love across eras. Judaism and the Jews have a rich history that extends across centuries and countries as their food is rooted in long-held family traditions and revered High Holidays.
When executing the recipes, we tried to stick as close to Roden's instruction as possible. However, there were a few instances in which ingredients could not be found, and required a substitute (not surprisingly, Gefilte fish proved difficult to make in the Southwestern desert) and we did not always abide by kosher cookery (Gary found our jar of pork fat too hard to resist when adding fat to several recipes). Each recipe is deeply rooted in history, which each blog post will reflect, sharing our research on the meal as well as Roden's insights in its roots. We apologize for our not-so-occasional lack of authenticity, as it by no means is meant to besmirch Roden or Jewish food itself, sometimes we could not prevent our culinary passion from putting its own spin on our Sunday spread.
Ashkenazi and Sephardi
The book is broken down into two major sections, Ashkenazi and Sephardi, which are two branches of the Jewish people. Ashkenazi refers to the Jews who originated in Western and Eastern Europe and Russia. The Sephardi section signifies Jews rooted in the Mediterranean, Middle East, and Asia. The Ashkenazi branch is the food to which Gary and I are most familiar (both having eaten and being culturally exposed to) and (conveniently) the section in which we have begun. When starting with these first recipes, I could not help but think of Teyve loading up his horse-drawn cart to the tune of "Tradition" at the beginning of Fiddler on the Roof because who does not love a good musical? The cabbage and stock heavy dishes not only leant to a comforting winter for Gary and me but also eased us into foods with which we were unfamiliar.
We hope you enjoy her recipes as much as we have – we continue to learn so much about the favored flavors of Jewish food, and cannot wait to share them all with you. We also hope that they become apart of your lives as much as they have become apart of our own, because what is more important in this world than TRADITION, of course!