Savory Bracelets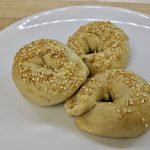 Kahk
Resting time
1
hour
50
minutes
Ingredients
1

Tbsp.

Dry yeast

1/2

Cup

Warm water

1

Pinch

Sugar

3 1/3

Cups

Bread flour

1

tsp.

Salt

1 1/2

tsp.

Cumin

1

tsp.

Ground coriander

6

oz.

Margarine

1

Tbsp.

Oil

1

Egg

lightly beaten

5

Tbsp.

Sesame seeds
Instructions
Put yeast in a bowl with half of the water, a pinch of sugar, and 2 tablespoons of flour and beat vigorously. Leave until it froths.

Put remaining flour in a large bowl and mix salt, cumin, and coriander. Add margarine, oil, and work into flour with your hands.

Add yeat mixture and remaining water, just enough to make dough that sticks together in a ball. Knead for 10 minutes.

Pour 1/2 tablespoon of oil in bowl and roll dough around to grease it all over.

Cover bowl with plastic wrap and leave for 1.5 hours or until doubled in bulk.

Punch down. Take lumps smaller than a walnut and roll between your palms into long, thin rolls 4 inches long and 1/3 inches thick.

Make little bracelets by bringing end together and pinching together. Brush tops with beaten egg and dip top side down into a bowl of sesame seeds.

Arrange bracelets a little apart from each other on baking sheets with parchment paper.

Let rise for 20 minutes. Bake in preheated 375°F (190°C) oven for 30 minutes, then lower heat to 225°F (100°C) for another 15-20 minutes.