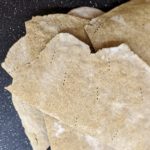 Matzah
Unleavenedd Passover Bread
Instructions
Mix and knead dough for at least 5 minutes - no longer sticky and can be rolled out.

Take lumps the size of a walnut and roll out as thin as possible, then prick all over with a fork.

Transfer to heated baking sheets and bake at 475°F (245°C) for about 6-8 minutes, or until vaguely golden.