Moroccan Meat "Cigars"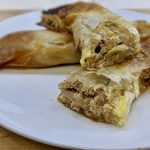 Cigares à la Viande
Ingredients
2

Onions

chopped

3-4

tbsp.

Oil

1

lb.

Ground beef

1 1/2

tsp.

Cinnamon

1/2 - 3/4

tsp.

Ginger

powdered

1/4

tsp.

Nutmeg

1

pinch

Cayenne

1/2-1

Lemon

juiced

4

tbsp.

Flat leafed parsley

finely chopped

1/2

lb.

Filo

about 8 sheets

Salt and pepper
Instructions
Fry onions until soft. Add meat and stir, crushing with fork until it changes color.

Season with salt, pepper, cinnamon, ginger, nutmeg, cayenne, and lemon juice.

Stir well and add 1 cup of water. Cover and cook for 30 minutes. Remove lid and cook until water has evaporated.

Blend to a soft paste and add flat leafed parsley.

Cut each sheet of filo into 4 rectangles about 13x4 inches and pile pieces on top of each other. Brush top strip lightly with oil.

Take lump of meat smaller than a walnut and press into a sausage shape in hand. Place along short end of strip of fil about 1 inch from edge.

Roll up like a cigarette, turning ends in about a third of the way to trap filling. Continue to roll the rest.

Brush tops with oil and bake at 325°F (160°C) for about 30 minutes or until crisp and golden.