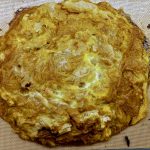 Bulemas Dulses de Balabak - Filo Coils with Sweet Pumpkin Filling
Ingredients
2

lb.

Pumpkin

1/2

Cup

Sugar

to taste

4

Eggs

lightly beaten

1

tsp.

Cinnamon

4

Sheets

Filo
Instructions
Peel and remove seeds and fibrous bits of pumpkin. Steam with 1/2 cup of water, lid on, for 20 minutes or until soft.

Drain, chop, and mash in a colander. Leave for 10 minutes to drain and press out as much fluid as possible.

Dry pulp further by turning it back into the pan and stirring on low heat. Let cool and mix the rest of the ingredients.

Cut sheets of filo into 2 rectangles, 12x10 and pile them one on top of another. Brush each strip lightly with oil or melted butter. Put a lie of filling, 3-4 tablespoons along one side, about 1 inch from the edge and the 2 shorter ends. Very carefully, lift and fold over filling and roll into a long, thin roll, folding sides about halfway to trap the filling.

Crease the roll like an accordion first before coiling the roll so that it doesn't tear. Hold roll with both hands and very gently push from the ends towards the center. Curve roll very gently in the shape of a snail and lift onto a greased baking sheet. Repeat with the other rolls.

Place all the coils close to each other on the tray and brush tops with oil or melted butter or with egg yolk mixed with a drop of water. Bake at 350°F (180°C) for 30-40 minutes or until crisp and golden.