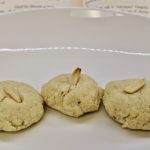 Macaroons
Passover and Purim specialty.
Ingredients
2

Cups

Ground almonds

3/4

Cup

Sugar

2-3

Drops

Almond or vanilla extract

1

Egg white
Instructions
Mix ground almonds with sugar and extract.

Add egg white and work mixture very well with hands, kneading vigorously until almonds exude their oil and hold together in a stiff paste.

Take lumps the size of small walnuts, shape into round flat circles, and place on wax paper on baking sheet.

Bake very briefly in preheated 425°F (220°C) oven for 8-10 minutes, until slightly colored. They will be very soft but will harden as they cool.

Leave firm before detaching from baking sheet.