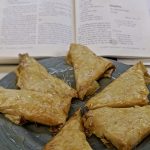 Sansaticos - Nut Filled Filo Triangles in Syrup
Total Time
1
hour
10
minutes
Ingredients
1

lb.

Filo

5

oz.

Butter

melted
For Syrup
1 1/4

Cups

Sugar

2/3

Cup

Water

1

Tbls.

Lemon juice

3

Tbls.

Honey

1 / -

Tbls.

Rose water
Filling 1
3

Cups

Walnuts

coarsely ground

1

Cup

Sugar

1 - 1 1/2

Tbls.

Cinnamon

1

Orange

zested
Filling 2
3

Cups

Hazelnuts

coarsely ground

1

Cup

Sugar

2

Oranges

zested
Filling 3
3

Cups

Blanched almonds or pistachios

coarsely ground

1

Cup

Sugar

1

Tbls.

Orange-blossom water

1

Tbls.

Rose water
Instructions
Syrup: boil sugar and water with lemon juice for 10 minutes or until thick enough to coat a spoon, then add honey and rose water and cook for another minute.

Prepare of the fillings listed, mixing all the ingrediants together.

Take sheets of filo and using scissors, cut in half along the width to have rectangles approxmiately 14 x 9 inches and put them in 1 pile.

Brush top sheet lightly with melted butter and fold in half, bringing the long sides of the strip together, making a strip about 4 inches wide.

Brush the strip with butter and put a heaping tablespoon of one of the fillings at one short end, about 1 1/4 inches from the edge.

Fold edge over the filling, then fold diagonally again and again, wrapping filling in a triangular pagackage.

Repeat with the rest of the sheets and filling, putting each triangular package on a greased baking sheet.

Brush top swith melted butter and bake in preheated 350°F (180°C) oven for 30 minutes or until crisp and golden.

Dip each pastry into cold syrup, leaving them for a minute or two. Lifte them out and serve hot or cold.