Just want the recipes and none of that other wordy nonsense? Click the links below!
Meal the Twenty-sixth
We had some interesting recipes this week, one of which with we were already fairly familiar. I make some sort of fish dish once per week – this is just our habit for no special reason. I love fish, and so does my family, so it made sense that a fennel fish recipe which we ate quite often together kept me well fed through university to today. When Gary and I first started dating, I would make this dish for him, as it was apart of my weekly repertoire: fennel fish with couscous and peas. But what was the perfect amount of food for me was also the equivalent to an appetizer for Gary, so he often ate "second dinner" after our first dinner together. We still enjoy this recipe and today's "Fish in Sour Cream" tastes almost exactly like my fennel fish, so sufficed to say, we quite enjoyed it. Read on for familiar and unfamiliar recipes in this week's blog!
We have two bread recipes left to go in the Ashkenazi portion of The Book of Jewish Food, and I was more than happy to be back in the kitchen baking bread. I'm not sure why I love baking bread so much, whether it is the magic of the rise, the wonderful smell, or the feeling of achievement when you take beautifully browned loaves out of the oven, but whatever it is, I truly love it. I had never made rye bread before, and it had been a long time since Gary and I had eaten it, so we were both looking forward to the end result.
Rye bread is made with various proportions of different flours made from rye grain. It is typically denser and higher in fiber than white bread and much stronger in flavor. It is thought that the Saxons and Danes in Britain introduced rye bread in about 500 AD, which later became a staple during the Middle Ages. Depending on what region of the world you are in, different rye breads contain different seeds, with the most common being caraway seed. In the United States, caraway seeds are what gives rye bread its distinctive anise-like flavor, which was definitely true of this recipe.
The bread was started the night before, to allow for an extra-long-yeasty-rise time. Yeast and honey were dissolved in warm water and allowed to froth while white bread flour, rye flour, salt, sugar, and caraway seeds were mixed together. The proofed yeast mixture was then added along with a bottle of honey lager, which made the kitchen smell wonderful. Our handy-dandy KitchenAid took care of the 15 minute knead time, after which the bread was allowed to rise overnight. The next day, the dough was punched down and divided, to make two oblong loaves. These baked at 375 degrees for an hour with a pan of water underneath to provide a more crunchy crust and moist center. The bread came out dense and dark and chewy, with a slightly sweet taste from the honey and beer. It was an excellent pairing with this week's meal, and even made for a great pastrami sandwich later in the week!
This soup is actually supposed to contain sorrel, but as in previous searches for sorrel, it could not be found, so we substituted arugula instead. Eastern Europe is no stranger to sour and bitter soups, which is the flavor profile of sorrel. Sorrel grows like a weed and is a perennial herb used in stews and soups in Eastern Europe. While common there, it is not so common here, hence the arugula, which seemed to be a suitable substitute for this tangy green.
For the soup, potatoes were boiled until soft in chicken stock and then mashed lightly. The arugula was added, along with a little salt and sugar, and simmered for 5 minutes. After time spent simmering, two eggs were beaten into the hot soup, thickening it slightly and creating a sort of egg-drop soup. The entire pot was then chilled for three hours before dinner. This brightly colored side was quite tasty, with the potatoes and sugar complimenting the sharpness of the arugula. It also went well with the dark and dense rye bread, and the soup made for some great leftovers over the next few days.
There's not much to write about this simple dish, other than that we chose to use cod steaks as that is what we had handy in the deep freezer. As I discussed in our introduction, I actually frequently make a recipe very similar to this, so this was by no means a stretch for our kitchen comfort. The fish was fried briefly in a pan and then placed in a baking dish with salt, pepper, sour cream, and lemon juice. This was then baked for ten minutes at 400 degrees. The end result was savory and light, with a nice sauce that went well when sopped up by the rye bread!
These not-sweet cookies are meant to be served at the end of a meal with a glass of wine or schnapps. These incredibly simple cookies are quick and easy to make and keep for a long time. Three eggs were beaten with oil, salt, and two teaspoons of sugar, then mixed with flour. This mix was then dropped by the tablespoon onto parchment paper, sprinkled with sugar, and baked at 350 degrees for 20 minutes.
The cookies were more biscuity than cookies and definitely not sweet. They kept quite well over the next week, which is good because while they were light, they were not very flavorful but we could see how they would pair well with wine for a pre-dinner aperitif or a light after dinner treat.
AND IN THE END, THE FOOD YOU MAKE IS EQUAL TO THE CARE YOU TAKE…
So how was Made In Marrow's meal number 26? As a reminder, our rating system is based on sticks of butter (because butter is best!), with 1 being the absolute worst and 5 being out of this world. Sticks of butter are assigned to Difficulty (how many kitchen fights were needed to complete the meal?), Tasty Goodness (was it a palate poor or did it make our mouths merry?), and Repeat Customer (how likely are we to return to the recipe?).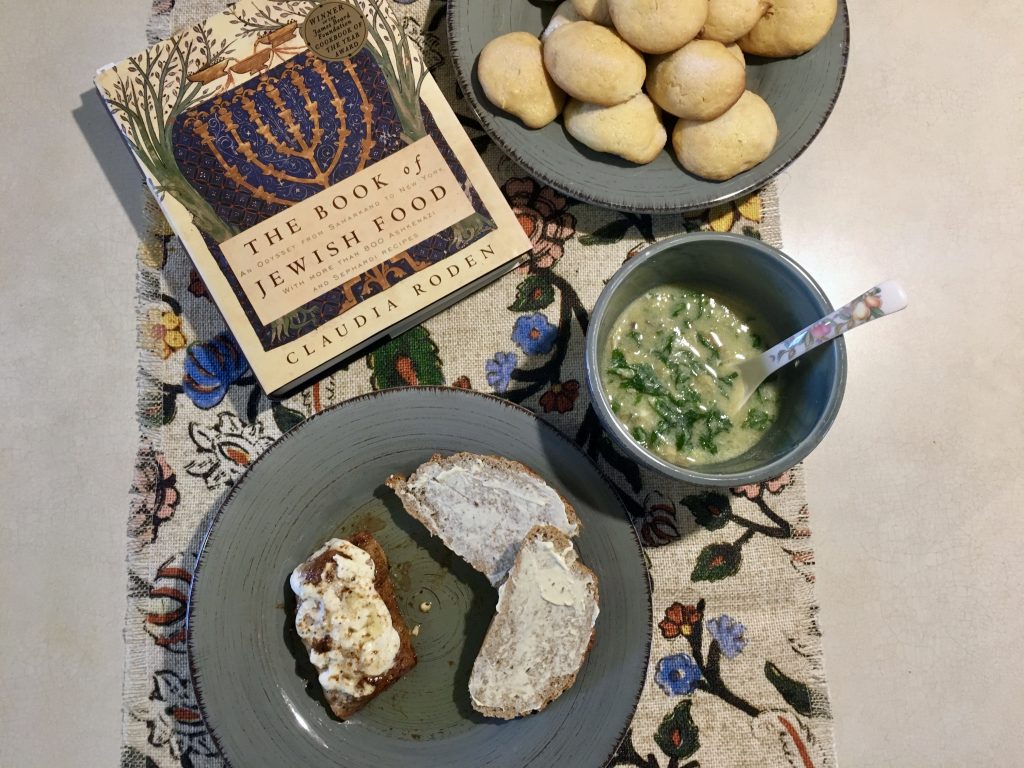 Difficulty[] 1/5
This was a nice little easy week – the only thing that required a little extra consideration was the bread – we almost forgot to get it started the night before our meal!
Tasty Goodness
[][][][] 4/5 Rye Bread – Flavorful, dense, and a nice change from wheat and white breads!
[][][][] 4/5 Schav Borscht – Green Borscht – A very different chilled soup that was light and bright.
[][][][] 4/5 Fish in Sour Cream – An oldie but a goodie recipe for us!
[][][] 3/5 Kichelach – Cookies-Biscuits – A good snacking cookie – not sweet, so the upside is that we did not overindulge!
Repeat Customer
[][][][][] 5/5 Rye Bread – How could we have pastrami sandwiches without the rye?
[][][][][] 5/5 Schav Borscht – Green Borscht – We would definitely have again, but perhaps hot next time.
[][][][][] 5/5 Fish in Sour Cream – Tried and true, this was already (and will stay) in our repertoire.
[][] 2/5 Kichelach – Cookies-Biscuits – Probably not, as we prefer our cookies to be sweet and our biscuits to be buttery…
Quick-to-prep and tasty dishes made for a great dinner this week. Next week we tackle a trio of fish dishes that are much more unfamiliar, so off we sail into uncharted waters!
Sip, sup, and savor all you can, you curious cooks,
Elais & Gary