Just want the recipes and none of that other wordy nonsense? Click the links below!
Cacciucco alla Livornese – Fish Soup
Meal the Ninety-Second
It may be difficult to believe, but our two fish recipes which comprise tonight's meal marks the end of the "Fish" section of The Book of Jewish Food. We still have a substantial portion of the cookbook left, including the remainders of the "Meat", "Vegetables", "Rice", and "Dessert" sections (however we are also getting pretty close to the end of the veggies and desserts!). Luckily tonight's dinner turned out to be excellent as well as allowed us to use some of our enormous harvest of tomatoes and peppers from our end-of-summer garden.
So join us for our final fish feast which finds us in port cities on opposite sides of the Mediterranean Sea – we hope you enjoy as much as we did!
Cacciucco alla Livornese – Fish Soup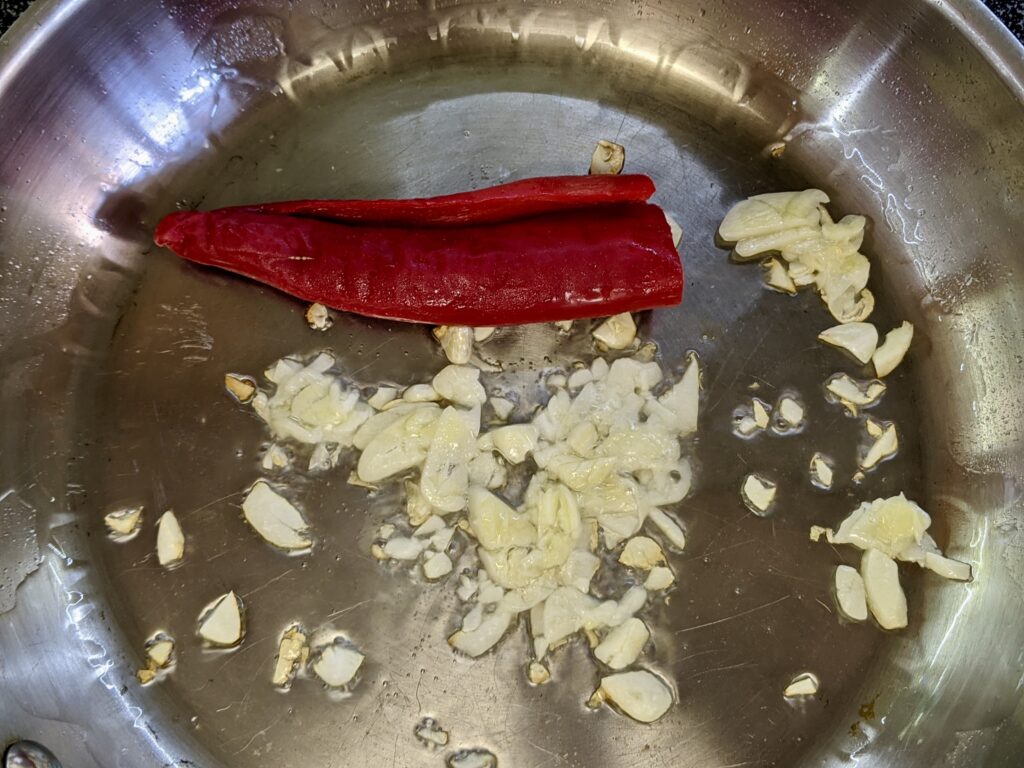 Livorno is a port city on the western coast of Tuscany, Italy. It is host to a very old Jewish community, whose roots stemmed from immigration to the area in the late 1500s after Tuscany's grand dukes promised immunity from the Inquisition. By the seventeenth century, it was a religious and intellectual focal point for Jews in Western Europe. Due to Livorno's proximity to the coast, seafood was a major point of all of its inhabitant's diets. This is a very Italian dish, comprised of meaty fish coupled with a bright tomato sauce, which is intended to be sopped up with fresh bread.  We have a go-to french bread recipe that we chose to pair with tonight's meal – our bread was busy rising and baking while we stewed our sauces and soups for dinner.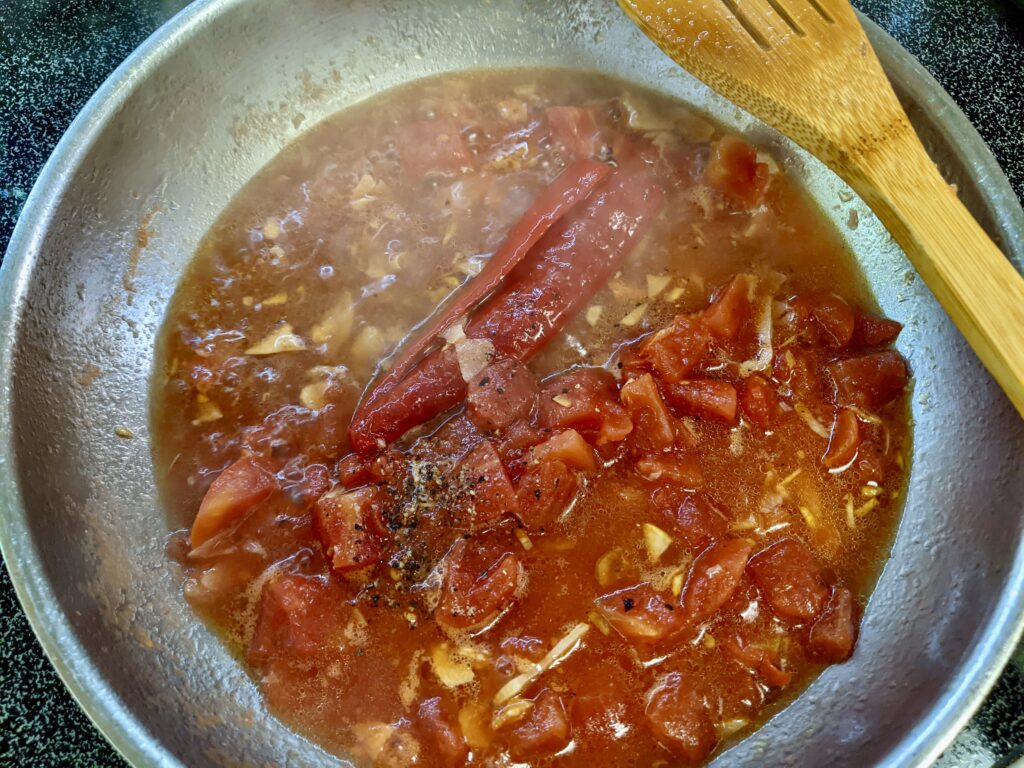 To start our first fish dish, we fried garlic and chilies from the garden in oil until the garlic just began to color – beware, anytime you fry chilies you run the risk of unleashing an aromatic sneeze bomb in the kitchen, so make sure the fans are on and your windows are open! After we finished sneezing uncontrollably, tomatoes were then added to the pan, along with dry white wine, sugar, salt, and pepper, all of which simmered happily for 30 minutes.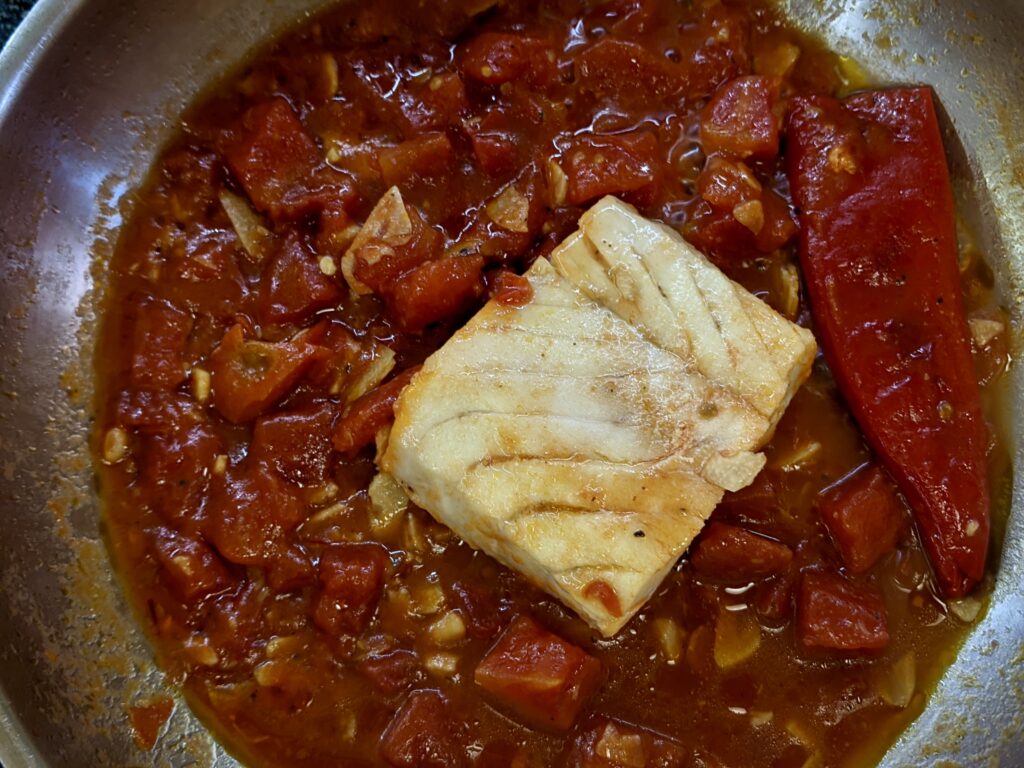 Saffron was then added to the pan, along with our featured fish of the evening. We chose to use cod, as we thought this meatier fish would stand up well to the strong flavors of this recipe. The fish simmered for about 15 minutes until cooked through, then it was served sprinkled with cilantro and our fresh, crusty french bread.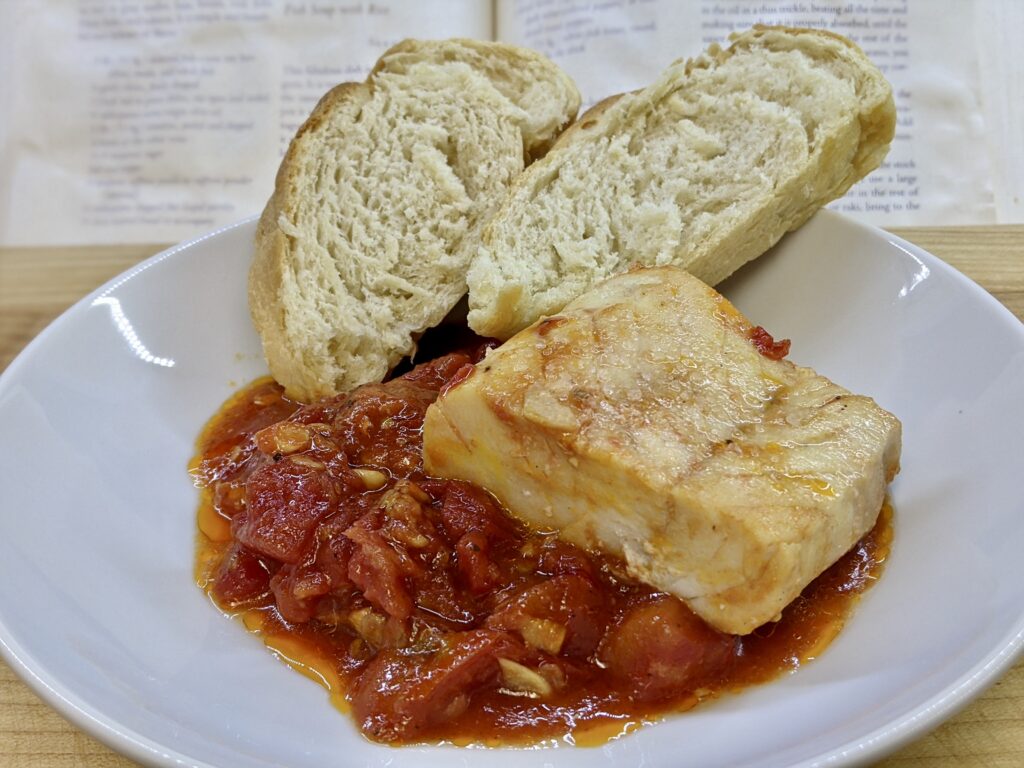 The "soup" was more of a stew, but don't let this semantic snag ruin your perception of the dish – the tomato sauce was wonderfully bright and just a touch spicy and complimented the flaky cod quite nicely. The bread was a great addition to the plate and made sure that none of the scrumptious sauce went to waste!    
Caldero – Fish Soup with Rice
Our second fish soup of the night is a speciality of Oran, another port city, but one found in Algeria, neighboring the southwestern portion of the Mediterranean Sea. This dish is often served during Rosh Hashanah, the celebration of the Jewish New Year, which incidentally ended last Sunday! Because this is a special dish served during the High Holiday, it typically facilitates a whole fish, but we were a bit lacking on whole haddock, snapper, or hake, and chose to again cook with cod.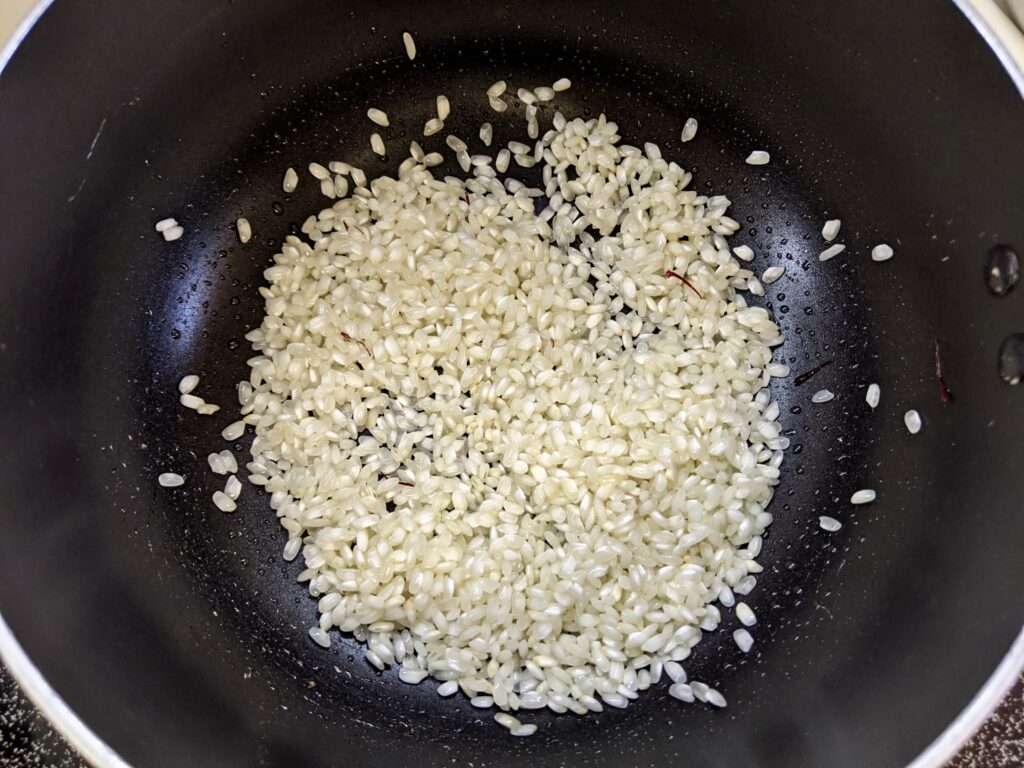 This soup also started off with frying garlic in oil until golden. Tomatoes and peppers were also added to the pan and sautéed for 5 minutes. At this point, if you have a whole fish, this is where you throw it into the pan to create a seafood stock – however, we bought seafood stock, but also added (as advised by Claudia Roden) salt, orange peel, bay leaves, and parsley stocks to the pan.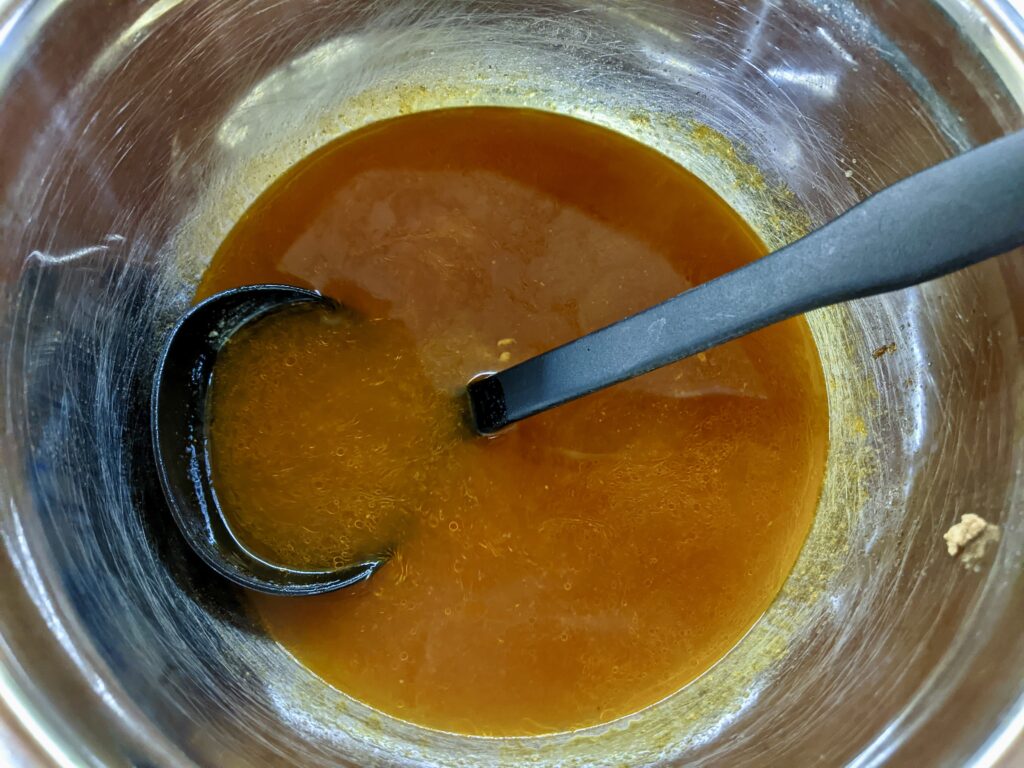 While this all simmered and built its wonderfully brothy flavor, we prepared the ajada, which was the garlic-mayo sauce used to top this dish (you can check out the recipe here, as we made it more than a year ago to pair with our vinegared crudités). Once our stock was simmered, it was strained and then reserved to make our rice.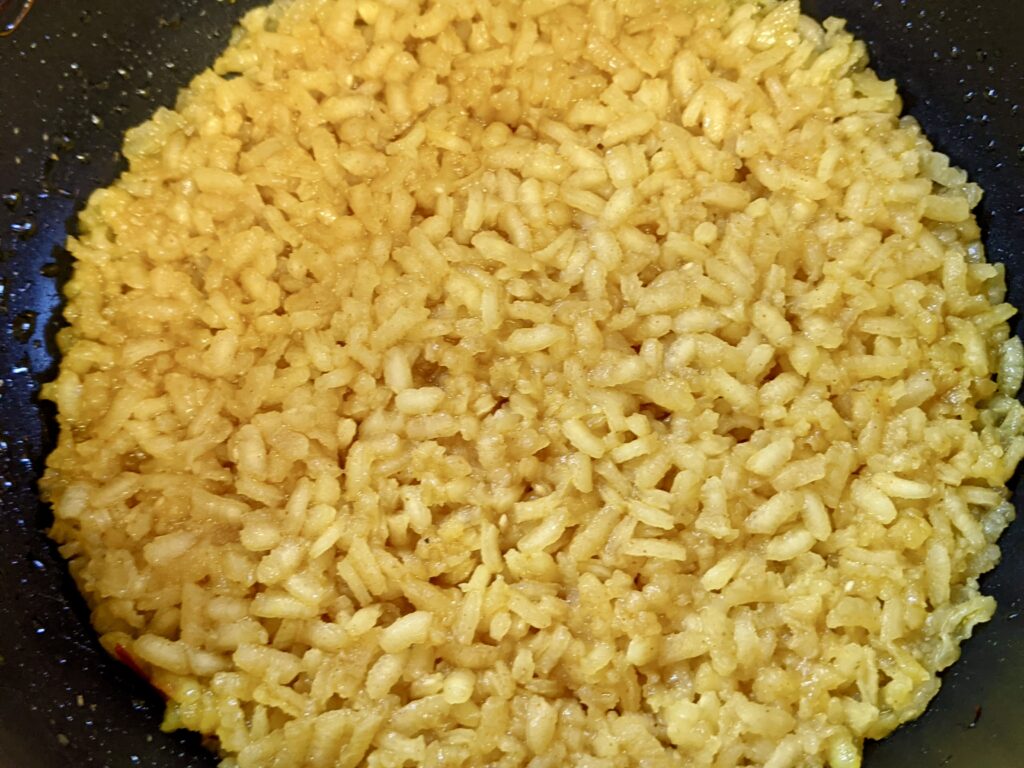 Half of the reserved stock was returned to the stove with a little saffron stirred into it and brought to a boil. Arborio rice was added to the pot and simmered for 20 minutes until tender. The other half of the stock also had saffron stirred in and then simmered in a separate pot along with our cod fillets. To serve, the rice was labeled into bowls, topped with fish, had a healthy serving of stock spooned over the fish, after which the fish was topped with harissa (a spicy and pasty sauce) and ajado.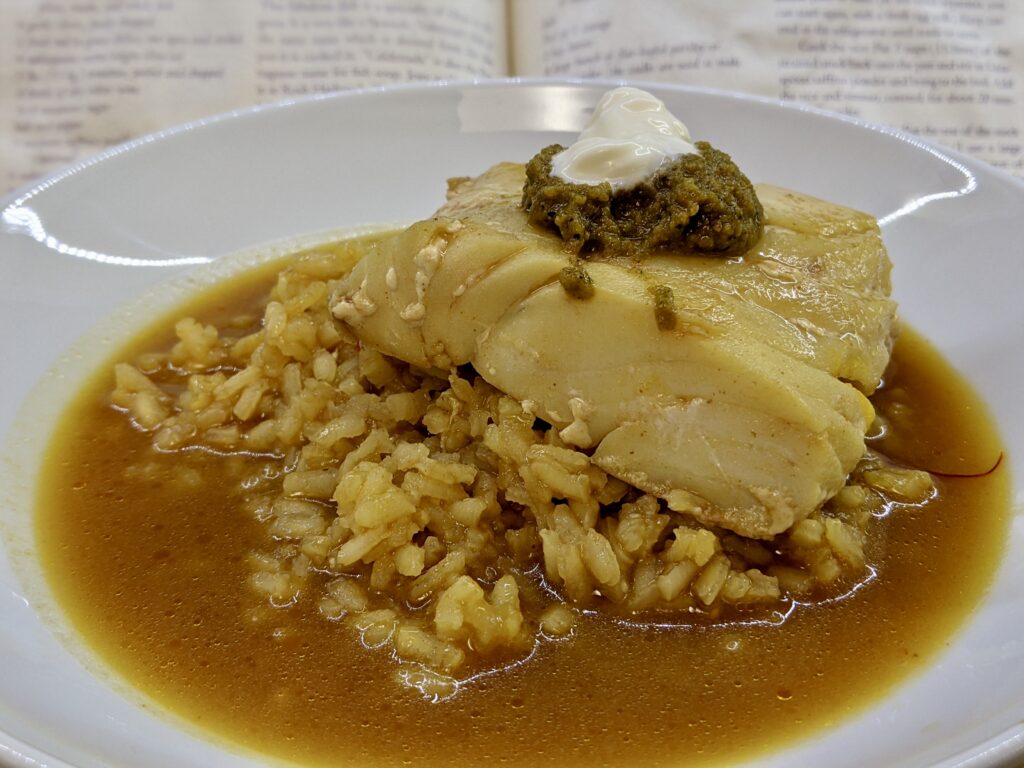 We were a bit worried about all of the different seasonings going onto the plate, but this recipe turned out to be a lesson in complementary bold flavors. The tomato "soup" (which again, was more of a sauce), was velvety and acidic, which was pleasantly complemented by the piquant and unctuous mayo. The harissa added a nice level of spiciness to the dish and surprisingly, the cod was not overwhelmed by all of these fantastic flavors. And as a side note, in case you were wondering, the french bread was also a perfect pairing with this sumptuous dish.
Candied Orange Peel
This is a great recipe to make a simple sweet out of kitchen scraps. Roden says to use an orange with a thick peel, but we got away with using peels from cuties (very small oranges). To start, peel the oranges as best you can without breaking the peels. Then, soak the peels in water for 24 hours, changing the water once.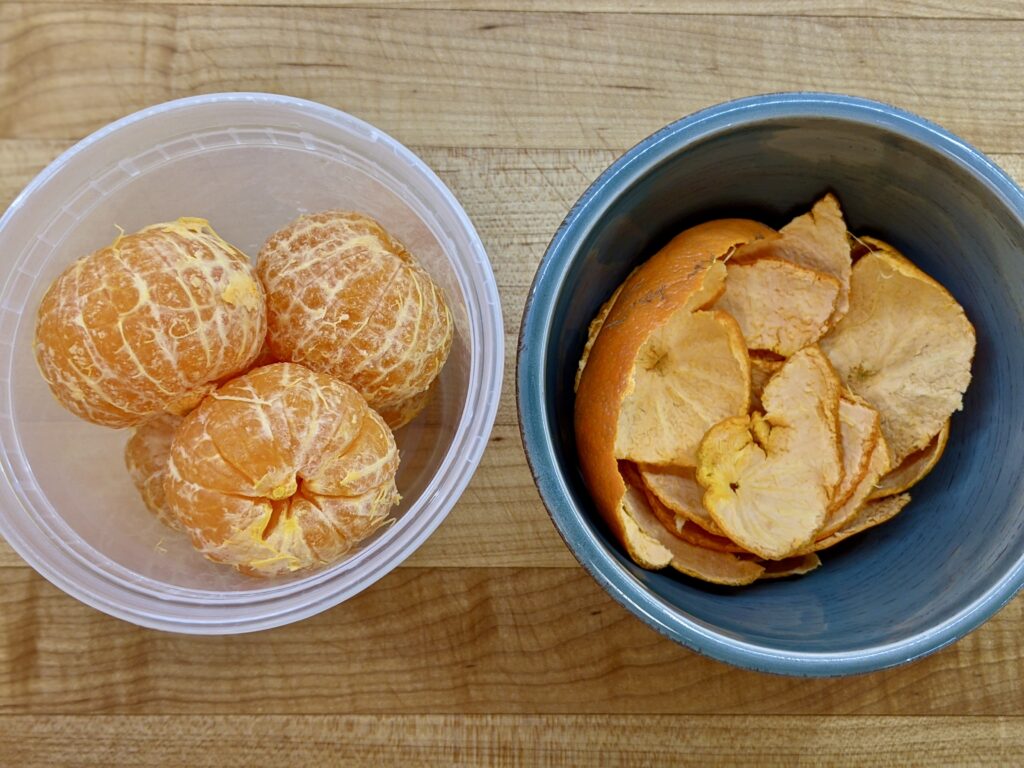 Once your peels have sufficiently soaked, drain them and boil them for 20 minutes until soft, and drain one final time (Roden informs us that the multiple soaks, drains, and boiling helps to get rid of the bitterness in the peels). Being careful, as the peels are still hot, roll up the strips of peel and either, as Roden directs, thread them onto button thread (which we did not have), or skewer them on toothpicks (of which we have many).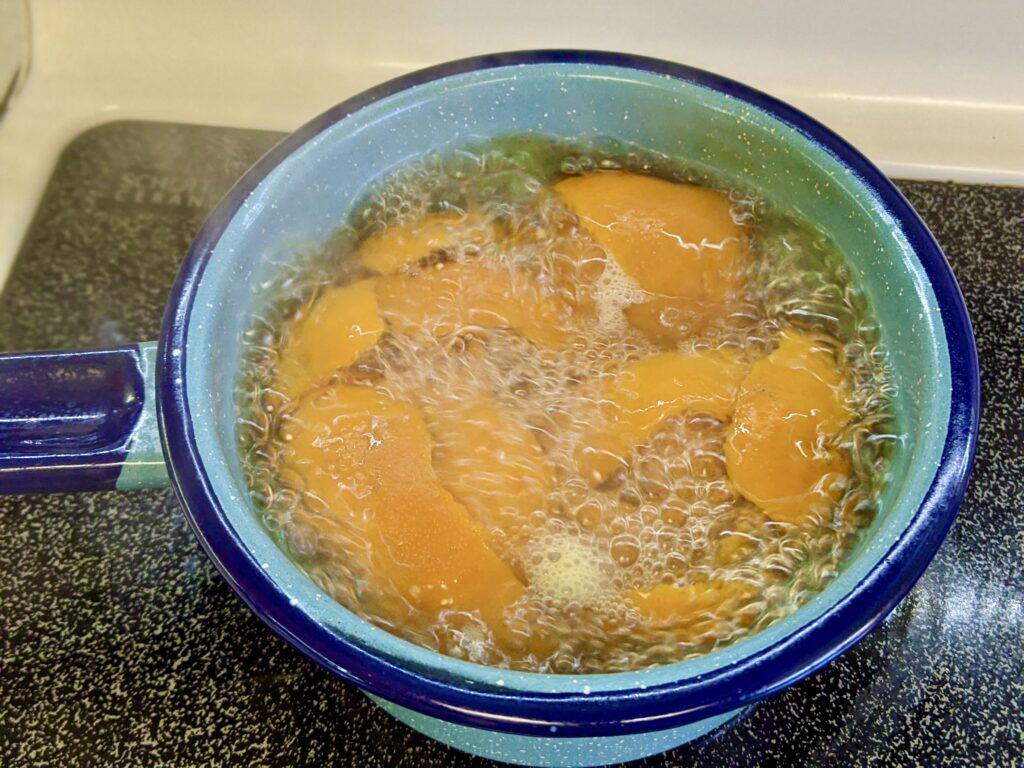 Next, we made a syrup by combining water, sugar, and lemon juice, dropped in our skewered peels, and boiled the orange exteriors for an hour. There were two options to finish off this dish, so we chose to do both – half the peels were put into a jar with the boiling syrup and the other half were uncurled and rolled in sugar.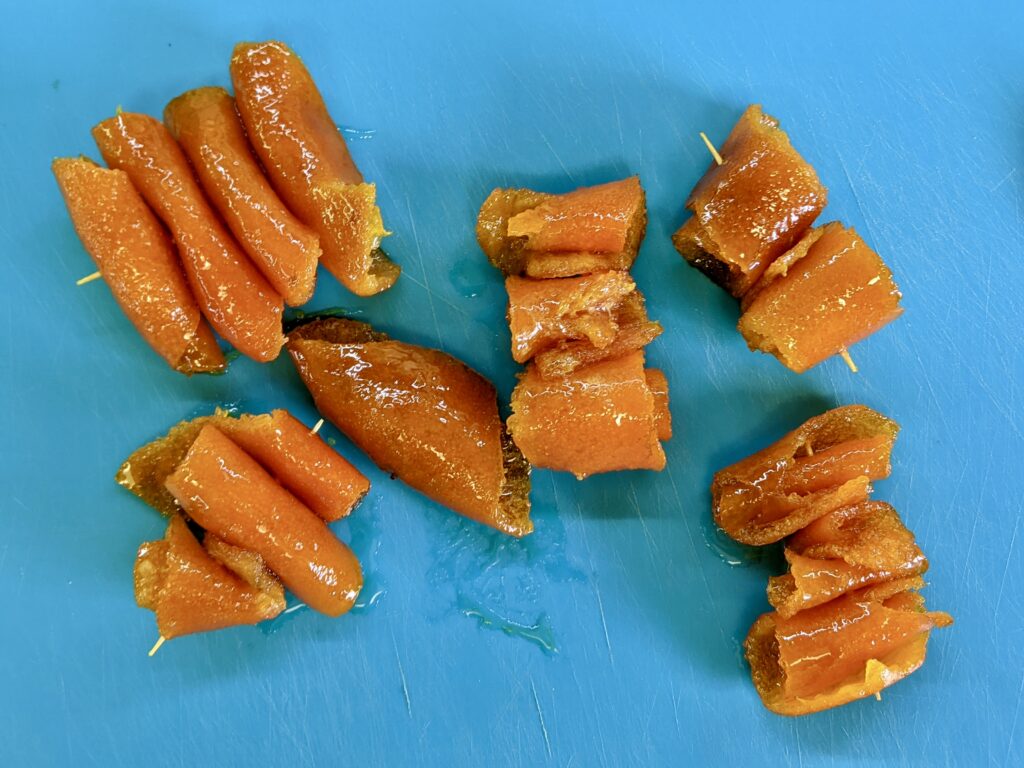 While this recipe has only 4 ingredients, it takes quite a bit of time, so this definitely is a dessert you will want to make ahead of time. However, it is worth the effort and both variations are quite tasty – the crystallized orange is a nicely sweet and tart bite, with one portion being more than enough to satiate your sweet tooth. The syrupy sections are also tasty and quite a bit more tart and would most likely make an excellent topping for a complimentary flavored ice cream.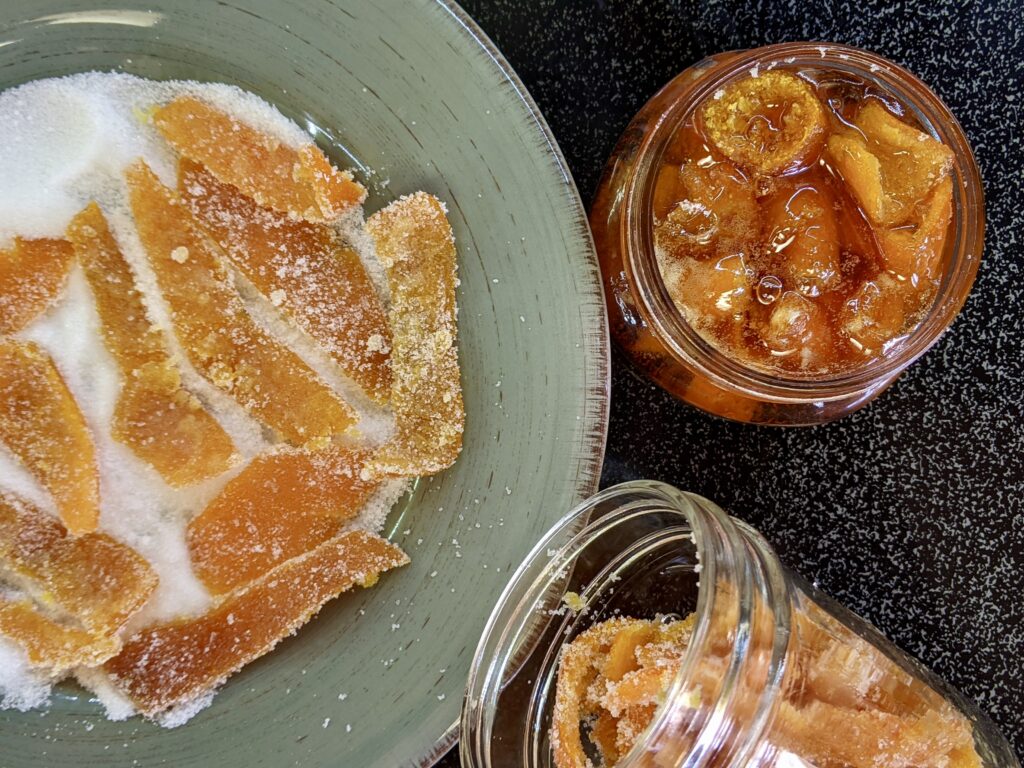 AND IN THE END, THE FOOD YOU MAKE IS EQUAL TO THE CARE YOU TAKE…
So how was Made In Marrow's meal number 92? As a reminder, our rating system is based on sticks of butter (because butter is best!), with 1 being the absolute worst and 5 being out of this world. Sticks of butter are assigned to Difficulty (how many kitchen fights were needed to complete the meal?), Tasty Goodness (was it a palate poor or did it make our mouths merry?), and Repeat Customer (how likely are we to return to the recipe?).
Difficulty  [][] 2/5
A substantial amount of simmer time was needed for tonight's dinner, but not much prep was required, so that was a plus!
Tasty Goodness
[][][][][] 5/5 Cacciucco alla Livornese – Fish Soup – A great balance of savory sauce and flakey fish
[][][][] 4/5 Caldero – Fish Soup with Rice – Despite using seafood broth, this dish could still use a bit more fishiness to bring it up to perfection (like mussels and shrimp!)
[][][][] 4/5 Candied Orange Peel – While very tasty, if you don't like orange you will hate this dish
Repeat Customer
[][][][][] 5/5 Cacciucco alla Livornese – Fish Soup – Complex yet simple to make!
[][][][] 4/5 Caldero – Fish Soup with Rice – Perhaps again but with a bit more seafood
[][][] 3/5 Candied Orange Peel – These may be a good decorative option for future desserts
A tasty triumph of a supper made for a great fish finish to yet another section in The Book of Jewish Food – onwards to the last few remaining sections!
Sip, sup, and savor all you can, you curious cooks,
Elais & Gary