Just want the recipes and none of that other wordy nonsense? Click the links below!
Céleris Raves et Fenouils au Citron – Celeriac and Fennel Salad
Bulgarian Yogurt and Cucumber Soup
Sambousak bi Lahm – Arab Meat Pies
Coings en Gelée – Quinces in Their Jelly
Meal the Thirty-Fifth
This week we make a dish that traveled 1500 miles and took hold of another culture and featured an ingredient that rapidly spread all over the world. It is always interesting to Gary and me why one food or recipe can become a hit in another part of the world, imbuing a totally different region with a new style of cookery and culture. Food is that universal language which binds us all, and both Gary and I believe that so much can be learned and expressed through a culture's cuisine. Sometimes traditions and thought process can be difficult to comprehend, especially when steeped in generations of habit and culture, but the comfort of sustenance is easily accessible across the short distance of a shared table.
Understanding and acceptance of one another can begin at the dinner table, as we have so much more in common than first meets the eye. Many of our previous blogs highlight the shared experiences that Gary and I have experienced through food, despite being from very different backgrounds. Never underestimate the power of a shared meal or the kindness and love in which even the most basic of recipes can be steeped. So pull up a chair, ready your appetite, and find some foodie commonality in this week's meal from Made In Marrow!
This is week two of cold root salads, this one hailing from Egypt and using fennel instead of carrots. If you remember from last week, we were not too fond of the celeriac and carrot combination, so we were hoping for a bit more from this week's vegetable dish.
We fried garlic in a pan until golden and then added the cubed celeriac and fennel. This was covered in water, after which lemon juice, sugar, turmeric, and salt was added. The yellow mixture simmered while covered for half an hour, then uncovered for 15 minutes until a thick sauce had formed. The salad was then chilled until dinner.
While better than last week's Celeriac and Carrots Salad, this still was not one of our favorites. The salad was bright from the lemon juice and earthy from the fennel, having a light flavor of anise as a lingering aftertaste. Neither Gary nor myself are big fans of black licorice, but if you are, this definitely would be the salad for you!
This light and fresh dish made its way from Bulgaria to Israel during the Second World War, as Jews fled the communist takeover and its horrific results. Because of this, Bulgarian food had a huge influence on the Israeli diet, which can be seen through their consumption of yogurt. Bulgarian yogurt is actually one of the most popular yogurts in the world, and the Bulgarians believed that the foundation of their yogurt, Bacillus bulgaricus, was key to a healthy, long life.
Our first fermented soup started with salting peeled and grated cucumber and allowing this to drain for an hour. The cucumber was then rinsed and drained again – this process draws out the most water possible to decrease the chances of the soup separating into a curd-like slosh. After our cukes were thoroughly drained, they were added to a mixture of greek yogurt, sour cream, crushed garlic, grapeseed oil, and dill. We chilled this until serving and put large dollops of this soup/sauce onto our plates at dinner time.
The soup was very thick, resembling more of a tzatziki sauce than a cold soup. It was bright, tangy, and a little bit spicy and earthy from the raw, crushed garlic. It also paired quite well with the below pie, which stood well on its own, but was even better with a bite of soup. This kept well in the fridge but did leave a bit of a garlicky aftertaste, so we will be vampire free for quite a while!
As we talked about in our blog all about why we chose The Book of Jewish Food for our first cookbook adventure, we had only made one recipe from this very large tome. This was that recipe, which we greatly enjoyed, so I am not sure why we did not continue on with other dishes from this book. But now we have returned to it, so we were quite excited when we turned to this page this week. This recipe is a representation of a typical modern meat pie found in Egypt, with an embellishment of spices not found in the traditional variation. We chose again to make one large meat pie, which required one mashed potato to be added to soak up some of the tasty meat juices.
The filling was made by frying the onion until golden, after which the ground beef, salt, pepper, allspice, and cinnamon was added. The mashed potato and pine nuts were mixed in, creating a very fragrant aroma throughout the entire house. While this cooked through, a dough was made by mixing equal parts water and oil, after which just enough flour was added to make a very soft dough. This was rolled out and placed in our trusty pie plate and then filled with our browned meat mixture and topped with the remaining dough. Our meat pie cooked at 325 degrees for 40 minutes until golden.
Our tasty pie memories from many years ago did not disappoint, as this meat pastry was just as tasty as we remembered. The pine nuts added a wonderful level of texture to the creamy mashed potatoes and crumbled beef as well as another level of richness to the savory beef. The cinnamon and allspice were subtle and aromatic, imparting a wonderful level of spice to the pie. We would definitely make this again and it also made for some great leftovers over the following week.
A quince is a cross between an apple and a pear and is commonly found in Eastern Europe and the Middle East (and very hard to find in Santa Fe, New Mexico). They are an important part of Sephardim culture and are native to South-West Asia, Armenia, Turkey, Georgia, northern Iran, and Afghanistan. Quince was even a sacred emblem of Aphrodite and is enjoyed in both sweet and savory dishes.
Sufficed to stay, I'm not sure we will ever find quinces in our local grocery stores, so when we found jellied quince in our local Asian market we seized on the chance to taste this foreign fruit. For this recipe, we were supposed to essentially make quince jam, so we decide to use the jellied quince and top (as directed by Claudia Roden) with mascarpone. This was wonderfully tasty and truly was like a cross between an apple and a pear. Bright and tart, plus a little savory and rich from the mascarpone, this was a truly enjoyable dessert.
AND IN THE END, THE FOOD YOU MAKE IS EQUAL TO THE CARE YOU TAKE…
So how was Made In Marrow's meal number 35? As a reminder, our rating system is based on sticks of butter (because butter is best!), with 1 being the absolute worst and 5 being out of this world. Sticks of butter are assigned to Difficulty (how many kitchen fights were needed to complete the meal?), Tasty Goodness (was it a palate poor or did it make our mouths merry?), and Repeat Customer (how likely are we to return to the recipe?).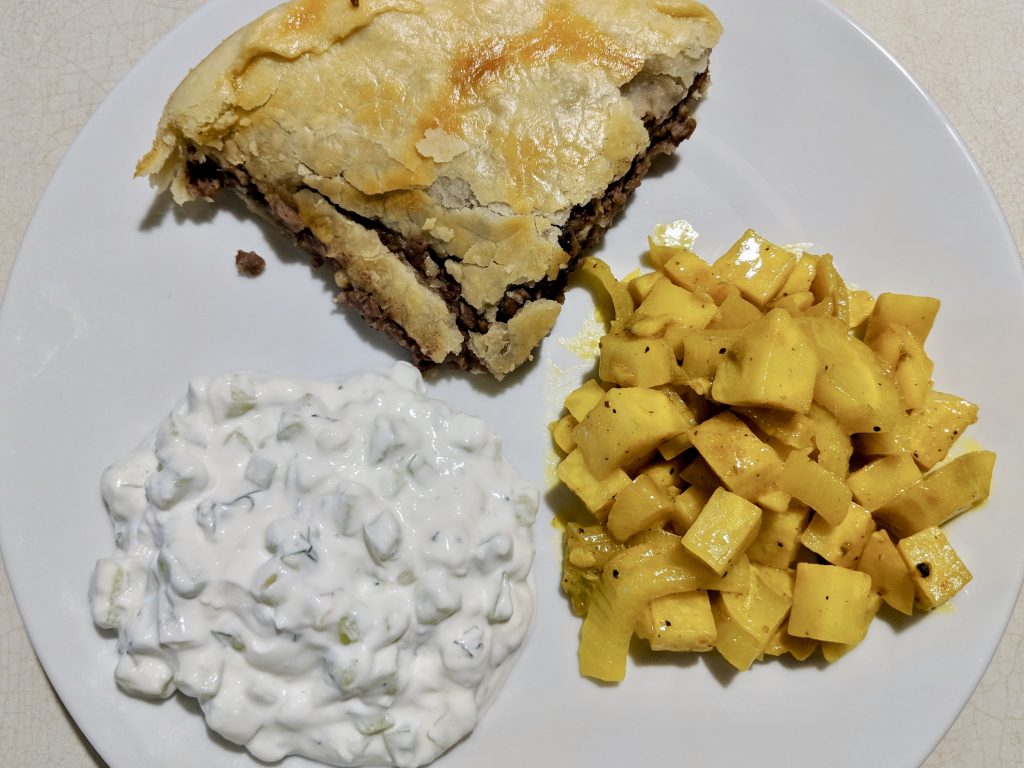 Difficulty [][] 2/5
Another straightforward week with a tried and true pie, which we can't complain about!
Tasty Goodness
[][][] 3/5 Céleris Raves et Fenouils au Citron – Celeriac and Fennel Salad – Not terrible, but not a hit…
[][][][] 4/5 Bulgarian Yogurt and Cucumber Soup – Tasty, but next time we will probably tone down the garlic a touch…
[][][][][] 5/5 Sambousak bi Lahm – Arab Meat Pies – Pie perfection!
[][][][] 4/5 Coings en Gelée – Quinces in Their Jelly – Different and wonderful!
Repeat Customer
[] 1/5 Céleris Raves et Fenouils au Citron – Celeriac and Fennel Salad – Not likely…
[][][][] 4/5 Bulgarian Yogurt and Cucumber Soup – Fairly likely…
[][][][][] 5/5 Sambousak bi Lahm – Arab Meat Pies – Very, very likely…
[][][][][] 5/5 Coings en Gelée – Quinces in Their Jelly – Yes, please!
This week allowed us to revisit an oldie, but a goodie, along with a completely new ingredient, so all-in-all, we would call it a pretty successful meal!
Sip, sup, and savor all you can, you curious cooks,
Elais & Gary