Just want the recipes and none of that other wordy nonsense? Click the links below!
Mahasha – Stuffed Peppers Indian Style
Pipiruchkas Reyenadas de Arroz – Peppers Stuffed with Rice
Pipiruchkas Reyenadas de Keso – Peppers Stuffed with Cheese
Meal the Ninety-Third
Yikes! It's November and we did not manage to write a single blog for all of October…but even if we are not writing we are still cooking, so we have a bit of a backlog of meals to get caught up on with regards to documentation. October turned out to be a busy month for both Gary and me – between literally running (I ran a marathon of my own making, for, you know, fun), running around to get the house and garden ready for colder temperatures, working like there was no tomorrow, writing like a person possessed for my Master's, and just being busy with life in general.
And (just like my epic run and Master's program), the closer you get to the end of something, the farther away it seems. We actually are getting close to the end of The Book of Jewish Food, but all of our delays make it seem a bit farther away than it is…however, we continue to forge ahead and look forward to sharing with you, dear reader, some very different and interesting recipes!
So read on and vicariously enjoy all of the chopping that went into tonight's meal!
Mahasha – Stuffed Peppers Indian Style
As Claudia Roden informs us, the word "mahasha" is a take on on the Arab word for "stuffed" by the Baghdadi Jews of India. This spin on Middle Eastern stuffed peppers was frequently enjoyed in Calcutta and Bombay at buffet meals. Roden also advises that your chicken meat can be chopped using the food processor, but as we have not been too fond of the texture that this achieves, we (Gary) chose to opt for hand-chopping the chicken breast with a cleaver instead.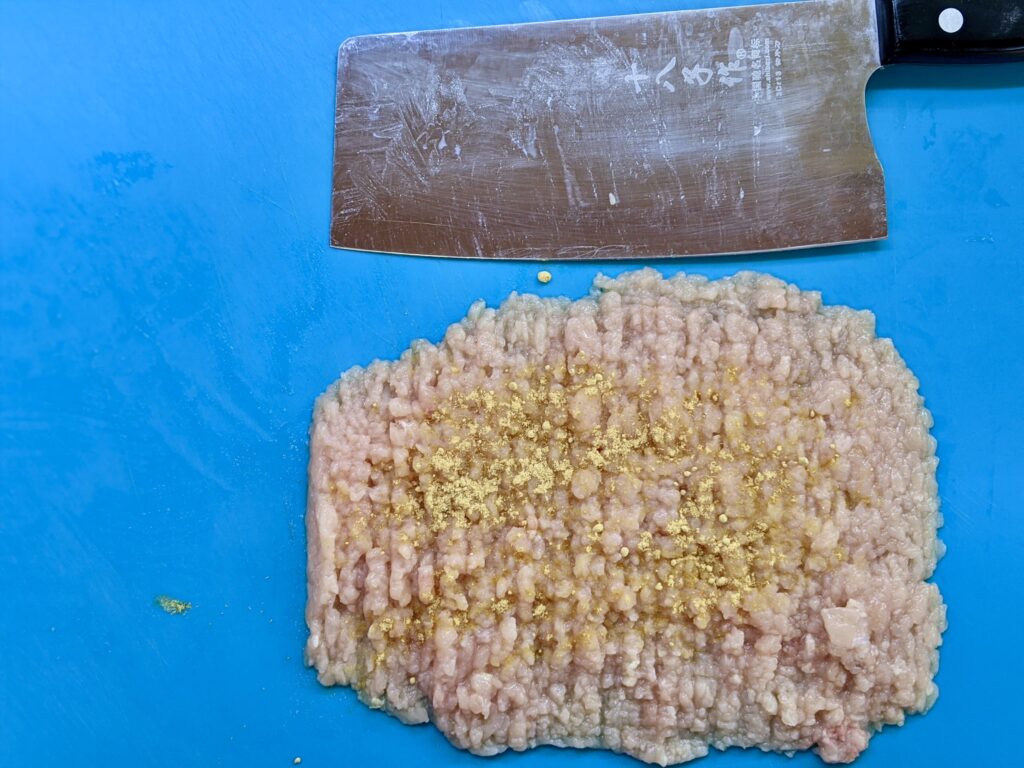 While Gary was busy reenacting Samurai Delicatessen, the rice was brought to a boil and then cooked until tender. The cooked rice was then mixed with the chopped chicken breast, salt, grated ginger, garlic, lemon juice, sugar, turmeric, mint, salt, and pepper. Once the stuffing was complete, the peppers were beheaded and gutted (many peppers were harmed in the making of tonight's meal) and filled with the chicken stuffing. The peppers were placed upright in a baking dish and baked at 375F for 45 minutes until the peppers were tender.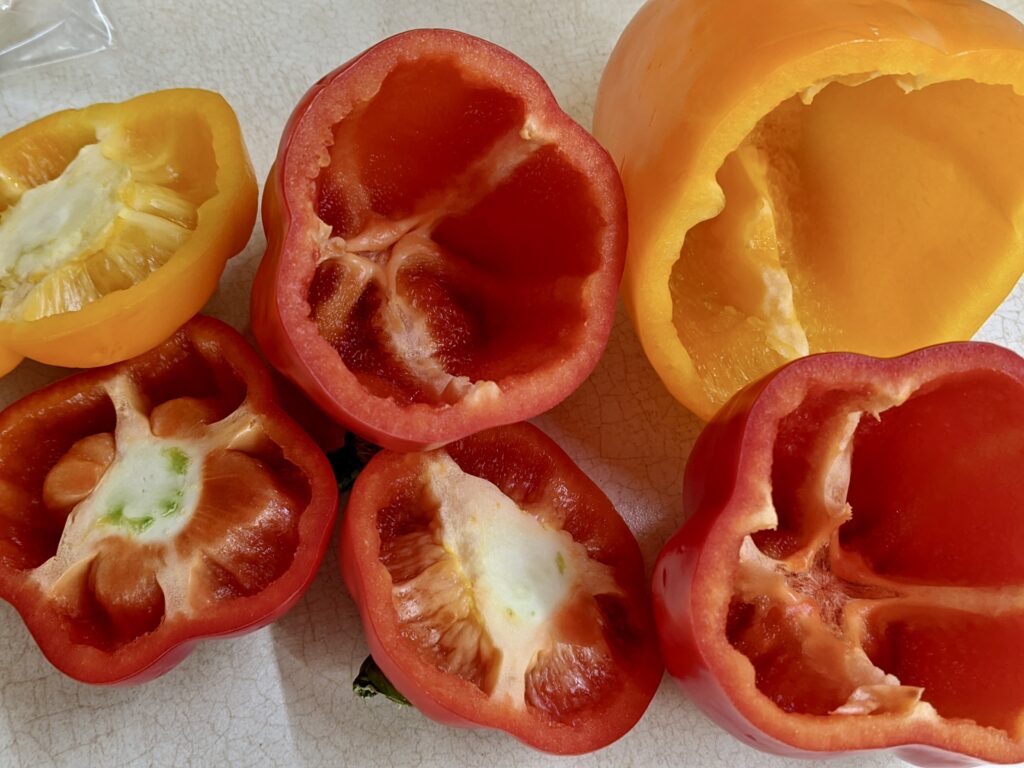 This pepper dish was my favorite stuffed veggie of the evening. Gary was not a fan, because of the turmeric flavor – it was not overwhelming, but it was definitely detectable. The texture of the chicken was good and the seasonings were balanced, so the was flavorful, but we were not sure if it was worth all of the slicing and dicing that went into its preparation.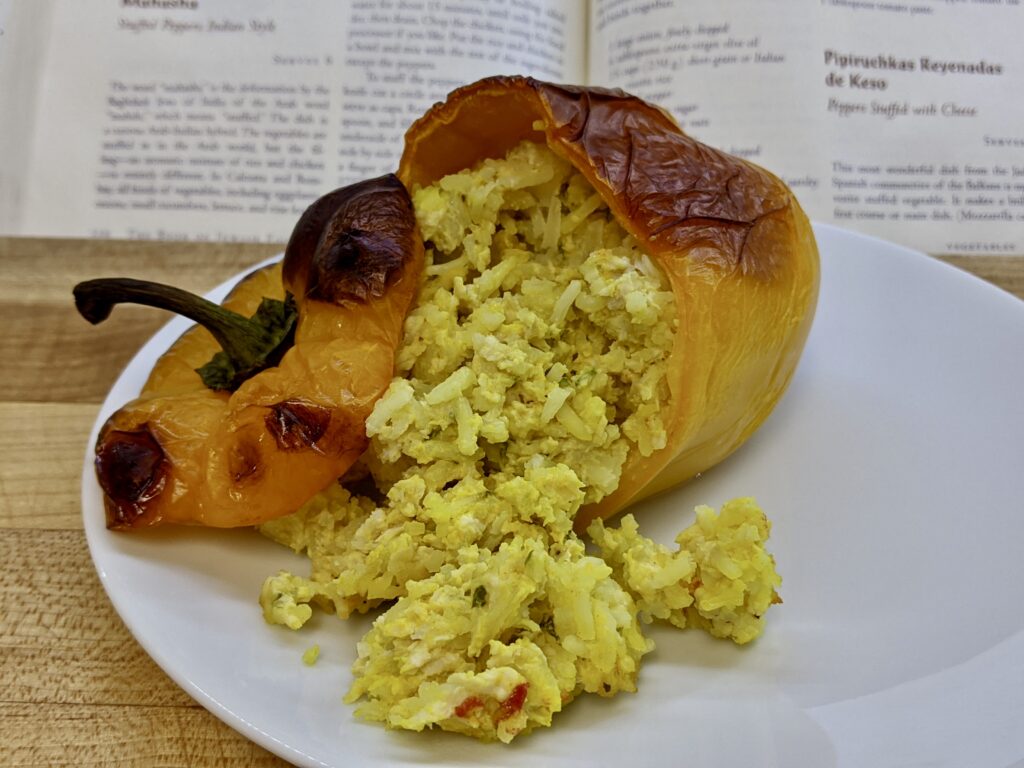 Pipiruchkas Reyenadas de Arroz – Peppers Stuffed with Rice
This stuffed pepper dish of the Judeo-Spanish cuisine could also often be found served at buffets in the Balkans. The stuffing was started by frying onion until soft after which arborio (i.e. risotto) rice was stirred into the pan. Water was added to the pan, along with salt, pepper, and sugar. This all simmered for 15 minutes until the water was absorbed by the rice, after which pine nuts, dates, diced tomato, mint, parsley, and lemon juice were added to the pan.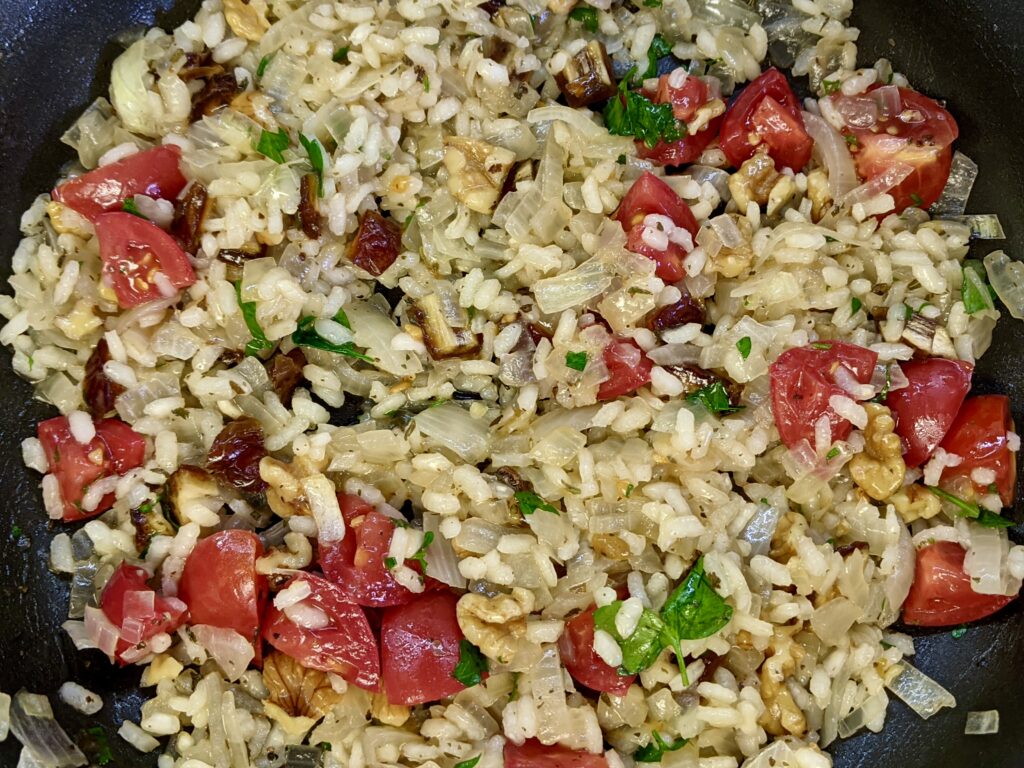 The same procedure for prepping the peppers was taken as above – after they were beheaded and gutted, the stuffing was spooned inside and they were set upright in a baking dish. The stuffed veggies baked at 375F for 45 minutes until tender.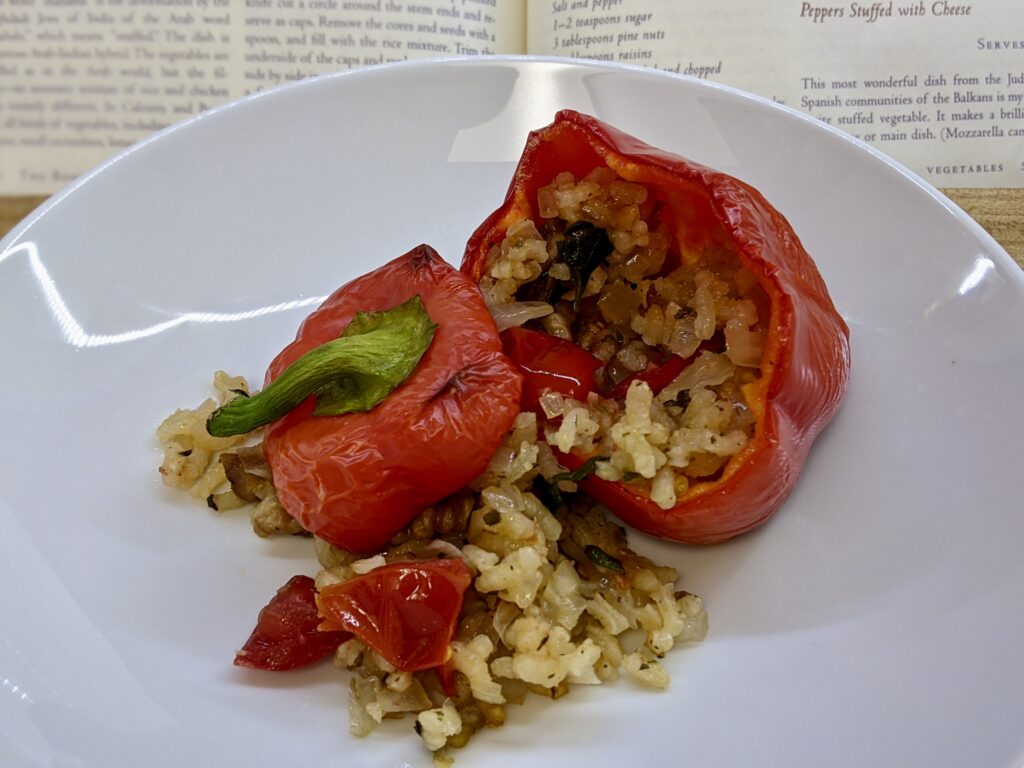 These stuffed peppers had a completely different flavor than those of the ones above. Slightly sweet from the dates and with the occasional crunch/butteriness of the pine nuts, the peppers were interesting and tasty. The arborio rice also stood up a bit better to the cooking, maintaining its texture better than the white rice in the above peppers. While we did enjoy this pepper, it still was a lot of work for what was essentially a side dish…
Pipiruchkas Reyenadas de Keso – Peppers Stuffed with Cheese
Our last stuffed pepper dish of the evening is also a Balkan favorite and can be served as a first course with either halumi or mozzarella cheese. As halumi is a bit hard to come by right now, we opted for the mozzarella. This dish began by making a tomato sauce, which was created by simmering chopped tomatoes with salt, pepper, and sugar for about 15 minutes until thickened. Next, slices of mozzarella were placed inside of butted and beheaded peppers after which the sauce was poured over the pepper. These were baked at 350F for 20 minutes until the cheese was soft.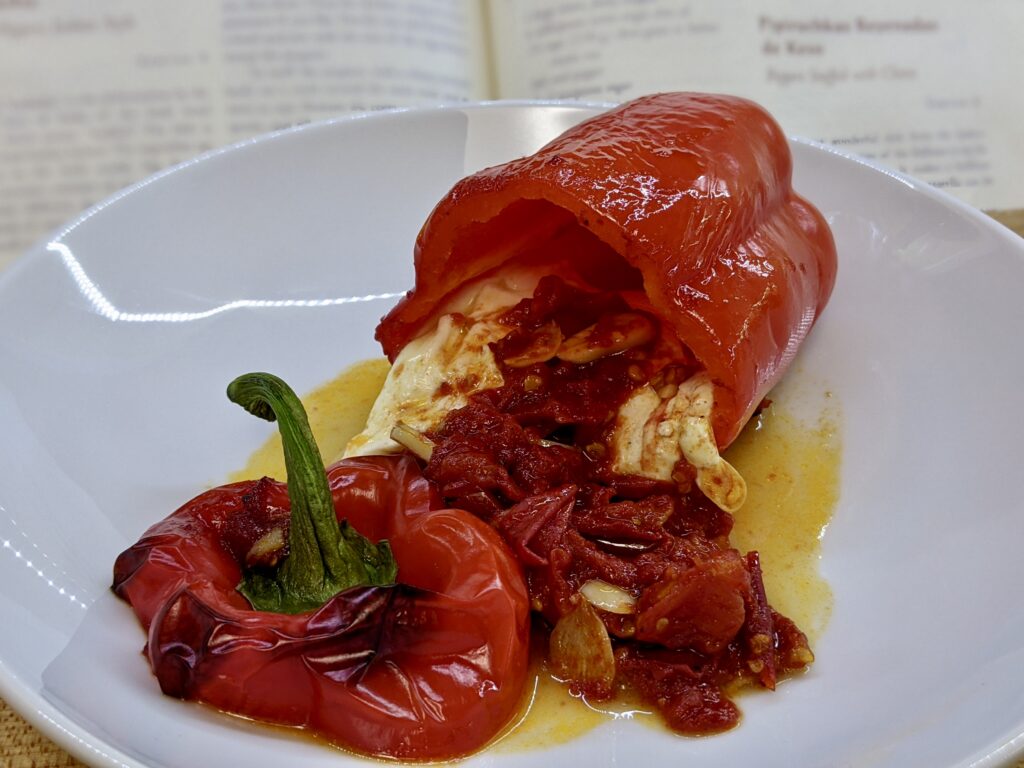 We were looking forward to these the most but unfortunately were a bit disappointed. They definitely could have used more salt and a tomato sauce with a longer simmer time to build more flavor. Perhaps if this had been done they would have been better, but we were still not sure if they were worth all of the effort…
Avas – Haricot Bean Stew
This Salonikan Friday night favorite was often made in large amounts so that leftovers could be eaten Saturday and Sunday (this is what our household does on Sunday to lighten the cooking duties for our weeknight meals!). Haricot beans, which also go by the name of navy bean and Boston bean, are native to the Americas and have been a staple in feeding soldiers around the world (they have been "Navy" beans since the mid-1800s as they were served in mass quantities to sailors and in Australia, they are known as "Yankee" beans due to the U.S. military's consumption of them in Queensland). Dried beans have a long shelf life and they are quite filling, so they make for a great way to "beef up" a stew, including this one!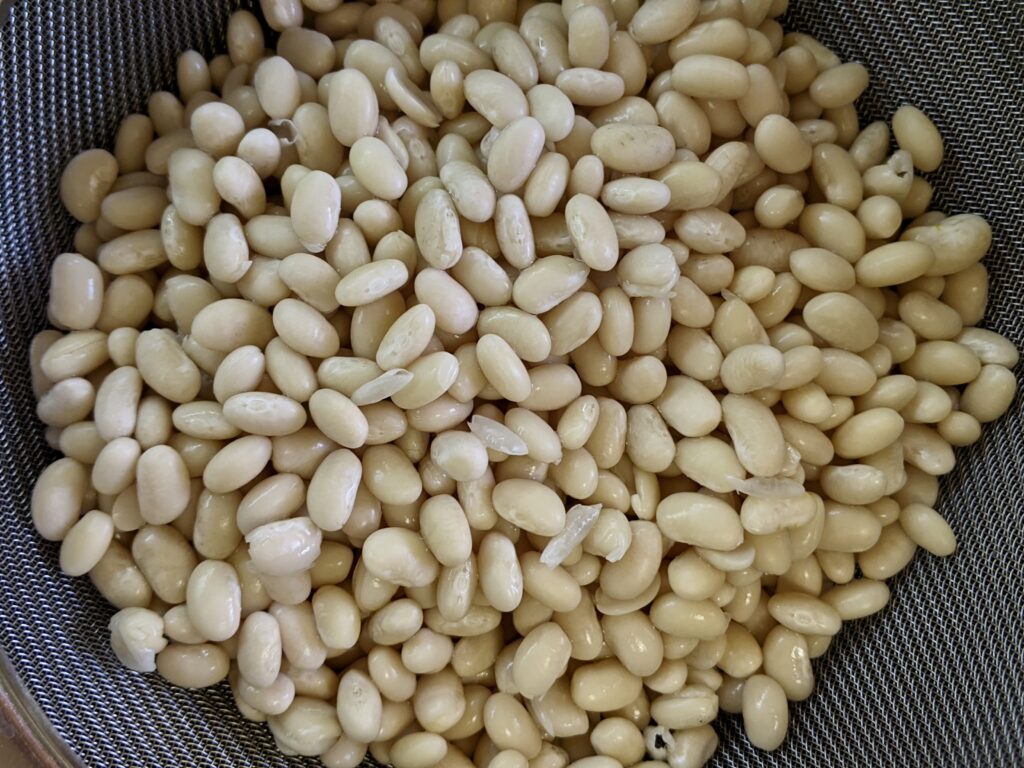 The stew was started by soaking the beans overnight, which helps to both reduce the cooking time as well as leach out sugars that are responsible for gas production in the human gut (beans, beans the magical fruit).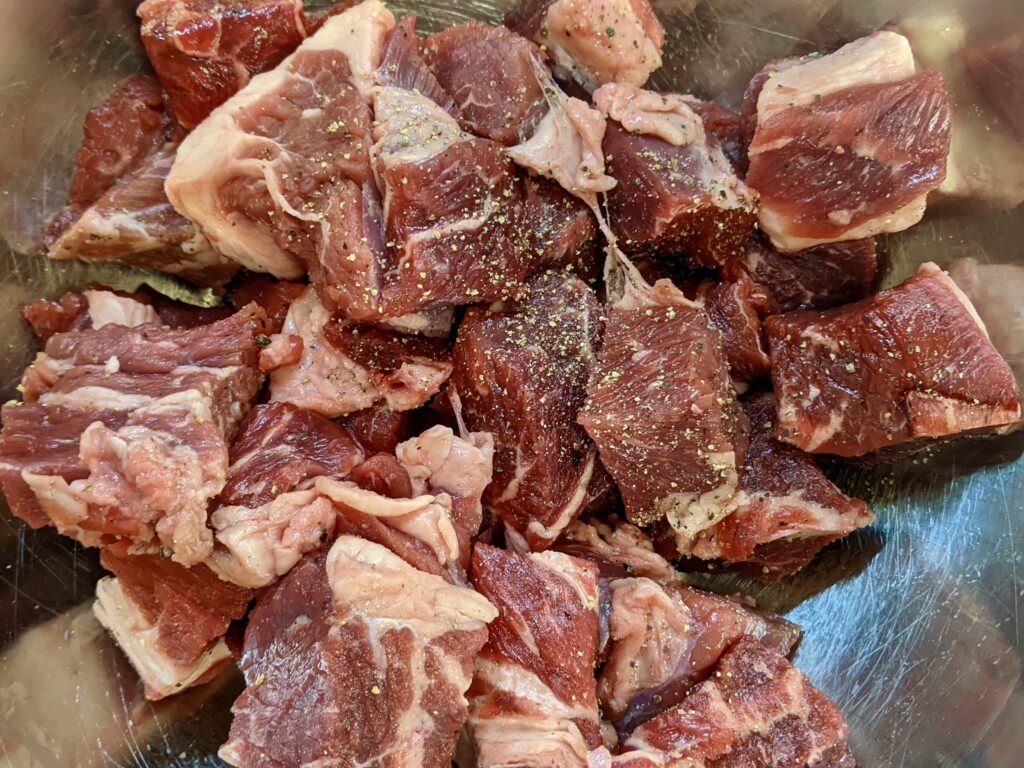 The next day, onions were fried until golden, garlic was sautéed, and beef cut into cubes were added to the pan for browning. The beans were stirred into this savory mixture, along with tomatoes from the garden, a little sugar, and enough water to cover. This was simmered for 3 hours until the meat was tender, with the salt and pepper adjusted to taste prior to serving. A little squeeze of lemon finished off this dish and the stew was ladled over white rice.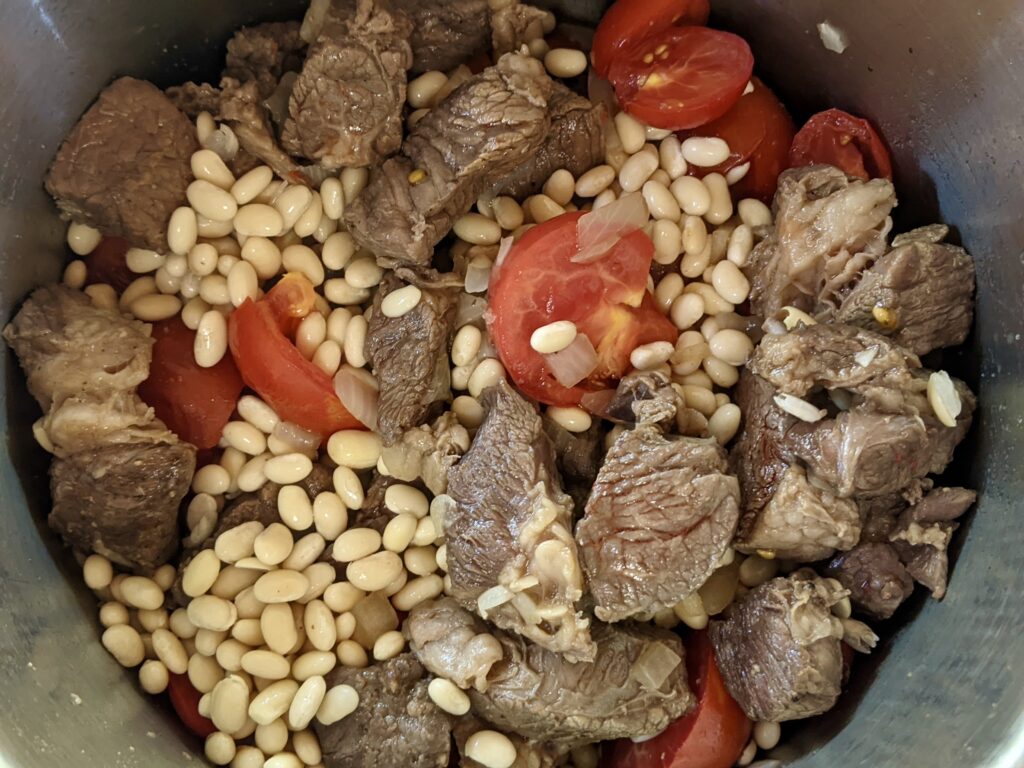 This stew made for an excellent Autumn meal. The meat and beans were tender and savory, and the tomatoes and lemon juice added a nice acidic kick to cut through the richness of the meat. Although simple and with only a few ingredients, the stew was quite tasty and we would definitely make this again!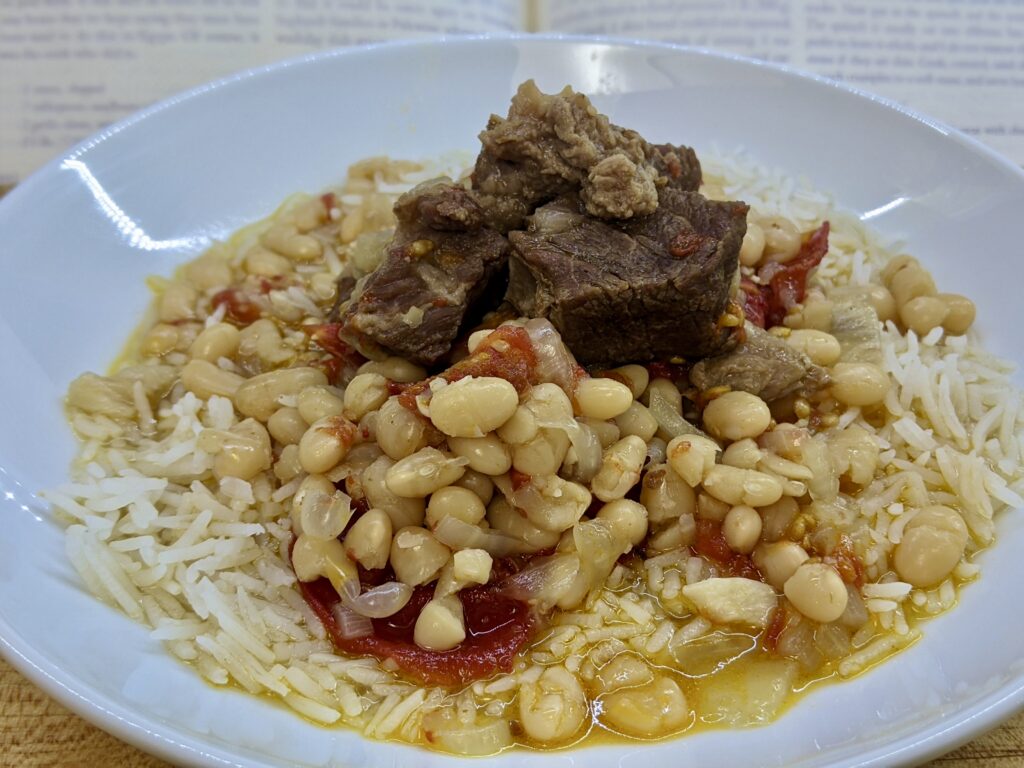 Iraqi Apple Preserve
Claudia Roden advises that this New Year's specialty be served with heavy cream or yogurt to cut the sweetness, so we chose to pair with ice cream, because, why not? To start, the apples were peeled, cored, and soaked in lemon juice to prevent them from browning.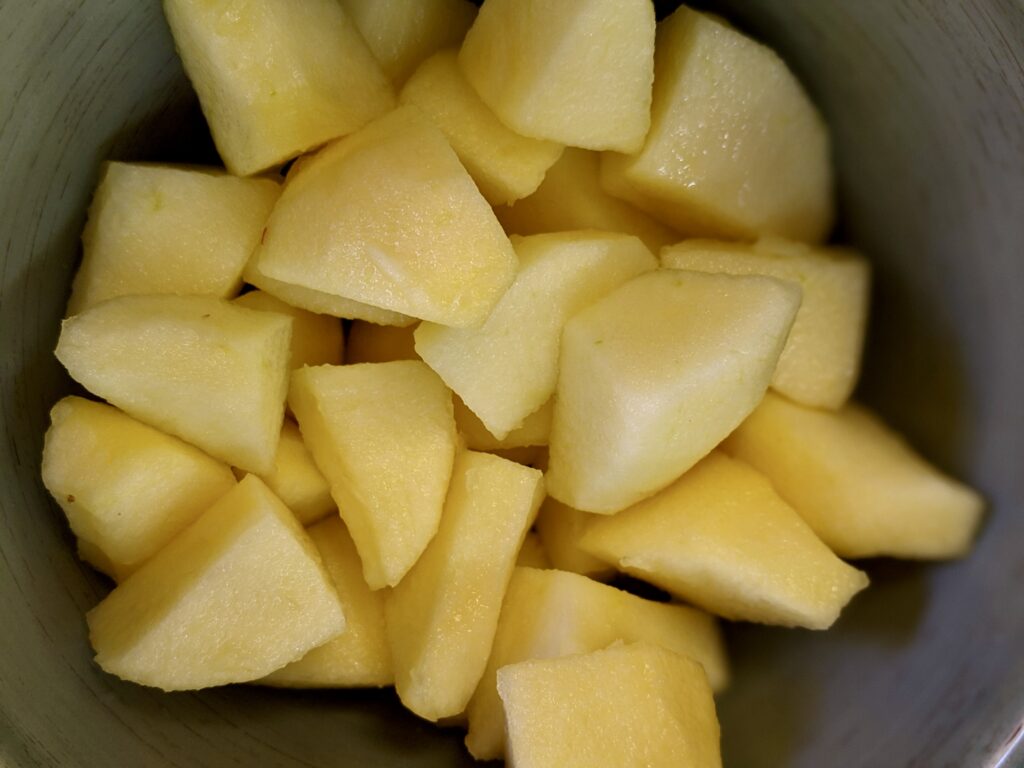 Meanwhile, a syrup was made by boiling sugar and water with lemon juice for about 15 minutes until very thick. The apples were then added to this mix and cooked for 20 minutes until tender. A small amount of rose water was added to the apple syrup and the pot was simmered for a few minutes more.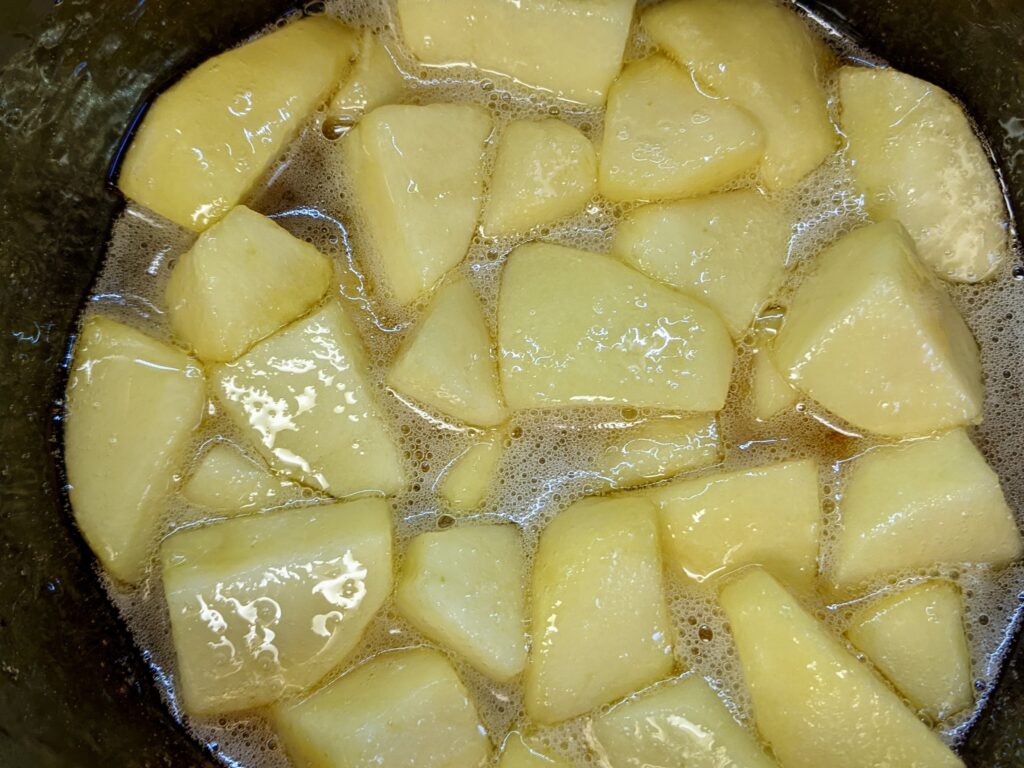 This dish certainly needed the side of ice cream as it was quite sweet and tasted surprisingly alcoholic (despite there being no spirits in the making of this dish). It was a simple but nice dessert, and quite easy to whip up for a quick bite to satisfy your sweet tooth.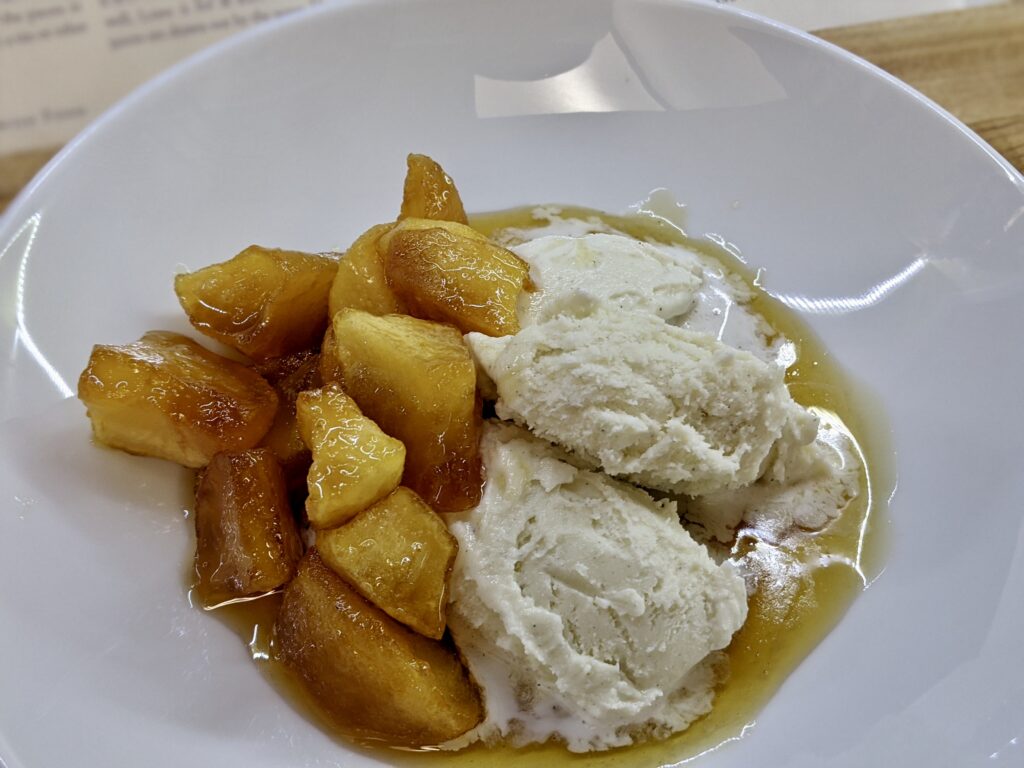 AND IN THE END, THE FOOD YOU MAKE IS EQUAL TO THE CARE YOU TAKE…
So how was Made In Marrow's meal number 93? As a reminder, our rating system is based on sticks of butter (because butter is best!), with 1 being the absolute worst and 5 being out of this world. Sticks of butter are assigned to Difficulty (how many kitchen fights were needed to complete the meal?), Tasty Goodness (was it a palate poor or did it make our mouths merry?), and Repeat Customer (how likely are we to return to the recipe?).
Difficulty [][][][] 4/5
A significant amount of chopping and chopping and more chopping went into tonights meal, so it was definitely high on the labor intensive scale!
Tasty Goodness
[][][] 3/5 Mahasha – Stuffed Peppers Indian Style – If you like turmeric, this pepper is for you!
[][][][] 4/5 Pipiruchkas Reyenadas de Arroz – Peppers Stuffed with Rice – A sweet and savory stuffed pepper
[][][] 3/5 Pipiruchkas Reyenadas de Keso – Peppers Stuffed with Cheese – With a little tweaking, this could be a more flavorful dish
[][][][] 4/5 Avas – Haricot Bean Stew – A simply excellent and savory stew
[][][][] 4/5 Iraqi Apple Preserve – Stewed apples and ice cream, how could you go wrong?
Repeat Customer
[][] 2/5 Mahasha – Stuffed Peppers Indian Style – Stuffing peppers is not our favorite way to cook and…
[][] 2/5 Pipiruchkas Reyenadas de Arroz – Peppers Stuffed with Rice – …as above…
[][] 2/5 Pipiruchkas Reyenadas de Keso – Peppers Stuffed with Cheese – …so below.
[][][][] 4/5 Avas – Haricot Bean Stew – Simple and tasty!
[][][][] 4/5 Iraqi Apple Preserve – Ditto on the stew!
Despite missing a month of posting we felt like we sliced and diced enough to make up for that month! If you are a fan of stuffed veggies, be sure to tune in over the next several weeks as tonight's peppers are not the end of the stuffing madness!
Sip, sup, and savor all you can, you curious cooks,
Elais & Gary