Just want the recipes and none of that other wordy nonsense? Click the links below!
Kora-Boulette-Relleno-"Pudding" – Meat Loaf to Put In with the Dafina
Serra – Rice Stuffing in a Bag for Dafina
Torzelli – Cooked Belgian Endive
Kheer – Coconut Creamed Rice Pudding
Meal the Forty-Second
In the previous Ashkenazi section of The Book of Jewish Food, we ate quite a few stews and hearty soups, which warmed my one-pot-meal loving heart. As it turns out, there is a small stew section in the Sephardi portion of the cookbook, which also features a couple one-pot recipes. However, these one-pot recipes feature several dishes made all together in a cooking vessel, which is quite different from the Ashkenazi stews. This is fun because each night you can pick and choose which dishes will be added to your bowl of soup, almost creating a different meal every evening.
One-pot meals have roots in our earliest culinary histories, as cooking vessels were hard to find/create, so when they were in use, it only made sense to throw all ingredients in to simmer together. From shallow shells to oddly shaped gourds, to when we finally figured out how to fire pottery, a vessel that could hold fluid and withstand heat was key to cooking for one as well as a crowd. These cooking apparatus could withstand heat also allowed for hard-to-digest tubers, meats, and bones to be broken down to a point at which they become palatable (and more importantly not poisonous!). Tonight's stew was typically baked in a sealed clay pot placed inside of a stone oven, both allowing the moisture to remain in the mix as well as prevent any non-kosher items from being added.
So after that brief study on stews, get out your trusty spoon and dig in to this Sunday's story of sustenance!
Dafina is traditionally similar to our favorite stew from the Ashkenazi portion of cook book, cholent. Just like cholent, dafina had its own special Sabbath pot, which was filled, sealed, and then taken to a community stone oven on Friday, to be slowly cooked and picked up on Saturday after synagogue. Unlike dropping off the cholent, which evoked feelings of heavy coats and a trek through snow-lined village paths, dafina was often left in the embers that heated public baths in many Middle Eastern communities. Dafina means "buried" in Arabic and has as many ingredient variations as it does countries it can be found in around the Mediterranean Sea.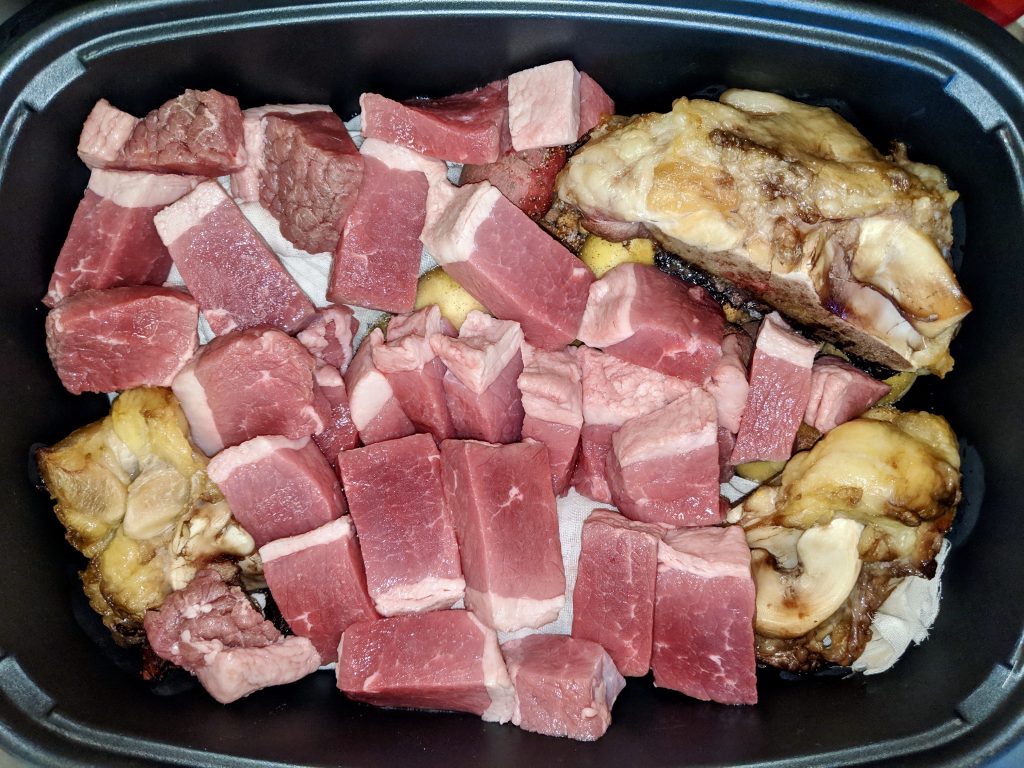 This Saturday Sephardi one-pot-meal is an array of filling proteins and starches. This (and the following two recipes) are the traditional Moroccan Dafina recipes, meant to be cooked at the lowest possible temperature due to the laws of the Sabbath. We thought the crockpot would be a good fit for the stew and so filled it as follows: beef bones, cubed brisket, chickpeas, one whole onion, small potatoes, pepper, nutmeg, mace, cinnamon, and salt were all put in the crockpot (along with the following two dishes). This all simmered on low in the crockpot for ten hours.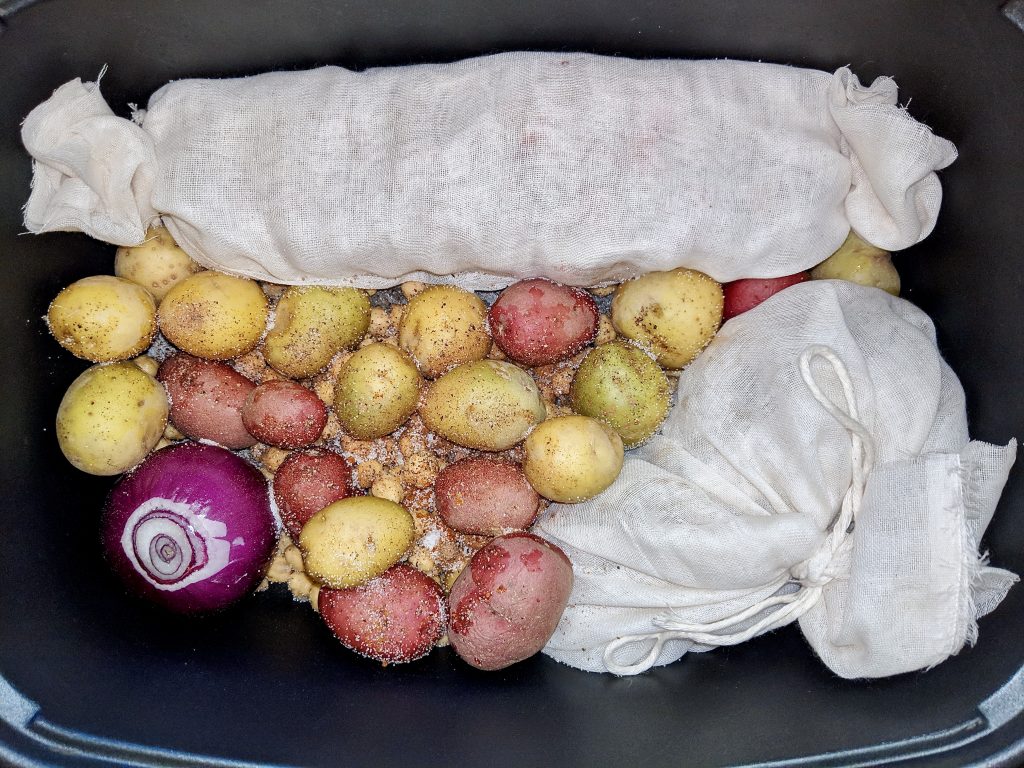 The stew was excellent and only got better over the ensuing nights it was eaten. It was savory and bright, with the spices melding well and not being too overly cinammon-y or nutmeg-y. Without its accompanying dishes, it was not overly heavy, but still hearty, and a nice bowl on a chilly evening. The long cook time was definitely needed, allowing the crockpot to pull all the flavors out of the variety of meats and bones. This was a great stew, and we definitely enjoyed it as much as its sister stew cholent!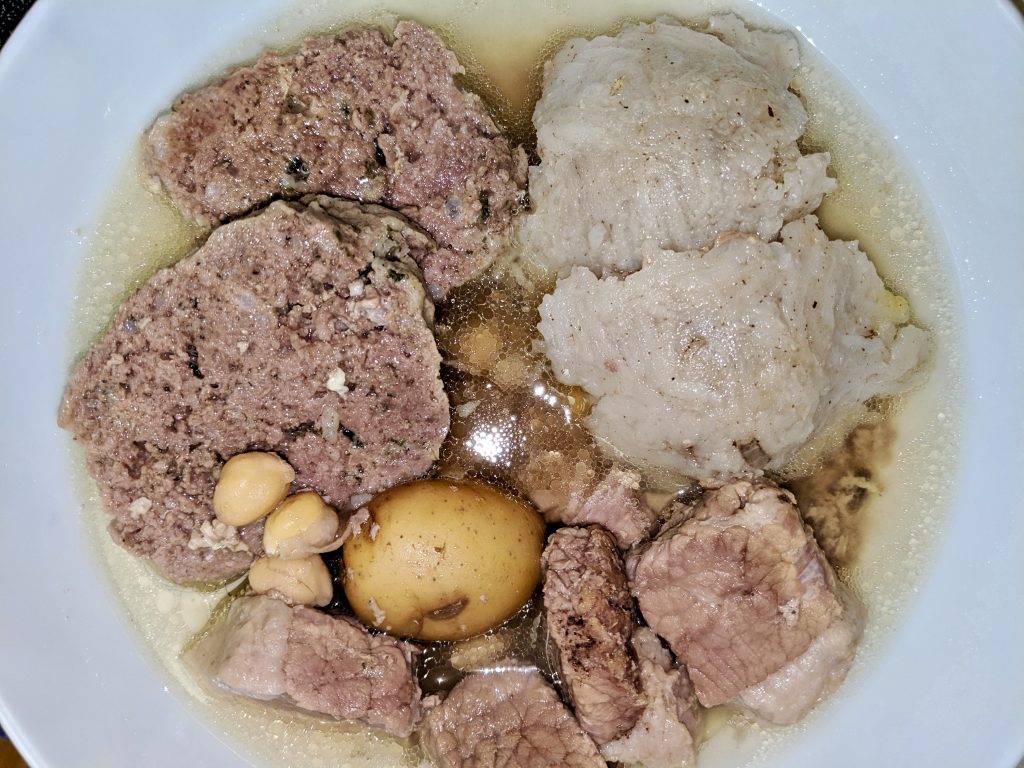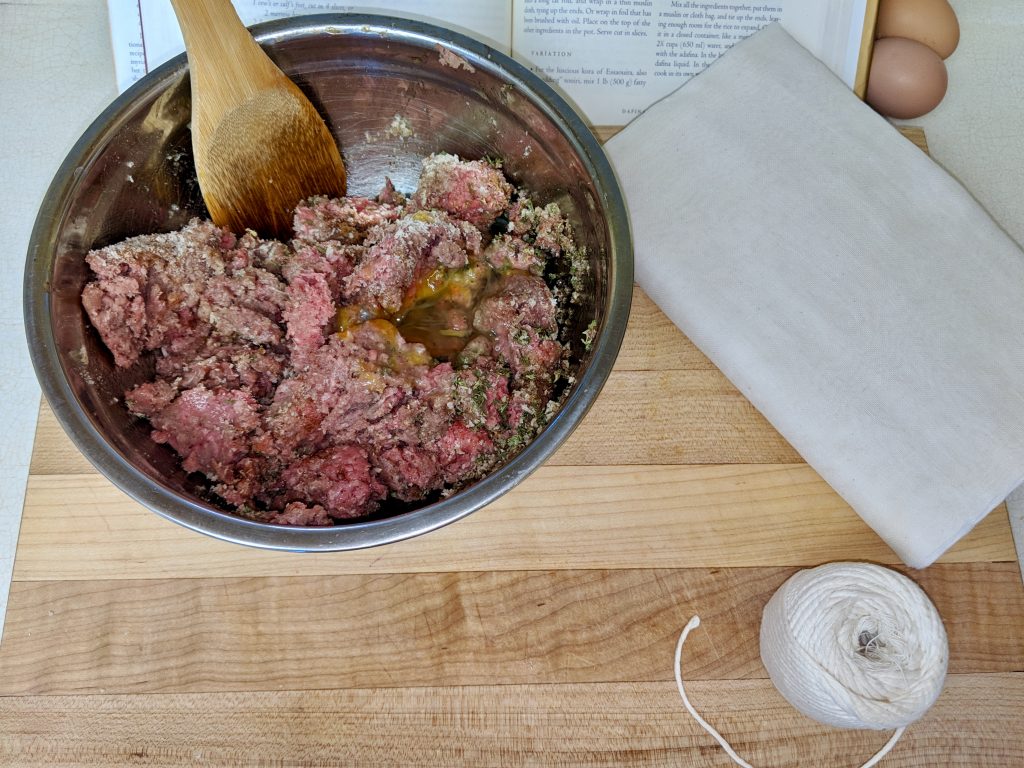 This meatloaf was very carefully squeezed into the crockpot along with the previous ingredients. Ground beef, a beaten egg, parsley, bread crumbs, salt, pepper, nutmeg, cinnamon, ginger, and oil were all mixed together and then shaped into a log. This was wrapped in cheesecloth, tied off at the ends, and then found its place in the crockpot amongst the chickpeas and bones.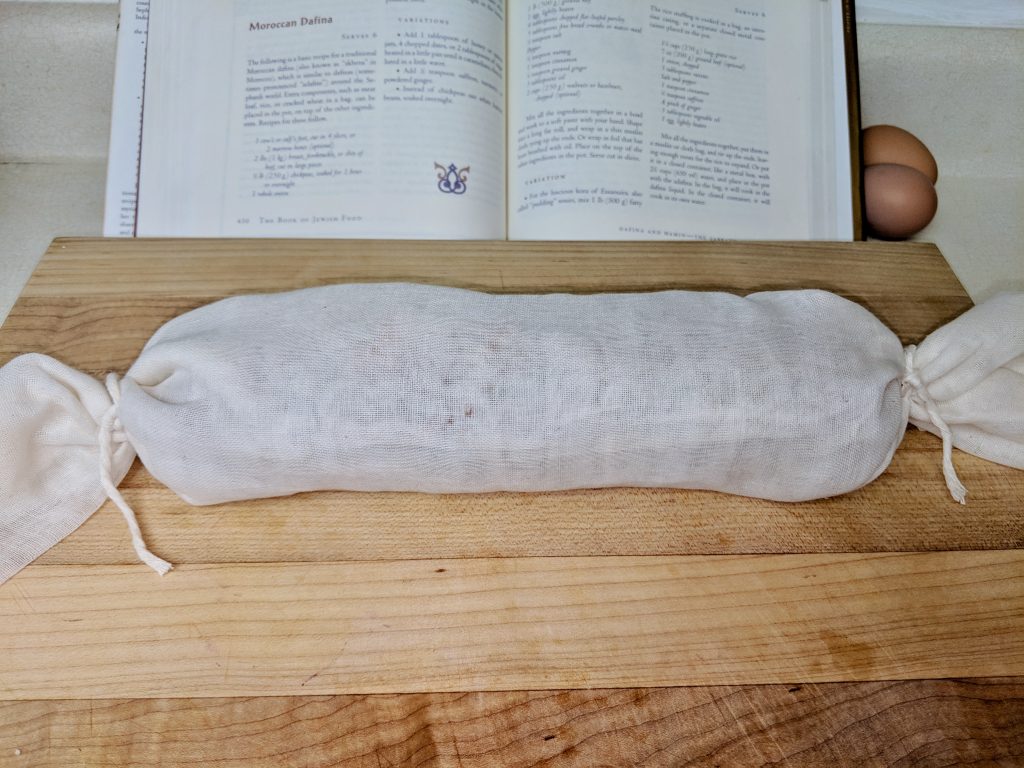 After its slow simmer, the meatloaf in a bag was fished out of the crockpot and allowed to cool a bit before slicing. The slices were added back to the soup in serving bowls, which was needed as the soup added some much-required moisture back to the long-cooked loaf. The meatloaf was surprisingly bright, which was probably due in part to the light touch of ginger. It also held together well, even after slicing, and was a very interesting addition to our winter stew.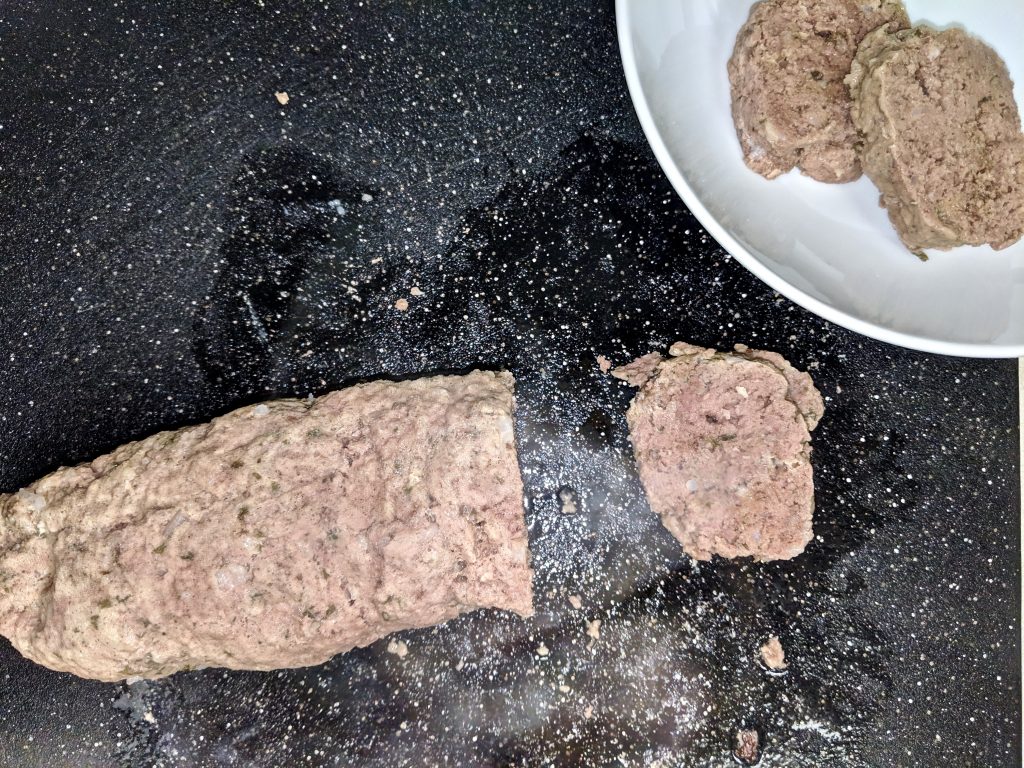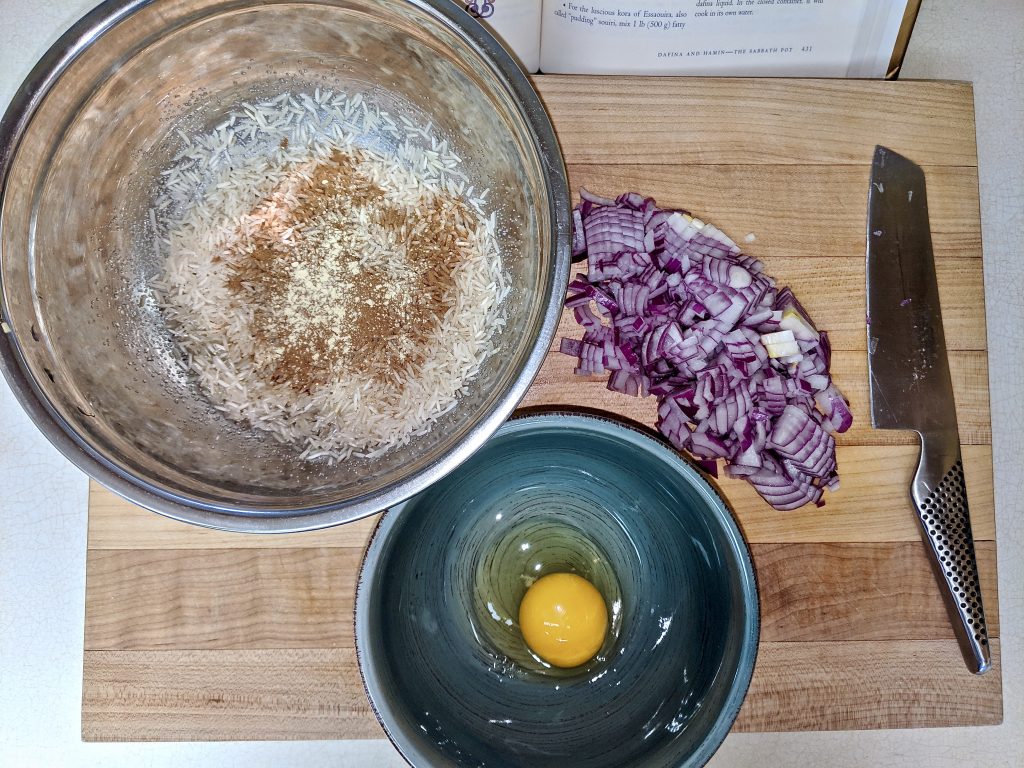 Rice, chopped onion, chopped dates, salt, pepper, cinnamon, saffron, ginger, oil, and a beaten egg were all mixed together and then tied loosely into cheesecloth shaped into a small bag.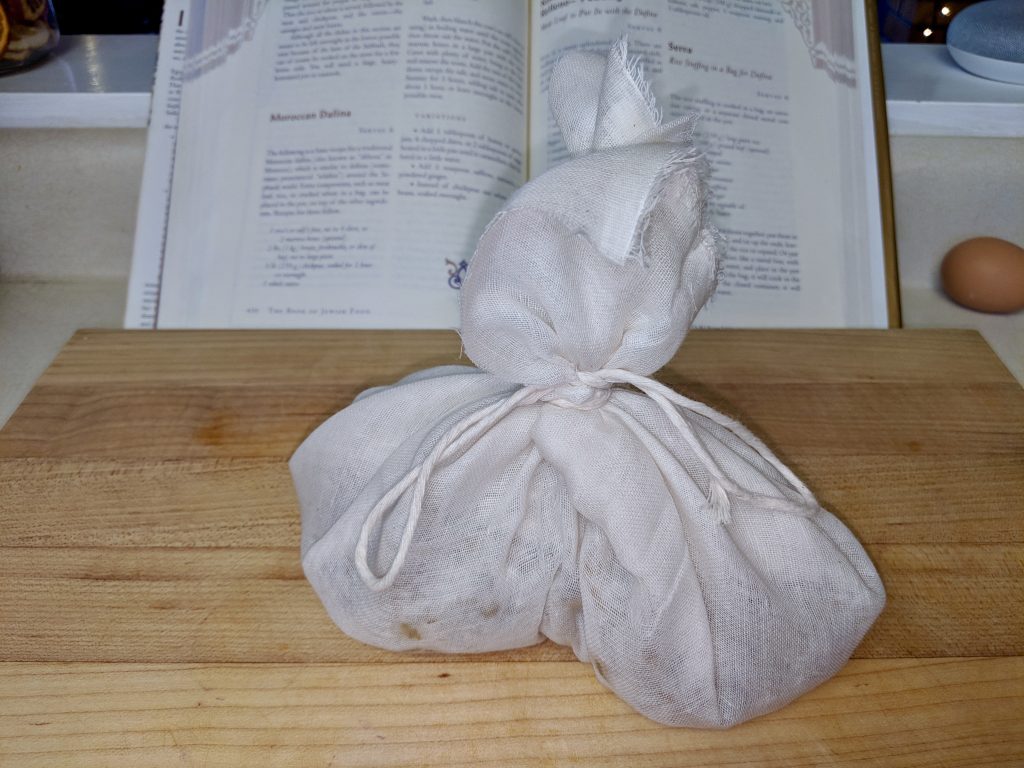 When we opened the bag, all of the ingredients had melded together into a bit of a pudding, so I thought that perhaps we had overstuffed the cheesecloth. But, when sliced and added back to the soup, the "pudding" broke apart into its rice-beginnings. MAGIC! It was quite tasty, a little sweet and a little savory, and was not mushy as we had expected after spending so many hours in the crockpot. It added some nice texture to the soup and was quite enjoyable all together.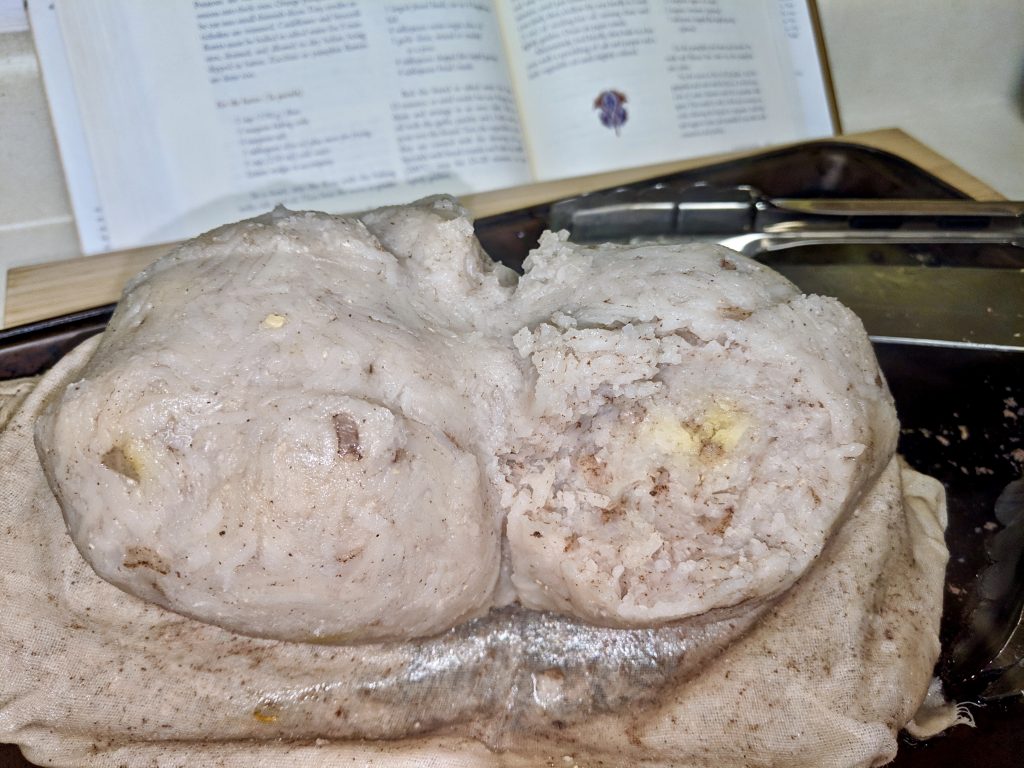 Despite the above one-pot-meal being fairly filling, it ran a bit low on vegetables, so we chose a simple veggie dish to meet our quota for the day. Endive, also known as chicory, is much loved by Italian Jews and is high in many vitamins and minerals, especially in folate and vitamins A and K. There are many varieties, and we chose to go with the commonly found Belgian Endive (because it is commonly found).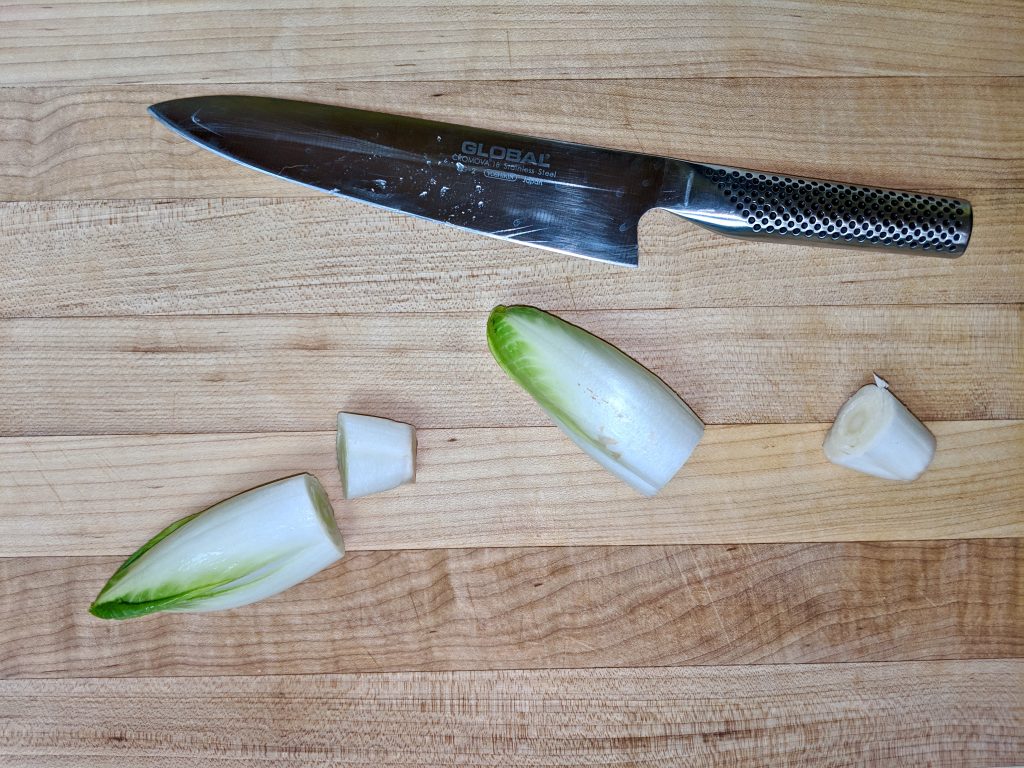 The root was cut off and blanched briefly in boiling water. The endives were drained and dried thoroughly, then shallow fried briefly until lightly golden. After the leaves drained on paper towels, they were salted and served.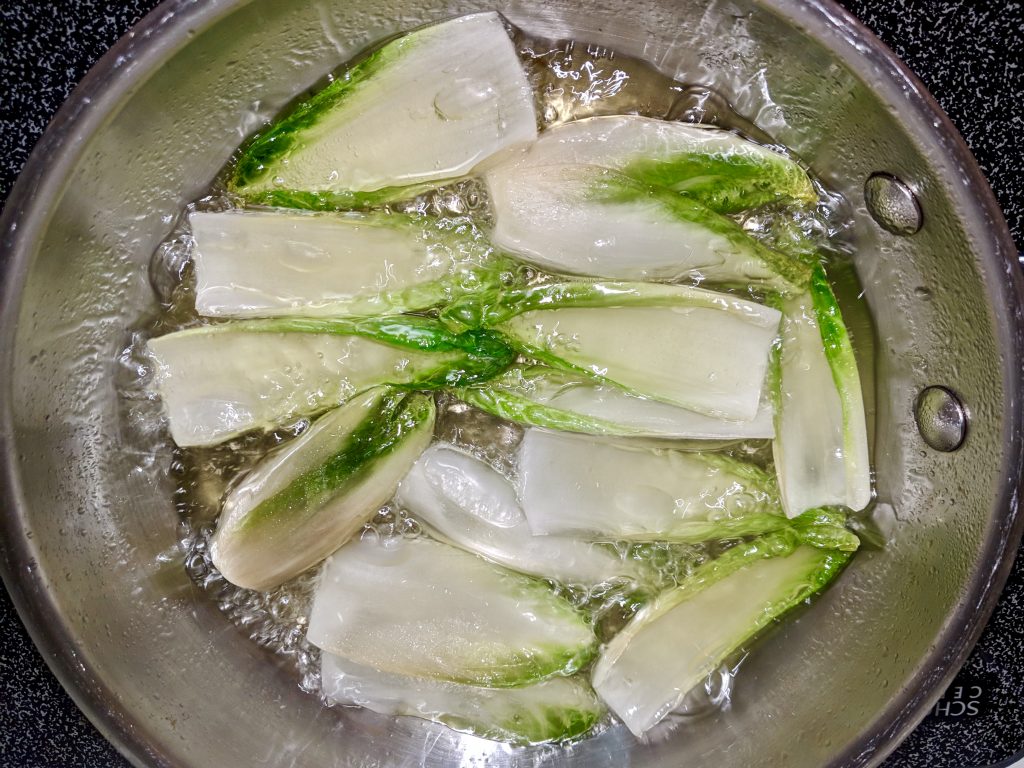 For a ridiculously simple dish, this was ridiculously tasty. The endives were slightly bitter, but also a little sweet and nutty. Eaten immediately, they were a bit crunchy, but even when they lost their crunch they were still pretty damn good. If you are going to try a veggie dish, this is the one we recommend!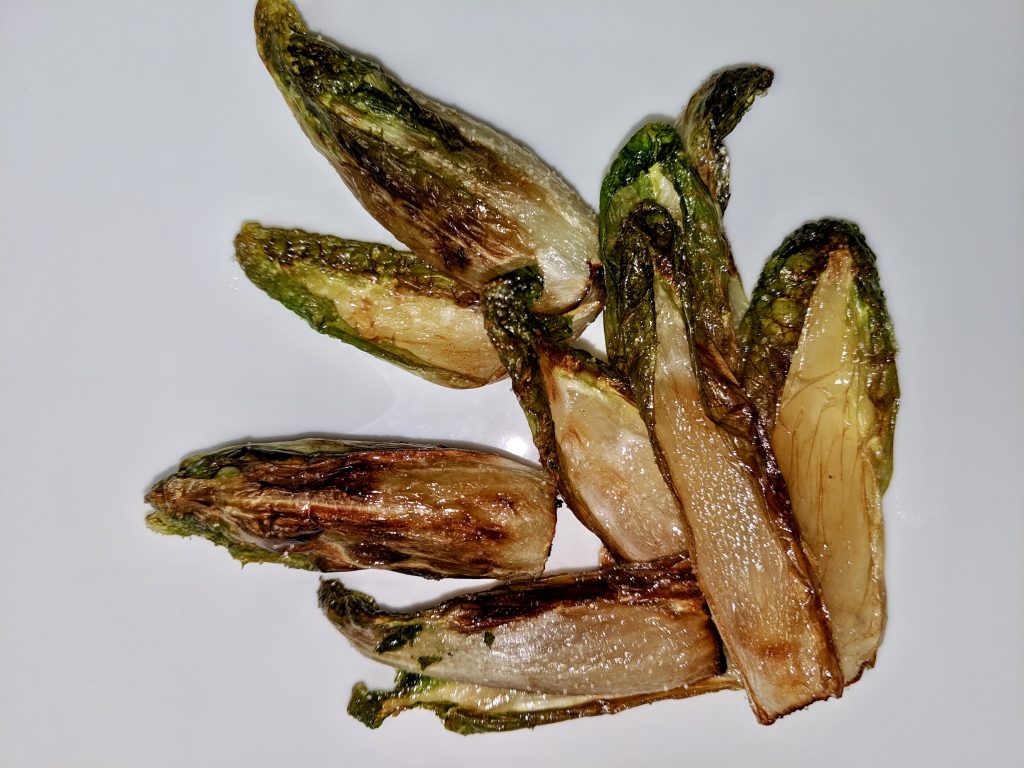 The small group of Jews in the Bene Israel Community in India enjoy this dessert after the fast Gedaliah which commemorates the assassination of Gedaliah Ben Achikam, the Governor of Israel during the days of Nebuchadnetzar King of Babylonia, resulting in the Jews fleeing to Egypt. Just like the last sentence, it is quite heavy and not unlike that of a Vietnamese tapioca dessert (but unlike that last sentence), of which Gary is quite fond. 
Coconut milk was brought to a boil after which rice flour was mixed in and allowed to thicken (while carefully stirring the entire time). Cardamom pods were then added, and the pudding simmered messily for about 20 minutes (when pudding simmers, it "blops", blopping all over the stove and anything nearby). Sugar was added towards the end of the simmer time and the pudding was poured into ramekins and chilled until it was time for dessert. This mix was topped with almonds prior to serving.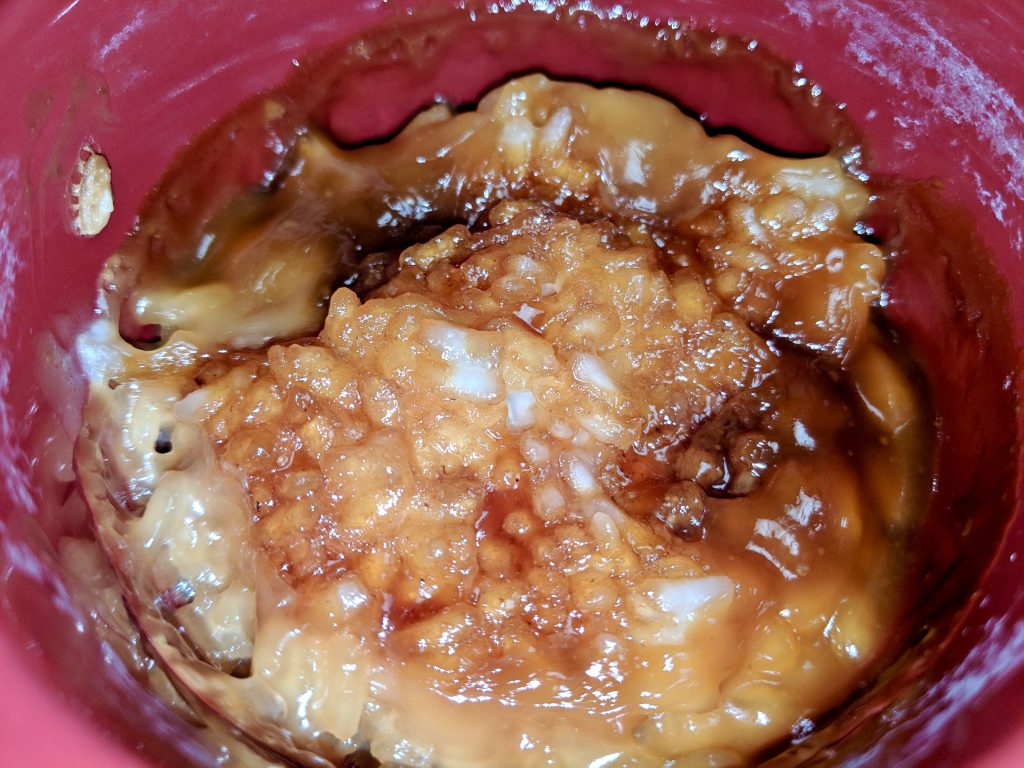 The pudding was excellent – creamy (as pudding should be) and just sweet enough with a light coconut flavor. The almonds were a perfect textural addition and complimented the coconut pudding. This was a great dessert, but a fairly heavy way to end a heavy meal.
AND IN THE END, THE FOOD YOU MAKE IS EQUAL TO THE CARE YOU TAKE…
So how was Made In Marrow's meal number 42? As a reminder, our rating system is based on sticks of butter (because butter is best!), with 1 being the absolute worst and 5 being out of this world. Sticks of butter are assigned to Difficulty (how many kitchen fights were needed to complete the meal?), Tasty Goodness (was it a palate poor or did it make our mouths merry?), and Repeat Customer (how likely are we to return to the recipe?).
Difficulty [] 1/5
Despite being a very different way of cooking, this was not a difficult meal and we just had to ensure we had enough cheesecloth on hand for the one-pot drop-ins!
Tasty Goodness
[][][][] 4/5Moroccan Dafina – A wonderful playground of flavors
[][][][] 4/5 Kora-Boulette-Relleno-"Pudding" – Meat Loaf to Put In with the Dafina – The texture was a bit different than your average meatloaf, but not bad at all!
[][][] 3/5 Serra – Rice Stuffing in a Bag for Dafina – Oddly enough, could have used a bit more seasoning
[][][][][] 5/5 Torzelli – Cooked Belgian Endive – Best. Vegetable. Ever.
[][][][] 4/5 Kheer – Coconut Creamed Rice Pudding – Sweet, tasty, but heavy
Repeat Customer
[][][][]4/5 Moroccan Dafina – Most definitely again, but (surprisingly) with more salt!
[][]2/5 Kora-Boulette-Relleno-"Pudding" – Meat Loaf to Put In with the Dafina – While good, we are still fans of the traditional meatloaf method
[][] 2/5 Serra – Rice Stuffing in a Bag for Dafina – Another interesting soup addition, but not likely something to which we would return
[][][][][] 5/5 Torzelli – Cooked Belgian Endive – Best. Vegetable. Ever.
[][][]3/5 Kheer – Coconut Creamed Rice Pudding – We would make this again, but probably alongside a lighter meal
This one-pot-meal did not fail to disappoint, both when it came to flavor and originality!
Sip, sup, and savor all you can, you curious cooks,
Elais & Gary