Just want the recipes and none of that other wordy nonsense? Click the links below!
Les Fila aux Épinards – Little Spinach Triangles
Harira – Moroccan Bean and Vegetable Soup
Meal the Sixtieth
We are pretty excited that our blog has made it to 60 meals. It can now join other things that are 60, like The Twilight Zone ("there's someone on the wing!"), Bonanza, ("Let's go back to Ponderosa"), Val Kilmer (our least favorite Batman), Flavor Flav ("Flavor Flav!), and float glass (what modern windows are made of!). Although 60 meals is not quite the Queen's Diamond Jubilee, we feel like it is quite the achievement, so we will be doing a little happy dance in the kitchen to celebrate.
After all of these meals, many of our readers/viewers/listeners have asked, so when are you moving on to the next cookbook? The quick answer is, once we are done The Book of Jewish Food 😉 We are actually making our way through the Sephardi section at a fairly good pace, and are nearing the ends of several portions of this half of the cookbook. So for those that are looking forward to a new book, never fear, the next cuisine is just on the horizon!
We would also like to take a moment/line out of our 60th blog to thank all of our curious cooks, young and old, small and grown, as we quite appreciate your attention and support! We love that you are along for the ride, so let's get to dinner number sixty!
Our journey through filo continues with this spinach filled hand pie. This recipe is a bit funny as Claudia Roden specifically notes in the ingredient list, "For the filling we Egyptians use", as opposed to "Egyptian Variation" or "Filling Options" as in previous recipes, so she must have felt very strongly about this recipe. She also notes that these do not freeze or keep very well, so keeping that in mind, we cut the recipe in half, as the original makes 60 spinach triangles.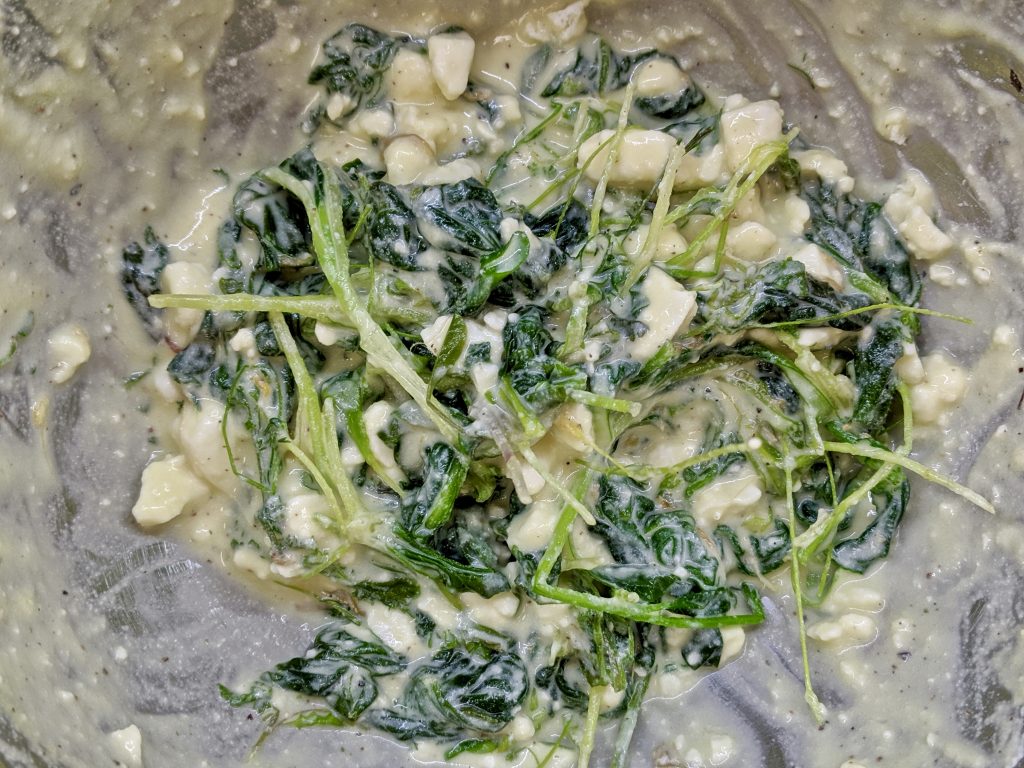 The (Egyptian) filling is very straightforward – wilted spinach is combined with ricotta and feta cheese, an egg, salt, pepper, and a pinch of nutmeg. Roden notes to remove the tough spinach stems (which I failed to do, mostly because I was being lazy) as they get tough and chewy. This filling was then placed in the corner of our filo sheets, which I haphazardly folded into pseudo triangles (for some reason I was very lazy with this recipe). These were basted with butter and then baked at 350 degrees for 30 minutes until golden.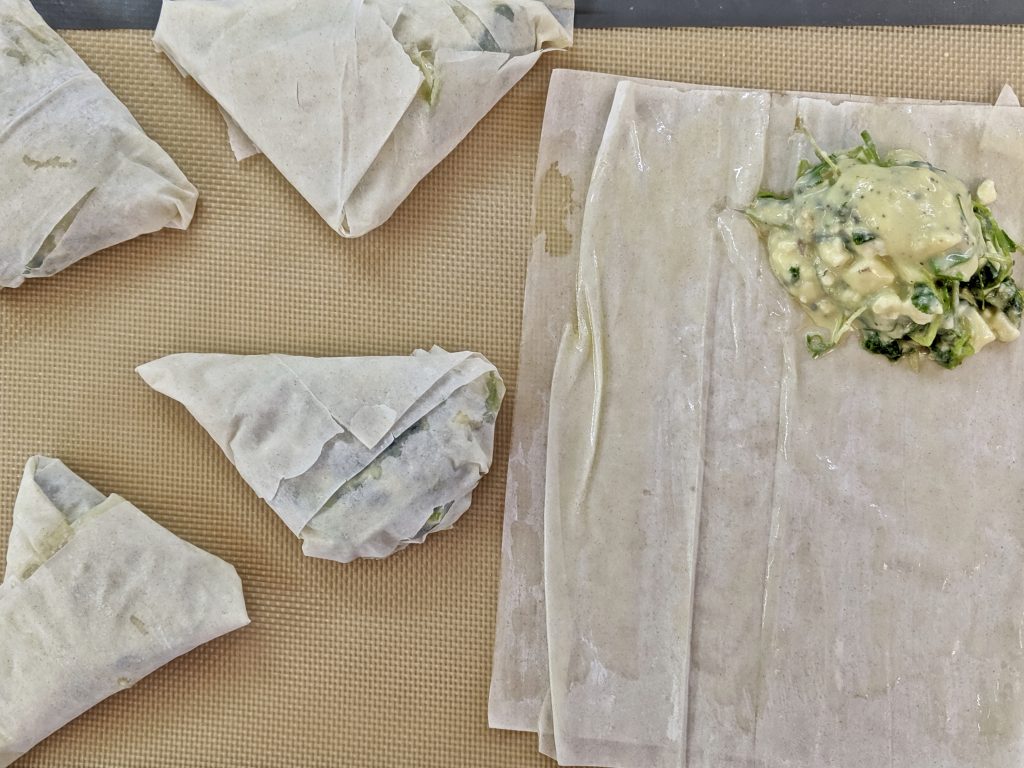 The butter-basted filo was tasty, but the tough stems of the spinach were not. Even without the tough stems, these little pies were just not as good as we thought they were going to be. They were savory, but a bit muted and perhaps could have used a little acid or spice to punch up the flavor.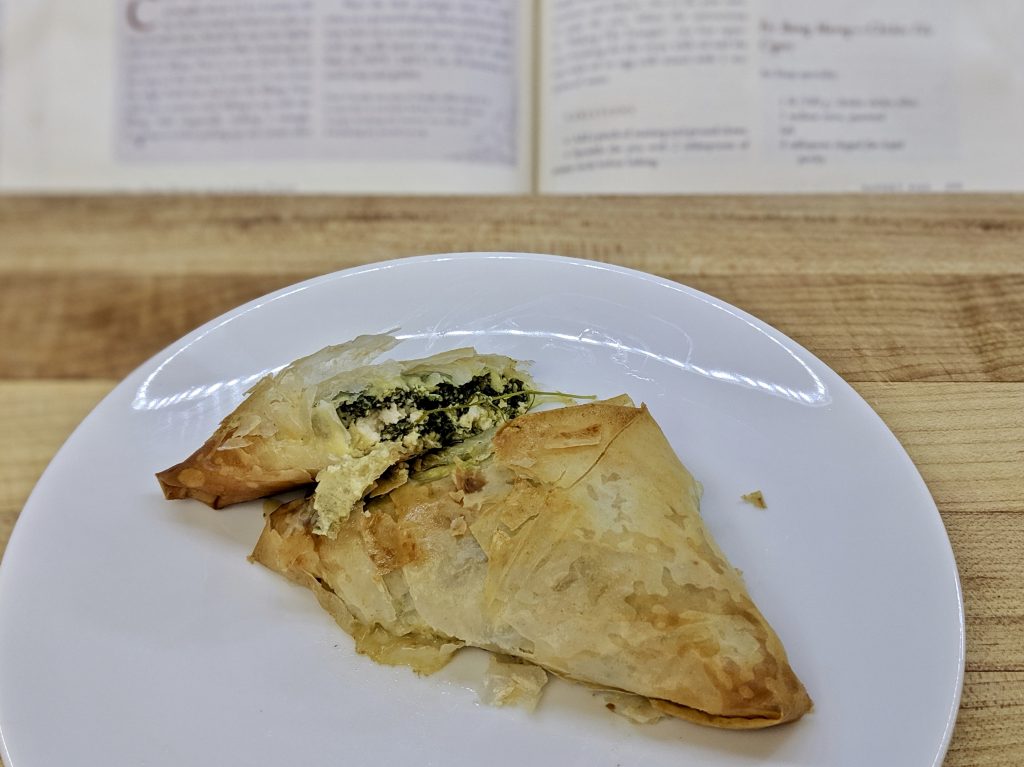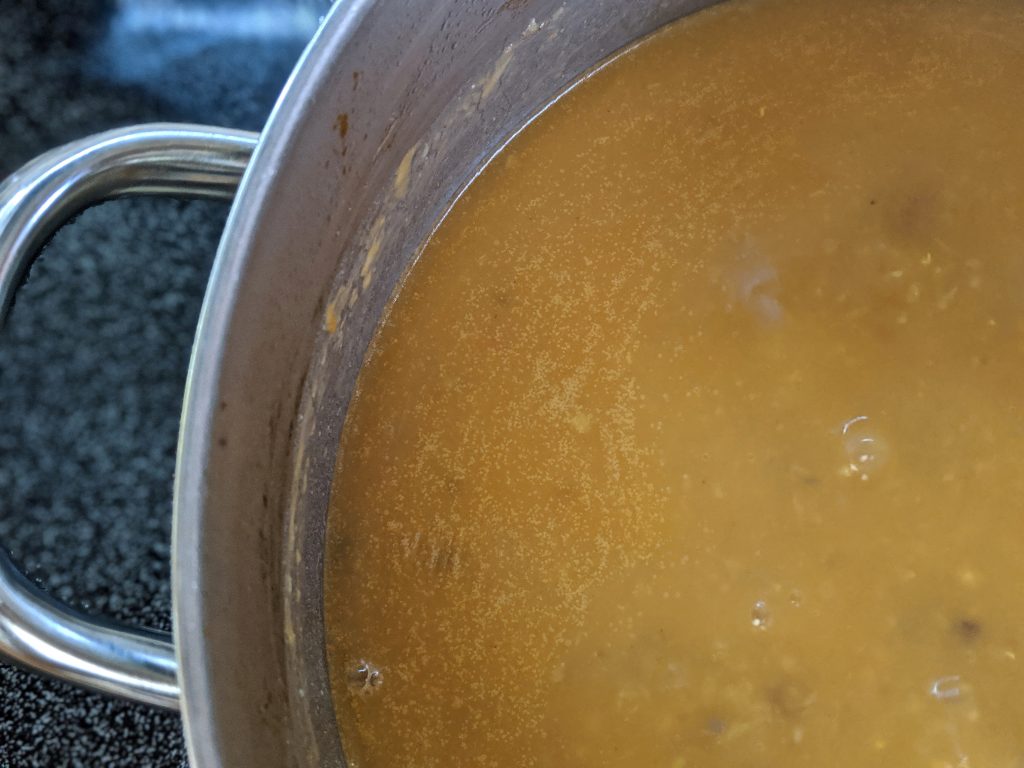 During Ramadan, Jews often ate soup to break their fast, which is why the Muslim dishes were hearty and full of vegetables and pasta. We ended up doing the opposite, as this soup actually allowed Gary and me to fast the next morning, being packed with so many different ingredients.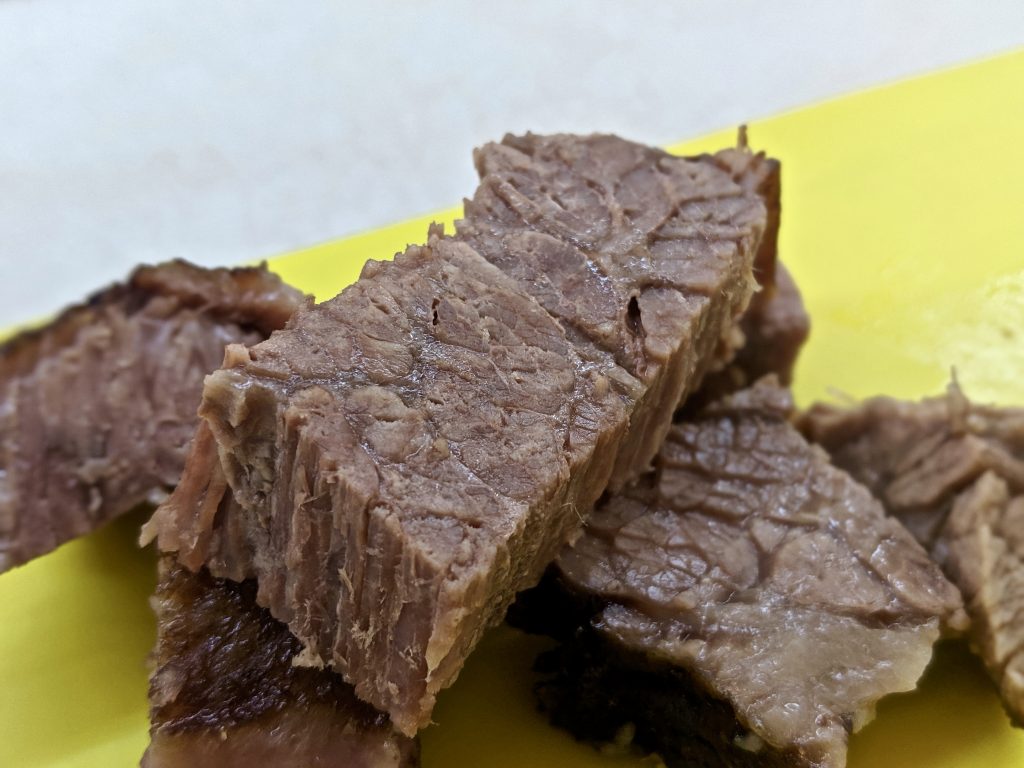 To start, brisket, beef bones, and water were all combined in a pot and brought to a boil. Lentils and soaked chickpeas were added to the skimmed soup and then the entire concoction simmered for four hours. Onions were fried separately until golden, after which they were scooped into the pot along with a healthy shake of salt and pepper. A can of tomatoes and ginger and saffron were added next and these new ingredients all simmered for another hour.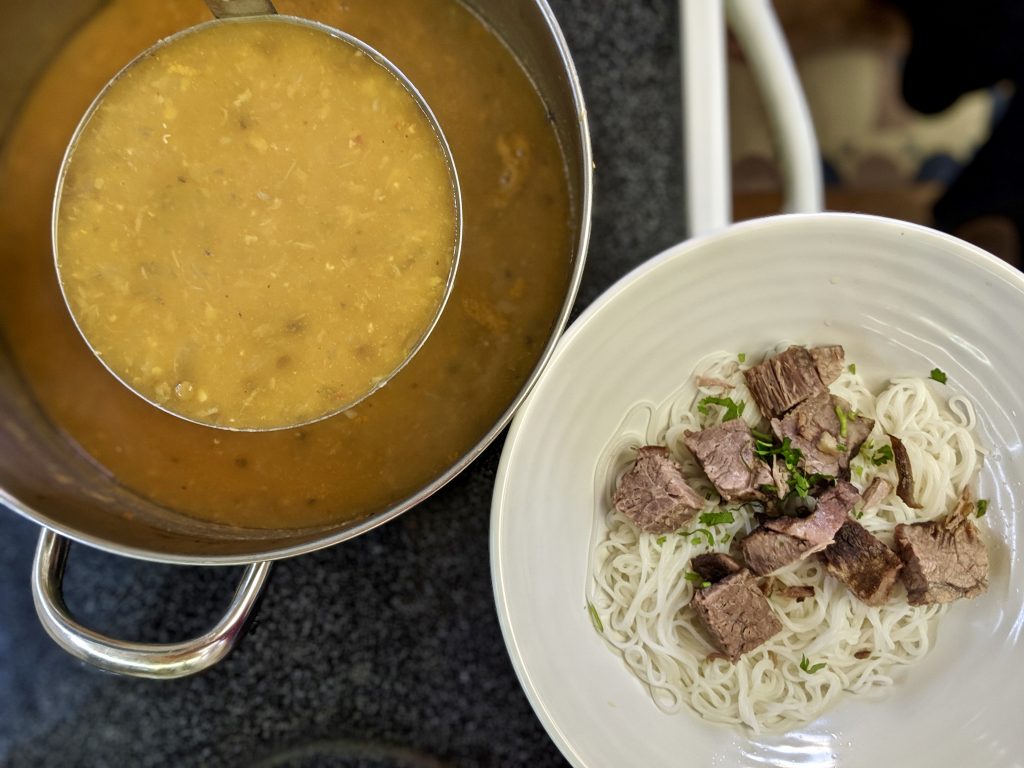 Fifteen minutes before serving, flour was mixed with water to form a paste and this was whisked into the soup to avoid any lumps. Vermicelli was boiled until al dente and mixed in just before serving, along with parsley, cilantro, and lemon juice.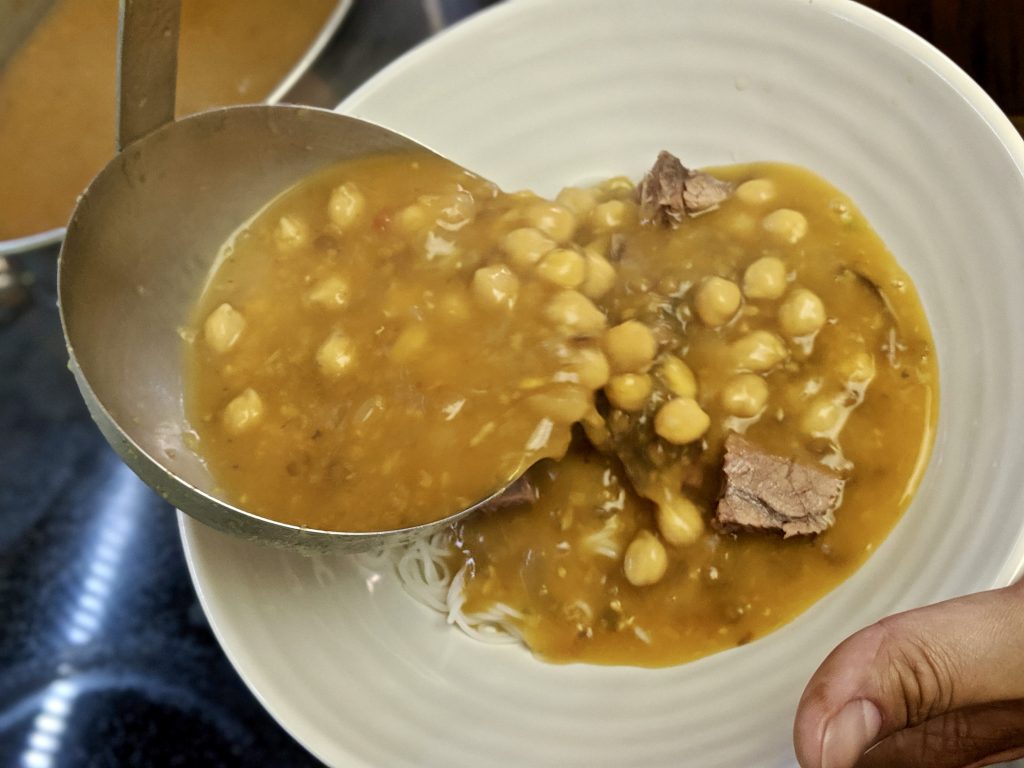 If this dish sounds heavy, it ate even heavier. It was tasty, but lentils, chickpeas, and vermicelli made for quite the hearty bite. The flour paste made the soup velvety and along with a strong tomato flavor, it was almost like a very complicated cream of tomato soup. Gary and I liked it, but also felt like we had two weeks of leftovers as a little soup went a long way!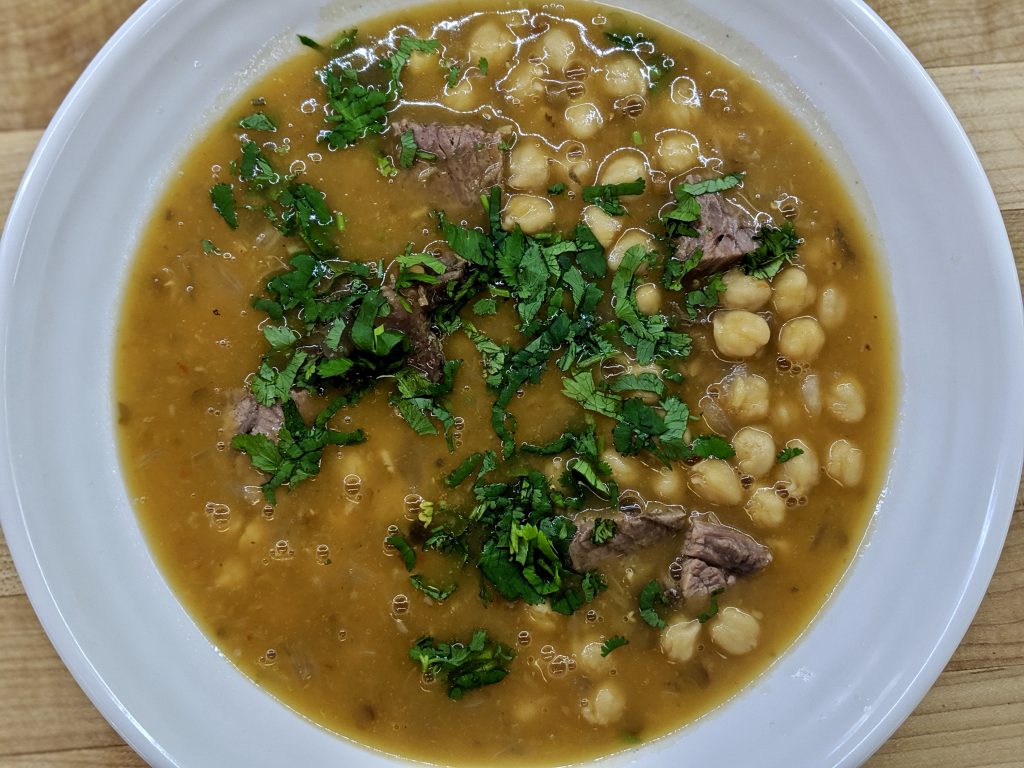 Tonight's dessert recipe is the first of four sweets that are pretty much just fried dough in syrup. But who can resist fried dough coated in more sugar? We are definitely not complaining! This dessert is commonly served during Shavuot in Syria and is quite luxurious with the combination of mascarpone and pistachios.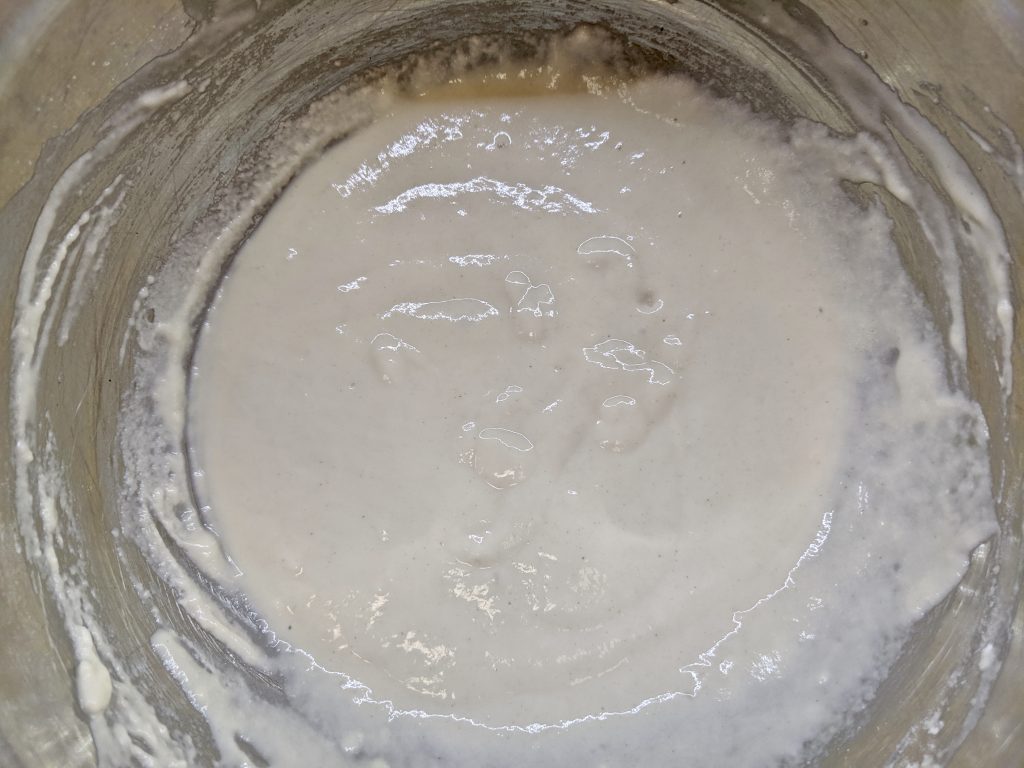 The pancake batter is a bit different from your standard Sunday morning pancake as it is yeast based – this is proofed with water and sugar then added to flour to make a lump-free batter. This rests for an hour, so during this time, I made the syrup to allow enough time for it to reduce. The syrup was simply sugar and water, brought to a boil, then simmered for ten minutes. After it reduced, lemon juice and orange blossom water were added and the pot was removed from the heat.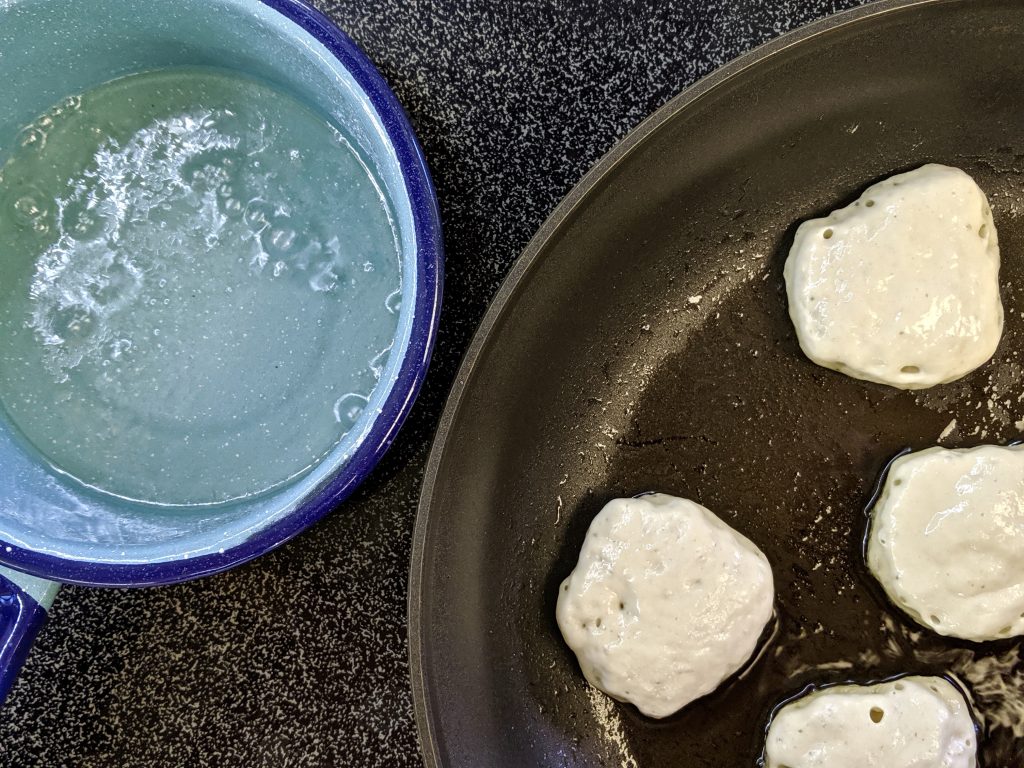 After the ataif (pancake) batter had rested, a non-stick frying pan was placed on medium heat and well greased with oil. Batter was poured by the tablespoon into the hot pan and the little pancakes were flipped when tiny holes began to dot the tops. True to the laws of pancake cookery, the first pancake was oddly shaped and not cooked properly, but all of the following turned out perfectly. Arranged in golden layers, the pancakes were drizzled with syrup, topped with mascarpone, and sprinkled with crushed pistachios.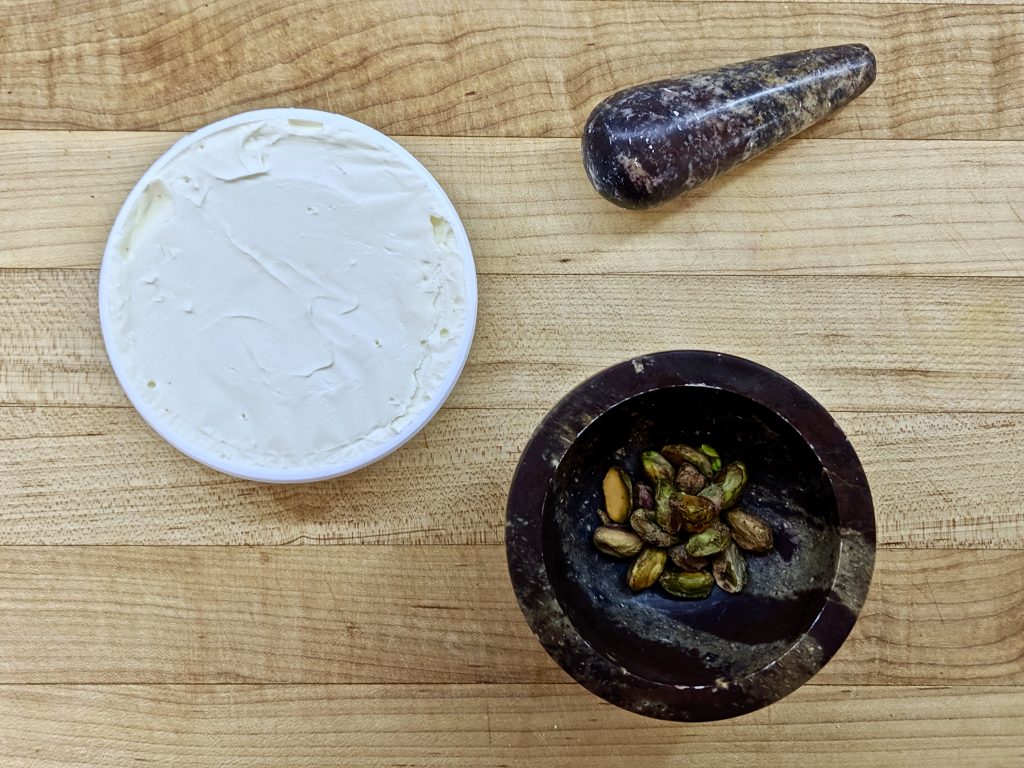 These were fantastically, oh-so-wonderfully, genuinely good. They were sweet (but not too sweet), bright (but not too acidic), and slightly savory (from the mascarpone). They were delightfully chewy and fluffy and made for a wonderful dessert that we will definitely have again!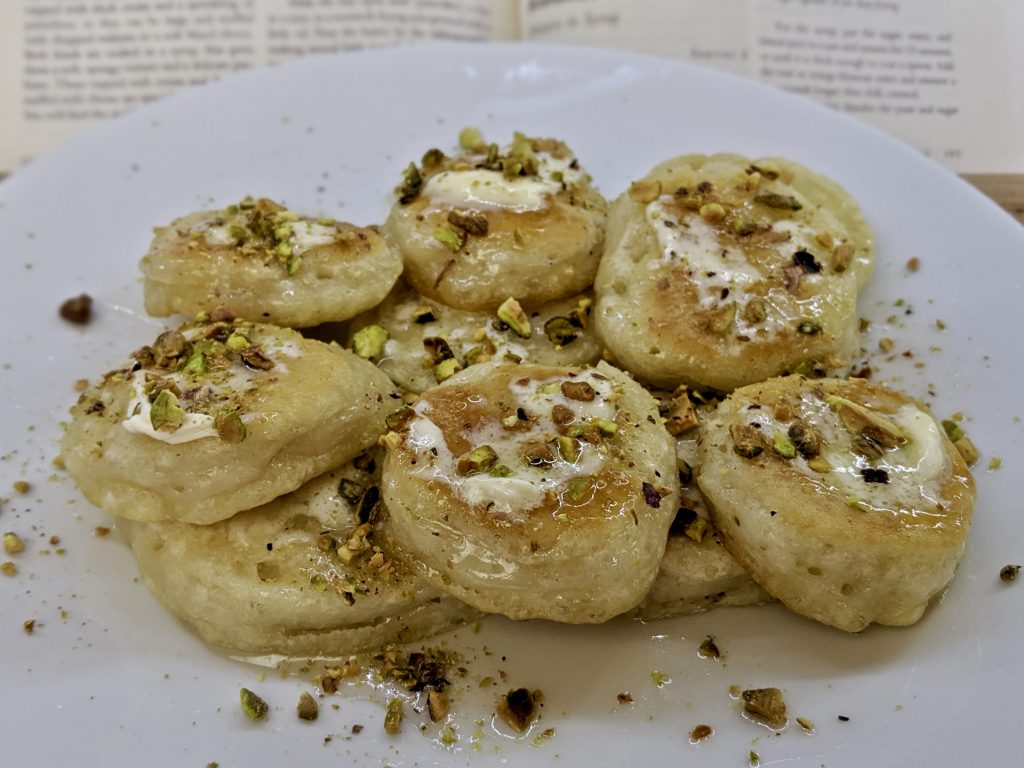 AND IN THE END, THE FOOD YOU MAKE IS EQUAL TO THE CARE YOU TAKE…
So how was Made In Marrow's meal number 60? As a reminder, our rating system is based on sticks of butter (because butter is best!), with 1 being the absolute worst and 5 being out of this world. Sticks of butter are assigned to Difficulty (how many kitchen fights were needed to complete the meal?), Tasty Goodness (was it a palate poor or did it make our mouths merry?), and Repeat Customer (how likely are we to return to the recipe?).
Difficulty [][] 2/5
Tonight's dinner was not too labor intensive (just a bit of a time-suck, as the soup did take a long time) and perhaps may have been a bit more difficult had I not been so lazy about picking spinach stems out of our filo filling…
Tasty Goodness
[][] 2/5 Les Fila aux Épinards – Little Spinach Triangles – These were just okay, as they were definitely lacking some fundamental flavor
[][][][] 4/5 Harira – Moroccan Bean and Vegetable Soup – Good, but man-oh-man was this filling
[][][][][] 5/5 Ataif – Pancakes in Syrup – Gary gives these 10,000 sticks of butter out of 5
Repeat Customer
[][] 2/5 Les Fila aux Épinards – Little Spinach Triangles – I would be willing to try these again, sans stems, and probably with some lemon juice added to the filling
[][][] 3/5 Harira – Moroccan Bean and Vegetable Soup – Maybe, if we are trying to gain some weight…
[][][][][] 5/5 Ataif – Pancakes in Syrup – These are too easy and too tasty not to make again!
Not everything was hit a tonight, which was okay, but we certainly went to bed with our bellies full, so we cannot complain about that – on to meal number sixty-one!
Sip, sup, and savor all you can, you curious cooks,
Elais & Gary