Just want the recipes and none of that other wordy nonsense? Click the links below!
Mushrooms with Cumin Moroccan Style
Les Fila au Fromage – Small Cheese Triangles or Cigars
Burghul bi Dfeen – Meat Stew with Wheat
Babee bi Tamr – Iraqi Date-Filled Pies
Meal the Fifty-Eighth
Slow-cooked meals are pretty common in our house and resultantly, our slow cooker gets quite a workout, especially in the wintertime. There is something wonderful about coming home to a house full of savory smells and dinner awaiting you, so we use our slow cooker at least 3-4 times per month. My original slow cooker was a crock pot dug out of my grandmother's basement – it was at least as old as I was, complete with a too-skinny cord and sides that definitely got too hot to be safe. But Gary and I used that trusty kitchen tool until it pooped out, lasting approximately another ten years beyond its already estimated thirty. After that, Gary and I invested in a mondo-sized slow cooker, as enjoying leftovers is one of the key perks of owning a crock pot.
Tonight's meal features our much loved slow cooker, as it is facilitated for yet another brisket stew. It gets the job done not only for our Sunday meal but for lots of leftovers as well – so enough about our electronic eatery, let's get to the meal!
Claudia Roden provides no backstory on this chilled mushroom dish, so we will jump right into it! Mushrooms were washed, quartered, then fried in oil with garlic. They simmered until tender along with salt, cumin, chili pepper, and lemon juice. Cilantro was added at the end of the cook time and then the entire concoction was chilled until dinner time.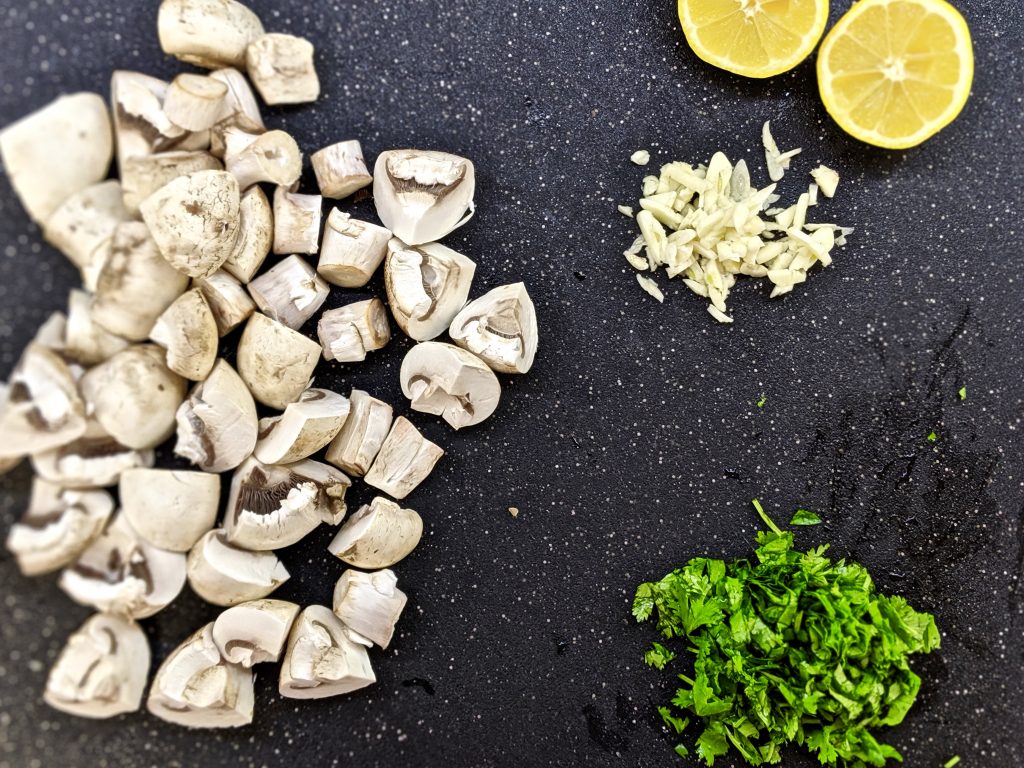 Gary and I were a bit leery about eating cold mushrooms (would they be slimy? chewy? oddly greasy?) but we had nothing to fear because this dish was surprisingly good! The Mushrooms had just enough chew to not be chewy and the oil/garlic mixture was like a light dressing and not at all greasy or oily. This makes a great little salad and is wonderfully different from your average kale or arugula standard sides.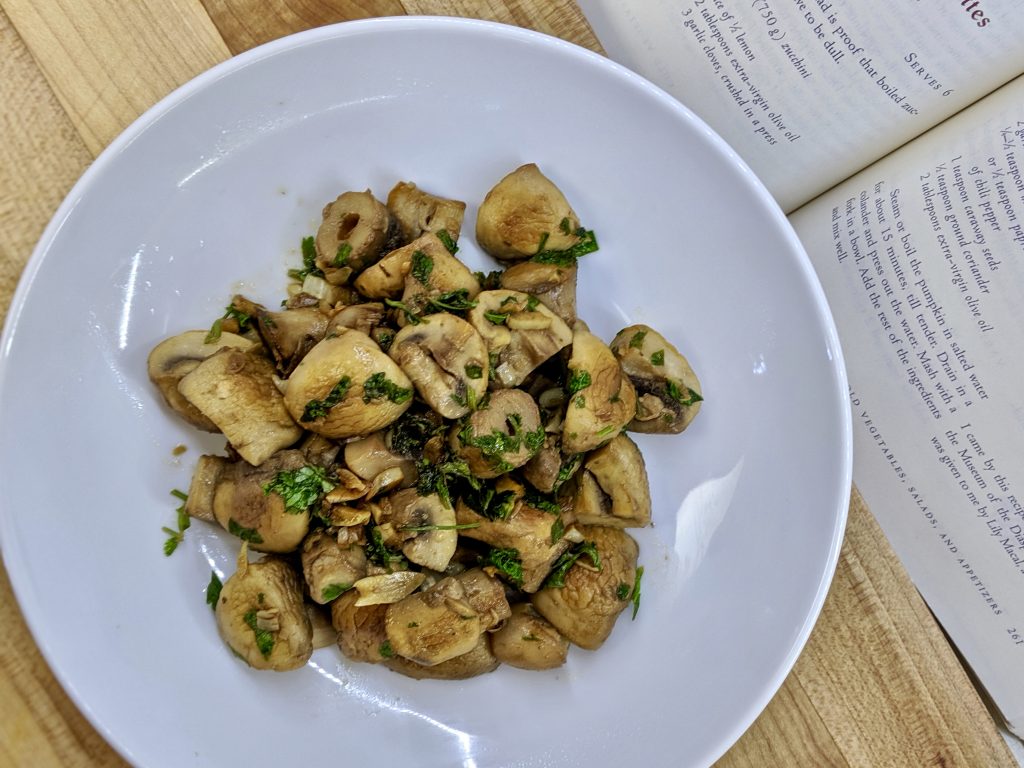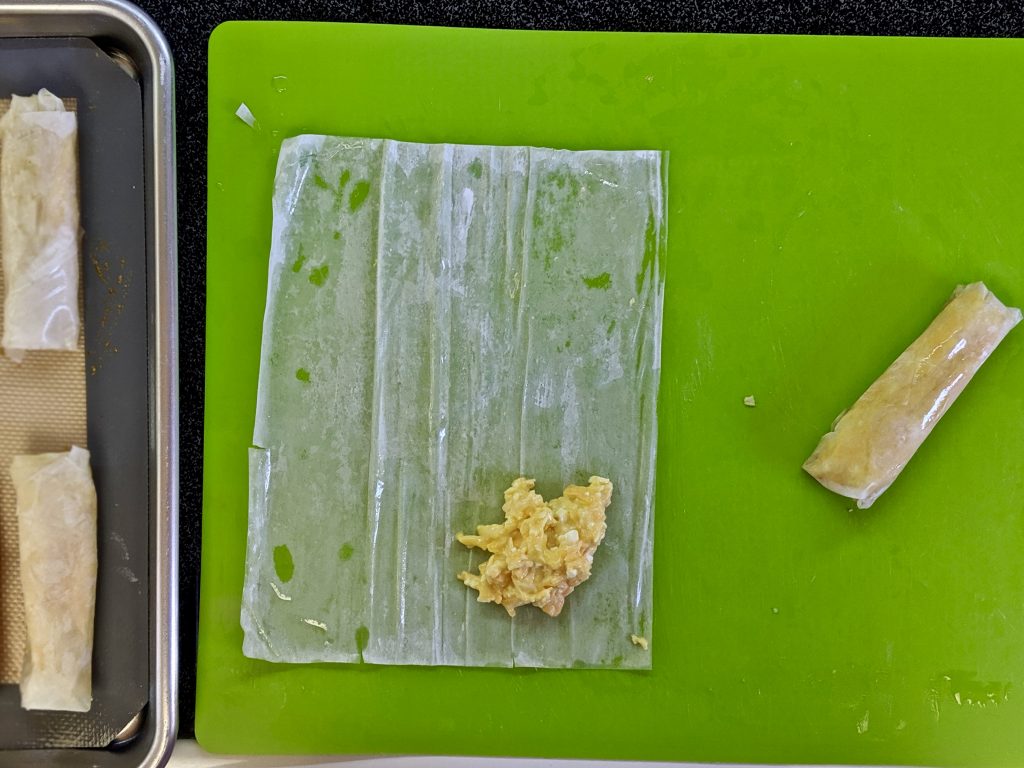 According to Claudia Roden, these filo mini pies are commonly found as appetizers in Jewish households and contained a variety of cheeses, from feta to Gruyere or Parmesan. We chose to go with the suggested gouda, cheddar, and cottage cheese mix for this savory snack. These cheeses were mixed with 2 eggs to make the filling (we cut the recipe in half, as we did not need 60 cheese cigars in the house [note that I said *need* not *want*]). The filling was then carefully placed in sheets of filo, then rolled up in cigar-like shapes. Each roll was painted with egg wash, then baked at 350 degrees until golden brown.
Unfortunately, the filo did not do a very good job of containing the filling, so some of the cigars were a bit leaky. But, they were as tasty as they were ugly – creamy and savory and full of cheesy goodness. We would definitely have these again, as they make a great appetizer, but perhaps would drain the cottage cheese to help avoid the cheesy overflow.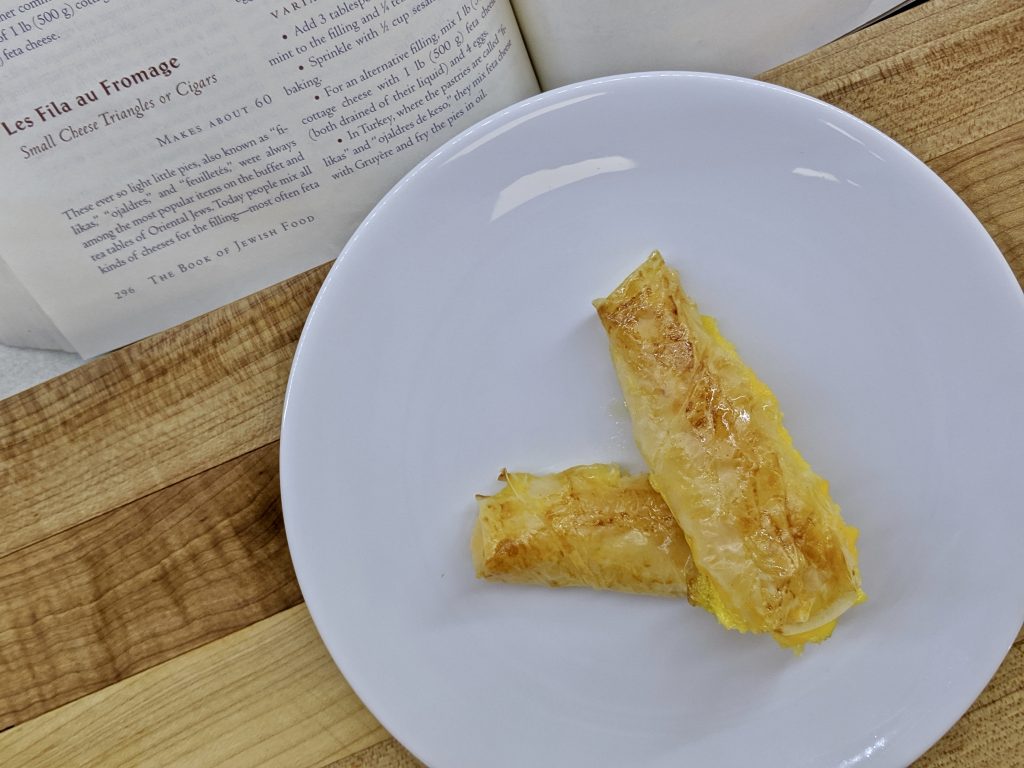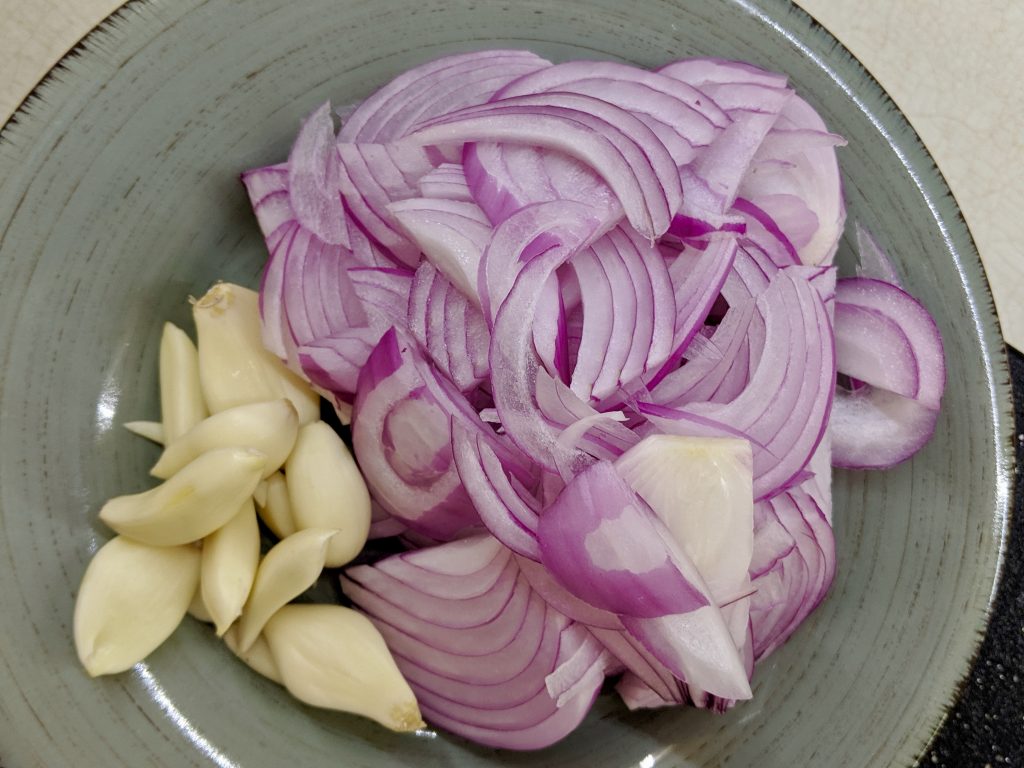 We feature yet another dafina (or slow-cooked Sabbath pot) in this week's Sunday meal, with this Syrian recipe featuring our new favorite grain, ferrik (see our last blog for the low down on this green wheat). This dish is also known as a harissa, which is a porridge of wheat and chopped meat in a ratio of 2/3 to 1/3, respectively. Harissa originated in the thirteenth century with its roots in Persia and is kept up to this day by Jews in Yemen. Traditionally all of the ingredients are mashed, but this Syrian version keeps everything whole – additionally, the dish should be cooked overnight but we took a shortcut and used our slow cooker instead.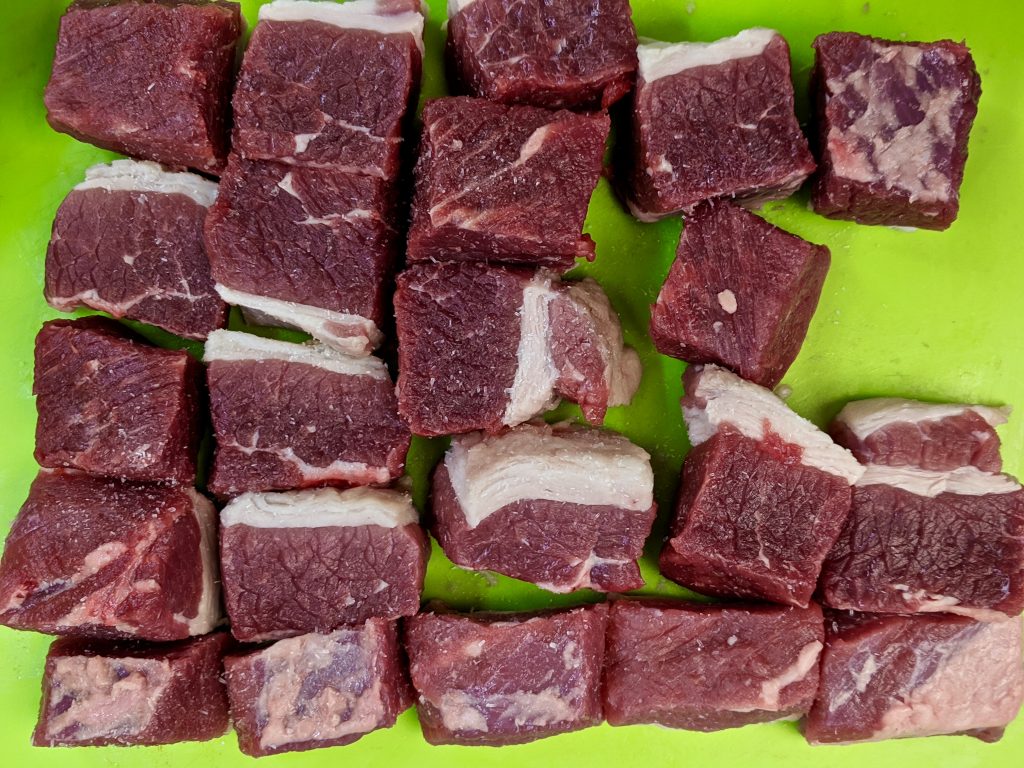 Onions were fried until golden after which brisket was added and browned. Chickpeas were added to the pot, along with cracked wheat, garlic cloves, paprika, and chili powder. All the ingredients were covered with water and the slow cooker then did its thing for the next eight hours.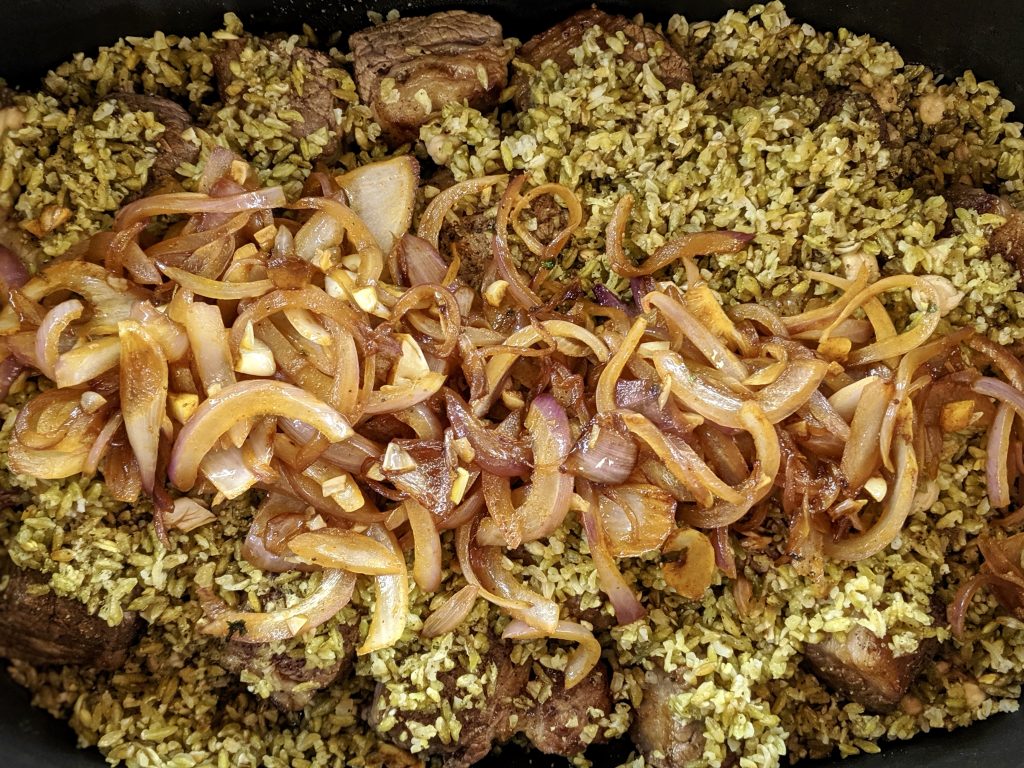 Just like all of the other dafinas we have cooked, this was wonderfully delicious and hearty. The brisket was melt-in-your-mouth tender, with just enough texture differences being added by the creamy chickpeas and salty wheat. The broth was amber in color and just as rich in flavor as it was in color. This was a great one-pot meal that held up well for leftovers and one we would definitely enjoy again!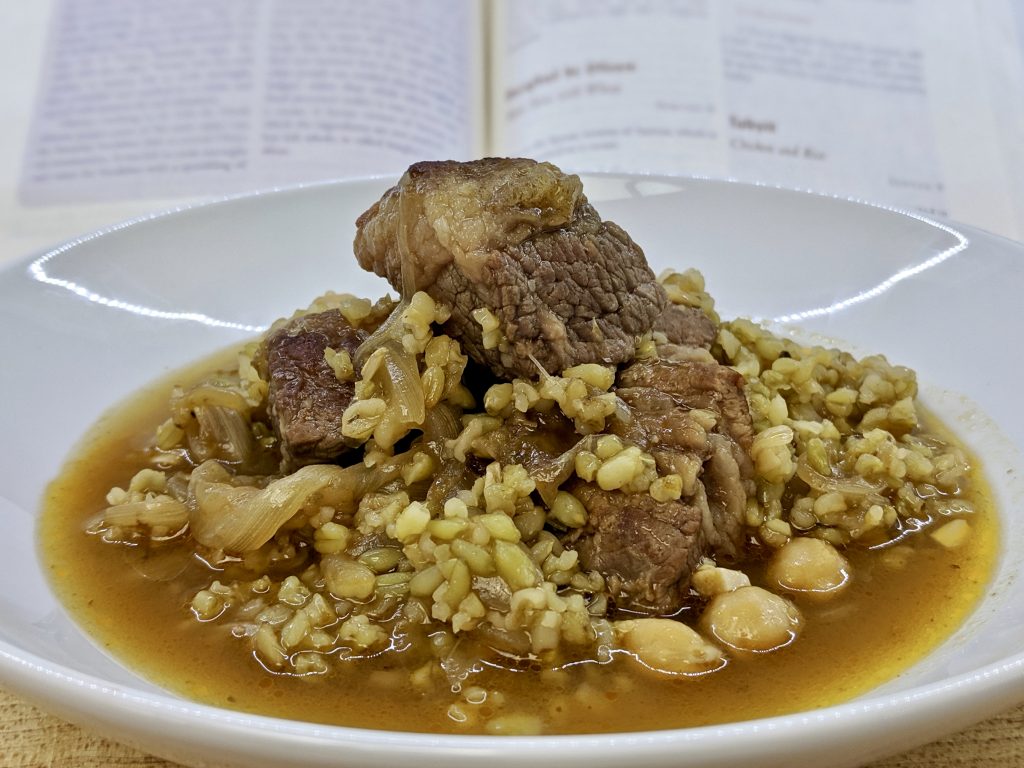 Throughout the Middle East dates and figs are mashed with a variety of ingredients to make both sweet and savory dishes. This dessert can be made with either fruit, so we chose to go with figs, as that is what we had available in our pantry. This two-part recipe required a filling and a dough to be made, so we started early to ensure that we were not eating dessert at midnight.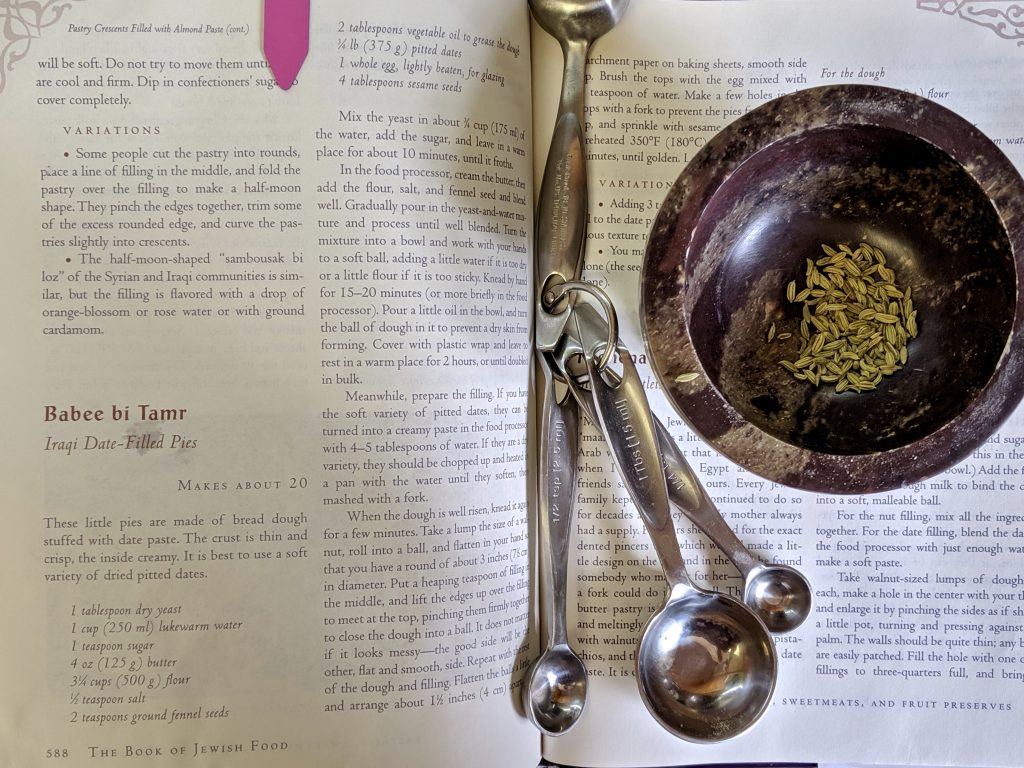 The dough was made by combining creamed butter, flour, salt, and fennel seed along with water, sugar, and yeast. The dough was kneaded for 10 minutes until smooth and stretchy, then rested for 2 hours until doubled in size. Meanwhile, the figs were boiled until soft and mashed with a fork.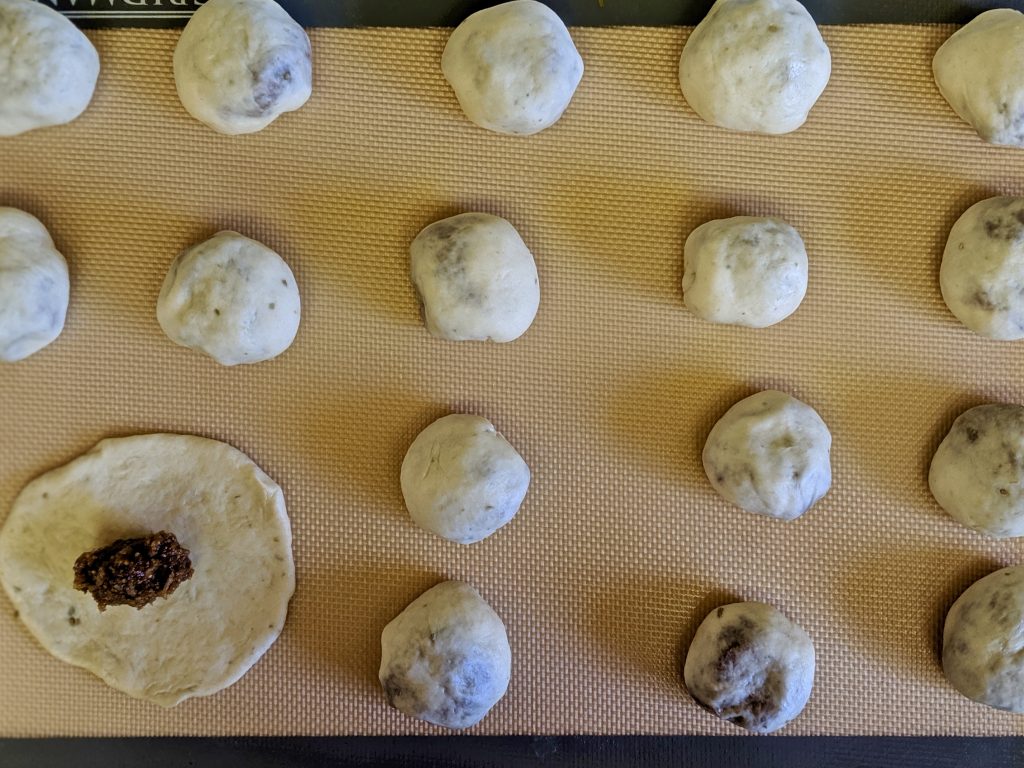 After the dough had risen, lumps the size of walnuts were rolled into balls, then flattened into rounds. A tablespoon of filling was placed in the center and then the sides of the dough were pinched together and placed seam side down on a baking sheet. These were slathered with an egg wash and then baked at 350 degrees for 40 minutes until golden.
These were more buns than pies, but regardless of name, they were a tasty little dessert! The dough was chewy and slightly sweet, with the filling being nicely sweet and a little salty. They also were quite pretty and required very little skill to make them that way, so that was a plus!
AND IN THE END, THE FOOD YOU MAKE IS EQUAL TO THE CARE YOU TAKE…
So how was Made In Marrow's meal number 58? As a reminder, our rating system is based on sticks of butter (because butter is best!), with 1 being the absolute worst and 5 being out of this world. Sticks of butter are assigned to Difficulty (how many kitchen fights were needed to complete the meal?), Tasty Goodness (was it a palate poor or did it make our mouths merry?), and Repeat Customer (how likely are we to return to the recipe?).
Difficulty [][][] 3/5
Two types of doughs were required for tonight's meal, which was not only time consuming but also a little stressful, as shaping doughs into pleasant shapes can be challenging for both Gary and Elais. However, the mushroom salad and main course stew was straightforward, which balanced out our doughy start and ends to our meal!
Tasty Goodness
[][][][] 4/5 Mushrooms with Cumin Moroccan Style – A fun(gi) alternative to your usual salad starter
[][][][] 4/5 Les Fila au Fromage – Small Cheese Triangles or Cigars – Cheese in dough, what more could you ask for?
[][][][][] 5/5 Burghul bi Dfeen – Meat Stew with Wheat – Just like Mary Poppins, practically perfect in every way
[][][] 3/5 Babee bi Tamr – Iraqi Date-Filled Pies – A slightly sweet dessert bun
Repeat Customer
[][][][] 4/5 Mushrooms with Cumin Moroccan Style – We have to admit, we did enjoy this more as a hot dish
[][][][] 4/5 Les Fila au Fromage – Small Cheese Triangles or Cigars – Again yes, but with some small alterations
[][][][][] 5/5 Burghul bi Dfeen – Meat Stew with Wheat – No complaints about this slow-cooked stew!
[][][] 3/5 Babee bi Tamr – Iraqi Date-Filled Pies – We would be interested in trying again, but with dates instead of figs
Another successful slow-cooked stew is in the books and we look forward to next week's dafina, as it is the last in that section of The Book of Jewish Food. Onward!
Sip, sup, and savor all you can, you curious cooks,
Elais & Gary