Just want the recipes and none of that other wordy nonsense? Click the links below!
Sutlage-Muhallabeya – Fragrant Milk Pudding
Meal the Forty-First
Tonight's meal out of The Book of Jewish Food features a nice little tour of the Mediterranean, starting in Italy and then curving around through Egypt and North Africa. This week's cuisine melded together a bit better than last week's random assortment, featuring several ingredients with which we do not normally cook. Short of the dessert, each of tonight's dishes features an ingredient which is native and found abundantly in the region and therefore the star of each recipe.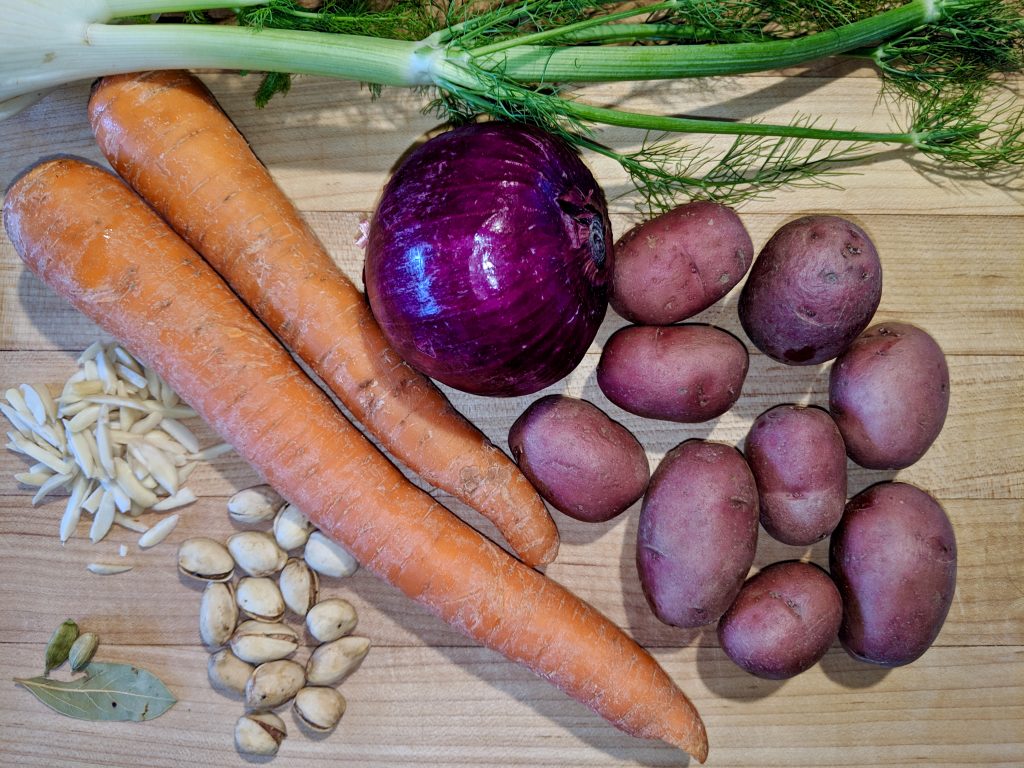 These are some of the recipes we enjoy the most – culture often becomes most apparent through how they use that one prolific component in their favorite dishes. This is what makes cooking recipes which are foreign to us so much fun, despite not having any previous experience with the final flavor, we get an understanding of what is important to those origin kitchens, whether it be a root, bulb, or leafy green.Vegetables (finally) take the front seat tonight in our culinary capers, so pull up a seat and enjoy!
This Italian Jewish dish features the bulb fennel which, interestingly enough, is actually a member of the carrot family. Fennel is indigenous to the dry soils on the shores of the Mediterranean and is one of the primary ingredients in absinthe (don't worry, no green fairies were harmed in the making of tonight's meal).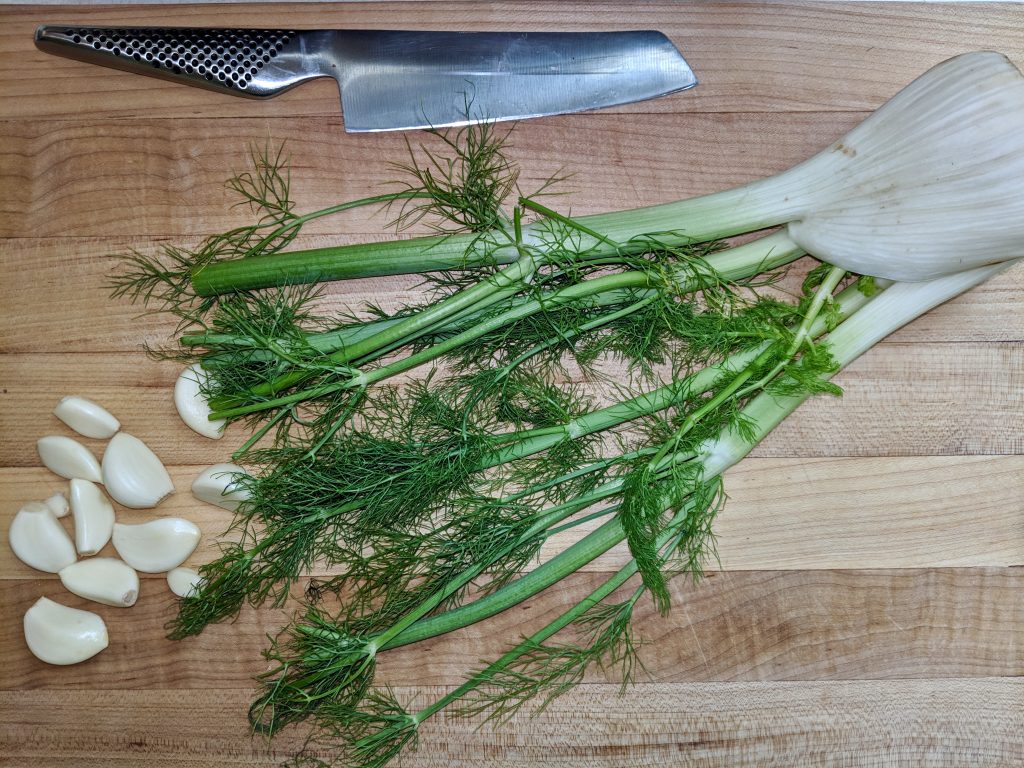 The fennel was trimmed of its frond-y tops (which were given to the chickens, as Google informed us these are good for their reproductive systems) and the base was quickly blanched in boiling water. These pieces were then allowed to thoroughly dry on paper towels while the rest of dinner was prepared. Once dried, the fennel was drizzled with oil and then lightly covered with a mixture of bread crumbs, garlic, and shredded parmesan cheese. This baked at 400 degrees for 20 minutes until golden.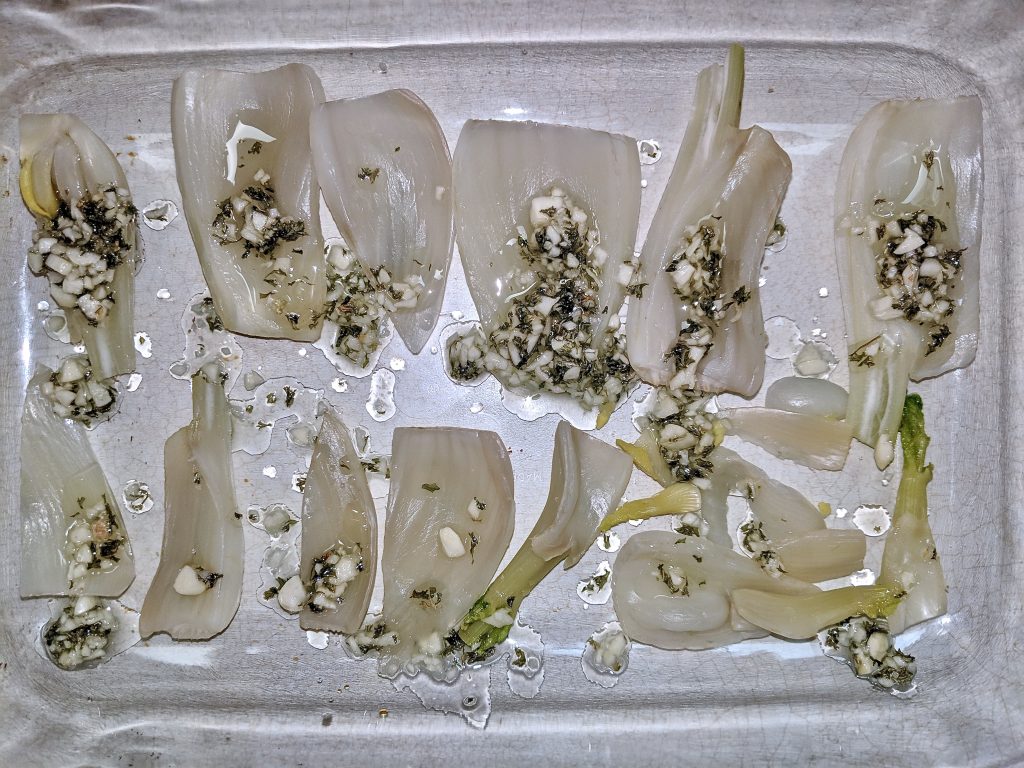 It has been a long time since Gary and I have had fennel, so we were not sure of what to expect, especially just on its own. But the green bulb did not disappoint, as this was a bright and flavorful vegetable dish. The fennel retained just enough toothiness to avoid the pitfalls of wilty celery (read: last week's blog) and had an almost green-onion like flavor with a light touch of anise. The breadcrumbs and parmesan added another level of variety in chew to the dish, as well as just enough salt to enhance the fennel. We quite enjoyed this vegetable side, and would definitely have it again!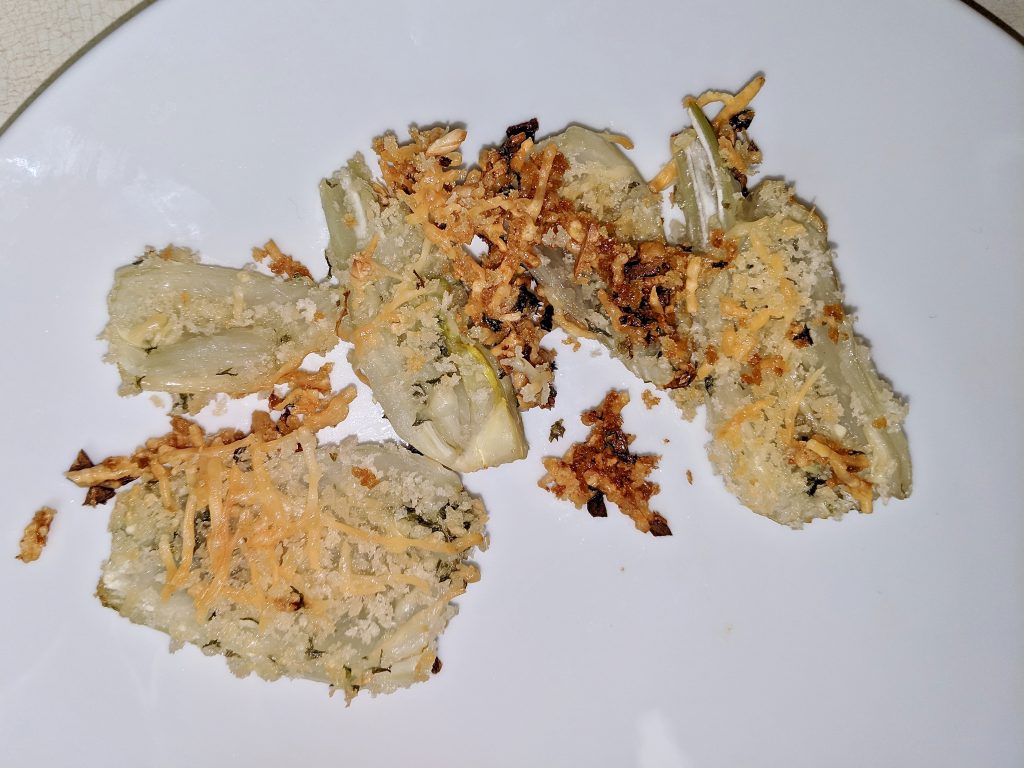 This salad has North African origins, where root crops are extremely important, especially since many of them can be used in both sweet and savory dishes. This dish is extremely straightforward – chopped carrots and potatoes were boiled until tender and then mashed together (we chose to use purple potatoes since we thought the orange and purple colors would be a fun mix). This was then dressed with lemon juice, olive oil, cumin, paprika, cayenne, and crushed garlic.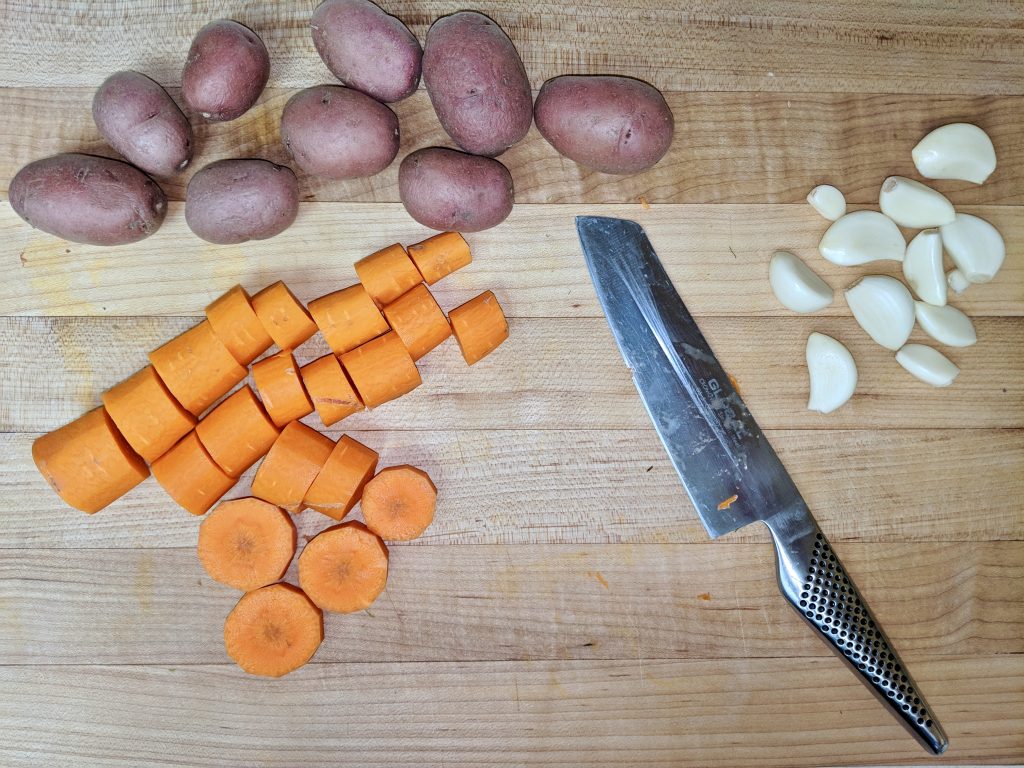 Like the above fennel dish, we were not sure what to expect of this dish. It looked great, and smelled great…and tasted great (surprise!). The sweetness of the carrot was well balanced with the starchiness of the potatoes along with the sharp flavor of the raw garlic. The mash was creamy and savory and just a little bit spicy, and not overly garlicky (of which we were afraid). This also kept well in the fridge and served us well as leftovers for the next several evenings.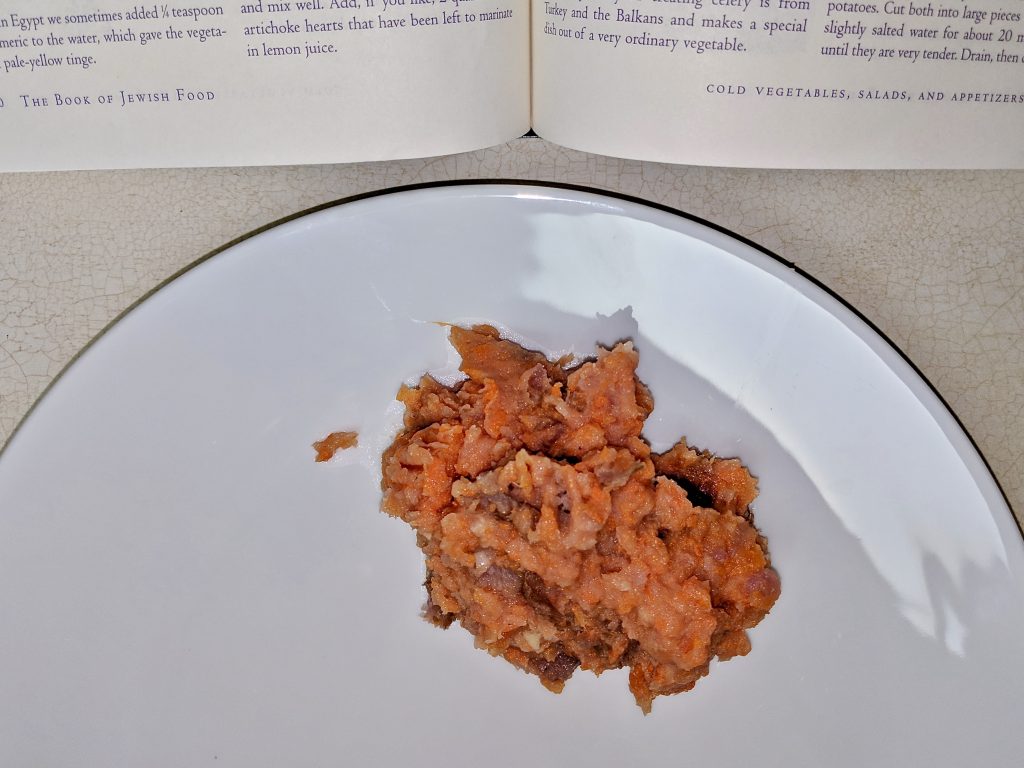 I love tuna, but Gary has mixed feelings about it, so sufficed to say, when I told him we were having tuna pie for dinner, he was not thrilled. For this reason we cut the recipe down to just two servings and made personal little hand pies for tonight's meal. This is an Italian recipe for a savory pie, thought to have been introduced to the boot-shaped country in the late 1400s. Many of the fillings mirror ravioli fillings which reflect their towns of origin – this is the first of three Italian hand pies which we will be enjoying.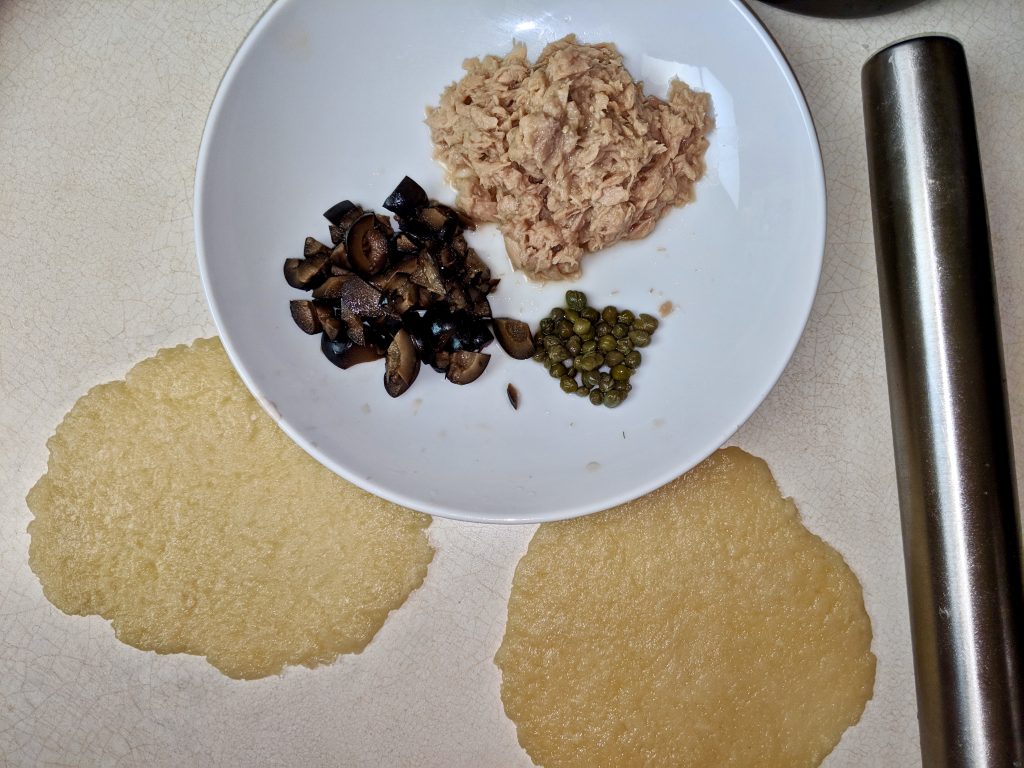 To make the filling, we simply drained a can of tuna and mixed it with black olives, capers, and lemon juice. The pie dough was equal parts oil, water, and flour, which combined to make an extremely soft (and oily) dough. This was ever-so-gently rolled out and pressed into rounds by hand. Each round was filled with the tuna mixture and then pinched shut in a vaguely artistic style. The pies were basted with egg wash and baked at 350 degrees for 30 minutes until golden.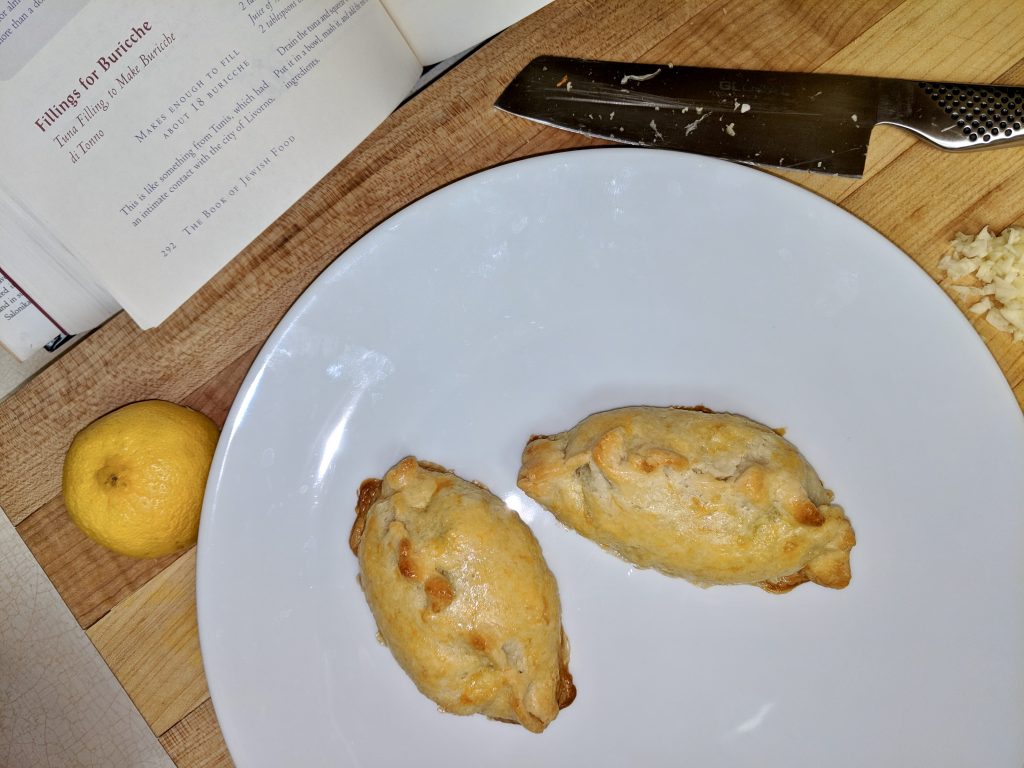 The pie crusts were crispy and crunchy and just salty enough to balance the tuna. The tuna mix was a bit briny, salty, and bright from the citrus, olives, and capers, but much like last week's pie, could have used a bit more moisture. The flavor was not bad, but it was quite different from what we normally eat, so we probably won't be making this again.
Melokheya is yet another ingredient we probably will not be finding anytime soon in Santa Fe. Melokheya are leaves often used in the cuisines of the Middle East, East Africa, and North African countries. It is a bit bitter and becomes a bit slimy when boiled, so the recommendation was to use spinach as a substitute. The soup that shares its name is a popular Egyptian dish, which appears to be where melokheya grows best.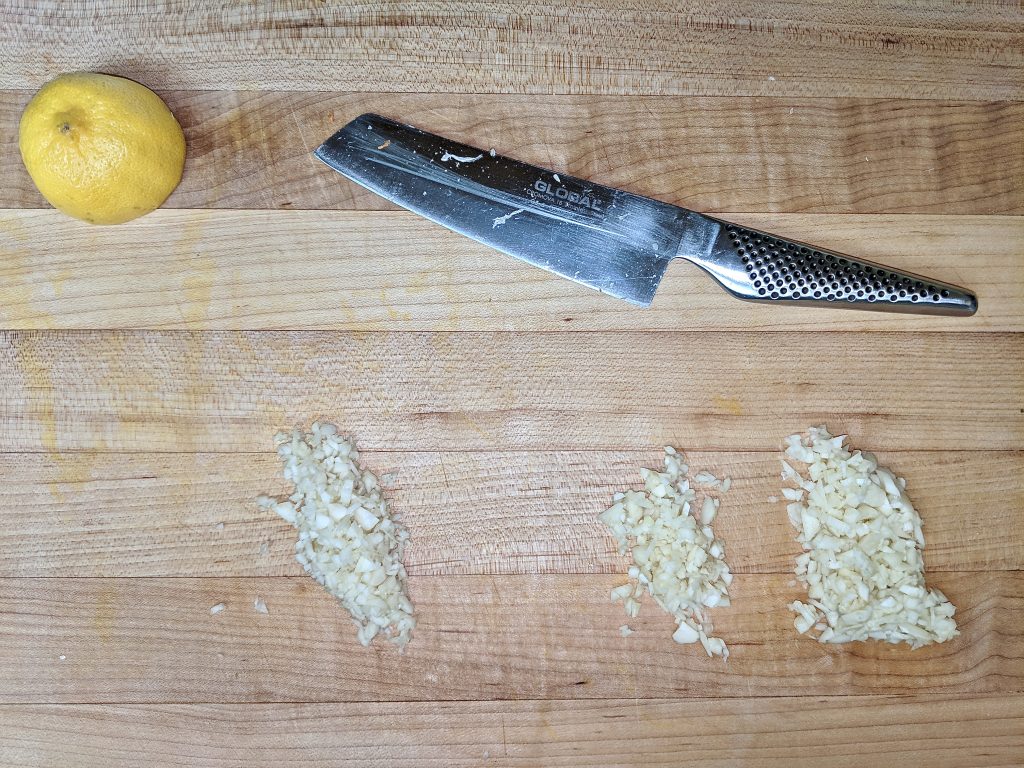 Armed with our spinach substitute, as well as our brisket substitute (because that is what we had on hand, versus a whole chicken [don't worry, Claudia Roden approved this change]), we brought a pot of water to boil and added beef bones along with cubed brisket. Bay leaves, cardamom pods, a whole onion, and salt and pepper joined this protein in the pot. This simmered for about 6 hours until the brisket was tender. When it was time for dinner, a whole head of garlic was chopped and fried with coriander until golden. While this aromatically spread through the kitchen, a pound of spinach was added to the simmering soup and stirred until wilted. The soup was served with the crunchy garlic mixed in, for a hot and steaming bowl of comfort.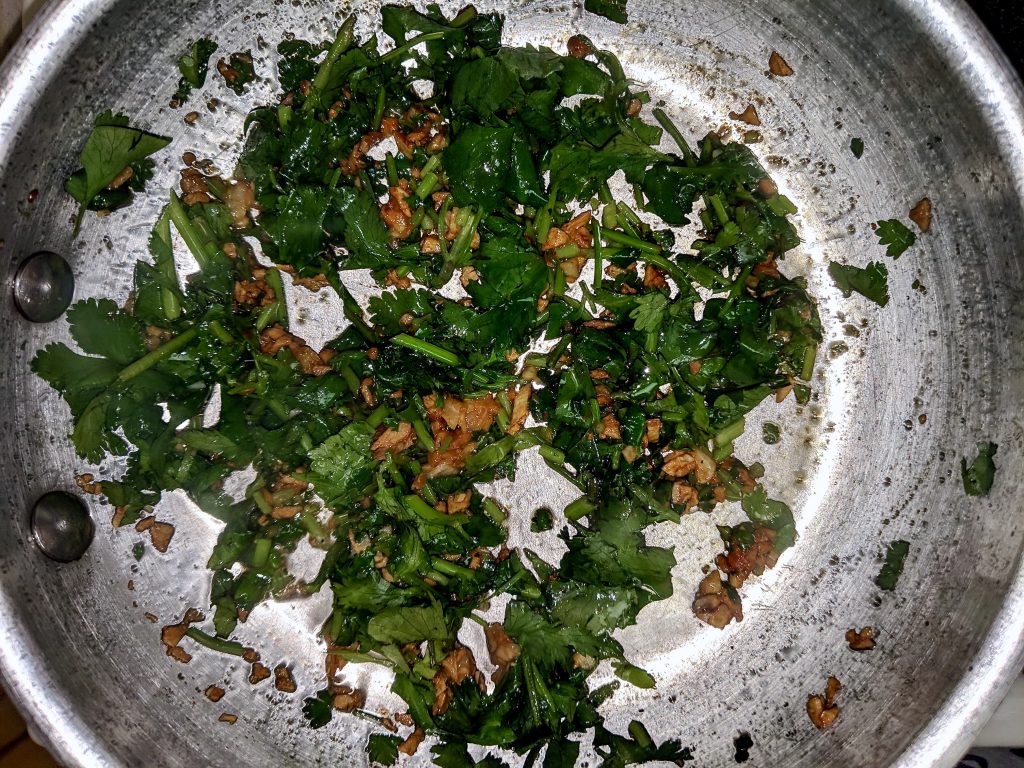 This soup was quite good and only got better with age over the next few nights. The spinach was bright yet earthy, and well balanced by the sharpness of the golden garlic. The brisket created a savory and silky broth with the cardamom adding another level of brightness to the soup. We quite enjoyed this main course, and would definitely make it again!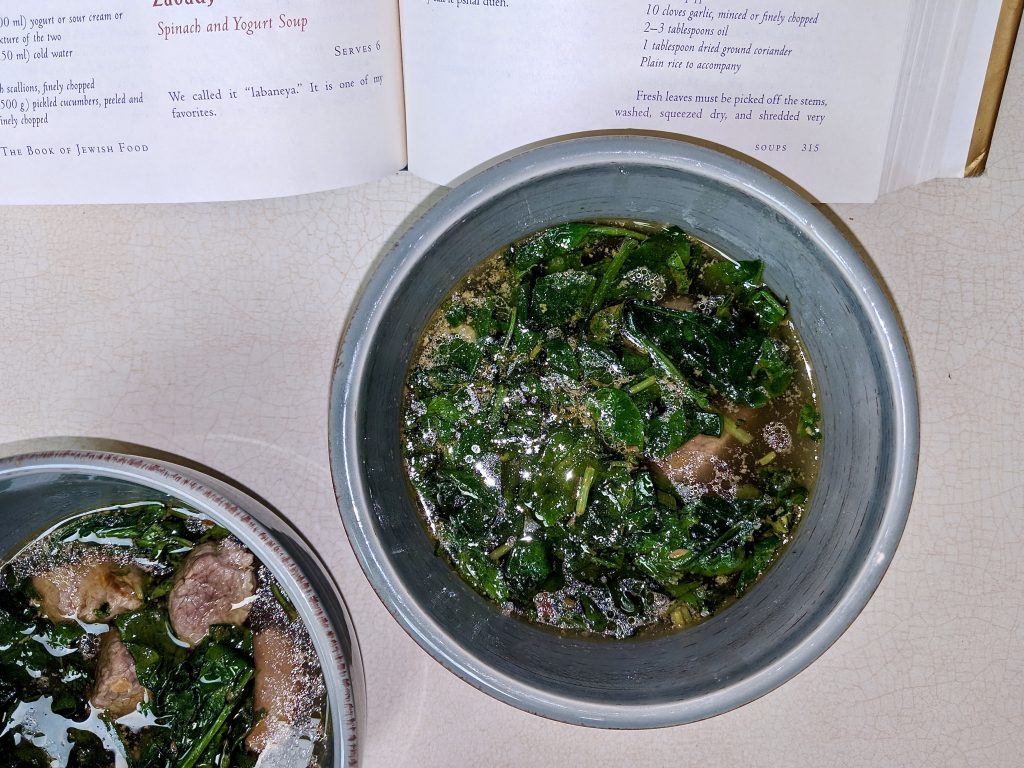 Much like many other cultures around the world, the Middle East has its own variations of pudding. They act as a sweet treat during the celebrations of Shavuot and Purim and each family has their own preferred flavorings. We chose to go with Roden's preferred seasoning of orange-blossom water (handily found at an Asian market in Albuquerque).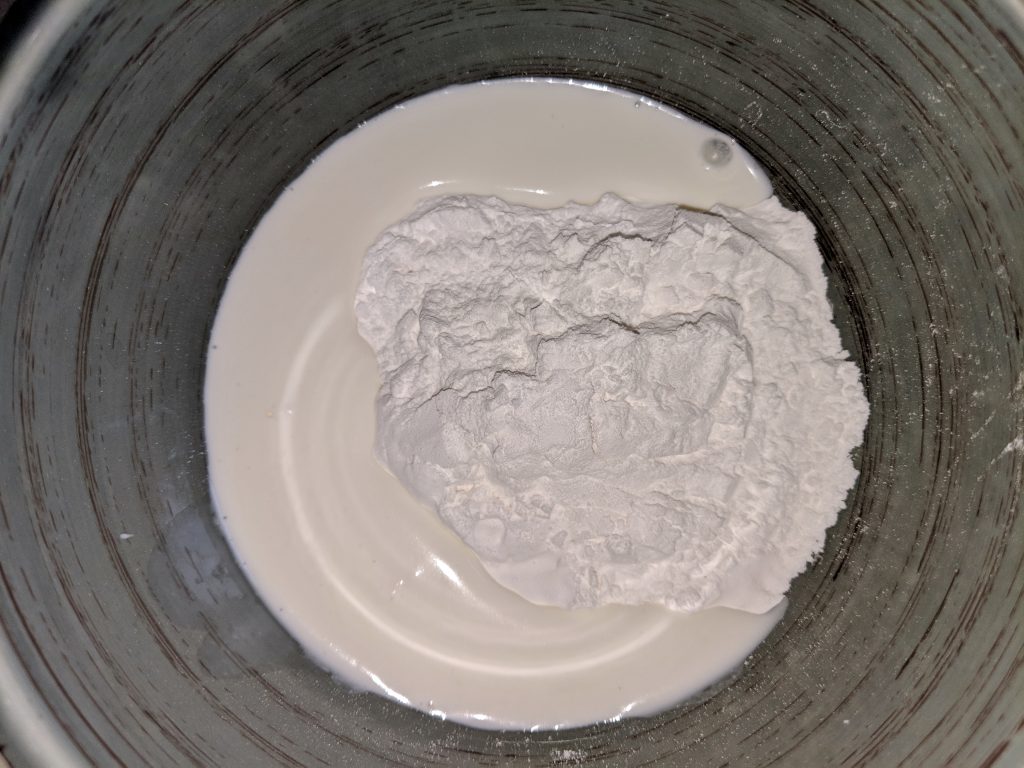 Having never made pudding before, and having only bought the wonderfully delightful guilty pleasure Kozy Shack puddings at the grocery store, I was looking forward to this recipe. Rice flour was carefully mixed into half of the cold milk, being added gradually to avoid creating lumps. Meanwhile, the rest of the milk was heated up in a pan and brought to a boil. The rice and milk mixture was stirred in on very low heat until the whole concoction thickened. This then simmered for 20 minutes and the sugar was added towards the end of this simmering time. Just the lightest touch of orange blossom water was mixed in and then topped with pistachios and almonds.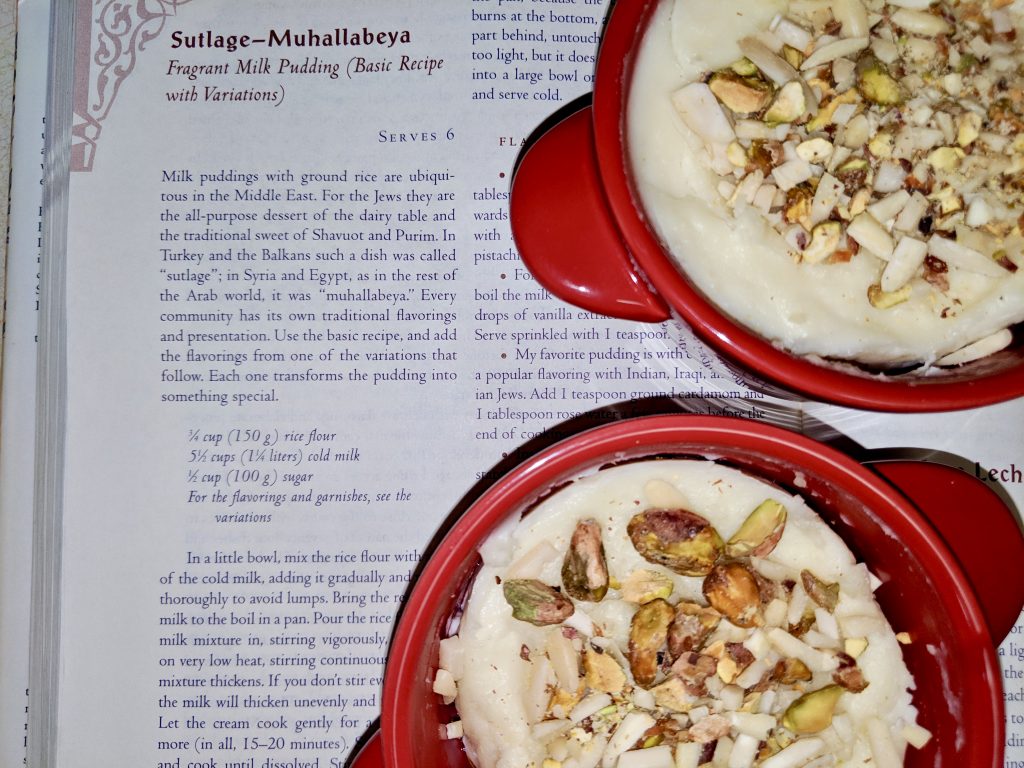 While Gary and I may have had mixed thoughts about previous dishes in tonight's meal, we were in agreement on this one. The pudding was just sweet enough, a little salty from the nuts, and had quite an interesting flavor from the orange blossom water. This little bit of citrus added a great brightness which prevented this dairy-heavy dish from becoming too one-note. This turned out to be a great lesson in how easy it is to make pudding at home!
AND IN THE END, THE FOOD YOU MAKE IS EQUAL TO THE CARE YOU TAKE…
So how was Made In Marrow's meal number 41? As a reminder, our rating system is based on sticks of butter (because butter is best!), with 1 being the absolute worst and 5 being out of this world. Sticks of butter are assigned to Difficulty (how many kitchen fights were needed to complete the meal?), Tasty Goodness (was it a palate poor or did it make our mouths merry?), and Repeat Customer (how likely are we to return to the recipe?).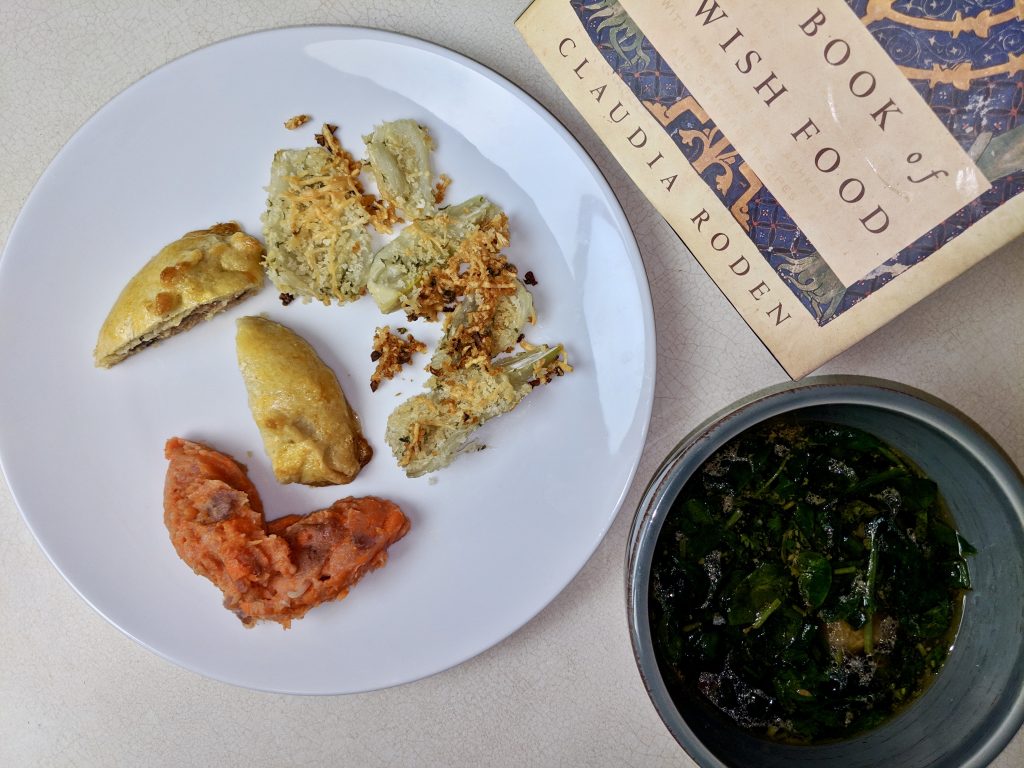 Difficulty [][]2/5
A little dough making and a long simmer time on the soup, but all-in-all, not a difficult week!
Tasty Goodness
[][][][][] 5/5Baked Fennel – A bright and tasty veggie dish
[][][][][] 5/5 Boiled Carrot & Potato Salad – Savory and slightly sweet, 
[][][] 3/5 Buricche di Tonno – Briny and bright but definitely needed more moisture
[][][][][] 5/5 Melokheya – Savory and comforting – the perfect combination for a winter soup
[][][][] 4/5 Sutlage-Muhallabeya – Frangrant Milk Pudding – Smooth and sweet and wonderfully different!
Repeat Customer
[][][][][] 5/5 Baked Fennel – Definitely again!
[][][][][] 5/5 Boiled Carrot & Potato Salad – Most definitely again!
[][] 2/5 Buricche di Tonno – Tasty, but not our favorite
[][][][] 4/5 Melokheya – A great soup which bears repeating
[][][][]4/5 Sutlage-Muhallabeya – Frangrant Milk Pudding – A great introduction to non-store bought puddings!
Contrary to last week's meal, this one flowed well and landed even better, despite the fact that we did not know what to expect from several of the recipes. Onward to next week's adventure!
Sip, sup, and savor all you can, you curious cooks,
Elais & Gary