Just want the recipes and none of that other wordy nonsense? Click the links below!
Pain Juif à l'Anis – Algerian Anise Bread
Kashkaval Pané – Cheese Fritters
Uevos kon Keso – Egg and Cheese
Kichree – Rice and Red Lentils
Assabih bi Loz-Cigares aux Noix – Nut Fingers
Break aux Dattes – Date Pastries
Meal the Fifty-Fifth
Tonight's meal builds upon the cheese we made in last week's blog, which we were happy was a success but not very impressed with the flavor. We had an excessive amount, so decided to tackle several of the cheese recipes, which were quick to make and paired well with tonight's bread. Because all of the dishes included cheese, as well as fried eggs for one dish, we chose to go without featuring a big protein, to which Gary was slightly resistant.
But nonetheless, we proceeded forward and ended up with a very hearty dinner. For all you meat-eaters, prepare yourselves for a meatless (but not protein-less) meal, and a duo of desserts. We are pretty recipe-heavy this week, so let's get to it!
Due to our multiple cheese and saucy main dishes this evening, we thought it would be a good opportunity to jump back into the "Bread" section of The Book of Jewish Food. We started several months ago with pita bread, which is only one of seven bread recipes in the Sephardi section (unlike the huge variety in Ashkenazi section). This recipe has North African roots and is commonly eaten to break the fast of Yom Kippur.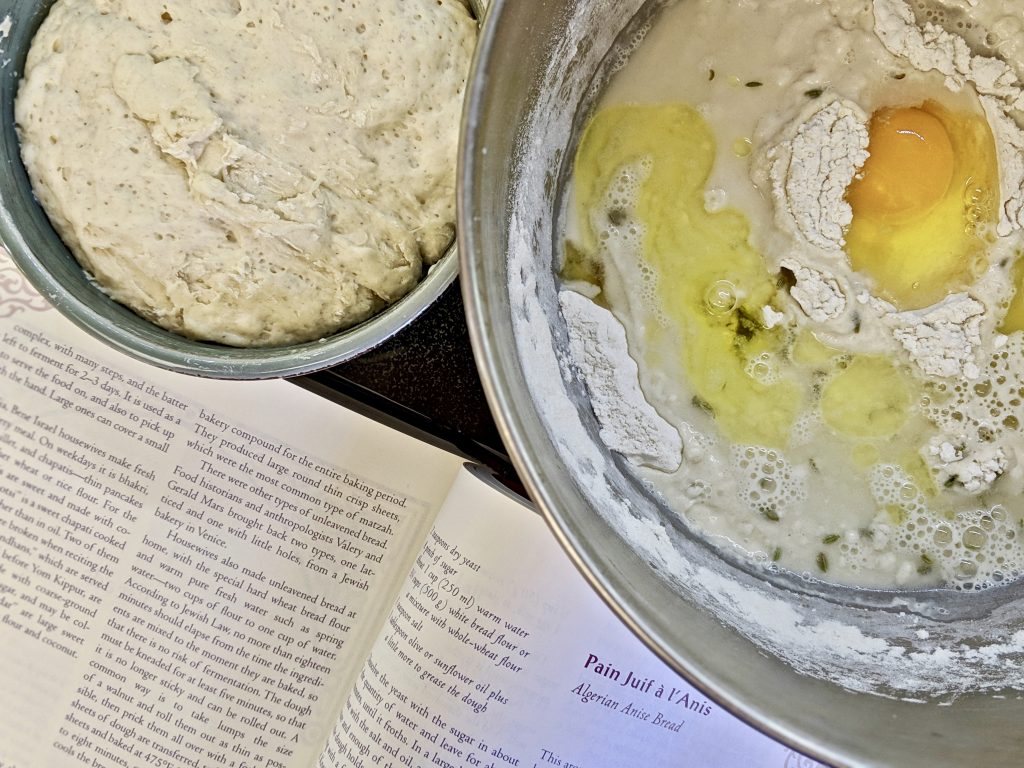 Algerian Anise Bread features, you guessed it, anise! Anise seeds come from a flowering plant that is native to the regions of the Mediterranean and Southwest Asia. Anise is extremely aromatic and has a licorice-like flavor, which means for most people that they either like it or they don't. It is used to flavor everything from soups to desserts to drinks, with the Europeans believing it alleviated flatulence. Interestingly enough, British locomotive manufacturers used anise oil on metal bearings to help indicate overheating (over-warming of the metal would release the distinctive smell) and fishermen have also been known to coat their fishing lures with anise oil as an attractant.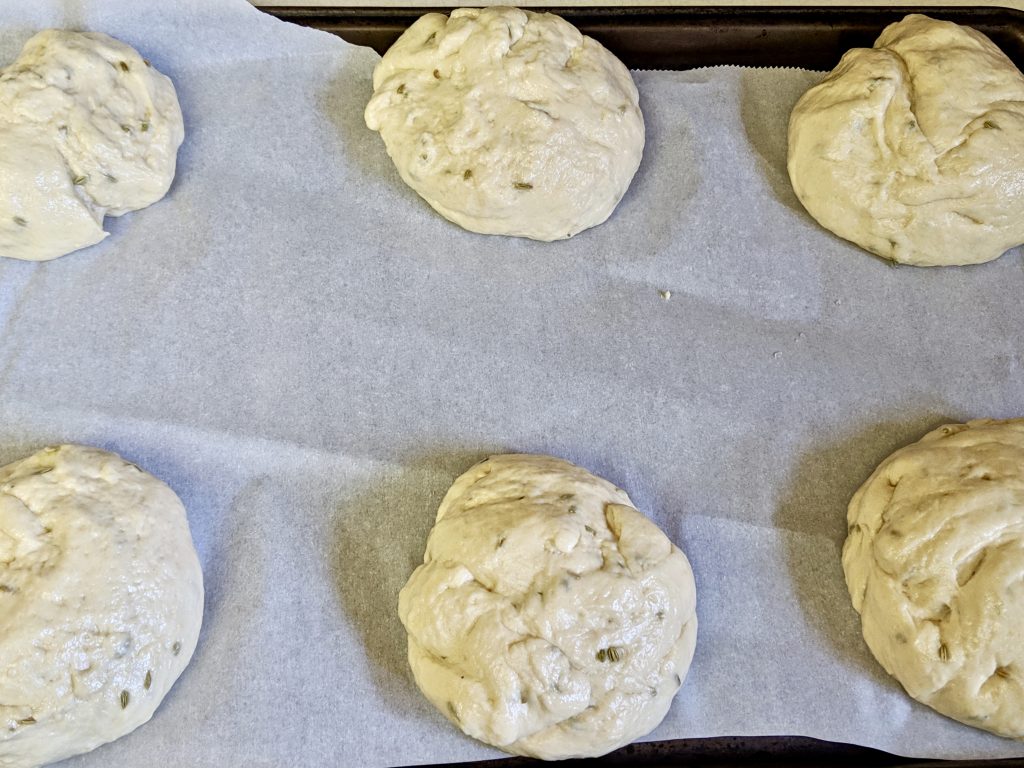 To create this bread, a sponge batter was first created by dissolving yeast and sugar in a cup of warm water after which flour was added to make a very, very soft dough. After this sat for 30 minutes, flour was mixed with salt, an egg, a little oil, and two tablespoons of aniseed. The risen sponge was added to this and kneaded for ten minutes. The dough then sat for two hours until doubled in size. After maturing, the dough was punched down and separated into 6 balls and allowed to rise for another 30 minutes. Brushed with egg yolks, the little loaves were baked at 400 degrees for 30 minutes until golden.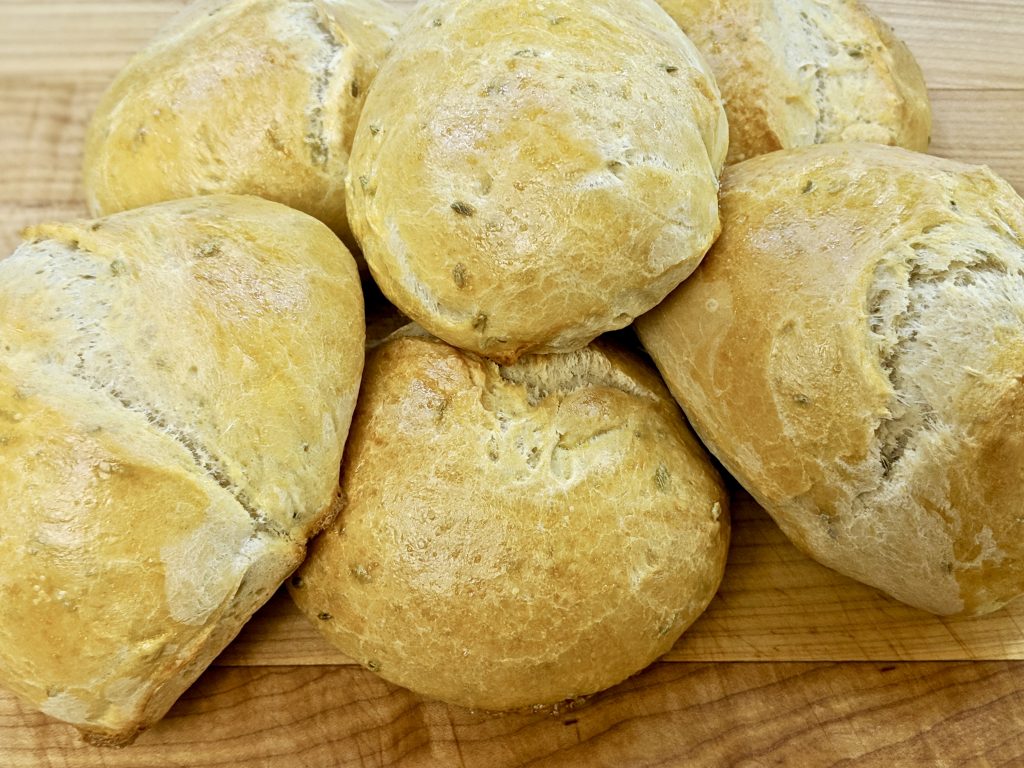 True to its name, this bread tasted strongly (but just enough) of anise. In addition to its great flavor, it was warm and chewy, pairing wonderfully with the multiple cheese dishes as well as our main course. We chose to freeze the other loaves and found that they also great make hamburger buns!
Our fairly soft cheese was going to prove to be a bit of a challenge with this dish, so we carefully cut a square and placed it on a baking sheet. This was put in the oven, which was set to broil, and very closely watched for three minutes (I have been known to set things on fire in ovens set to broil). Once browned and bubbly, the cheese slice was lifted off the baking sheet and placed onto a slice of anise bread.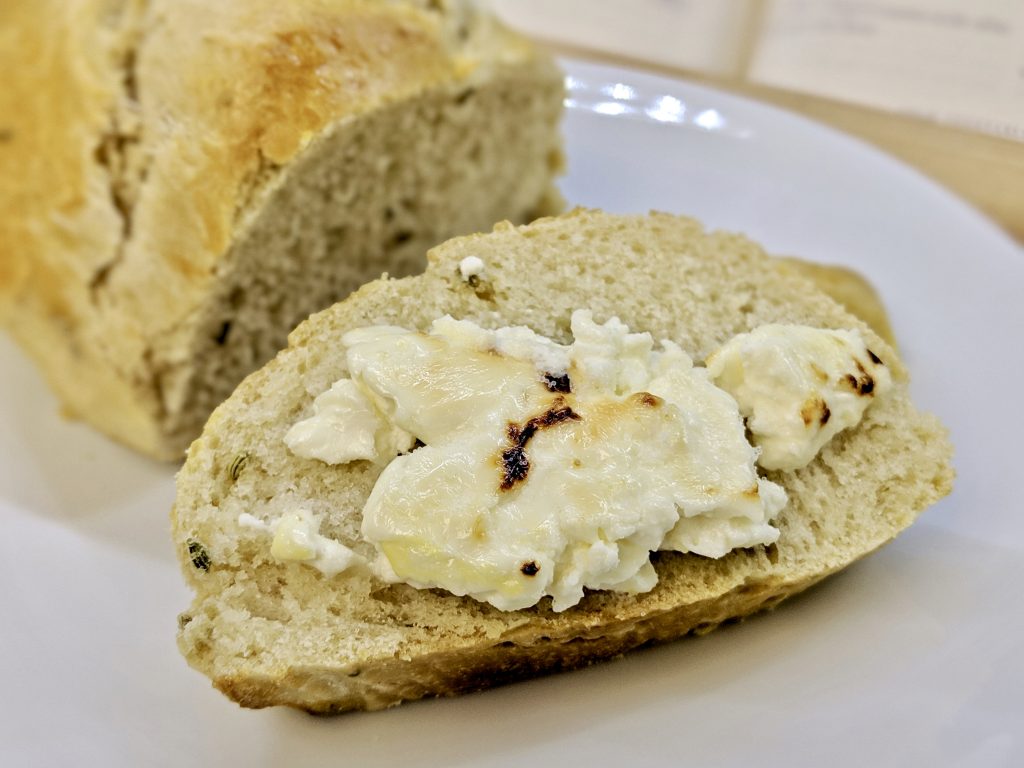 The cheese was creamy and acted as a great spread for the anise bread. It could have used a bit more salt but was a nice pre-dinner treat.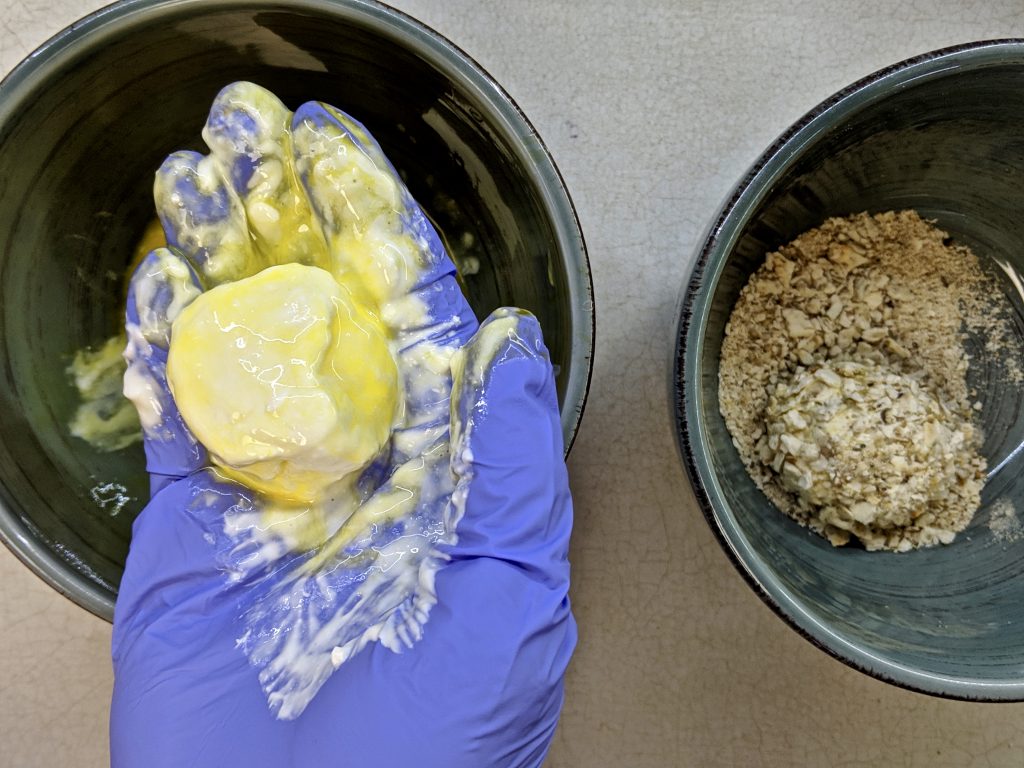 We again carefully scooped our cheese into a semi-square-like shape, then dipped these into a lightly beaten egg and rolled this in matzo meal. This was fried in oil until brown and lightly salted before popping into our mouths.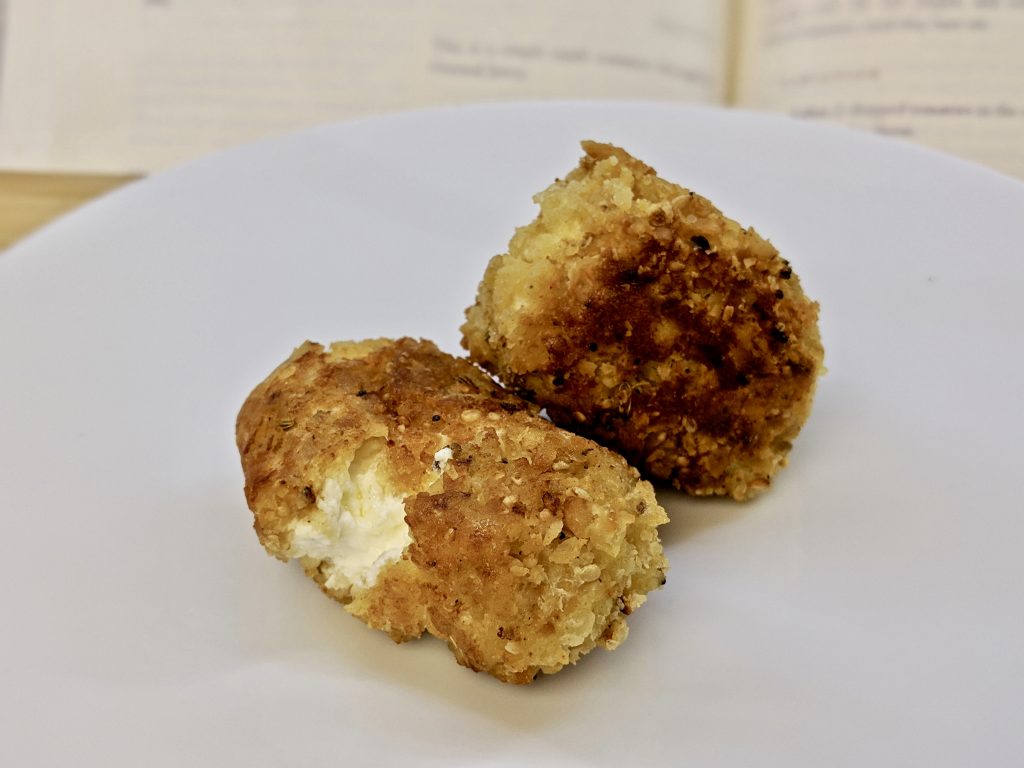 This was surprisingly not greasy and the cheese still maintained its creaminess. However, it did not pair well with our herby matzo meal and became much tangier than was pleasant.
A small pat of cheese was fried in a pan until soft (this only took but moments) after which an egg was broken on top, sprinkled with salt and pepper, and cooked until set. We spooned pieces of yolky egg and cheese onto our freshly baked bread, which quickly disappeared.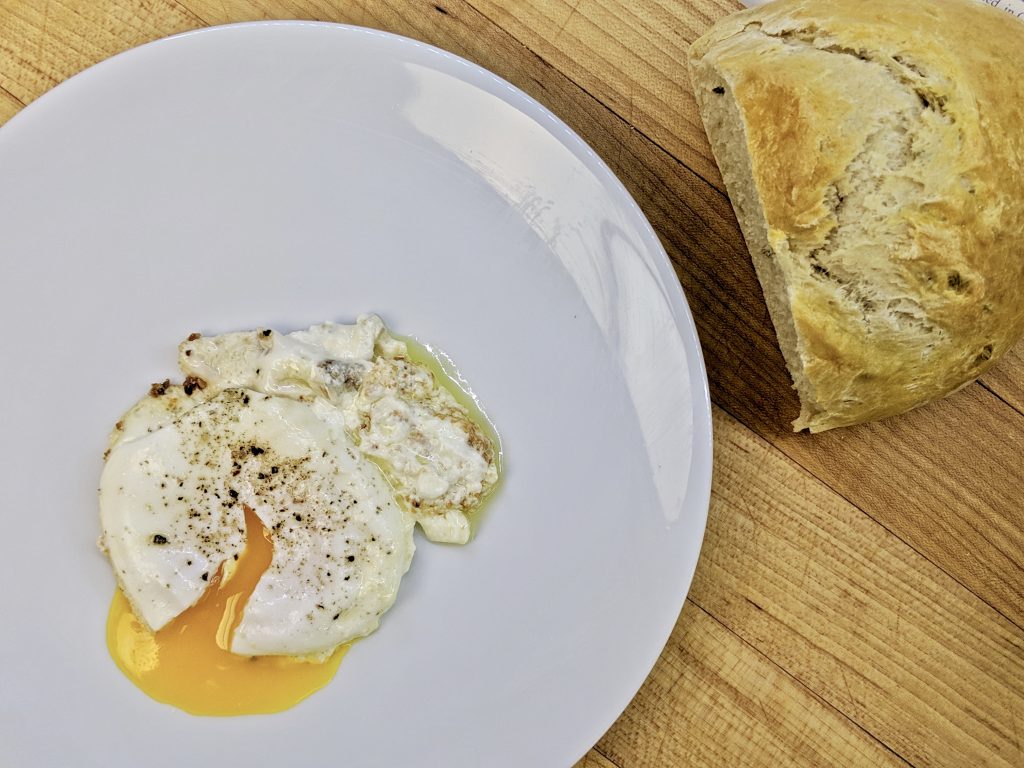 This was the best of the cheese dishes, with the savory egg being well-balanced by the tangy cheese. And when sopped up by the anise bread, man-oh-man, the egg and cheese really flew off the plate!
This dish is a recipe that traveled from India to Iraq and is usually made by Jewish families in Baghdad as a light meal in preparation for the heavier plates of the Sabbath supper. There are many variations on this dish, one of which we chose to follow by adding tomato slices at the end of cooking.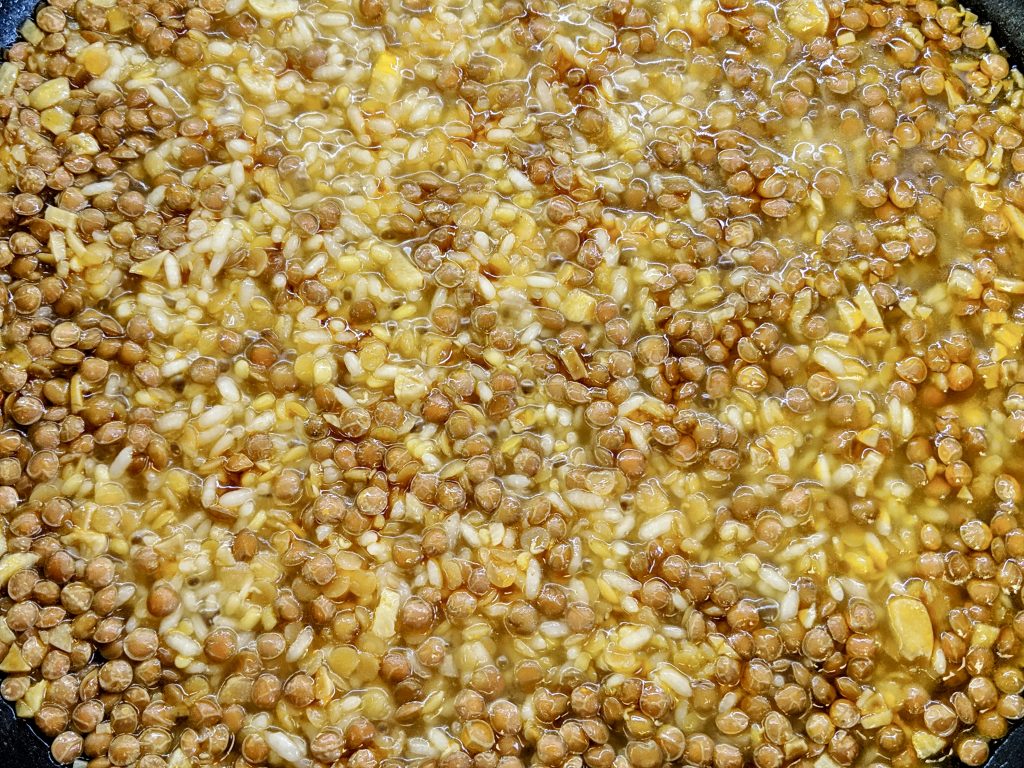 To start, garlic was fried in oil until lightly golden after which cumin and tomato paste was stirred in. As this became wonderfully fragrant, rice and lentils were added to the pan and then covered with water. This was all brought to a boil and then simmered for 45 minutes until tender. Butter, salt, and pepper were stirred into these colorful grains and simmered for another 10 minutes. During this time, onion was fried in a separate pan, after which our homemade cheese was carefully laid on top along with tomato slices. Once this began to bubble, it was time to plate and enjoy dinner!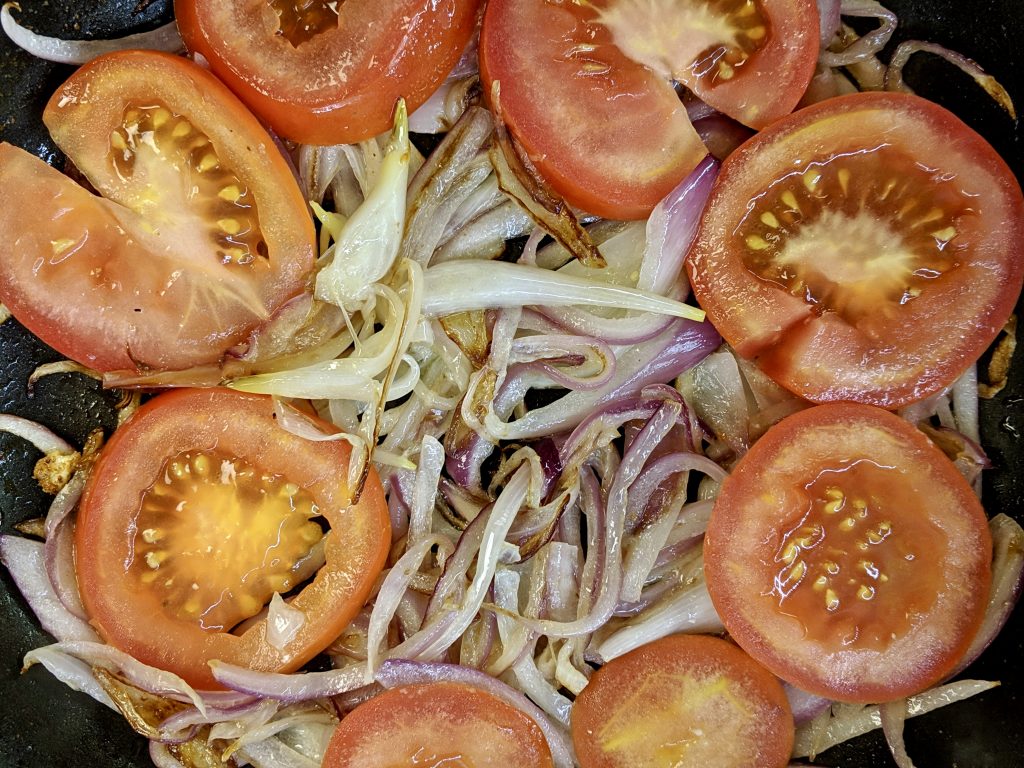 This was a substantial dish on its own and was wonderfully flavorful. Gary also became a fan of lentils with this dish, as they took on the flavor of the cumin and garlic and maintained just the right amount of toothiness. The flavors only deepened over the next several days, making this recipe a great one for leftovers as well!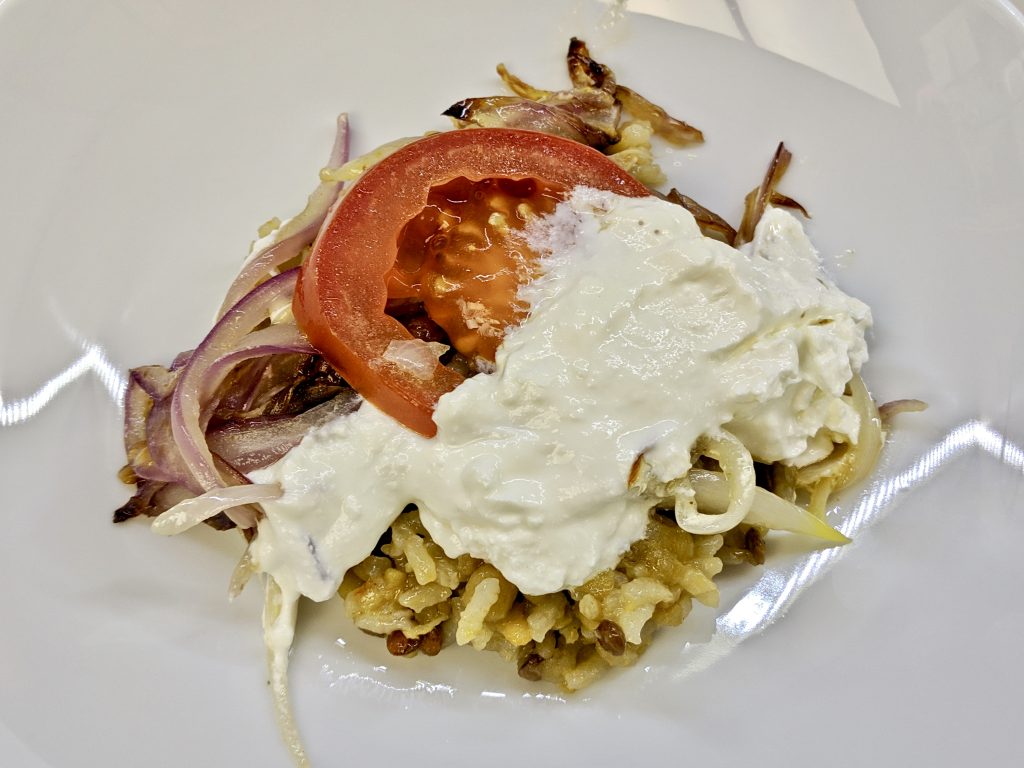 This recipe has one of those titles with so many words that does not make much sense when translated to English (how could 6 words just mean nut fingers??) – but according to Roden, this is exactly what this Arabic dessert is, and is also sometimes known as "Cigars" in Turkey and North Africa. These are a Jewish favorite in Middle Eastern communities and are often a treat enjoyed by bridal parties when preparing for weddings.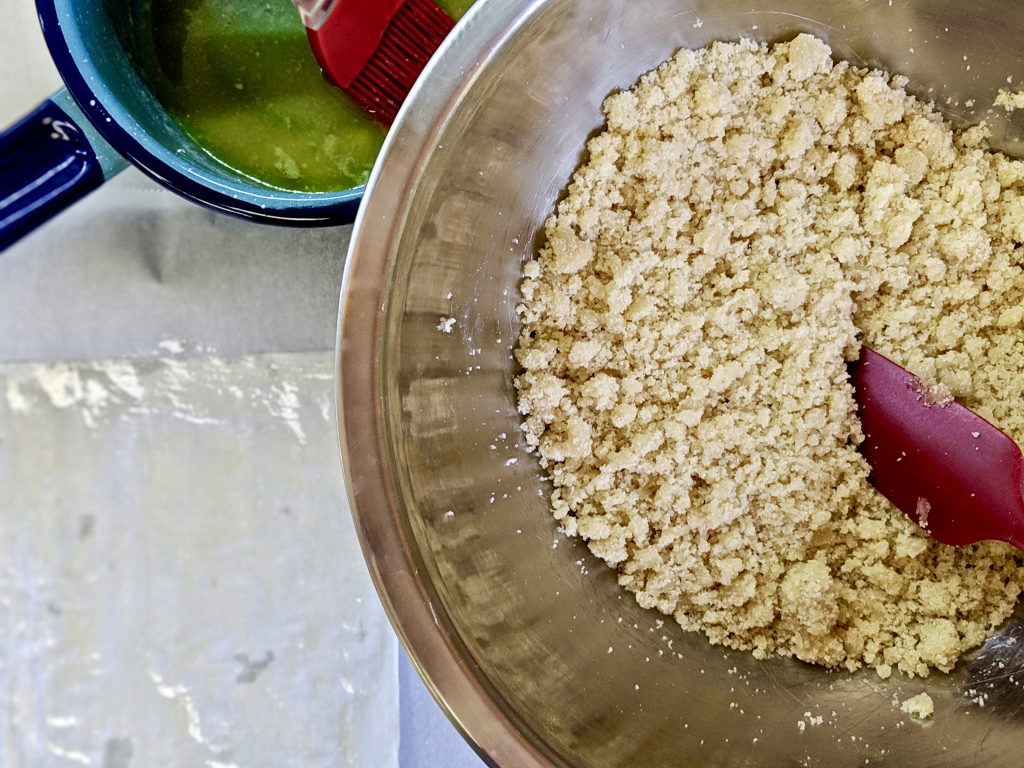 For the filling, ground almonds were mixed with sugar and orange-blossom water to make a soft paste. The sheets of filo were cut into rectangles and then a tablespoon of the almond filling was placed along the short end of the sheet. This was rolled up (not unlike a cigar), with the ends tucked in at the end. This was repeated 20 more times, after which our little pile of cigars was brushed with butter and baked at 350 degrees for 30 minutes until golden.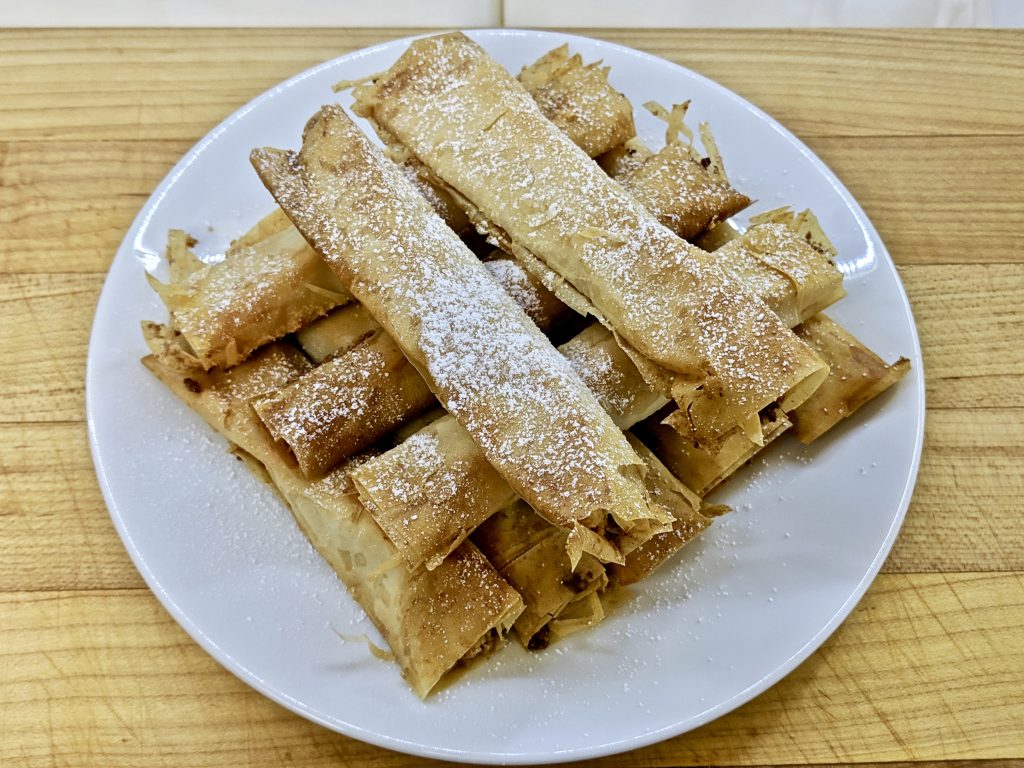 The nut fingers/cigars were quite tasty and a light little dessert. The filling was sweet and chewy with the filo on the outside being flakey and a little savory from the butter baste. These were simple to make and quite flavorful, so we would definitely enjoy these again!
These little Tunisian pastries have a similar start to the above nut fingers, which is why we decided to split the almond filling and put aside a cup for this date version. Chopped dates were added to the almond, sugar, and orange blossom mix and then placed by tablespoon in the corner of a sheet of filo. This was then awkwardly folded into triangular-ish shapes and baked at 350 degrees for 30 minutes until golden. While these were baking, we made a simple syrup of sugar boiled with water, along with lemon juice and a little orange blossom water. When the pastries were done baking, they were slathered in syrup and allowed to cool.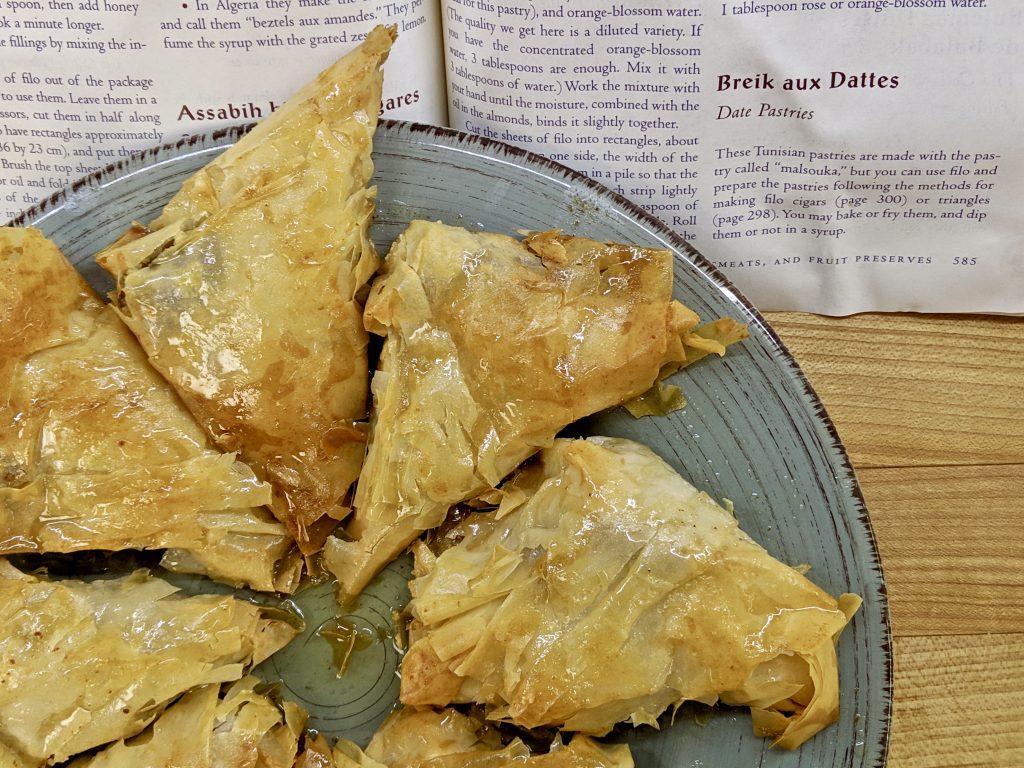 The date pastries were quite different from the nut fingers, as they were very sweet and chewy. They had a great flavor and kept well without becoming soggy over the next week. My triangle-folding skills are not great, so if we had these again, I would enjoy them as cigars (like above) instead of this challenging shape.
AND IN THE END, THE FOOD YOU MAKE IS EQUAL TO THE CARE YOU TAKE…
So how was Made In Marrow's meal number 55? As a reminder, our rating system is based on sticks of butter (because butter is best!), with 1 being the absolute worst and 5 being out of this world. Sticks of butter are assigned to Difficulty (how many kitchen fights were needed to complete the meal?), Tasty Goodness (was it a palate poor or did it make our mouths merry?), and Repeat Customer (how likely are we to return to the recipe?).
Difficulty [][][]3/5
Negotiating the handling of very soft cheese, bread making, and pastry shaped into cigars and triangles were all required for tonight's meal, so our culinary skills were really put to the test!
Tasty Goodness
[][][][][] 5/5 Pain Juif à l'Anis – Algerian Anise Bread – Soft, savory, and anise-y!
[][][] 3/5 Keso Assado – Grilled Cheese – Tasty but needed more salt
[][]2/5 Kashkaval Pané – Cheese Fritters – A great idea, but definitely need a different coating and cheese
[][][][] 4/5 Uevos kon Keso – Egg and Cheese – This was the perfect use for our tangy cheese
[][][][][] 5/5 Kichree – Rice and Red Lentils – Flavorful, complex, and aromatic
[][][][]4/5 Assabih bi Loz-Cigares aux Noix – Nut Fingers – Sweet and savory
[][][][] 4/5 Break aux Dattes – Date Pastries – Chewy and flavorful
Repeat Customer
[][][][][] 5/5 Pain Juif à l'Anis – Algerian Anise Bread – Most definitely again!
[][][] 3/5 Keso Assado – Grilled Cheese – We would try again, but with a differently flavored soft cheese
[][][] 3/5 Kashkaval Pané – Cheese Fritters – Like above, we would try this again but with a different cheese and breading
[][][][] 4/5 Uevos kon Keso – Egg and Cheese – Perhaps again with a different cheese as well
[][][][][] 5/5 Kichree – Rice and Red Lentils – We will definitely pair this with beef or lamb in the future
[][][][] 4/5 Assabih bi Loz-Cigares aux Noix – Nut Fingers – An easy and light dessert
[][][][] 4/5 Break aux Dattes – Date Pastries – Again but in a different shape
Tonight's meal was fun as it featured a variety of cooking techniques and styles. Not every recipe turned out to be our favorite, but we enjoyed the journey, which is the most important part!
Sip, sup, and savor all you can, you curious cooks,
Elais & Gary