Just want the recipes and none of that other wordy nonsense? Click the links below!
Kharshouf Maahshi – Artichoke Bottoms Stuffed with Meat
Carciofi Ripieni – Stuffed Artichoke Bottoms
Lamb with Red Chilies and Tamarind
Meal the Ninety-Sixth
Tonight's meal is one of the few in the past three years in our tackling The Book of Jewish Food to feature artichoke, that thistle-y vegetable that is often seen in groups of three in the produce section of your local grocery store or found in delicious lumps on your (read: our) favorite pizza. Artichokes are a fun but silly plant, with the flowers developing into a semi-edible bud known as a bract (who said you can't learn anything new from a food blog? But who knows, maybe our one reader is quite knowledgable about bracts and therefore, has learned nothing…le sigh).
It is a fun plant because you get to use the leaves as a scoop for tasty butters, dips, etc, but it is a silly plant as the thorns must be trimmed, the fibrous outer parts of the leaves are discarded, and the inedible choke avoided, resulting in only a small amount of vegetable being consumed. But like many things in life, it takes a lot of work to get to the enjoyable part (much like our blog/unlike our blog – reader's choice), so while tonight's meal had a bit more waste than we liked, we did enjoy the novelty of the ingredient and both of its tasty outcomes.
So leaf (as in artichoke) tonight's meal up to us, because thistle be a good one!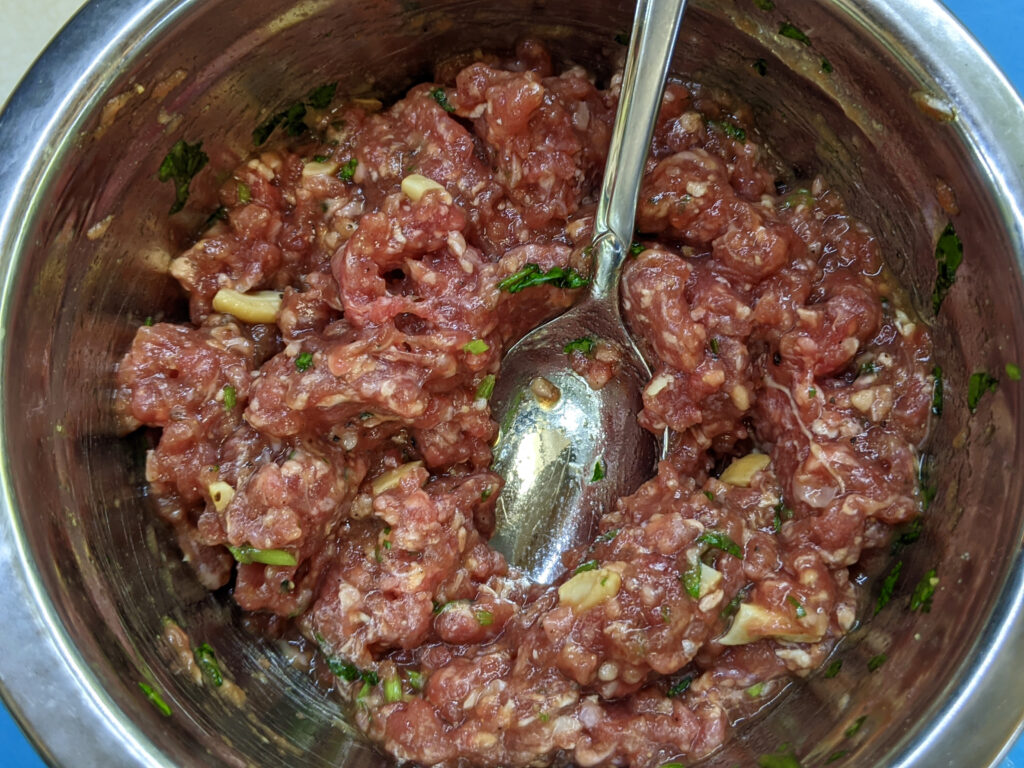 Our first stuffed veggie dish of the night is a favorite of Egyptian Jews during Passover when vendors would go door to for selling crates of artichokes. These were commonly served by Jerusalem kitchens as the first course of buffet meals and Roden notes that frozen or canned artichokes can also be used in this recipe.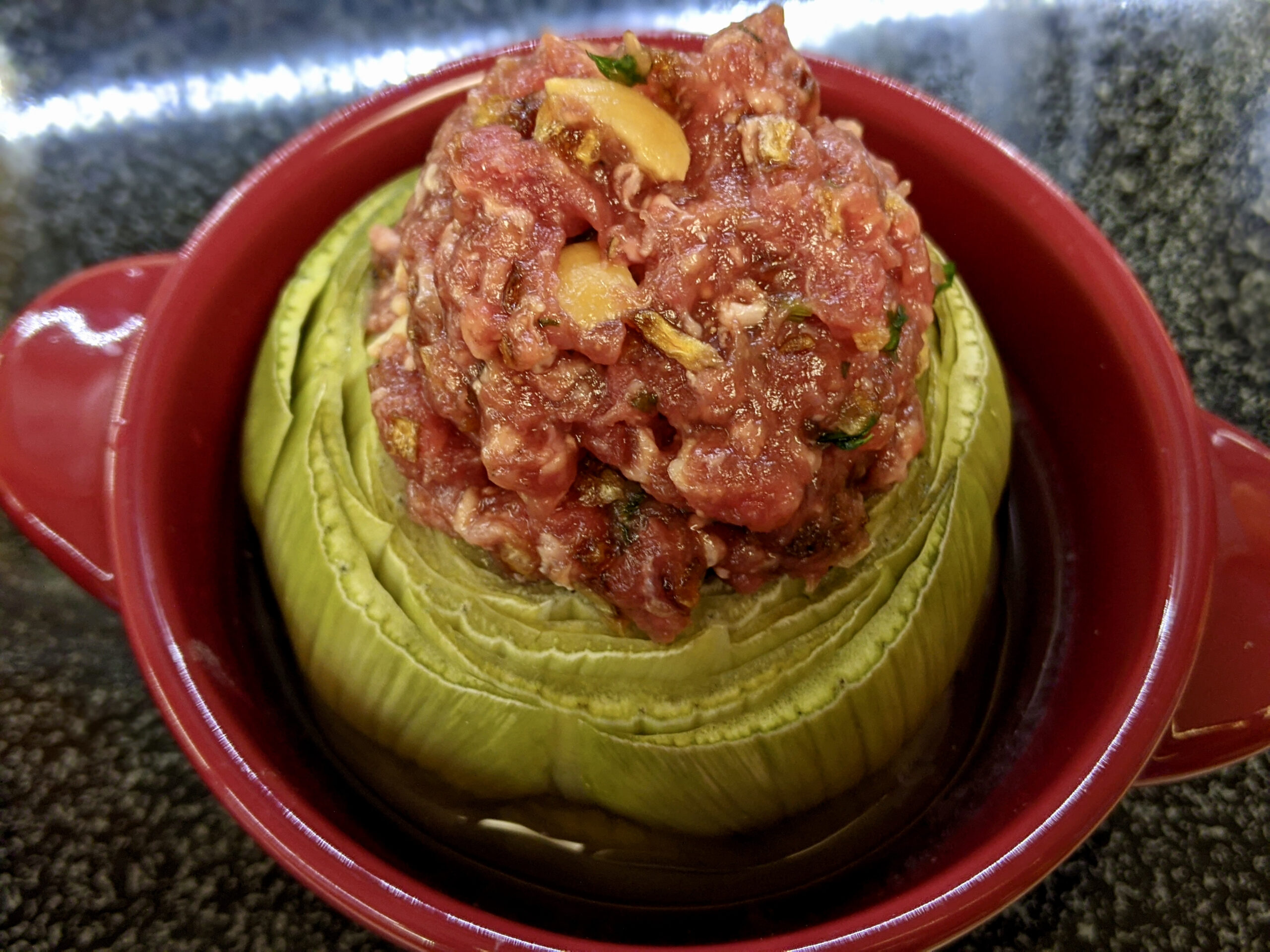 This recipe began by frying onions until golden after which pine nuts were added to the pan and briefly fried until they just began too began to color. While this aromatically cooked, ground beef was mixed with parsley, salt, pepper, nutmeg, cinnamon, and an egg. The onion/nut mixture was added to the meat, which was then used to fill the artichoke bases, having been created by carefully trimming the spikes leaves from the globes. These were then placed in a baking dish along with lemon juice and water and baked at 350F for 30 minutes until the meat was cooked through.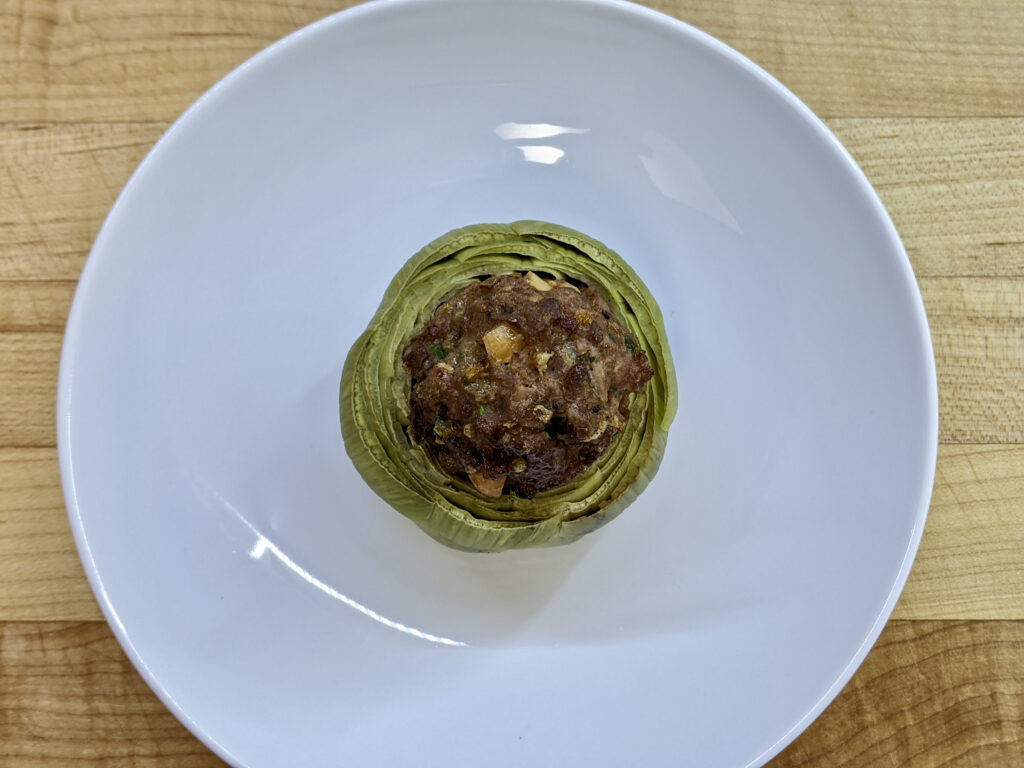 While tasty, these artichoke bottoms were a little bit awkward to eat…and upon doing a post-meal recipe search, we discovered why. As it turns out, the artichokes in this recipe and the next should have been trimmed all the way down to the base to just reveal the edible interior. Oh well, we did enjoy peeling off the remaining leaves to scoop the beefy filling, so it still worked (at least for this recipe)…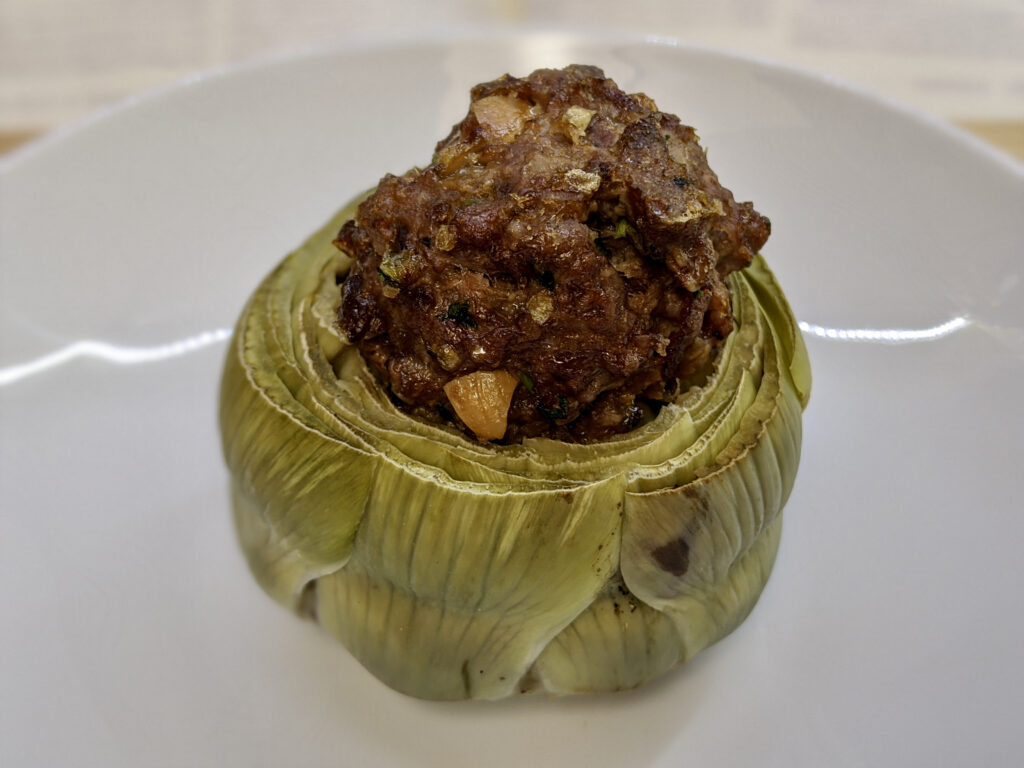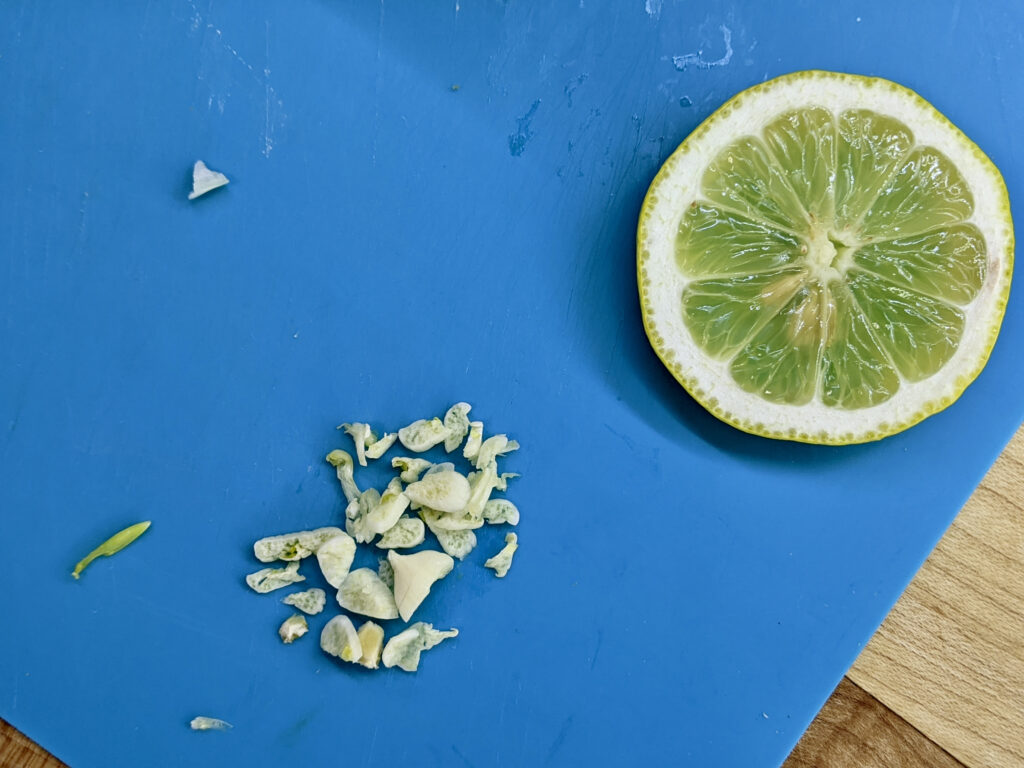 As Roden informs us, Jews introduced artichokes to Rome, Venice, and other areas of Italy when they fled Sicily in the sixteenth century during the Spanish Inquisition. As such, the globular thistle has always been associated with Jews in Italy, resulting in many a tasty artichoke dish!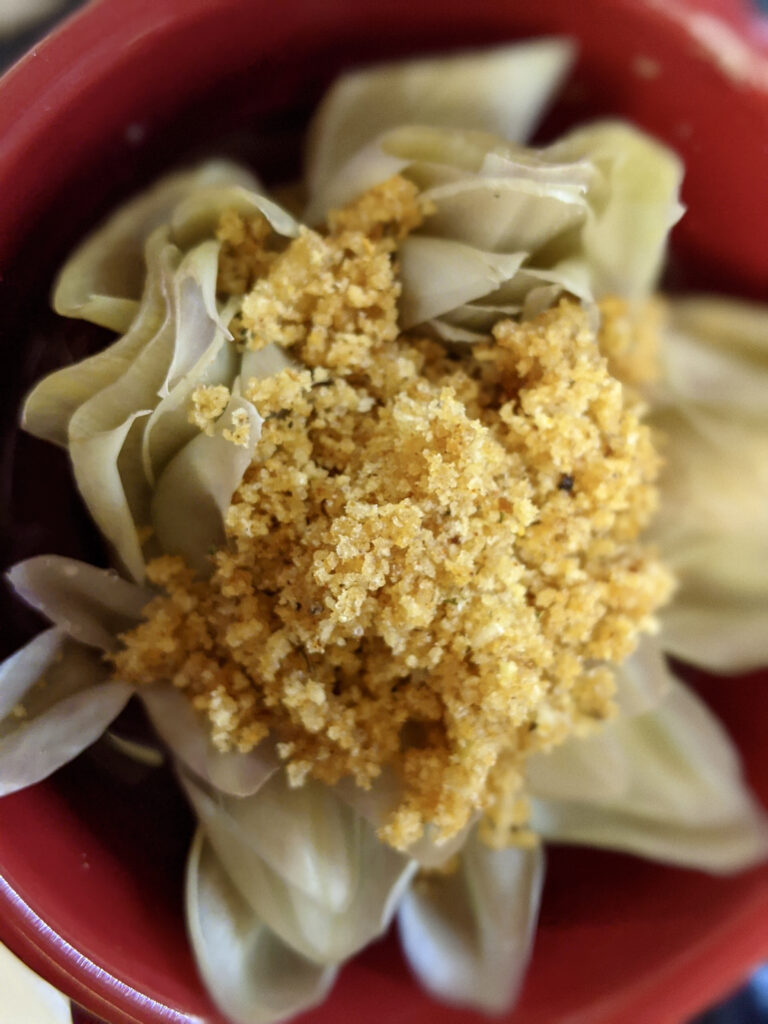 This appetizing appetizer begins by mixing, anchovy fillets, garlic, parsley, bread crumbs, olive oil, and lemon juice into a paste. The artichokes were trimmed of their leaves down to the base to create a little cup for the filling. These were then placed in a baking dish with enough water to half cover the globes and baked at 350F for 25 minutes until tender.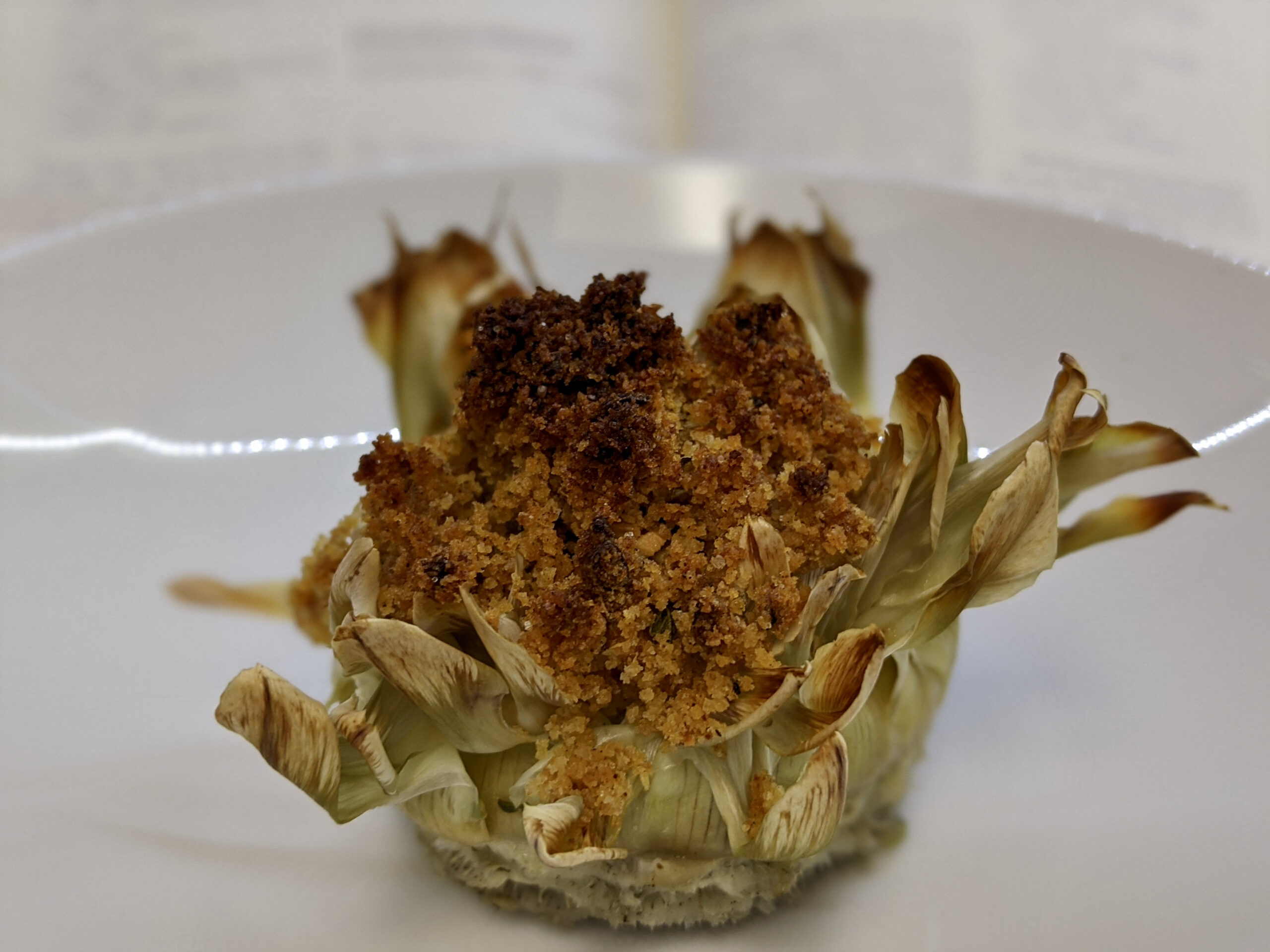 As with the above recipe, these too were supposed to be trimmed down right to the base, which would have rendered them significantly easier to eat. The flavor of these was quite savory, but the texture was a bit on the dry side, so they were not as enjoyable as our meat-filled artichokes. And while we did reserve the artichoke leaves to scoop dips for the next several days, it felt a bit wasteful to hack away at the globes until just an inch or two remained (which also makes for quite an expensive dish!). We have never seen frozen or canned artichoke bases, so this must be a much more accessible dish in its regions of origin!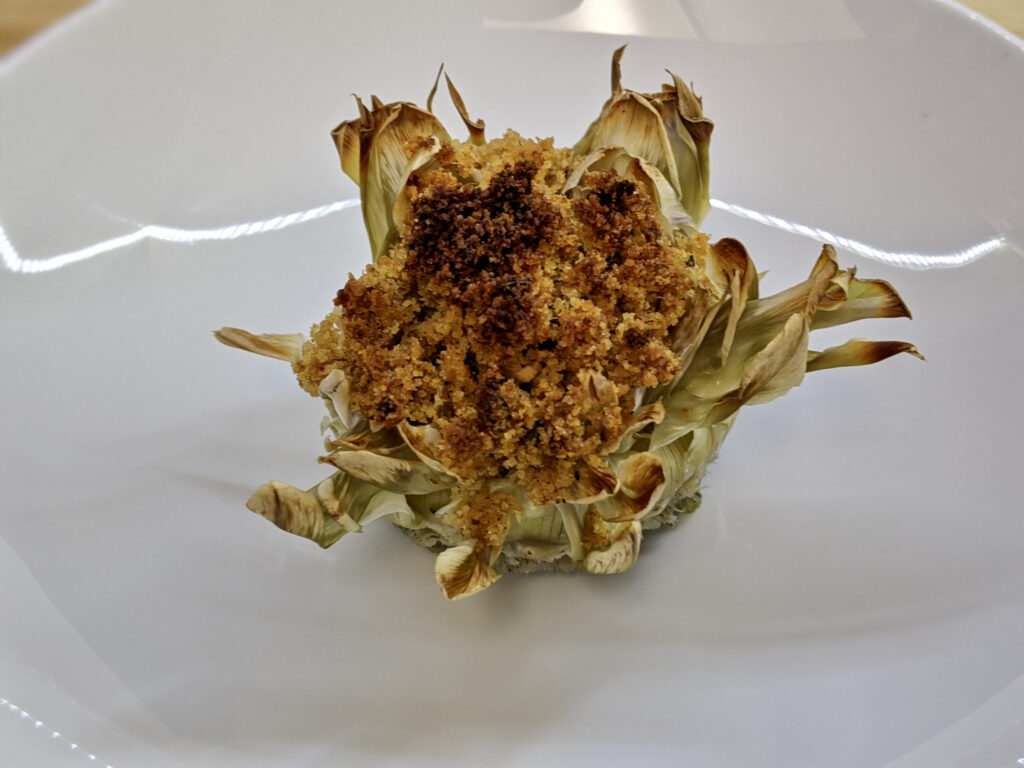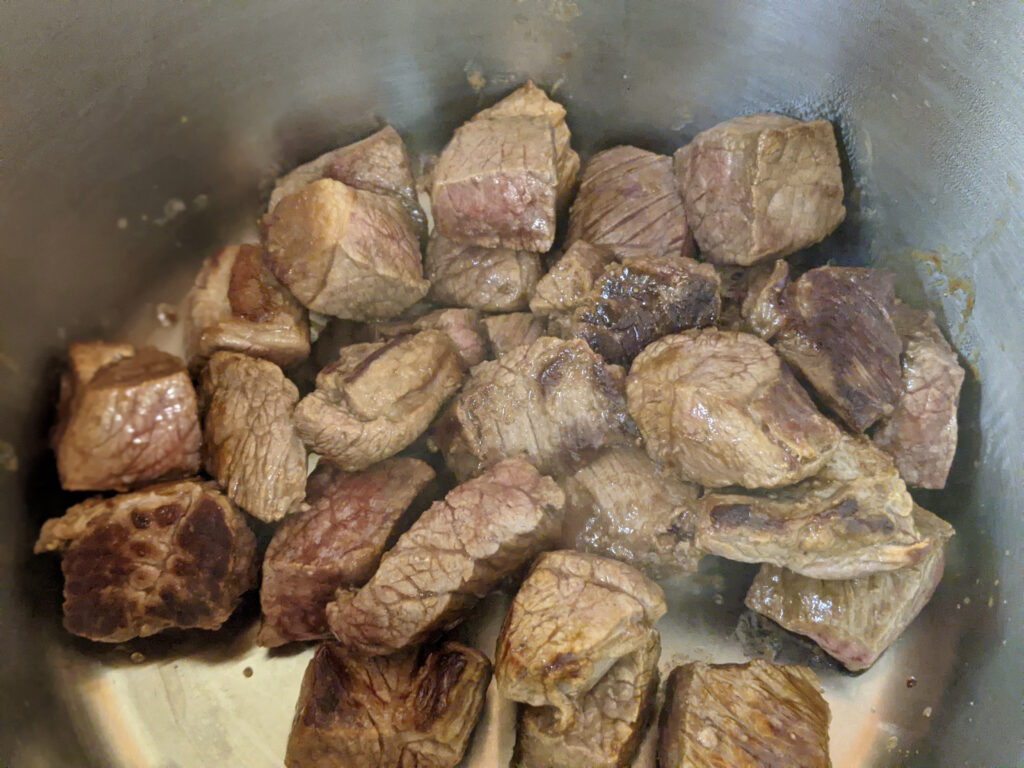 This Bene Israel dish packs a spicy and flavorful punch – Roden advises to continuously taste as this stew simmers to adjust the aromatics as needed. She also notes that when made in India, mutton is used, but allows for the substitution of lamb, which is the option we chose for tonight's main course.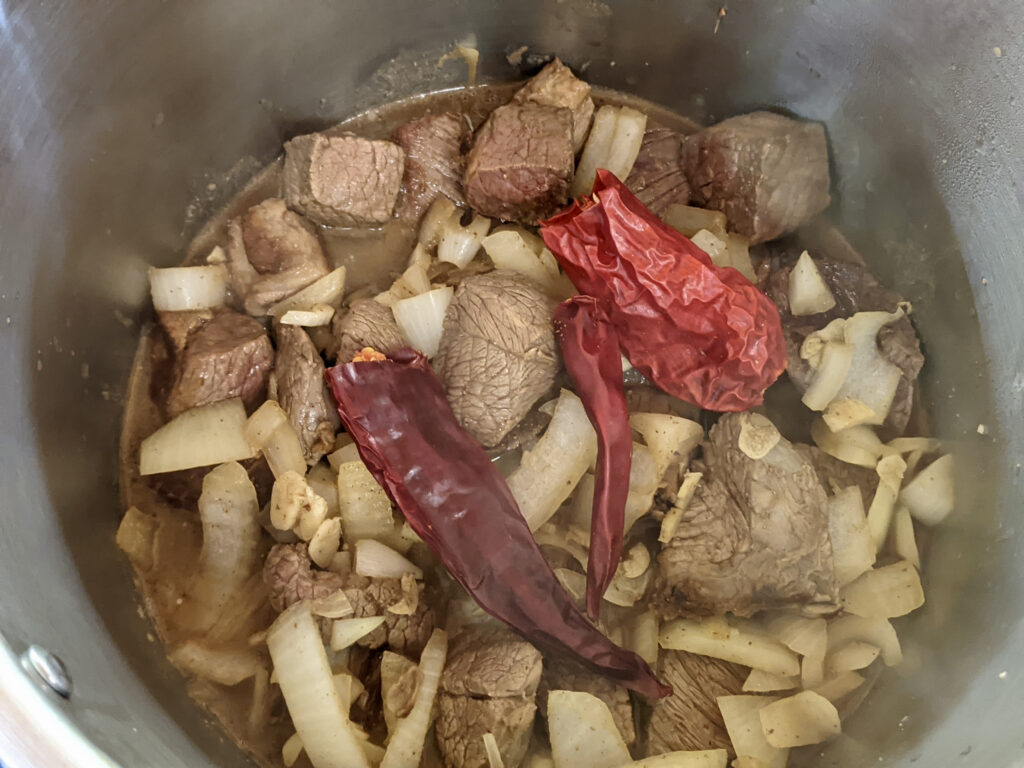 To start, a seriously large amount of onions were fried until golden, which took about 30 minutes at a low heat to avoid burning them (which I am often guilty of…but hey, some people pay good money for charred food!). Next, the meat was cubed and browned, after which garlic, cumin, and coriander were added to the pot. Four cups of water were poured over everything and the pot was brought to a boil.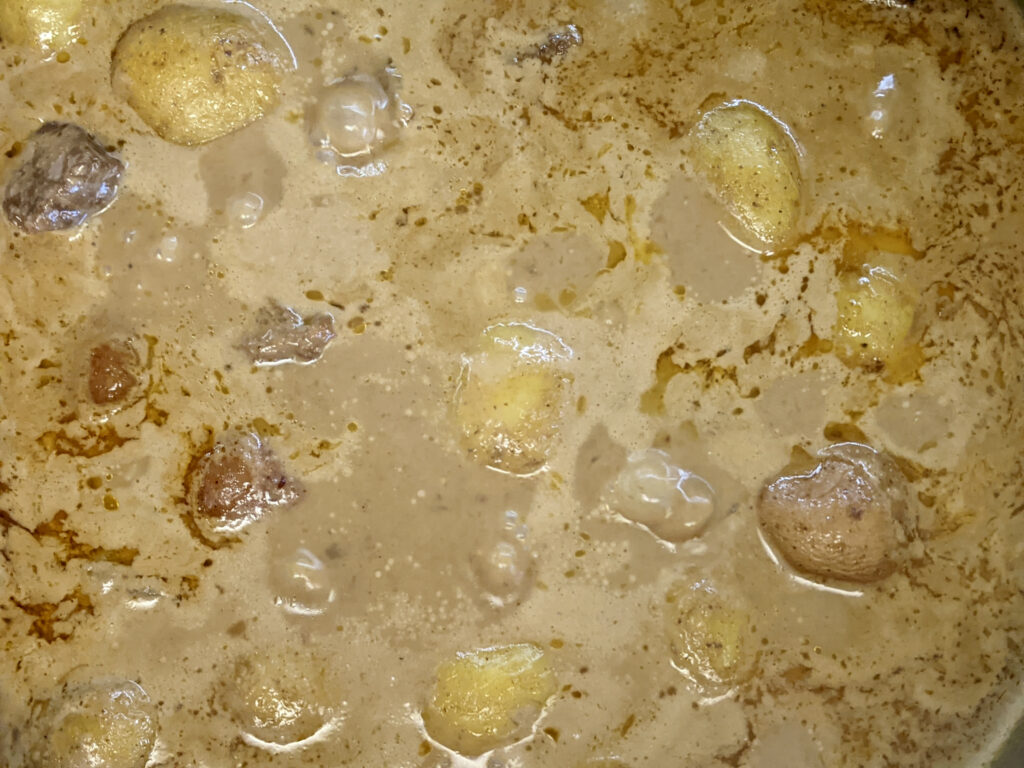 After the pot was then reduced down to a simmer, whole chiles (from last summer's garden!) and cinnamon and cloves were added to the mix. This was then simmered for 2 hours, after which small whole potatoes were added, along with coconut cream, tamarind, and sugar. Roden notes at this point the chiles can be removed, or if you like heat (as we do), can be left in until serving. This all simmered for another hour until the meat and potatoes were tender and served alongside a healthy scooping of white rice.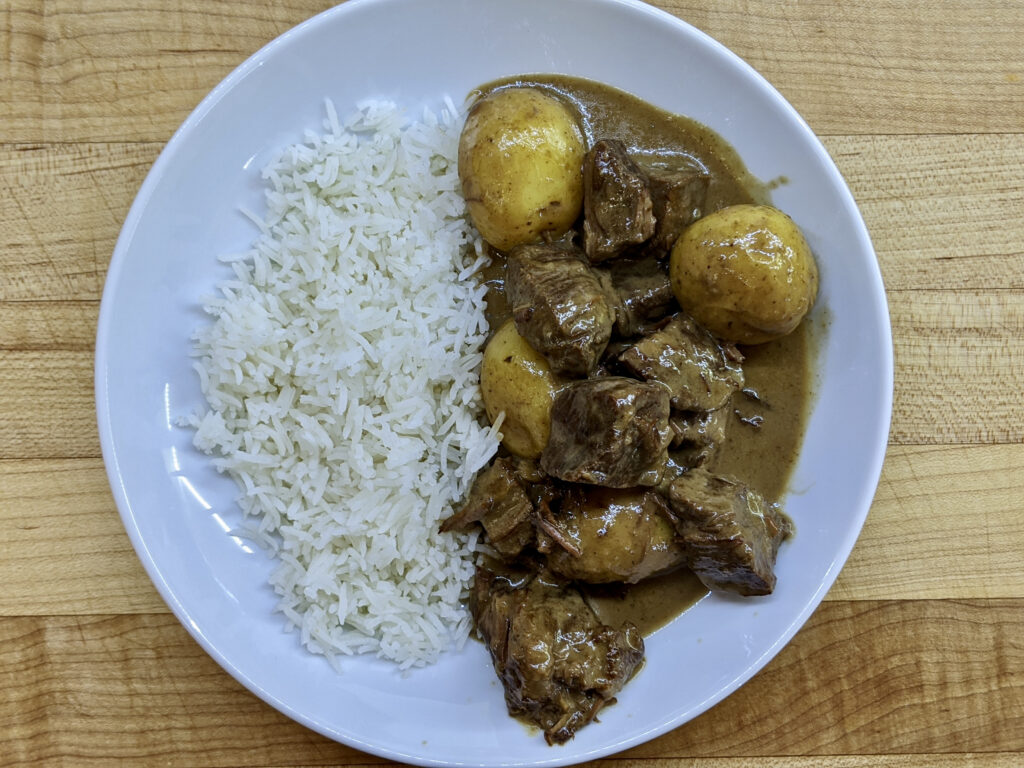 Man oh man oh man oh man oh man! This stew was the most savory, most scrumptious, most unctuous, most unbelievably tasty dish we have had in a while (and we have eaten quite a few good dishes in the last year). It was spicy and creamy and meaty and tart and wonderfully balanced in the heartiness of ways. Honestly, we can't rave enough about this dish and sufficed to say, enjoyed the leftovers for the next several days!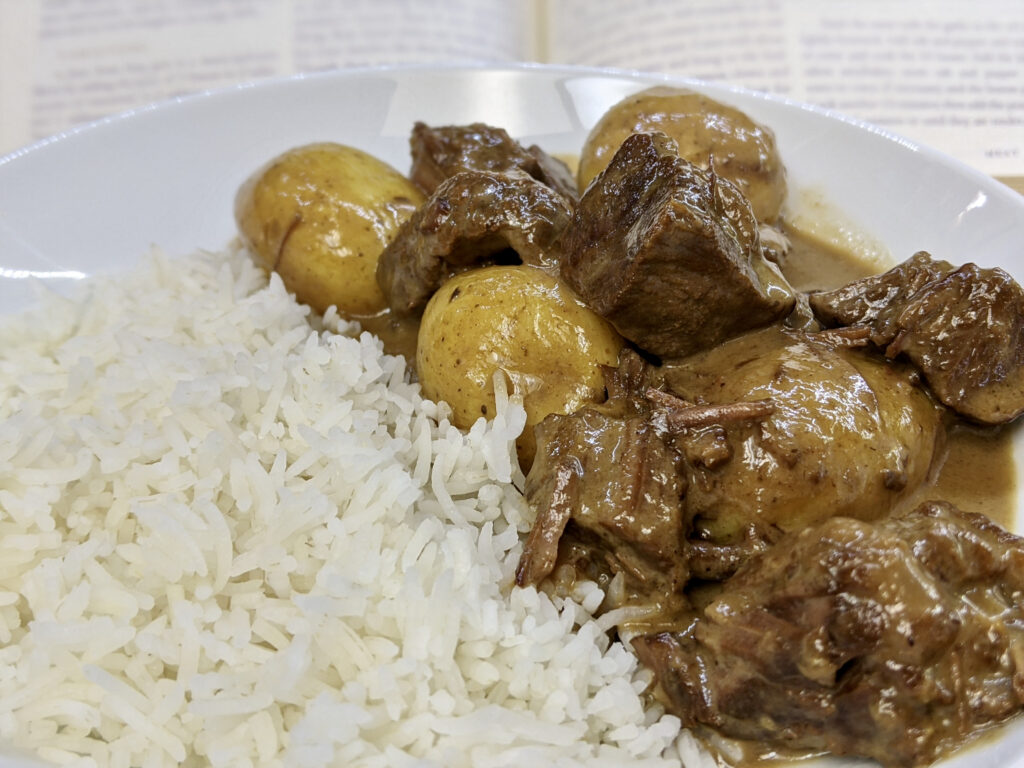 For tonight's dessert, we return to Italy for a little tasty treat. Roden notes that there are many different types of haroset across the regions of Italy and this recipe is a mishmash of what you may find from Padua to Milan.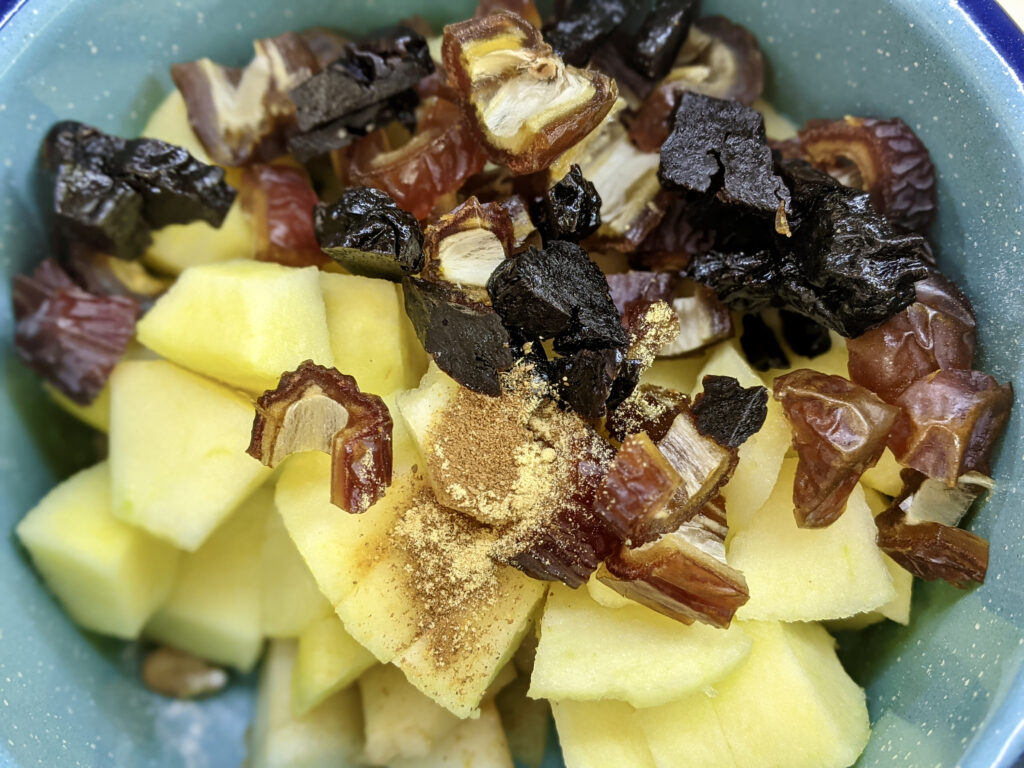 Peeled and cored apples and pears were diced and mixed in a pan with sweet wine, pine nuts, ground almonds, pitted dates, yellow raisins, prunes, sugar, cinnamon, and ginger and simmered for an hour until everything was very, very soft.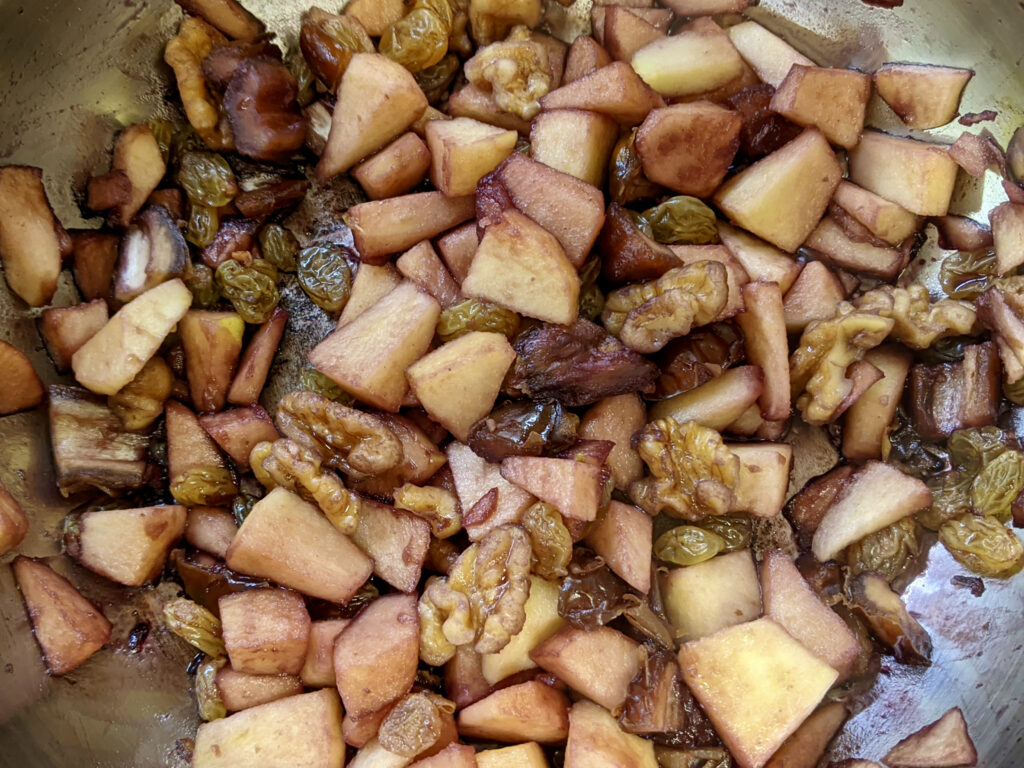 It is entirely possible that we had said this for previous dishes, but this was our favorite haroset so far. The long simmer time and wine-y addition made for a great dessert "gravy" and the sweet pears and tart apples were nicely complemented by the earthier nuts, dates, and prunes. The leftovers kept quite well and were good served both hot and cold.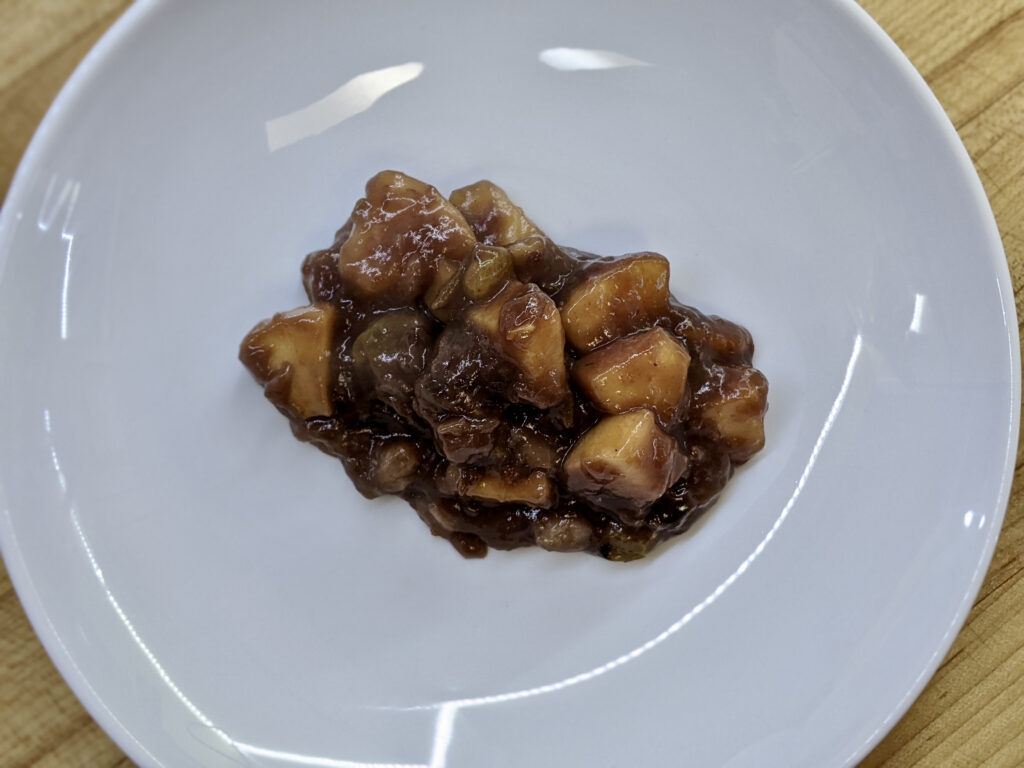 AND IN THE END, THE FOOD YOU MAKE IS EQUAL TO THE CARE YOU TAKE…
So how was Made In Marrow's meal number 96? As a reminder, our rating system is based on sticks of butter (because butter is best!), with 1 being the absolute worst and 5 being out of this world. Sticks of butter are assigned to Difficulty (how many kitchen fights were needed to complete the meal?), Tasty Goodness (was it a palate poor or did it make our mouths merry?), and Repeat Customer (how likely are we to return to the recipe?).
Difficulty 🧈🧈🧈 3/5
While not challenging, trimming artichokes sure does take a lot of time, so that was definitely taken into consideration for tonight's meal.
Tasty Goodness
🧈🧈🧈🧈 4/5 Kharshouf Maahshi – Artichoke Bottoms Stuffed with Meat
🧈🧈🧈 3/5 Carciofi Ripieni – Stuffed Artichoke Bottoms
🧈🧈🧈🧈🧈 5/5 Lamb with Red Chilies and Tamarind
🧈🧈🧈🧈 4/5 Haroset from Italy
Repeat Customer
🧈🧈 2/5 Kharshouf Maahshi – Artichoke Bottoms Stuffed with Meat
🧈🧈 2/5 Carciofi Ripieni – Stuffed Artichoke Bottoms
🧈🧈🧈🧈🧈 5/5 Lamb with Red Chilies and Tamarind
🧈🧈🧈🧈 4/5 Haroset from Italy
A couple of tasty stuffed veggie appetizers, a sumptuously savory stew, and yet another hearty haroset made for a great dinner – onward to next week's meal!
Sip, sup, and savor all you can, you curious cooks,
Elais & Gary