Just want the recipes and none of that other wordy nonsense? Click the links below!
Zaalouk d'Aubergines – Spicy Boiled Eggplant Salad
Caponata all Giudea – Italian Eggplant Salad
T'Fina Pkaila – Meat Stew with Beans and Spinach
Rose aux Amandes – Marzipan Coil in Filo Pastry
Meal the Fifty-Third
As we settle into the portion of The Book of Jewish Food, it is fun to start to recognize the diversity between regions. While the first section featuring the Ashkenazi world was far more consistent across flavors and ingredients (man oh man, we ate a lot of cabbage and green apples), the Sephardi world has a drastic increase in spices, fruits, and vegetables used. Additionally, the recipes from Northern Africa, Middle East, and Italy are all markedly different in textures and tastes, while we found the flavors of Russia and Europe recipes to be much more consistent in flavor.
Another change with the Sephardi section is the increase in the challenge of finding certain ingredients – there are several groups of recipes that we are holding until the end in the hopes that we come across these products. And while liver and onions were the most daunting recipe from the first part of the book, we have about four upcoming recipes in the "Offal" section involving calf's brain, which I cannot say we are too excited to prepare. But that is the great thing about our culinary capers; we never know what we are going to absolutely love, and the majority of our mysterious meals have turned out to be fantastic. Join us for another Sunday night nosh, where we try four new recipes which are completely foreign to us, but certainly do not fall flat.
As we talked about last week, eggplant can be delicious if cooked the right way but can become fairly bitter if mishandled over heat. Boiling is a good way to make bitter eggplant and this recipe features exactly that, so we were a little uncertain about how this mashed salad would turn out. But we listened to Roden, as she advised that the Moroccan seasoning of this dish would balance out the flavors.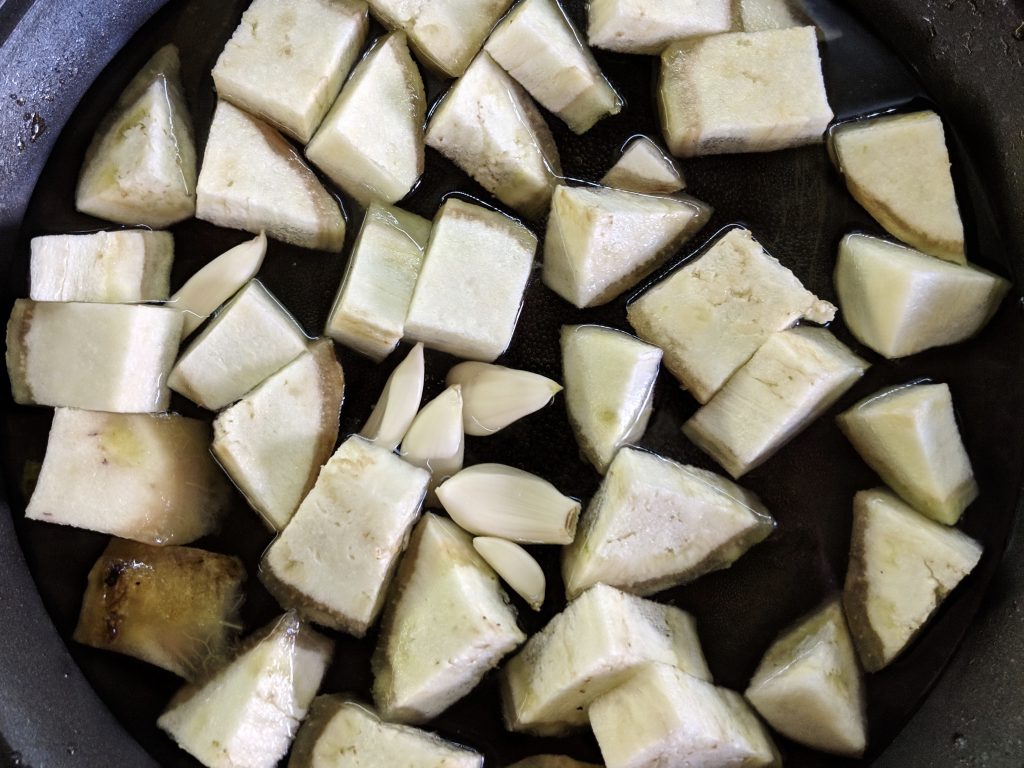 An eggplant was peeled and cubed then boiled in water with garlic and salt for 30 minutes. After this, they were drained and pressed in a colander to squeeze out as much water as possible. Once cooled, the eggplant-garlic mixture was dressed with olive oil, vinegar, paprika, cayenne, and cumin.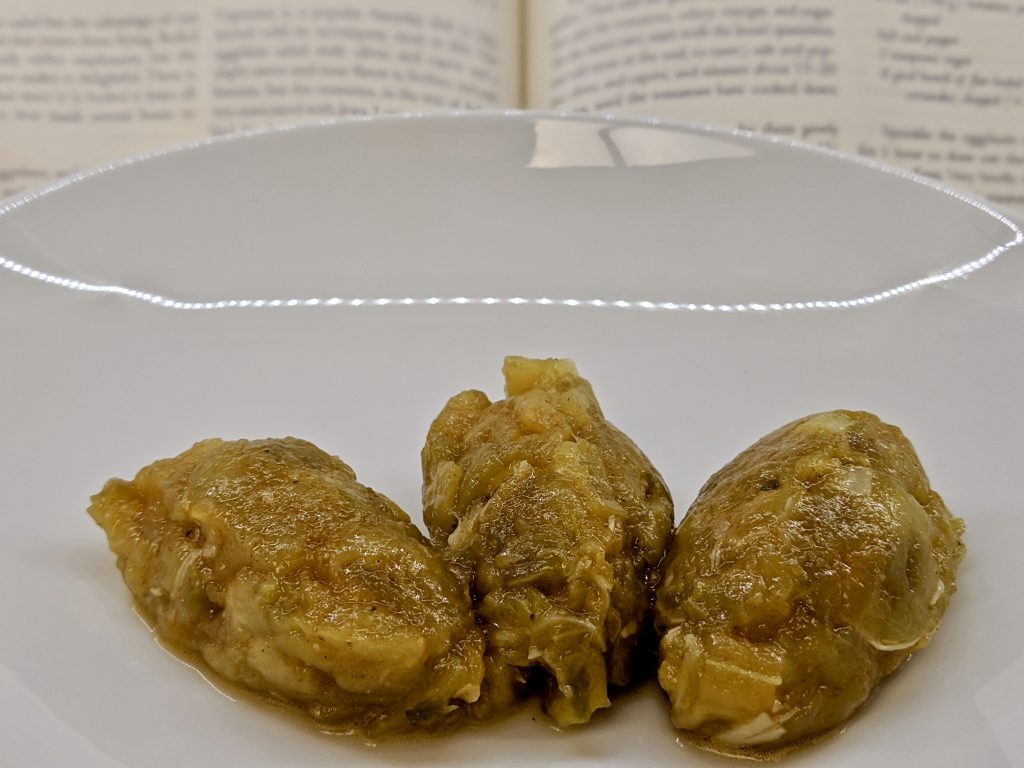 Despite not being much to look at (or photograph), this lukewarm salad was fairly tasty. The eggplant and garlic were fairly creamy, but muted, with neither flavor overpowering the other. The spices were also a nice touch, again not being too strong, with the salad resembling a mild baba ghanoush.
We travel from Morocco to Italy for our second eggplant salad of the evening, this one chilled and slightly more flavorful. The Jews of Sicily brought this recipe with them to central and northern Italian cities when they were fleeing the Inquisition, introducing the region to eggplants, which had previously been rejected by the surrounding communities. As with last week's dish, this one also features olives, which Gary is starting to warm up to as an acceptable ingredient.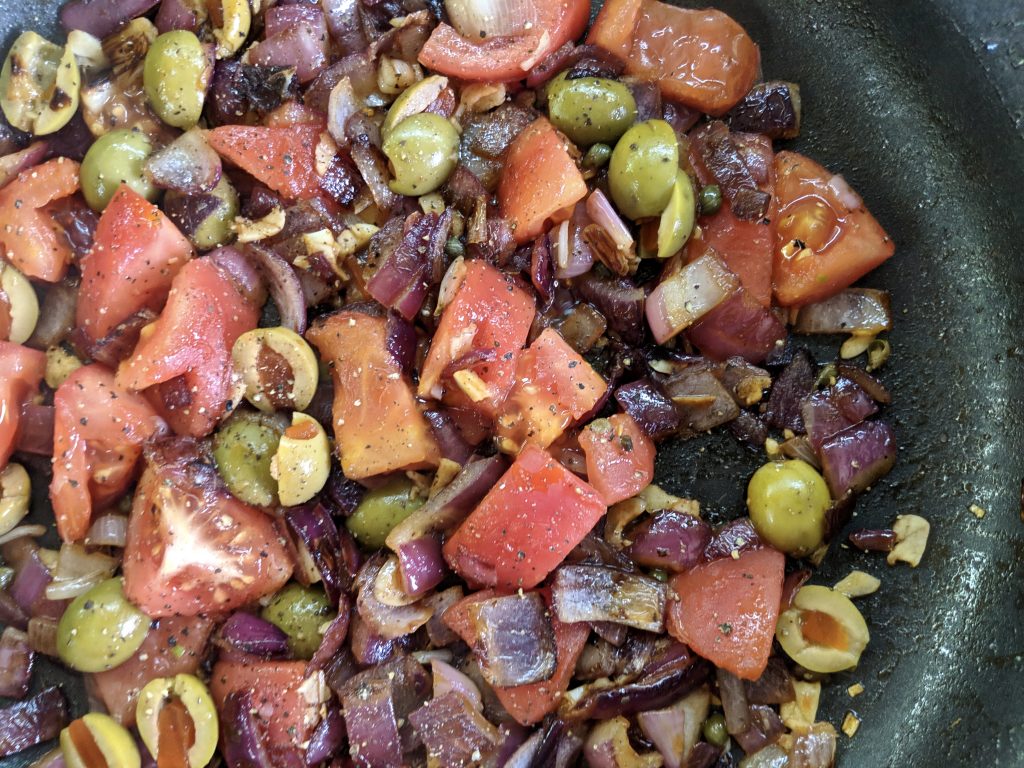 Eggplant was again peeled and cubed, then sprinkled with salt and left to drain in a colander for an hour. While this was expelling its excess water, onion was fried along with garlic, tomato, celery, vinegar, sugar, salt, pepper, olives, and capers, simmering for 20 minutes until the tomatoes have cooked down into a thick sauce. As this simmered, the eggplant was rinsed then fried briefly in oil to brown them. These were then drained on paper towels and added to the tomato sauce and chilled until dinner.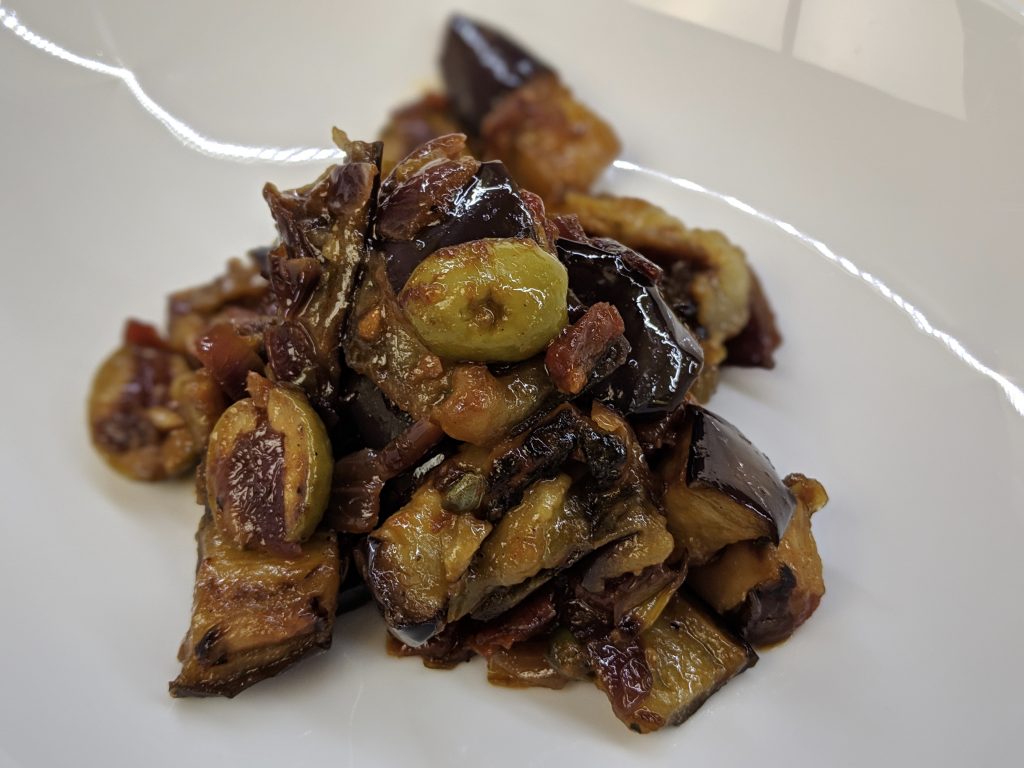 We were glad we started with the boiled eggplant salad and then ate this chilled dish, as the capers and olives were a bright and tangy compliment to the sweet tomatoes and creamy eggplant. This salad was quite tasty and kept well in the fridge as leftovers over the next several days.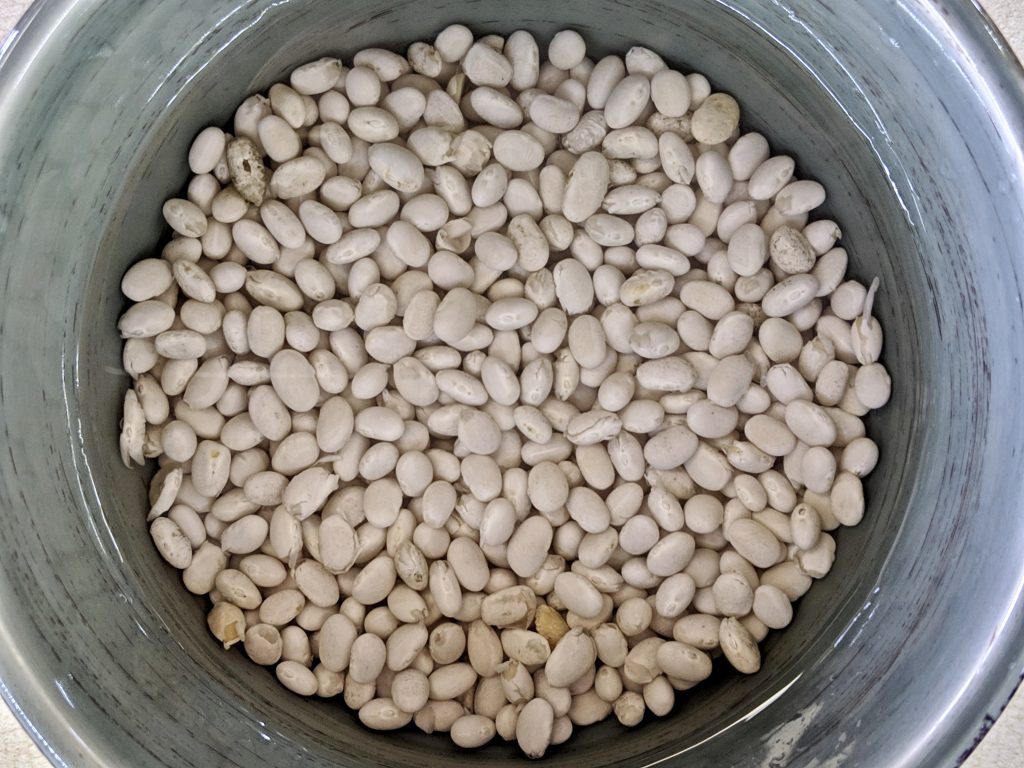 We jump back over to the Dafina section of The Book of Jewish Food for another Sunday stew. Roden writes that this is a traditional Sabbath dish of Algeria and Tunisia that can still be found in French restaurants to this day. We chose to use brisket for the protein (because that is what we had in the freezer) along with some spare beef bones to give the soup/stew a more glutinous texture.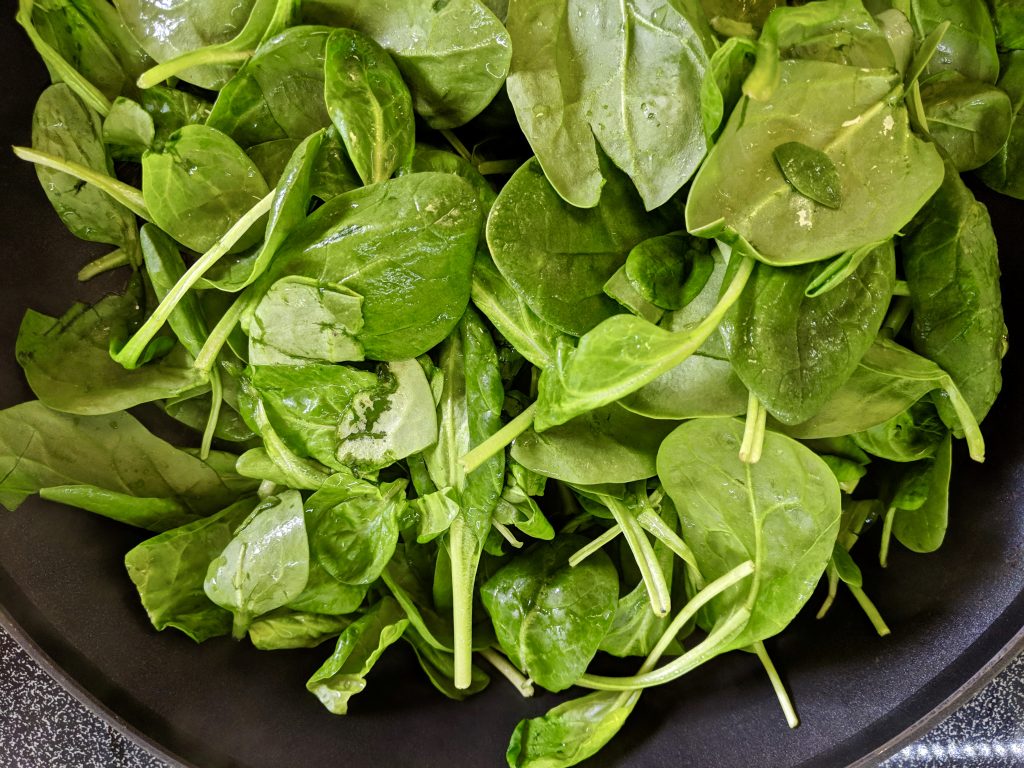 To start, the spinach was cooked in a pan until it had softened into a dark mass. While the spinach was cooking down, the brisket and bones were broiled until slightly golden, then put in a pot and covered with water. After this came to a boil, white beans, garlic, pepper, and wilted spinach was added to the stock. This was simmered for 8 hours and the seasoning adjusted slightly before serving.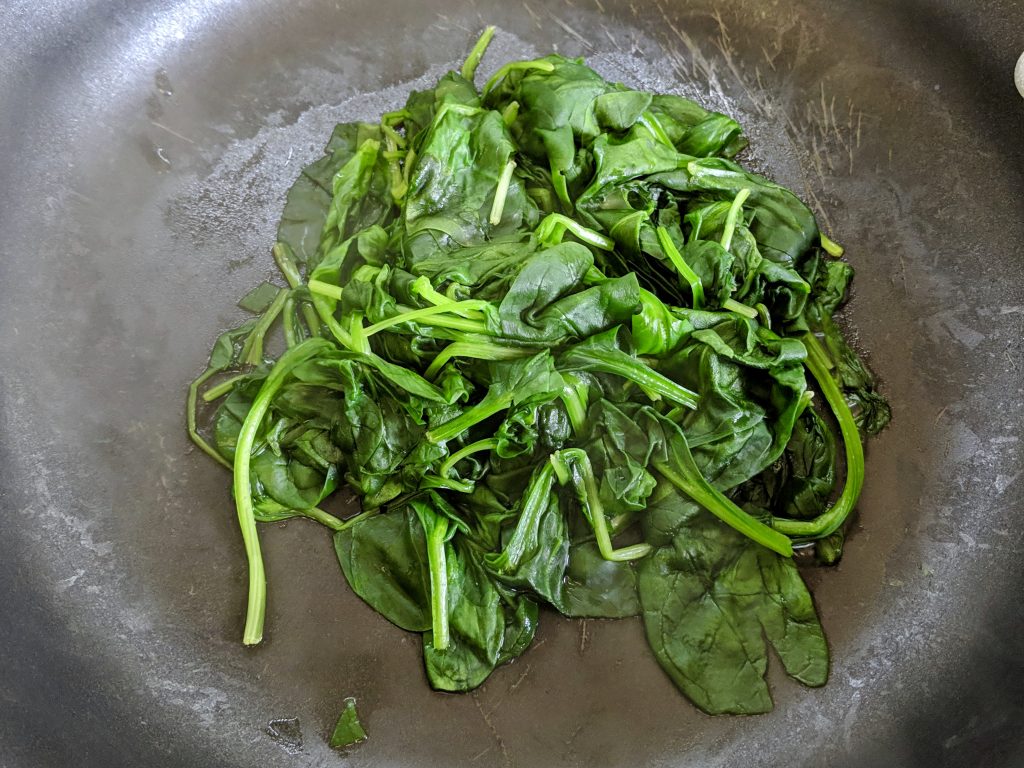 As is the theme with so many of Roden's recipes, this was simple yet fantastic. We were a bit suspicious of spinach that had practically been cooked into oblivion, but it kept its flavor and was a nice creamy texture in this savory soup. We shredded the brisket, which was just salty enough and the beans made for a very tender bite. Overall this was a hearty main course, which we would definitely enjoy again!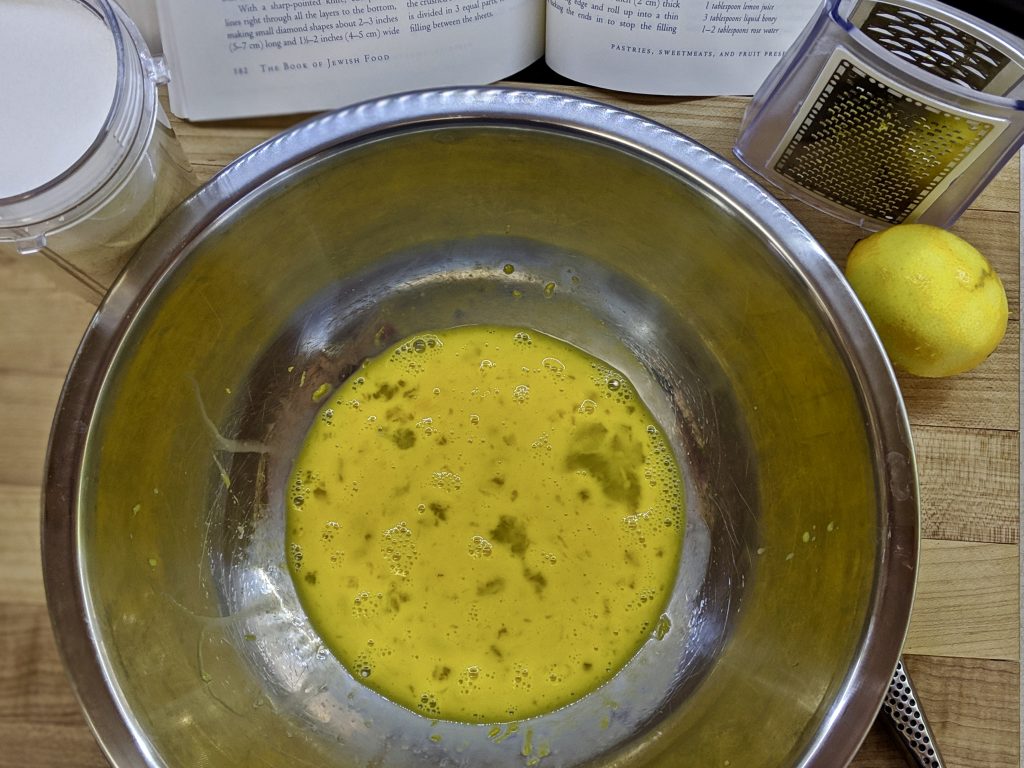 We return to Morocco for tonight's rose-shaped dessert featuring more filo. The filling consisted of ground almonds combined with sugar, two lightly beaten eggs, lemon zest, almond extract, and a small amount of melted butter.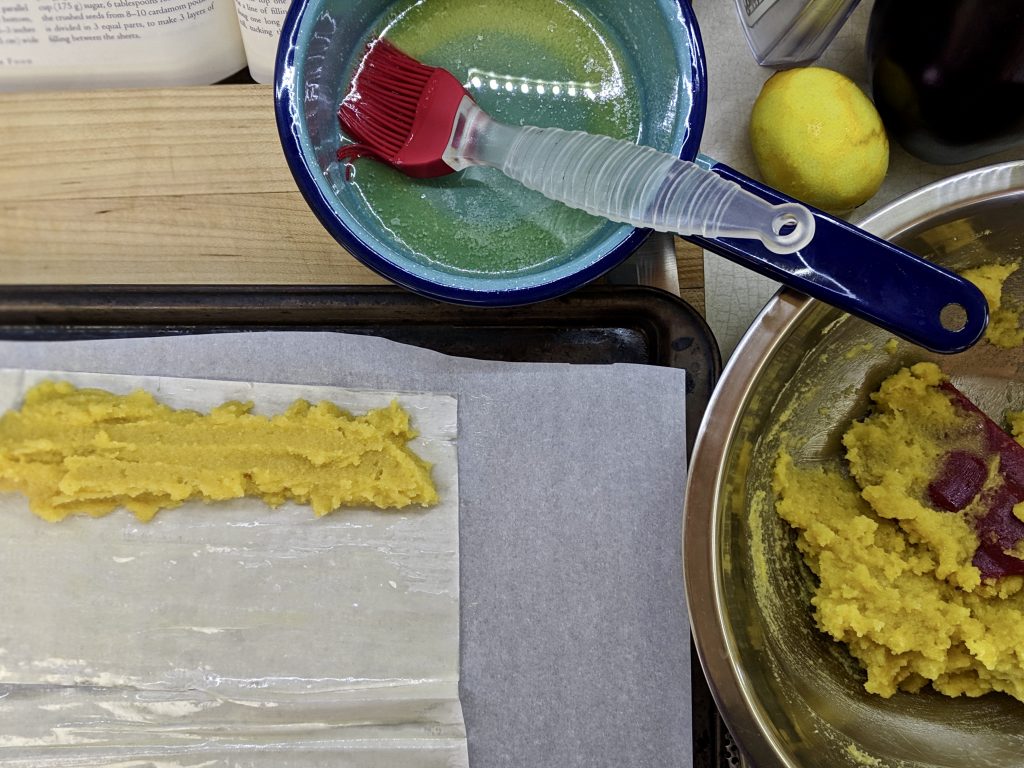 Three sheets of filo were laid out and brushed with melted butter. The creamy paste was spooned across the long end of each and then *oh so carefully* rolled up into thin tubes. These were placed end-to-end and *oh so carefully* curved into a spiral and placed on a baking pan. Brushed with an egg glaze, this baked at 350 degrees for 30 minutes until golden. The rose spiral cooled and then was chilled until dessert.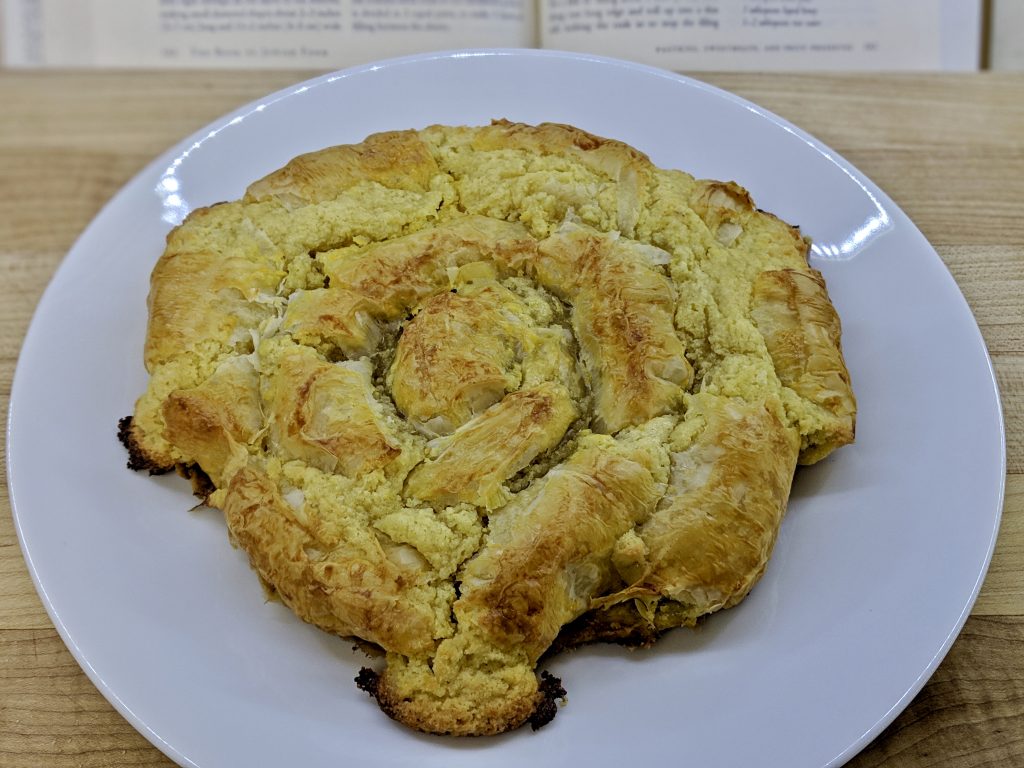 Dusted with a small of powdered sugar and cinnamon and sliced into triangles, this dessert was much more of a visual success than last week's baklava (even though that did taste very good). This too was excellent, with a slight hint of almond and lemon in a flakey covering. This kept up well as leftovers (thank goodness, because it was fairly rich) and looked far more complicated than it was to make.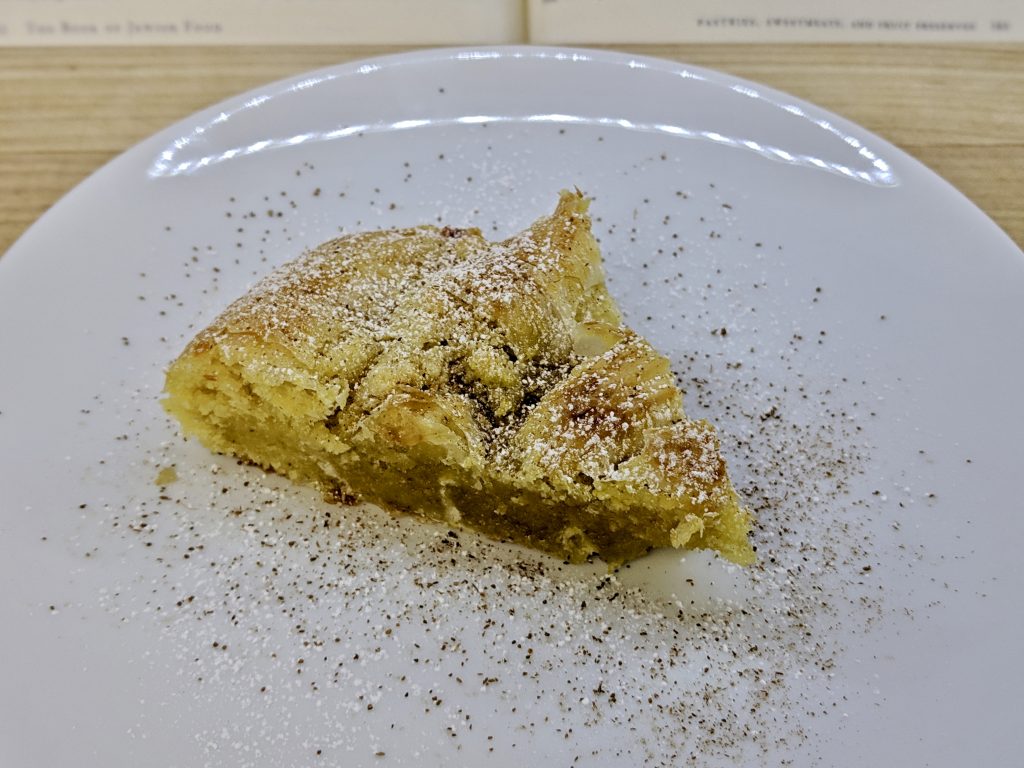 AND IN THE END, THE FOOD YOU MAKE IS EQUAL TO THE CARE YOU TAKE…
So how was Made In Marrow's meal number 53? As a reminder, our rating system is based on sticks of butter (because butter is best!), with 1 being the absolute worst and 5 being out of this world. Sticks of butter are assigned to Difficulty (how many kitchen fights were needed to complete the meal?), Tasty Goodness (was it a palate poor or did it make our mouths merry?), and Repeat Customer (how likely are we to return to the recipe?).
Difficulty [][]2/5
There was quite a bit of eggplant peeling for tonight's meal as well as some nervous pastry making, but all in all this meal was not too labor intensive.
Tasty Goodness
[][][]3/4 Zaalouk d'Aubergines – Spicy Boiled Eggplant Salad – Very mild in flavor, so is easily overpowered by other dishes
[][][][] 4/5 Caponata all Giudea – Italian Eggplant Salad – Bright and tangy and creamy!
[][][][][] 5/5 T'Fina Pkaila – Meat Stew with Beans and Spinach – Savory and creamy and full of meaty goodness
[][][][]4/5 Rose aux Amandes – Marzipan Coil in Filo Pastry – A sweet bite of almond and lemon flavors
Repeat Customer
[][]2/5 Zaalouk d'Aubergines – Spicy Boiled Eggplant Salad – Maybe, but perhaps with a bit more seasoning
[][][][] 4/5 Caponata all Giudea – Italian Eggplant Salad – Perhaps…
[][][][][] 5/5 T'Fina Pkaila – Meat Stew with Beans and Spinach – Most definitely, yes!
[][][][]4/5 Rose aux Amandes – Marzipan Coil in Filo Pastry – Easier than it looks, so a great final dish to impress guests!
This pretty much wraps up our eggplant section of the salad portion of the cookbook – while it will still bean ingredient in other recipes, we have quite enjoyed the several dishes where it was the main star!
Sip, sup, and savor all you can, you curious cooks,
Elais & Gary