Just want the recipes and none of that other wordy nonsense? Click the links below!
Mandelbrot – Toasted Almond Slices
Soufganioth aka Ponchkes – Hanukah Jam Doughnuts
Chremslach – Matzo Meal Pancakes
Meal the Twenty-Eighth
With only two weeks left in the Ashkenazi portion in the Book of Jewish Food, we decided to change the format a bit. This was mostly due to the fact that we had a disproportionate amount of recipes left in the "Dessert" section of the cookbook, so we decided to group the ones with a more breakfast feel together to make a breakfast themed blog!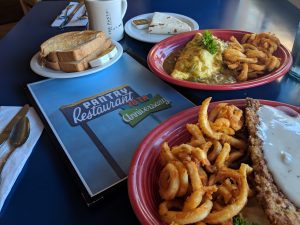 As we have written about in previous weeks, Gary and I have very different feelings about breakfast, Gary's being that any food is good for any meal and mine is that certain foods are better at breakfast. One of our favorite breakfast places in Santa Fe is The Pantry, a local eatery that was founded more than 65 years ago. My go-to is the Durango omelet slathered with green chile and Gary's favorite is their chicken fried steak (a meal definitely fit for dinner, in my opinion). Eating breakfast out always offer the opportunity to partake in toast or muffins or other wonderfully baked goods that we do not normally keep around the house, which is quite a treat. And that is what makes today's meal so much fun – not only are we cooking at the opposite end of the day, but it is purely frivolous fare. So slip on your fuzzy slippers, grab a cup of coffee, and enjoy Made In Marrow's morning meal in the making!
Mandelbrot – Toasted Almond Slices
Mandelbrot roughly translates to "almond bread" and is a popular cookie amongst Eastern European Jews. While not really a bread, it is baked into loaves, allowed to cool slightly, then sliced into portions to be baked again, much like biscotti. But unlike biscotti, these cookies are much softer and less cakey and are often served with sweet wine.
Eggs and sugar were beaten together until creamy after which oil, lemon, orange zest, vanilla extract, salt, and baking powder were mixed in. Flour and blanched almonds were added to the mixture and this soft dough was shaped into two logs.
These were baked for 30 minutes at 350 degrees until lightly browned and then impatiently allowed to cool. Once cooled enough to stick together while slicing, the logs were portioned into 1/2 inch thick cookies and baked again for 10 minutes at 400 degrees.
These are a wonderful alternative to biscotti – not as dry or crunchy, they are quite enjoyable with coffee, tea, and the occasional cup of hot chocolate (especially when paired with just a touch of Bailey's, a comfy quilt, and an evening viewing Downton Abbey). While it sounds like only I liked them, Gary quite enjoyed them as well and preferred them over biscotti. The orange zest (our substitute was pulverizing mandarins which I had dried several months ago) was bright but not overwhelming and there was just enough almond to add a slightly savory taste to these not too sweet cookies. Easy to make and they keep for weeks, this was a recipe to which we will definitely return!
Soufganioth aka Ponchkes – Hanukah Jam Doughnuts
With Austro-Hungarian roots founded in traveling peasant carnivals, these tasty doughnuts quickly became a treat in French courts, including those of Marie Antoinette. Because oil has a predominant role in the foods of Hanukah, these deep-fried pastries are a favorite during this holiday. Originally filled with a variety of jellies, modern Soufganioth has been "fancied-up" with fillings that include dulce de leche and cappuccino cream. Their popularity continues to this day, with more than 7 million Jews in Israel eating 20 million variations of this donut per year.
Neither Gary nor myself have made doughnuts before, so this was a first for both of us. To start off, we made a yeast-based dough by mixing yeast with milk, sugar, egg, grape-seed oil, vanilla extract, and flour. This was allowed to rise for 2 hours until doubled in size and then rolled out to be cut into 2-inch rounds. Into one half of a pair of rounds was spooned a tablespoon of apricot jam (simply because that's the jam we had in the fridge) which was covered with its partner round and allowed to rise for 30 minutes.
After our doughnuts had puffed, we heated canola oil in the deep fryer and carefully dropped in our pastries four at a time. Fried for two minutes then flipped and taken out when golden, these were then drained on paper towels and were topped with powdered sugar.
I've never met a doughnut I did not like, and these were no exception. Tasty both out of the fryer and the next day (because we really did try to practice some self-restraint), these doughnuts were not too sweet and wonderfully light and fluffy. They all also managed to stay in one piece during the deep frying process, which we thought was nothing short of a miracle and were not too hard to make. These were definitely a hit for both Gary and me, but we are a bit ashamed to say that we did not share a single one…nom nom nom.
Chremslach – Matzo Meal Pancakes
These matzo meal pancakes are often eaten during Passover and originate from the Alsace region of France. They are made with a fairly simple recipe, combining eggs, water, brandy, salt, sugar, cinnamon, matzo meal, chopped almonds, and dates. This chunky pancake batter was poured by the small ladleful into a hot pan and flipped when browned at the edges.
We halved the recipe due to the large number of pastries that we were imbibing in this morning but still ended up with quite the stack of pancakes. Gary and I both enjoyed these, as they were not too sweet and slightly savory. While we thought that the matzo, almonds, and dates would result in a heavy, chunky pancake, they were actually a flavorful touch to these light and airy pancakes.
AND IN THE END, THE FOOD YOU MAKE IS EQUAL TO THE CARE YOU TAKE…
So how was Made In Marrow's meal number 28? As a reminder, our rating system is based on sticks of butter (because butter is best!), with 1 being the absolute worst and 5 being out of this world. Sticks of butter are assigned to Difficulty (how many kitchen fights were needed to complete the meal?), Tasty Goodness (was it a palate poor or did it make our mouths merry?), and Repeat Customer (how likely are we to return to the recipe?).
Difficulty[][][] 3/5
While none of these recipes were particularly difficult, they did require a bit of time, patience, and close observation due to the touchy nature of yeast-based pastries.
Tasty Goodness
[][][][][] 5/5 Mandelbrot – Toasted Almond Slices – Chewy, bright, and a great pairing with your morning cup of coffee.
[][][][][] 5/5 Soufganioth aka Ponchkes – Hanukah Jam Doughnuts – Light, just sweet enough, and full of doughnutty goodness.
[][][][] 4/5 Chremslach – Matzo Meal Pancakes – A little sweet, a little savory, and a nice change from your standard pancake.
Repeat Customer
[][][][][] 5/5 Mandelbrot – Toasted Almond Slices – Perfect for both your holiday baking and Sunday mornings!
[][][][][] 5/5 Soufganioth aka Ponchkes – Hanukah Jam Doughnuts – These look much more challenging than they are – impress your friends and family!
[][][][] 4/5 Chremslach – Matzo Meal Pancakes – A nice little breakfast variation to which we will return.
This was a great meal which was quite different from our previous 27 weeks. Now on to our last meal in the Ashkenazi portion of the Book of Jewish Food!
Sip, sup, and savor all you can, you curious cooks,
Elais & Gary