Just want the recipes and none of that other wordy nonsense? Click the links below!
Urug Patata-Potato Chaps – Stuffed Potato Cutlets
Kubba Bamia – Okra Stew with Meat Dumplings
Veau aux Topinambours et Petits Pois – Veal with Peas and Jerusalem Artichokes
Meal the Ninety-Seventh
When is a nut not a nut? When it's a water chestnut, of course! Tonight we tackle a few recipes and ingredients that are not what they say they are but are tasty regardless (in the same spirit, a rose by any other name…). Tonight we substitute water chestnuts for Jerusalem artichokes – both being a root (in theory), with the Jerusalem artichoke being a tuber and the water chestnut being an aquatic vegetable, almost like a water tuber (that's our theory and we're stickin' to it). We also tackle a cutlet that is more of a fritter but still has components of a cutlet, but as we learned, a cutlet can also mean anything that is a cutlet-shaped patty, so we guess the meaning is in the eye of the beholder…
…So to answer our above riddle, when is a nut not a nut? Well, when a fritter is a cutlet, of course! And if none of that made sense to you, dear reader, you are not alone, because after it was written it made no sense to us either, but now serves as the intro to our very interesting meal this week. So please forgive us for our silly sayings and join us for a fritter that is not a fritter, a nut that is a vegetable (water chestnuts!), a nut that is really a nut (chestnuts!), and a nut that is actually a seed (almonds!) – we hope you enjoy!
Urug Patata-Potato Chaps – Stuffed Potato Cutlets
Roden informs us that not only are these little potato dumplings an Iraqi specialty but that they are also time-consuming to make, often being prepared "when women spent the whole day in the kitchen, or when they had servants to make it for them". Not having servants or an entire day to spend in the kitchen, we mentally prepared ourselves for a potentially challenging recipe that may result in a kitchen catastrophe.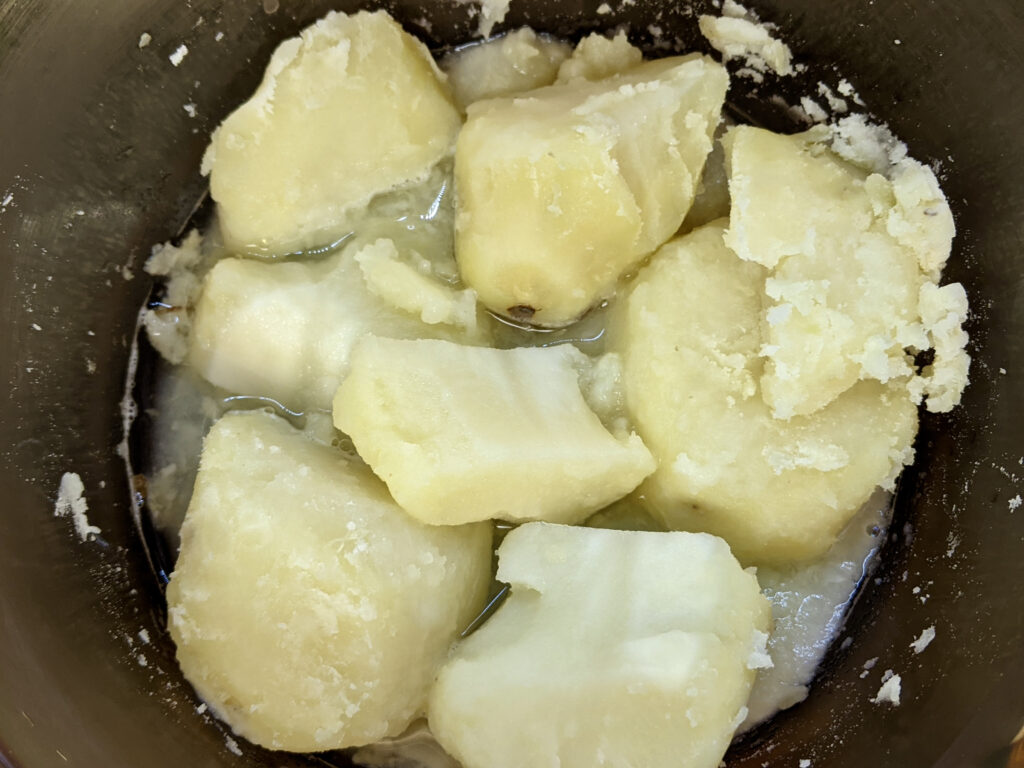 The "cutlets" were started by boiling potatoes until tender when poked with a fork. These were then drained and mashed, then spread flat on a dish so that they could air dry as much as possible while still hot. At this point, the potatoes had cooled enough to add the binder (an egg) plus salt and pepper. This mixture was then "worked" into a "dough" – both of these are in quotations because Roden makes it sound like you can handle this like a regular dough (we couldn't, it was more like handling, well, mashed potatoes) and that if you knead it long enough it will turn into a dough (lol, it most certainly did not).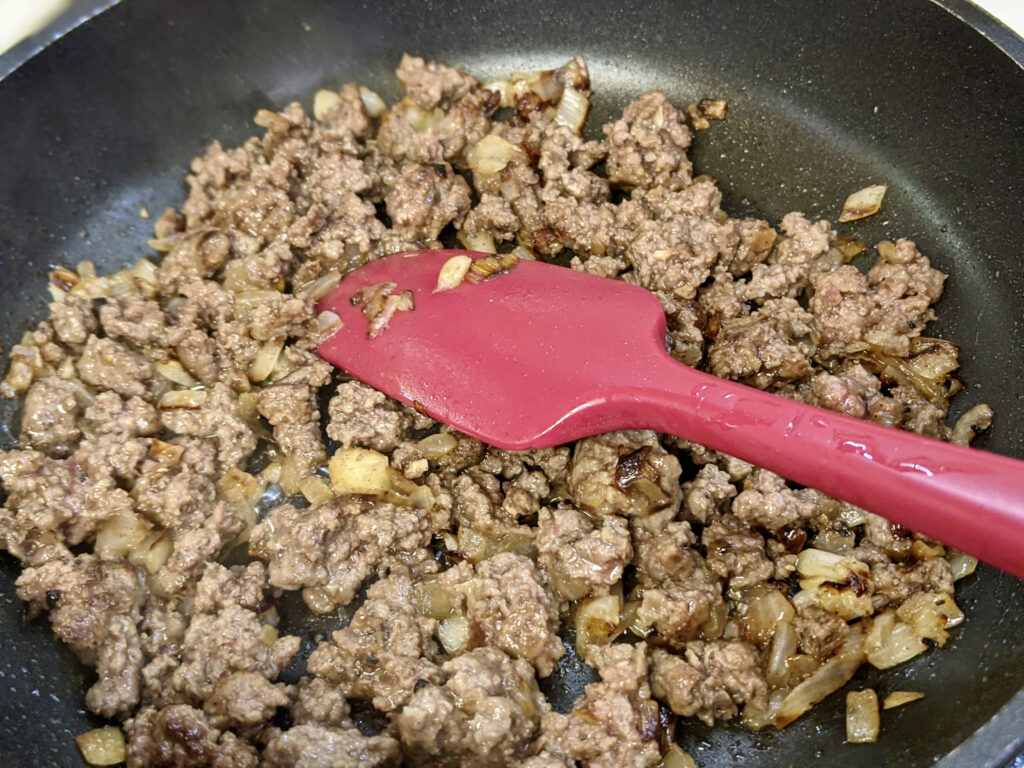 What we ended up with was a mixture of a potato pancake-like texture, which we proceed to take mandarin-sized pieces of in very, very well oiled hands, rolled into balls, poked holes in, and then filled with our prepared mix of onions fried with ground beef, salt, pepper, cardamom, cinnamon, allspice, nutmeg, and cumin. The mushy balls were pinched closed and oh-so-carefully rolled in matzo meal and gently flattened. These were fried until golden and then left on paper towels to drain.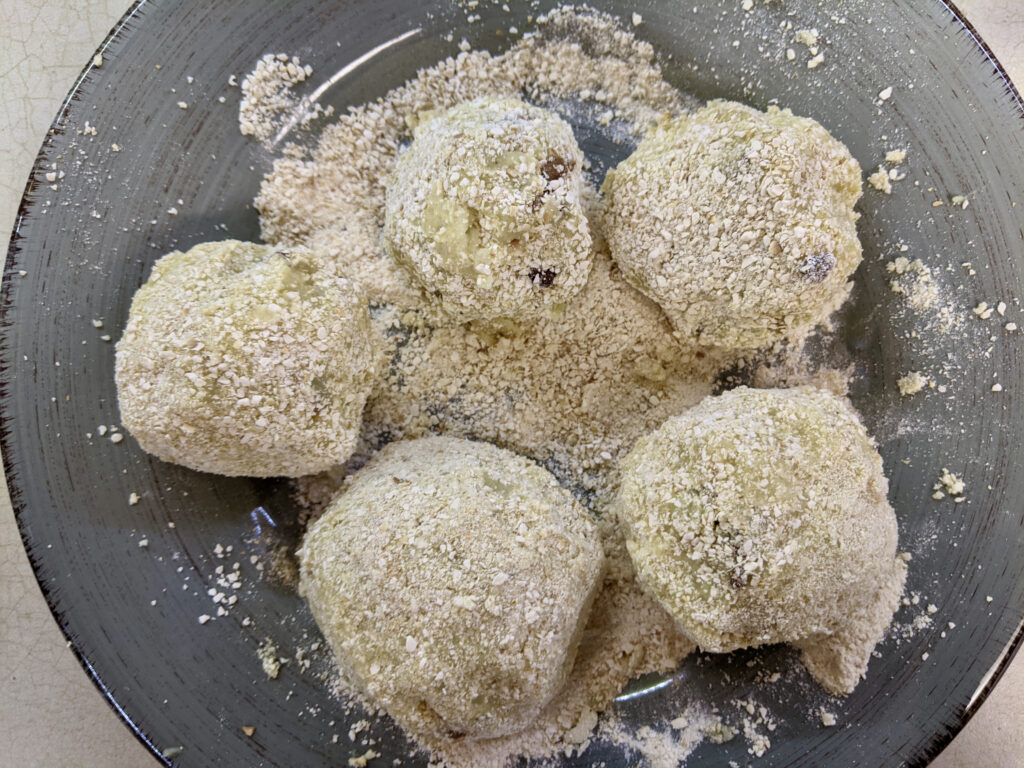 Yes, these were quite challenging, frustrating, and messy to make. But holy cow, these cutlets were tasty! First of all, who doesn't love a fried potato (we do!) and when filled with a wonderfully aromatic meaty filling, the fritter was one that was hard to beat. However…these were so difficult to make that we will probably leave them to the professionals in the future.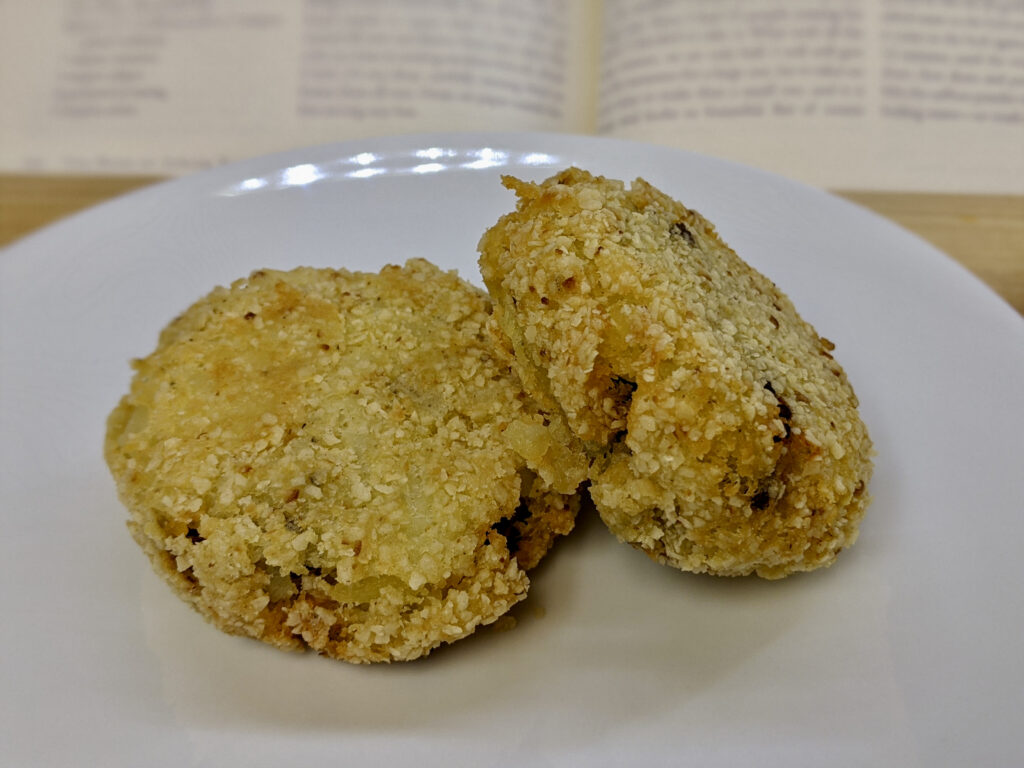 Kubba Bamia – Okra Stew with Meat Dumplings
This is a favorite Friday-night dish of the Iraqi with a slightly different dough for dumplings. Instead of all-purpose flour, the chewy bites are made with semolina, a type of flour milled from soft wheat that results in a coarse grit that can create a great crust in baking and decrease the likelihood of doughs sticking to surfaces.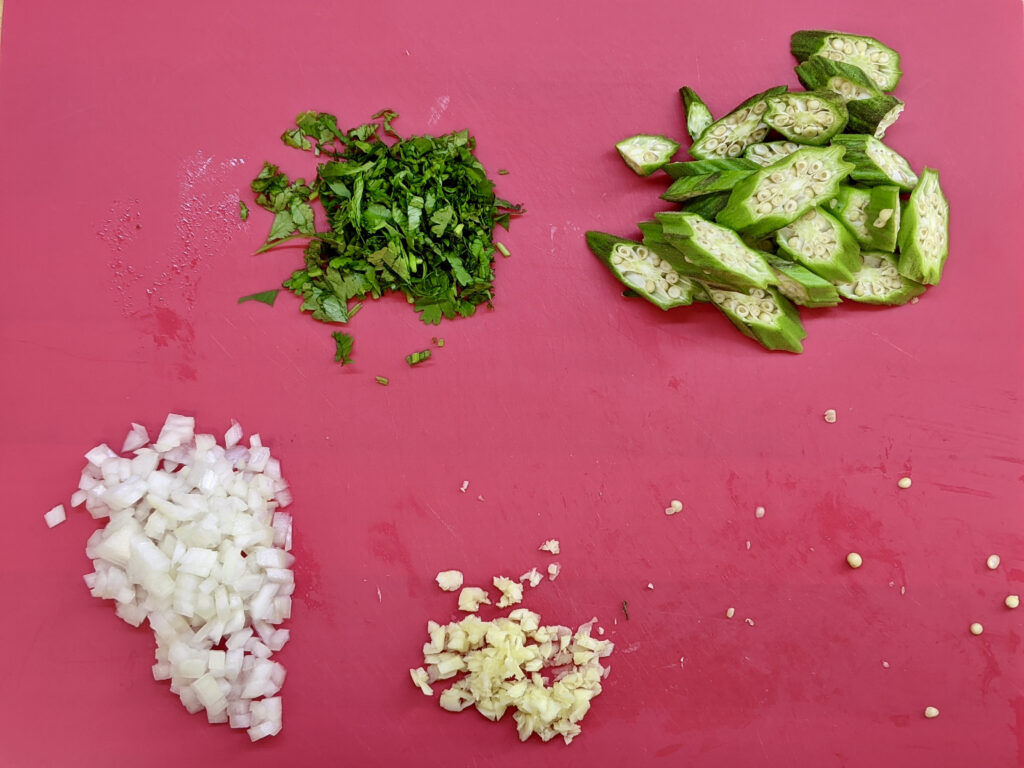 Our stew started with the dough – semolina was combined with salt and small amounts of water to create a firm paste (this was very messy, which one of us did not really mind). Meanwhile, the dumpling filling was created by combining ground beef, chopped onion, lime juice, and pepper in a food processor and blending until this too was a paste.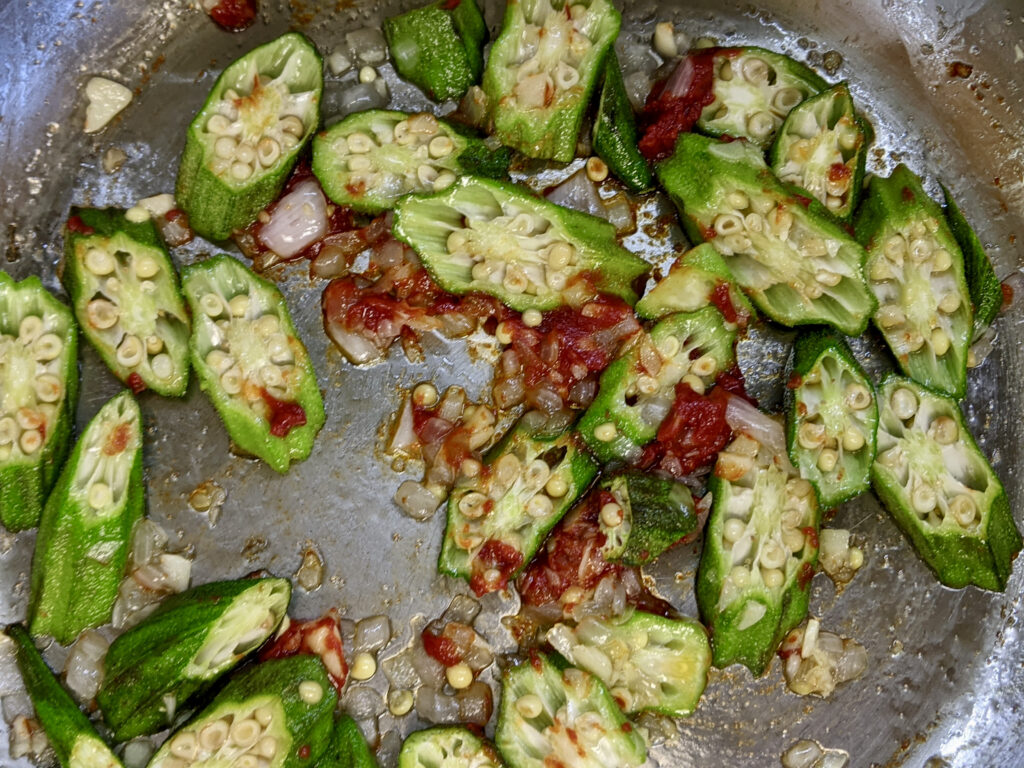 One of us then dusted our hands with flour (can you guess who has less of an aversion to being messy??) and then took walnut-sized amounts of dough, rolled it into a ball, then flattened it in the palm of our hand. A teaspoon of filling was placed in the center, then the sides were closed up and the dumpling was shaped into a shape that was dumpling-like (this was done by the person who can indeed shape things, but who does not like being messy).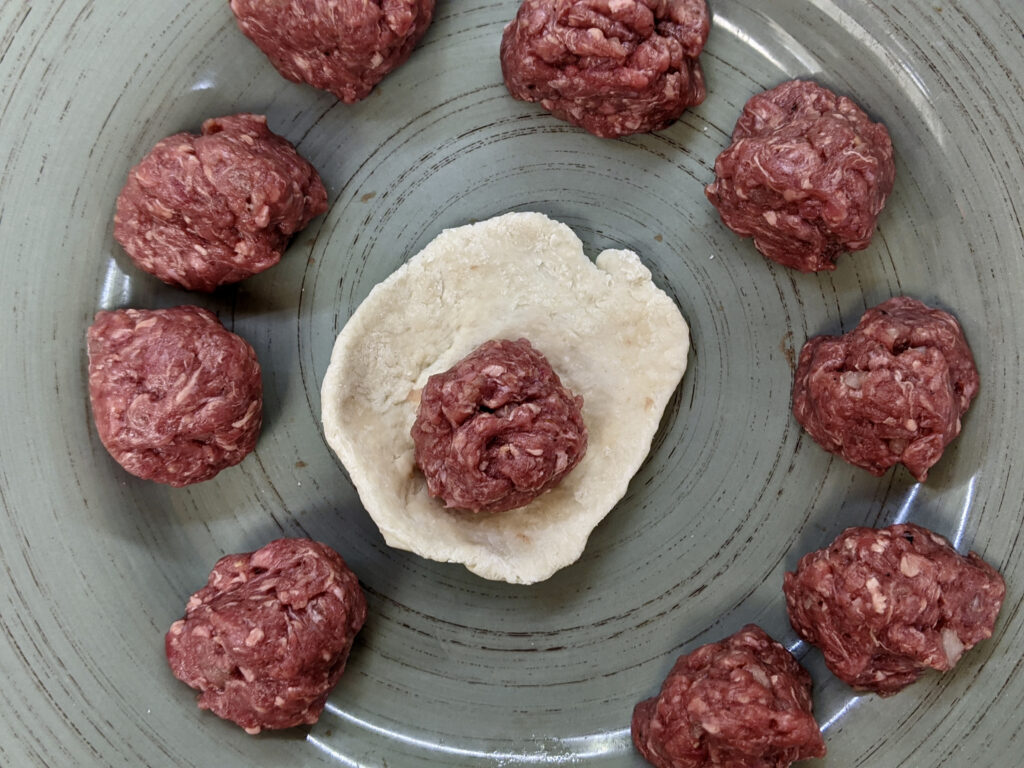 Once all of the dumplings were rolled, filled, and shaped, onion was fried in oil until golden, after which garlic was added to the pan and sautéed until aromatic. Tomato paste, parsley, lemon juice, sugar, salt, pepper, and our favorite (read this semi-sarcastically…) okra. This simmered for a couple of minutes after which water was added to the pan and the dumplings were dropped in to boil for about 25 minutes until they bobbed to the top like happy little dough blobs.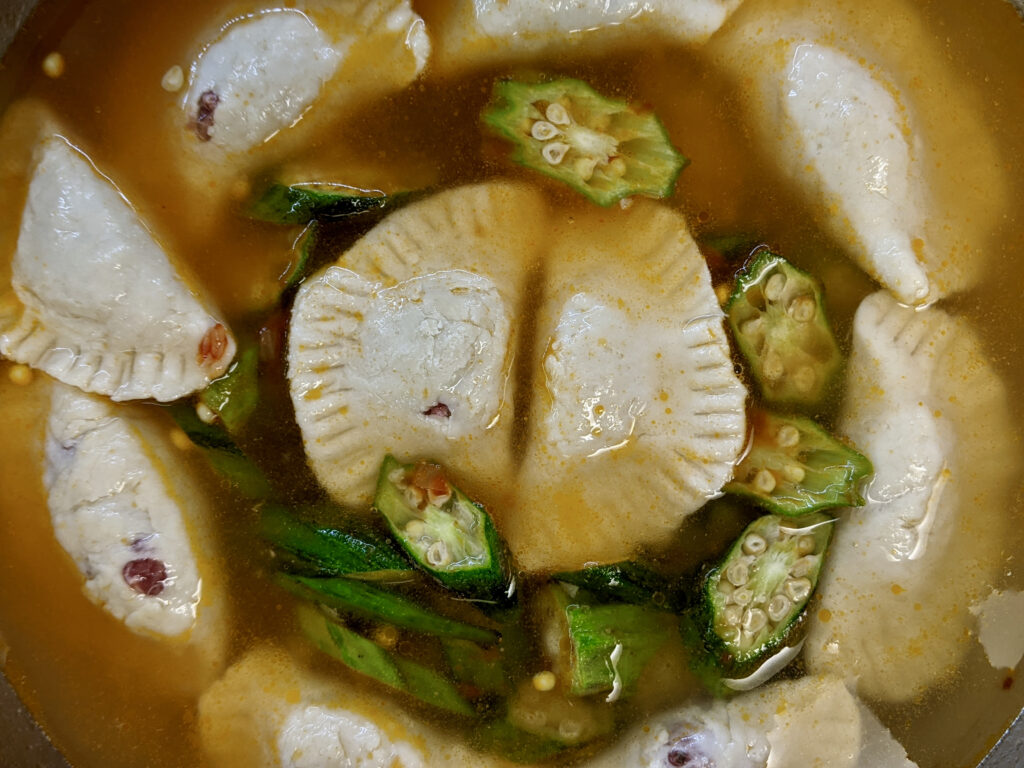 As we have written about in previous blogs, okra can get slimy, which is why they are often cooked with tomato, which can help to temper this less than sought-after attribute. The okra in this dish was still a bit slimy, so while it was tasty, the texture was not great. Similarly for the dumplings – the semolina resulted in a bit of a toothier chew, so the dumplings were a bit tougher than we had expected. However, the flavors were all great, so if you can get beyond the odd mix of textures, it was an enjoyable and hearty stew.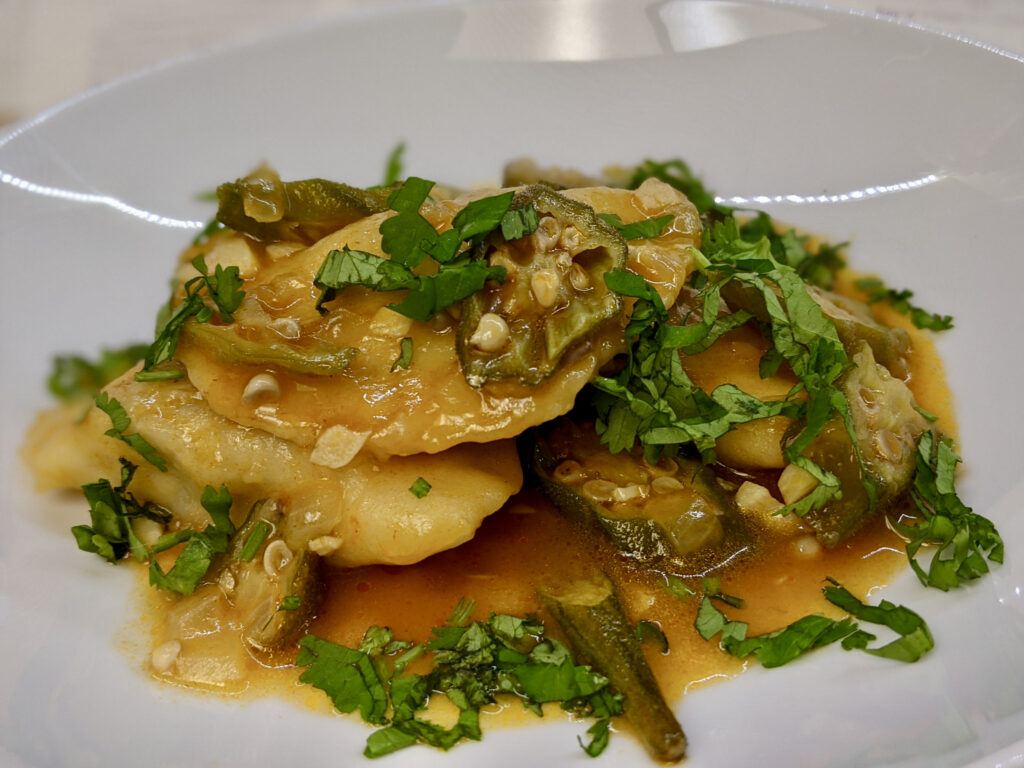 Veau aux Topinambours et Petits Pois – Veal with Peas and Jerusalem Artichokes
Claudia Roden advises at the beginning of this recipe that this dish can also be made with lamb, which is what we chose to do. We also could not find Jerusalem artichokes in our local grocery store, so a quick Google search led us to an appropriate substitute, water chestnuts (and as we are sure you remember from our intro, are not nuts, but aquatic vegetables). They still have the slightly sweet and nutty and tart flavor of the Jerusalem artichokes along with their starchy crunch (also, they make you less likely to be farty, so that's great too).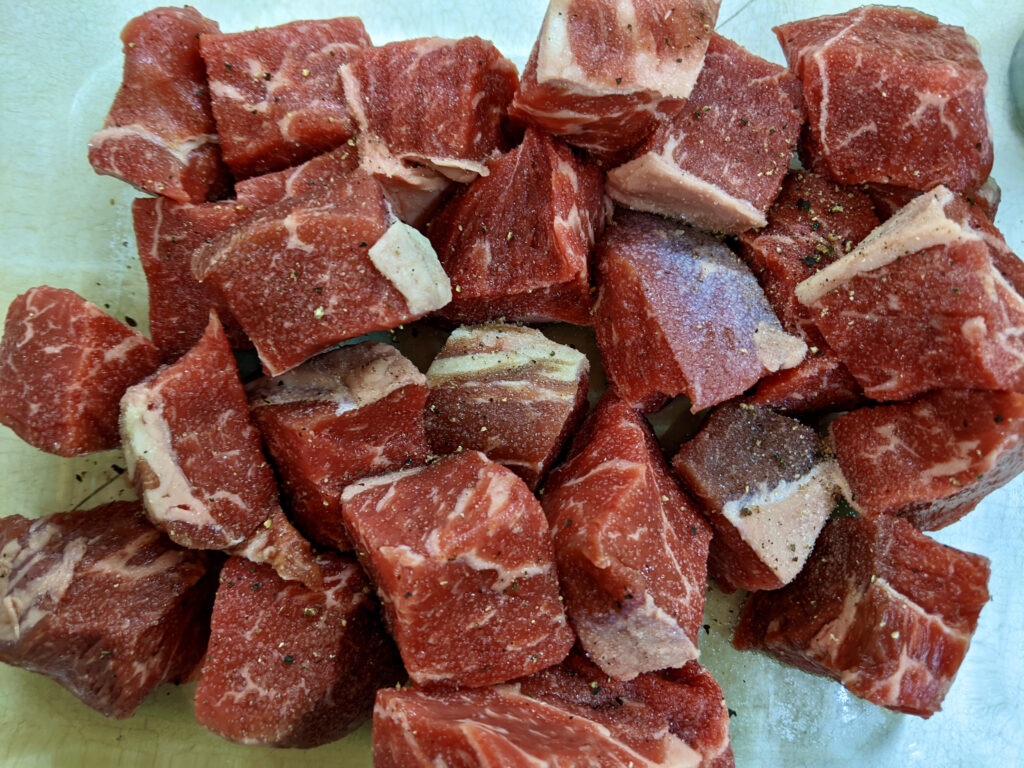 To start the soup, we browned the meat with garlic, after which the protein was salted and peppered to taste and covered with water. This simmered for about 2 hours, after which our water chestnuts were added to the pot, along with lemon juice and a little more salt and pepper. This then simmered for about 15 minutes, after which our peas were added to the pot and cooked happily until tender.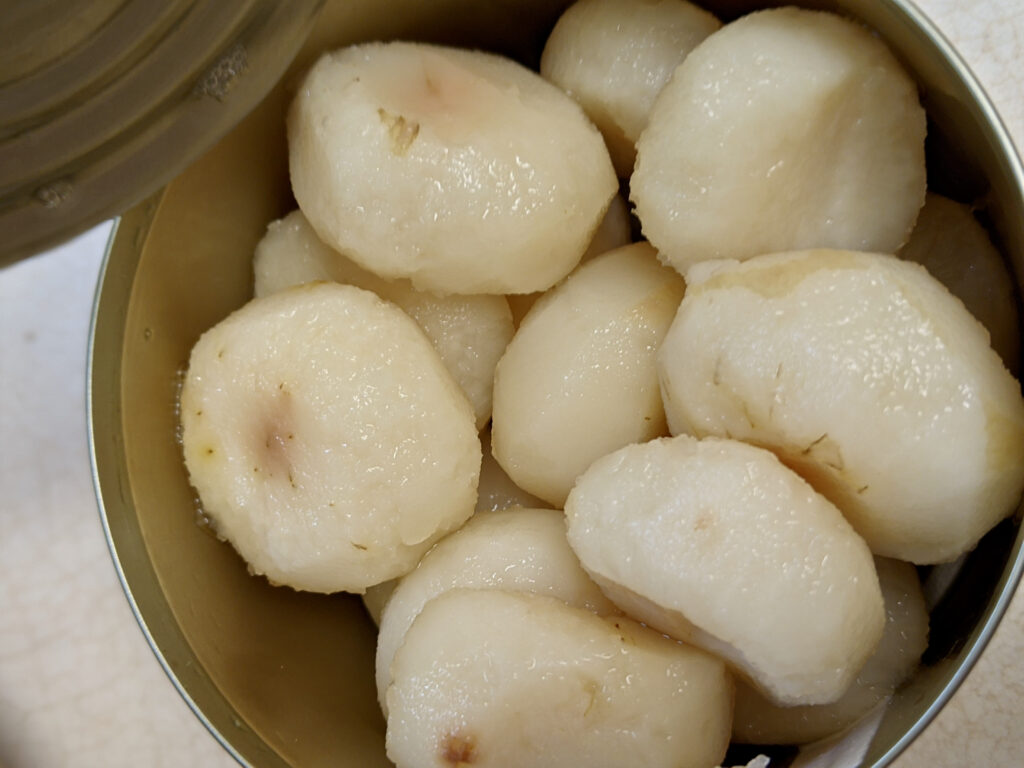 The hot soup was comforting and hearty and surprisingly flavorful – the peas were delicately sweet and the water chestnuts added a nice earthy tartness to the dish, which highlighted the tender lamb. For us, it was an odd combination and a little challenging to eat (we needed a knife for the soup), but it was a nicely different dish which we enjoyed.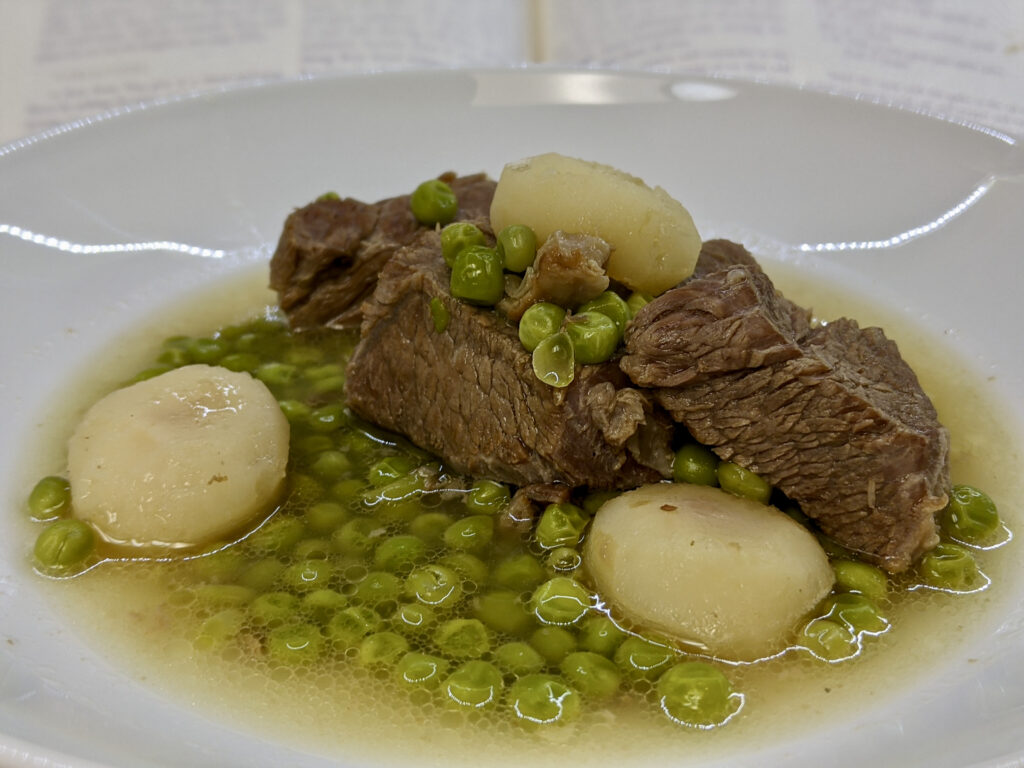 Piedmonthese Haroset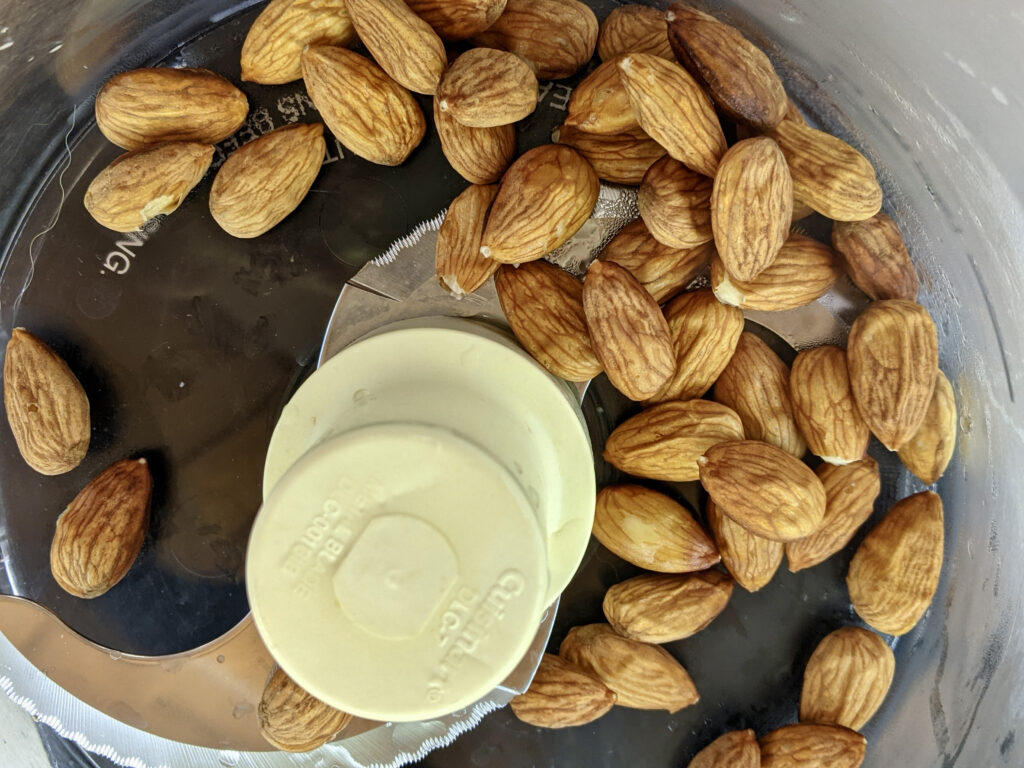 Our last haroset is from the Piedmont region of northwest Italy – last week we supped a generalized Italian haroset recipe and this week we get to sample one from a specific region! The Piedmont region borders France and Switzerland and as such, their cuisine is a combination of traditional northern Italian along with Swiss and French influences.
We took our chestnuts (which we had not used since cooking the Ashkenazi portion of The Book of Jewish Food) and blended them with almonds, hard-boiled egg yolks, dried orange slices, orange juice, sweet red wine, and sugar in a food processor. And that was it! We did try to arrange this on the plate to look appealing, but this proved to be a bit challenging…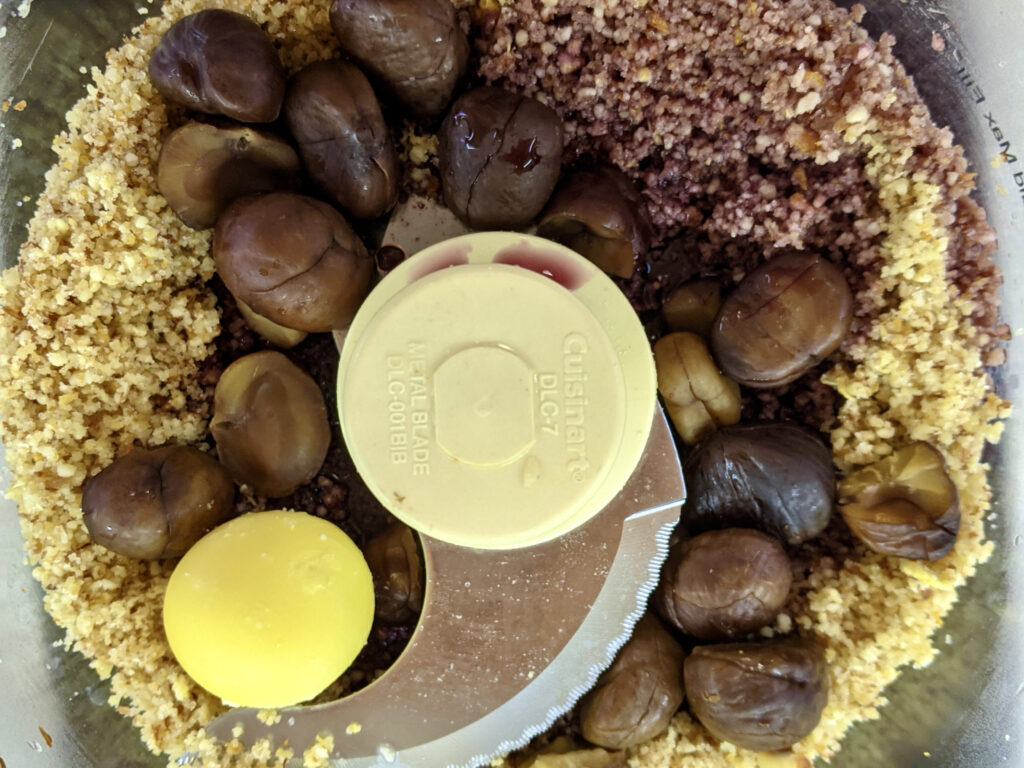 However, this haroset was quite tasty and was significantly more savory in flavor than our previous haroset variations. It was nutty (of course) and earthy and slightly sweet and tart – we used these leftovers to make a sweet filling for an Easter loaf, which turned out to be a great compliment for a loaf of slightly sweet bread.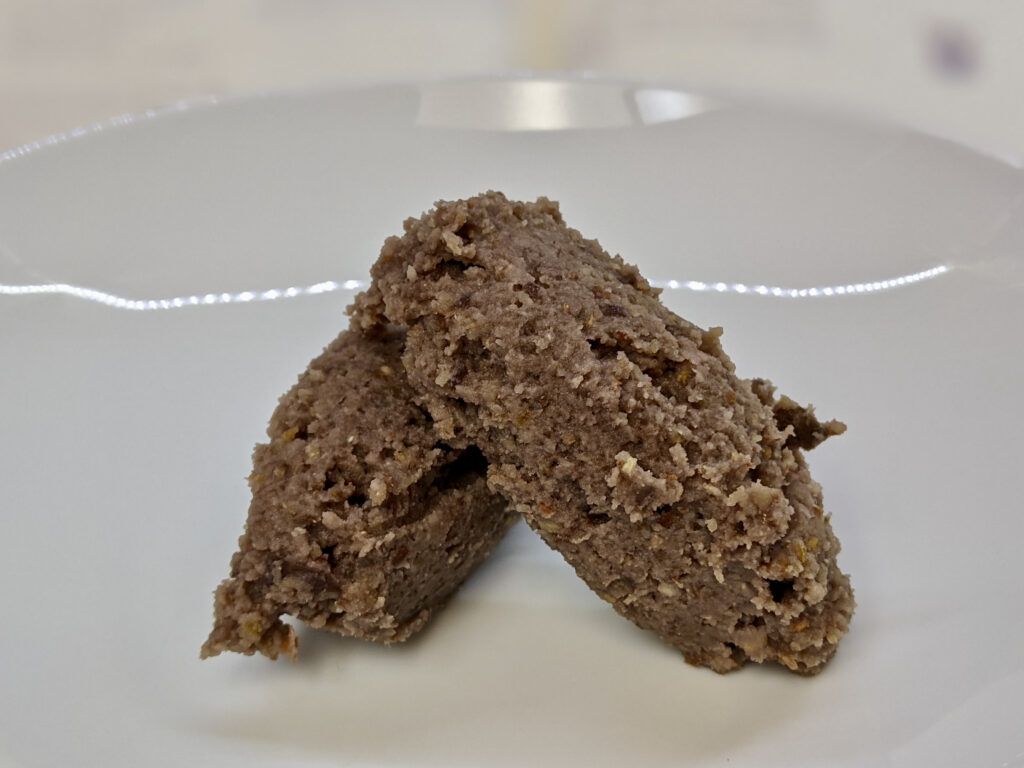 AND IN THE END, THE FOOD YOU MAKE IS EQUAL TO THE CARE YOU TAKE…
So how was Made In Marrow's meal number 97? As a reminder, our rating system is based on sticks of butter (because butter is best!), with 1 being the absolute worst and 5 being out of this world. Sticks of butter are assigned to Difficulty (how many kitchen fights were needed to complete the meal?), Tasty Goodness (was it a palate poor or did it make our mouths merry?), and Repeat Customer (how likely are we to return to the recipe?).
Difficulty 🧈🧈🧈🧈 4/5
A frustrating fritter, a difficult dumpling, and some slow simmer times made for a fairly challenging and extended time in the kitchen!
Tasty Goodness
🧈🧈🧈🧈🧈 5/5 Urug Patata-Potato Chaps – Stuffed Potato Cutlets
🧈🧈🧈 3/5 Kubba Bamia – Okra Stew with Meat Dumplings
🧈🧈🧈 3/5 Veau aux Topinambours et Petits Pois – Veal with Peas and Jerusalem Artichokes
🧈🧈🧈 3/5 Piedmonthese Haroset
Repeat Customer
🧈 1/5 Urug Patata-Potato Chaps – Stuffed Potato Cutlets
🧈🧈 2/5 Kubba Bamia – Okra Stew with Meat Dumplings
🧈🧈🧈 3/5Veau aux Topinambours et Petits Pois – Veal with Peas and Jerusalem Artichokes
🧈🧈 2/5 Piedmonthese Haroset
Tonight's meal was pretty unique, both in flavor, texture, and ingredients, so we learned quite a bit and enjoyed the experience (despite its difficulty and messiness) – onward to next week's adventure!
Sip, sup, and savor all you can, you curious cooks,
Elais & Gary