Just want the recipes and none of that other wordy nonsense? Click the links below!
Lobio Tkemali – Small Red Kidney Beans with Sour Plum Sauce
Samak Tarator – Cold Fish with Pine Nut Sauce
Poisson aux Citrons Confits – Fish with Pickled Lemon
Meal the Sixty-Fifth
Our theme this week seems to be all about weird ingredient combinations, which is coincidentally part of the reason why we had to take a break last week! I (Elais) had the opportunity to run the Endurance Santa Fe ultramarathon, so, of course, I leaped at it (or ran at it, I guess). Ultramarathons have introduced me to a whole new world of running/hiking/speed walking as well as eating actual food (not energy gels or chews) while trying to complete the race. Which brings us to the odd combinations – never did I think I would enjoy potato chips and watermelon (not so weird) or fig newtons and dill pickles (very weird) so much! But when you are on the trail for 32+ miles, you have to eat and whatever your stomach will tolerate is what works. 
Ingredient/food combinations (like the oddities above) are sometimes not what necessarily makes sense, but occur because it is what is available (but hey, strawberries work in a Caprese salad and balsamic vinegar on vanilla ice cream is wonderful!). And that is a bit of what we sampled tonight, red kidney beans and plums, bread crumbs and pine nuts, and salty preserved lemons and turmeric. Some of these paired well but others…not so much. So dig in, read on, and follow us on tonight's food adventure!
This Georgian bean salad is often served at summer feasts when plums are in season. Red kidney beans are used around the world in dishes from chili con carne to being a slightly sweet component in iced desserts. We actually intended to make this dish two weeks ago but forgot about our boiled beans in the fridge, so ended up using them for chili (seasoned with hatch green chiles, of course).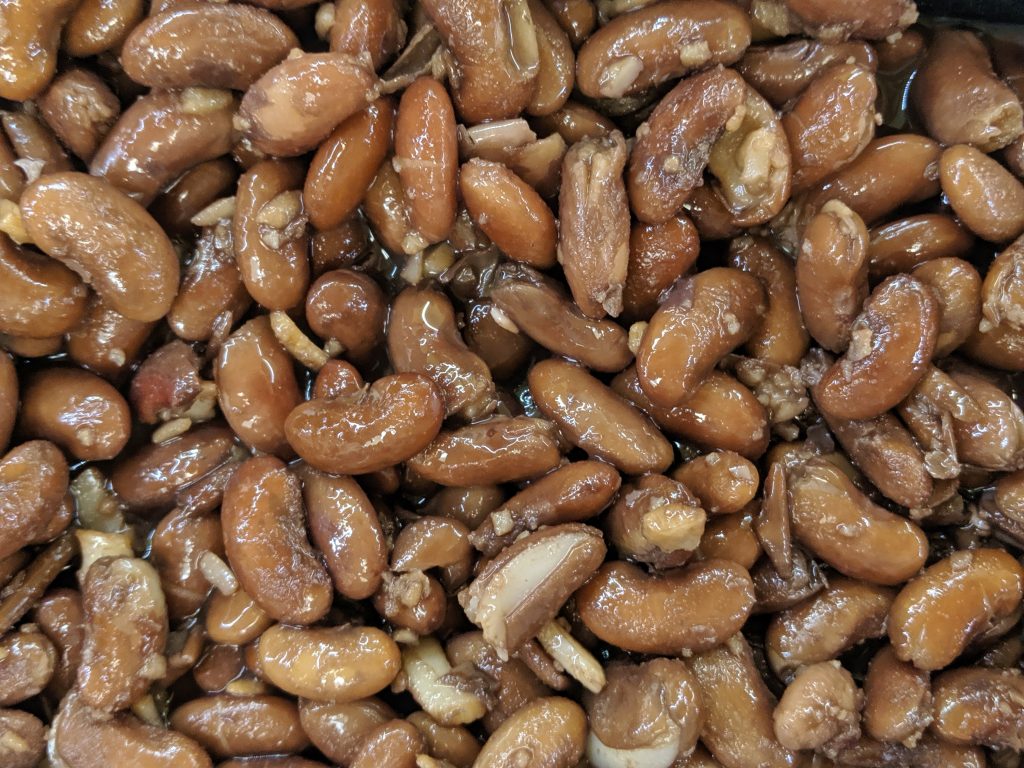 But back to the recipe…red kidney beans were soaked, then boiled, and drained. Fun fact – always be sure to follow the "boil hard for 10 minutes and then simmer for at least 30 minutes" instructions – this is not only to soften the beans but to destroy the toxin phytohemagglutinin, which is naturally found in high amounts in red kidney beans. If not destroyed, phytohemagglutinin can cause massive amounts of nausea, followed by profuse vomiting, and then wrapped up with diarrhea (hey, Pepto Bismol!).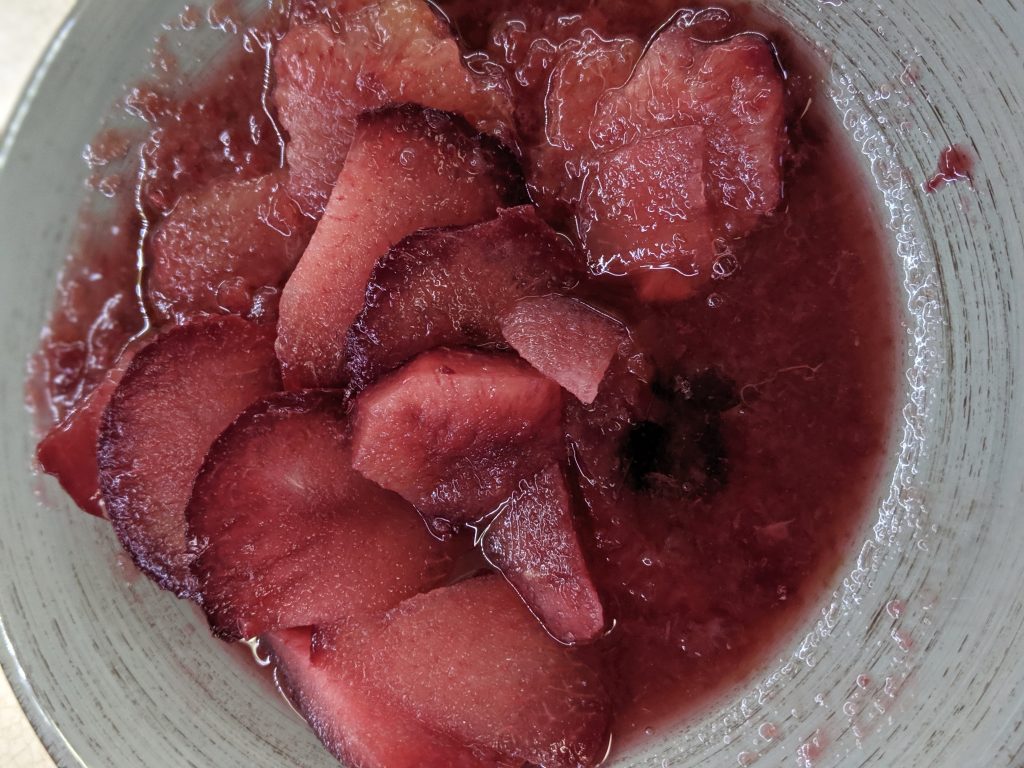 While our beans were freed of phytohemagglutinin-free beans, we softened plums by steaming them in a pan with a small amount of boiling water. The peeled and pitted plums were then combined in a food processor with cilantro, mint, cayenne, lemon juice, garlic, and salt. These were all blended together to the consistency of syrup and then mixed with the kidney beans.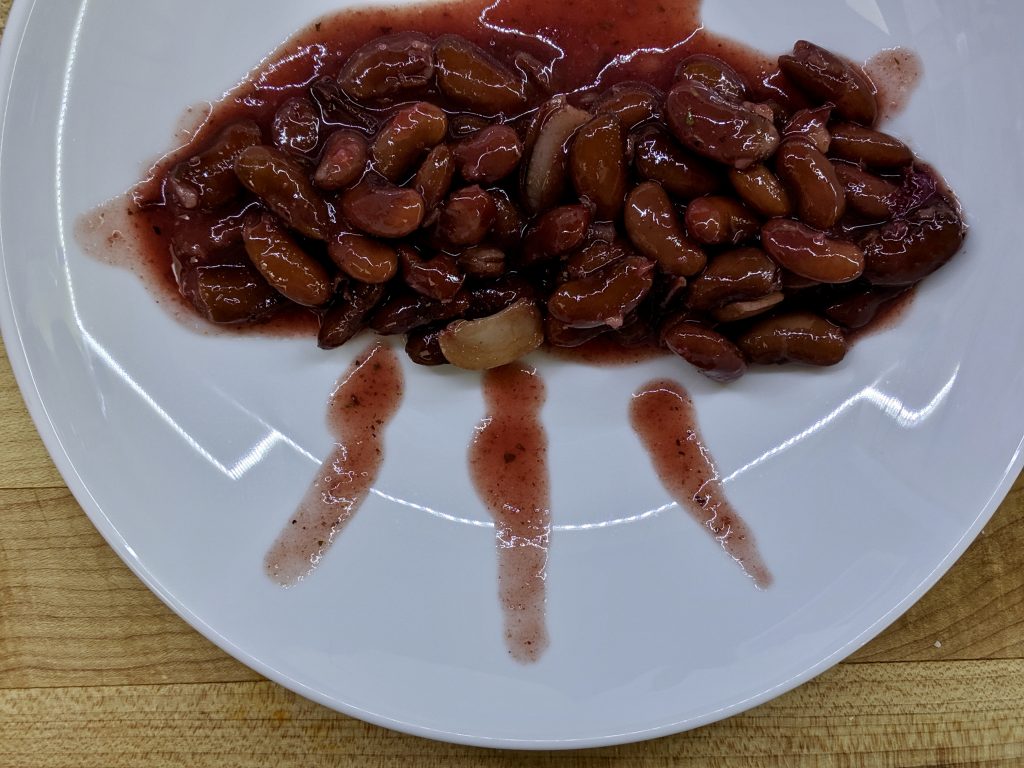 This dish was…interesting? Odd? Maybe we made it wrong? It was slightly spicy, slightly sweet, and very acidic, but not in a good way. It was also a bit soupy and none of the flavors complimented each other very well. We did try several bites, hoping it would grow on us, but unfortunately, it did not.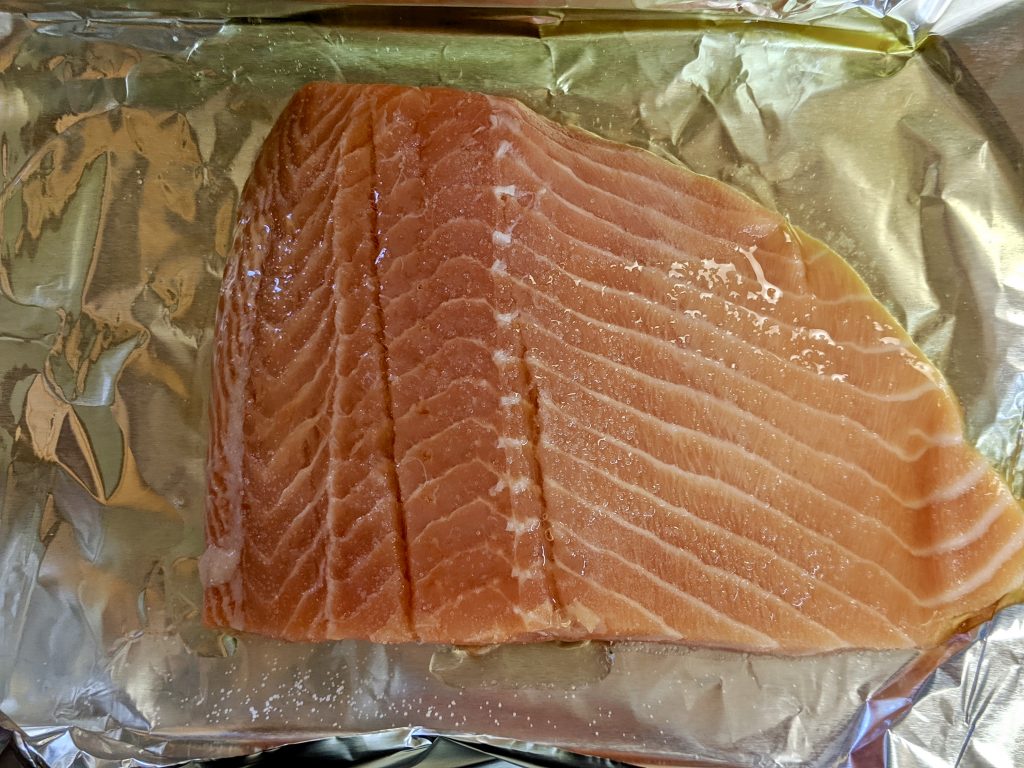 Another party favorite, this recipe finds origins in the Jewish Aleppo communities. We chose salmon for this dish, but Roden notes that any large fish will do, like haddock, bass, or sea bream. The fish was baked in foil in a little bit of oil at 400 degrees for 25 minutes until flakey. Meanwhile, we made the sauce by combining bread crumbs, with pine nuts, lemon juice, garlic, salt, and olive in the food processor and blending to a sauce with the consistency of mayonnaise. The baked fish was covered with the sauce and garnished with pine nuts and parsley.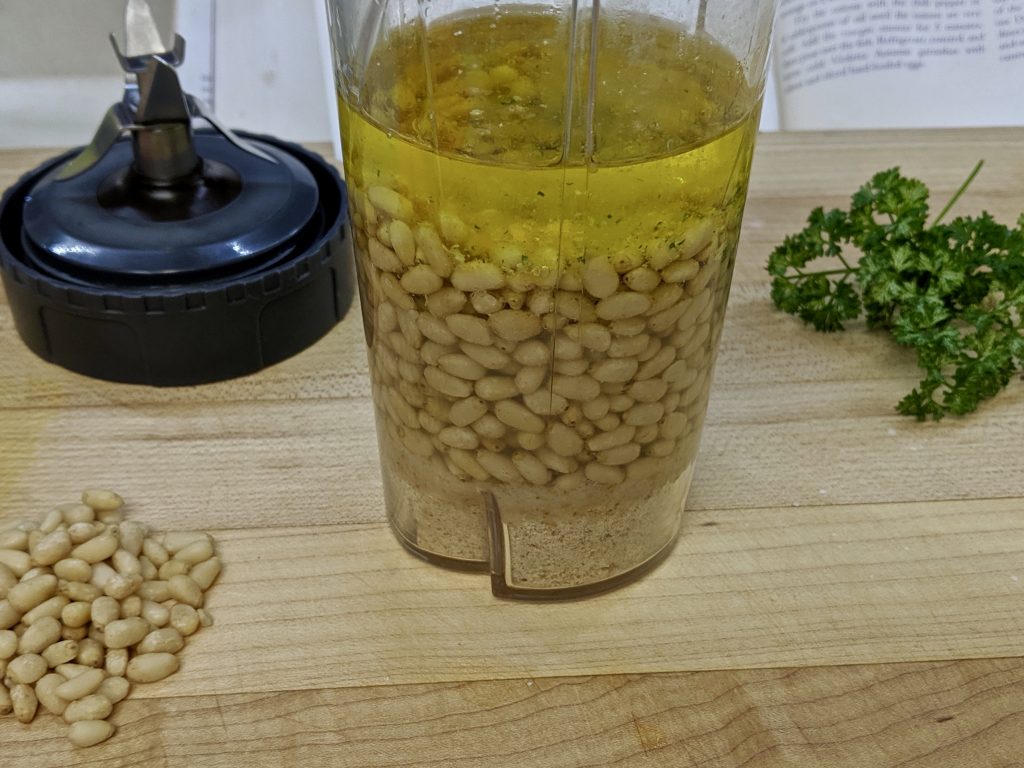 Unlike the above recipe, the raw garlic was tempered nicely by the lemon juice, and the pine nuts added a gentle richness that did not overpower the salmon. The salmon was moist and light, making for a wonderfully sumptuous fish dish!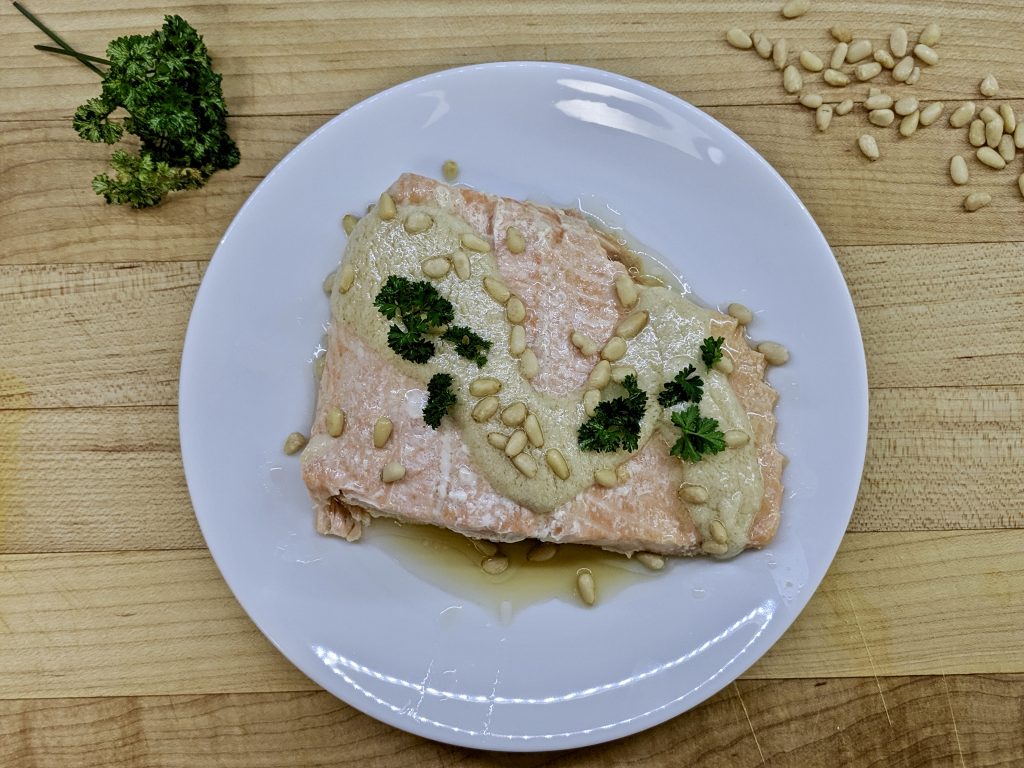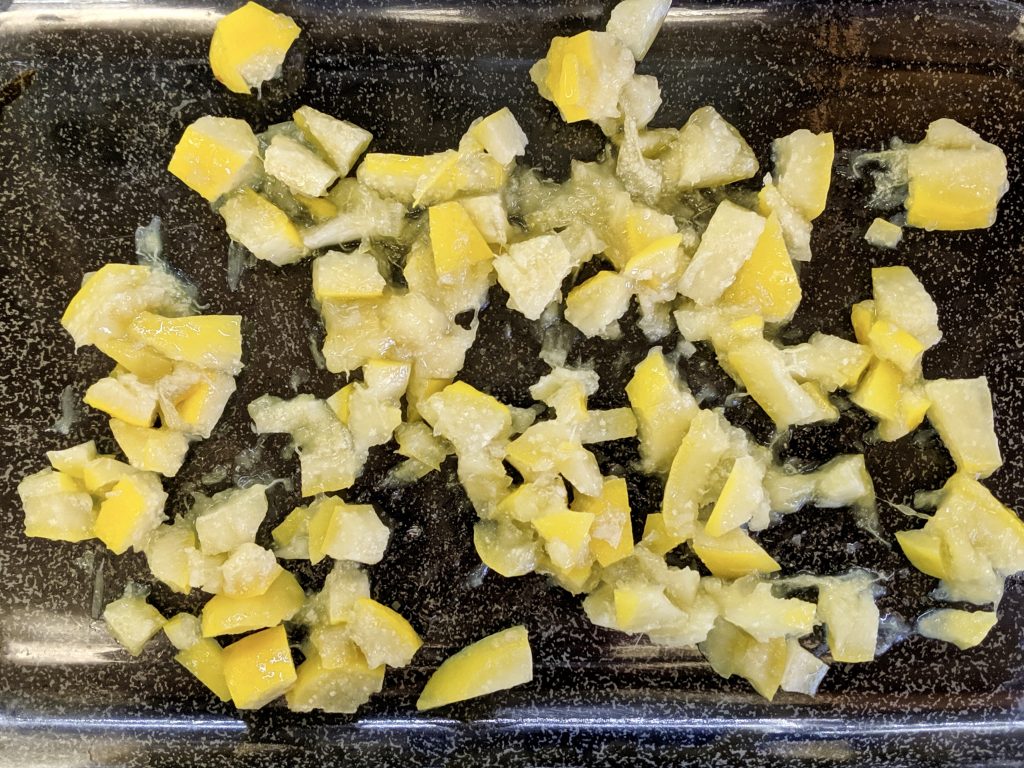 We jumped over to North Africa for this dish and used the preserved lemons we had jarred many months ago. As we had procured a massive salmon fillet for tonight's meal, we chose to split in between the above recipe and this dish. We portioned our salmon steaks and marinated them for thirty minutes in a mixture of paprika, turmeric, salt, pepper, and cilantro. While the oven pre-heated to 425 degrees, we arranged our preserved lemon slices in a baking dish, then placed the salmon on top, and poured the marinade into the dish. More lemons topped this and the dish baked for 20 minutes until flakey.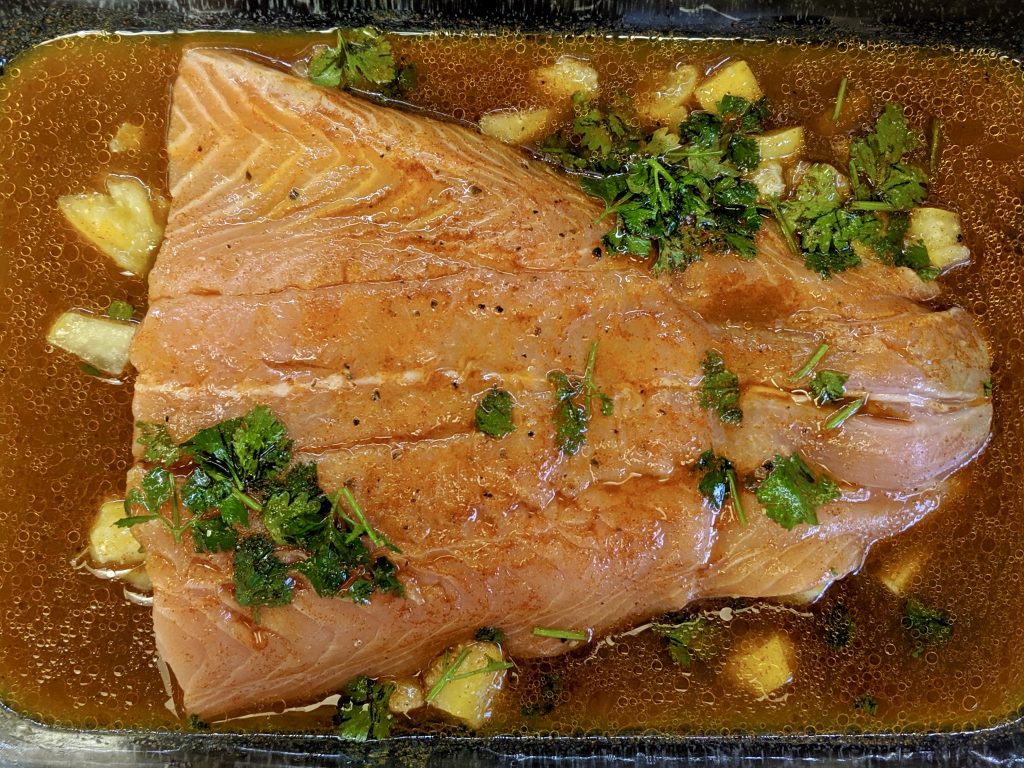 Not unlike the above recipe, this too was wonderfully tasty, but in a much more pronounced manner. The turmeric, preserved lemons, and paprika made for a bright, slightly spicy, and interestingly seasoned dish which somehow managed not to overpower the salmon. This was a very different way of making salmon, which we very much enjoyed!
After months of baking cookies and frying donuts, we are (regrettably) back to making cakes. As some may remember from the Ashkenazi section of the cookbook, I am not so great at cake-making, which is partly due to my lack of talent and partly due to the not-cake-friendly-altitude of Santa Fe. But regardless, we are back to these oven desserts, so onward and (hopefully) upward!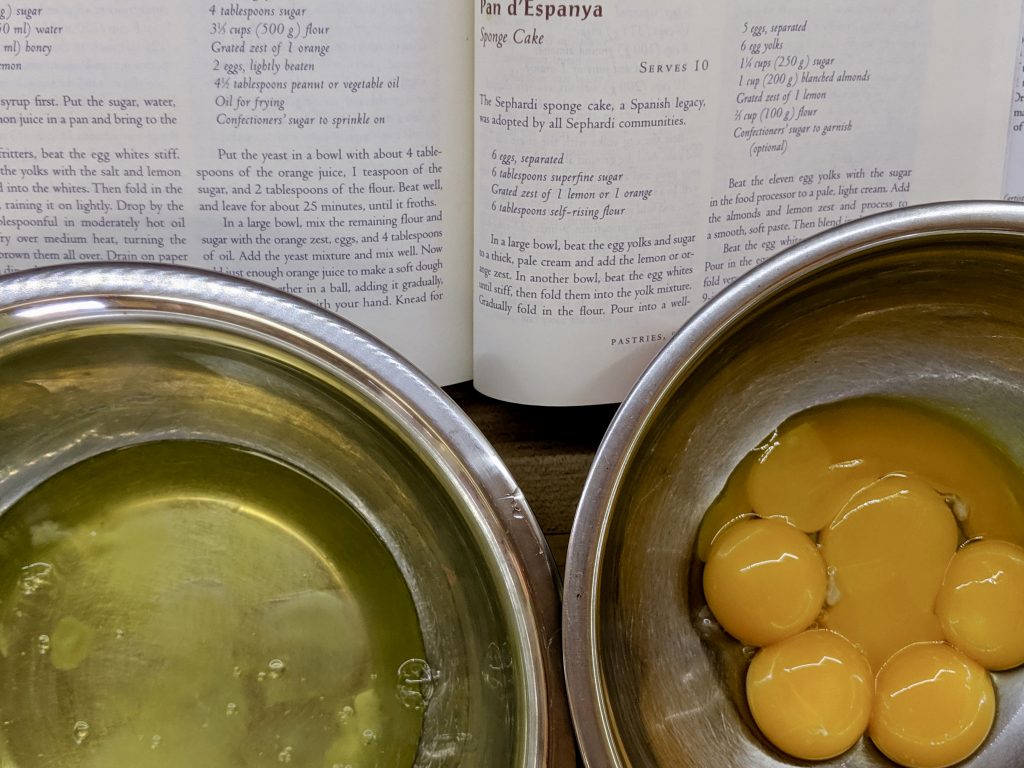 This Sephardic specialty hails from Spain and is a fairly simple cake. Six eggs were separated and the yolks were beaten with sugar and lemon juice until creamy and the whites were beaten until stiff. The eggs were then all folded back together and a very small amount (i.e. 6 tablespoons) of self-rising flour was sprinkled and folded in. This mixture was poured into an oiled springform pan and baked at 400 degrees for 30 minutes.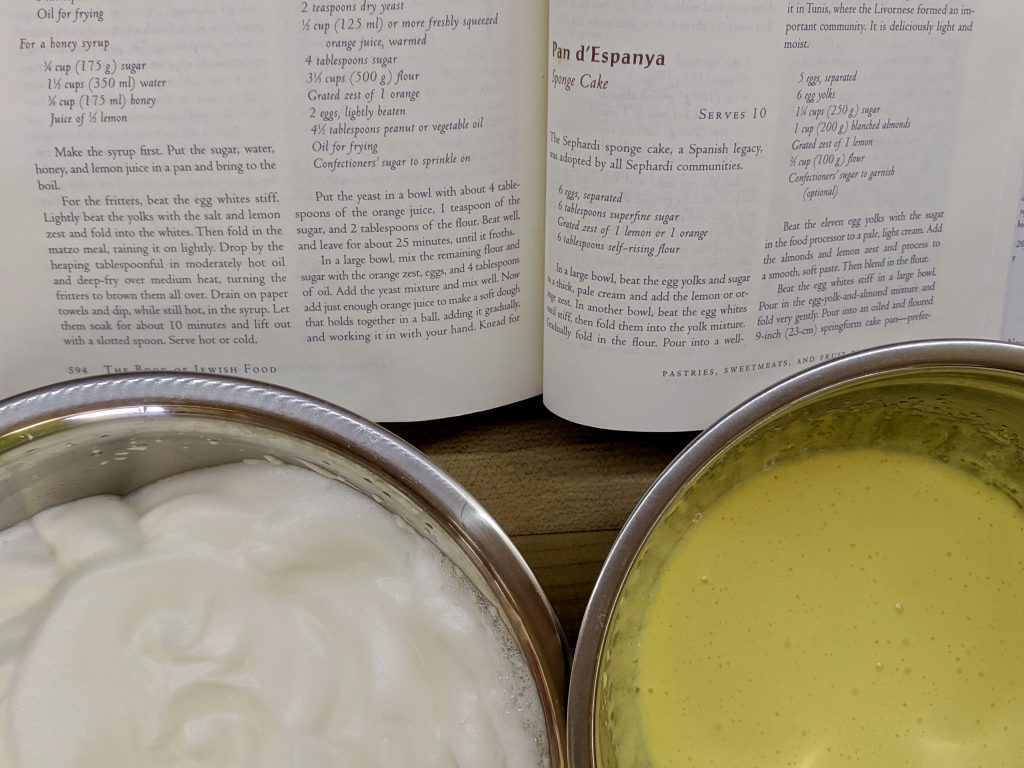 While the cake fell *ever-so-slightly* after being removed from the oven, it did not turn out too bad and was successfully released from the springform pan after baking. It was a good cake, but, as sponge cake often requires, needed a bit of oomph, so we paired it with bourbon vanilla apricot syrup that we had made last month with a massive crop from our backyard tree. Our sponge cake turned out okay, so fingers crossed for our next several pages of cake recipes!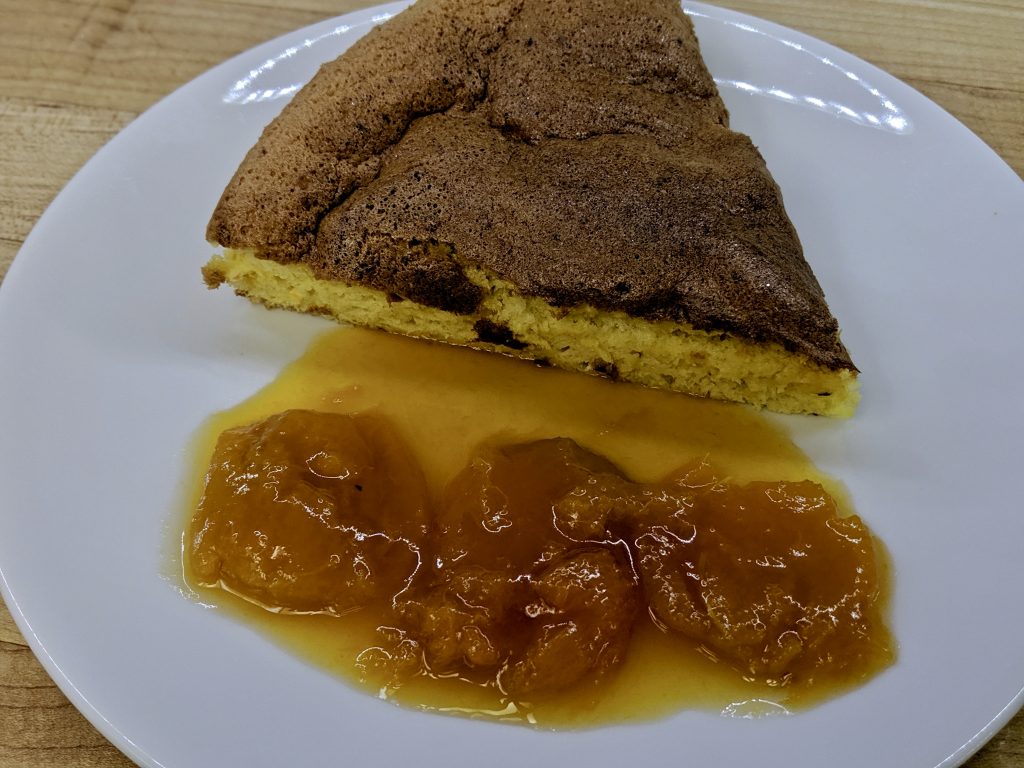 AND IN THE END, THE FOOD YOU MAKE IS EQUAL TO THE CARE YOU TAKE…
So how was Made In Marrow's meal number 65? As a reminder, our rating system is based on sticks of butter (because butter is best!), with 1 being the absolute worst and 5 being out of this world. Sticks of butter are assigned to Difficulty (how many kitchen fights were needed to complete the meal?), Tasty Goodness (was it a palate poor or did it make our mouths merry?), and Repeat Customer (how likely are we to return to the recipe?).
Difficulty  [][] 2/5
None of these dishes were too difficult or time-consuming, just a little anxiety-provoking (sponge cake, we're looking at you!).
Tasty Goodness
[][] 2/5 Lobio Tkemali – Small Red Kidney Beans with Sour Plum Sauce – While not as bad as liver and onions, this certainly was not good…
[][][][] 4/5 Samak Tarator – Cold Fish with Pine Nut Sauce – Rich and tasty
[][][][] 4/5 Poisson aux Citrons Confits – Fish with Pickled Lemon – Bright and flavorful
[][][][] 4/5 Pan d'Espanya – Sponge Cake – Lightly sweet and spongey!
Repeat Customer
[] 1/5 Lobio Tkemali – Small Red Kidney Beans with Sour Plum Sauce – Nope!
[][][][][] 5/5 Samak Tarator – Cold Fish with Pine Nut Sauce – This is a great recipe for a special dinner
[][][][][] 5/5 Poisson aux Citrons Confits – Fish with Pickled Lemon – Definitely again, but paired with a side that won't get drowned out by all the flavor
[][][] 3/5 Pan d'Espanya – Sponge Cake – If we need to make a sponge cake, this version is as good as any
It was quite a surprise, as it was not the cake that failed tonight, but the salad! We are still not even sold on the plum and kidney bean combination, but if you know of a recipe that works, let us know!
Sip, sup, and savor all you can, you curious cooks,
Elais & Gary