Just want the recipes and none of that other wordy nonsense? Click the links below!
Croquettes de Poisson – Spicy Fish Fritters
Arook Tahin bel Samak – Calcutta Fish Cakes
Friandises à la Noix de Coco – Coconut Rocks
Meal the Ninety-First
We were happy this week to have recipes that required few ingredients – Santa Fe's grocery stores are still running low on everything that is not found in the produce section, with us being unable to find couscous, fig newtons, onion powder, and tonic water on our last outing (a weird grocery list, we know). This issue, in addition to running a self-made marathon, has led to some delays over the past weeks, but we are hoping that we will get back on tracking with our cooking and writing this fall. Next week we will be eating our last meal out of the "Fish" section of The Book of Jewish Food and will be moving back into the "Meats" section, which will be a nice transition along with our autumnal weather.
We invite you to read on and enjoy tonight's bright meal during one of the last weeks of summer!
Fish Curry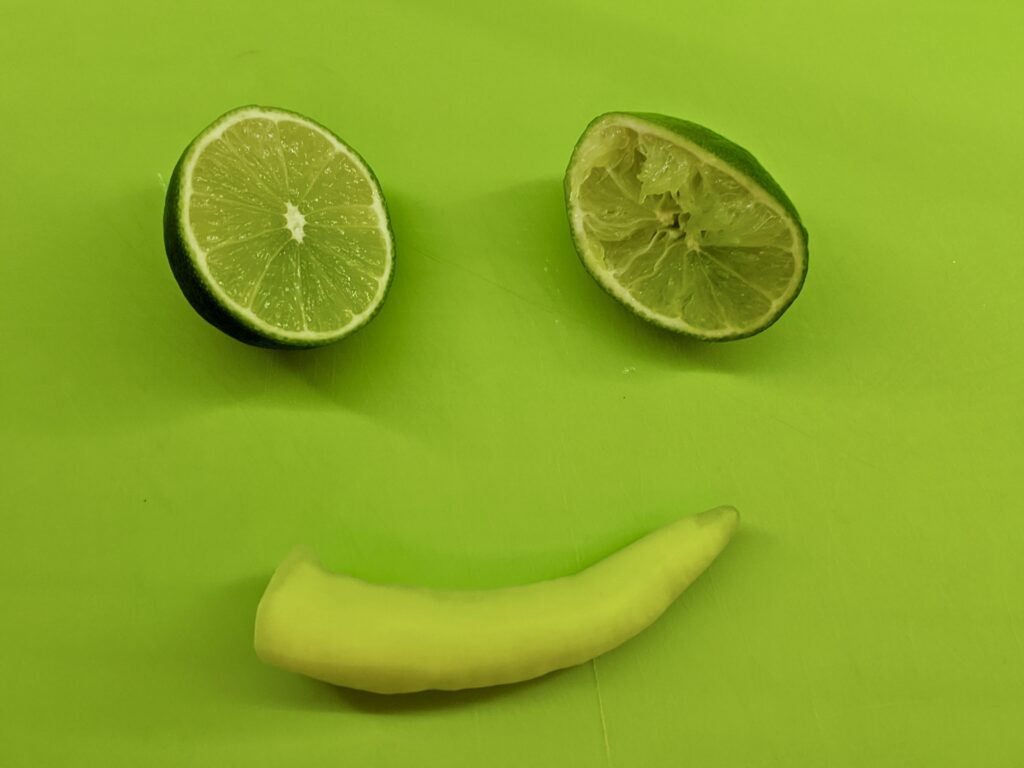 Our first fish recipe of the night comes to us from the Bene Israel Jews living in Bombay. Roden reminds us in the recipe header that she does not like spicy food (as we are very well aware of at this point) and advises us to proceed with caution. We decided to use several peppers from our garden since we do like spicy food, but obviously you can adjust the hotness to your own preference.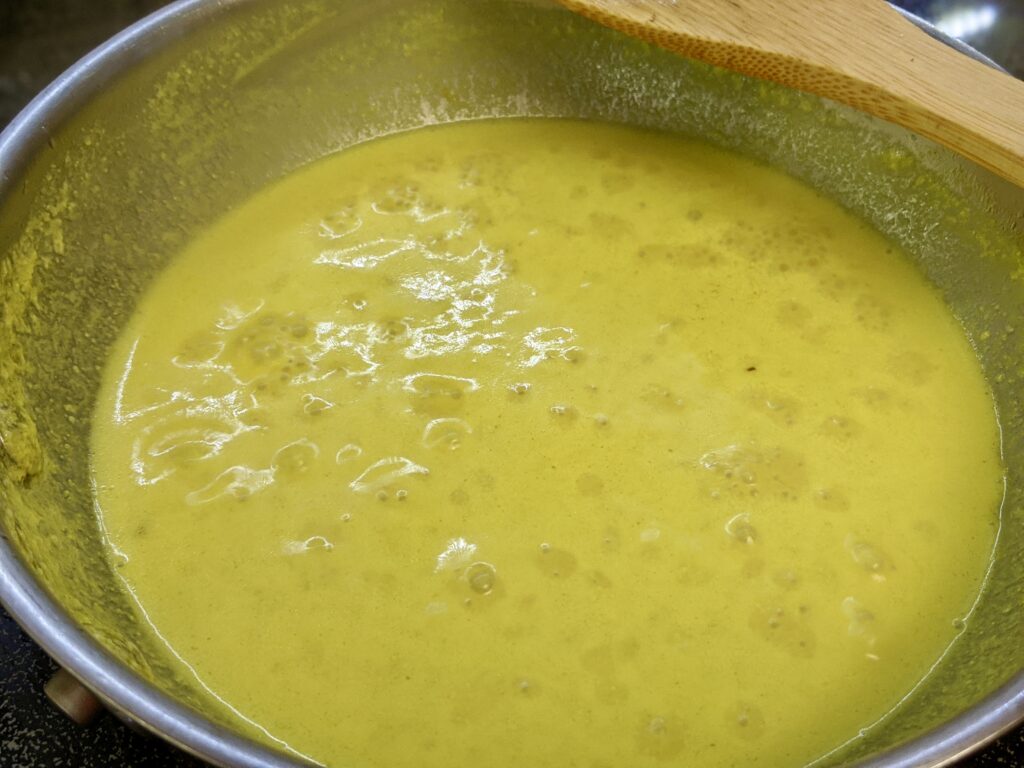 The curry began, like all good curries, by creating the curry paste. A small amount of coconut milk was blended with coriander, chilies, and cumin. Meanwhile, garlic was fried until just lightly colored, after which turmeric and our curry paste was added to the pan and sautéed until aromatic. Two cups of water were added to the pan, along with lime juice and salt, and the whole mix was brought to a boil. The cod was then added to the fluid and simmered for about 15 minutes until cooked through.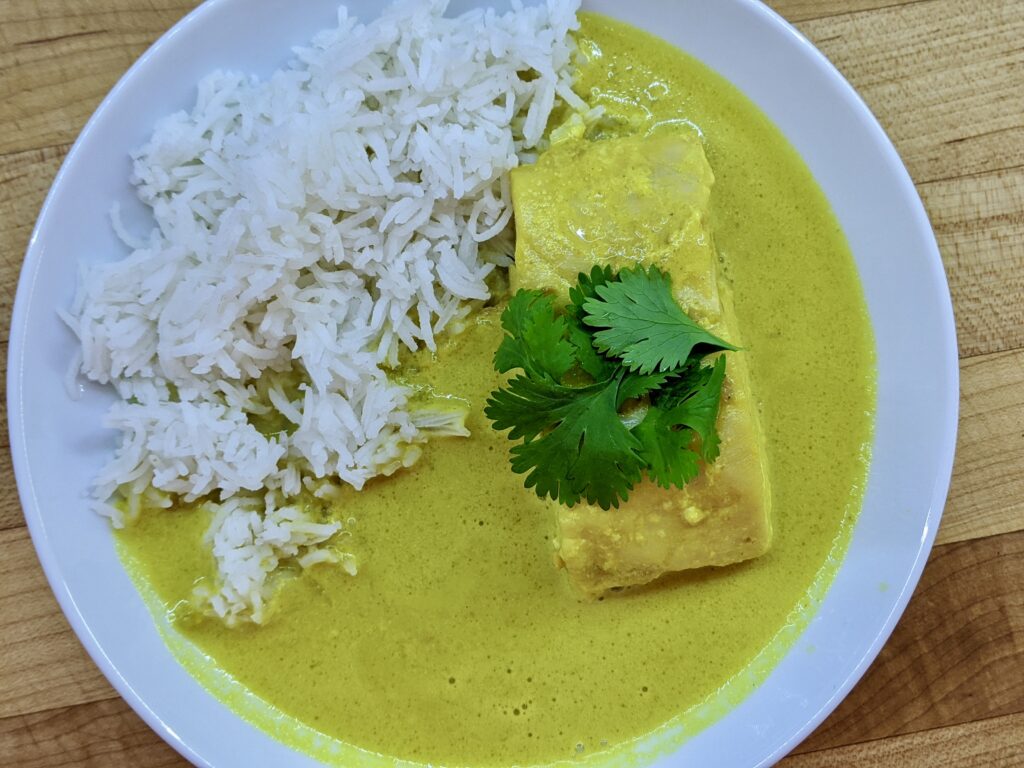 We ate the fish curry hot with white rice, which was a perfect component to soak up all of the curry goodness. The green curry was bright, a little spicy, and actually paired quite well with the cod. We were a little worried that the white fish would be overpowered by the spices, but the overall effect was quite nice!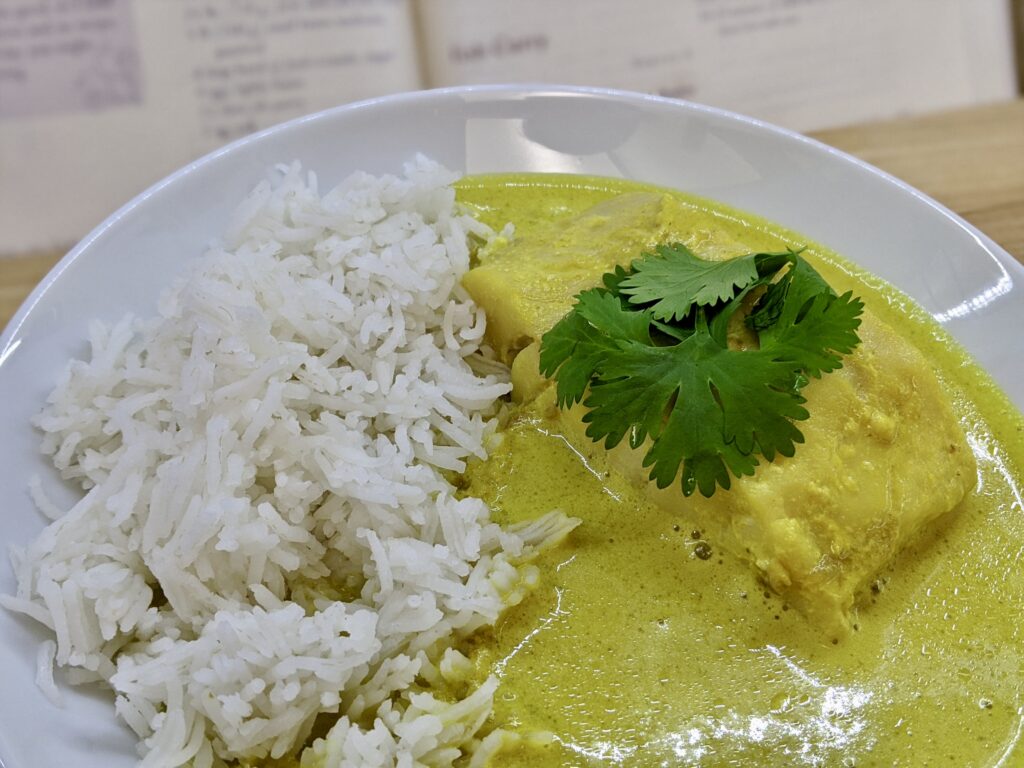 Croquettes de Poisson – Spicy Fish Fritters
According to Claudia Roden, deep-frying fish in olive oil was a method learned in Andalusia (which we learned – but we are sure of which that you are well aware, oh wise reader – is the southern autonomous community in Peninsular Spain). The Iberian Sephardim then spread this culinary technique throughout the Mediterranean, which is the cooking method employed in this dish. Tonight's fritters are popular in Northern Africa, especially Egypt, and can be served hot or cold.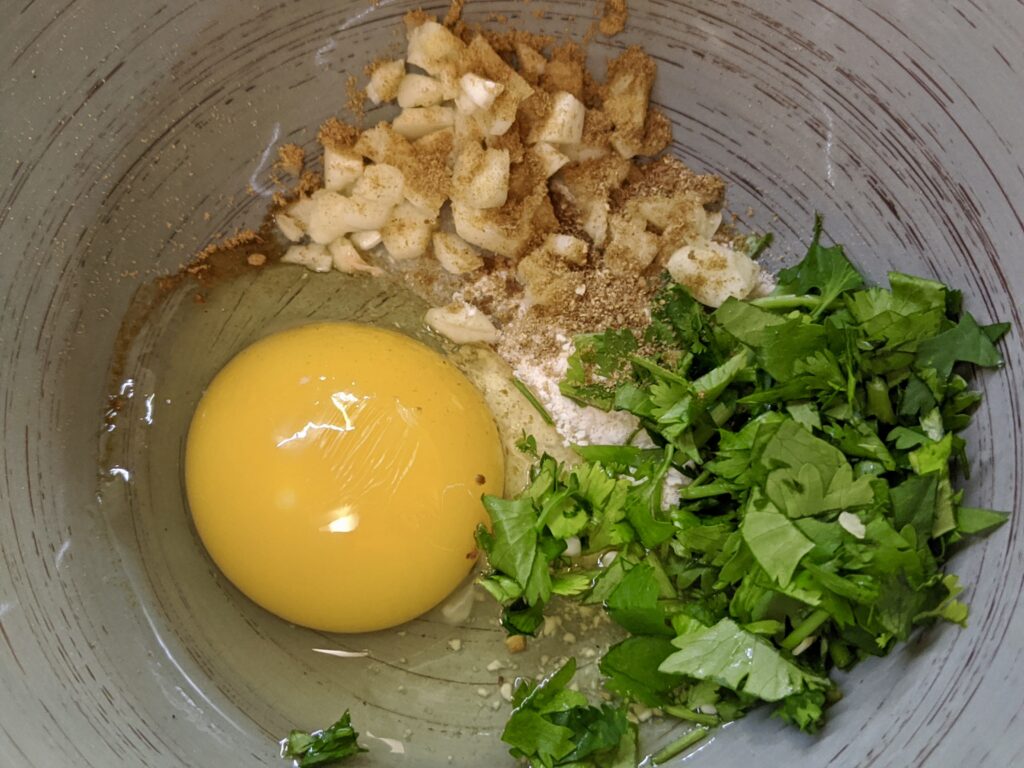 We chose to go with flounder for this recipe, which was briefly chopped by hand, as Roden recommended against using the food processor, lest the fish be turned into a puree. Once this was completed, the fish was mixed with matzo meal, a lightly beaten egg, salt, white pepper, coriander, minced garlic, and cumin, and worked very briefly into an almost paste. The fish balls were then dipped in flour, flattened slightly, and then shallow-fried in oil until crispy and brown.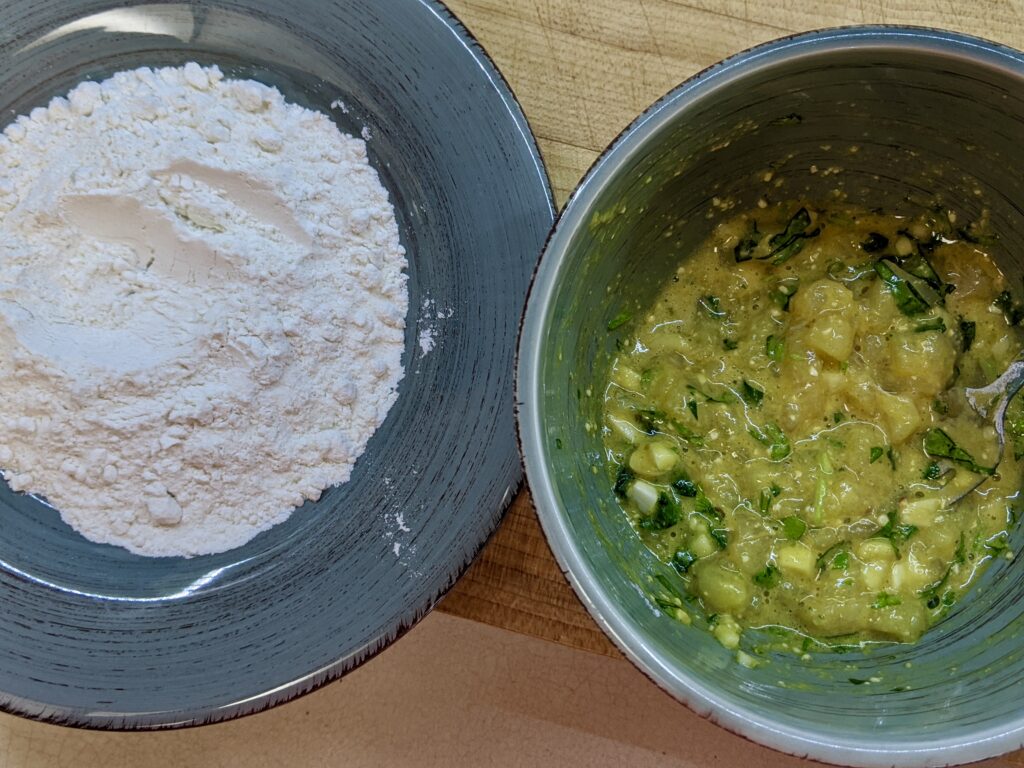 The fish fritters were only slightly spicy, but otherwise nicely seasoned with a nice crispy exterior. These were quite tasty when dipped in the curry from the above fish dish and we could see these pairing quite well with a spicy chutney or a creamy tzatziki.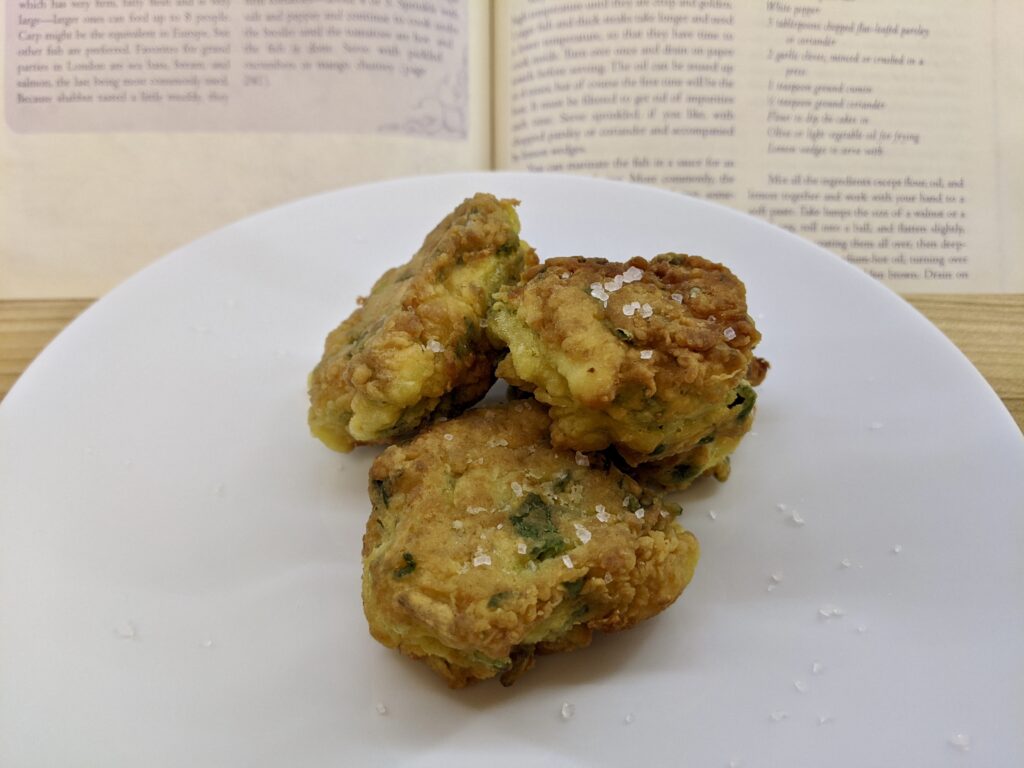 Arook Tahin bel Samak – Calcutta Fish Cakes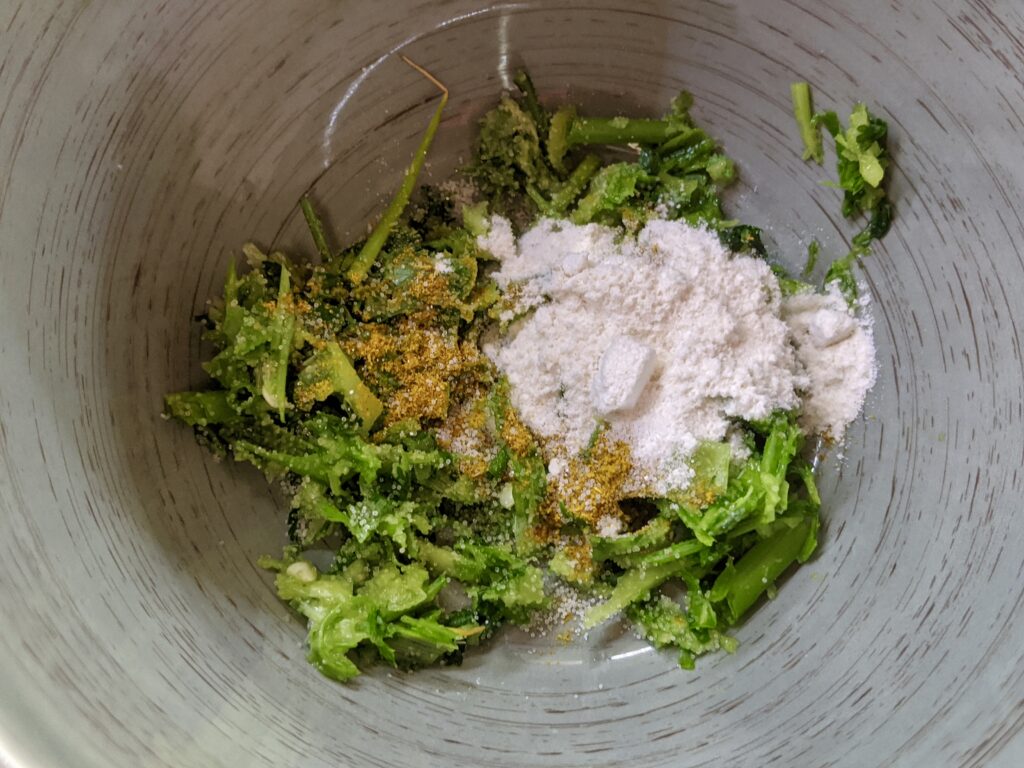 Our second fried fish dish is a Friday-night special in Calcutta and is a bit more rustic than the above fish fritters. We hand-chopped our flounder and combined it with chili pepper, green onions, parsley, curry powder, cayenne, and flour that had been blended together in the food processor. This mixture was dropped by tablespoon into hot oil and shallow-fried until brown and crispy.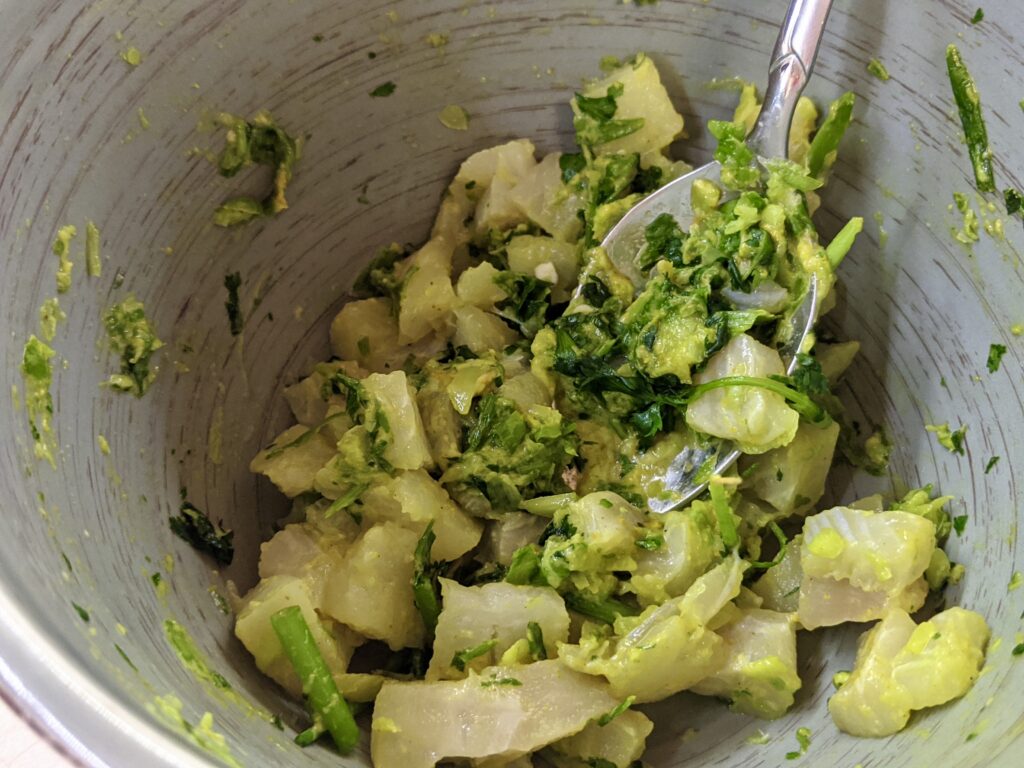 While the fish could have been hand-chopped a bit finer (which made it a bit unwieldily in the frying oil), the fish cakes turned out quite nicely, being crunchy on the outside and still fish tender on the inside. These were actually spicier than our spicy fish fritters and also paired quite well with our sauce from the above fish curry.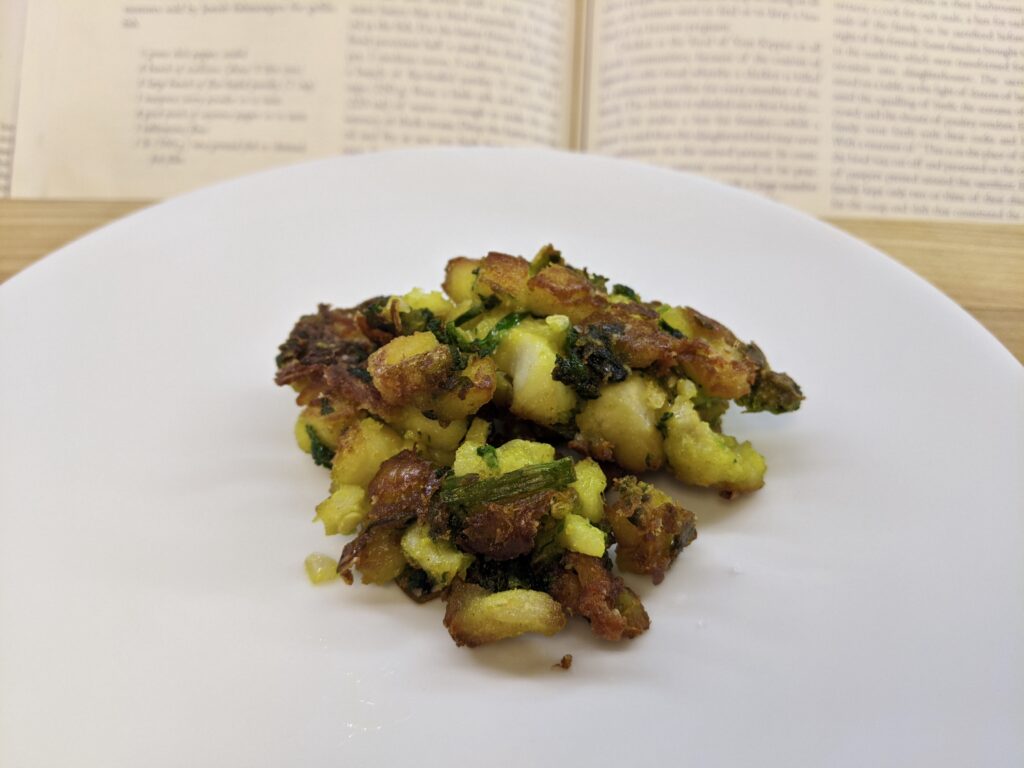 Friandises à la Noix de Coco – Coconut Rocks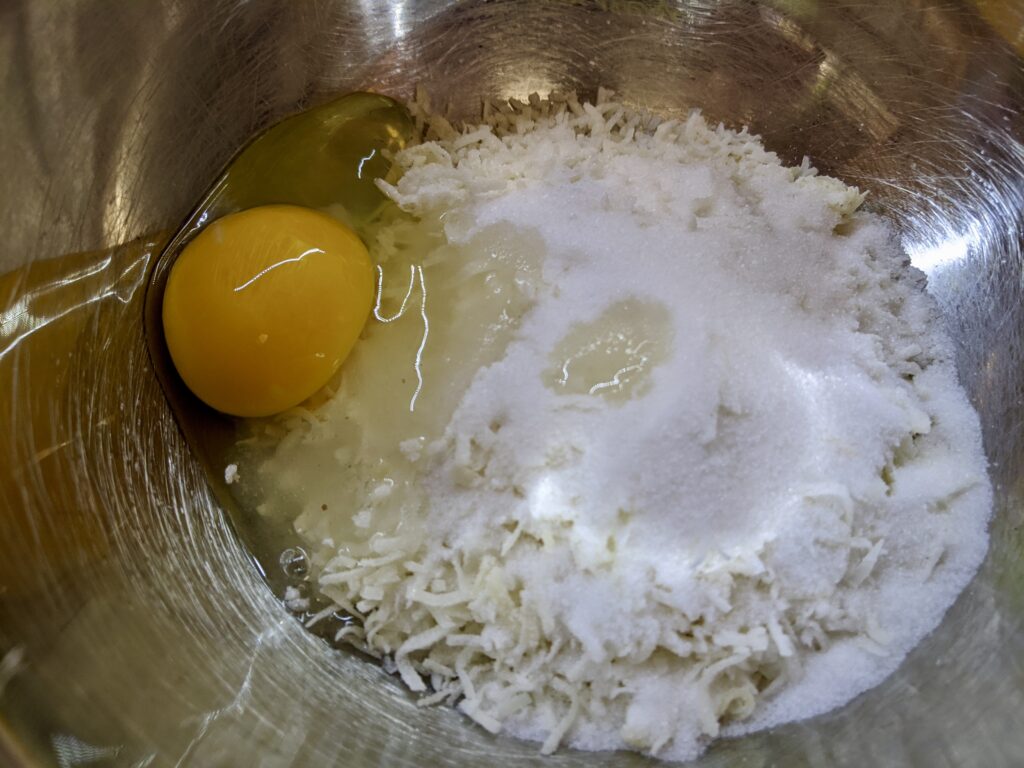 Tonight's dessert is commonly found amongst the Jewish communities in North Africa, Iraq, and India. In the recipe's introduction, Claudia Roden writes, "coconut, although considered the poor relative of almonds, is a common ingredient in pastry-making" and we are a bit perplexed – almonds are actually in the category of the stone fruit family (like peaches) and coconut is not a nut, but a fruit. However…a coconut is categorized as a drupe, which are fruits that have an inner flesh and seed surrounded by a hard shell (like peaches, pears, walnuts, and almonds). Therefore, a coconut is a type of tree nut that is classified as a fruit (confused yet?). We could not find a direct relationship between the coconut and almond, so perhaps by "poor" in "poor relative" Roden meant that it is very loosely related to an almond? Or maybe she does not like coconuts, and is saying it is a poor substitute for an almond? Or perhaps economically, if you were trading drupes for money, you would get more for an almond than a coconut? Regardless, this introduction is going to be several sentences lengthier than it will take to describe how we made the dessert, so you, dear reader, get to decide what was meant by "poor" when describing the humble coconut.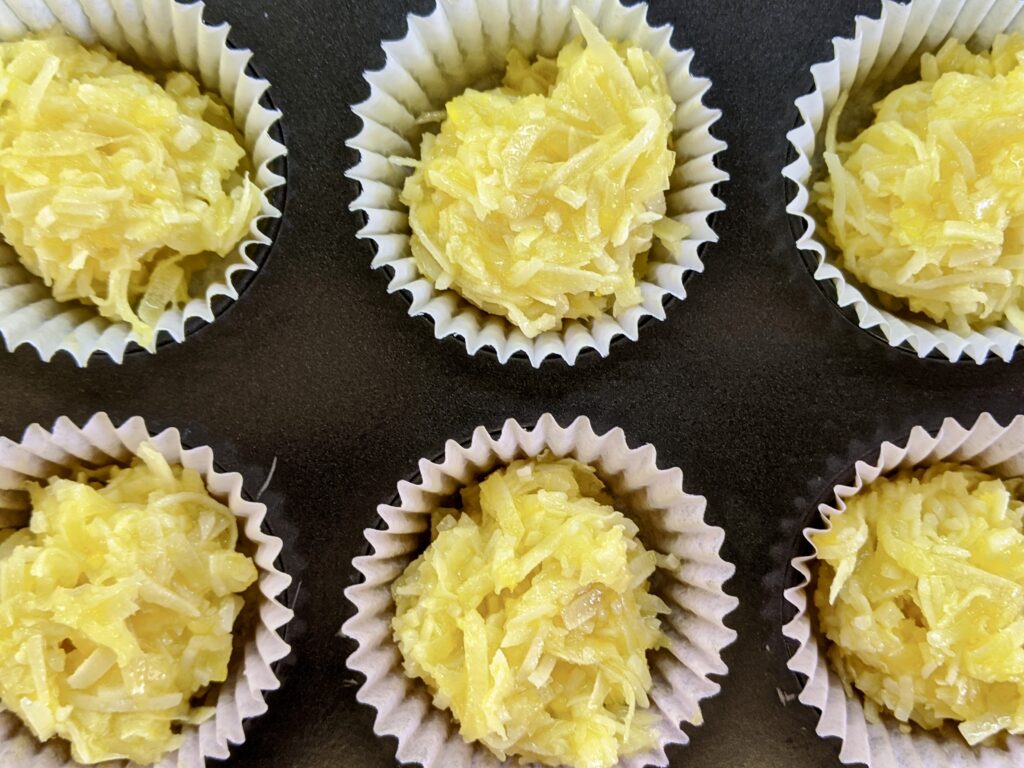 To make our patisserie, desiccated coconut was mixed with sugar and a lightly beaten egg. This sat for an hour until the coconut had re-hydrated, after which the mixture was dropped by the spoonful into mini-cupcake paper cases and baked at 350F for 20 minutes until golden brown.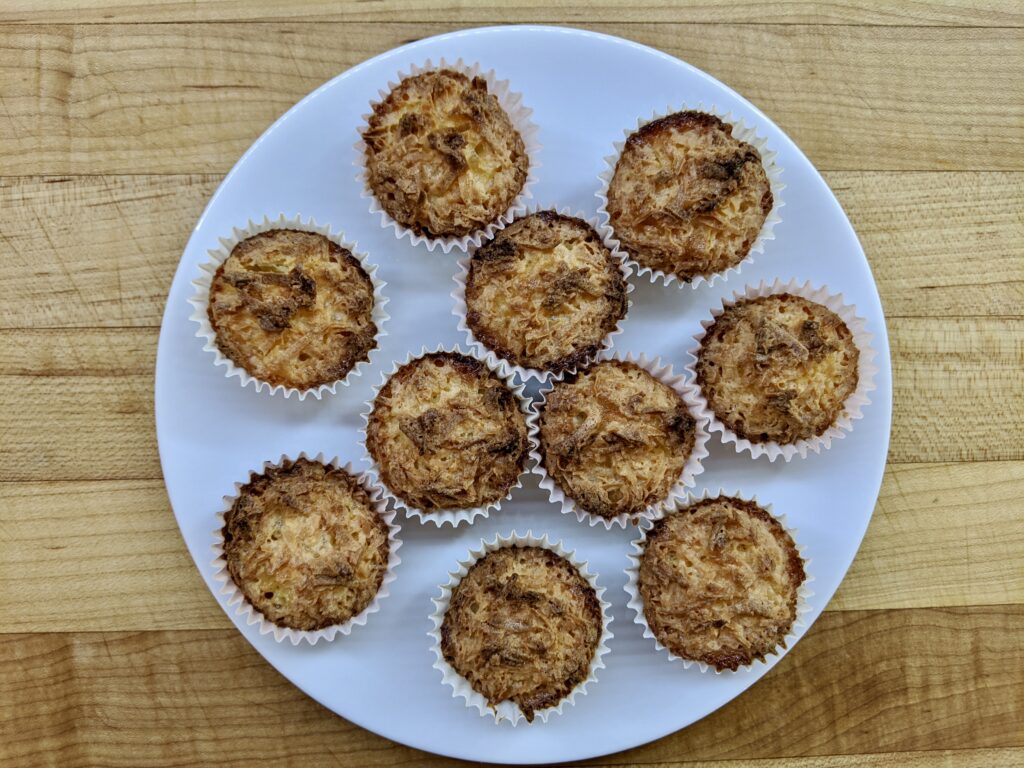 These "coconut rocks" were much tastier than any aggregate of minerals. They were actually much more like macaroons – crunchy on the outside and tender on the inside. The cupcake cases were probably unnecessary but probably prevented against the unpredictable spread that desserts sometimes choose to pursue. These were simple and tasty, and a nice treat for when you only have a few ingredients and do not want to spend too much time in the kitchen.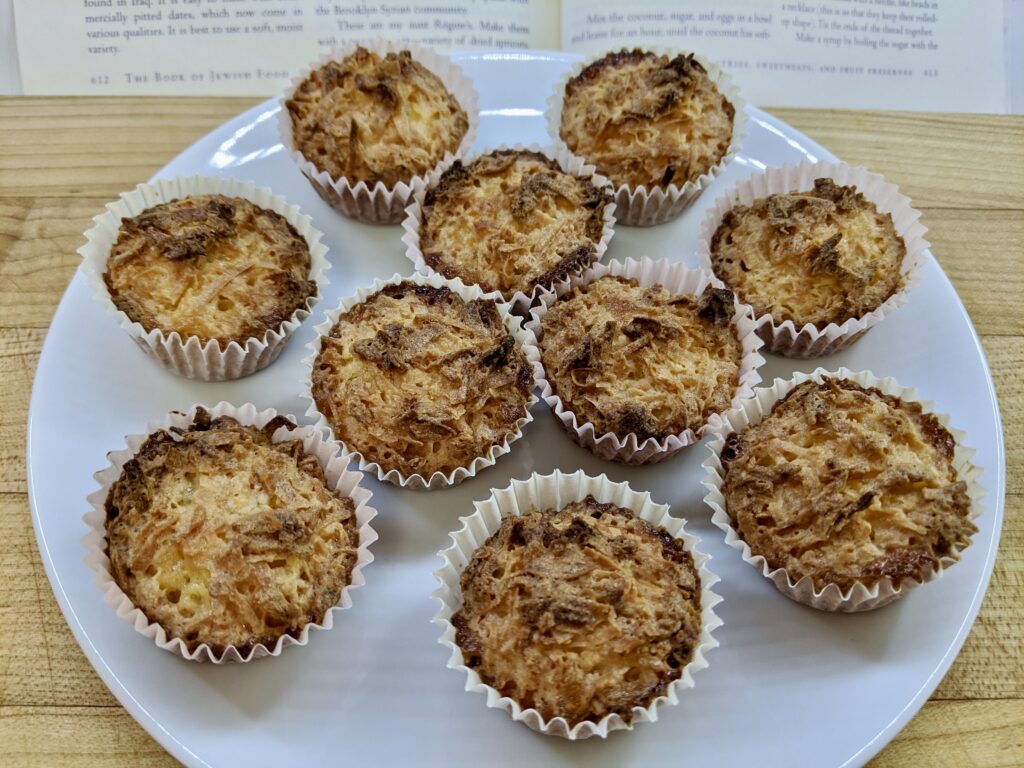 AND IN THE END, THE FOOD YOU MAKE IS EQUAL TO THE CARE YOU TAKE…
So how was Made In Marrow's meal number 91? As a reminder, our rating system is based on sticks of butter (because butter is best!), with 1 being the absolute worst and 5 being out of this world. Sticks of butter are assigned to Difficulty (how many kitchen fights were needed to complete the meal?), Tasty Goodness (was it a palate poor or did it make our mouths merry?), and Repeat Customer (how likely are we to return to the recipe?).
Difficulty [][][] 3/5
Lots of blending, chopping, and frying went into tonight's meal, so while it was not too difficult to make, the kitchen certainly took some time to clean up after everything was said and done!
Tasty Goodness
[][][][] 4/5 Fish Curry – Spicy and saucy and nicely cod-y
[][][][] 4/5 Croquettes de Poisson – Spicy Fish Fritters – Not really spicy, but very fritter- y
[][][][] 4/5 Arook Tahin bel Samak – Calcutta Fish Cakes – A rustic and very tasty seafood cake
[][][][] 4/5 Friandises à la Noix de Coco – Coconut Rocks – A nice little bite of tropical sweetness
Repeat Customer
[][][] 3/5 Fish Curry – This fish dish was relatively simple and a nice way to use up that spare cod in the freezer
[][][] 3/5 Croquettes de Poisson – Spicy Fish Fritters – Perhaps again, but chopped a little less to make the texture more interesting
[][][] 3/5 Arook Tahin bel Samak – Calcutta Fish Cakes – Perhaps again, but chopped a little more to improve the texture
[][][][] 4/5 Friandises à la Noix de Coco – Coconut Rocks – Fewer ingredients than a macaroon, but just as tasty!
All-in-all we enjoyed tonight's curried cuisine and are greatly looking forward to next week's last meal of fish!
Sip, sup, and savor all you can, you curious cooks,
Elais & Gary