Just want the recipes and none of that other wordy nonsense? Click the links below!
Salade d'Aubergines et Poivrons Épicée – Spicy Eggplant & Pepper Salad
Salade d'Aubergines Frites et de Poivrons – Fried Eggplant & Pepper Salad
Poulet aux Olives – Chicken & Olives
Savo – Bukharan Rice with Fruit
Baclawa – Multi-Layered Nut-Filled Pastry
Meal the Fifty-Second
This week's meal just goes to show what a difference different methods of cooking can make. Even the smallest tweak in salt, sprinkling of cilantro, or sautéing instead of frying (like in tonight's dinner) can vastly change the end result (not necessarily for worse…but sometimes for worse). Different ingredients respond differently to different methods of heat (that's a lot of differents!) – take eggplant, for example. Broiling allows the outside skin to become easily peelable in large strips but makes the insides slightly slimy. Frying eggplant in a pan can cause them to become soggy at first, as they saturate with oil, but allow a little more time in the pan to increase their internal temperature, which causes them to release the oil and become crispy on the outside. Braising eggplant causes it to become very soft and creamy, as well as allowing it to take on the flavors of its accompanying ingredients.
This is the wonderful thing about cooking, the science of how food becomes flavorful. We talk a little bit more about the science of eating in tonight's meal, but it is incredible how much we take for granted when working in the kitchen. So much of what we do relies on tried and true chemical reactions to make our favorite foods, but quite often we think very little about what makes chicken tender and not tough, or eggplant tasty and not bitter. So join us for tonight's kitchen capers with The Book of Jewish Food in which we used a variety of methods (some successful and others not so much) to get dinner done!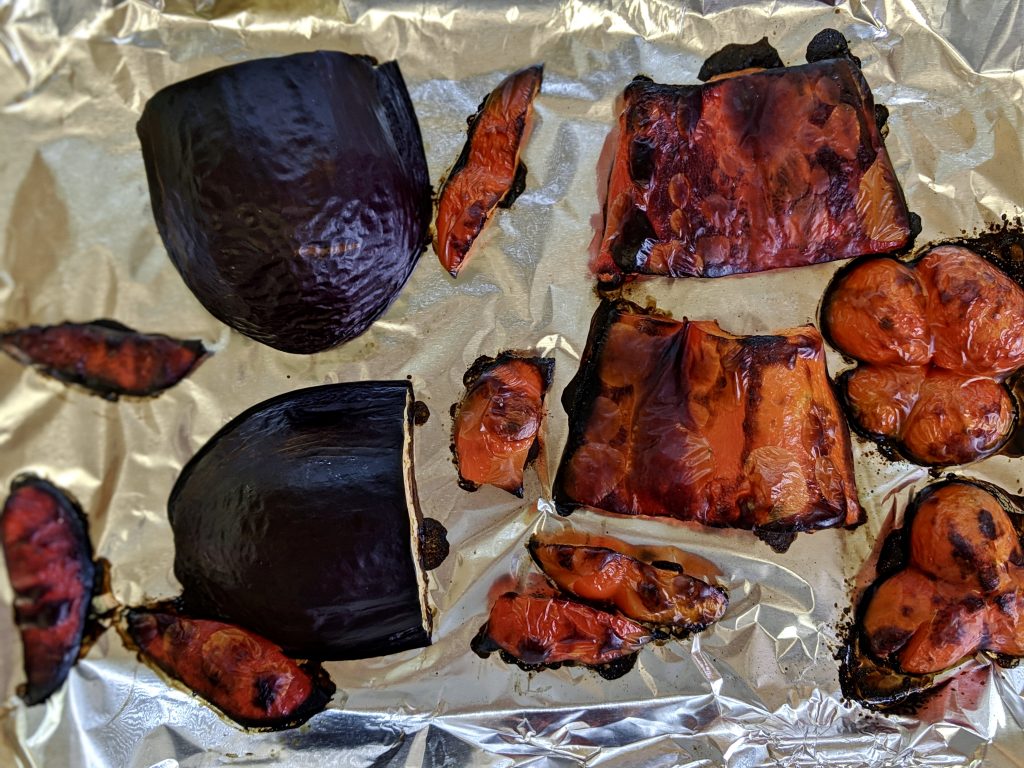 In the introduction to this recipe, Claudia Roden interestingly notes, "many Moroccan salads are highly spiced to develop an appetite for the meal" and this eggplant dish is certainly not the exception. However tasty this recipe was, this quote is not quite exactly accurate as it is the simple act of eating the first bites of food (not how it is spiced) which causes neurons in your brain to release a peptide that excites you into eating more food – which is why if you are trying to avoid those midday salty snacks, it is better to sip on fluids than start to eat. Your mom was right all along – snacking (or appetizering – no, that is not a word) can definitely ruin your appetite for more food, because once those peptides are released, neurons start to work on activating "satiety" circuits – so if you want to eat all of your main course, you actually want to avoid the starters (unless, of course, you are really, really hungry, or everything is very, very tasty).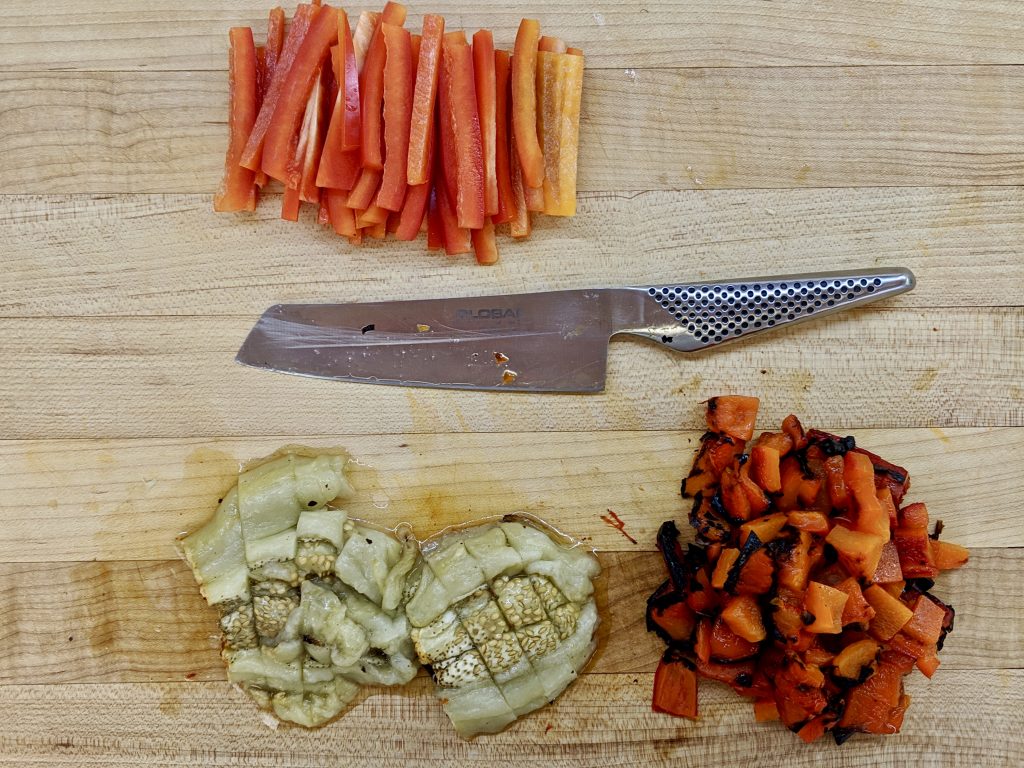 Regardless of the science of starters, this salad was quite scrumptious, and not too difficult to make. We roasted an eggplant and bell peppers in the oven to loosen their skins, and after about 40 minutes they were ready for peeling. While I cut the vegetables into cubes, Gary sautéed cumin, paprika, cayenne, garlic, and oil until aromatic. A small amount of water and lemon juice was added to the pan, after which the eggplants and peppers joined the spicy sauce. These all sautéed briefly and then were chilled until dinner.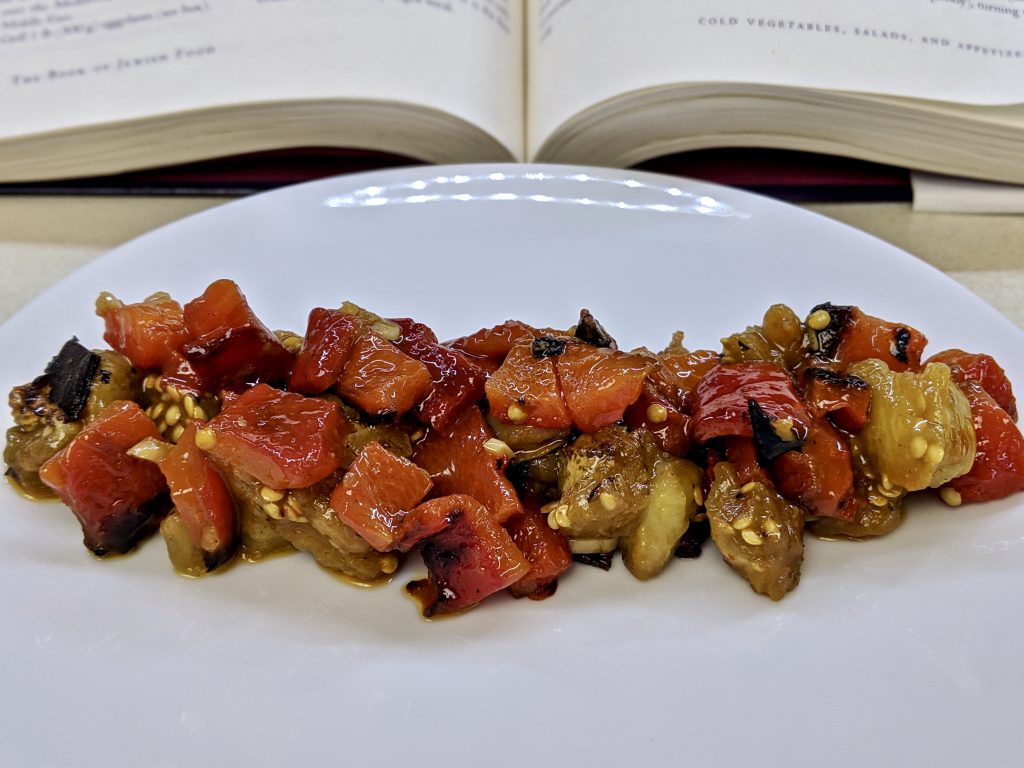 I was a little worried about this salad because the eggplant became a bit slimy in the oven, but this turned out to be a great appetizer. Very light and very flavorful, the earthy eggplant and bright peppers complimented each other well in a slightly spicy and very flavorful sauce.
This fried salad is a variation of the above recipe, in which the eggplant is fried instead sautéed, and everybody gets to keep their skins (aka no vegetables were peeled in the making of this recipe). The eggplants were sliced into rounds, salted, and left in a colander to drain for an hour (and man oh man, did they drain a ton of water – because they are being fried, salt is used to draw out as much water as possible to ensure a crispier texture). They were then rinsed and dried and carefully placed into hot oil in a shallow pan. Fried until they were golden on both sides, they were drained on paper towels and sprinkled with vinegar.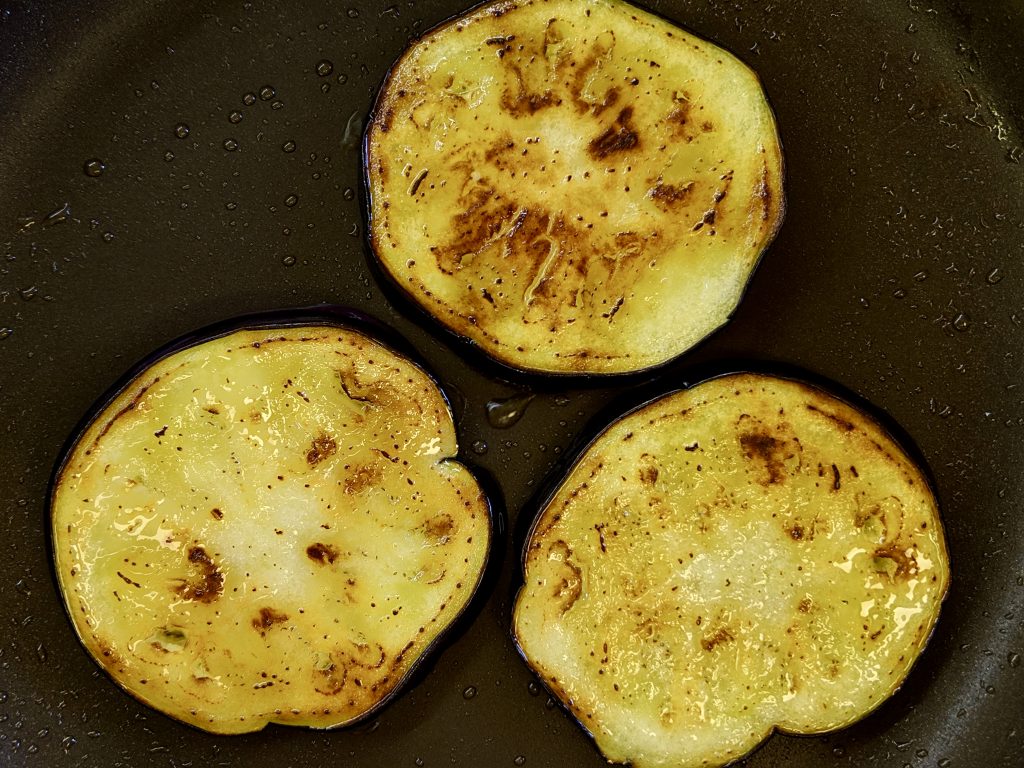 Garlic was then fried in the oil until golden and sprinkled over the arranged eggplants. The sliced peppers were then fried and spread over the eggplants, along with a small amount of chopped preserved lemons that we canned so many months ago.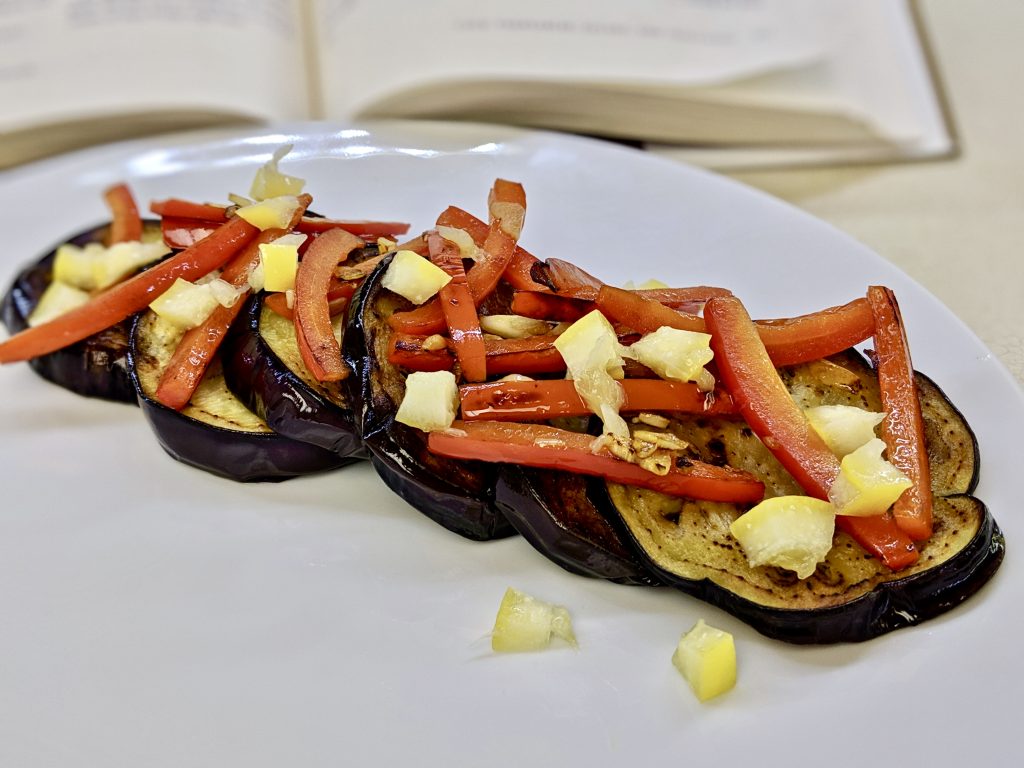 This was a great dish! We thought the first salad was good, but this was a wonderful variation, with the preserved lemons really making the salad pop. The earthiness and brightness from the previous recipe were still there, but a little bit less muddled and wonderfully accentuated by the chopped lemon – we would definitely enjoy this one again!
This poultry dish is a specialty of North Africa and is simple and quick to make. Finely chopped onion was fried in oil until soft, after which garlic and ginger were added to the pan. Chicken pieces were placed in the pan and seared until both sides had a bit of color. After this, we added tomatoes, saffron, salt, pepper, and a little water to cover. This simmered for about 30 minutes until the chicken was cooked through (we use a meat thermometer to keep a close eye on the internal temperature so they do not overcook and become tough or rubbery) and then olives were added and the whole dish simmered on low for another ten minutes.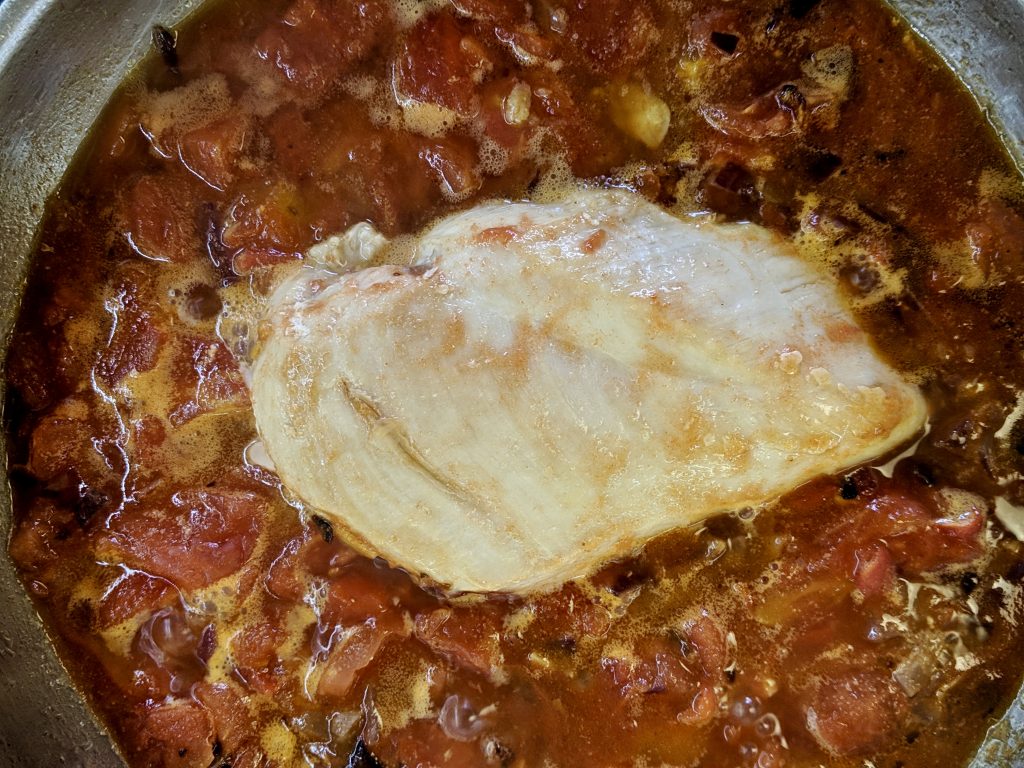 Prior to serving, the chicken was topped with cilantro and some of our chopped preserved lemons. Gary was very, very leery of this dish (our wonderful readers may remember that Gary is not a fan of olives, but I very much am), but he actually enjoyed it, olives and all! The acidity turned out to be very well balanced, with the tomatoes being bright and the kalamata olives were just salty enough and nicely earthy. The tartness of the preserved lemons was a wonderful finisher for this dish and Gary and I both agreed that overall this was surprisingly good!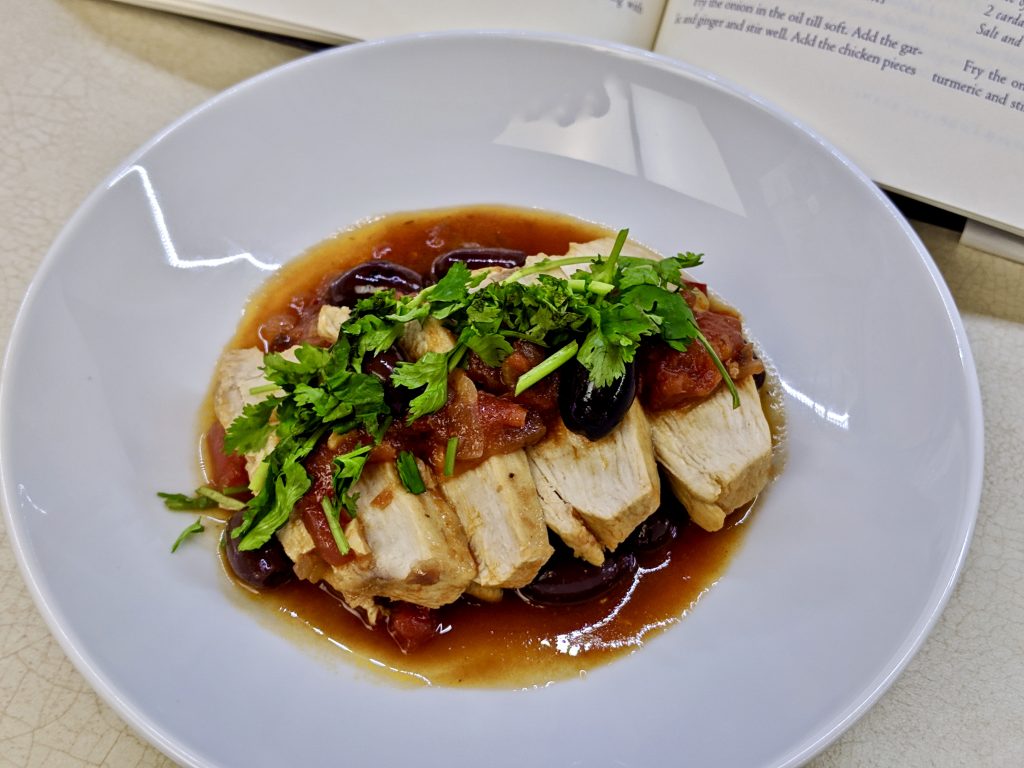 This Bukharan dish was typically cooked overnight and served on the Sabbath. According to Roden, the Bukharan Jews have "a reputation for good eating and hospitality", which can certainly be seen through the effort and amount of ingredients needed for their dishes. The amount of ingredients used can largely be attributed to the fact that many Bukharan families had large cellars for preserves, keeping everything from onions and carrots to grapes and apples. Because the Bukharan Jews lived in a span of land from Samarkand to Uzbekistan to Siberia, many of their recipes are a mix of Muslim traditions, Russian ingredients, and Indian flavors. The number of ingredients in their dishes reflects the many cultures that influence them, which has consistently made for some very interestingly flavored recipes.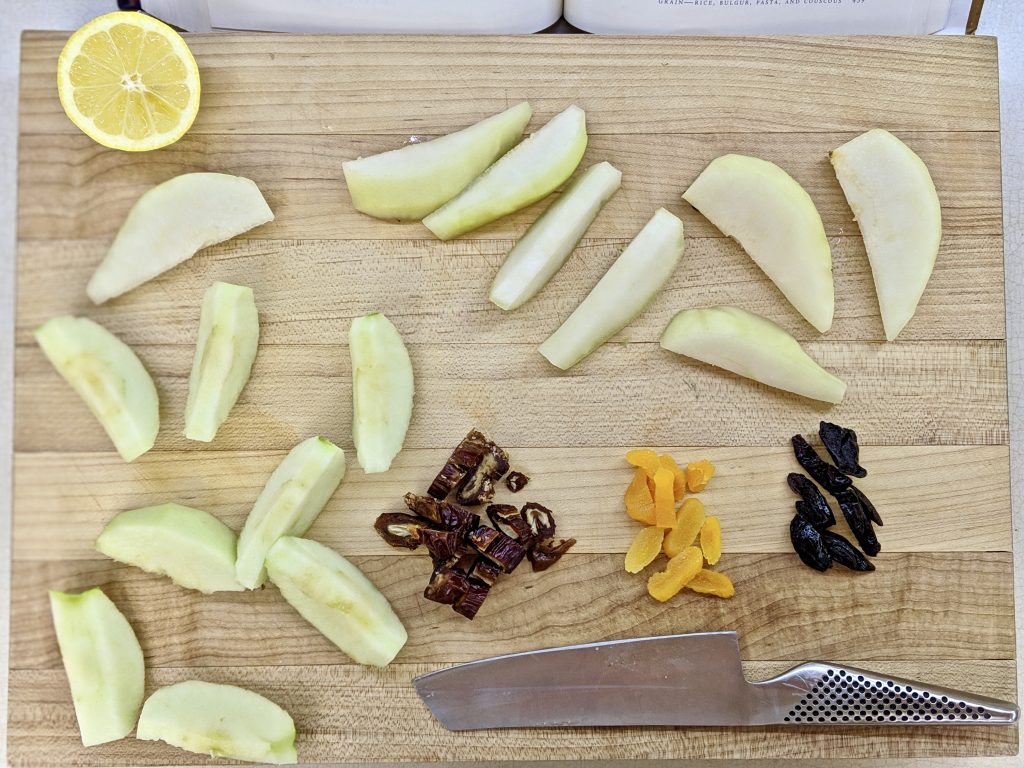 This labor-intensive rice dish starts with making a soup, which the rice is cooked in. A quartered Granny Smith apple joined a firm pear, dried apricots, pitted dates, pitted prunes, cinnamon, and salt in a pan. This all simmered in chicken stock for an hour until slightly reduced. The basmati rice was washed and mixed with cinnamon, saffron, salt, chopped dates, and a diced Granny Smith apple.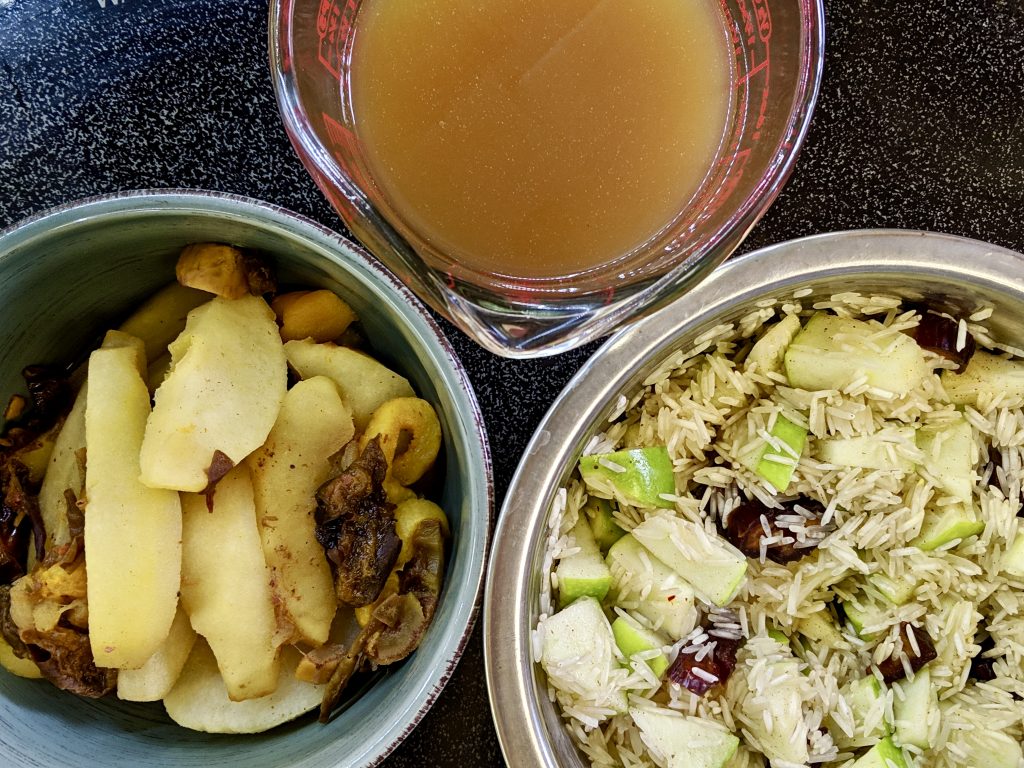 The "soup" was strained of its fruit and then mixed with fruit/rice concoction and poured into a baking dish. This was covered and baked for two hours at 350 degrees (it was supposed to be three hours, but the edges had begun to burn a bit). This was served hot alongside our main chicken dish. The rice was…interesting – it was a bit dry (so perhaps it needed more liquid because it obviously had dried out too quickly) but the fruit, while odd, was tasty. It was a like a sweet and savory side dish and perhaps it just did not pair well with the main course. However, the next night we used the massive amount of rice leftovers to make curried ground beef fried rice, which was excellent and the fruit was a wonderful accompaniment to the spicy protein.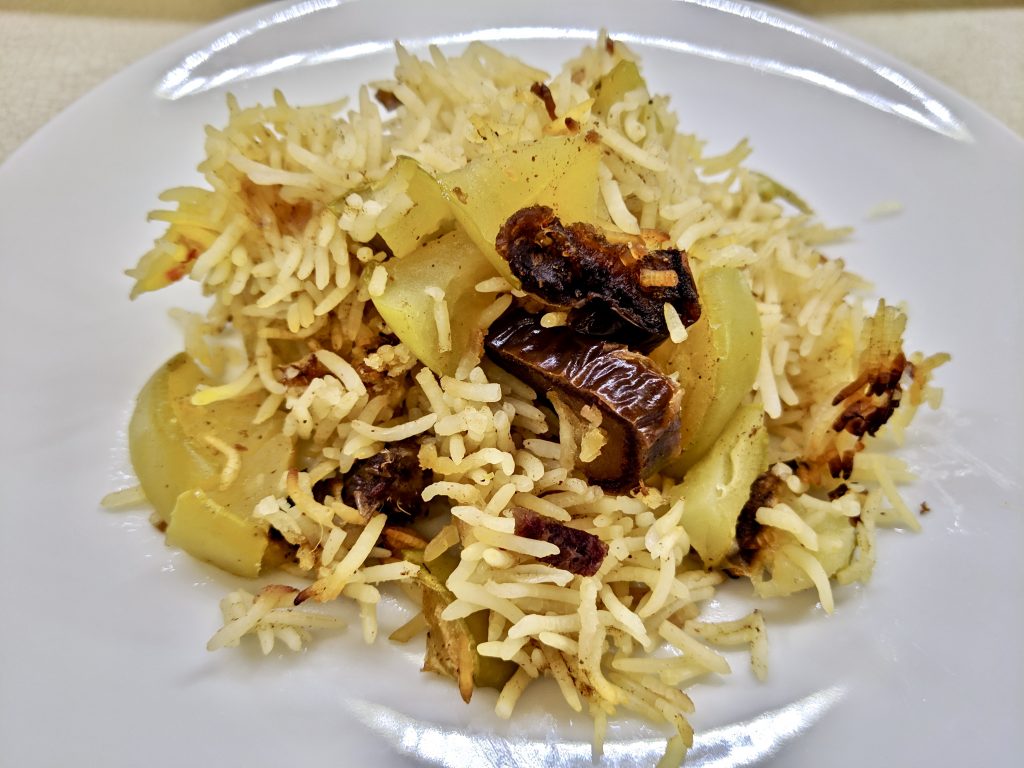 I love baklava (which my computer keeps correcting this recipe name to) and my family often buys it as a dessert during the Christmas season. Baklava is a celebratory dish for Jewish communities throughout the Middle East, being made for everything from weddings to bar mitzvahs and festivals. There are lots of variations and this one is Roden's aunt's go-to recipe.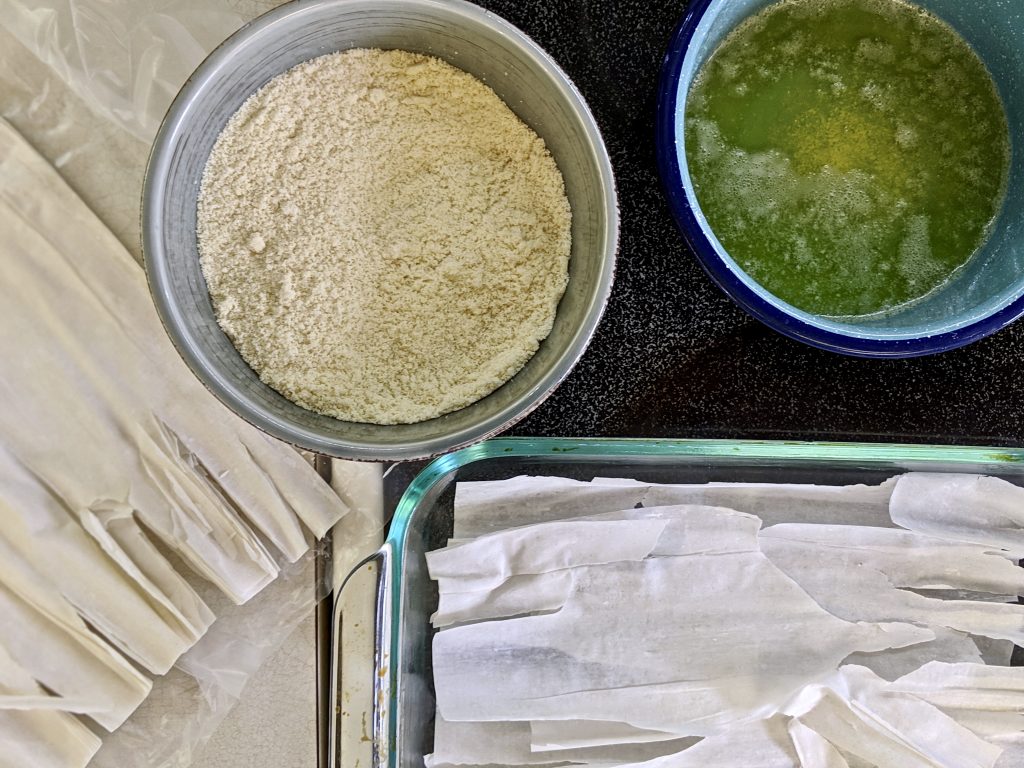 The dessert was started by making the filling: ground almonds were combined with a bit of sugar over which a small amount of melted butter was poured and mixed in. Sheets of filo dough were placed in a greased baking dish, each layer being brushed with a mixture of melted butter and oil. After the base was created, the ground almond mixture was sprinkled onto the sheets, alternating ground nuts with layers of buttered filo sheets.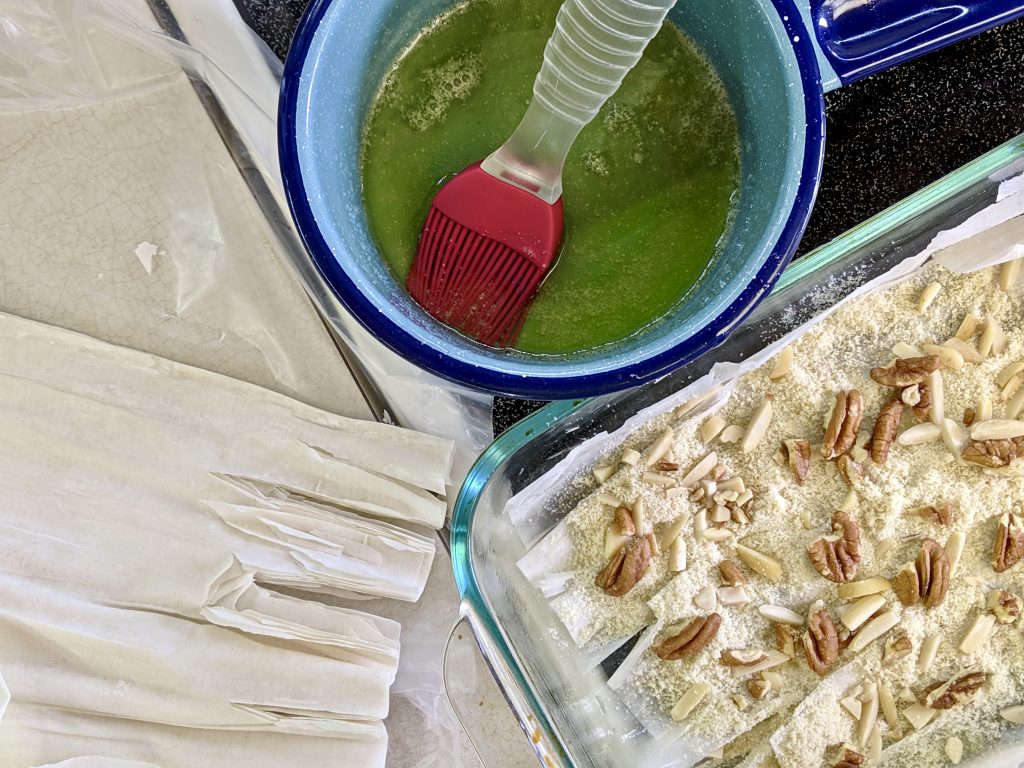 Using a sharp knife, the finished layers were cut into diamonds and then baked at 325 degrees for an hour until golden. During this time, a syrup of sugar, water, lemon juice, and orange blossom water was made and cooled on the stove. After the baklava had browned, it was taken out of the oven and covered with syrup. Now, Roden says the next step is frowned upon, so I should have heeded her warning, but did not, and as per her direction, put the baklava back in the oven at 400 degrees for five minutes. One minute in, the top of the baklava practically burst into flames and I hastily pulled the dessert from the oven (sugar plus thin surfaces plus high heat equals watch very, very carefully, lest you burn your final course).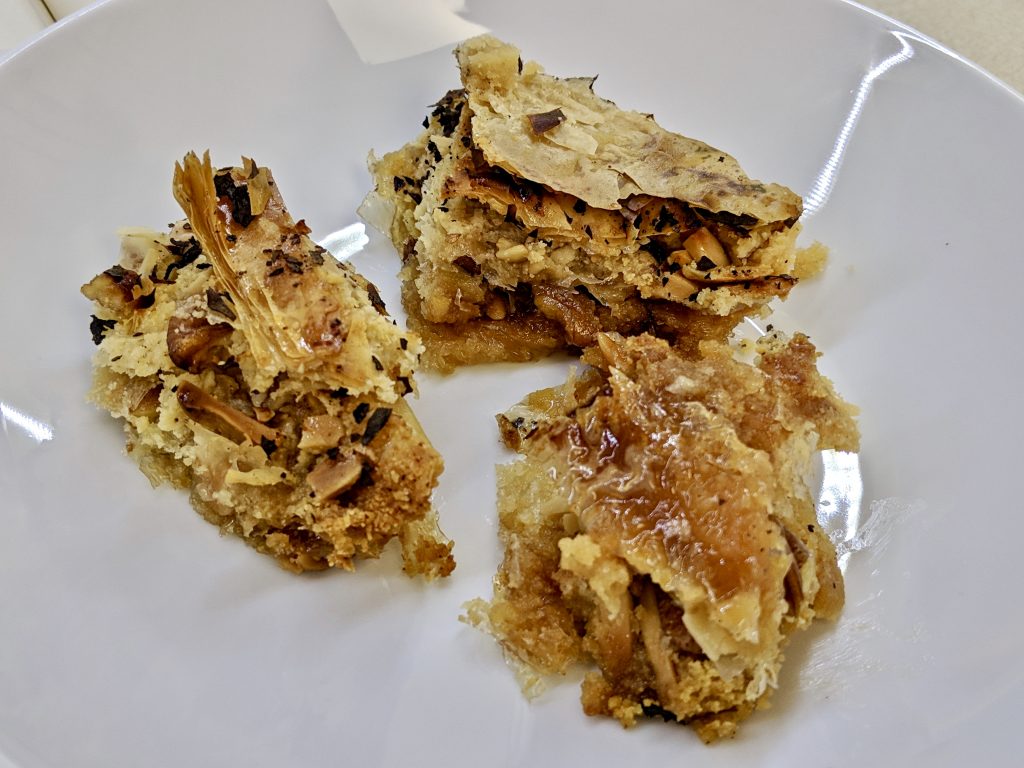 After a bit of sighing and a little scraping, I managed to salvage our flakey pastry (but it by no means was as pretty as it was prior to the baking mishap). This cooled and then was refrigerated and eaten cold. Despite almost incinerating our final course, this actually turned out fairly well, being not too sweet and having a wonderfully flakey texture. It actually was better than what we buy in the store, as that often is far too sweet, so next time I will keep a closer eye on the dish during its final round of baking.
AND IN THE END, THE FOOD YOU MAKE IS EQUAL TO THE CARE YOU TAKE…
So how was Made In Marrow's meal number 52? As a reminder, our rating system is based on sticks of butter (because butter is best!), with 1 being the absolute worst and 5 being out of this world. Sticks of butter are assigned to Difficulty (how many kitchen fights were needed to complete the meal?), Tasty Goodness (was it a palate poor or did it make our mouths merry?), and Repeat Customer (how likely are we to return to the recipe?).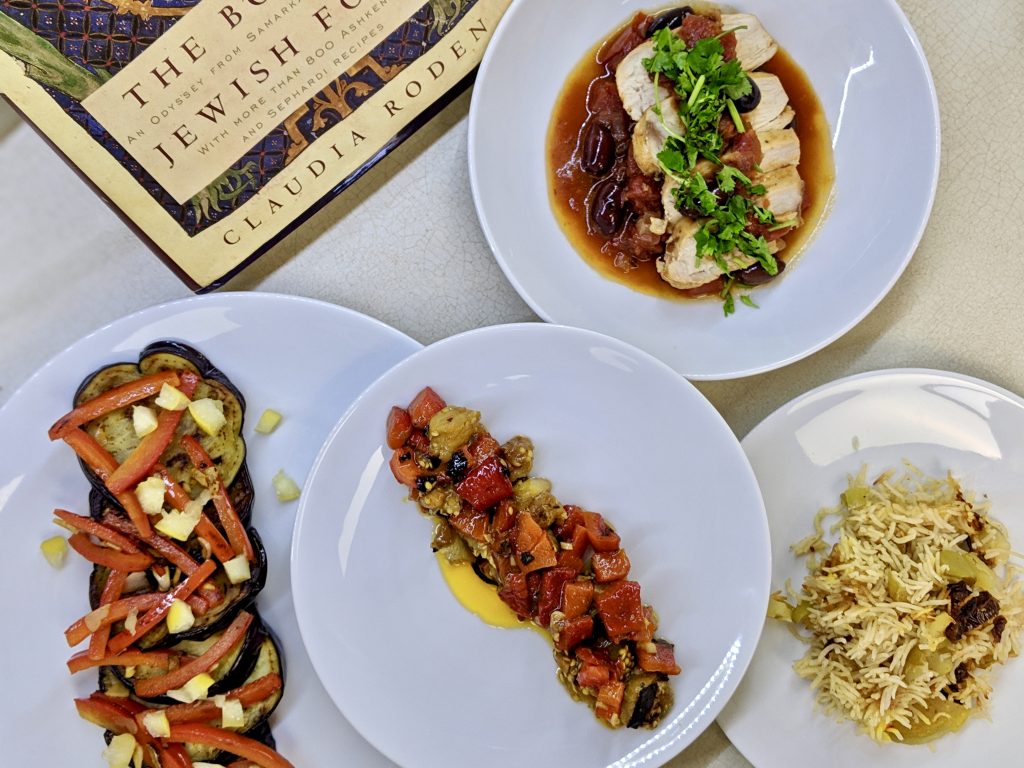 Difficulty  [][][]3/5
This meal took quite a bit of prep, time, and ingredients and while not difficult, it was fairly labor intensive.
Tasty Goodness
[][][][] 4/5 Salade d'Aubergines et Poivrons Épicée – Spicy Eggplant & Pepper Salad – A wonderfully flavor chilled salad
[][][][] 4/5 Salade d'Aubergines Frites et de Poivrons – Fried Eggplant & Pepper Salad – A nicely balanced hot salad
[][][][] 4/5 Poulet aux Olives – Chicken & Olives – Surprisingly good!
[][][]3/5 Savo – Bukharan Rice with Fruit – An interesting sweet and savory side dish
[][][][][] 5/5 Baclawa – Multi-Layered Nut-Filled Pastry – A sweet and flakey final course!
Repeat Customer
[][][][] 4/5 Salade d'Aubergines et Poivrons Épicée – Spicy Eggplant & Pepper Salad – Worth the peeling to enjoy again!
[][][][] 4/5 Salade d'Aubergines Frites et de Poivrons – Fried Eggplant & Pepper Salad – Worth the four-step frying to enjoy again!
[][][]3/5 Poulet aux Olives – Chicken & Olives – Quite possibly, yes
[][]2/5 Savo – Bukharan Rice with Fruit – Fairly labor intensive, so quite possibly no
[][][][][] 5/5 Baclawa – Multi-Layered Nut-Filled Pastry – Definitely yes!
Getting back to the multi-recipe meal this week was great, albeit we did it with some fairly labor-intensive recipes. Nonetheless, it was a wonderfully different and tasty week, so no complaints from us!
Sip, sup, and savor all you can, you curious cooks,
Elais & Gary