Just want the recipes and none of that other wordy nonsense? Click the links below!
Ispanakhi Salati – Spinach Salad with Walnuts and Pomegranate Seeds
Menena-Maamoul – Stuffed Tartlets
Meal the Fifty-Ninth
Tonight's meal marks the end of the dafina section, which, while has been very tasty, has consisted of a lot of slow-cooked stews which were a lot of work. It did introduce us to the technique of cooking eggs in their shells in the crockpot, which was a pretty nifty trick! We also got to use our cast-iron dutch oven, a cooking tool that we both want to use more often. The dafinas were often cooked overnight in sealed caverns or below ground, so our dutch oven is the closest approximation for our cavern-less house. The dutch oven originated in the Netherlands, in the early 1700s as an option for cooking while on the move, limiting families' access to their braziers and local bakeries with large sealing cavernous ovens. This method of cooking is not unique to the Jews – communities in Japan, South Africa, and Australia also have similar cooking methods as well as a dutch oven substitute. 
So tonight, we tackle the last dafina recipe (which by far turns out to be the most difficult), pull out our infinitely heavy dutch oven, and tuck into meal fifty-nine – we hope you enjoy!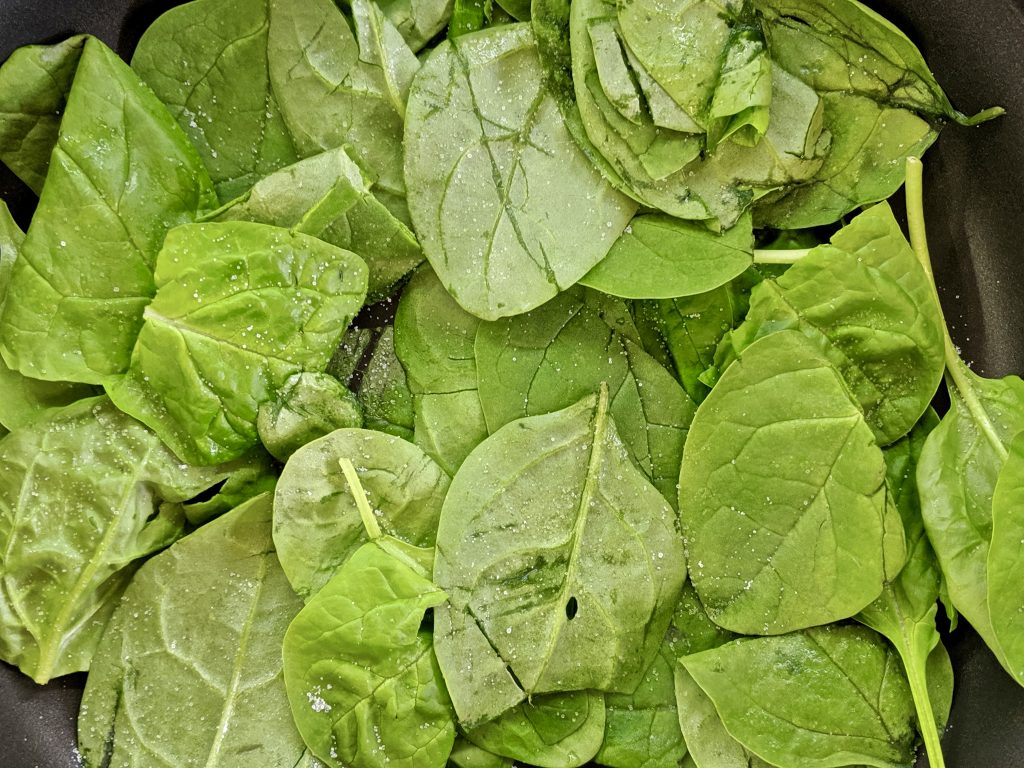 This Georgian salad is a variation of a common spinach and lemon dish served throughout many Middle Eastern communities. It is very simple – quickly cook spinach leaves in a pan until wilted, then arrange on a plate with a dressing of vinegar, olive oil, garlic, and cayenne. Sprinkle with scallions, cilantro, pomegranate seeds, crushed walnuts, and voila! You have a very colorful salad.
This simple salad contrasted heavily with our intensive main course, so we were grateful but skeptical. Once again though, simple dishes shine, and this turned out to be a great salad. The sharpness of the garlic and spinach were nicely balanced by the oil and the slight fattiness of the walnuts. The pomegranates added a nice bright flavor and the cayenne added a little kick to each bite. We were both impressed with this dish and thought it would pair well with beef carpaccio in the future.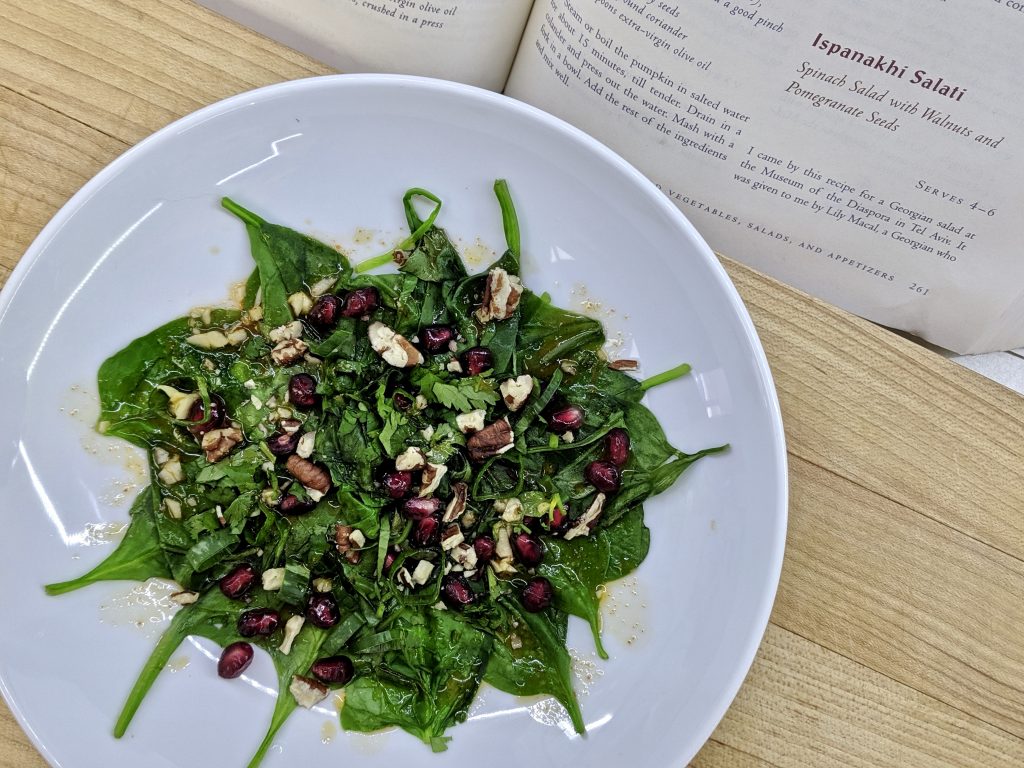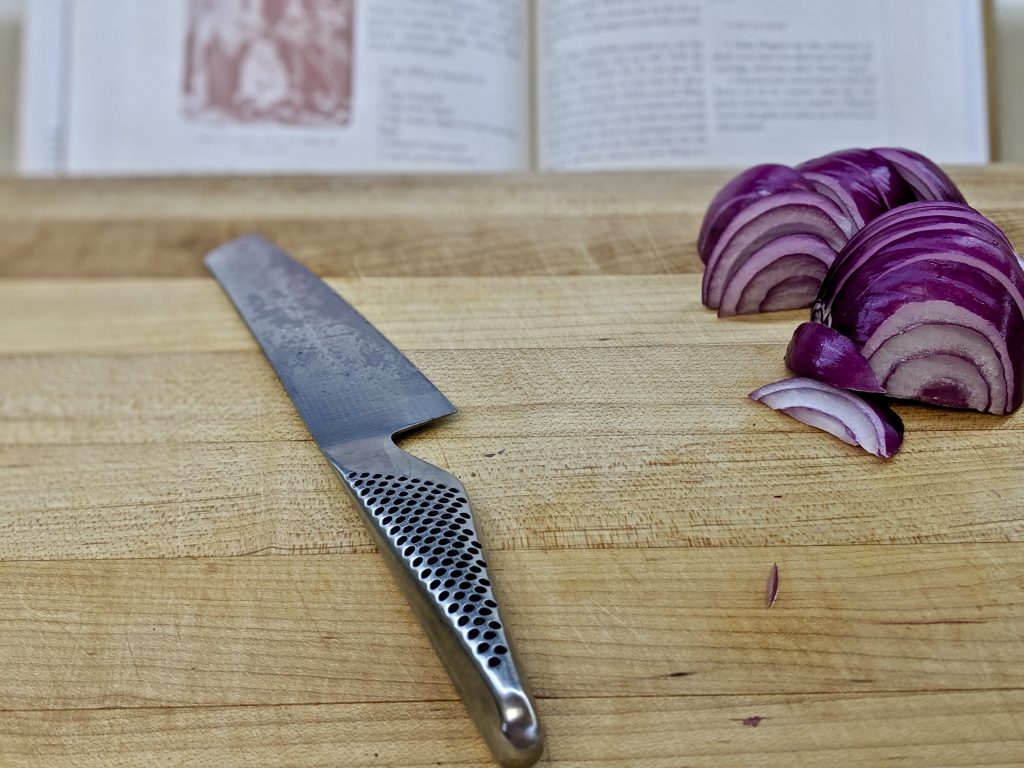 This traditional Sabbath dish of Baghdad marks the last of the dafina dishes, or one-pot meals that were slow cooked overnight. This particular dish was cooked in a special brazier that was built into the floor of every home, starting Friday night and often covered with eggs in their shells so that they could be eaten for breakfast the next morning. On Saturday afternoon, the pot was turned out onto a large platter for everyone to enjoy. Each family had their own mix of spices, but the crispy rice at the bottom of the pot was universally enjoyed by all.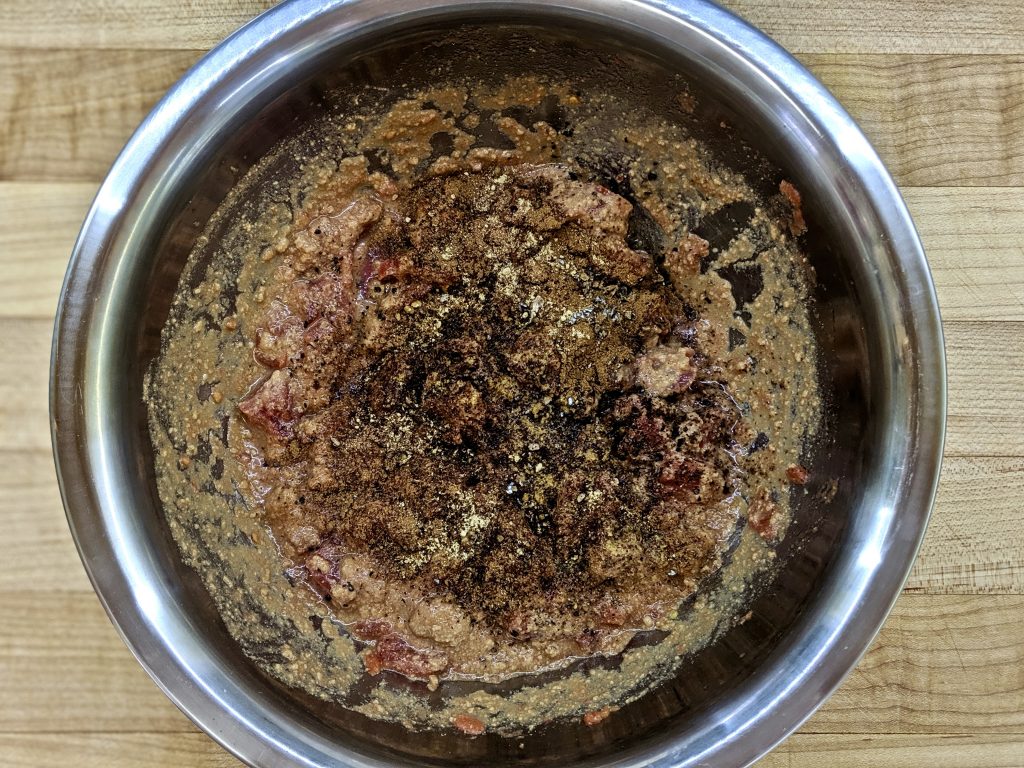 Since this was a labor-intensive recipe, we got started first thing in the morning so we would not be eating dinner in the middle of the night. To begin, the rice was soaked in boiled water for an hour, then drained and rinsed. 1/2 a cup of this par-boiled rice was reserved for the stuffing, which consisted of a mixture of chicken pate (the recipe called for giblets, but our chicken did not come with any parts, so we thought ground chicken liver was a good substitute), chopped tomatoes, salt, pepper, cinnamon, nutmeg, cardamom, ginger, and ground cloves.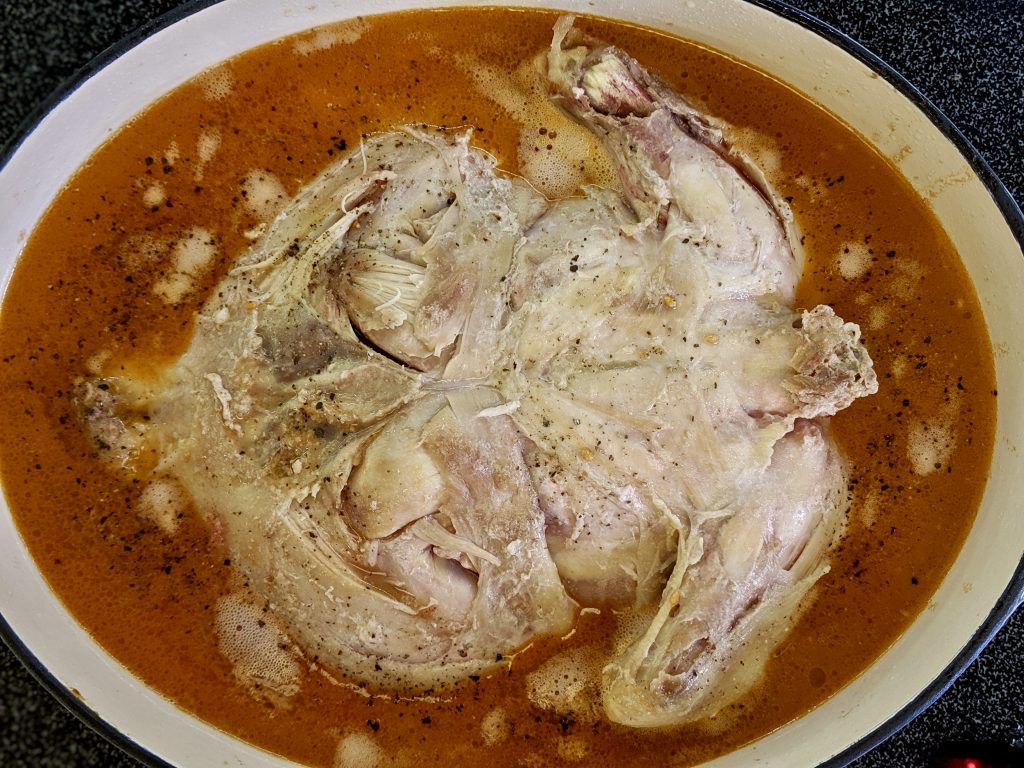 As I mixed up the stuffing, Gary seared the chicken to release a little fat and then seared the onion and tomatoes in our cast iron dutch oven. The newly-stuffed chicken rejoined this golden mixture and was covered with water, simmering on the stove top for the next two hours. After this time, the chicken was once again removed and the stock was boiled to reduce it a bit in preparation for the rice.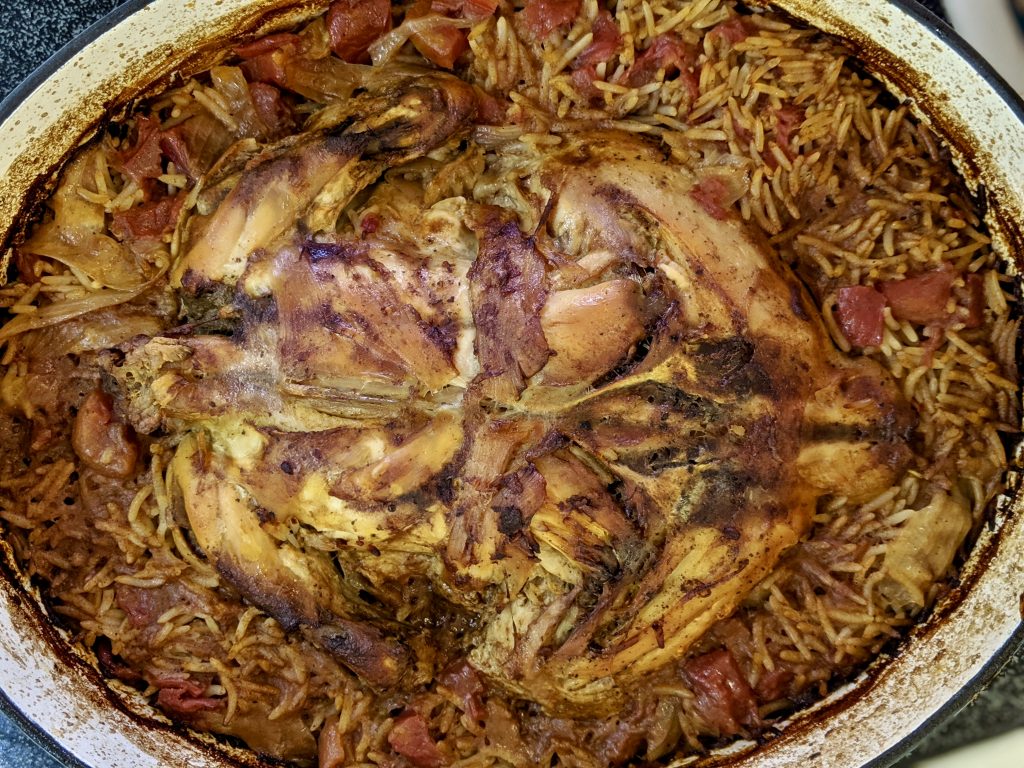 Salt, pepper, tomato paste, cardamom, cinnamon, ginger powder, nutmeg, allspice, and ground cloves were added to this savory smelling pot along with the remaining rice. This cooked for about ten minutes until almost all the fluid was gone. The chicken was added back to the pot, pushed as deep as we could into the golden rice. This was baked at 400 for 30 minutes and then covered and baked at 250 degrees for 3 hours.
A water bath for our hot pot

The flipping of the pot…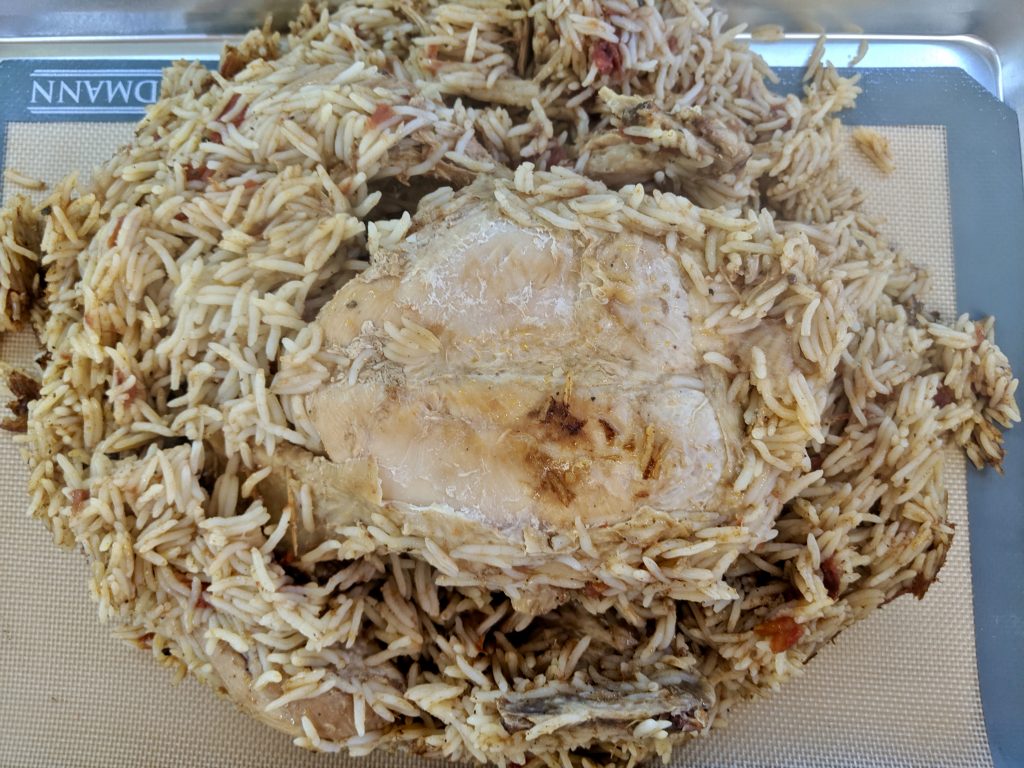 To serve, we filled the kitchen sink with cold water to loosen the crusty rice on the bottom of the pot. The cast iron was then oh-so-carefully flipped over onto a tray, ensuring to scrape off the crispy bits left in the bottom of the pot.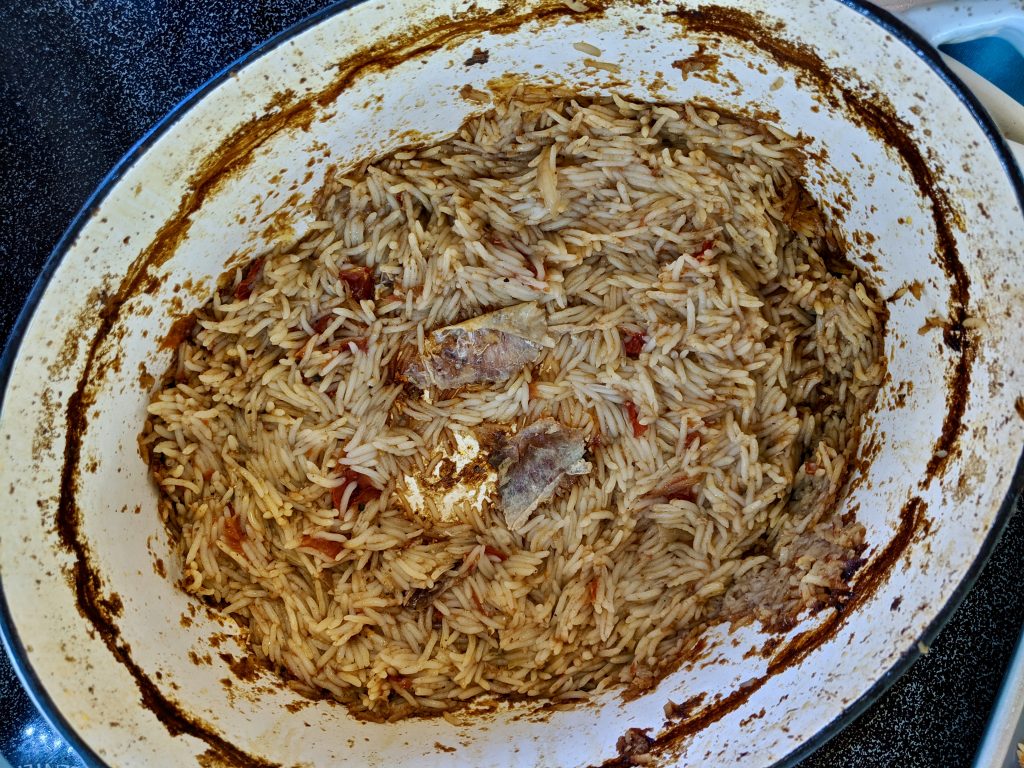 We really worked hard to cook this as true to the recipe as possible, and (just as we expected), searing, boiling, and baking a whole chicken has a drying out effect. While neither of us were big fans of the protein (it was not terrible, it was just too dry for our taste), we both extremely enjoyed the rice. Savory, spicy, and umami-y, the rice truly was the best part of the dish. We only wish the rice was a bit crispier but had we baked it any longer the chicken would have probably deflated into a pile of nothing (not unlike the hours-baked turkey in the movie National Lampoon's Christmas Vacation). This was a huge dish and served well as leftovers over the next several evenings.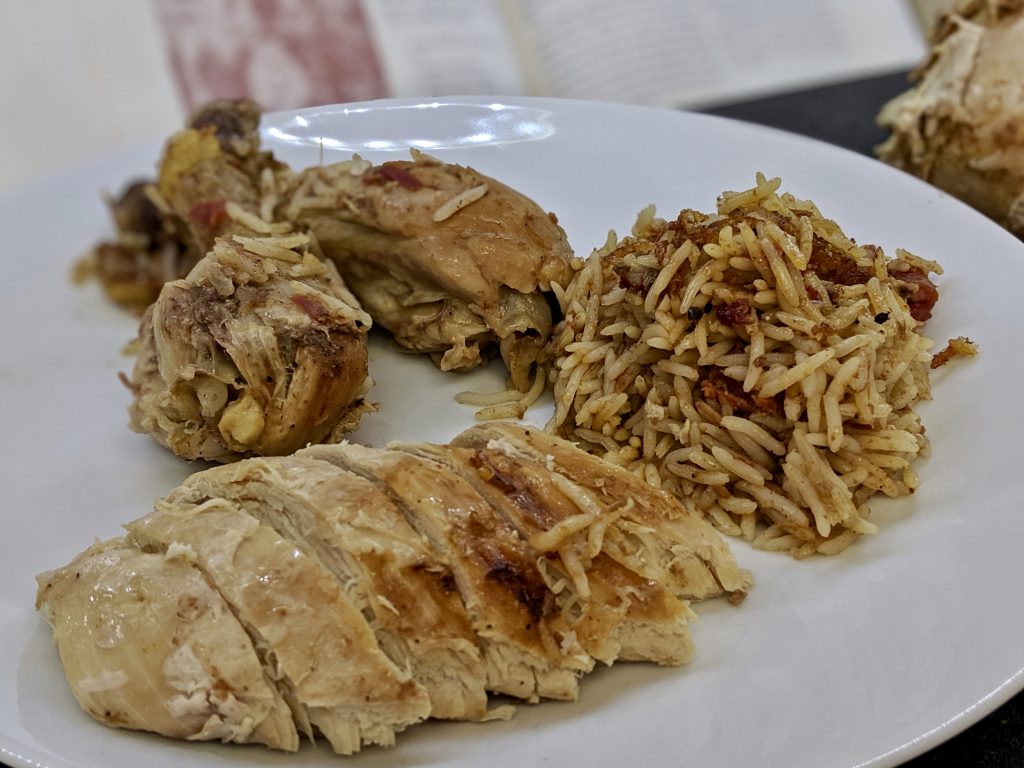 These little sweet cookies are an Egyptian favorite and are often kept in high supply in cookie tins in Jewish kitchens. There are several variations for fillings, including walnut and sugar, finely chopped pistachios, or mashed dates. We chose to go with the walnut and sugar filling as that is what we had readily available (and were not very interested in shelling 100 pistachios).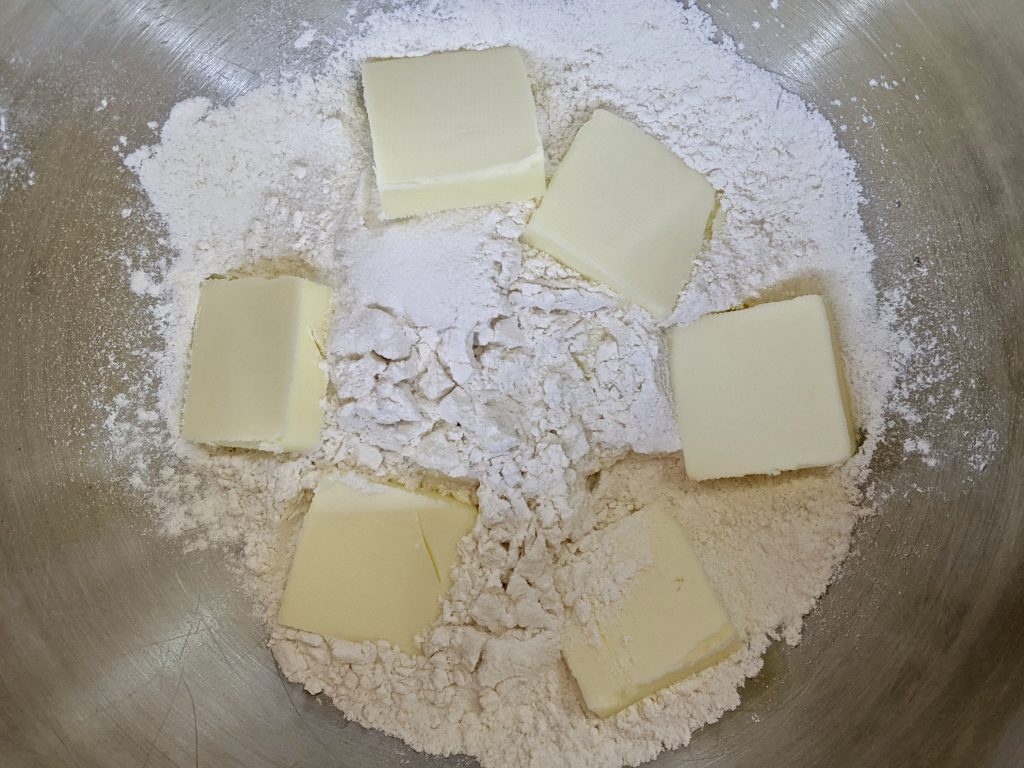 The dough was made by mixing flour, sugar, and butter, after which orange blossom water and just enough milk was added to pull the mix together to make a soft dough. The nut filling was made by mixing finely chopped walnuts with sugar, cinnamon, and orange-blossom water.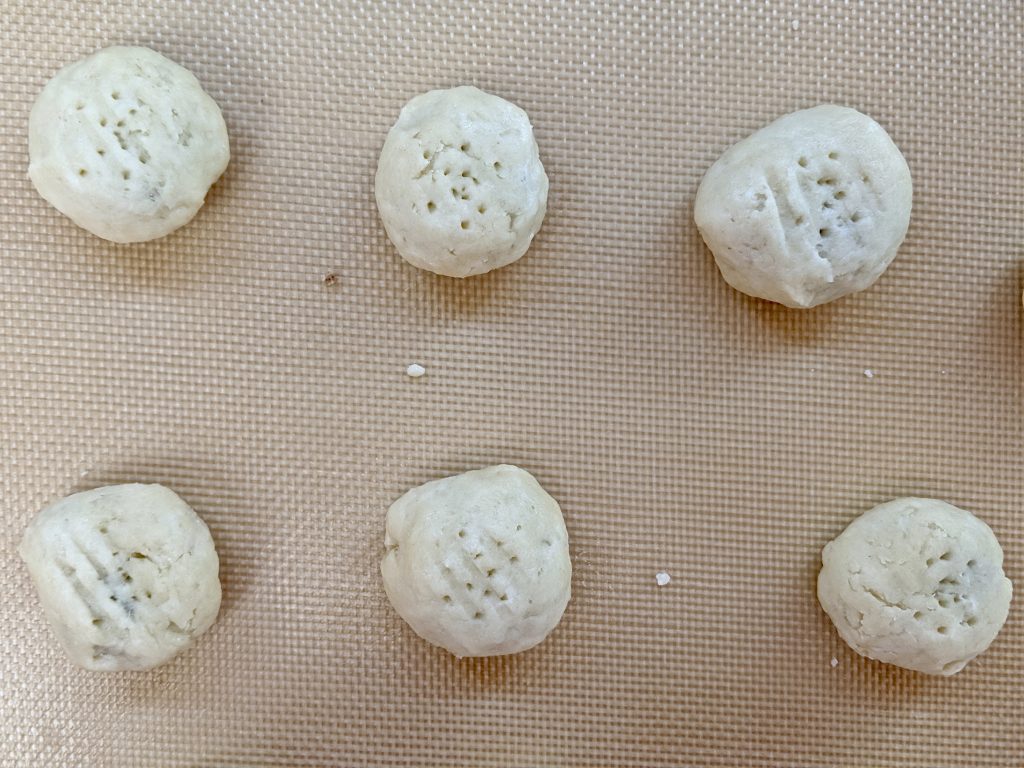 To make the "tartlets" (these were more like stuffed cookies), we took walnut sized segment of dough, flattened it in our hands and filled it with the nut mixture. The sides were then pulled together and placed seam side down on a baking tray. Prior to going into the oven, the tops were pricked with a fork (which could have been done with more force, as they had disappeared when they were done) and then baked at 325 degrees for 20 minutes.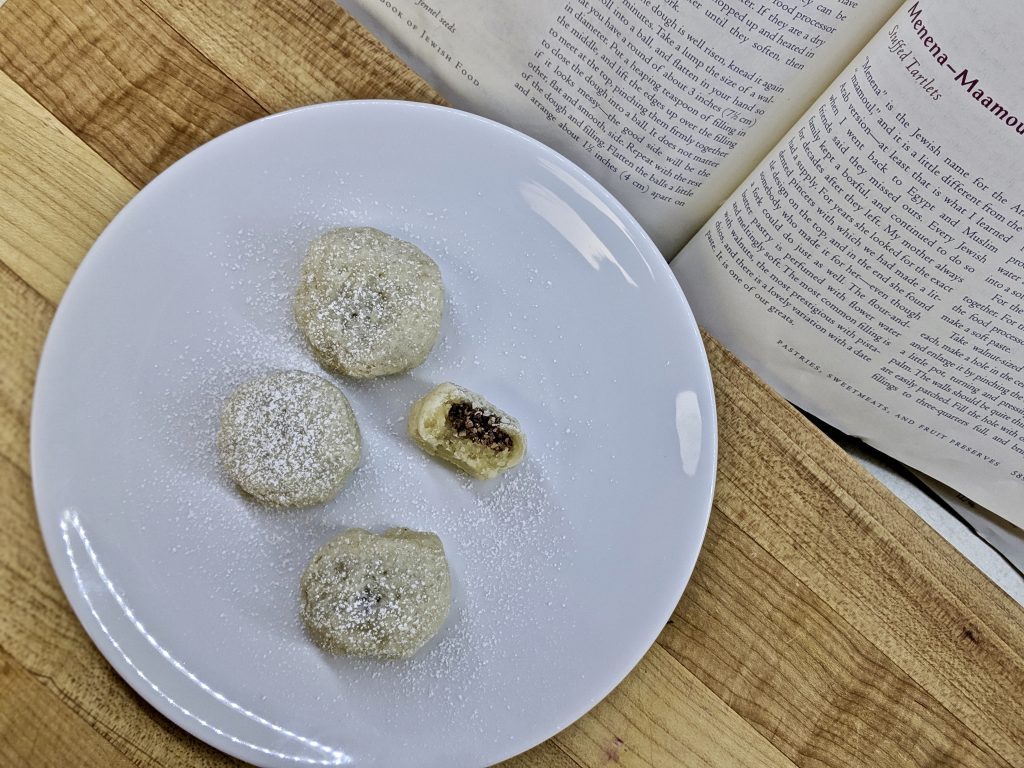 After waiting until these had just cooled, we dusted the little cookies with powdered sugar. These truly tasted like our favorite Canadian butter tarts (made best of course, by a grandmother), with a slightly savory outside and a slightly sweet inside. The powdered sugar added just enough sweetness to make it more of a dessert cookie, and we had to restrain ourselves from eating more than just one (or two, or three…)!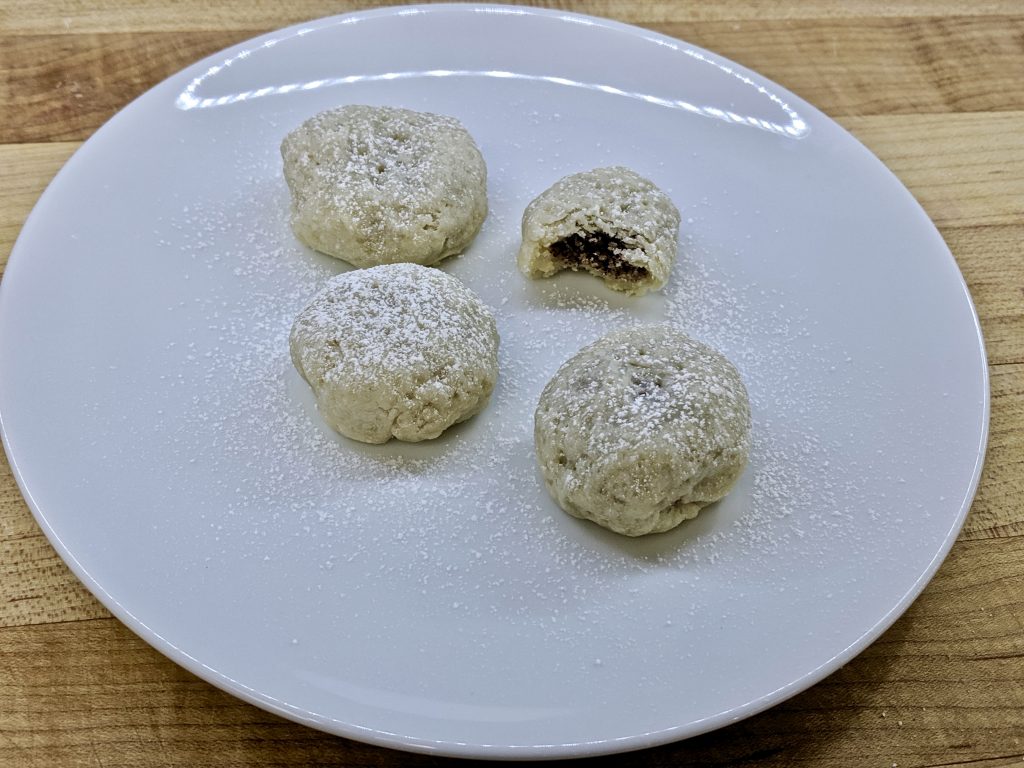 AND IN THE END, THE FOOD YOU MAKE IS EQUAL TO THE CARE YOU TAKE…
So how was Made In Marrow's meal number 59? As a reminder, our rating system is based on sticks of butter (because butter is best!), with 1 being the absolute worst and 5 being out of this world. Sticks of butter are assigned to Difficulty (how many kitchen fights were needed to complete the meal?), Tasty Goodness (was it a palate poor or did it make our mouths merry?), and Repeat Customer (how likely are we to return to the recipe?).
Difficulty  [][][][] 4/5
Chicken baked three ways was balanced out by spinach that was hardly cooked, but then we a labor-intensive dessert…so this was a pretty hard-earned dinner.
Tasty Goodness
[][][][][] 5/5 Ispanakhi Salati – Spinach Salad with Walnuts and Pomegranate Seeds – you have to try this salad, we cannot possibly emphasize how good it is
[][][] 3/5 Tabyit – Chicken and Rice – The rice was tasty, but the chicken was dry, so we split the difference
[][][][][] 5/5 Menena-Maamoul – Stuffed Tartlets – A butter tart in a cookie form!
Repeat Customer
[][][][][] 5/5 Ispanakhi Salati – Spinach Salad with Walnuts and Pomegranate Seeds – Most definitely, yes!
[][] 2/5 Tabyit – Chicken and Rice – Perhaps again, but with a very different cooking approach
[][][][] 4/5 Menena-Maamoul – Stuffed Tartlets – These are a bit of work, but definitely worth it!
Our first section of the Sephardi section of The Book of Jewish Food is officially done – now to tackle the Offal!
Sip, sup, and savor all you can, you curious cooks,
Elais & Gary