Just want the recipes and none of that other wordy nonsense? Click the links below!
Fritada de Espinaka – Spinach and Cheese Cake
Mufarka – Spiced Spinach with Scrambled Eggs
Meal the Eighty-First
With the exception of tonight's dessert, each of our dishes either features a green or turned out green, so we would say that we met our veggie quota for the day (in the event that you are looking for a green dessert, we have made that and it can be found in our Ashkenazi grouping of recipes, made oh-so-long ago). Tonight's meal also has a fairly large Persian influence, which makes sense since our main star of spinach originated in Persia.
We also gave our backyard chickens a run for their money, with at least 8 eggs being used in the making of tonight's meal. And between the combination of those two ingredients, we definitely met our Vitamin A and riboflavin requirements for the week – so with our hearts healthily a-thumping, let's jump into tonight's meal!
Our series of spinach side dishes begins with this Ottoman-era omelet cake with its origins from Jews who were Italian immigrants. Spinach was steamed until soft and then pressed to release as much water as possible. Potatoes were boiled until soft and then chopped into bite-sized pieces and spiced with nutmeg, salt, and pepper. The steamed spinach was mixed into this bowl, along with several lightly beaten eggs and feta cheese. This all was poured into a frying pan and cooked over low heat until the bottom had set, after which it was put under the broiler until firm and lightly browned.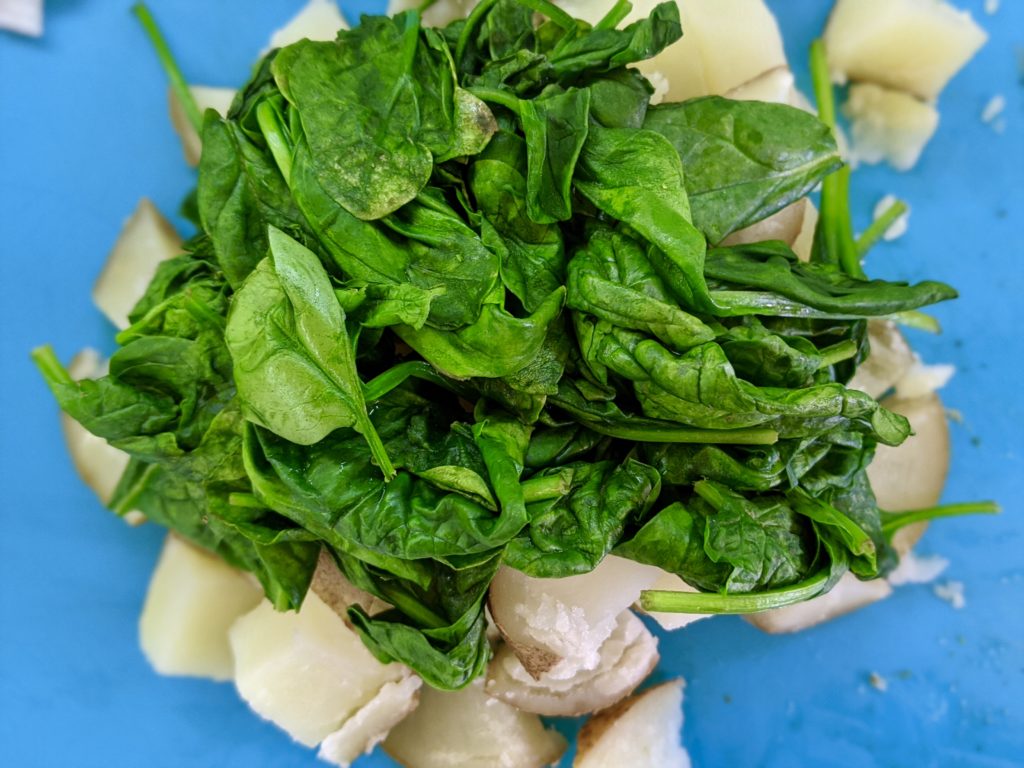 This recipe is truly an "omelette-cake" – the potatoes provide a much firmer texture than that of your typical omelet, however, the beaten eggs provide the lightness that you often find in an omelet. The spinach and nutmeg were nicely earthy and the feta was sharp and salty – all-in-all, this was a great dish that made for excellent leftovers, especially when topped with our favorite hot sauces!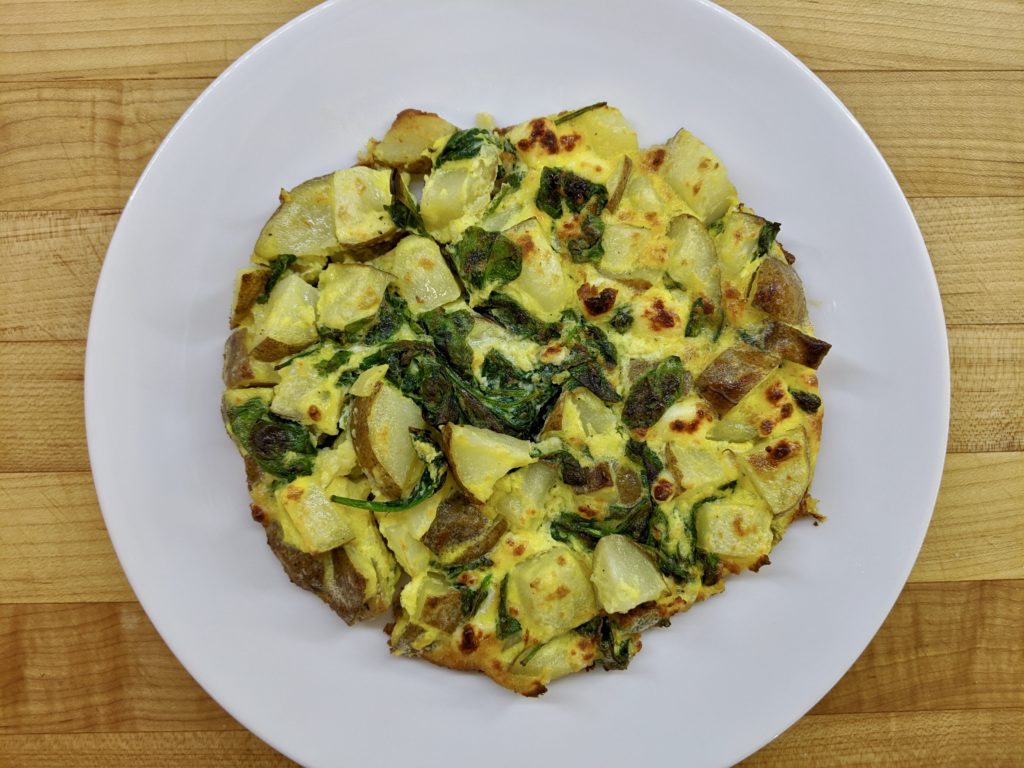 This Sephardic favorite of Rosh Hashanah has several variations and Claudian Roden chose to share this very herby Persian version in The Book of Jewish Food. To start, the spinach was steamed until soft and drained of its remaining water. This was then mixed with beaten eggs, scallions, cilantro, mint, dill, salt, pepper, and nutmeg. The entire mixture was then poured into a pan and cooked over low heat until set, then finished under the broiler.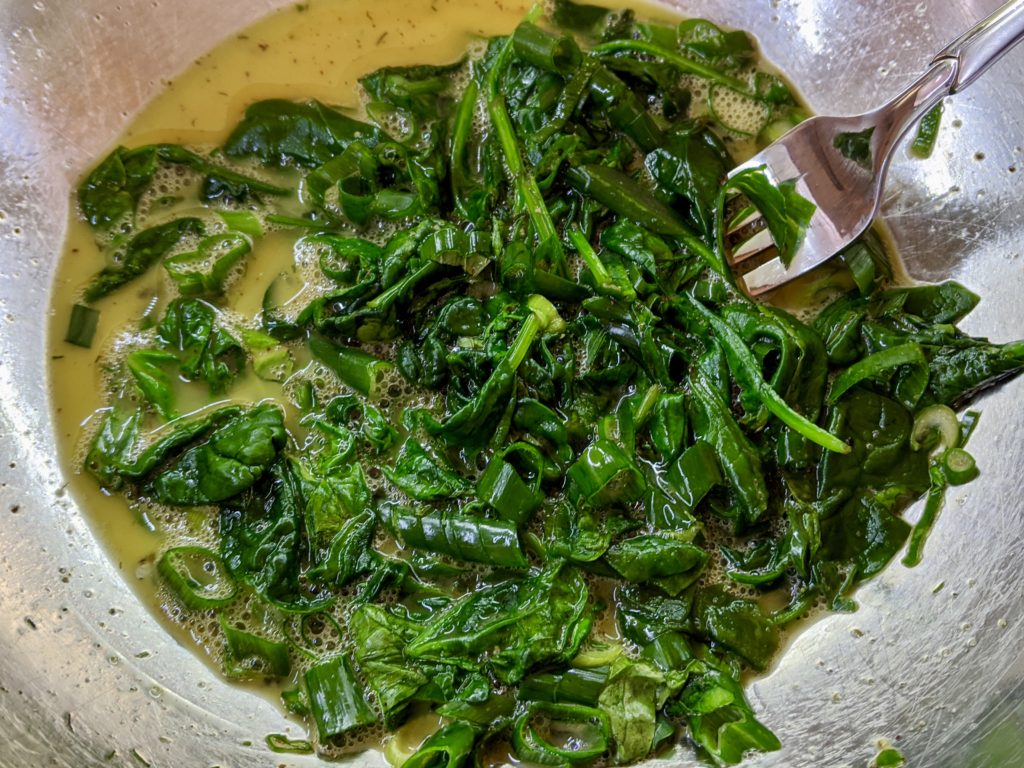 The spinach omelet was exactly that – a bouncy, eggy, spinachy omelet. The scallions provided a nice sharpness to offset the earthy spinach, but as is with most omelets, this was best enjoyed hot and straight out of the pan.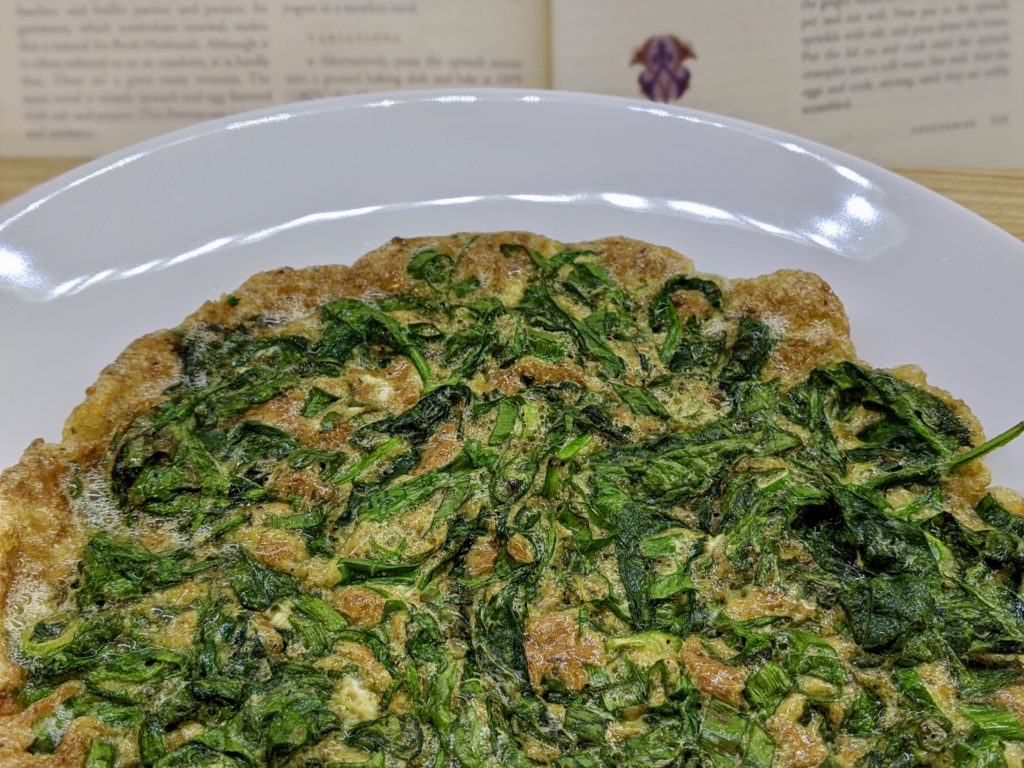 Our final spinachy side of the evening is an Indian Baghdadi dish that is commonly eaten for breakfast in Calcutta (and now eaten for dinner in Santa Fe!). This recipe began by frying onion until soft, after which garlic, ginger, turmeric, and cayenne joined it in the pan. Once these were wonderfully aromatic, our remaining handful of spinach was added and cooked until it had steamed itself into a tender mass. The final ingredient of beaten eggs was added and the contents were stirred until the eggs were softly scrambled.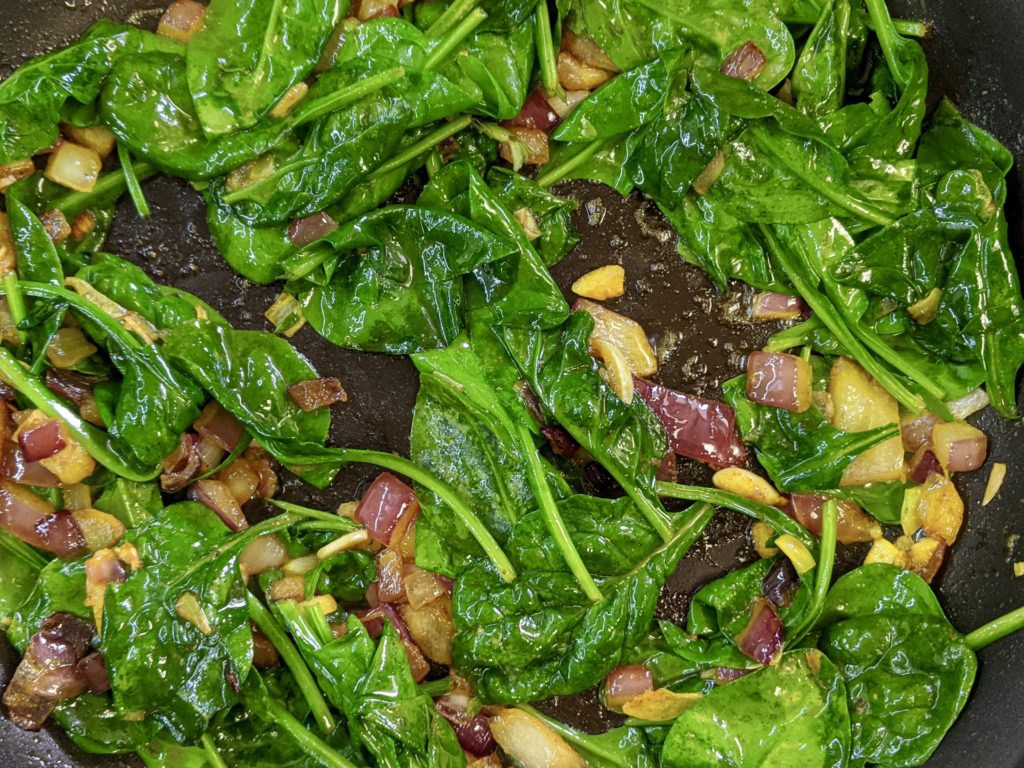 Just as the above spinach omelet was exactly a spinach omelet, this too was exactly as advertised, scrambled eggs with spinach. The bright ginger and turmeric nicely complimented the earthy spinach and the eggs were light, tender, and savory. If you are looking for fancy scrambled eggs, then this is your dish!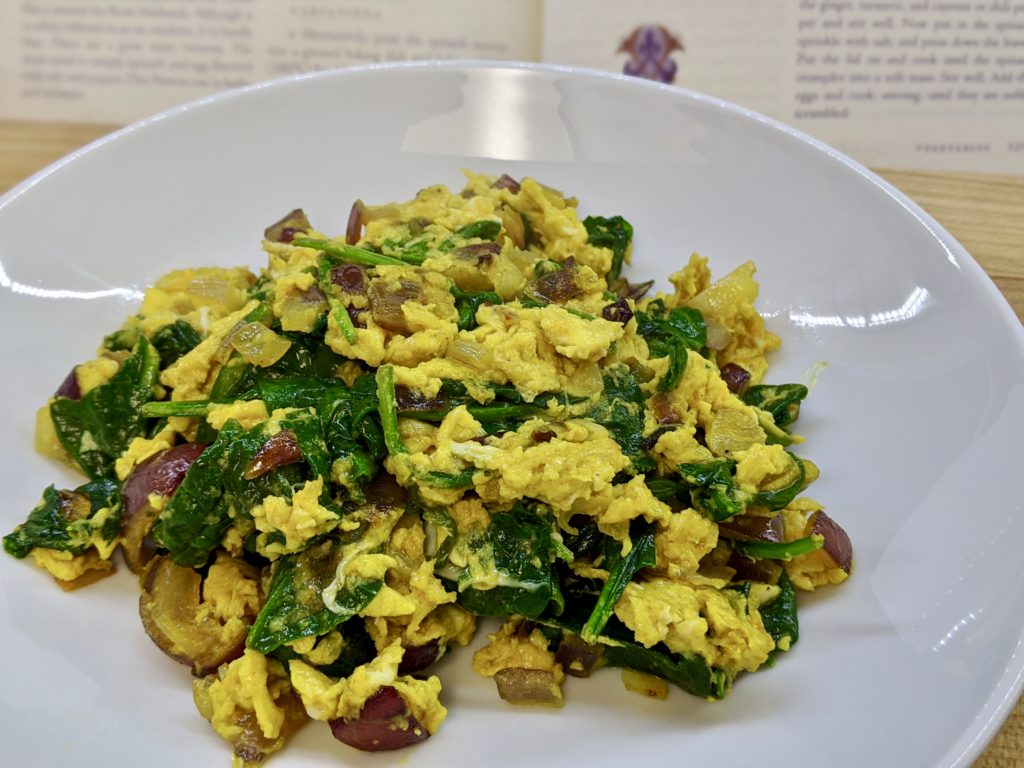 This week we start a series of chicken dishes with origins in India. There are three distinct groups of Jews in India, the Cochinis, the Bene Israel (which we have written about several times, already having eaten several Bene dishes), and the Baghdadis (coincidentally, a dish from each of these groups was enjoyed during tonight's dinner!). This recipe originates with the Cochinis group, who can be found on the Malabar coast in Southwestern India. The Chochinis consist of a mix of thirteenth-century Spaniards and traders who traveled from Portugal, Holland, and the Middle East in the sixteenth century as well as freed slaves and their descendants from the tenth century (obviously, much history is to be found in this area). The Cochinis were highly involved in the pepper and spice trade, and these locally grown spices were also heavily featured in their cuisine: pepper, tamarind, cinnamon, cloves, nutmeg, cardamom, ginger, and turmeric.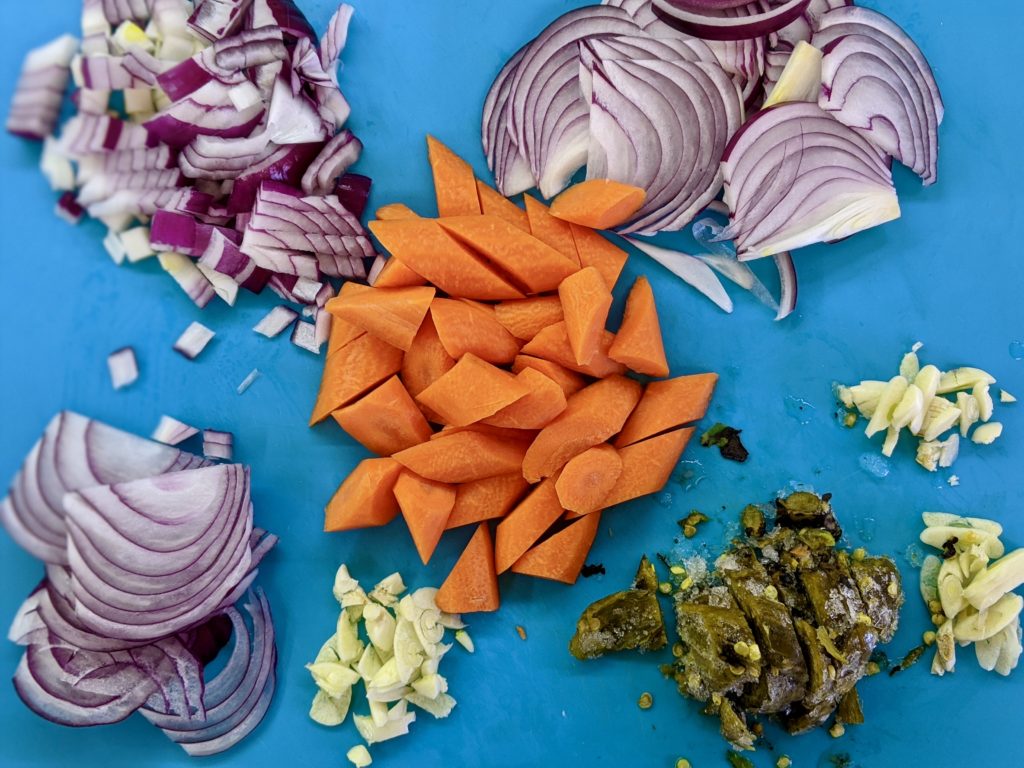 Tonight's Cochini dish features several of these spices and Claudia Roden notes that you can make it spicier if that is your preference. The recipe started with frying onions until soft and golden, after which garlic, ginger, green chilies, and turmeric are added to the pan. As the kitchen began to smell wonderfully fragrant, chicken pieces were added to this spice mix and sautéed for ten minutes. Sliced carrots were mixed in with the protein and everything was seasoned with salt and then covered with water. The pan simmered for 15 minutes until the carrots were tender and the liquid had reduced. Prior to serving, mint was mixed into the stew and left to simmer for a couple of minutes more.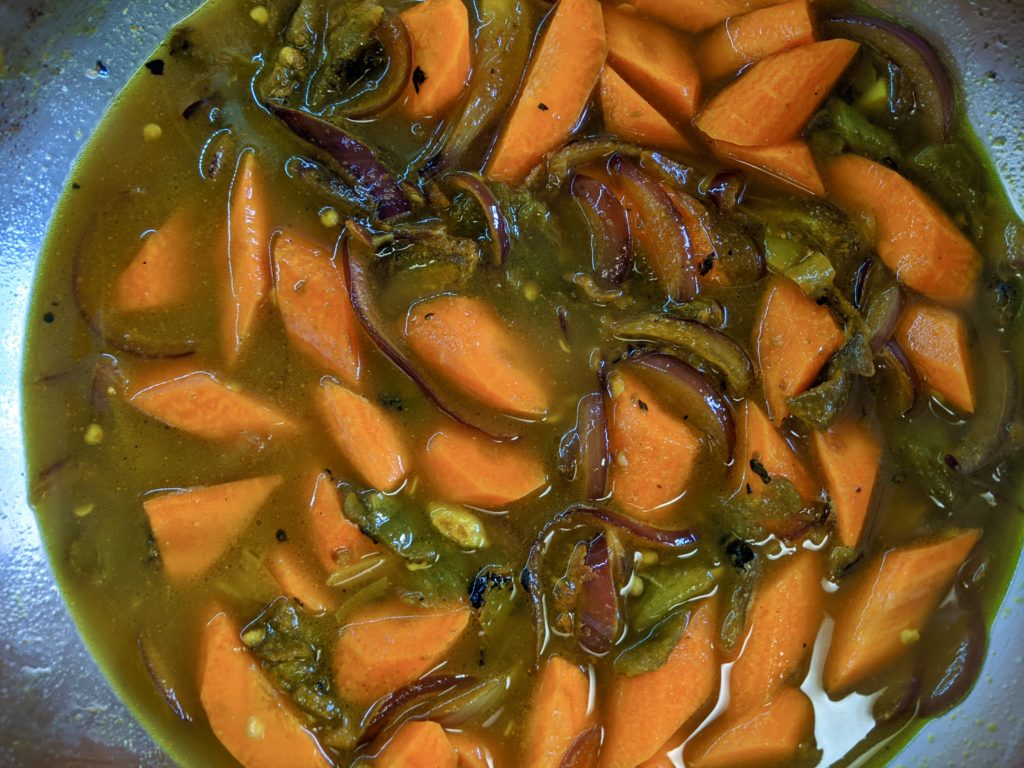 This recipe was everything we thought it would be, savory, spiced, and spicy (i.e. hot!). The sweet carrots were a great compliment to the hot green chilies and the chicken was tender. This dish was wonderfully complemented by the slightly sweet and creamy rice, so having a carb-y side dish is a must when enjoying this recipe.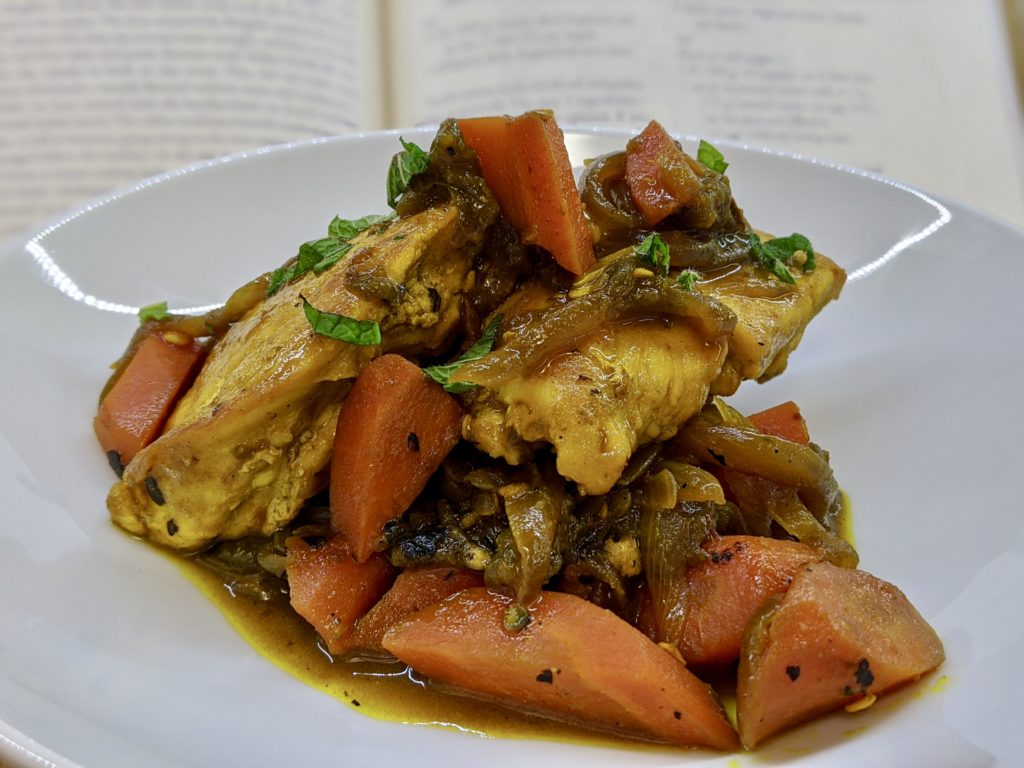 Our Cochini chicken was paired with an Indian Bene Israel dish, which may not be kosher, but they did taste great together! As a reminder, the Bene Israel is a community that lived relatively unknown for centuries on the west coast of India, just south of Bombay. The Bene Israel were largely farmers and "oil pressers" (by which we believe Roden to mean producers of oil from food products), so many of their recipes feature a variety of veggies.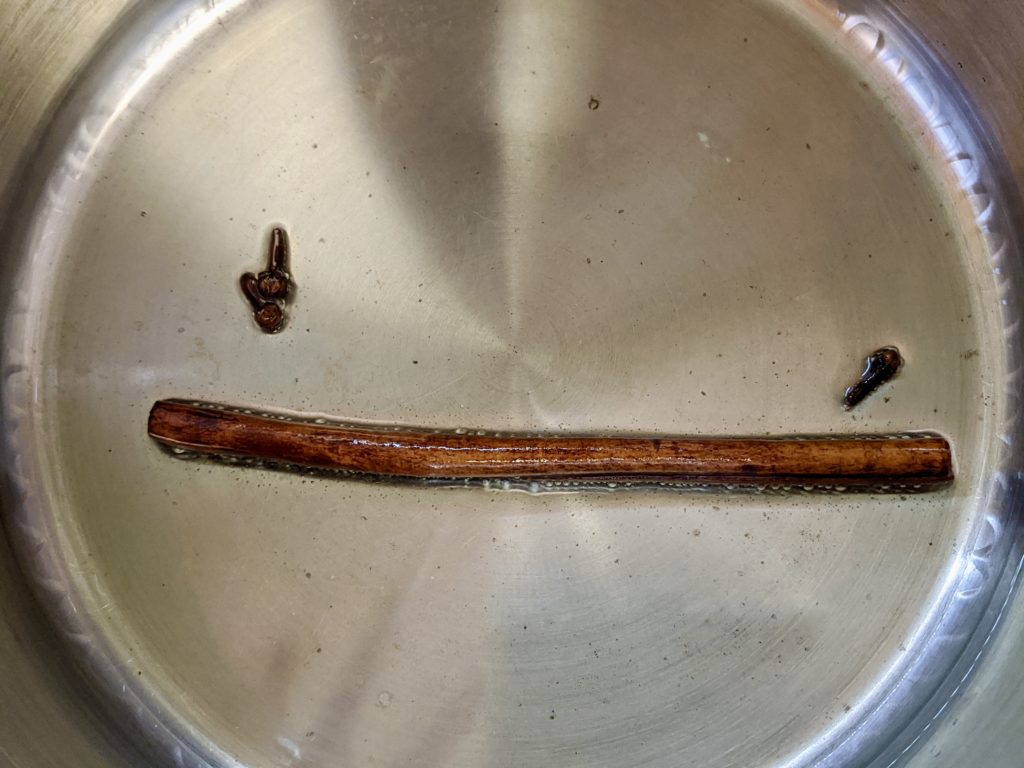 The dish was started by toasting cinnamon and cloves in oil in a saucepan. Once these had filled the kitchen with even more wonderful smells, onion joined them and fried until golden. Half of these onions were set aside and the rice was then toasted in the fragrant oil and onion mix. Green peas were added to the pan, along with coconut milk, salt, cardamom, and nutmeg.  This all simmered covered for 20 minutes until the rice was cooked and was served garnished with the reserved fried onions.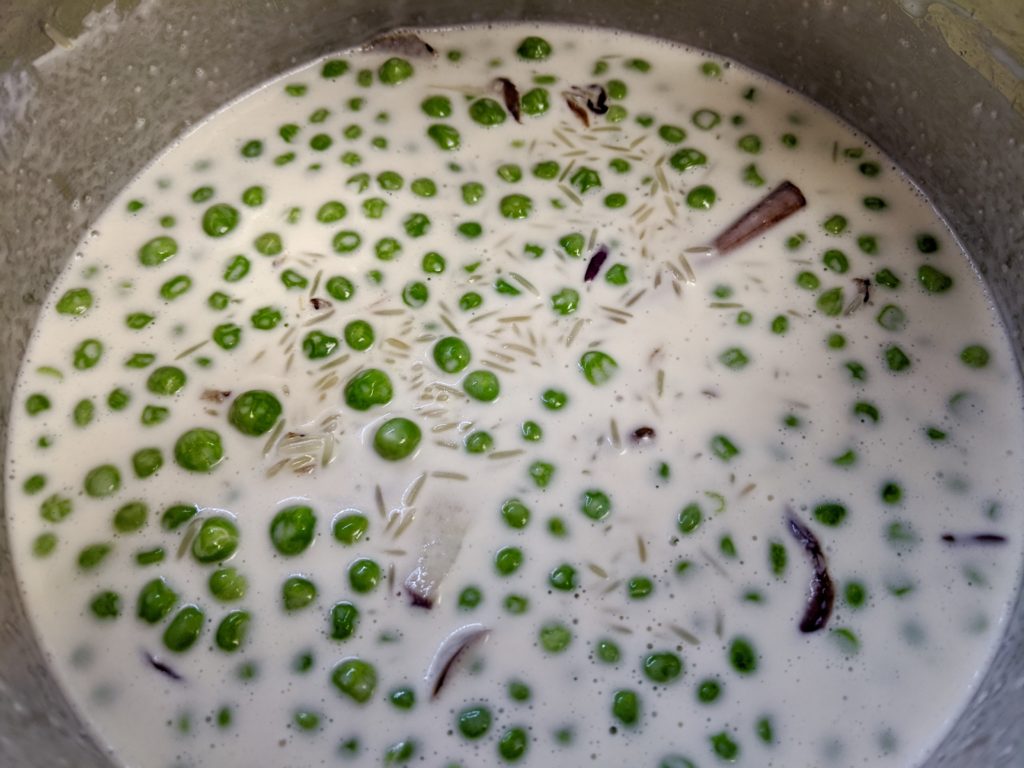 Creamy and slightly sweet, this spiced rice dish was wonderful. The cardamom was perfectly tempered by the coconut milk, which also helped to highlight the sweetness of the peas. This was a perfect complement to our spicy main course as well as a relatively easy side dish to create.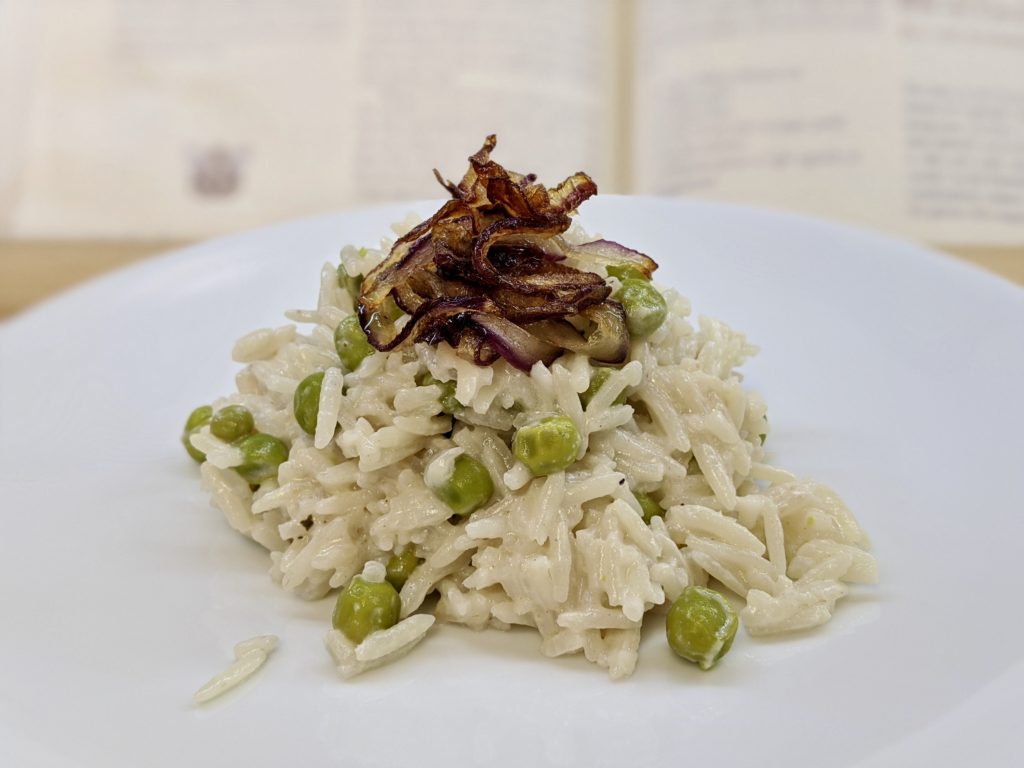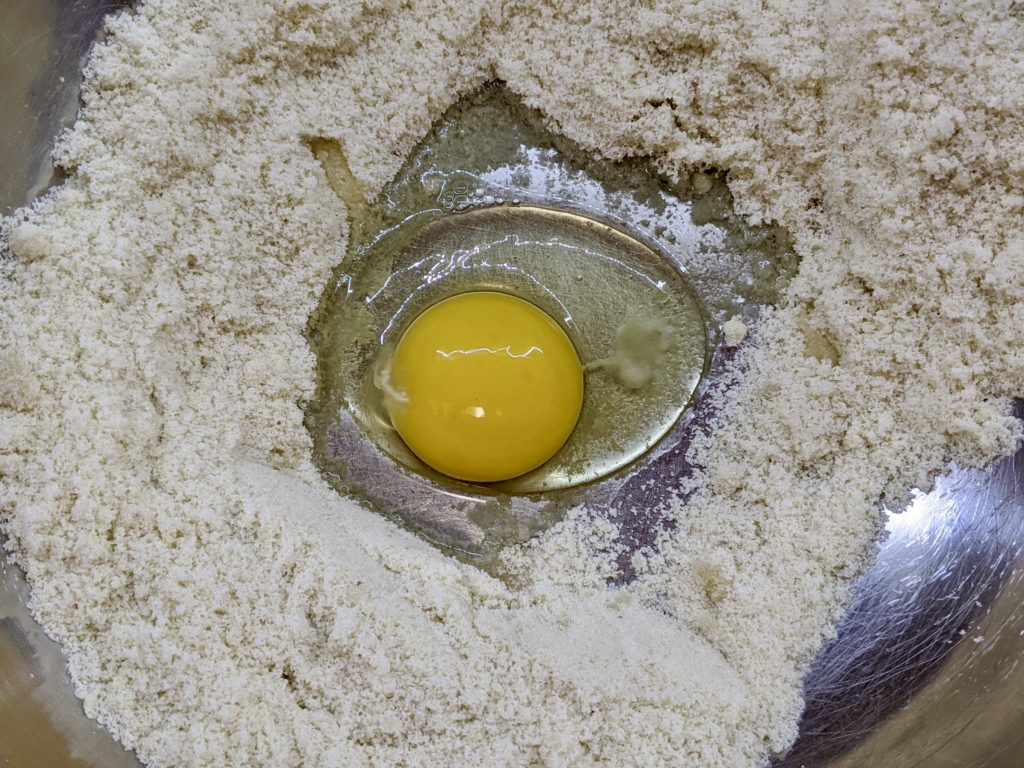 Tonight's dessert is a crunchy sweet from the Balkans and is a nice little accompaniment to coffee. Ground almonds were mixed with sugar, almond extract, rose water, and a lightly beaten egg. The dough was rolled into walnut-sized balls and flattened slightly then placed on a cookie sheet. They were then baked at 350F for 25 minutes until firm and slightly golden.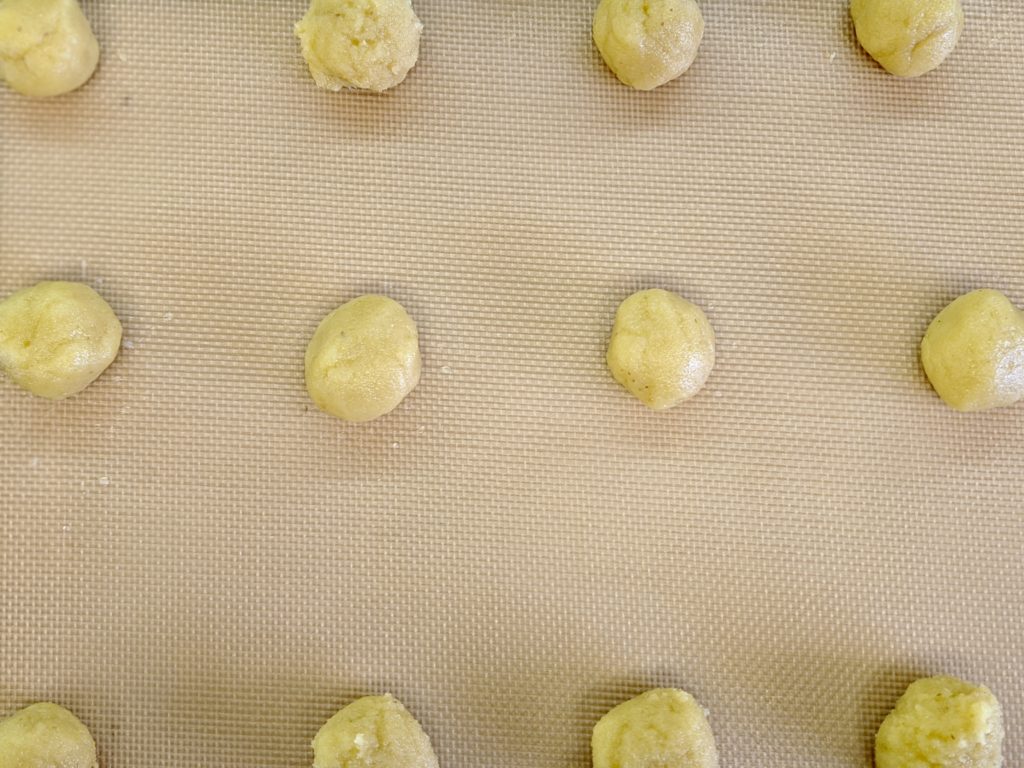 This fairly basic flourless cookie is almost like an almond biscotti. Not quite as sweet and with just a hint of the rose water, this a great tea-time biscuit, and a very light dessert.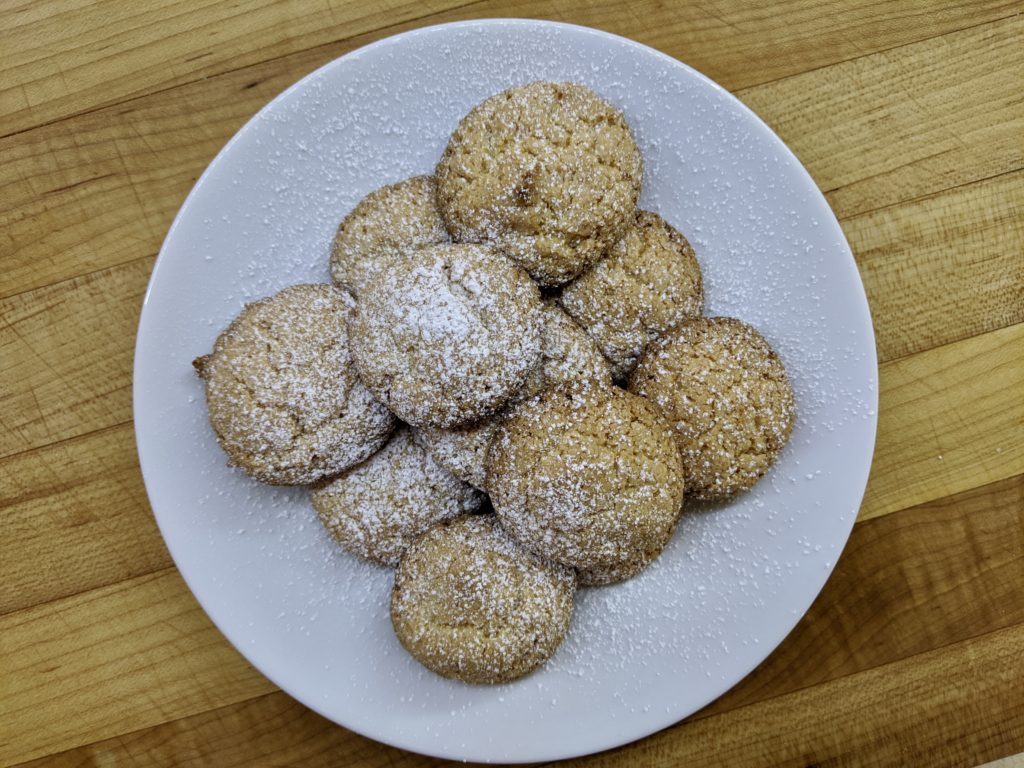 AND IN THE END, THE FOOD YOU MAKE IS EQUAL TO THE CARE YOU TAKE…
So how was Made In Marrow's meal number 81? As a reminder, our rating system is based on sticks of butter (because butter is best!), with 1 being the absolute worst and 5 being out of this world. Sticks of butter are assigned to Difficulty (how many kitchen fights were needed to complete the meal?), Tasty Goodness (was it a palate poor or did it make our mouths merry?), and Repeat Customer (how likely are we to return to the recipe?).
Difficulty  [][][] 3/5
Completing a series of egg dishes in only one pan turned out to be quite challenging, but other than that competition for bakeware and timing, the rest of the meal was relatively easy!
Tasty Goodness
[][][][] 4/5 Fritada de Espinaka – Spinach and Cheese Cake – Savory and hearty yet light!
[][][] 3/5 Tav Sponaw – Spinach Omelette – Earthy and eggy
[][][][] 4/5 Mufarka – Spiced Spinach with Scrambled Eggs – Gary has never eaten scrambled eggs so quickly!
[][][][] 4/5 Minty Carrot Chicken – A little sweet, a little minty, and very spicy!
[][][][] 4/5 Green Pea Pulau – A little creamy, a little sweet, and a little savory
[][][][] 4/5 Maronchinos – Almond Cookies – A lightly sweet and aromatic dessert
Repeat Customer
[][][][] 4/5 Fritada de Espinaka – Spinach and Cheese Cake – Great for breakfast or dinner
[][][] 3/5 Tav Sponaw – Spinach Omelette – If you are looking for a spinach omelette, this is a spinach omelette
[][][][] 4/5 Mufarka – Spiced Spinach with Scrambled Eggs – A nice way to dress up the average scramble
[][][][] 4/5 Minty Carrot Chicken – We would definitely enjoy this again
[][][][] 4/5 Green Pea Pulau – This is a great future side for spicy and saucy main courses
[][][] 3/5 Maronchinos – Almond Cookies – A quick-to-whip-up-flourless-cookie
Our green cuisine was a great success and we really did enjoy this new sampling of Indian food. On to next week's kitchen capers!
Sip, sup, and savor all you can, you curious cooks,
Elais & Gary