Just want the recipes and none of that other wordy nonsense? Click the links below!
Shakshouka – Fried Peppers and Tomatoes with Eggs
Ful Medammes – Dried Fava Beans with Hard-Boiled Eggs
Mustacchioni – Almond and Chocolate Cupcakes
Meal the Eighty-Third
Tonight's dinner is short on recipes as we were short on ingredients, being towards the tail-end of our supplies left from our monthly grocery shopping trips. Luckily the next few recipes were fairly simple and either consisted of items we could scrounge up from our garden (likes eggs and onions) or dry goods that we usually have stocked in the pantry (like beans and nuts and chocolate – we always have chocolate!). Tonight's meal is also a nice little tour of the Mediterranean, jumping from Israel to Egypt and finishing off in Italy. Each dish was also a flavorful success and resulted in lots of leftovers, which eased the strain on our almost empty pantry. 
So, being a little light on recipes, we also are a little light on narrative, but we hope you enjoy tonight's meal nonetheless!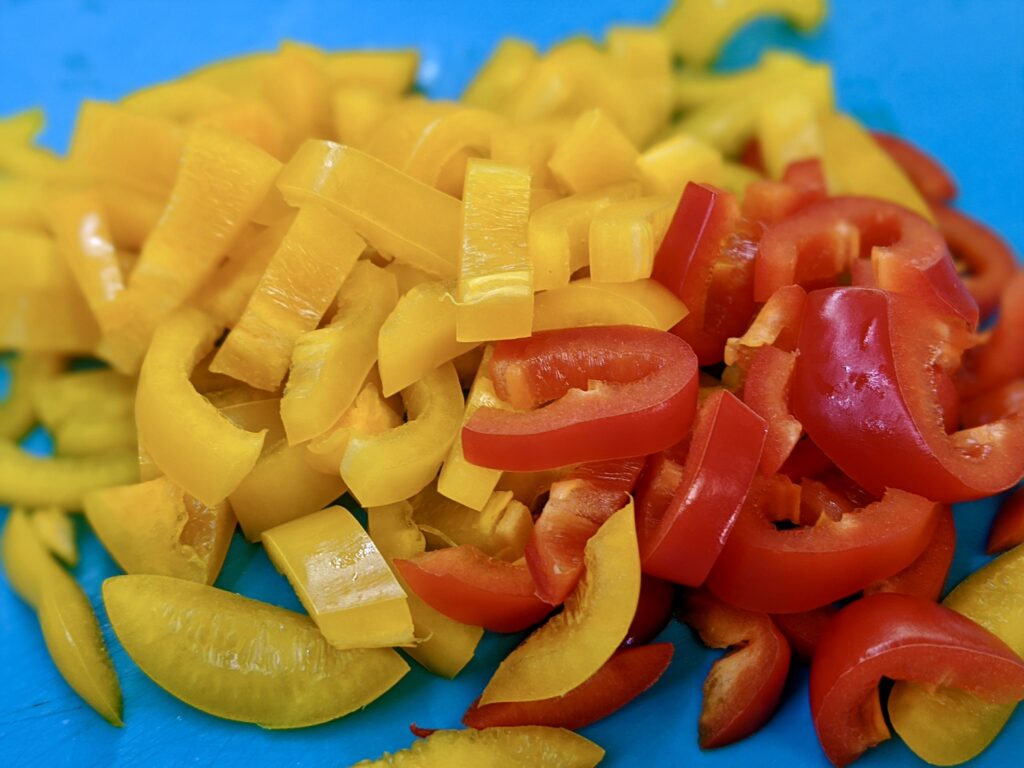 According to The Book of Jewish Food, the term "shakshouka" can be applied to any variety of fried vegetables topped with eggs. While the dish originated in Tunisia, this recipe is the Israeli variation, featuring peppers and tomatoes. However the Bulgarians favor feta sprinkled in and the Tunisians like a combination of artichoke hearts and spicy sausage, so this dish can be made as an appetizer, side dish, or main course. For us, we chose the Israeli version and ate it as an appetizer while our main course simmered on the stove.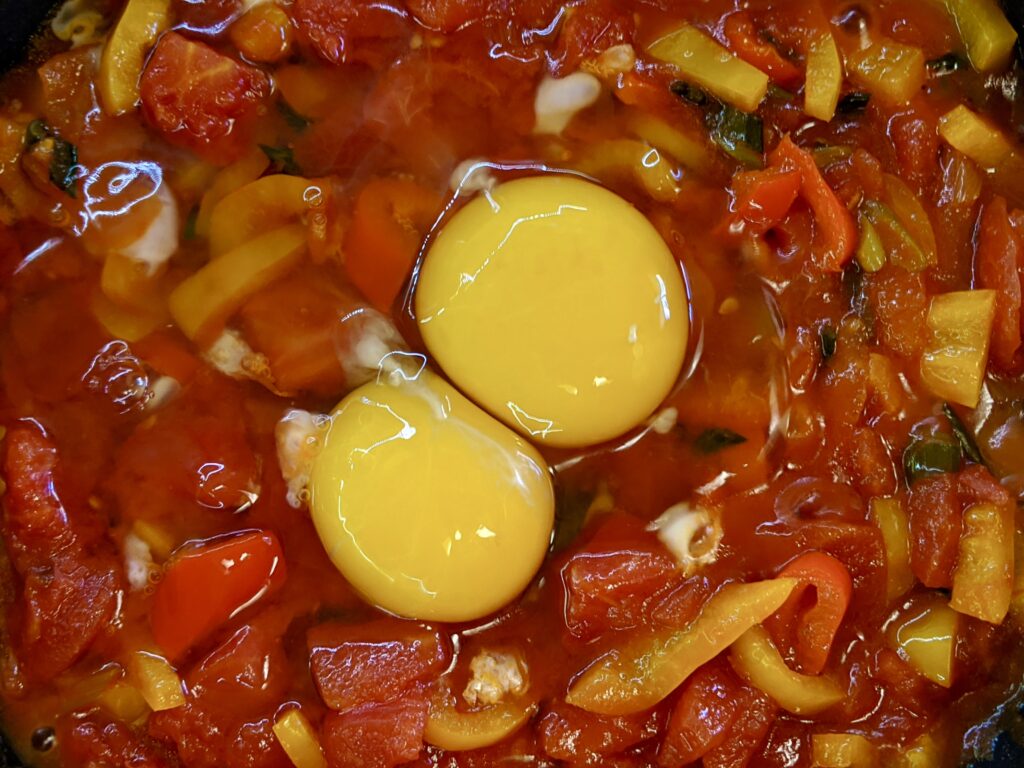 Our appetizer began by frying onions until golden, after which peppers were added to the pan and fried until soft. The tomatoes were added to the mix and the pan simmered for ten minutes until much of the liquid had evaporated. Eggs were cracked over the vegetables and cooked until set, after which the contents of the pan were *oh-so-carefully* slid onto a plate.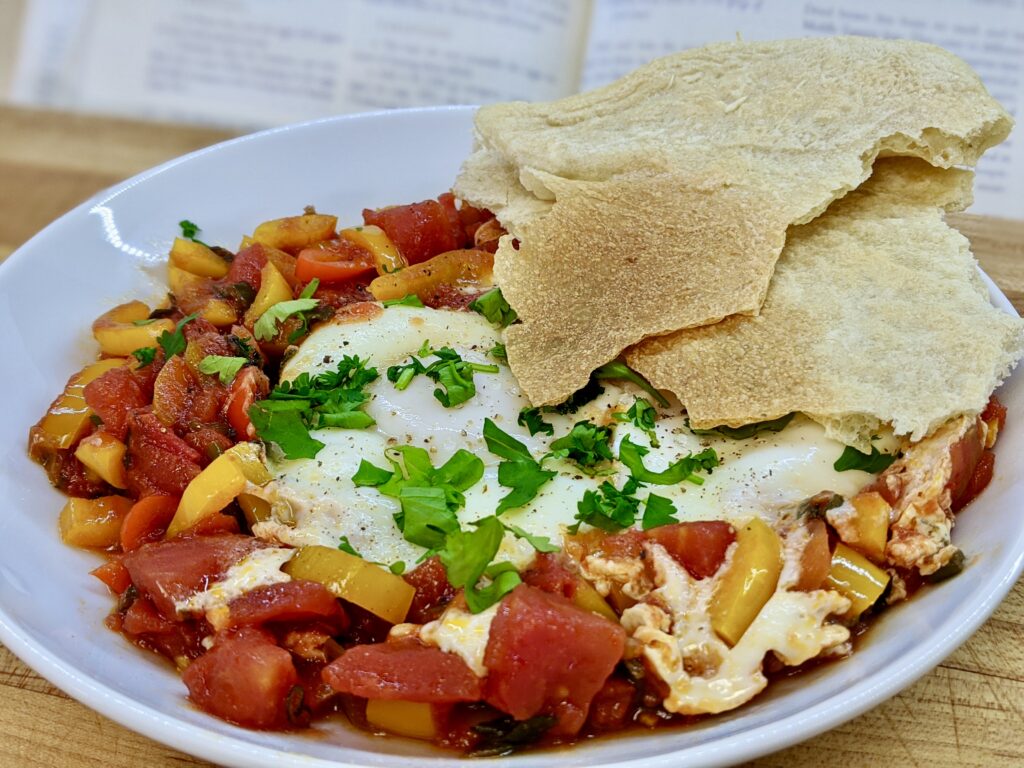 Roden recommends that this recipe be served with bread, so we went back to our tried and true pita recipe and paired that with tonight's saucy dishes. There is something so luxurious and luscious and comforting about cutting into a perfectly cooked egg and this dish did not disappoint in that department. The umami of the simmered tomato, the sweetness of the peppers and onions, and the unctuousness of the runny egg were all wonderfully sopped up by the pita bread. We quite enjoyed this recipe and while it was a great appetizer, it also would make for a very tasty brunch dish!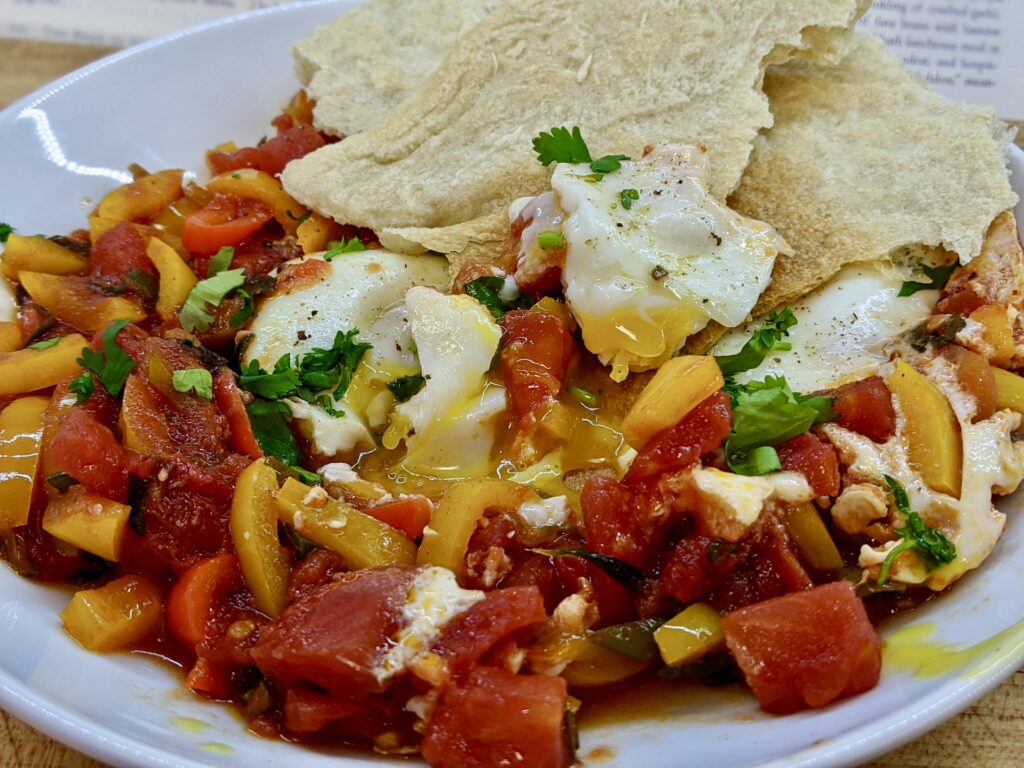 Our first featured dried bean of the evening is the fava bean, which (as we learned) comes in many shapes and sizes, from the small Egyptian beans to the large, flat Iraqi ones, which also happened to be the ones shipped to us by Amazon. This dish was a favorite Sabbath breakfast dish in Egypt (and is actually considered the Egyptian national dish), being left in the ashes of fires overnight so they could be eaten on Saturday without having to cook anything. Fava beans are quite high in protein, having 26 grams of protein in just 3.5oz, so when coupled with eggs, so this makes for a very protein forward breakfast.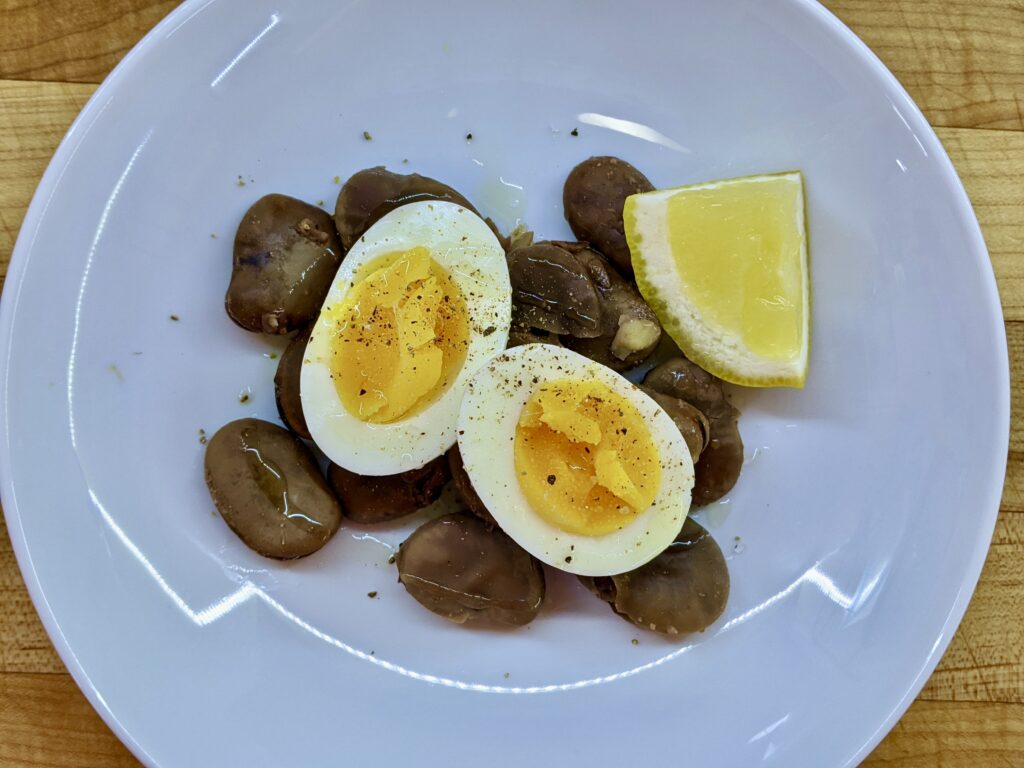 Not unlike the Egyptians, we too started this recipe the night before, mostly due to our not-fresh beans requiring at least 12 hours of soaking. The next day, the beans were drained and simmered with garlic in water for an additional 3 hours until tender. The beans were drained and then served hot with hard-boiled eggs, salt and pepper, a drizzle of olive oil, and a squeeze of lemon juice.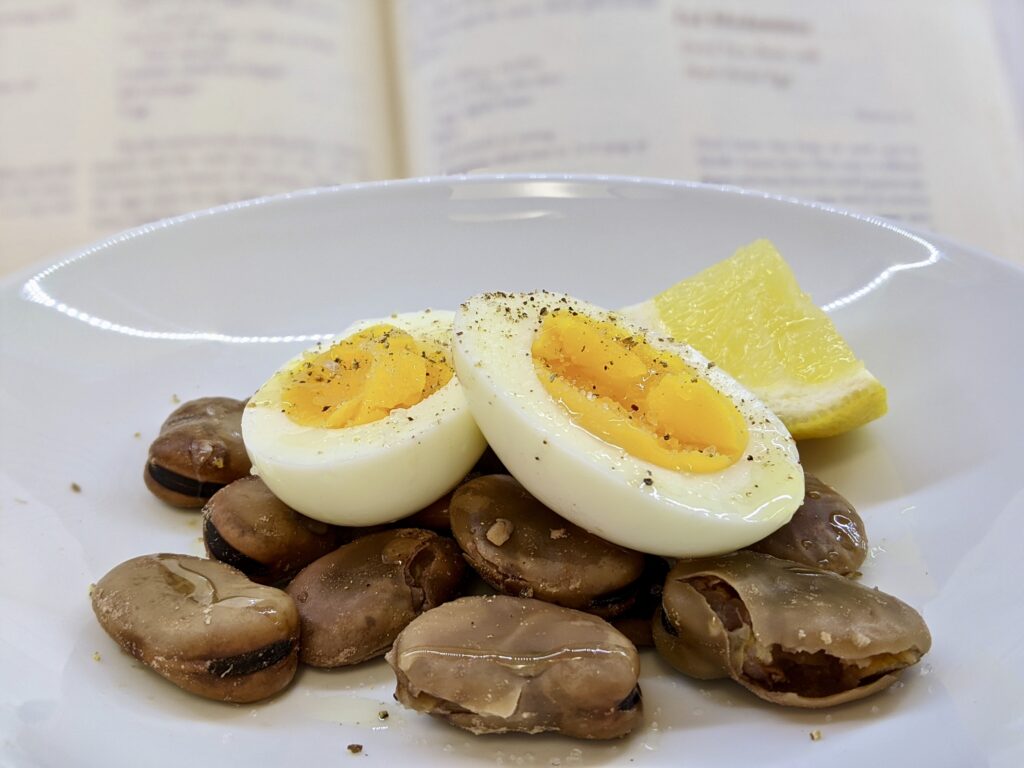 We did not really know what to expect when it came to lightly dressed fava bean and hard-boiled egg salad, but we were pleasantly surprised! The lemon juice was really key, as it helped to lighten up a fairly heavy dish – the beans were nutty and slightly sweet and the eggs were savory and creamy. The Egyptian dish featuring Iraqi fava beans was quite tasty and just a small amount went a long way!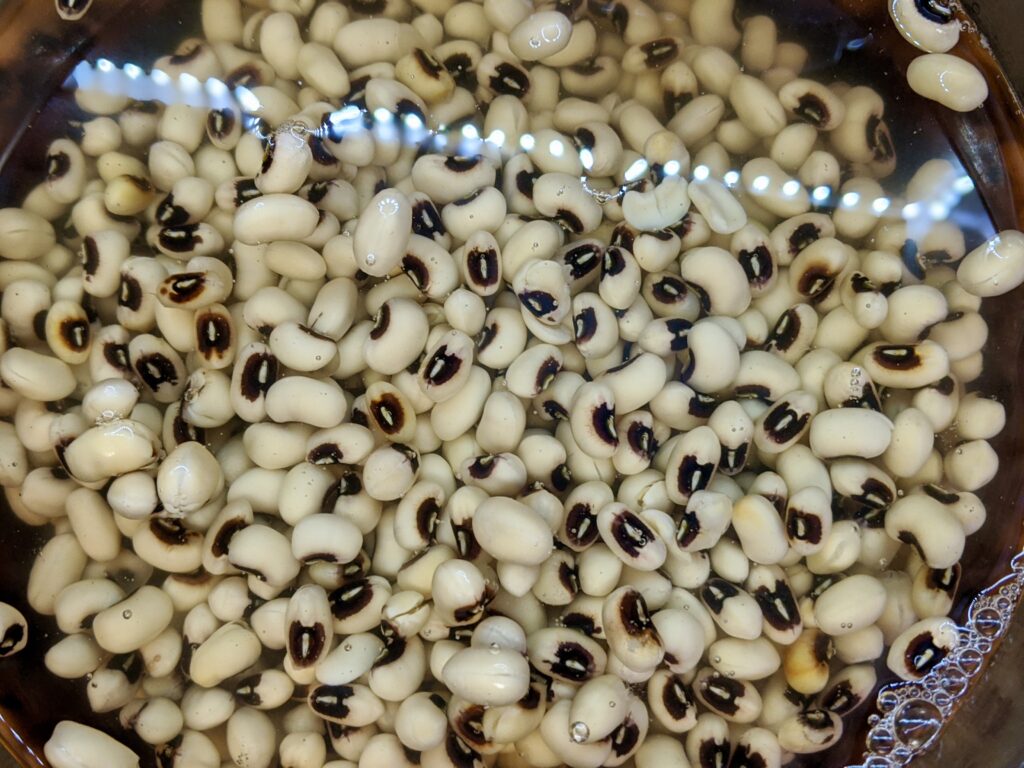 As we have discussed with previous dishes, black-eyed peas symbolize hope and fertility for many cultures, with the Sephardic Jews being one of them. This stew is a Rosh Hashanah favorite for Egypt, facilitating fresh black-eyed peas, which happened to be in season in Egypt around the New Year. Even though it is mid-year in Santa Fe, we still managed to find dried beans in our limited assortment at the grocery store, which actually turned out to be the only type of dried beans left!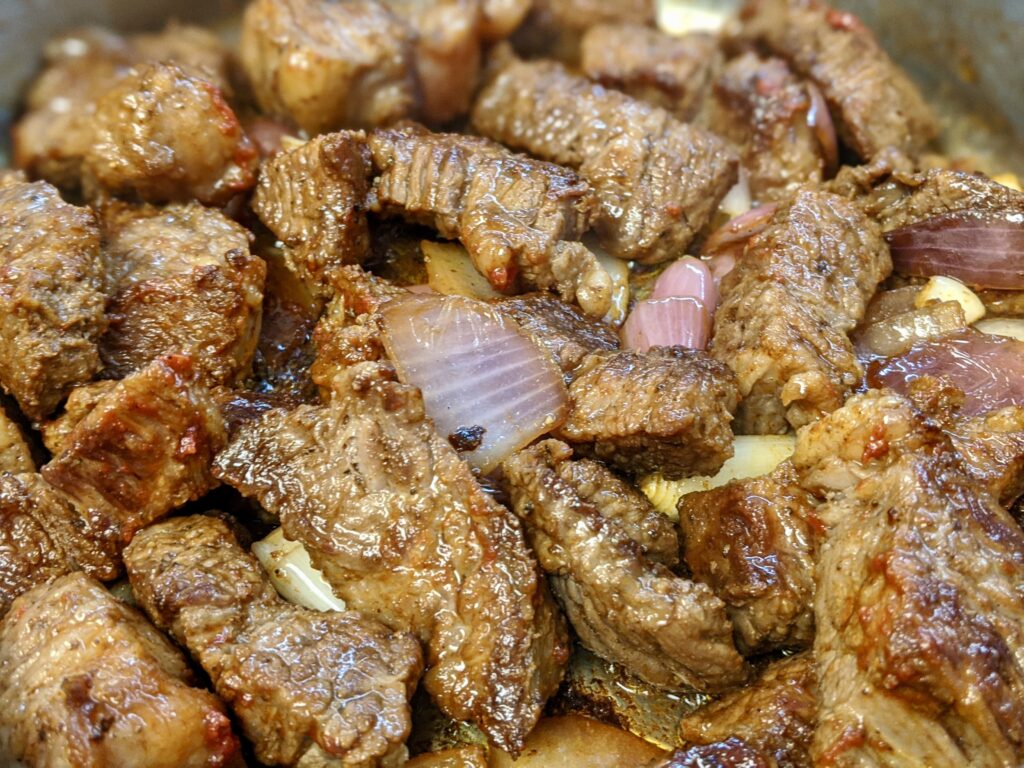 To start our stew, the onions were fried until soft and were then joined by garlic. Once the garlic was aromatic, the cubed brisket was added to the pan to be browned. Tomatoes joined the browned meat, along with tomato paste, soaked black-eyed peas, salt, pepper, and cinnamon, and allspice. This all simmered for about 3 hours, until the meat was tender and the beans were cooked through.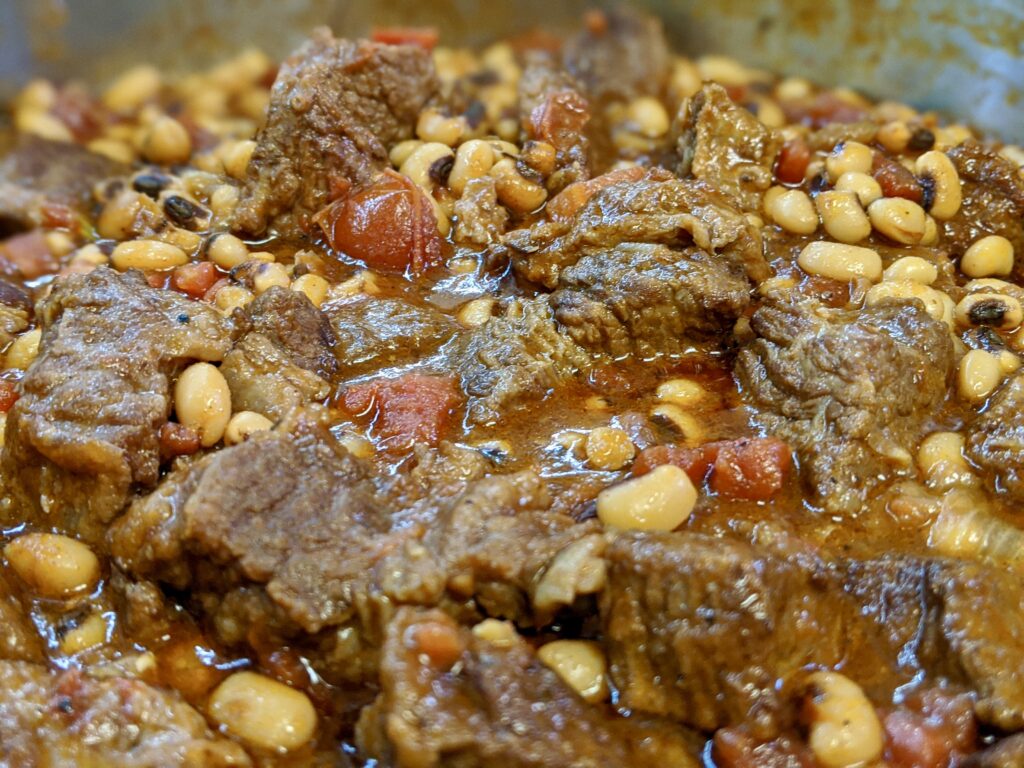 The stew was excellent and hearty, making it easy to see why it would be a winter favorite. The sauce was a nice mix of acidic and slightly sweet and was a great compliment to the nutty black-eyed peas and meaty brisket. The stew was so filling that we actually had three nights of leftovers and each subsequent night it got a little bit tastier, as stews tend to do.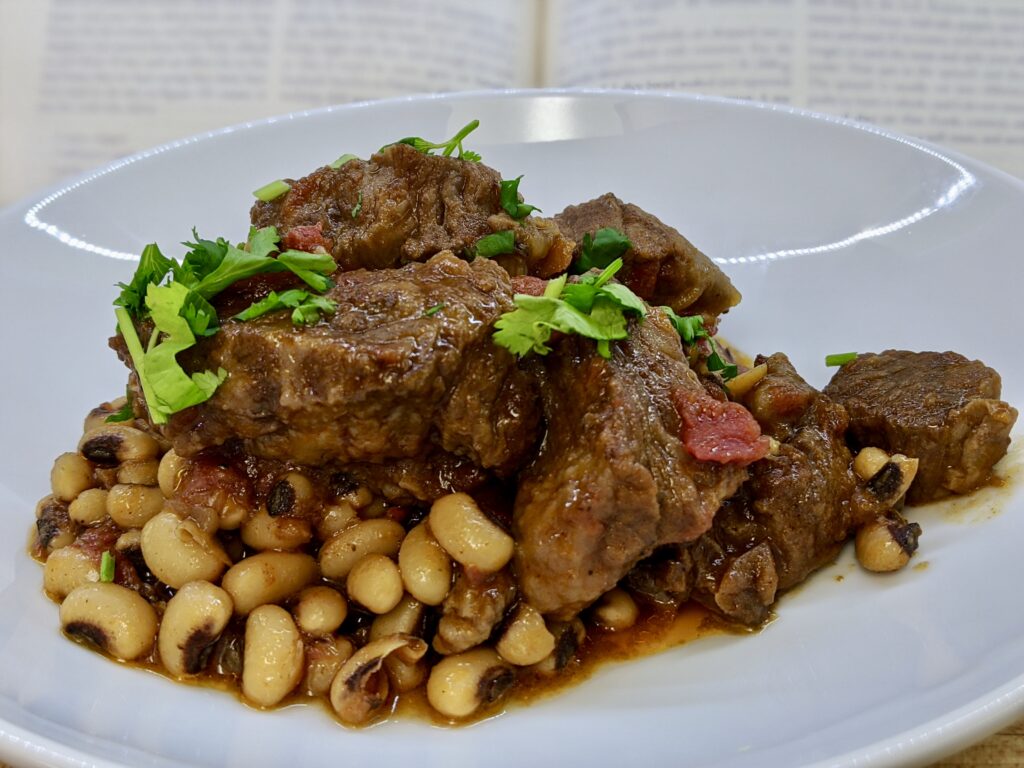 Tonight's dessert hails from Trieste, a capital city in the northeastern region of Italy. Trieste is considered one of the literary capitals of the world, residing at the intersection of Latin, Slavic, Germanic, Greek, and Jewish culture, and is where Central Europe meets the Mediterranean Sea. Trieste is full of castles and ancient churches and even older Roman age temples as well as beautiful seafronts and the largest tourist cave in the world. The photos are worth the Google search and a much-needed virtual vacation from these times of COVID.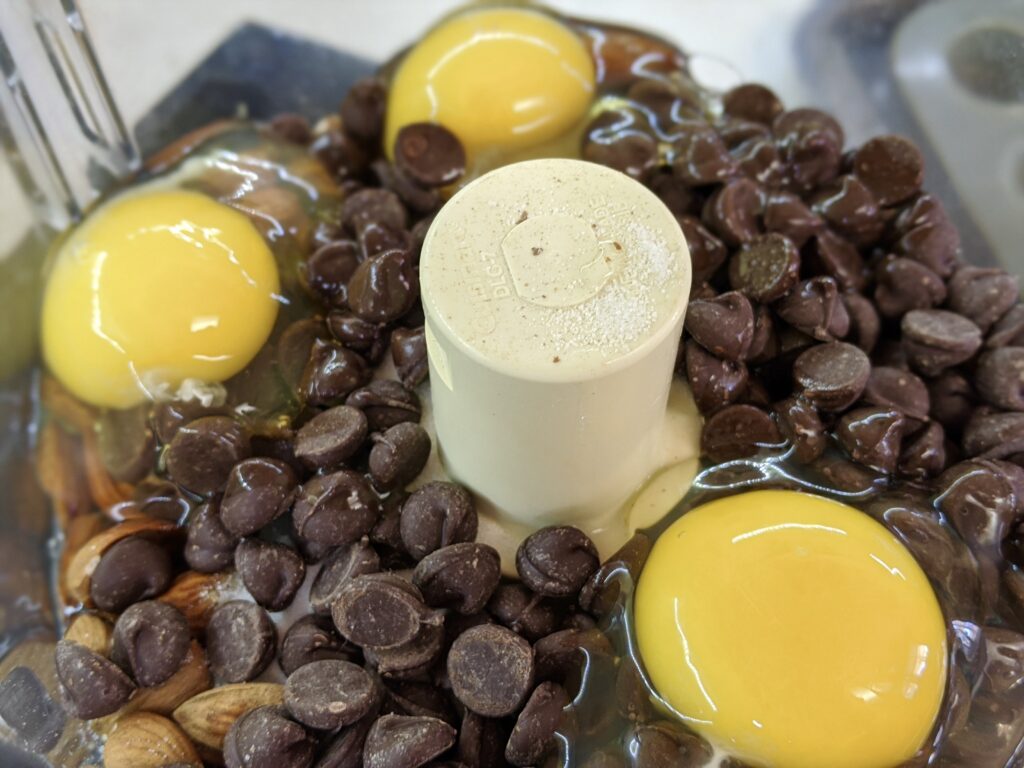 Our little mini cakes certainly feel European and it is not hard to imagine sampling one while sitting at a seaside cafe. But until we can travel again, our Santa Fe patio will have to do the trick. The cupcakes were easy enough to make – we blended dark, bittersweet chocolate, blanched almonds, 3 eggs, 1/2 cup of sugar, and 2 tablespoons of rum in the food processor. The batter was then dropped by tablespoon full into cupcake forms and baked at 350F for 25 minutes until firm.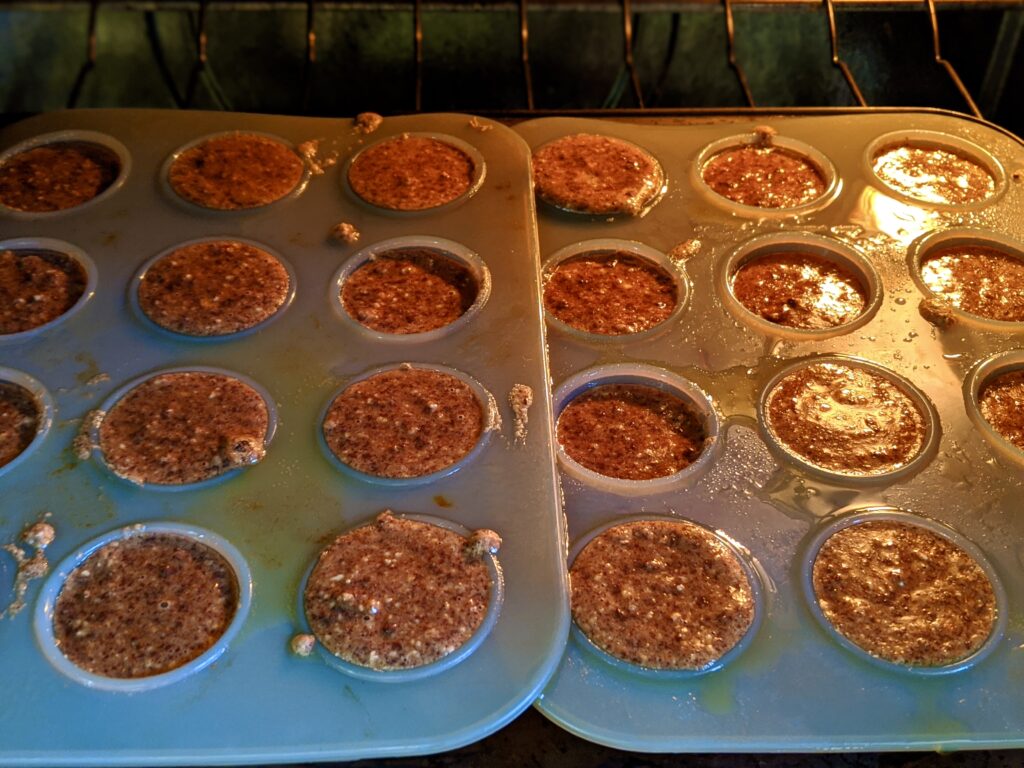 The cupcakes were moist but also had just the slightest crust of crispy sugar across the tops. The bittersweet chocolate tempered the savory almonds, with the rum adding just the smallest amount of spice. The cakes were just sweet enough and quite light, almost being like small flourless muffins. These were quite easy to make, with only a couple of ingredients, so we will definitely be making these again!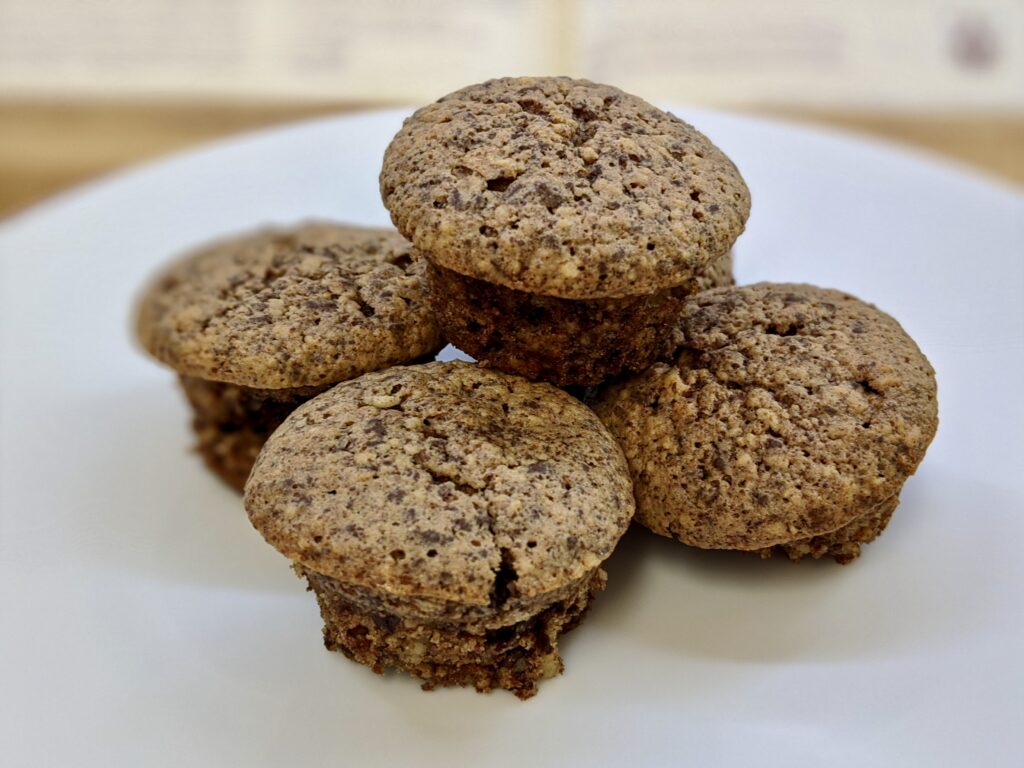 AND IN THE END, THE FOOD YOU MAKE IS EQUAL TO THE CARE YOU TAKE…
So how was Made In Marrow's meal number 83? As a reminder, our rating system is based on sticks of butter (because butter is best!), with 1 being the absolute worst and 5 being out of this world. Sticks of butter are assigned to Difficulty (how many kitchen fights were needed to complete the meal?), Tasty Goodness (was it a palate poor or did it make our mouths merry?), and Repeat Customer (how likely are we to return to the recipe?).
Difficulty  [][] 2/5
Tonight's dinner was light on prep, a bit long on time, but fairly easy overall!
Tasty Goodness
[][][][] 4/5 Shakshouka – Fried Peppers and Tomatoes with Eggs – A little bit sweet, nicely savory, and wonderfully unctuous!
[][][][] 4/5 Ful Medammes – Dried Fava Beans with Hard-Boiled Eggs – Packed full of protein!
[][][][] 4/5 Loubia – Black-Eyed Pea Stew – Hearty and meaty and black-eye pea-y
[][][][] 4/5 Mustacchioni – Almond and Chocolate Cupcakes – Light and slightly sweet and wonderfully chocolate-y
Repeat Customer
[][][][] 4/5 Shakshouka – Fried Peppers and Tomatoes with Eggs – A great appetizer option
[][][] 3/5 Ful Medammes – Dried Fava Beans with Hard-Boiled Eggs – We are interested to try these again with fresh fava beans
[][][][] 4/5 Loubia – Black-Eyed Pea Stew – A simple stew that makes for lots of leftovers
[][][][] 4/5 Mustacchioni – Almond and Chocolate Cupcakes – An easy dessert with just a few ingredients make for a great option to satisfy a future sweet tooth 
We quite enjoyed tonight's trio of dishes and would make them all again, so we would call tonight's meal a total success!
Sip, sup, and savor all you can, you curious cooks,
Elais & Gary