Just want the recipes and none of that other wordy nonsense? Click the links below!
Lahma bi Bamia – Meat with Okra
Mahshi Cousa – Stuffed Zucchini
Rouleaux de Poireaux – Stuffed Leek Rolls
Oignons Farcis – Onion Rolls Stuffed with Meat in Tamarind Sauce
Meal the Ninety-Fifth
Tonight's meal from The Book of Jewish Food ended up being entirely from Egypt, which is accidentally pretty cool. In the process of our cookery we ended up learning a bit more about this country on the Nile, which expanded on our previous knowledge of Egypt, which was (in no particular order):
Pyramids!
Mummies!
Cleopatra!
War?
Asps?
Sand.
King Tut!
Tombs
More Tombs!
Brendan Fraser!! (sorry, that's less Egypt and more one of our favorite movies – you can guess who)
All joking aside, Egypt (as we all know) has a long, rich history which is just as jam-packed with tasty cuisine as it is with ancient kings and queens. As we learned during our foodie research, Cleopatra was Greek, the Egyptians have one of the earliest surviving peace treaties (with the Hittites, who we are of course all familiar with after watching the *original* Ghostbusters movie eighty thousand times), they also lay claim to one of the world's oldest boardgames (Senet), and not unlike our physicians today, Egyptian doctors were known to specialize in healing specific parts of the body.
Now that your head is stuffed with all of those facts, join us on our brief tour of tonight's Egyptian feast!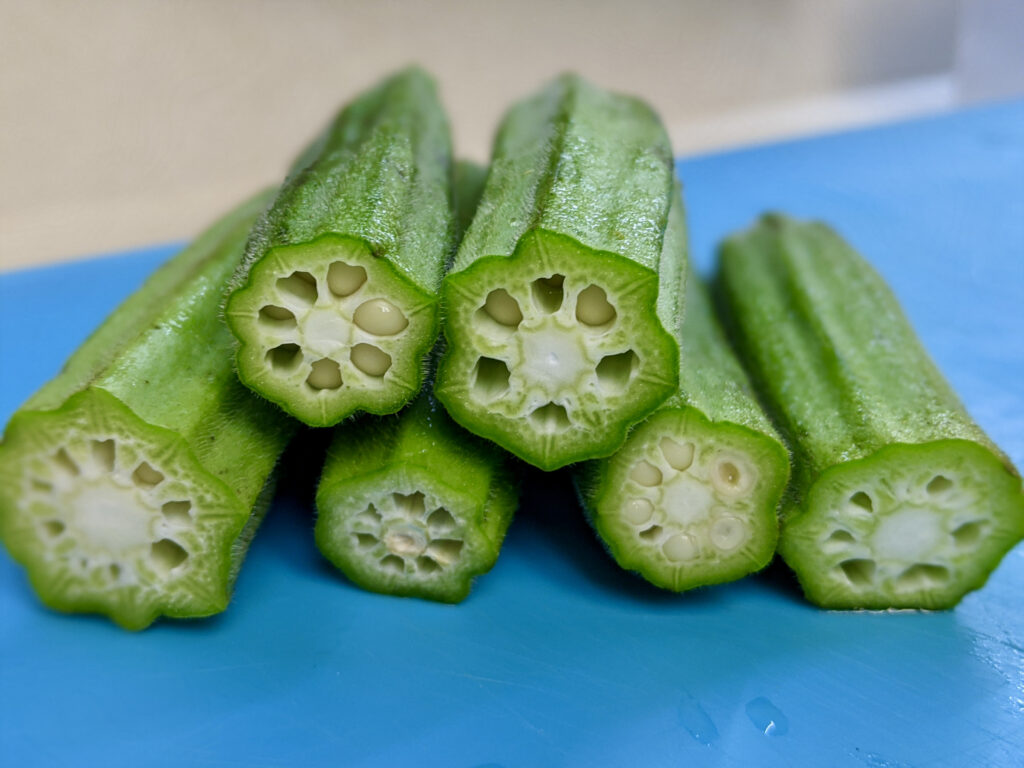 This meaty veggie stew is an Egyptian favorite and Roden notes that if you are not partial to okra, green beans or peas can be substituted. As a reminder, okra is a member of the mallow family, along with cotton, cacao, and durian. Okra is best known for its mucilaginous texture (read slimy fibrous chew) when cooked, which is probably why it is not the world's most favorite vegetable. However, when okra is cooked with acidic food (like tomatoes), the mucous becomes less viscous and far more palatable. Fun fact: the mucilage produced by okra is used to remove turbidity from wastewater (i.e. it can clarify sewage)! While we are both a fan of good, fried okra, stewed okra is still something of which we are both on the fence, so we were a bit trepidatious about this dish.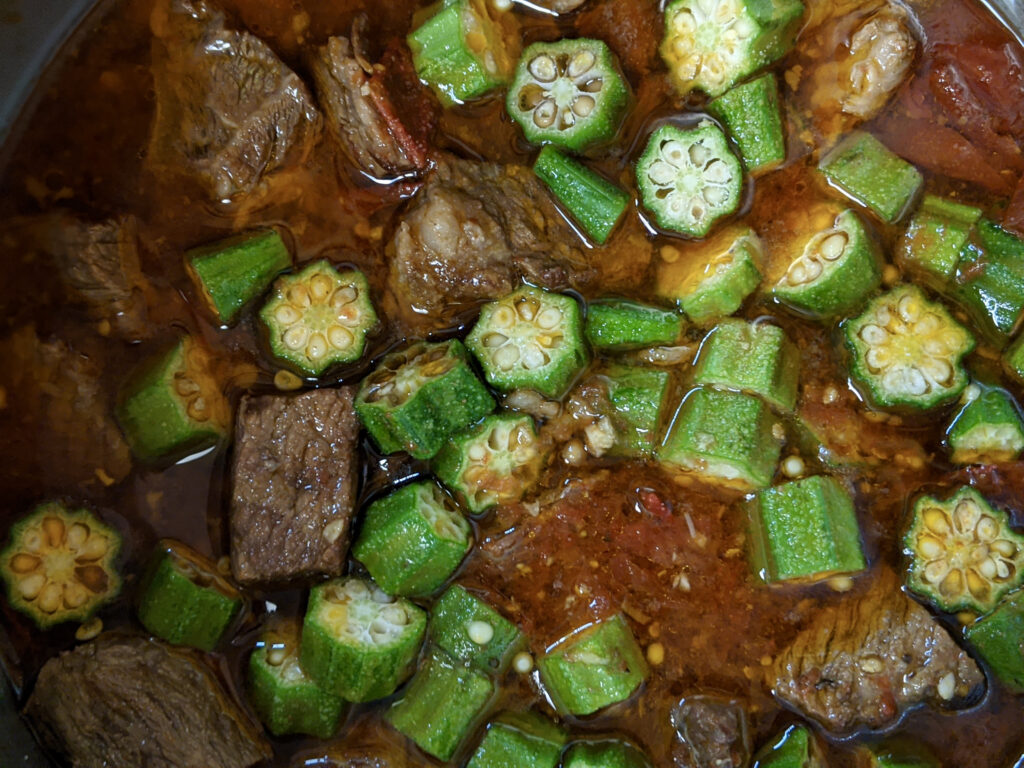 To start, the okra was washed and the ends were trimmed. The beef was browned in a pan, after which the garlic was added to sauté until aromatic. Chopped tomatoes were added to this savory mix along with enough water to cover. This was seasoned with salt, pepper, and sugar and simmered until the meat was tender. The chopped okra was then added to meat stew which simmered for another half an hour until fork tender. The stew was served with rice and cilantro to taste.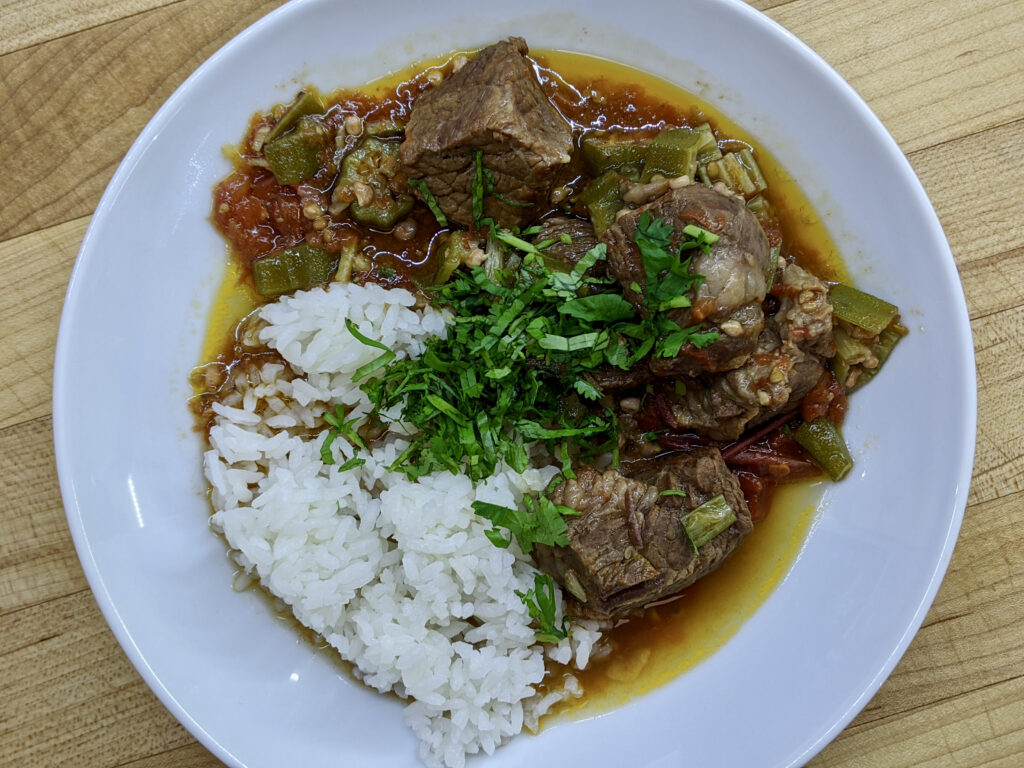 While the stew had just a tiny hint of sliminess, this was balanced out by the unctuousness of the flavor of the dish as a whole. The beef was tender and savory, the tomatoes were bright and acidic, and the addition of cilantro and white rice really rounded out this recipe as a whole meal. This is definitely a go-to recipe for any okra that may be leftover in the fridge after a night of deep-fried deliciousness.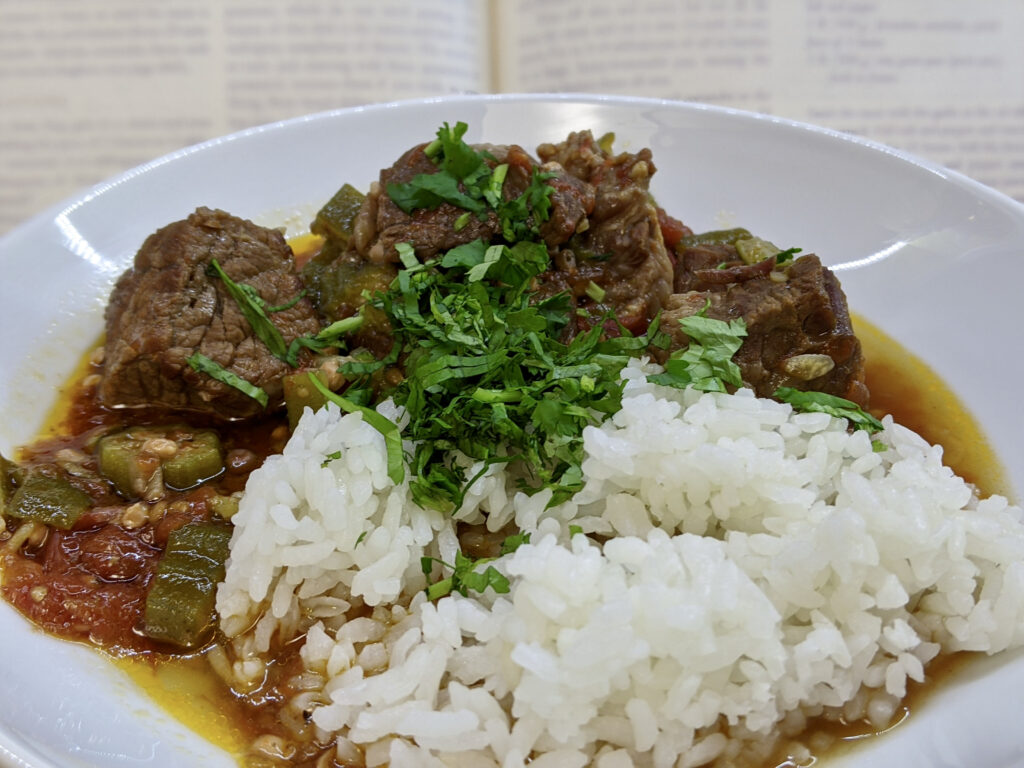 Just like our stew, our first stuffed veggie dish of the night also hails from Egypt but also can be found with variations of Syrian and Lebanese descent. Claudia Roden writes that watching Egyptian women hollow out mountains of zucchini was art (which we also discovered to be true) and that often a special corer was used specifically for this task (which in our house would surely join the kitchen drawer saved for "specialty" tools like the avocado peeler and vegetable spaghetti spiralizer).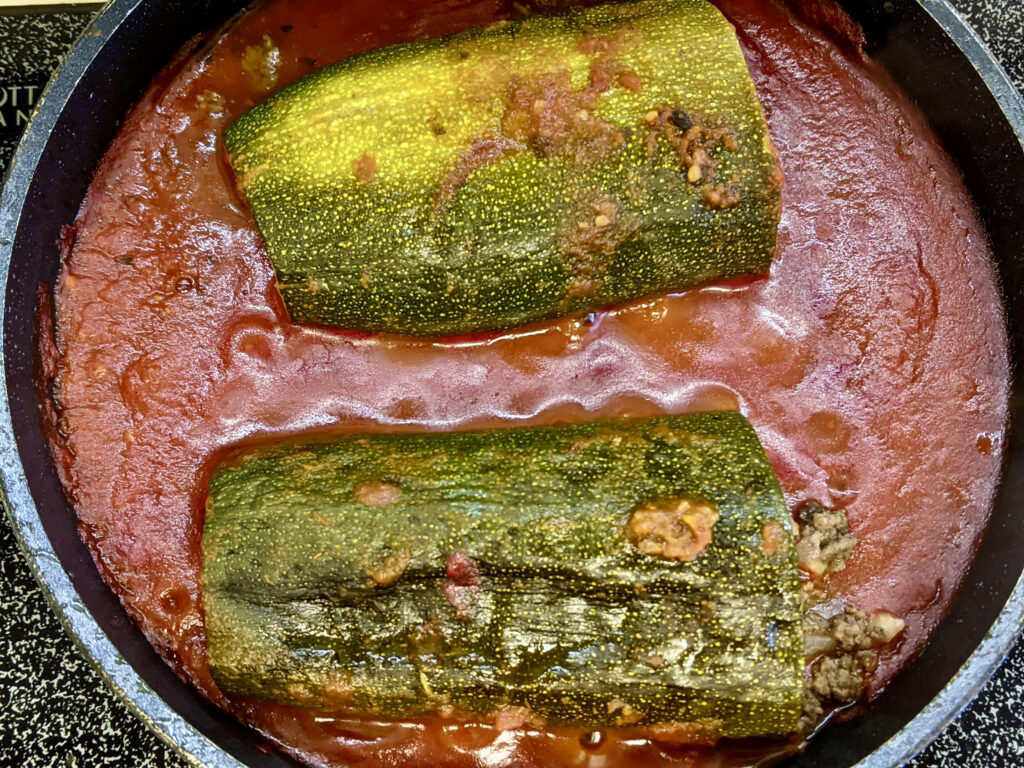 Sans zucchini corer apparatus, we very carefully sliced off the ends of our zucchini and used a long, thin knife to scoop out the pulp. Once that was achieved, we combined ground beef, rice, salt and pepper, cinnamon, and allspice together and stuffed the zucchini until it was approximately 3/4 full, to allow for expansion of the rice. The sauce was made by frying the garlic until golden, after which chopped tomatoes, salt, pepper, and sugar were added and simmered all aromatically together for 10 minutes. The stuffed zucchini was then gently placed in the sauce and simmered, covered, for an hour until the zucchini was tender and the rice and meat were cooked.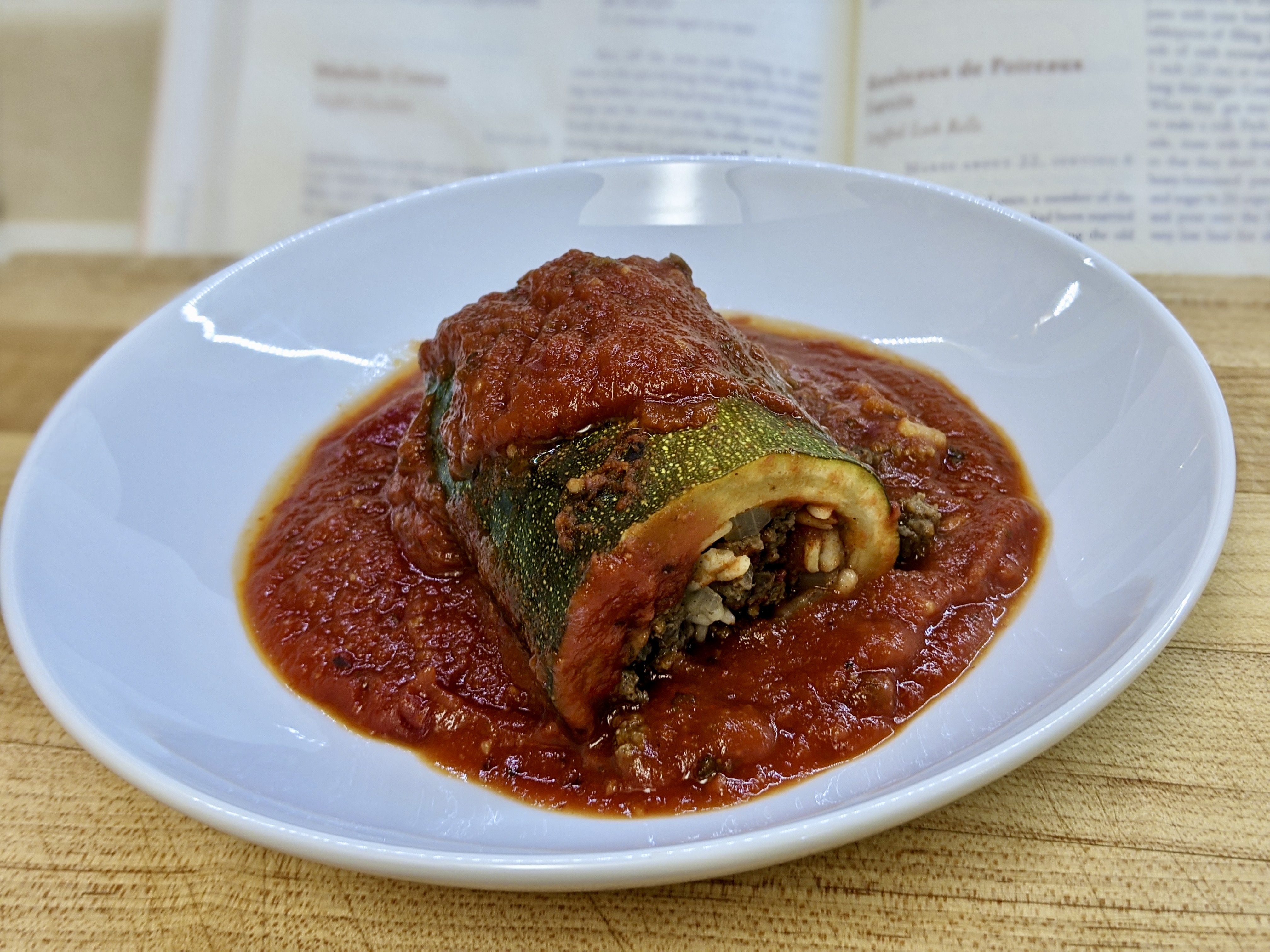 While tasty, the entire dish was just a bit too soft in texture, so it definitely could have benefited from a little variety in that department. However, ground beef and tomato sauce are always a hit in our house and if you closed your eyes and tried hard enough, you could have pretended like the zucchini was just a really big manicotti.
Our next stuffed veggie dish is also Egyptian but has roots in the Ottoman empire and was apparently a favorite of an Egyptian prince who Claudian Roden once met (can you imagine just casually starting a conversation with that little tidbit?). Leeks are revered amongst the Hebrews in Egypt, with dried specimens being found in archaeological sites in ancient Egypt, along with detailed drawings and carvings. In Rome, leeks were considered to be superior to garlic and onions (who apparently had a thorough vegetable ranking system) and were also a favorite of Emperor Nero, whose nickname was "Leek Eater" (that must take a lot of leeks to earn you an allium based epithet).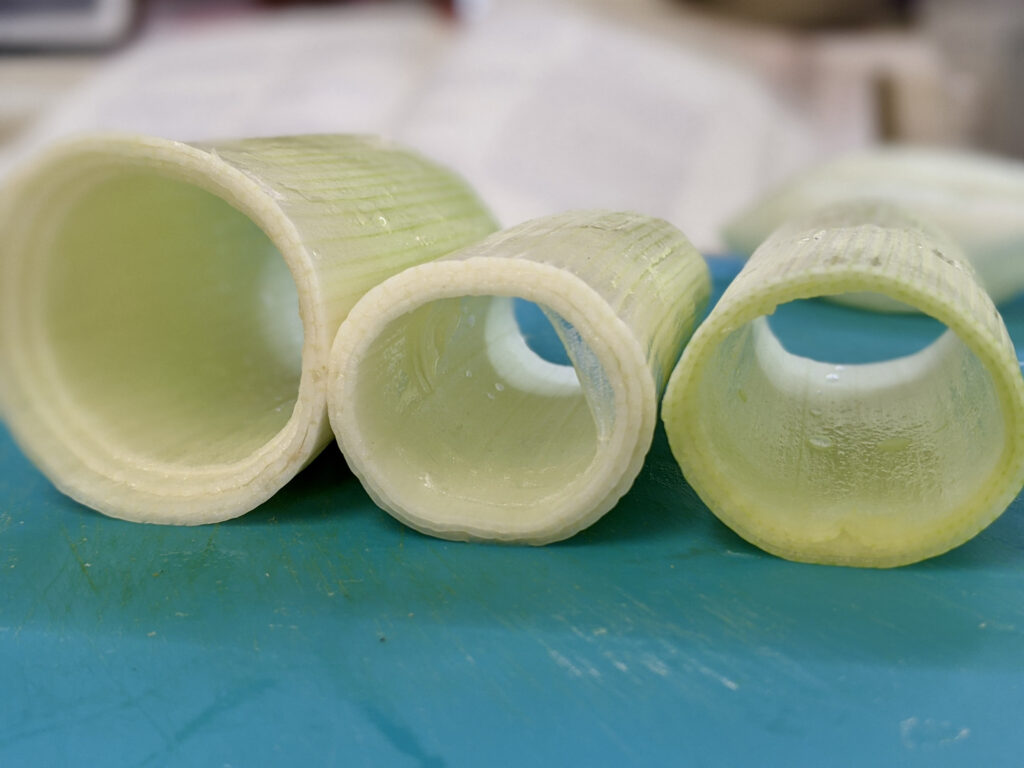 Roden starts this recipe by giving the warning that these are elegant but time consuming, and man-on-man, was she correct. The leeks were trimmed of their tough green ends (easy) so that we were left with the soft white rolls about 6 inches long. These were oh-so-carefully sliced on one side with a knife (not so easy) and then boiled in salted water until soft, which resulted in rectangular shaped pieces of leek.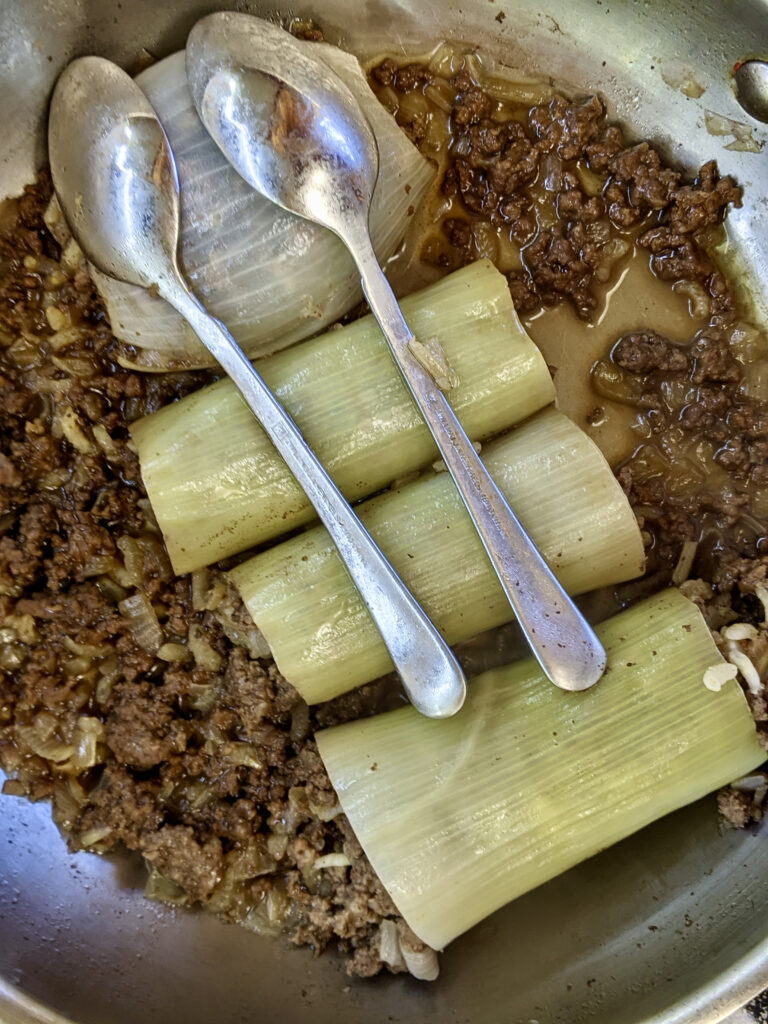 Meanwhile, the ground beef was seasoned with salt, pepper, cinnamon, and allspice, then spooned into each veggie rectangle. These were rolled up like a "long thin cigar" (Roden's words) and packed into a pan, side-by-side and seam side down, so they did not open during the cooking process. Tamarind paste and sugar were dissolved into boiling water and poured over the leeks. These then cooked, covered, for about 45 minutes on low heat. The lid was removed for the last 15 minutes to allow the sauce to thicken, which was served poured over the leek-y course.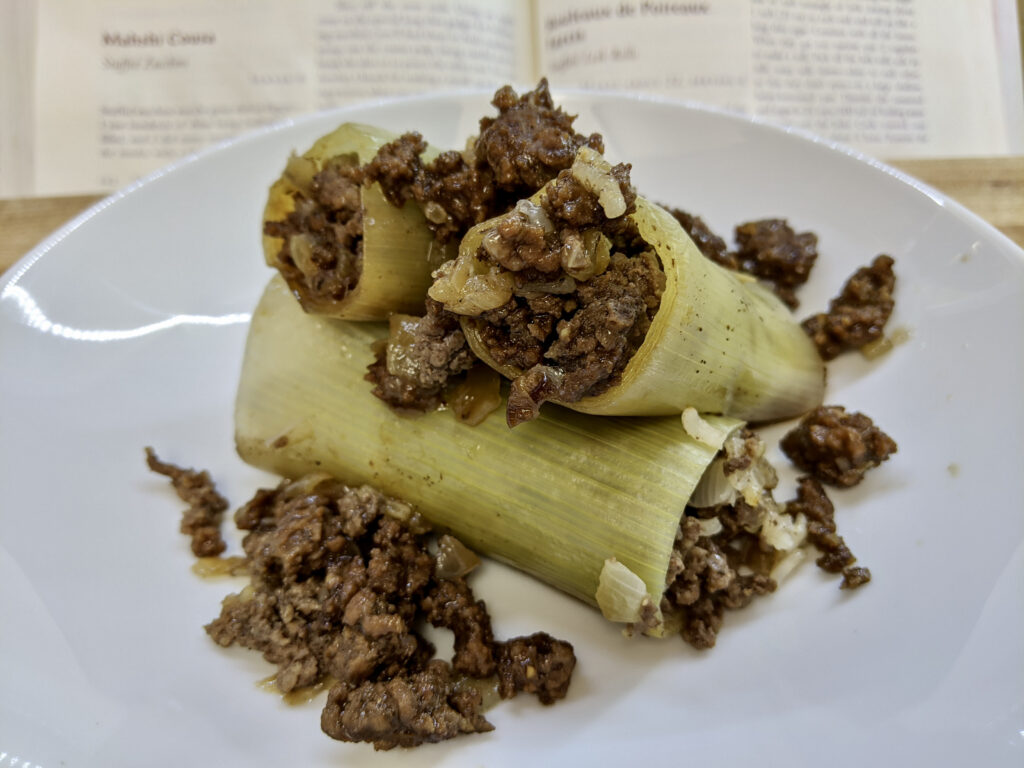 I like leeks, but usually when they are chopped in thin slices in soups or stews. It turns out that large pieces of leeks, not unlike our above okra, get a bit slimy when cooked in such large pieces, so that was definitely not our favorite part of this dish. However, the leek's oniony/garlicky flavor was quite tasty when paired with the beef mixture and tamarind sauce, so this almost redeemed this dish of its off-putting texture…almost (which leads us to wonder if Emperor Leek Eater also liked okra?).
Oignons Farcis – Onion Rolls Stuffed with Meat in Tamarind Sauce
The last stuffed veggie dish of the evening is a favorite of the Syrian community in Egypt and is often served at celebrations and special functions. Not unlike our above courses, this vegetable was also oh-so-carefully sliced, making a slit from end to end and which was followed by cutting off both of the onion's ends. The onion was then boiled for about 10 minutes until soft and just beginning to open. It was then drained and then very carefully peeled because it turns out that boiled onions are insanely hot, and remain so for a substantial period of time.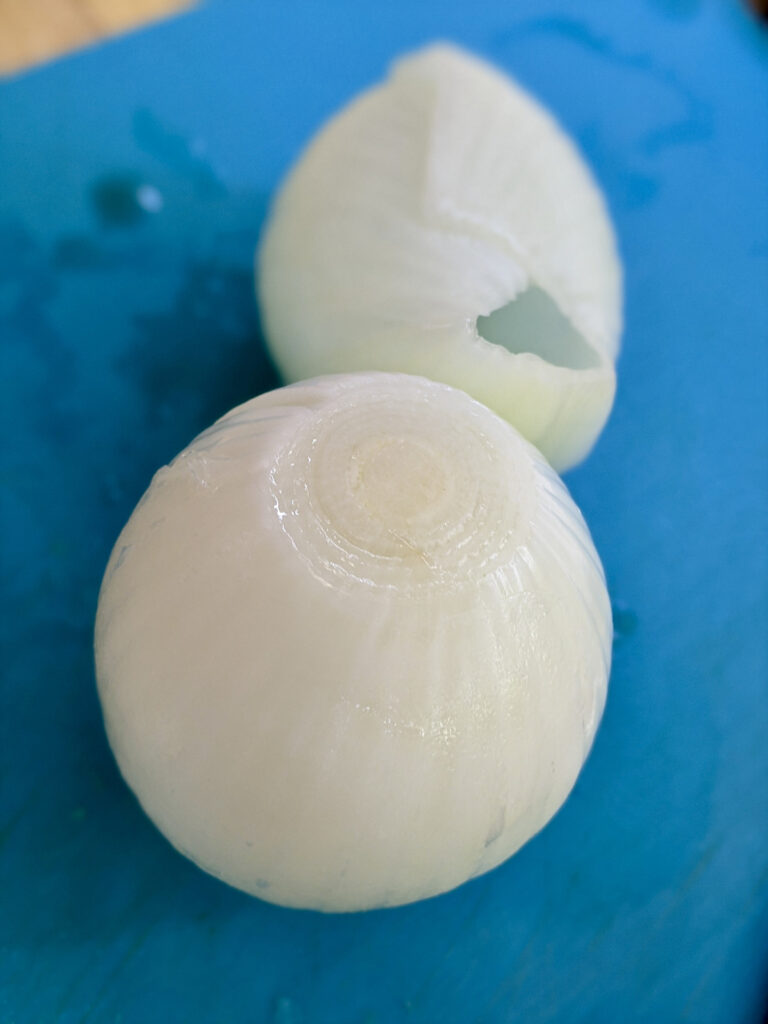 The filling was created by combining ground beef with salt, pepper, cinnamon, allspice, and parsley. This mixture was then carefully spooned into the onion layer, which was then rolled up tightly and placed seam side down in a shallow pan. More tamarind paste and sugar were dissolved in boiling water and poured over our stuffed onion pieces and this was simmered over very low heat for about 45 minutes.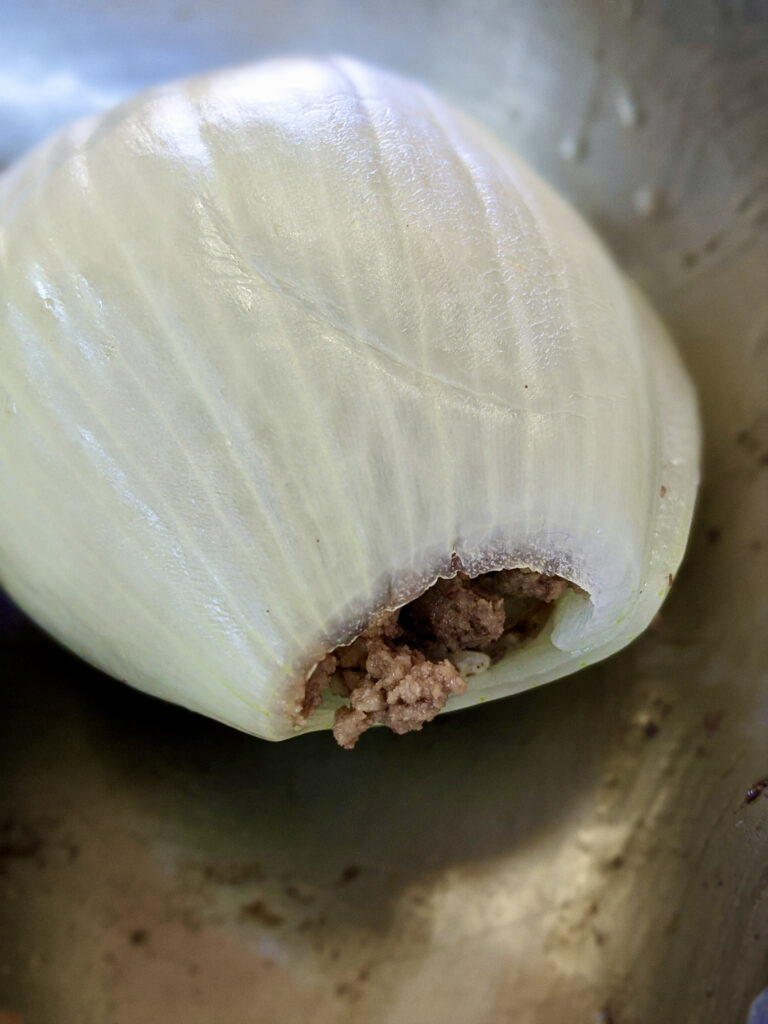 This recipe was our favorite stuffed vegetable dish of the night, despite me having serious misgivings about its appearance (maybe I watch too many horror movies, but it looks like some sort of bulbous pod, out of which some slimy okra demon is about to spring). The onion was subtly sweet, which was complemented by its slightly sour tamarind sauce and savory interior. Because of the amount of painstaking work involved, we would probably not make this dish again, but it was enjoyable to sample.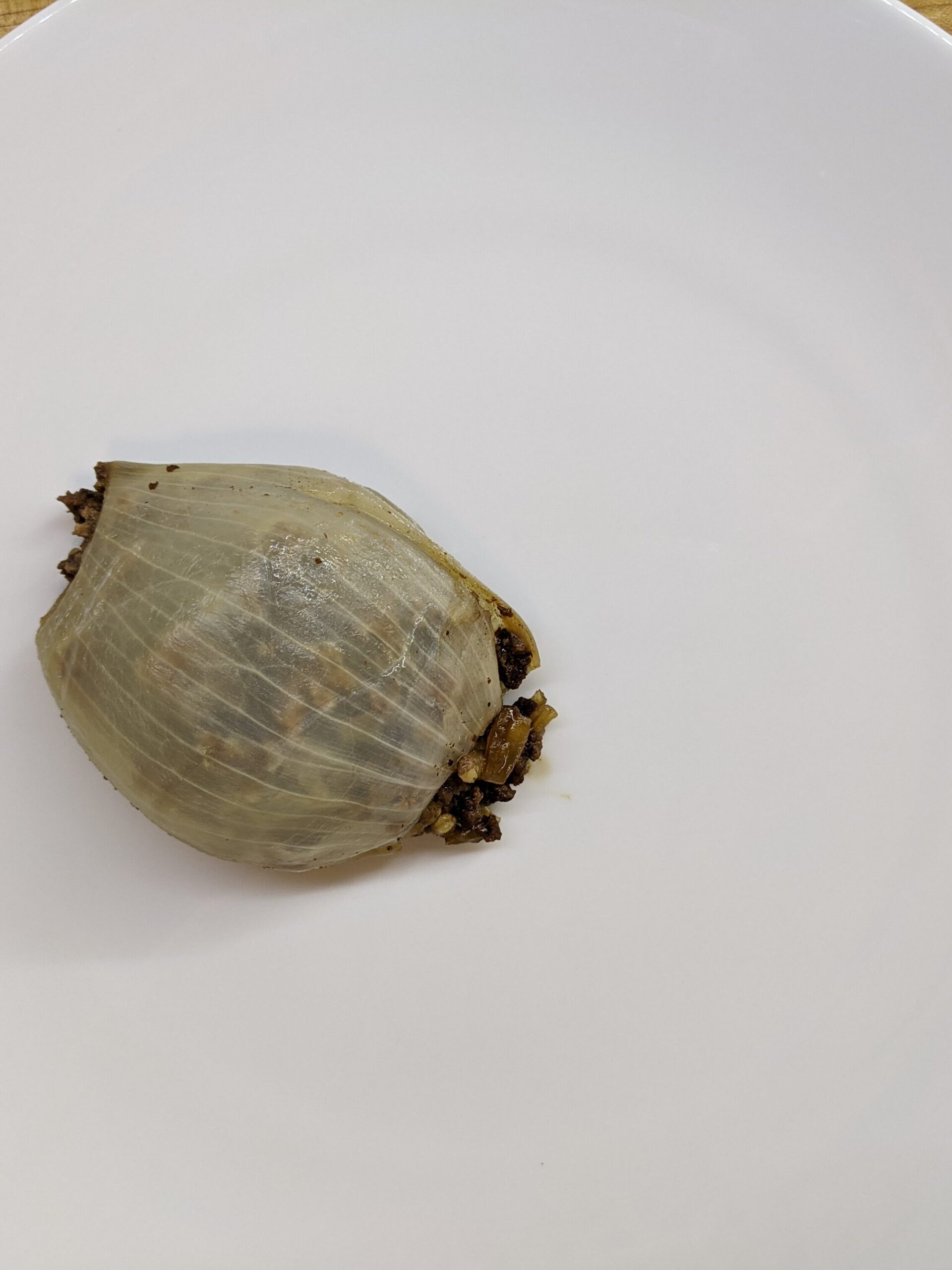 Haroset from Egypt
Tonight's dessert is also Egyptian and is another haroset recipe in our exploration of the many variations of this dish. Pitted dates, yellow raisins, and sweet red wine (courtesy of our very friendly local vintners) were simmered in a pan for 45 minutes until very, very soft with little liquid remaining. The soft paste was then served sprinkled with chopped walnuts.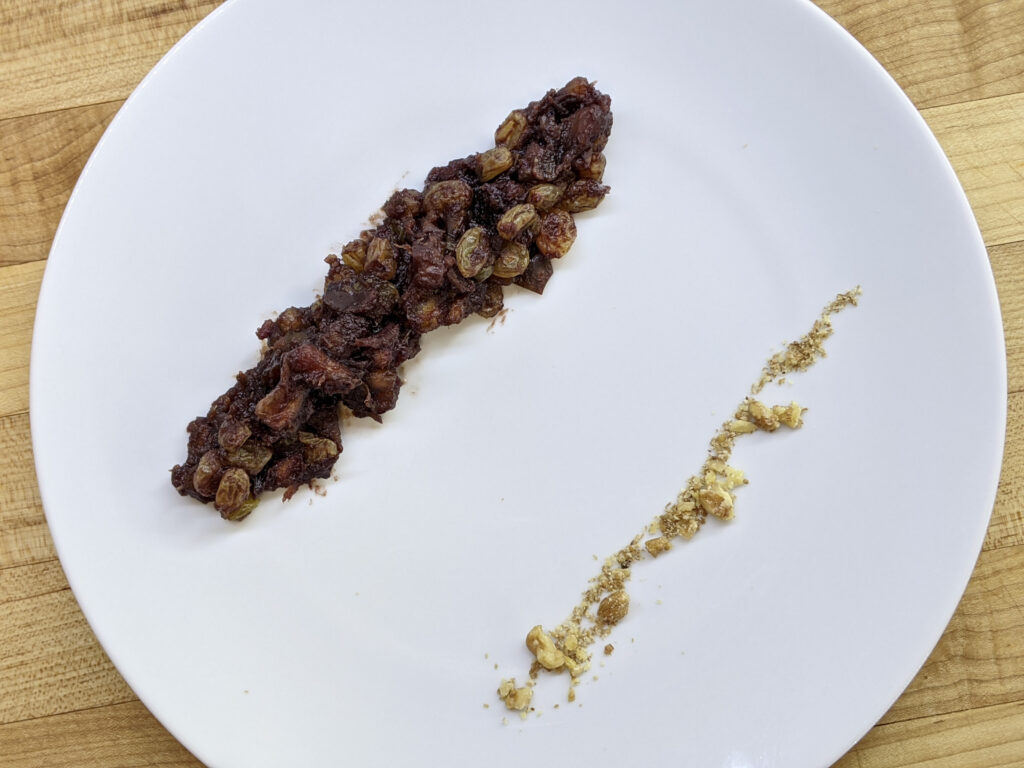 Despite Gary's abhorrence of raisins, he actually liked this version of haroset. A little bit bright, very sweet, and a little crunchy, this dessert was a nice end to our Egyptian meal.
AND IN THE END, THE FOOD YOU MAKE IS EQUAL TO THE CARE YOU TAKE…
So how was Made In Marrow's meal number 95? As a reminder, our rating system is based on sticks of butter (because butter is best!), with 1 being the absolute worst and 5 being out of this world. Sticks of butter are assigned to Difficulty (how many kitchen fights were needed to complete the meal?), Tasty Goodness (was it a palate poor or did it make our mouths merry?), and Repeat Customer (how likely are we to return to the recipe?).
Difficulty 🧈🧈🧈🧈 4/5
Thinly slicing thin vegetables is not our idea of a good time and the only thing that would have bumped up this difficulty another notch would have been accidentally slicing off a finger. In the future we will be leaving these stuffed veggies to the professionals!
Tasty Goodness
🧈🧈🧈🧈 4/5 Lahma bi Bamia – Meat with Okra
🧈🧈🧈 3/5 Mahshi Cousa – Stuffed Zucchini
🧈🧈🧈 3/5 Rouleaux de Poireaux – Stuffed Leek Rolls
🧈🧈🧈🧈 4/5 Oignons Farcis – Onion Rolls Stuffed with Meat in Tamarind Sauce
🧈🧈🧈🧈 4/5 Haroset from Egypt
Repeat Customer
🧈🧈🧈 3/5 Lahma bi Bamia – Meat with Okra
🧈🧈 2/5 Mahshi Cousa – Stuffed Zucchini
🧈🧈 2/5 Rouleaux de Poireaux – Stuffed Leek Rolls
🧈🧈 2/5 Oignons Farcis – Onion Rolls Stuffed with Meat in Tamarind Sauce
🧈🧈🧈 3/5 Haroset from Egypt
We enjoyed our opportunity to w̶a̶l̶k̶ cook like an Egyptian and look forward to next week's adventures!
Sip, sup, and savor all you can, you curious cooks,
Elais & Gary