Just want the recipes and none of that other wordy nonsense? Click the links below!
Muhammara – Walnut and Roast Pepper Paste
Artichoke and Fava Bean Hearts
Sogliole Marinate – Marinated Soles
Gato de Muez de Pesah – Walnut and Orange Passover Cake
Meal the Sixty-Seventh
We realize we have been conspicuously absent over the past several weeks, but that does not mean we have abandoned our foray through The Book of Jewish Food. As summer segued into fall, we have tried to squeeze as much warm-weather fun in before our overnight temperatures dip into freezing and we begin to pull our warm weather garden. From biking to running to concert-going and patio-sitting, we have had a busy couple of weeks, but this weekend we have been to settle back into our regular routine. So thank you for sticking with us during our little break and we look forward to what the last bit of the year will bring us!
This Syrian appetizer did not note what to pair it with, so we decided to serve it with one of the many loaves of hallah which we had frozen for occasions such as these. We had a variety of peppers available for this recipe, both from the fridge and from the garden, which created a nice mix of orange and red to color the final product. To start off, all of our little peppers were seared under the broiler and then peeled.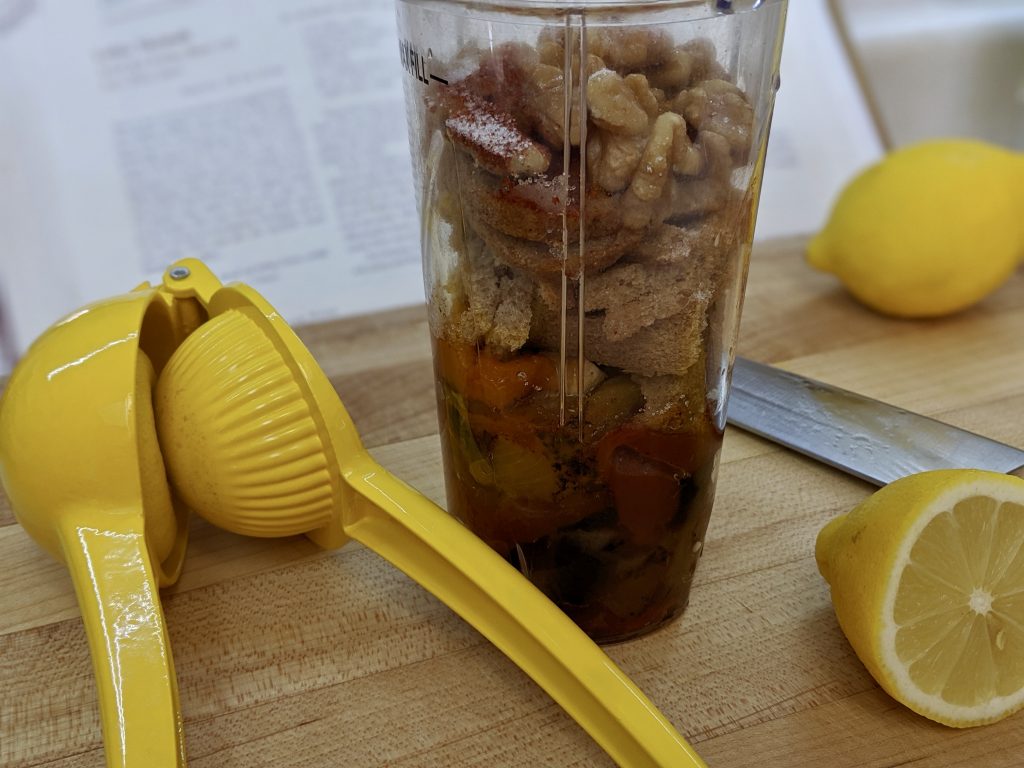 Once peeled, the peppers joined 2 slices of wheat bread, a handful of walnuts, one clove of garlic, pomegranate concentrate (which was simply pomegranate juice mixed with sugar and boiled down in a pan), lemon juice, sugar, salt, cumin, and olive oil in the blender. Simply blend to a paste, top with some parsley, and Voila! Pasty perfection!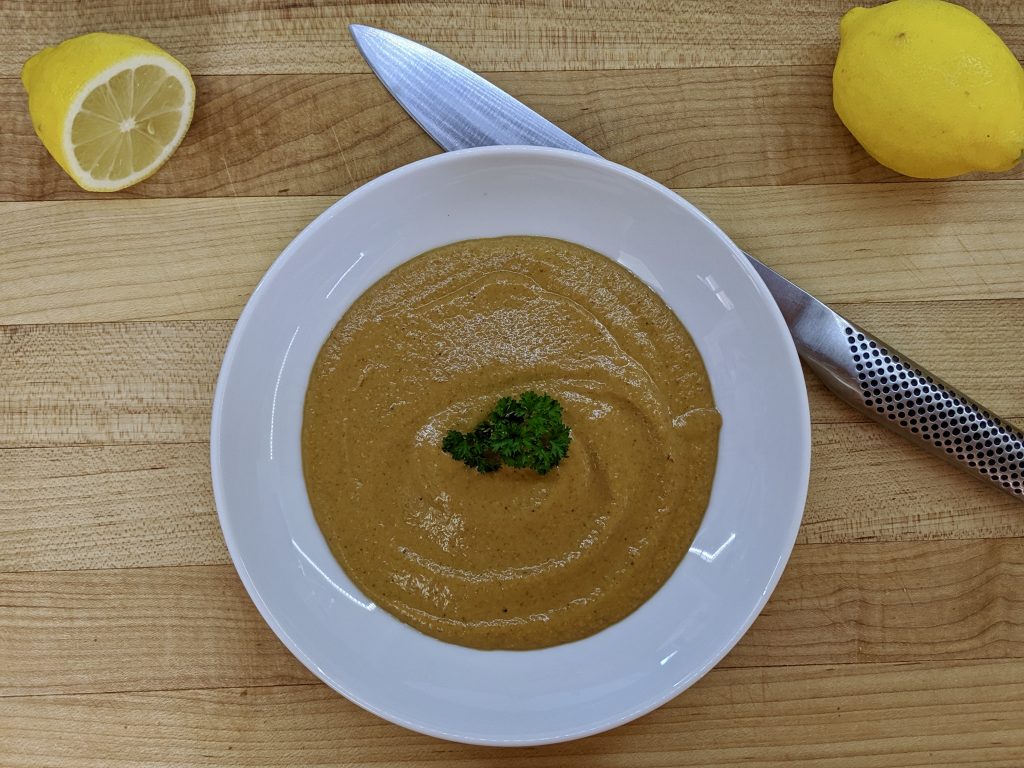 This was a great and unbelievable flavorful appetizer. The raw garlic was tempered by the lemon juice and sweet pomegranate concentrate, and there was a wonderful earthy texture from the walnuts. This paired well with the slightly sweet hallah, but would also be a good accompaniment to a crudité platter at your next party!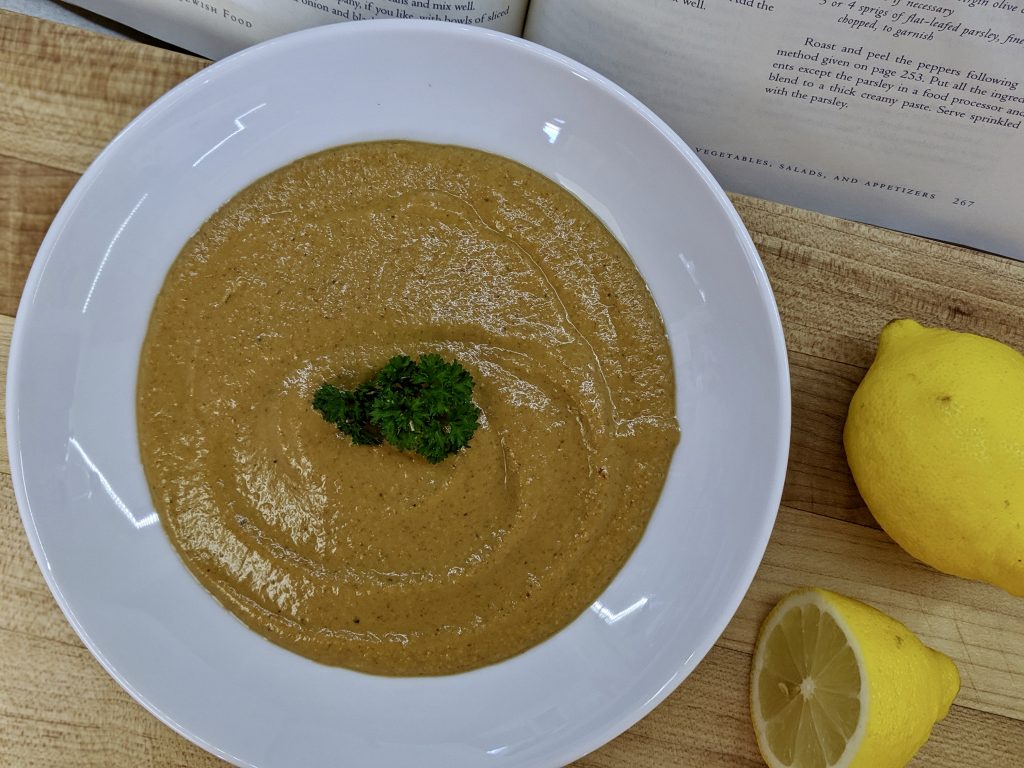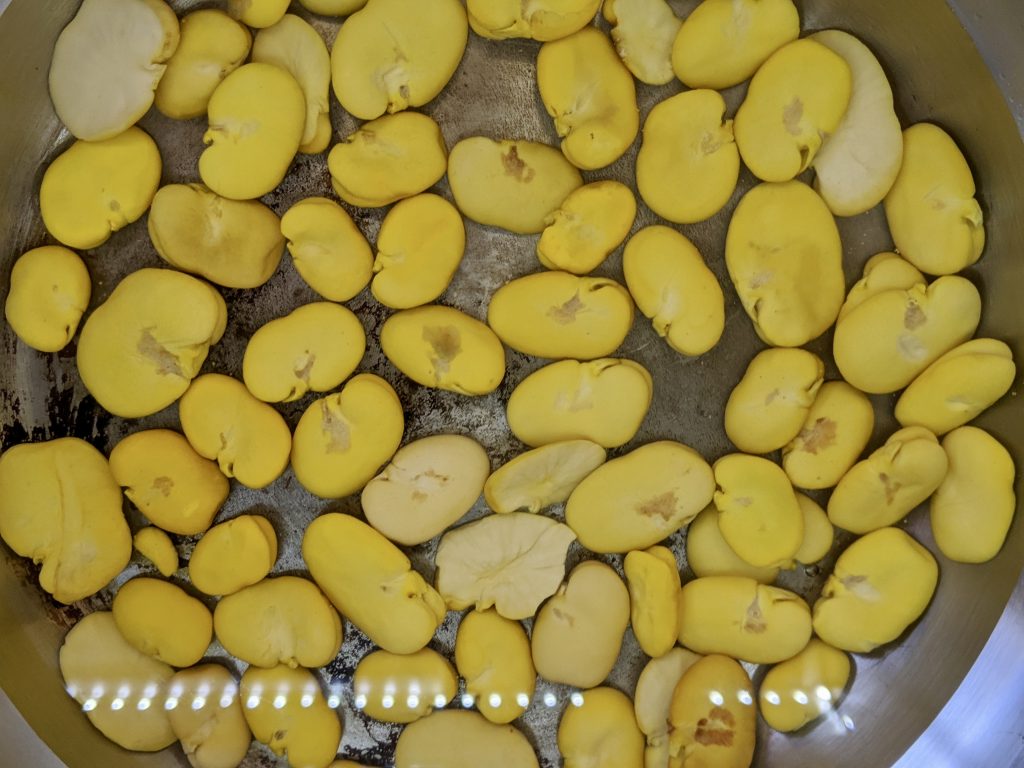 Our veggie dish of the night hails from Egypt, where artichokes were found to have been cultivated during Roman times. It also features fava beans (but no chianti – we know we have made this joke before, but come on, it's hard to pass up!), which when paired with artichoke, are iconic combinations in not only Egypt but Greece and Egypt as well. This dish is just as simple as that – combine lava beans, artichoke hearts, chopped garlic, lemon juice, and olive oil in a pan, cover with water, and simmer until the liquid is reduced.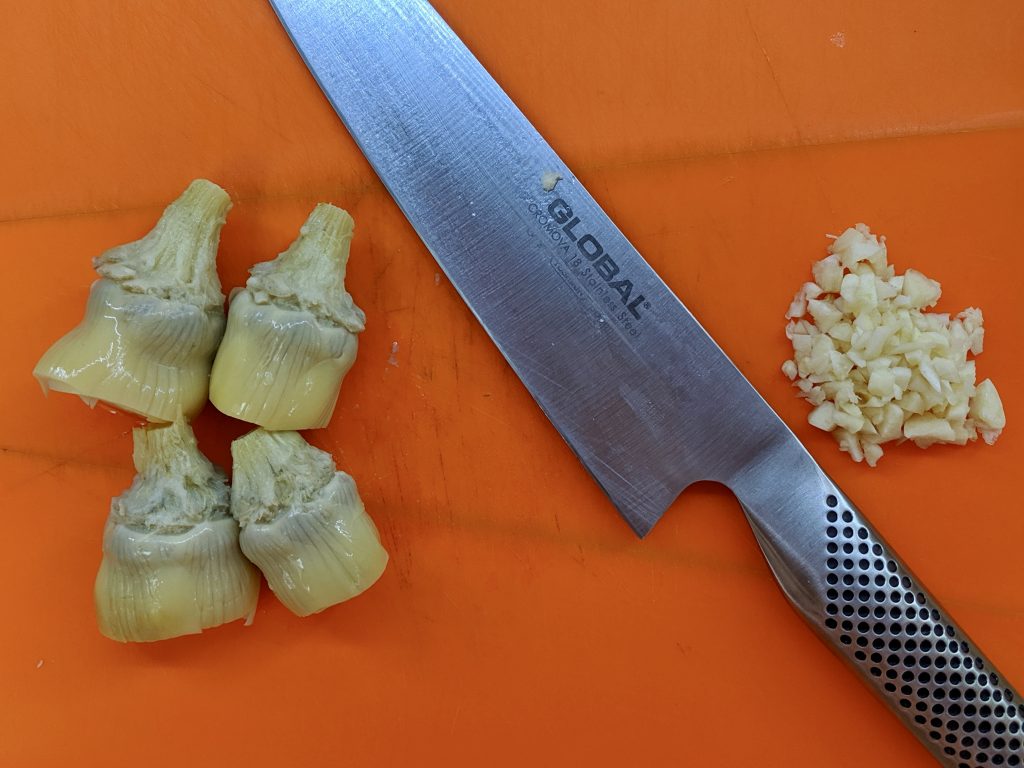 While many of our most simple dishes turned out to be the best, this one, unfortunately, did not follow suit. This recipe was oddly bitter but somehow also bland, so perhaps could have used a bit more salt. The artichoke was also a bit mushy and the beans were a bit underdone, so perhaps combining everything all at the same time was not a good idea. While we love all of the components, we simply just did not love this dish, which was too bad!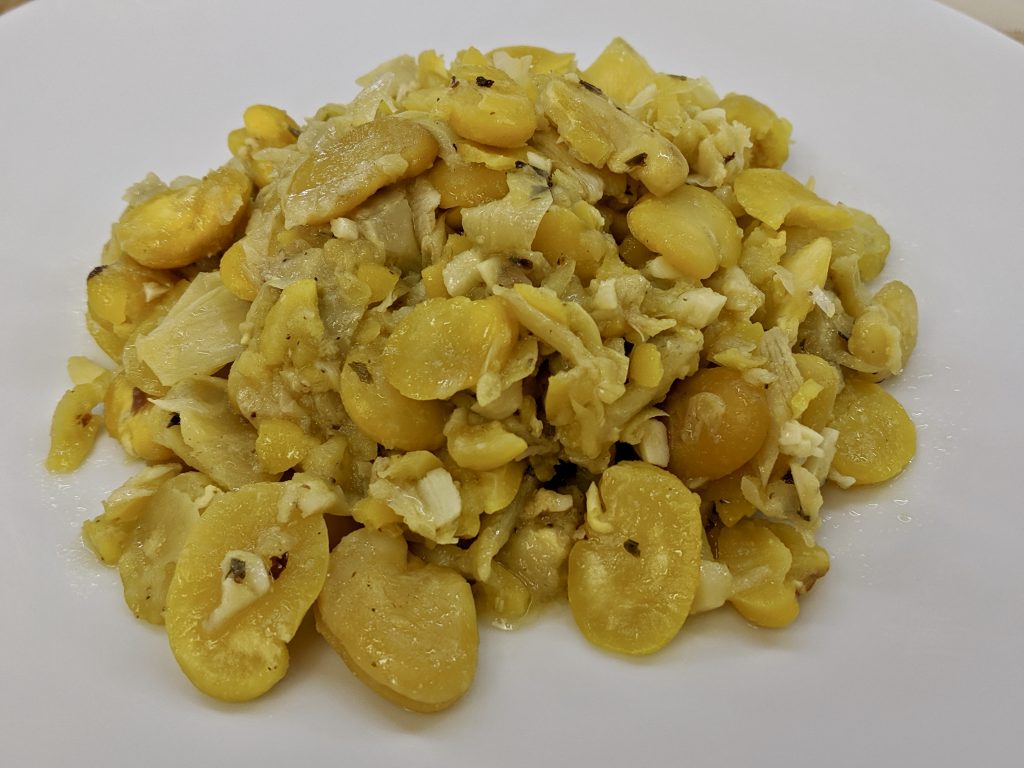 Continuing on with our fish portion of the Sephardic section of The Book of Jewish Food, our next recipe is a version of the Portuguese escabeche (i.e. ceviche). The recipe says that Dover or lemon sole or sardines can be used, but we only had hoki in the freezer, so being a light-tasting white fish, we thought it would make a good substitute (spoiler alert: it did not). As it turns out, hoki is more similar to cod, which means it is not as tender as a sole, making it more appropriate for the Filet-O-Fish sandwich at McDonald's and not very appropriate for this recipe. Oh well, you live and you learn, and sometimes the dog gets to enjoy part of your dinner.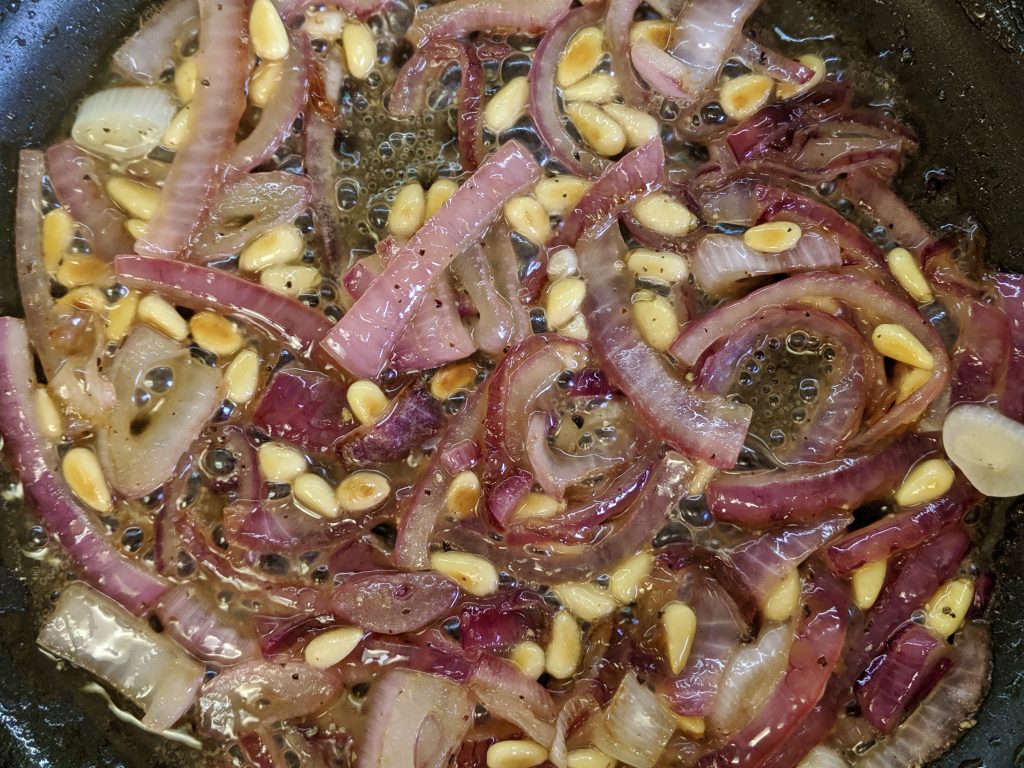 The hoki fillets were dredged in flour and salt and then quickly fried in oil until golden. While these drained on paper towels, sliced onions were simmered in oil until they began to slightly color. Vinegar, white wine, salt, pepper, and lightly roasted pine nuts were added to the pan and this all simmered for ten minutes. This sauce was then poured over the fish and the entire dish was refrigerated overnight until serving.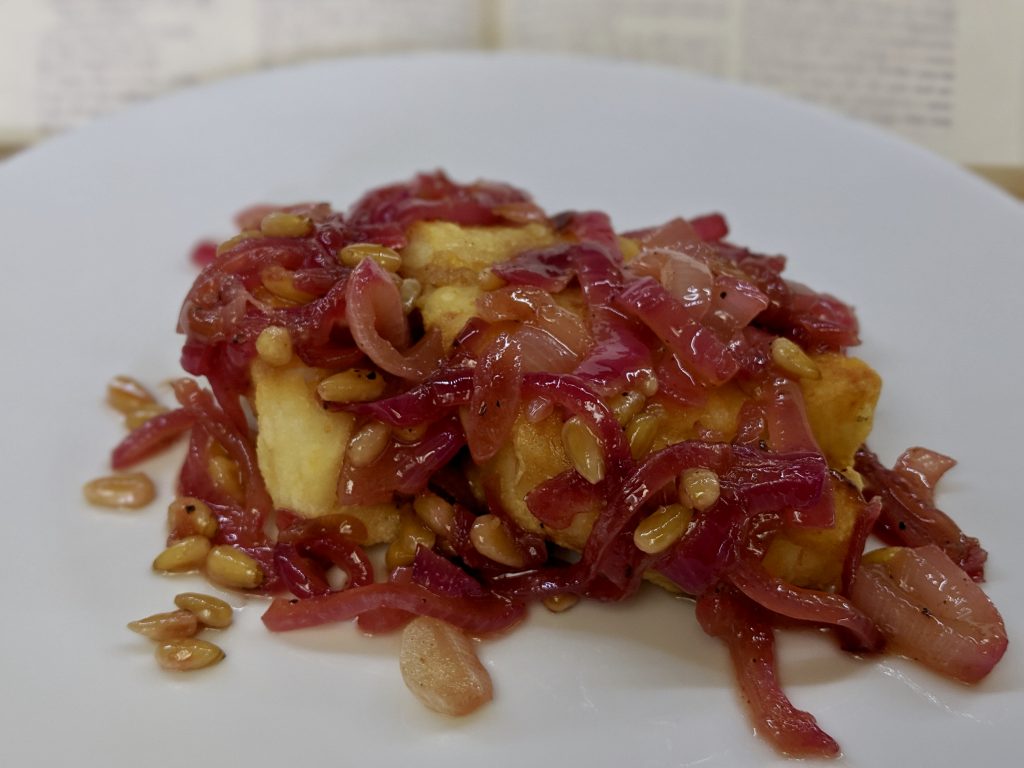 Good news first: the sauce was excellent! Slightly sweet from the caramelized red onions, a little smooth and earthy from the pine nuts, a nicely acidic from the vinegar and white wine, the sauce would be an excellent complement to a perfectly paired white fish. Which the hoki was not…tough and flavorless, the hoki was not an adequate substitute and almost inedible (unfortunately). If there is a next time, we will definitely use sole as we think that would be the perfect fish for a great sauce.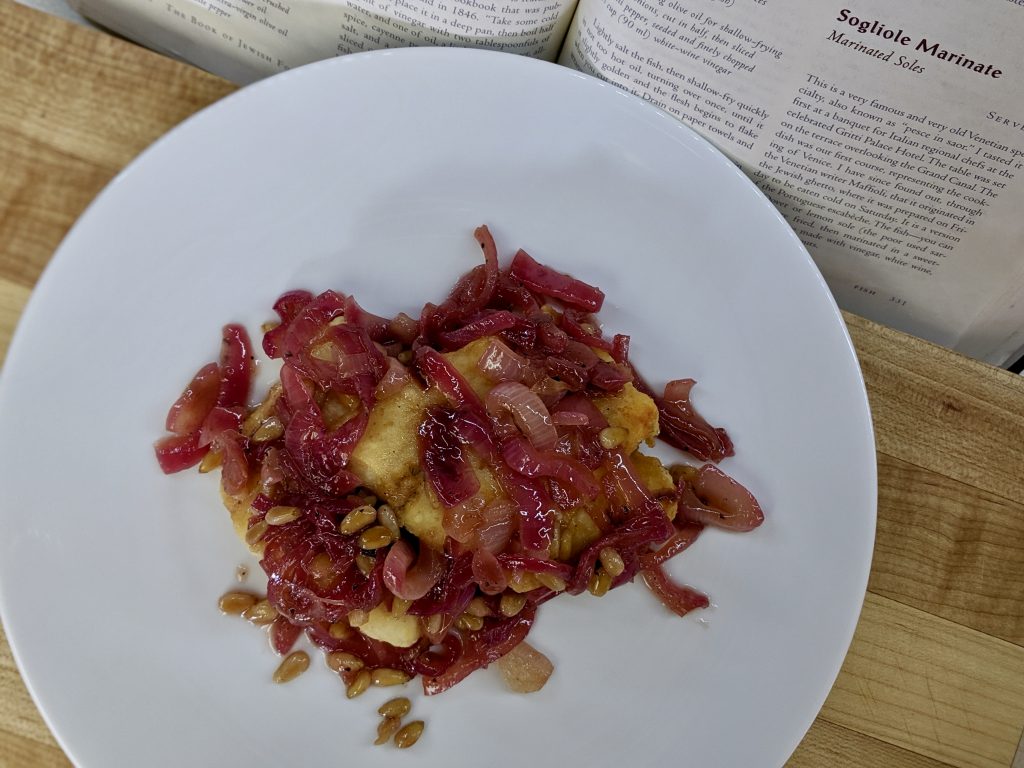 Next up on our cake crusade is the official Passover cake of Istanbul, according to Claudia Roden. She warns that one mustn't use stale walnuts in this recipe – which we did not realize was a concern, but we checked out nuts to ensure their freshness, just in case. While we are tiring of cake-making, this one was simple enough and did not tax our hens too bad (unlike our last egg-heavy cake).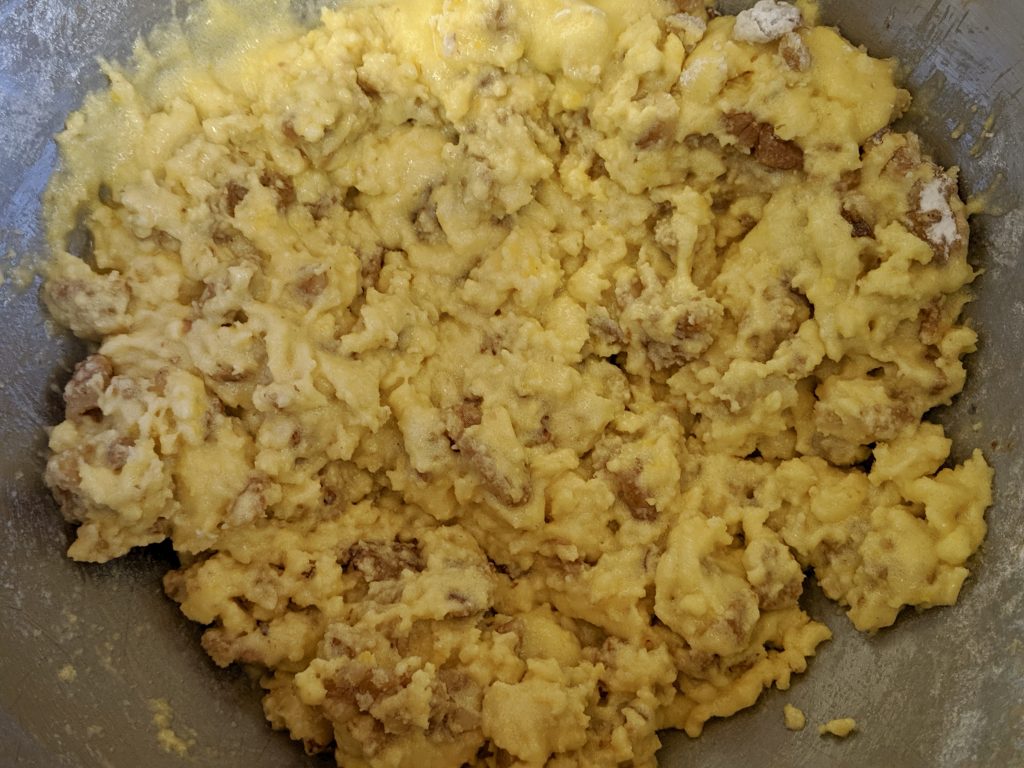 Six eggs were separated and the yolks were beaten with sugar until light and pale. Ground almonds, grated orange, and orange juice, and coarsely chopped walnuts were gently mixed into the yolk/sugar concoction. The whites were then beaten into stiff peaks and gently folded into the yolk mixture. This was poured into an oiled springform pan and baked at 350 degrees for an hour until set.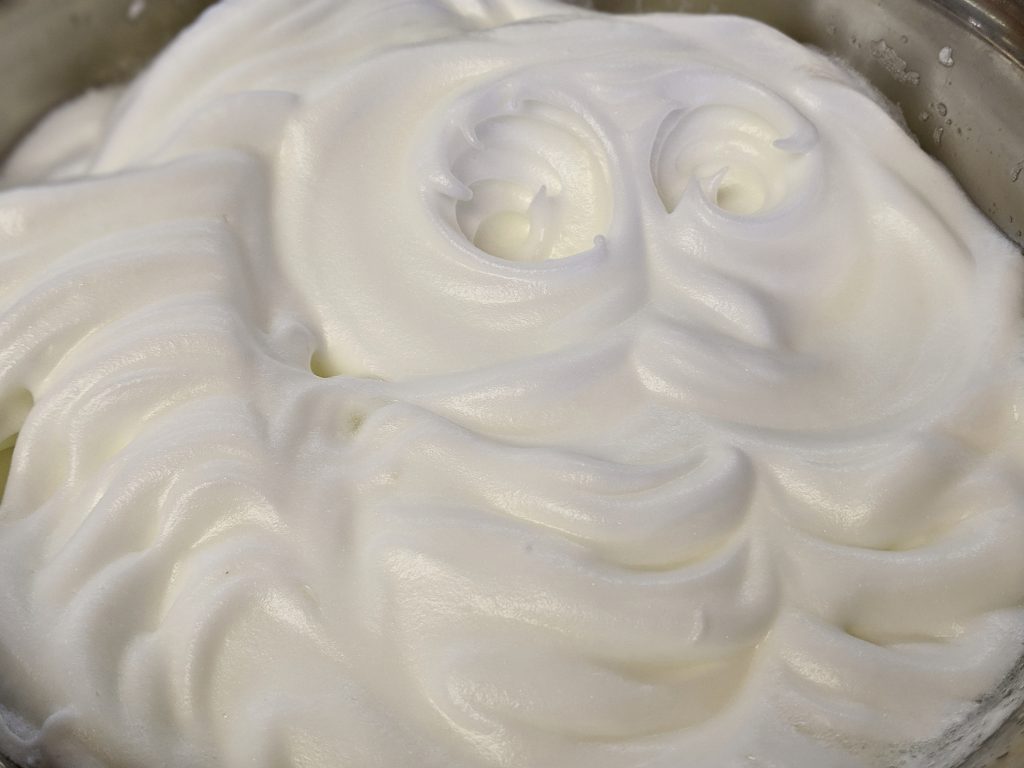 The cake released fairly easy from the pan and miraculously did not fall after coming out of the oven. The top had a nicely sweet and crispy texture, while the interior was wonderfully moist and chewy. The walnuts added some additional texture to the cake and Gary and I agreed that it tasted very similar to a coffee cake. This cake was a great success and will hopefully keep our cake-fatigue at bay for a little while longer (…hopefully 8 cakes longer, to be exact!).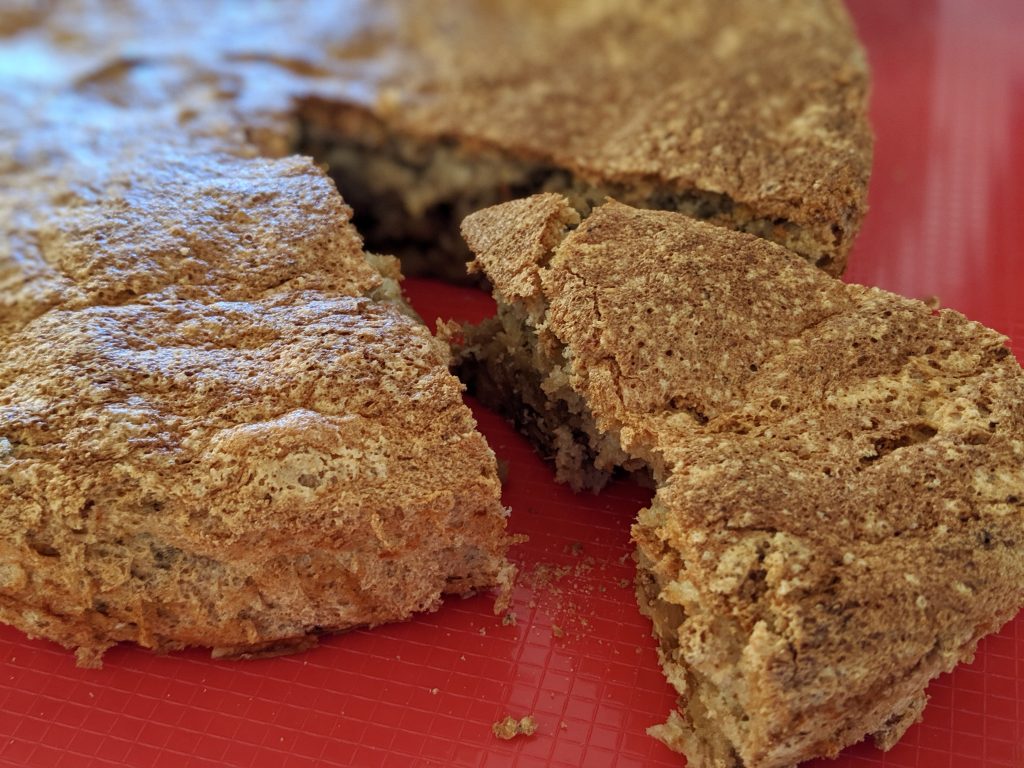 AND IN THE END, THE FOOD YOU MAKE IS EQUAL TO THE CARE YOU TAKE…
So how was Made In Marrow's meal number 67? As a reminder, our rating system is based on sticks of butter (because butter is best!), with 1 being the absolute worst and 5 being out of this world. Sticks of butter are assigned to Difficulty (how many kitchen fights were needed to complete the meal?), Tasty Goodness (was it a palate poor or did it make our mouths merry?), and Repeat Customer (how likely are we to return to the recipe?).
Difficulty  [][][] 3/5
Roasting peppers is always tedious, so besides that, tonight's dinner was a relatively easy endeavor.
Tasty Goodness
[][][][][] 5/5 Muhammara – Walnut and Roast Pepper Paste – Bright, complex, and flavorful!
[][] 2/5 Artichoke and Fava Bean Hearts – Bitter and bland
[][] 2/5 Sogliole Marinate – Marinated Soles – The sauce was really good…
[][][][] 4/5 Gato de Muez de Pesah – Walnut and Orange Passover Cake – Lightly orange and not too sweet, making for a delicious dessert
Repeat Customer
[][][][][] 5/5 Muhammara – Walnut and Roast Pepper Paste – Sure to be a party pleaser!
[][] 2/5 Artichoke and Fava Bean Hearts – No, thank you
[][] 3/5 Sogliole Marinate – Marinated Soles – Maybe again, but actually with sole 
[][][][] 4/5 Gato de Muez de Pesah – Walnut and Orange Passover Cake – I'm not a fan of baking cakes, but this one we would probably tackle again!
This week was a bit of a mixed bag when it came to recipes, but we persevered and got it posted, so on to next week's adventures!
Sip, sup, and savor all you can, you curious cooks,
Elais & Gary