Just want the recipes and none of that other wordy nonsense? Click the links below!
Purdah Pilau – Rice and Chicken in a Pie
Monte Sinai con Uova Filate – Almond Pastry with Egg Threads
Meal the Fiftieth
A little more than one year ago Gary and I started Made In Marrow as a fun little hobby to get us back into the kitchen and cooking together. We chose to tackle The Book of Jewish Food because it looked like a good challeng (and boy, were we right!) and thought that it would maybe take a year for us to finish. Now, more than twelve months in, it is far more likely that we will be moving on from Claudia Roden's Jewish tome in about another year.
We have greatly enjoyed our culinary capers so far, regardless of the time taken to cook our way through more than 600 recipes. We have found some new favorite recipes, which we have made many times, including hallah bread and ricotta pancakes, while others we are glad we cooked but will probably never return to (like liver and onions and noodle kugel). We have loved delving into the history of both tradition and food, as well as the stories that others have shared with us upon learning of our food blog endeavors.
In addition to learning about Jewish cuisine, we have also learned about new places to buy obscure ingredients, how to take better photos of food, and what it takes to produce a podcast. It is fun to go back to meal the first and see the difference between tonight's and the first blog's structure and pictures. Appropriately enough, meal one was chicken soup and meal 50 is chicken soup in a pie, so join us for tonight's fiftieth food foray!
"No one expects the Spanish Inquisition", is exactly the (funny) Monty Python-esque answer to the question of how eggplants were introduced to northern Spain and Italy. Jews that were fleeing the atrocities of the Inquisition (not funny) from southern Spain and Italy brought them North, having originally been introduced to the vegetable by Middle Eastern traders. While they did not originate with the Jews, the Jewish communities in these areas were forever associated with the nightshade as it was their tradition to serve fried eggplant cold on Saturday nights.
While the eggplant is considered a vegetable by most, it is actually classified as a berry and has very low nutritional content, being comprised mostly of water. We have had a couple of eggplant dishes from The Book of Jewish Food, but are now about to encounter several back-to-back in the "Salad" section. Today's selection of purple plates are eggplant fried in two different manners, the first being slices fried in oil then seasoned with salt and pepper.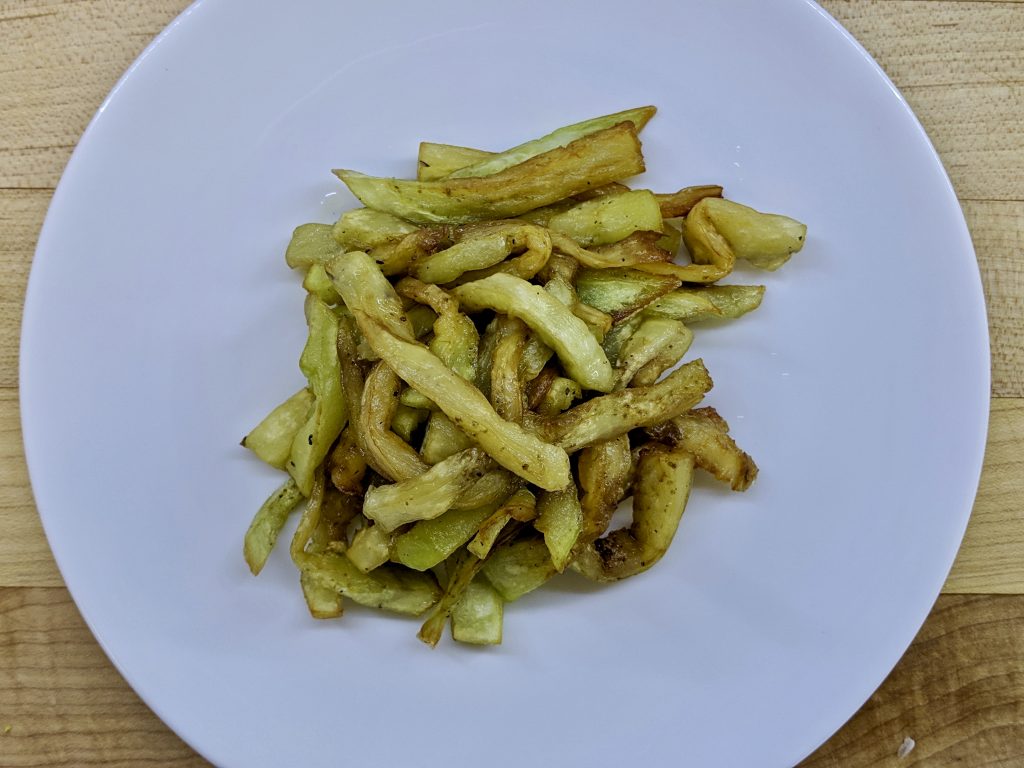 Of the two eggplant dishes featured tonight, this one was our favorite. It was the more eggplant flavored forward, as it was just slices of eggplant fried in oil. They had to be eaten fairly quickly, as they became soggy and spongy as they cooled, so we were fans of the hot version over the cold serving. They were quite good when eaten with mango chutney and the green coriander chutney and despite their ability to absorb a lot of oil during frying due to their high water content, were surprisingly light.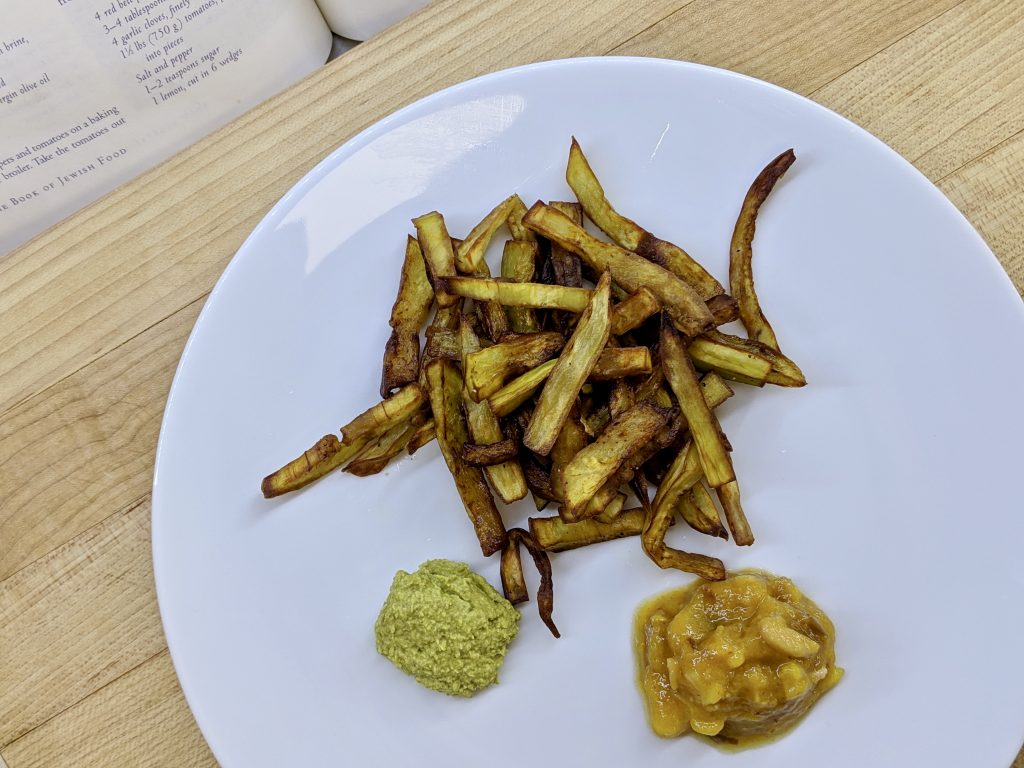 Our second serving of eggplant fried in two different manners was eggplant fritters. This Spanish-centric style featured eggplant wedges dipped in a beaten egg prior to frying. As in the above recipe, these were also better when eaten right away. The eggy outside in combination with the spongy inside gave the sensation of eating fried tofu, which was not necessarily off-putting, but not quite what we expected either.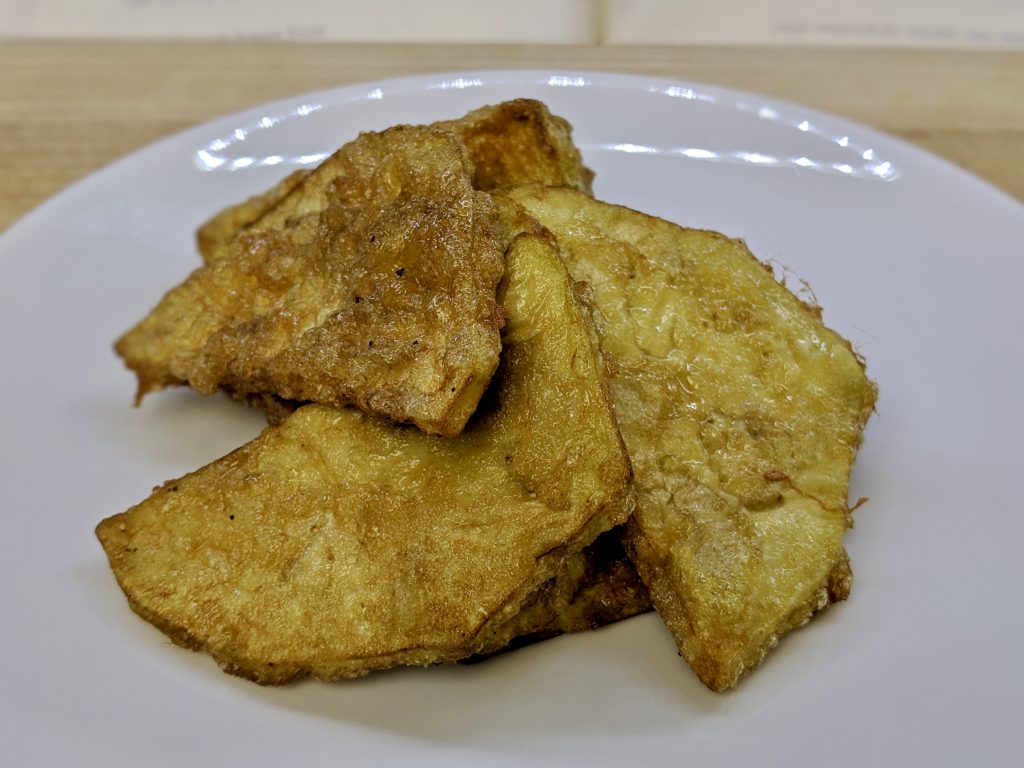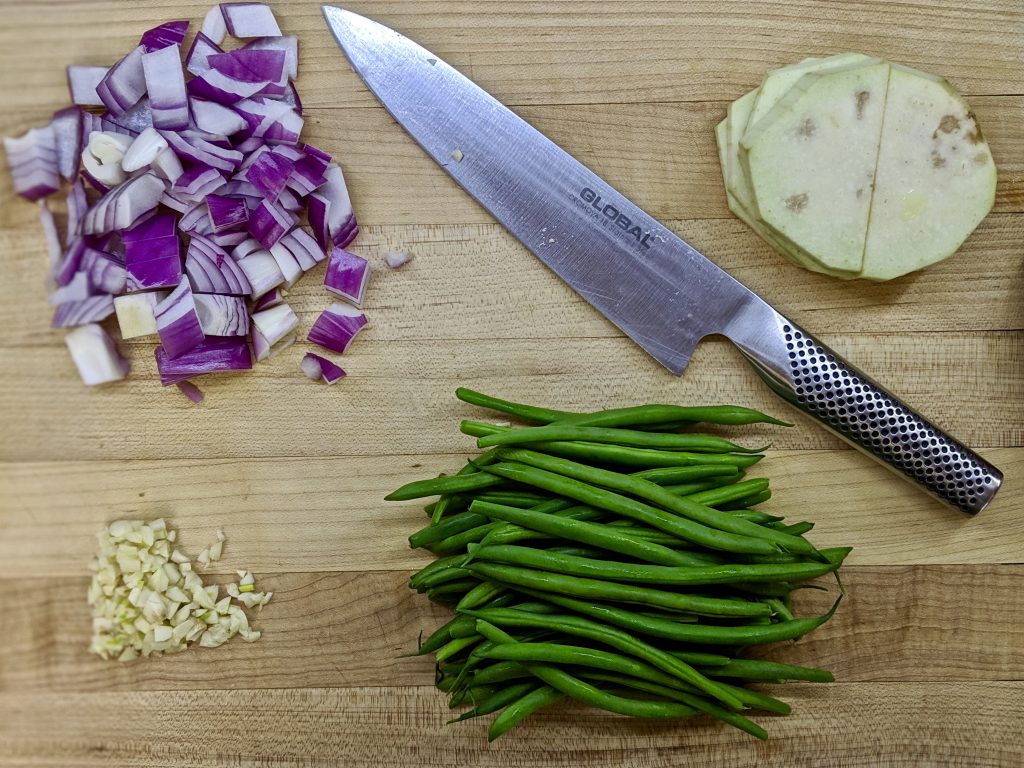 Our third vegetable dish of the evening was also Spanish in origin and its acidity paired well with our fried eggplants. Chopped onion was fried until golden in oil after which garlic, diced tomatoes, and green beans were added. This was lightly seasoned with salt, pepper, and a little sugar, and then simmered for 20 minutes until the beans were tender and the sauce had reduced.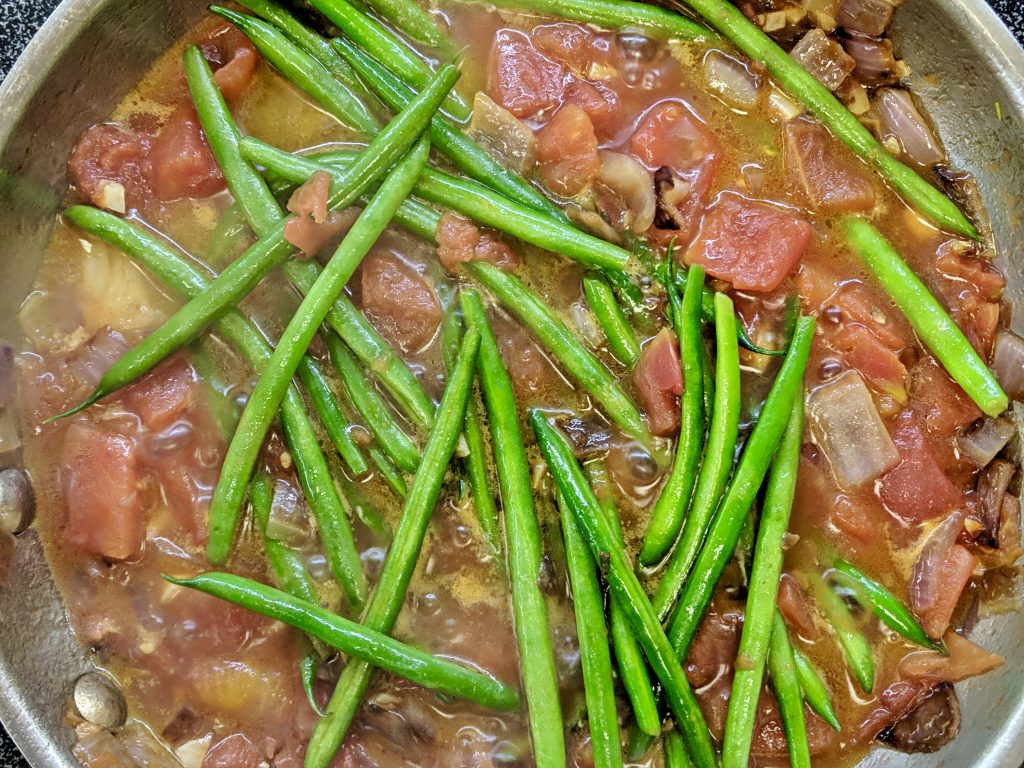 While this was tasty, with the acidity of the tomatoes balancing the earthiness of the green beans, it was definitely lacking something. Gary and I thought that perhaps it was fat, and so we used the leftovers as a sauce over fried ground beef the next day. This was exceedingly better and our thought was that the original recipe could use a bit of butter to finish it in the pan (because butter is better!).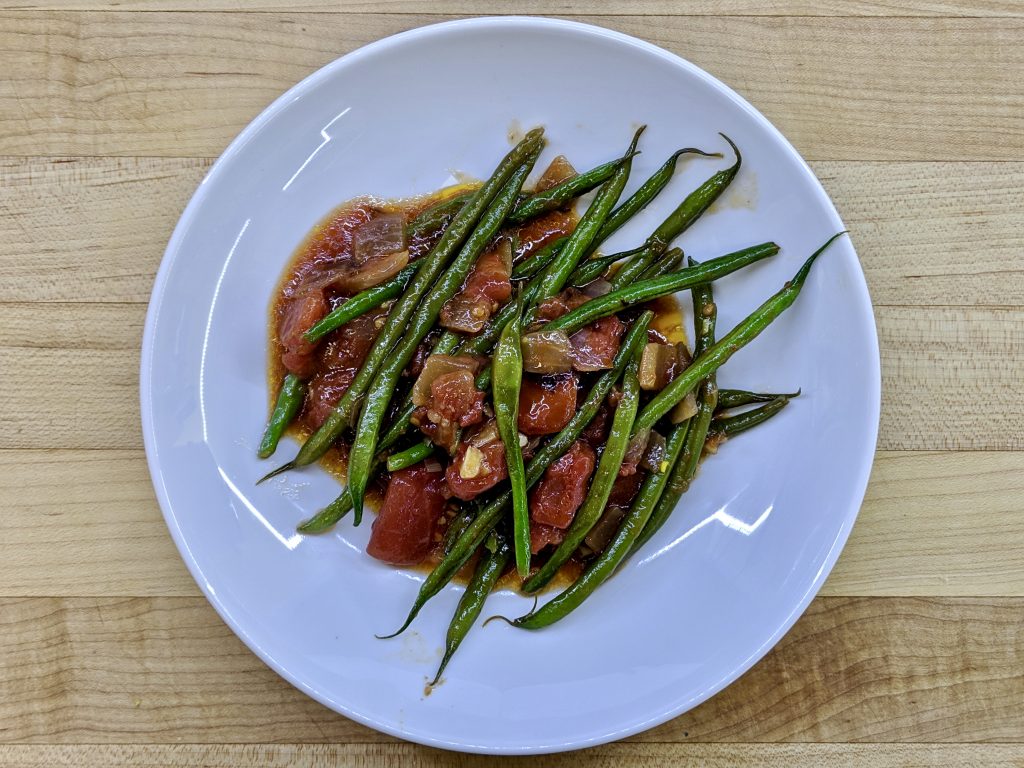 Our main course for tonight's meal is actually found in the "Grain" section of The Book of Jewish Food, which is odd, because it could easily be placed in the pie or chicken sections. Luckily we read the recipe before deciding on it as a side and made this complex dish as the center of tonight's meal. This Iraqi recipe feature filo pastry, which we bought, because Claudia Roden said we could, and even without rolling out dough this dish took a considerable amount of time to prepare.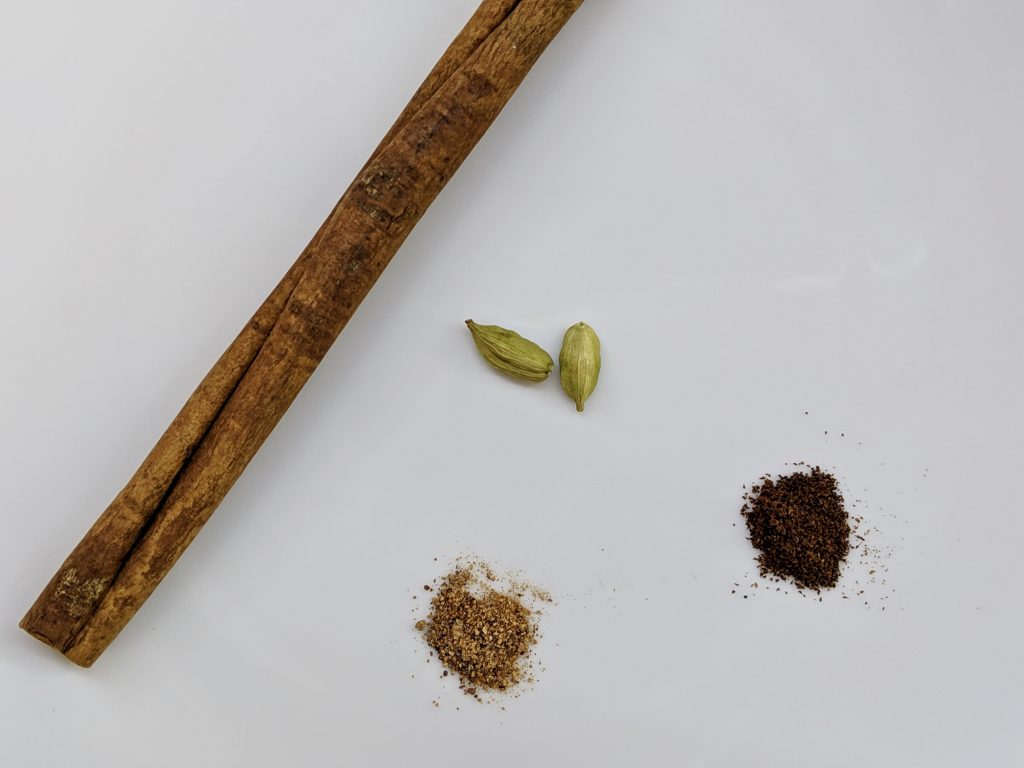 A whole chicken was placed in the crockpot and covered with water. Once this had come to a boil, the scum was removed and then a quartered onion was added along with a cinnamon stick, allspice, cardamom, salt, and pepper. This aromatically simmered for an hour, after which the chicken was lifted out and cooled prior to being broken down. While the chicken cooled, the stock was reduced down to about 3 and a half cups, to which lemon juice, vermicelli, and rice was added. This all cooked for 15 minutes until most of the fluid had been absorbed.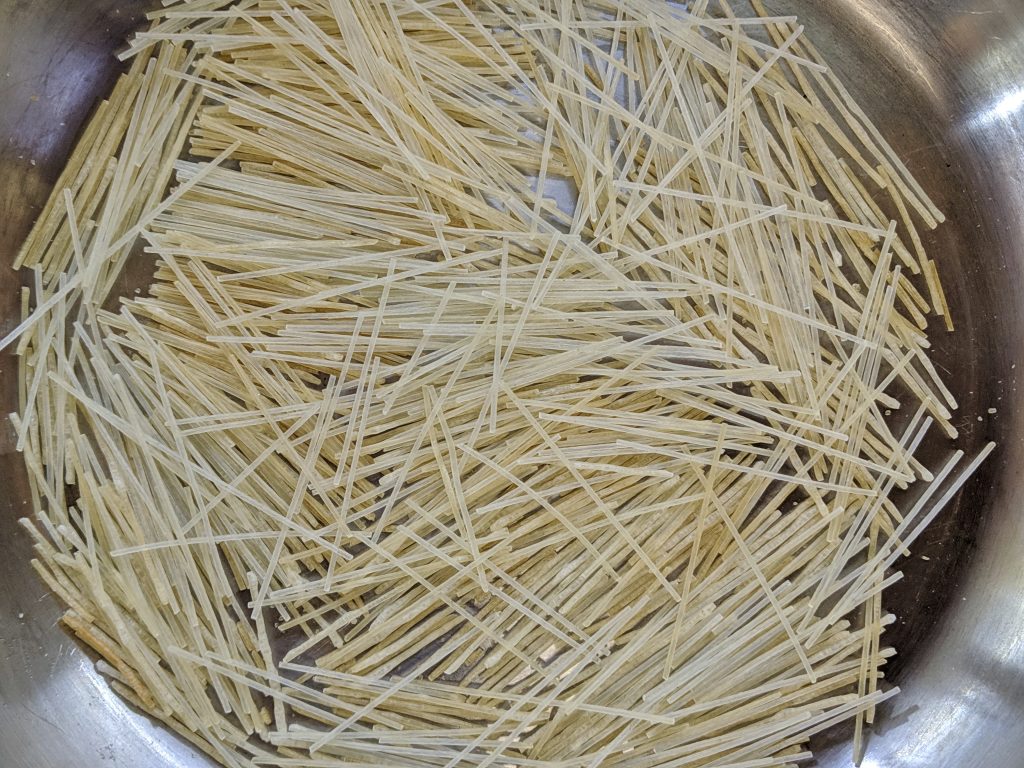 While the rice and vermicelli mixture was cooking, almonds and pine nuts were toasted on the stove and then mixed in with the chicken pieces. After the rice cooled a bit, this too was added to the chicken and nut mixture and all was seasoned with additional salt and pepper.
We lined our trusty springform pan with parchment paper and then layered in pieces of filo to form a base and sides of this thin pie. This was filled with the chicken mixture and then topped with more filo, with each layer being brushed with oil. The top was lightly spread with an egg yolk glaze and then baked at 350 degrees for 30 minutes until the top was golden.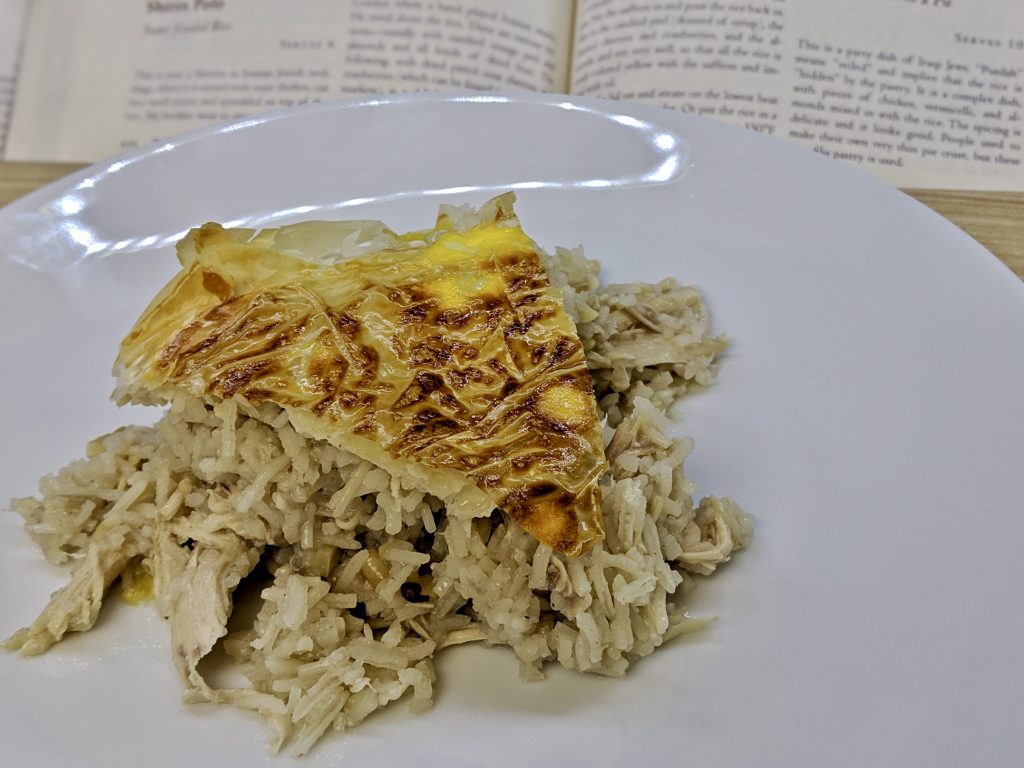 When Gary and I were putting this recipe together we truly had no idea what to expect. It certainly smelled good and each component by itself tasted good, so when we successfully opened the springform pan and gently slid slices onto our plates we were pretty excited. True to its aroma, this dish was excellent, with a wonderful balance of savoriness from the chicken and its reduced broth and brightness from the lemon juice. The nuts provided a bit of extra texture and the whole pie was wonderfully moist and not overly doughy, being that there was only a thin crust of filo. As the pie was fairly large, we enjoyed this over the next two nights, and the leftovers only got better with each subsequent evening.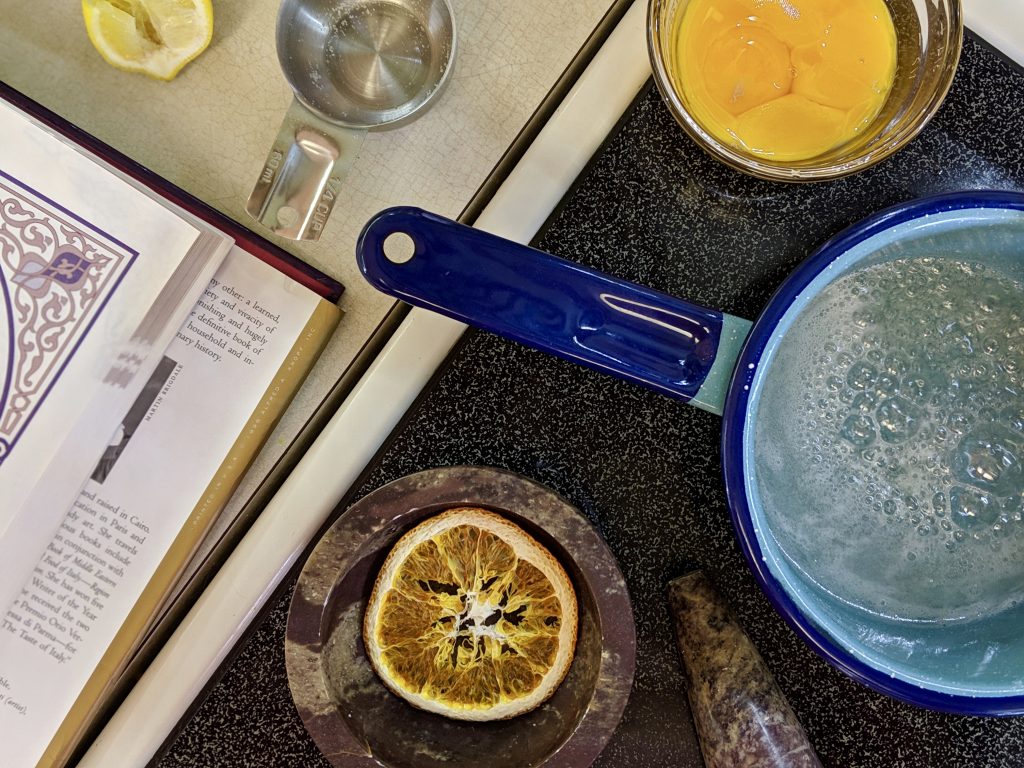 Roden describes this dessert as both Italian and Portuguese, dating back to at least the early sixteenth century. This finicky pastry is still made in Livorno to celebrate Purim and is sometimes shaped into the Star of David (but we chose to go with a rectangle because that was the shape of the pan appropriate for this job).
There are two parts to this recipe: a macaroon style base and egg threads which are arranged on top. For the base, sugar and water were brought to a boil in a pan, after which orange zest was added along with ground almonds. Once these were thoroughly mixed together, a beaten egg was added to the soft dough and the entire mix was gently pressed into the bottom of a parchment-lined baking pan. This was baked at 300 degrees for 30 minutes and then turned out and cooled on a plate.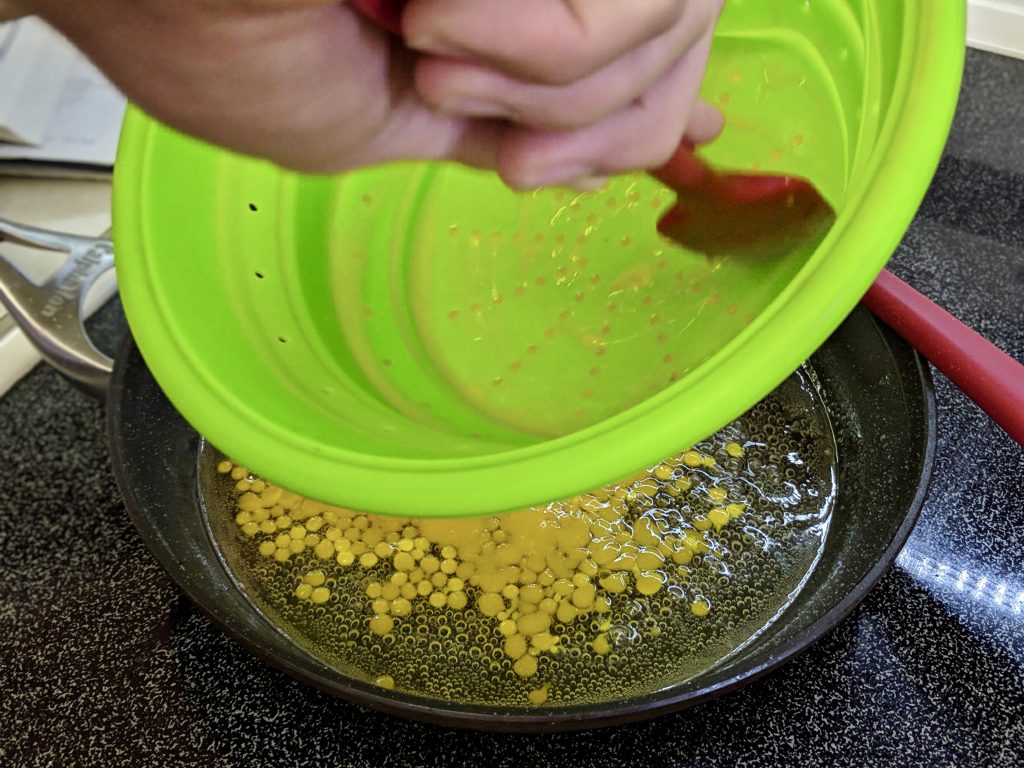 While the pastry was baking, water, lemon juice, and orange blossom water were brought to a boil in a pan to create a thick syrup. This was the easy part. I warned Gary that we would most certainly fail the next step, as I had looked up pictures of this dessert and it looked like you had to be some sort of kitchen wizard to pull off the next bit. But nevertheless, we pushed forward and strained egg yolks through a colander into the syrup. These were supposed to make "threads" in the syrup but ended up making little dots, which we quickly lifted out the syrup with a slotted spoon lest they overcooked. Once they had drained on paper towel, they were arranged in a manner (not pleasantly, just in a manner) over the pastry base.
This was…odd. The pastry base was very thin, but good, with just enough citrus flavor to make it light and very macaroon-like. The egg "threads" (or drops as they turned out, which we jokingly said that we had made egg-drop dessert a la egg drop soup) were a bit sweet and a bit waxy, so you could only eat small portions of this dessert. It was not terrible, just different, and was certainly odd to look at, as it kind of took on the appearance of cheddar cheese melted on toast.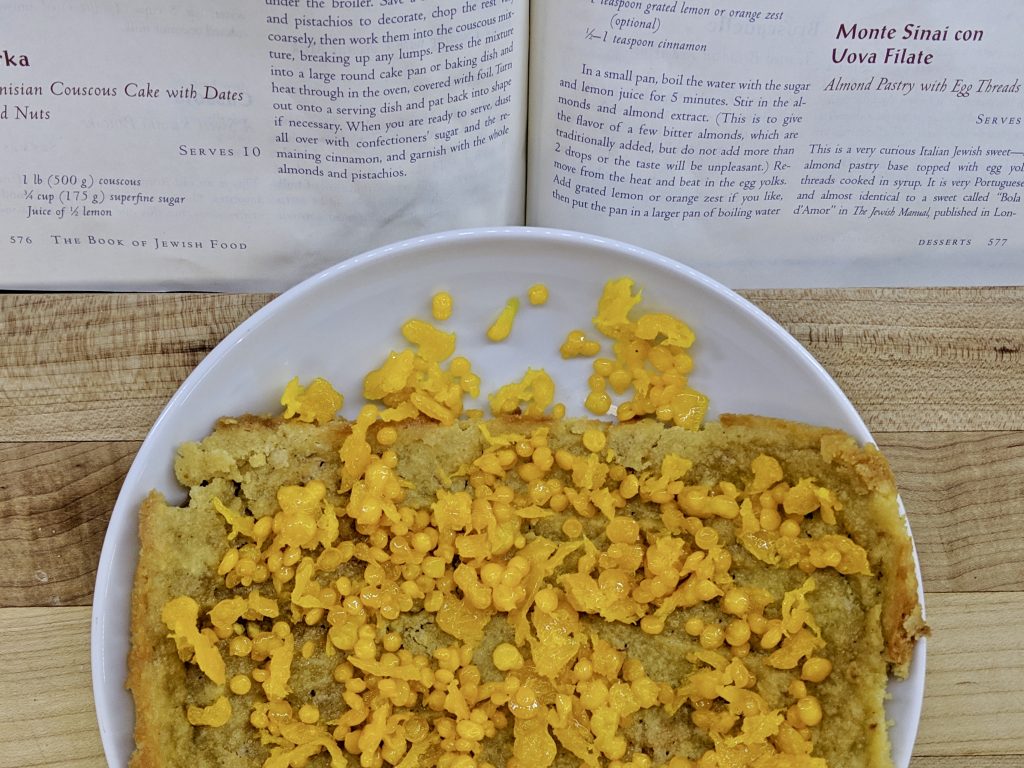 AND IN THE END, THE FOOD YOU MAKE IS EQUAL TO THE CARE YOU TAKE…
So how was Made In Marrow's meal number 50? As a reminder, our rating system is based on sticks of butter (because butter is best!), with 1 being the absolute worst and 5 being out of this world. Sticks of butter are assigned to Difficulty (how many kitchen fights were needed to complete the meal?), Tasty Goodness (was it a palate poor or did it make our mouths merry?), and Repeat Customer (how likely are we to return to the recipe?).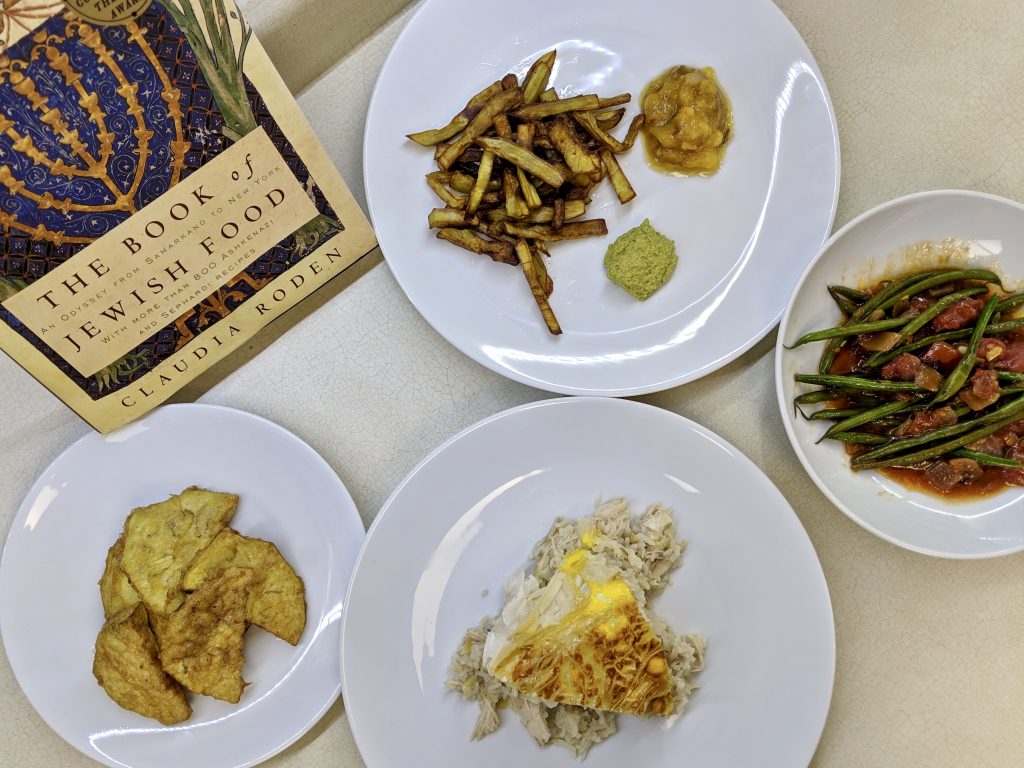 Difficulty  [][][][] 4/5
We really did a number on the kitchen tonight, as it felt like we used every mixing bowl and pan in our possession. The cooking prep and time was fairly substantial, from making broth to breaking down a chicken and a bit complicated (read: we were not quite sure how to create egg threads using a colander). Meal fifty turned out to be a good test of our skills, from frying to baking!
Tasty Goodness
[][][] 3/5 Fried Eggplant Slices – Tasty, but best eaten immediately
[][] 2/5 Eggplant Fritters – The best approximate of fried tofu in a non-tofu form
[][][] 3/5 Green Beans in Tomato Sauce – Good, but lacking little something
[][][][] 4/5 Purdah Pilau – Rice and Chicken in a Pie – Savory and spice-y (in a seasoning sense, not a hot way)
[][][] 3/5 Monte Sinai con Uova Filate – Almond Pastry with Egg Threads – A very different dessert
Repeat Customer
[][] 2/5 Fried Eggplant Slices – Maybe as a quick appetizer
[][] 2/5 Eggplant Fritters – Maybe as a stand-in for tofu?
[][][] 3/5 Green Beans in Tomato Sauce – This is similar to other dishes we have made, so probably again but with butter
[][][] 3/5 Purdah Pilau – Rice and Chicken in a Pie – We enjoyed this dish, but it was fairly labor intensive
[][] 2/5 Monte Sinai con Uova Filate – Almond Pastry with Egg Threads – We would definitely try it again if we had the opportunity to sample it from a bakery!
Another great night of good food and new recipes is in the books and we look forward to meal fifty-one. We are thankful for many things after fifty fantastic meals, but you, the reader, is at the top of our list – so thank you for sticking with us!
Sip, sup, and savor all you can, you curious cooks,
Elais & Gary