Just want the recipes and none of that other wordy nonsense? Click the links below!
Poisson en Escabèche – Pickled Fried Fish
Meal the Sixty-Fourth
I (Elais) was pretty excited to get back into the fish sections of The Book of Jewish Food because I love fish and summer is the perfect season for this lighter protein. The Ashkenazi portion of the cookbook was a bit light on fish dishes, but the Sephardic section is quite a bit more substantial (which makes sense because many of the communities concentrate in areas around the Mediterranean Sea). Since both of this week's fish dishes are chilled, we decided to pair it with a chilled salad. Unfortunately, we forgot about the chilled appetizer, and it grew some additional *unwelcome* seasoning during its lonely time spent at the back of the fridge.
So this week, we present two fish dishes and a doughnut recipe, which, we admit, makes for a fairly odd pairing, but everything turned out to be pretty tasty! Next week we plan on a fuller menu, with (hopefully) no dishes left behind to grown some buddies in the fridge. In the meantime, onward to different, yet delightful dinner!
I love fish (as stated above) and I love ceviche, so I was pretty excited about this recipe (Gary likes fish and is less excited about ceviche, so we balanced out to neutral about this dish). My family has traditionally had either Chinese food or ceviche for our Christmas Eve feast, but usually use shrimp (and a lot of avocado on the side to accompany them). This fish dish features a white firm fish, so we chose sea bass which is what was available at our local fishmonger.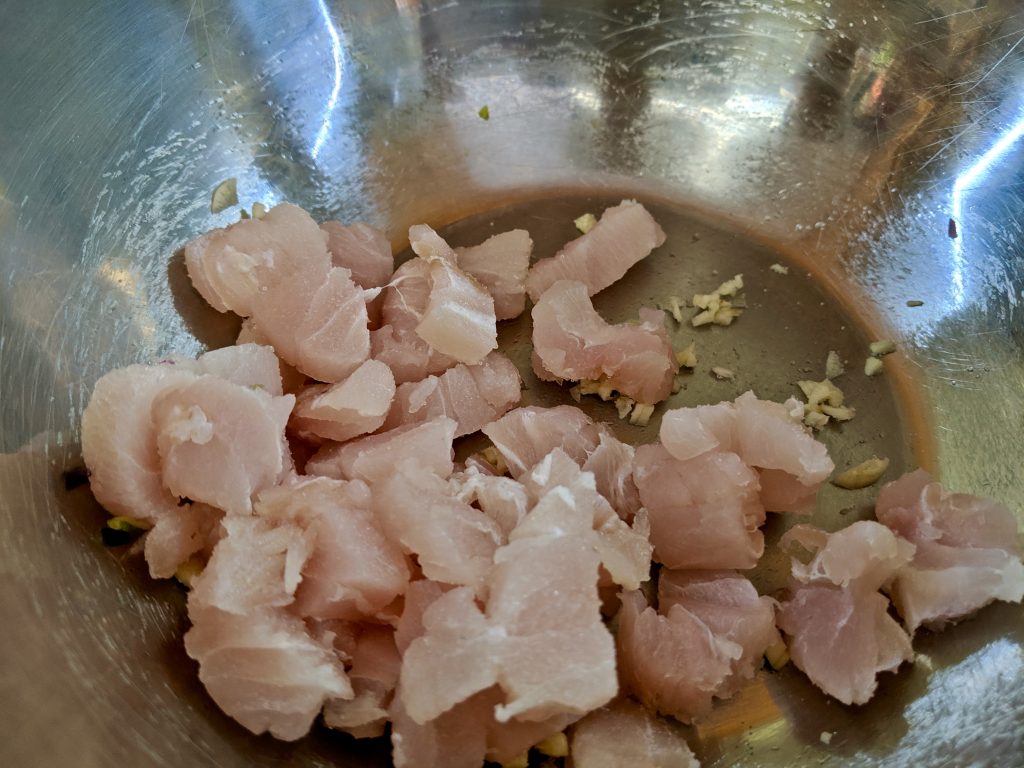 This particular recipe originates from the island Curaçao, a Dutch Caribbean island which became home to a prosperous Jewish community who were Portuguese descendants fleeing persecution in Brazil. Curaçao is north of Venezuela and due to its location on trade routes for a variety of sailing countries, it features Surinamese, Chinese, Indonesian, Indian and Dutch culinary influences. It is also where the liqueur Curaçao was created, which is often blue or orange colored alcohol flavored with the dried peel of the Laraha citrus fruit (and something that is ubiquitous to the university experience).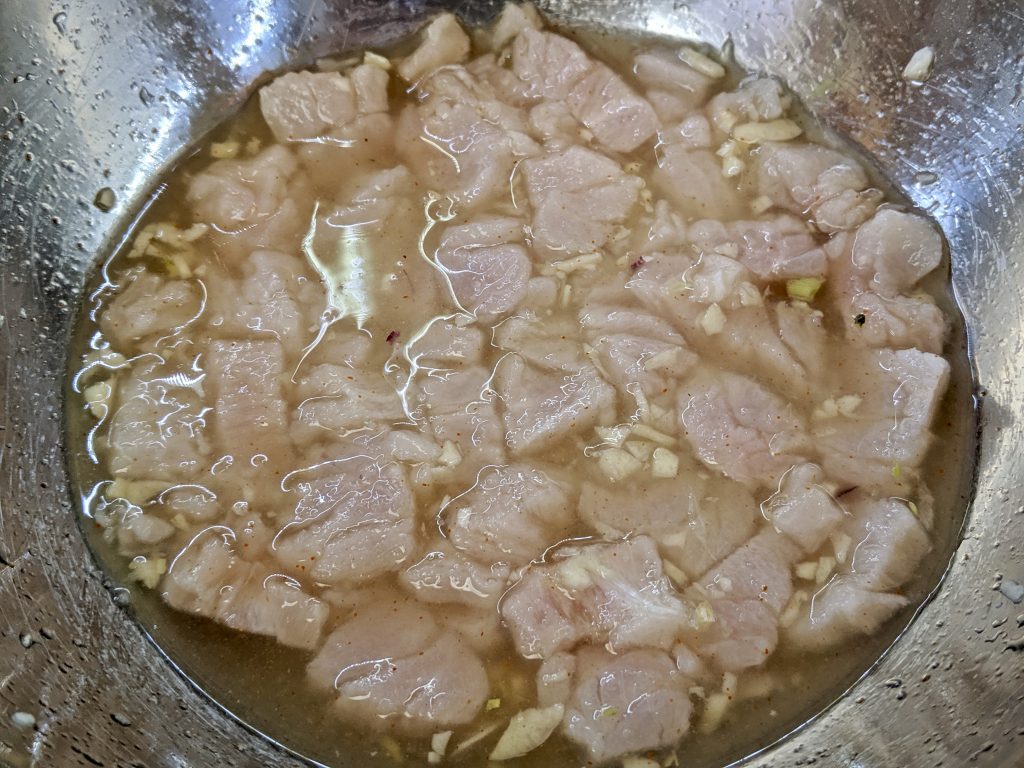 Anyways, back to the raw-ish fish. Seviche (or ceviche, which is considered to be the national dish of Peru, but its actual origin is highly debated) is fish combined with citric acid, which causes the proteins in the seafood to become denatured, giving the protein the appearance of having been cooked. However, unlike heating, the citric acid does not kill bacteria, so it is important that the fish is fresh and eaten immediately. Interestingly enough (for those epidemiological fanatics, maybe not for the general population), the Latin American cholera outbreaks in the 1990s may have been attributed to the consumption of raw cholera-infested seafood that was eaten as ceviche.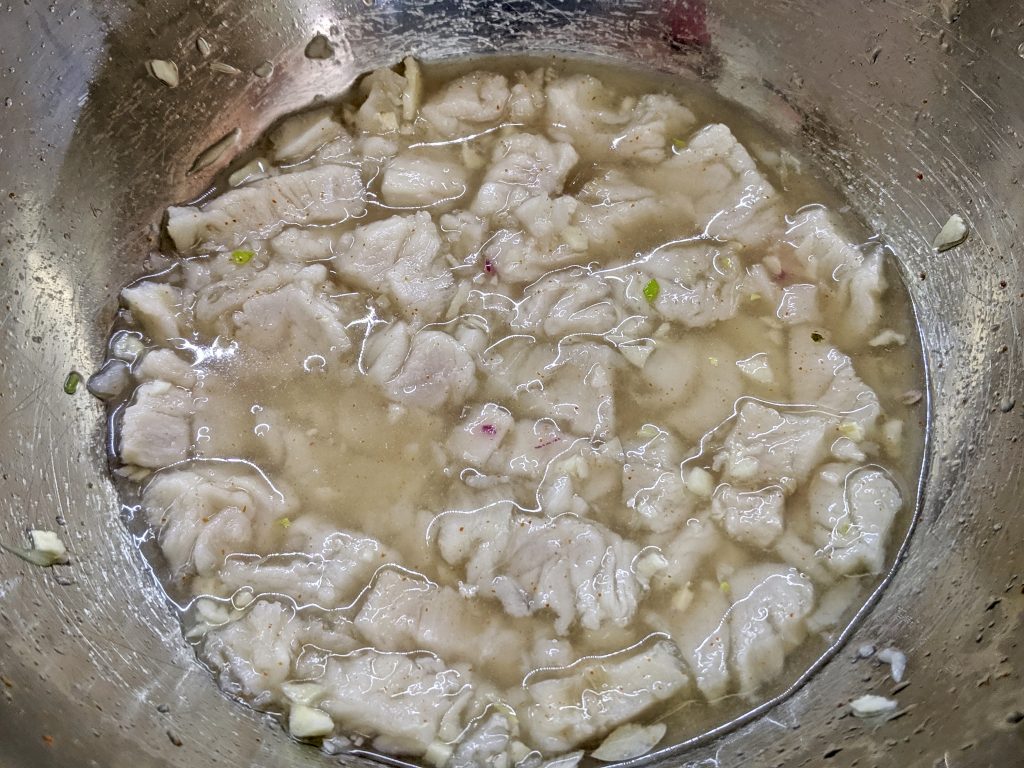 On that uplifting note, we diced the fish into bite-sized pieces and combined it with garlic, cayenne, and lime juice (ensuring that the protein was completely covered in the citrus juice) and marinated the combination for 2 hours in the fridge. Before serving, we drained off the excess lime juice and quickly tossed it with diced onion, parsley, and cilantro and served it on butter lettuce leaves.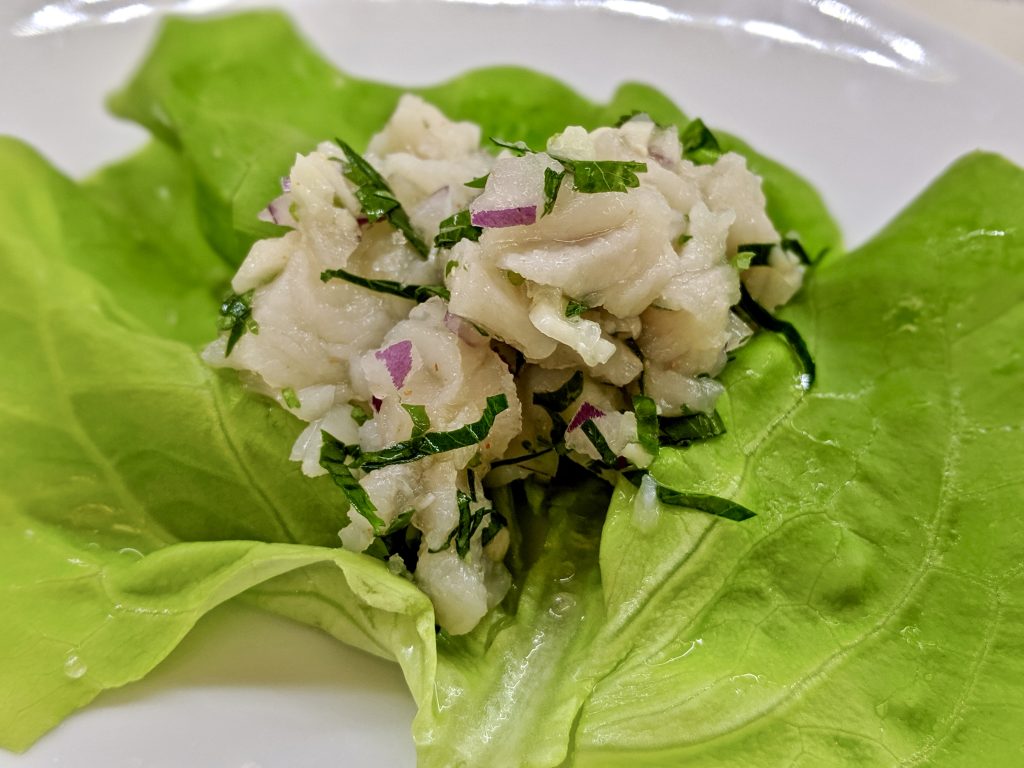 The seviche was excellent – it was just as limey as your favorite Brit and nowhere near as fishy as the latest episode of Law & Order (or CSI…or whatever crime show is relevant now). The lime juice had rendered the fish tender and was nicely complemented by the diced onion, cayenne, and herby-ness of the cilantro and parsley. It was easy and highly enjoyable and may be the fish alternative to our typically shrimpy ceviche for Christmas Eve!
In the Ashkenazi section of The Book of Jewish Food we tackled a fried pickled fish dish, with a mixed response (errr…from Gary). This fried fish dish from the Sephardi section is also known as "escobeche", which is the Arabic term for meat cooked in vinegar. Roden surmises that this dish may have come from Portugal and traveled over to England (from where our earlier pickled fried dish sprang). Interestingly enough (but not disease-lover interesting), Roden found this recipe in a Russian Jewish cookbook from Peru (which is where ceviche is thought to have originated).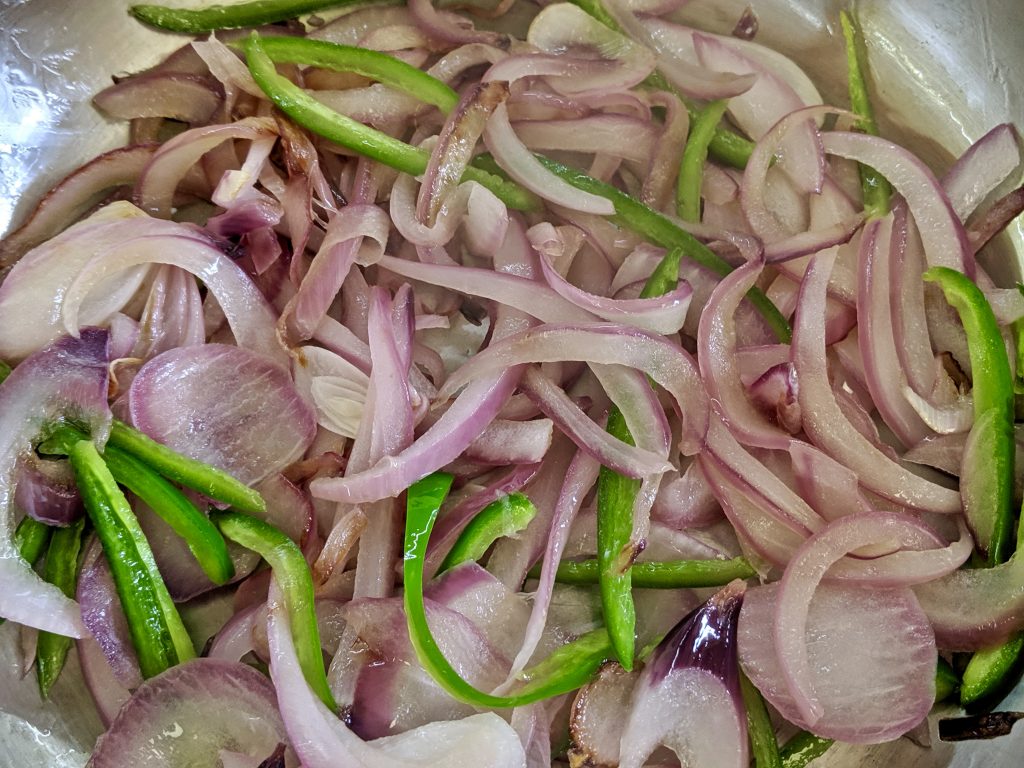 The fish was salted then fried in a pan until golden brown. After the fish was removed from the pan, sliced onions were fried with chili pepper and then doused with vinegar, which simmered for five minutes. This was poured over the fish and then the entire dish was refrigerated for several hours.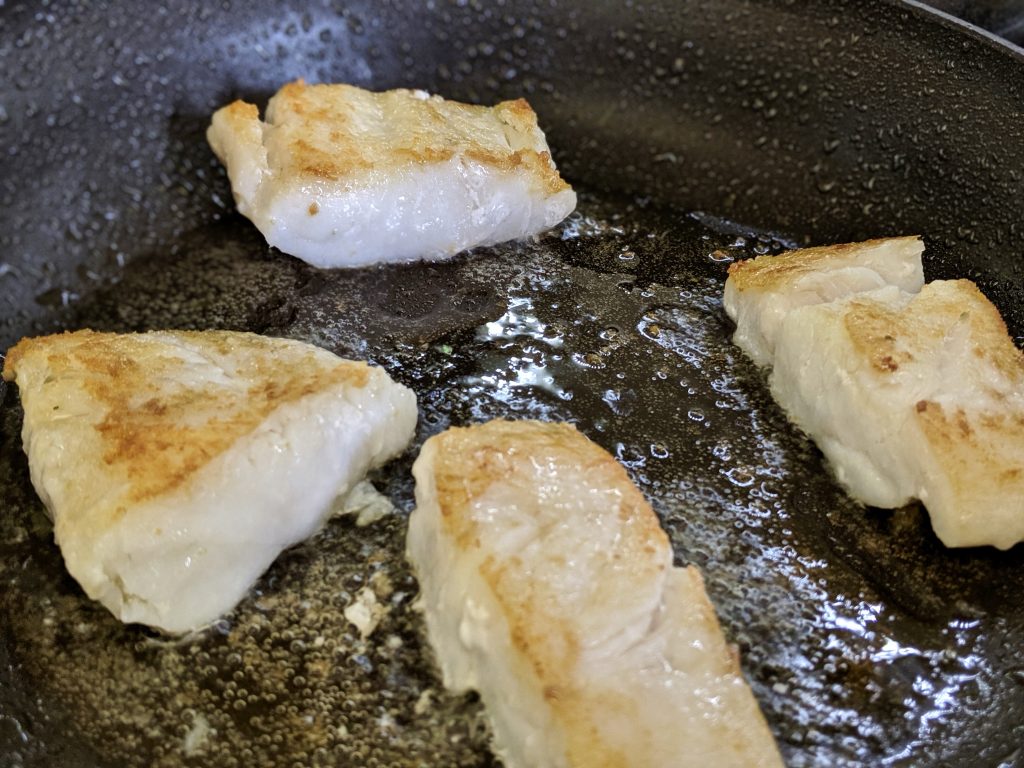 Served with green olives, this dish was bright and acidic and tangy. We both enjoyed this fried pickled fish dish better than its Ashkenazi counterpart as it held up much better during its refrigeration period prior to serving. While not a recipe we would typically make, we did enjoy it (and Gary much more-so than he expected!).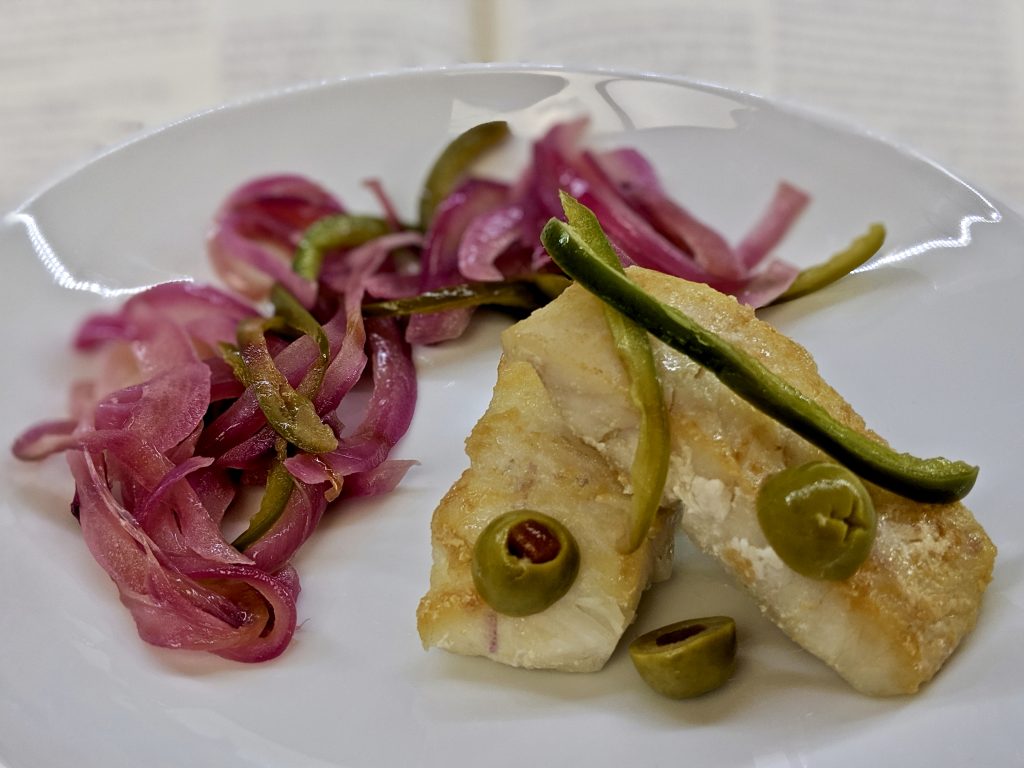 This Moroccan dish is a specialty during Hanukah, along with many other fried dough dishes. This is the last fried dessert for a while, as next week we move on to several cake recipes, and doughnuts are a wonderfully tasty way to segue into some different desserts.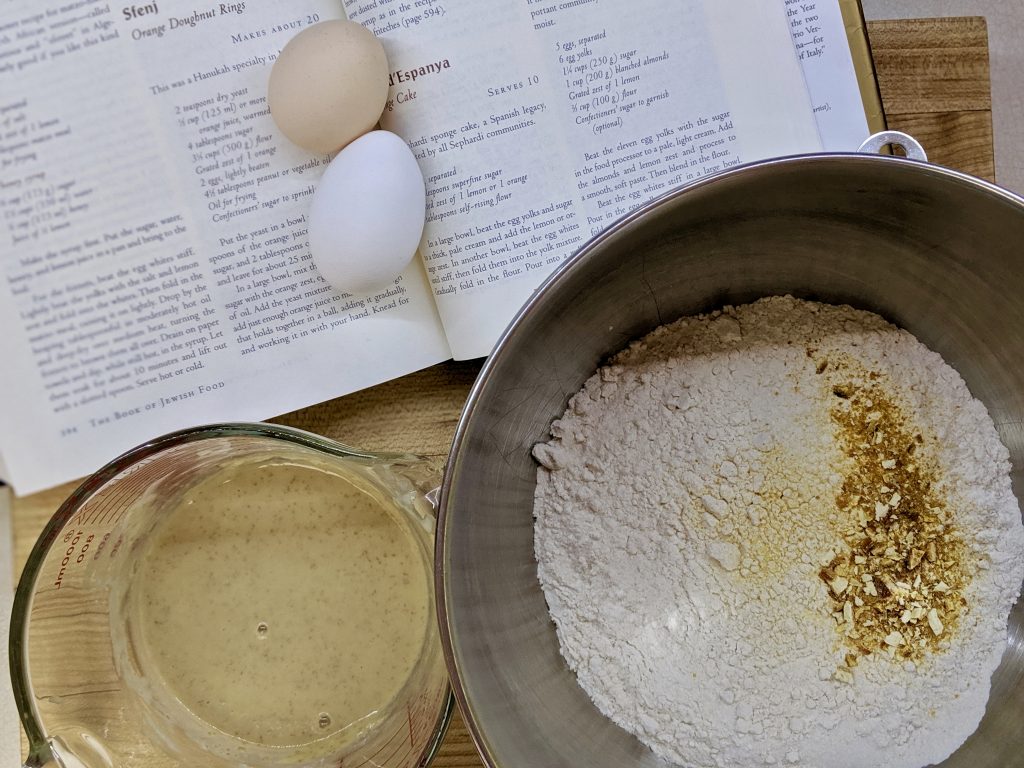 The starter was very different from any other yeasty beginning we have made before – yeast was mixed with orange juice, sugar, and two tablespoons of flour. This sat and frothed for 25 minutes, after which the orange-y mixture was added to flour, sugar, orange zest, eggs, and oil. This was all kneaded for 15 minutes, until the dough was smooth, and set in a warm place (i.e. our greenhouse) for ninety minutes until it had doubled in size.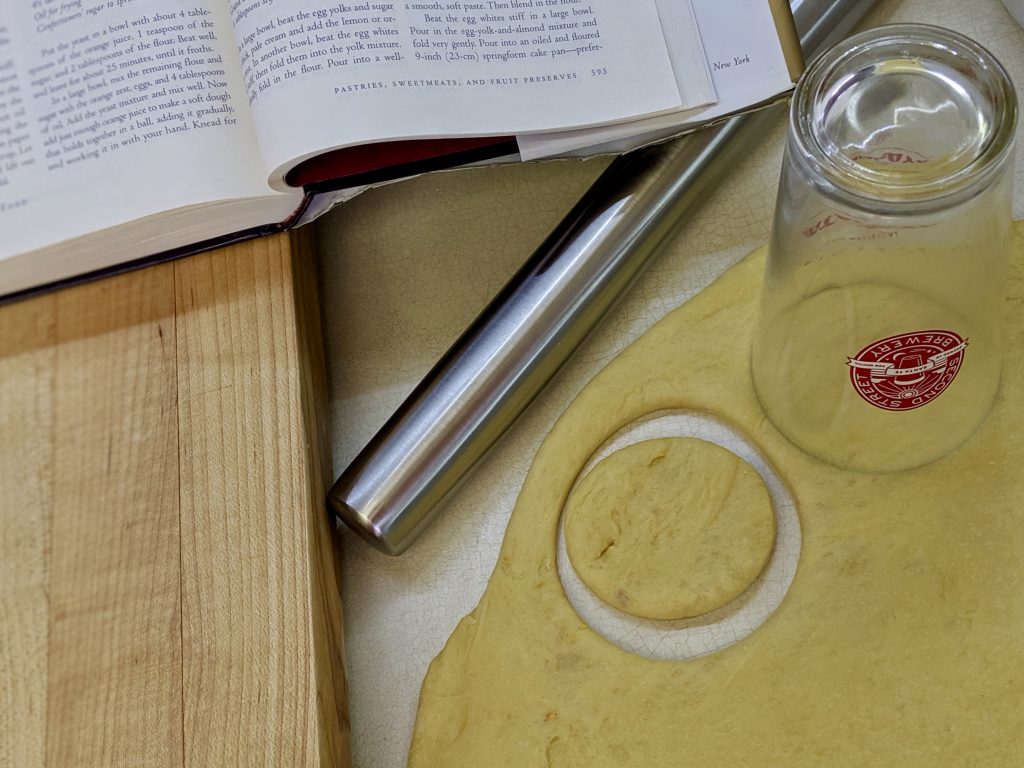 After the dough had risen, it was rolled out into a 1/3 inch sheet and cut into 3-inch rounds. A hole was poked into each round and enlarged until it resembled a doughnut. The pre-fried doughnuts rested on an oiled sheet for another thirty minutes, during which time they rose ever-so-slightly again. The doughnuts were fried in oil over medium heat until they had browned slightly (some more than others) and drained on paper towels. They were then coated in either the orange syrup from last week's fritters or a mixture of cinnamon and sugar.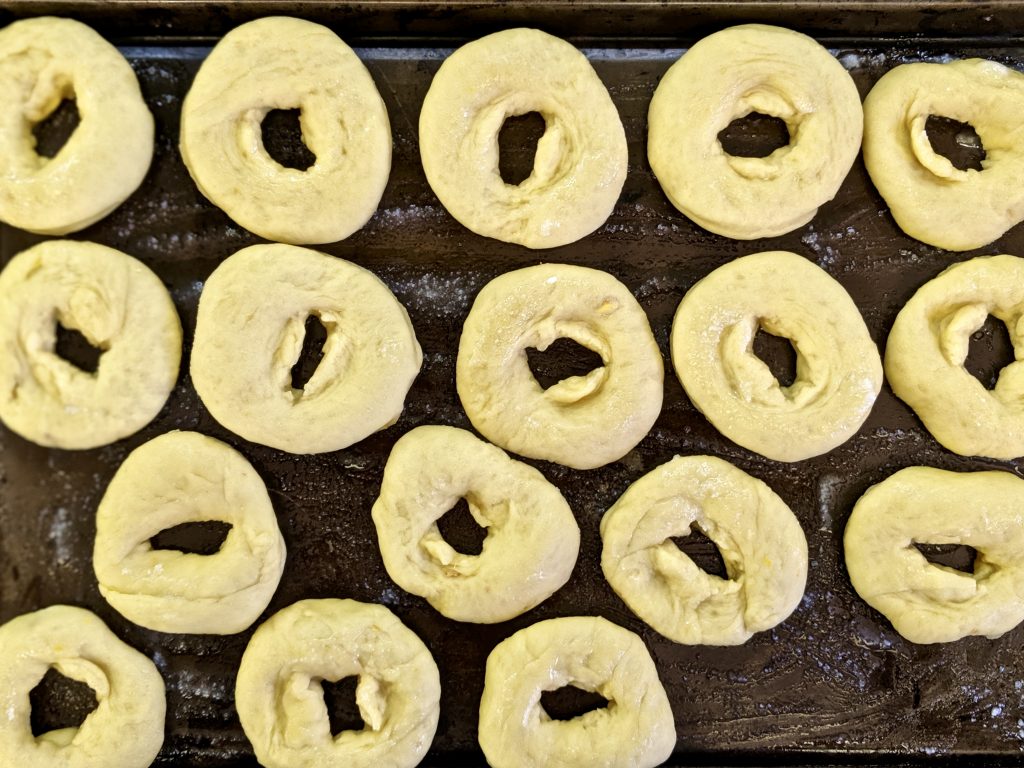 This doughnut was quite tasty and despite being fairly time-consuming, were easy enough to make. The doughnuts themselves had a nice orange flavor that light and more of a citric note than a candied taste. The orange syrup nicely complimented the orange doughnuts, making the brighter, and the cinnamon sugar coating made them slightly more savory and spicier. While we probably would not make these again (because having doughnuts in the house is just too dangerous), we definitely enjoyed them and they kept quite well over the next several days.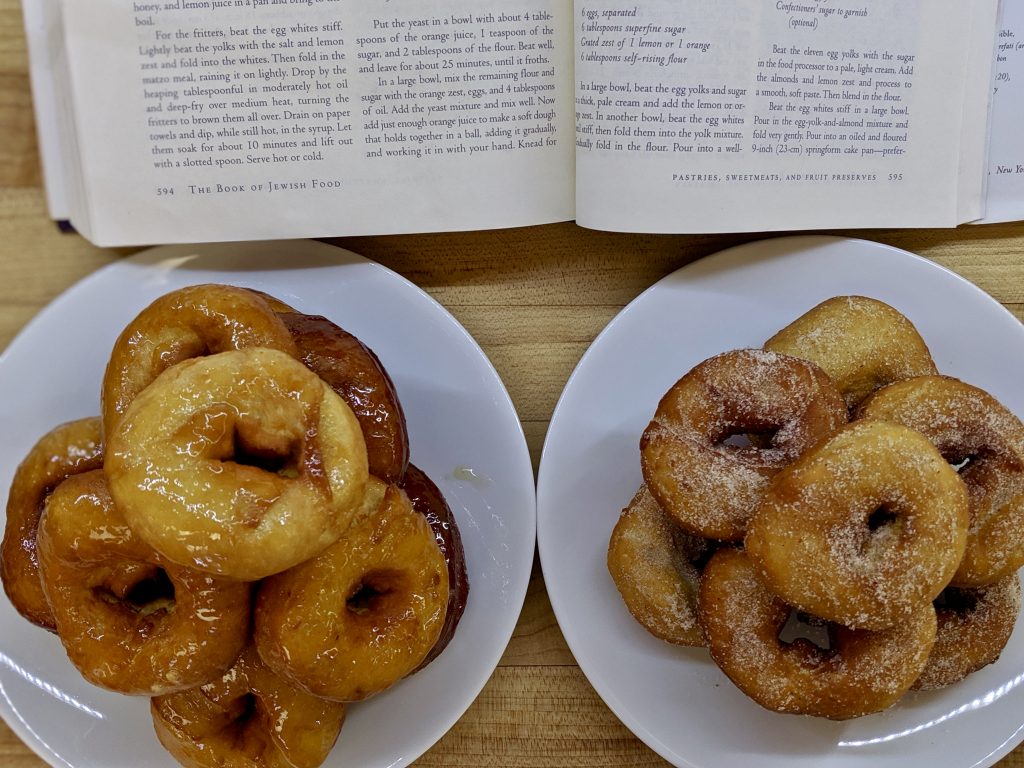 AND IN THE END, THE FOOD YOU MAKE IS EQUAL TO THE CARE YOU TAKE…
So how was Made In Marrow's meal number 64? As a reminder, our rating system is based on sticks of butter (because butter is best!), with 1 being the absolute worst and 5 being out of this world. Sticks of butter are assigned to Difficulty (how many kitchen fights were needed to complete the meal?), Tasty Goodness (was it a palate poor or did it make our mouths merry?), and Repeat Customer (how likely are we to return to the recipe?).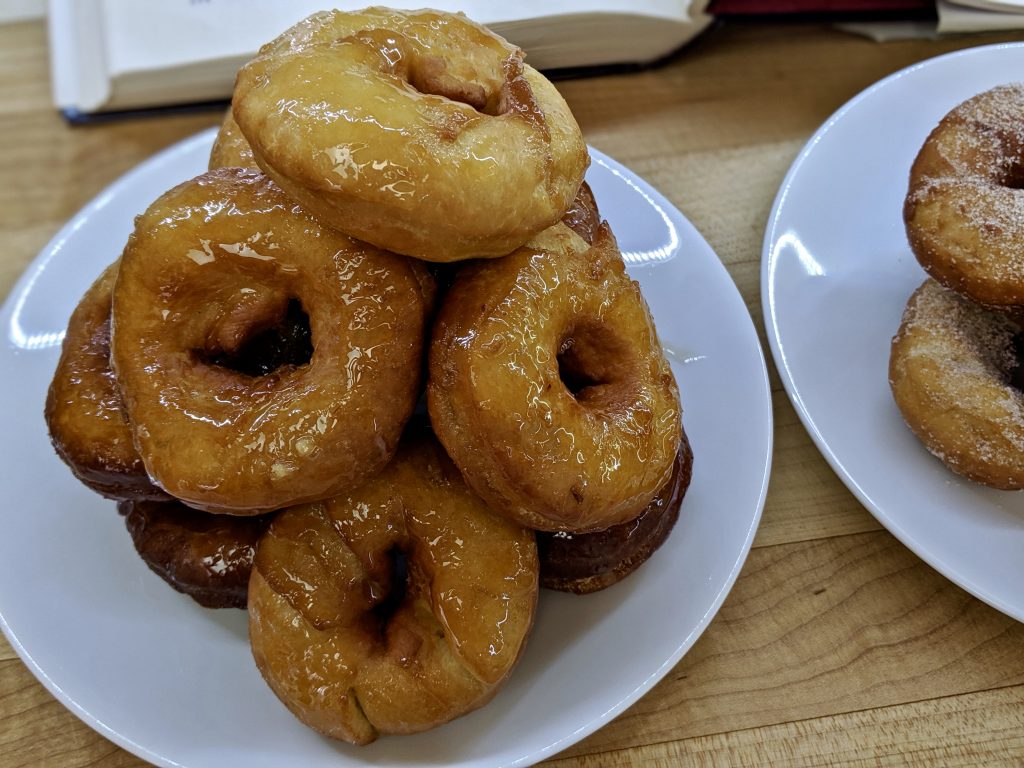 Difficulty 3/5
The complicated doughnuts balanced out the fast fish dishes, so this was a fairly moderate week when it came to cooking.
Tasty Goodness
4/5 Seviche – Marinated Raw Fish – Just a little bit more salt would have sent this fish to a five!
5/5 Poisson en Escabèche – Pickled Fried Fish – Tangy, salty, and savory!
4/5 Sfenj – Orange Doughnut Rings – mmmmmm…doughnuts, what more can we say?
Repeat Customer
5/5 Seviche – Marinated Raw Fish – Easy and not scary – two things you want in every dish!
5/5 Poisson en Escabèche – Pickled Fried Fish – Tasty and different – two things that are lovely to have in any dish!
5/5 Sfenj – Orange Doughnut Rings – mmmmmmmm…doughnuts….every dish should be…dooooonnnnuuuttttsss
Doughnuts…mmm, what? Oh right, well, this week's dinner was odd but tasty, so who are we to argue with Claudia Roden?
Sip, sup, and savor all you can, you curious cooks,
Elais & Gary