Just want the recipes and none of that other wordy nonsense? Click the links below!
Fried Gefilte Fish – Fried Fish Balls
Reizflomesa – Rice with Prunes and Raisins
Rugelach – Little Nut and Raisin Crescents
Meal the Twenty-fourth
Welcome to the fish portion of the Ashkenazi section of the Book of Jewish Food. This small set of recipes marks the final section of the first half of the book, which Gary and I left until last minute in the hopes that we would have some more fresh fish options in our Southwestern desert in the summertime – we shall see. Jewish dietary laws dictate that all fish with scales and fins may be eaten, and those without (shark, monkfish, swordfish, eel, etc.) are not kosher. Interestingly enough, Jewish food etiquette also says that it is permissible to eat fish with meat, but it cannot be cooked or plated onto the same dish, and in between these courses, something hard like bread must be consumed, along with a drink.
Fish is symbolic in the Jewish faith, as the Messiah is thought to come in the form of a large fish from the sea. Fish is often consumed on the New Year and Shavuot and is also associated with fertility. Fish on Friday (as in many cultures) is a common dinner and in the shtetl, was bought live on Thursday and kept swimming in a tub until its cook time the following day. Because Christians and Jews alike bought fish in great quantities for Friday feasts, fishmongers would often raise their prices towards the end of the week, creating an air of excitement in the pre-weekend markets. Because fish was cooked in advance of the Sabbath, it was often eaten cold over the weekend, which is why several of the upcoming fish recipes are chilled.
In honor of this tradition, we decided to consume this week's meal on a Friday evening – we hope you enjoy our little fish feast as much as we did!
Gefilte fish is a fairly popular and well-known Jewish dish, most often being consumed for the Sabbath and holiday meals. Not only can gefilte fish be made in Jewish and gentile kitchens alike, it is also now mass produced and sold in jars from delis to grocery stores to the online giant Amazon. The original word "Gefilte" means to fish stuffed with fish (aka forcemeat), but in modern times the forcemeat stands alone and is made into balls and either fried or poached in fish stock.
The fried version of gefilte fish originates in London (i.e. fish and chips!!) and it was the Portuguese Jews who influenced Britans with these chopped white meat fish balls. In our kitchen, the fish balls were relatively easy to make, blending onion, 2 eggs, salt, sugar, white pepper, matzo meal, and fish fillets (we used haddock) in the food processor. Claudia Roden specified in the recipe that the fish is not to be blended into a paste, just finely chopped, to leave a little texture for the final result.
After this concoction was chilled for thirty minutes, the balls were formed and rolled in matzo meal to add a little crispy coating. Thrown (i.e. carefully placed) into the deep fryer and fried for 6 minutes, these fish balls came out golden with a light crispy coating.
Gary and I quite enjoyed our first foray into the gefilte fish world, as the fish balls had a light crunch on the outside, with just enough moisture on the inside. The haddock was mild tasting, but the white pepper complimented it nicely and it made for a surprisingly light bite, despite being fried fish.
Reizflomesa is another popular Friday night dish (although this one is from Alsace) and has quite the Persian lean to it, despite it being from France. Gary and I were a bit wary about this recipe (hmmmm, more prunes for dinner, not so sure about that…), but dove headfirst into this simple and quick-to-cook side.
We fried an onion until golden and then added rice, prunes, dates (for those who have forgotten, all raisins in our house are substituted with dates, as decreed by Gary), cinnamon, salt, and pepper. Three cups of water were poured over all, and then the pan simmered for thirty minutes.
Fast to prep and requiring little babysitting, this dish was not only simple but surprisingly tasty! The dates and prunes were not overly sweet (which is what we were afraid of) and the very, very soft rice, created an almost risotto, which complimented the gefilte fish quite nicely. We also thought this would be a great side for pork chops, but you know, probably not very kosher…
Thought to possibly be Viennese, these pastries may have originated in the 1600's and are also theorized to be the predecessor of the croissant. These tiny crescents are a specialty of Shavuot and Hanukah and are often found in cafes and bakeries. Although there is quite the debate about their origin story, this does not negate their tastiness!
The dough was probably the most different and interesting dough I have ever made – cold butter was blended with cream cheese, sour cream, salt, and flour to make a very soft and very sticky pastry. The dough was chilled for four hours (this is an absolute must, especially if it is 80 degrees in the house like ours was), and then rolled very, very thinly into circles. These circles were then cut into pie pieces and layered with a mixture of sugar, cinnamon, dates, and chopped walnuts. The wedges were then rolled up, wide side first, and shaped slightly (well, some slightly and some not so slightly) into crescents (again, some moon shaped and some "C" or "U" shaped, depending on the angle). Carefully placed on a baking tray and brushed with an egg glaze, these were baked at 350 for 25 minutes until golden.
While they sounded complicated to make, they were quite the opposite and made it into the oven surprisingly fast. The smell as they baked was heavenly and they cooked evenly, despite being a variety of sizes. And man-oh-man were these tasty. The dough had a filo-like texture – airy and buttery, and slightly sweet. The filling tasted like a cinnamon roll and added just enough moisture to the crescents to balance out the flakiness of the dough. These went down way too easily, and Gary and I had to exercise a large amount of self-restraint to ensure we did not eat these all on the first night.
AND IN THE END, THE FOOD YOU MAKE IS EQUAL TO THE CARE YOU TAKE…
So how was Made In Marrow's meal number 24? As a reminder, our rating system is based on sticks of butter (because butter is best!), with 1 being the absolute worst and 5 being out of this world. Sticks of butter are assigned to Difficulty (how many kitchen fights were needed to complete the meal?), Tasty Goodness (was it a palate poor or did it make our mouths merry?), and Repeat Customer (how likely are we to return to the recipe?).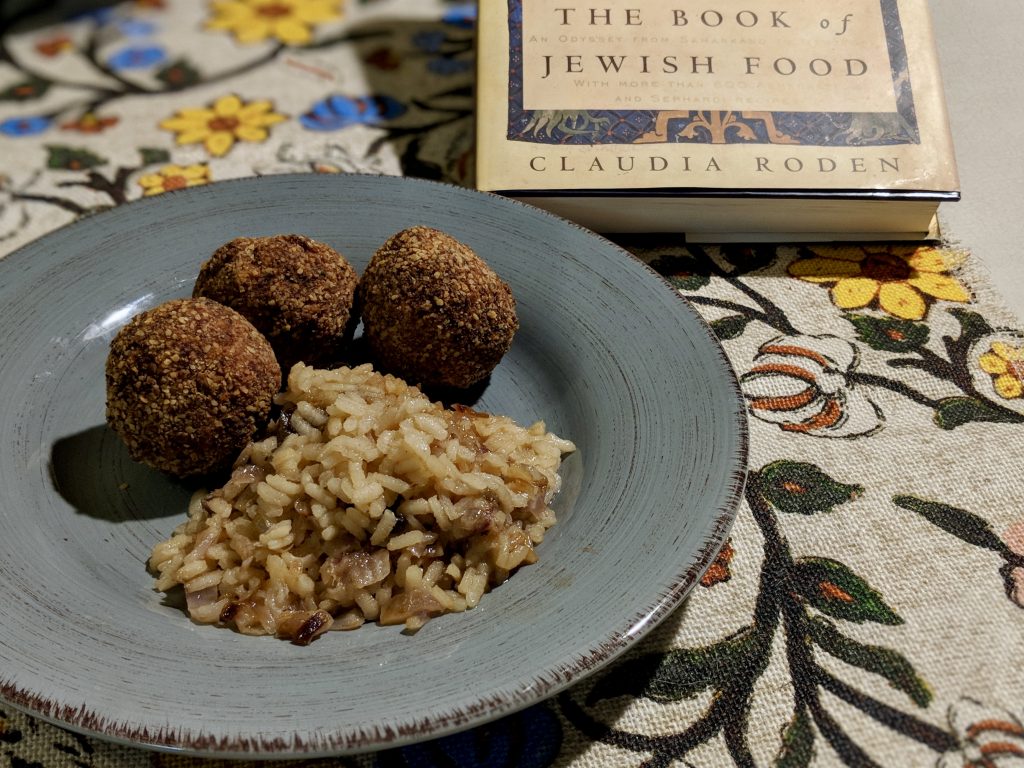 Difficulty[][] 2/5
A little planning was required for chilling the dough and fish balls, and we did need to pull out the always-heavier-than-expected food processor, but besides time management and a few special tools, this meal was relatively fast and straightforward.
Tasty Goodness
[][][][] 4/5 Fried Gefilte Fish – Fried Fish Balls – A light and different way to enjoy those sometimes boring white-fish fillets that hang out in our deep freezer!
[][][][] 4/5 Reizflomesa – Rice with Prunes and Raisins – Different and tasty, a great little dish with which we are now happy to be familiar.
[][][][][] 5/5 Rugelach – Little Nut and Raisin Crescents – Dangerously good, but probably not so good for the waistline…
Repeat Customer
[][][][][] 5/5 Fried Gefilte Fish – Fried Fish Balls – Quick to make, would definitely fry again!
[][][] 3/5 Reizflomesa – Rice with Prunes and Raisins – Different from our usual repertoire, this is a nice side to have to add a little variety to main course proteins.
[][][][][] 5/5 Rugelach – Little Nut and Raisin Crescents – Wonderful on the palate and whimsical on the plate, these little pastries are sure to impress your guests!
There you have it, our first fish feast for a Friday feeding. We are looking forward to the upcoming recipes, as the majority are out of our comfort zone (jellied fish, anyone?), so stay tuned for more cuisine capers!
Sip, sup, and savor all you can, you curious cooks,
Elais & Gary