Just want the recipes and none of that other wordy nonsense? Click the links below!
Frittata di Carciofi – Artichoke Omelette
Fritada de Tomat – Tomato Cake
Marcoude de Pommes de Terre – Potato Omelette
Macalcal or Masala Chicken – Chicken in a Coconut Sauce
Guizadas – Pistachio or Almond Sweets
Meal the Eighty-Second
As we near being a full two months under a stay-at-home order, we have begun to appreciate the glorious flexibility of earlier this year, when we could come and go as we pleased, without having to worry about crowds or wearing a mask. But we took that flexibility and adapted to this new normal, only going grocery shopping once per month and ensuring that only one of us makes the trip. This has proved to be a bit limiting with regards to ingredients, not only because we are buying fresh fruits and vegetables once per month, but also because we have noted that the grocery stores in Santa Fe have a much more limited variety in their produce departments. Because of this, we have been rearranging the order of the recipes a little bit, opting for the ones which feature canned or dried ingredients. Every dish tonight has ingredients that keep for a while in your pantry, whether they are jarred artichoke hearts, canned tomatoes, or hearty veggies known for their longevity, like potatoes and onions.
While we have slowed down in our blogging of meals a bit, we are still enjoying them just as much as we did before and are working on adapting to some new food routines. So read on for tonight's fancy feast – a veritable variety of preserved veggies and spices!
Frittata di Carciofi – Artichoke Omelette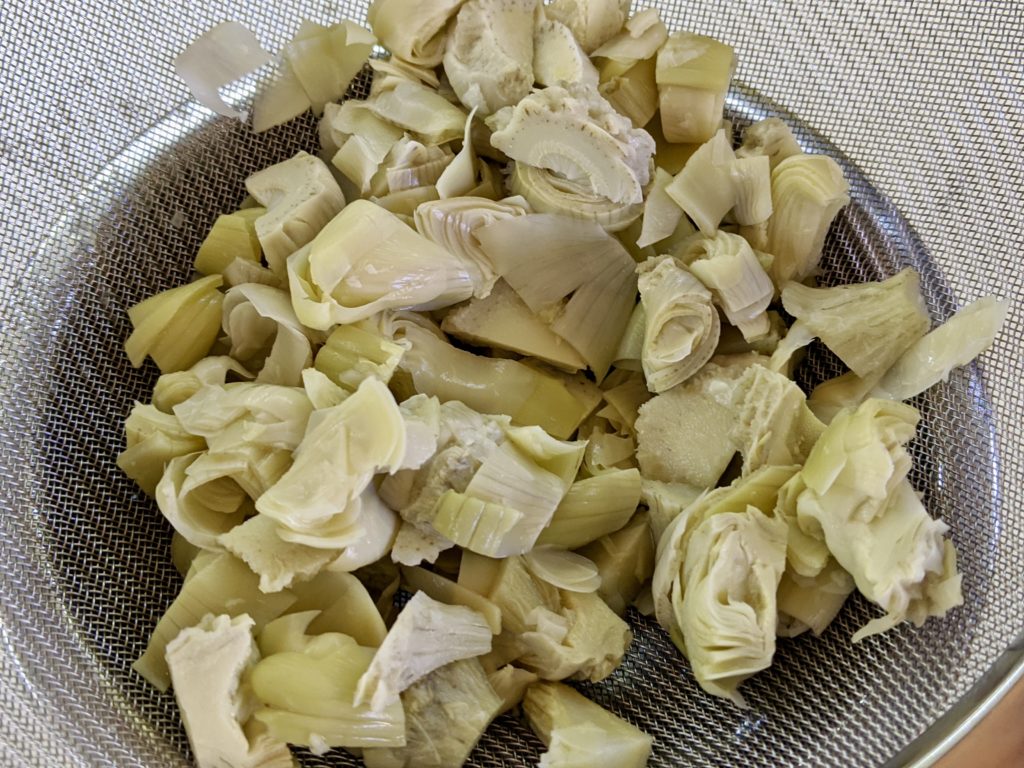 For our first of our trio of egg-vegetable side dishes of the evening, we sampled an Italian omelette featuring our favorite thistle, the artichoke. Opting for what we already had on hand, we used jarred artichoke hearts, which also helped to make prep quite simple. The little hearts were cut in half then fried until slightly browned. While these drained on paper towels, salt, pepper, nutmeg, parmesan cheese, and parsley were beaten into eggs, which were then joined by our artichokes. This was all poured into a heated pan and cooked over low heat until the bottom had set, after which it was placed under the broiler until cooked through.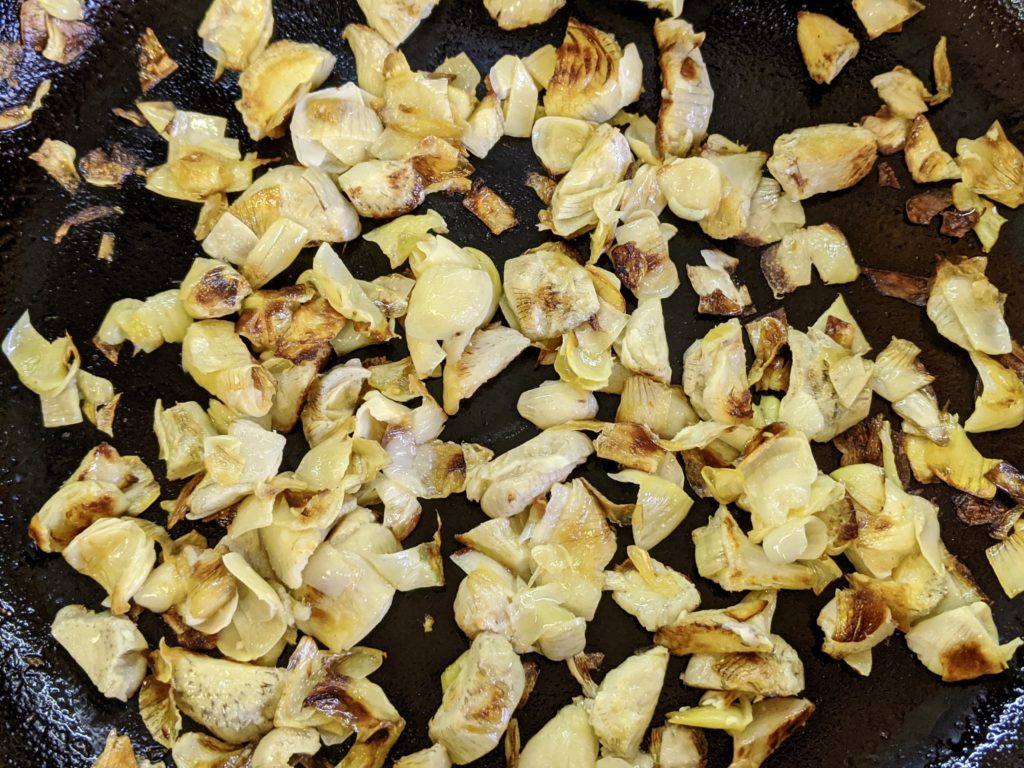 It turns out that fried artichokes are quite tasty and make quite a flavourful egg dish, although we would definitely call this more of a frittata than an omelet. Nonetheless, it was bright, earthy, savory, and light, with the parmesan cheese adding a wonderful saltiness that we all crave and love.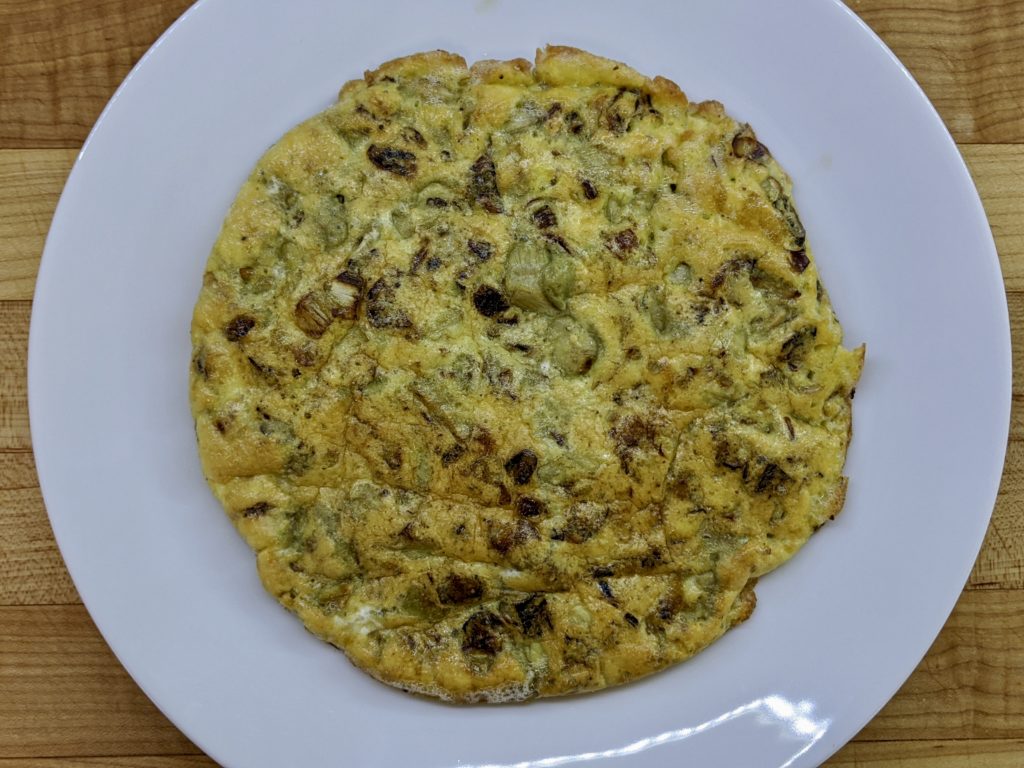 Fritada de Tomat – Tomato Cake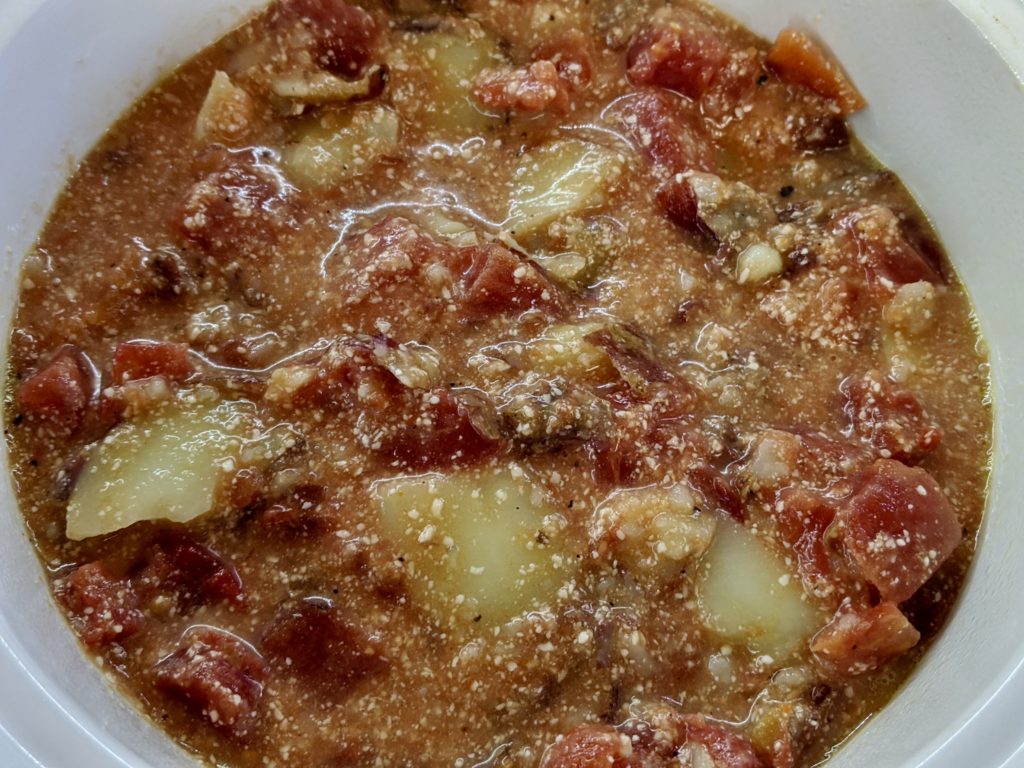 There is no background for this "cake" in The Book of Jewish Food but with some basic research it appears that this recipe may be Spanish in origin. It was fairly straightforward, beginning with boiling and mashing one potato, then combining it with tomatoes, parmesan cheese, parsley, salt, pepper, and lightly beaten eggs. This was poured into an oiled baking dish and baked in the oven at 375F for about 40 minutes until firm.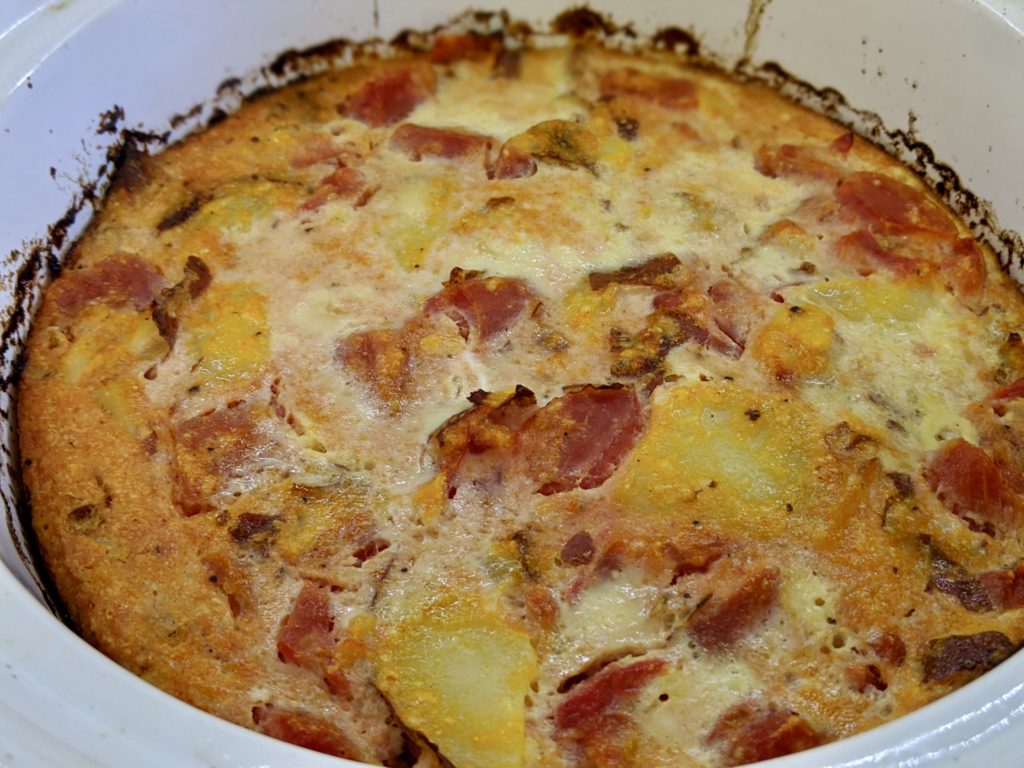 This was a bit of a cross between a casserole, frittata, and maybe (just maybe) a cake. It was firm and not overly eggy, with tomato being the main taste of the dish. It was not terrible, but we cannot say that it was our favorite side dish but did quite well when chopped up and re-heated with ground beef for another night's meal, so we can't say it was a total loss.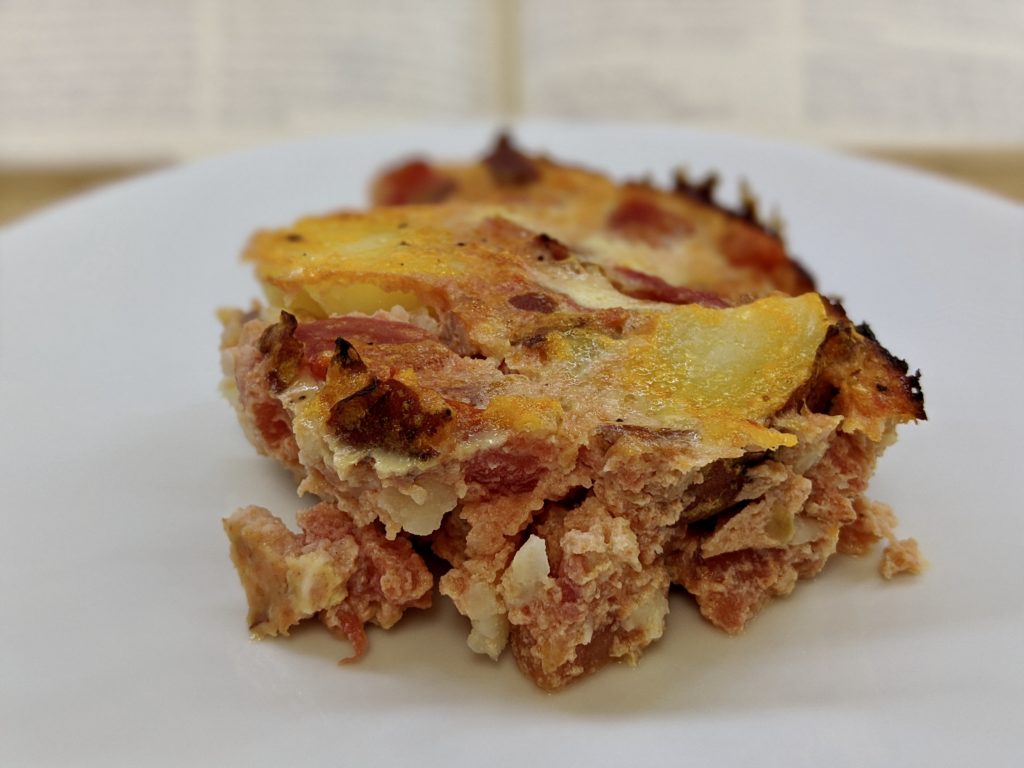 Marcoude de Pommes de Terre – Potato Omelette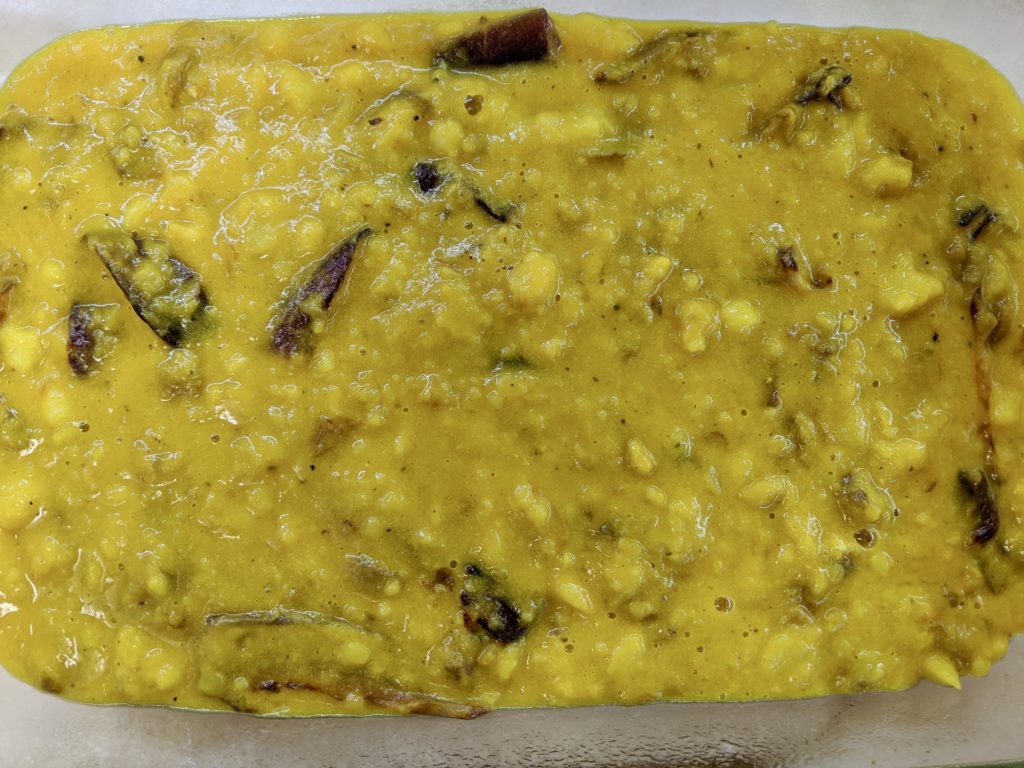 A marcoude is a Sephardic Jewish potato casserole with origins in the Jewish communities who were exiled from Spain by the Catholic monarchs Ferdinand and Isabella in 1492. A number of variations can be found across North Africa, with Roden's favorite being the recipe found in the region surrounding Algeria and Tunisia. Like our tomato cake, this recipe also begins with a mashed potato, which was then mixed with fried onions, lightly beaten eggs, garlic salt, pepper, turmeric, lemon juice, and parsley. Our very yellow potato mixed was poured into a glass baking dish (so that we would not end up with yellow-tinted white bake wear) and cooked at 425F for 45 minutes until set.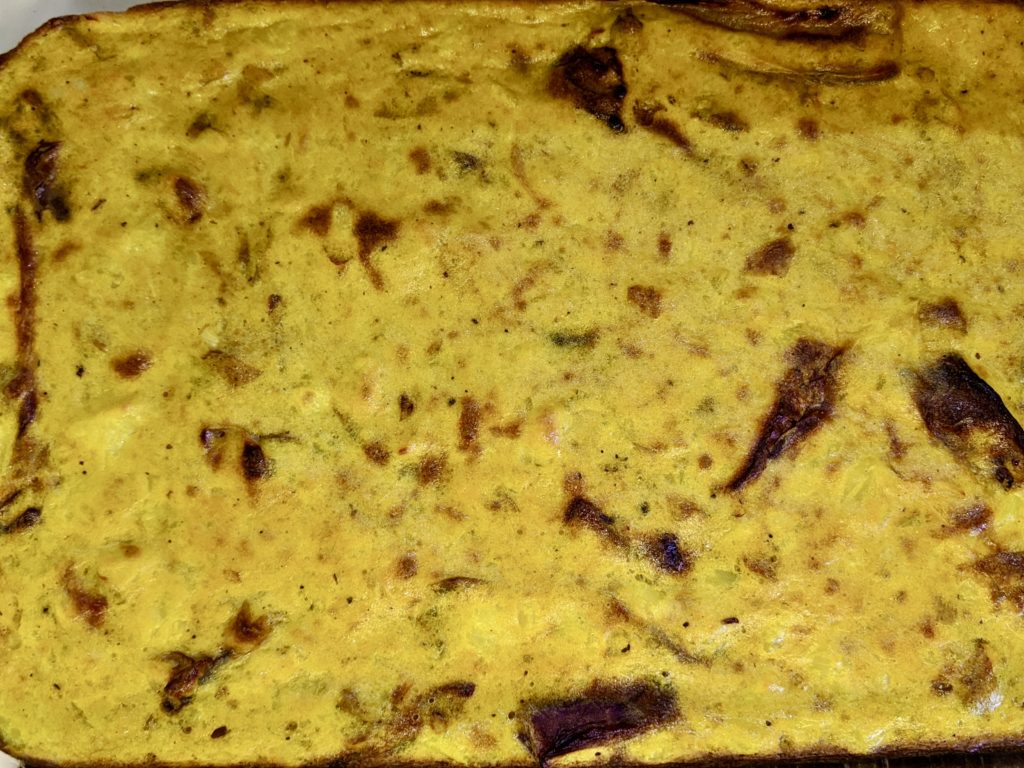 This was definitely not an omelet or a frittata. It was not really a casserole either and was closer to being a cake than our above tomato dish. The texture and crumble of the dish very closely resembled a dense cake, albeit a turmeric, onion, and garlic cake. While it was not unpleasant, it was not…pleasant. We think it was the texture that threw us, as when we chopped it up and ate it with ground beef for dinner later in the week it was much more enjoyable.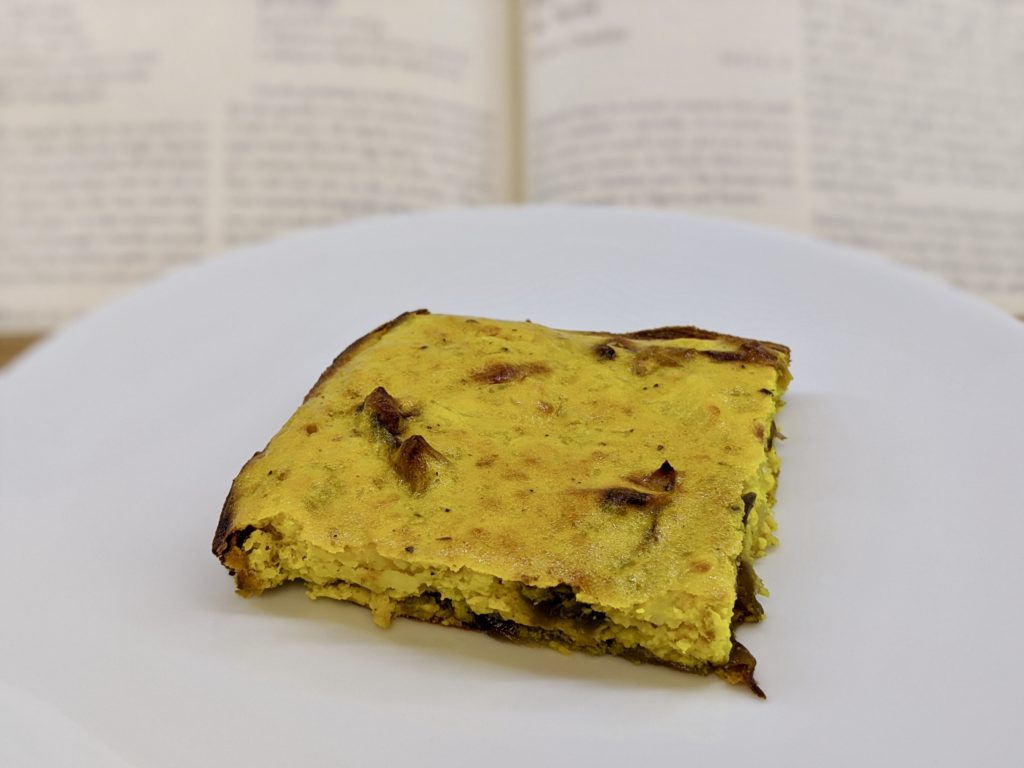 Macalcal or Masala Chicken – Chicken in a Coconut Sauce
As we discussed last week, our current grouping of chicken recipes revolves around the three Jewish communities of India – this week's recipe comes to us from the Bene Israel, who were lived largely unbeknownst on the west coast of India until the mid-eighteenth century. Since their "discovery" by the Cochini (the Jewish community who also lived in southwestern India), with most of the remaining descendants have moved to Bombay and speaking the language Marathi, which is one of the main languages of western India. The Bene Israel believe that their roots lie in the Lost Ten Tribes of Israel, who shipwrecked on the coast of India during the second century.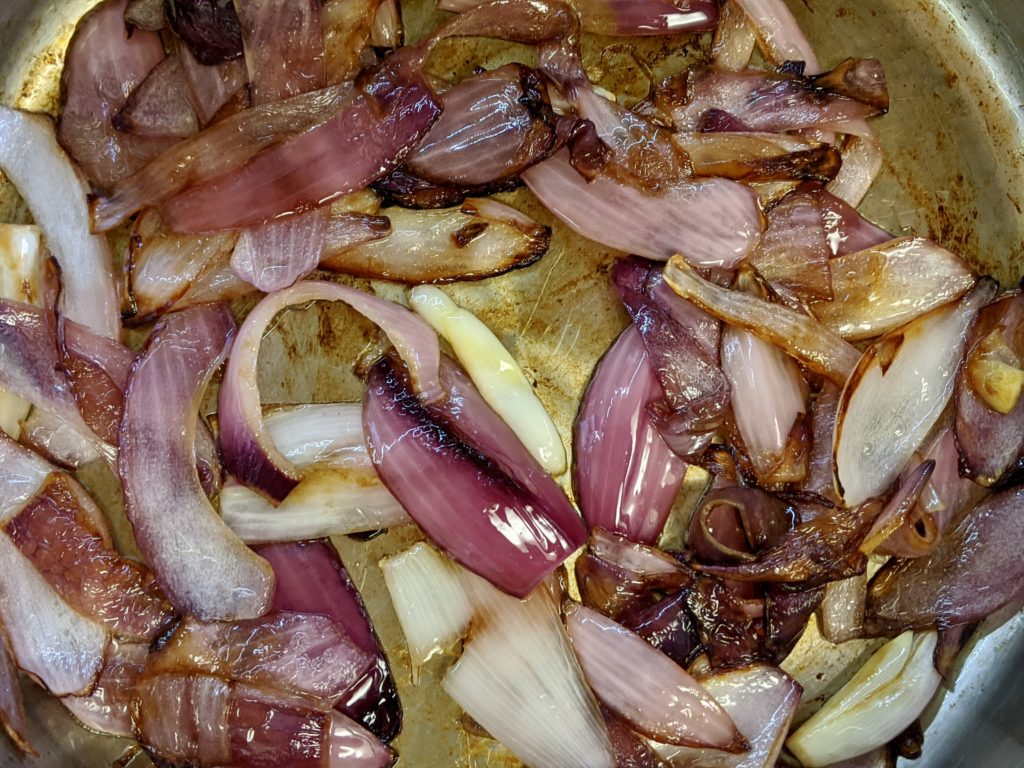 As we talked about with our rice dish last week, the Bene Israel were traditionally farmers and oil-pressers, specializing in sesame, peanut, and coconut oils. The Bene Israel had ongoing ties to their Muslim and Hindu countrymen, sharing ingredients and cooking styles, which can definitely be seen in tonight's protein course. Coconut is fairly commonly found in this region and is therefore heavily featured in everything, from juices to stews, and pancakes to puddings. They also kept their own fowl and out of respect for Hindu observances, beef became taboo to the point that many believed it was no longer kosher.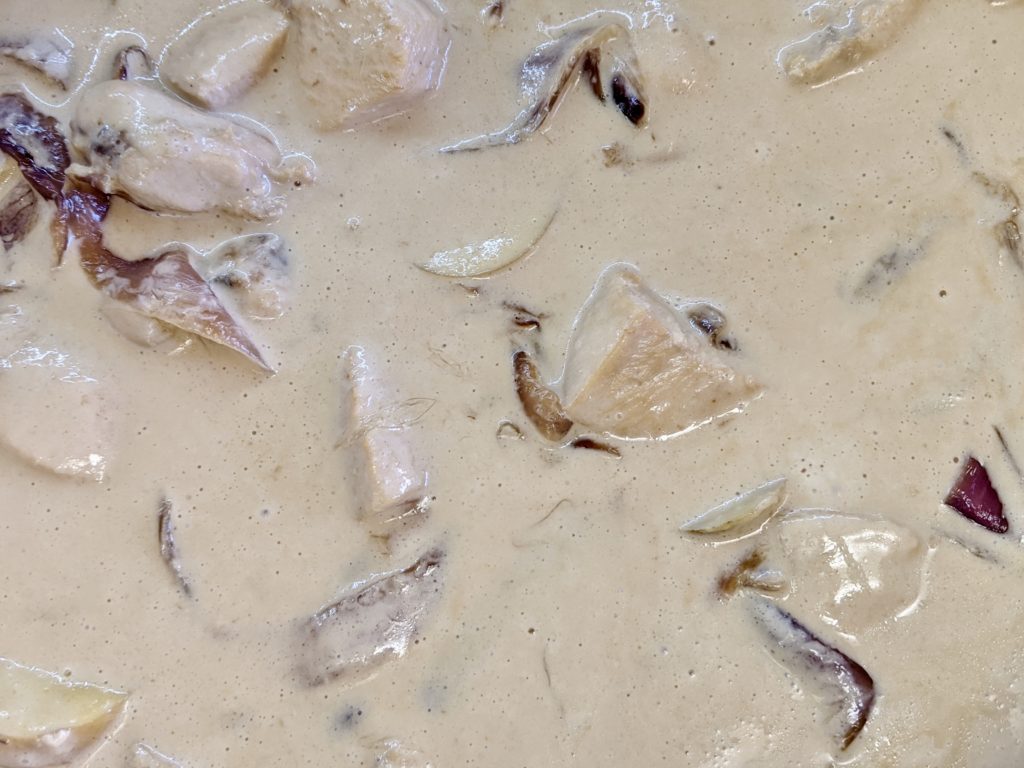 Our masala chicken is the embodiment of our little snapshot of the history of the Bene Israel – very coconut forward, with bright spices seasoning the tender chicken. To start, onions were fried until soft, after which garlic was added along with ginger and turmeric and sautéed until aromatic. The chicken pieces were added to the pan, seasoned with salt and white pepper, and then was joined by sliced potatoes and coconut milk. This all simmered for 45 minutes until the potatoes and the chicken was tender. Cashews and sliced dates were added to the pan just before serving.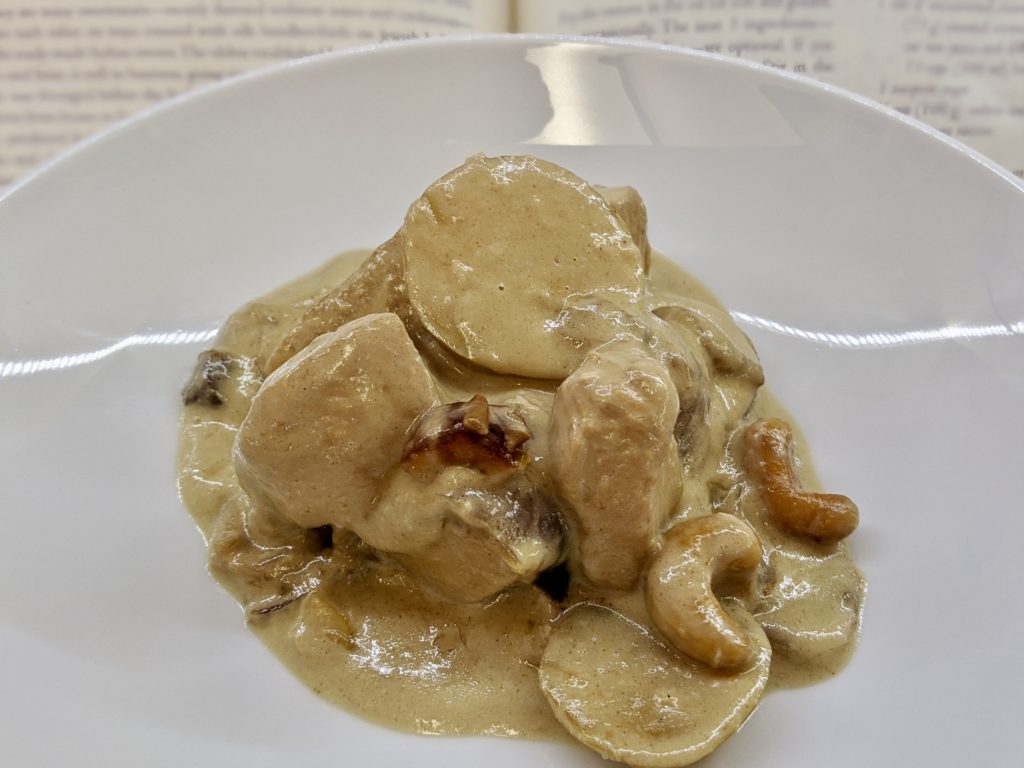 While there was not much color in the dish, the flavor turned out to be exactly the opposite – bright and savory and creamy. The turmeric and ginger lightened the heavy coconut sauce significantly and the potatoes and cashews added a wonderful level of heartiness to the dish. The preparation was straightforward and the recipe was very tasty – better yet there were two nights of leftovers, so this dish was a winner for us!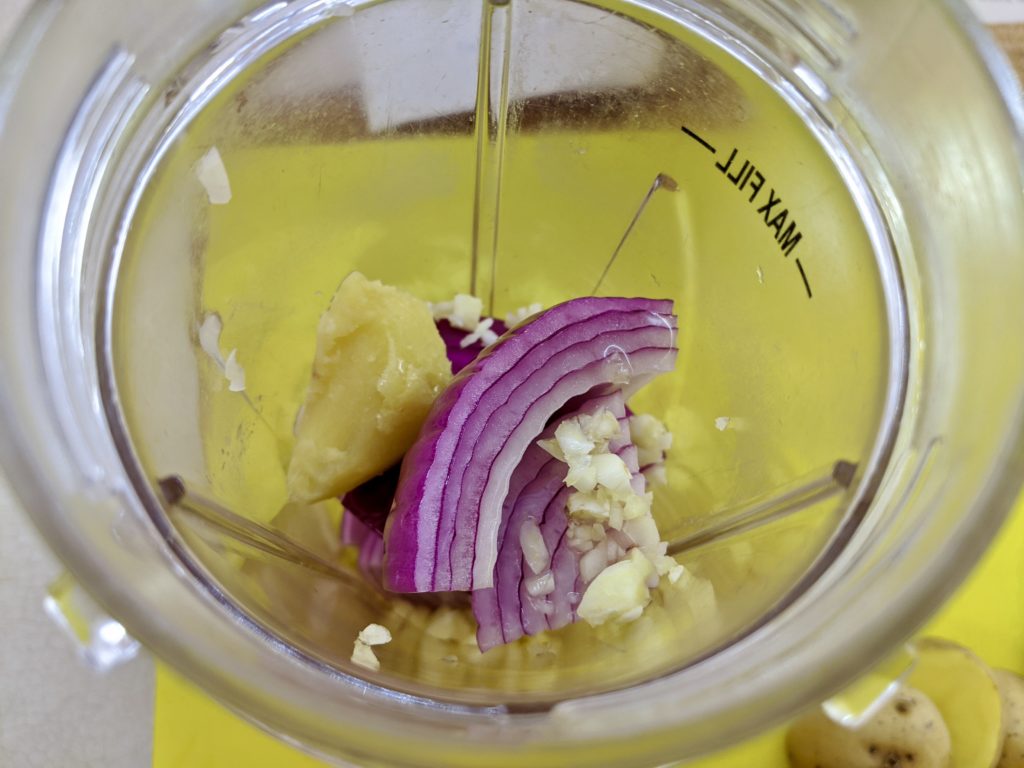 Claudia Roden recommended that the masala chicken be accompanied by rice and this recipe made for a perfect pairing, both because it also is apart of the Bene Israel cuisine as well as it having very complimentary flavors! This drier rice is heavy on the garlic, so it pairs quite well with flavorful stews and is often served at celebrations.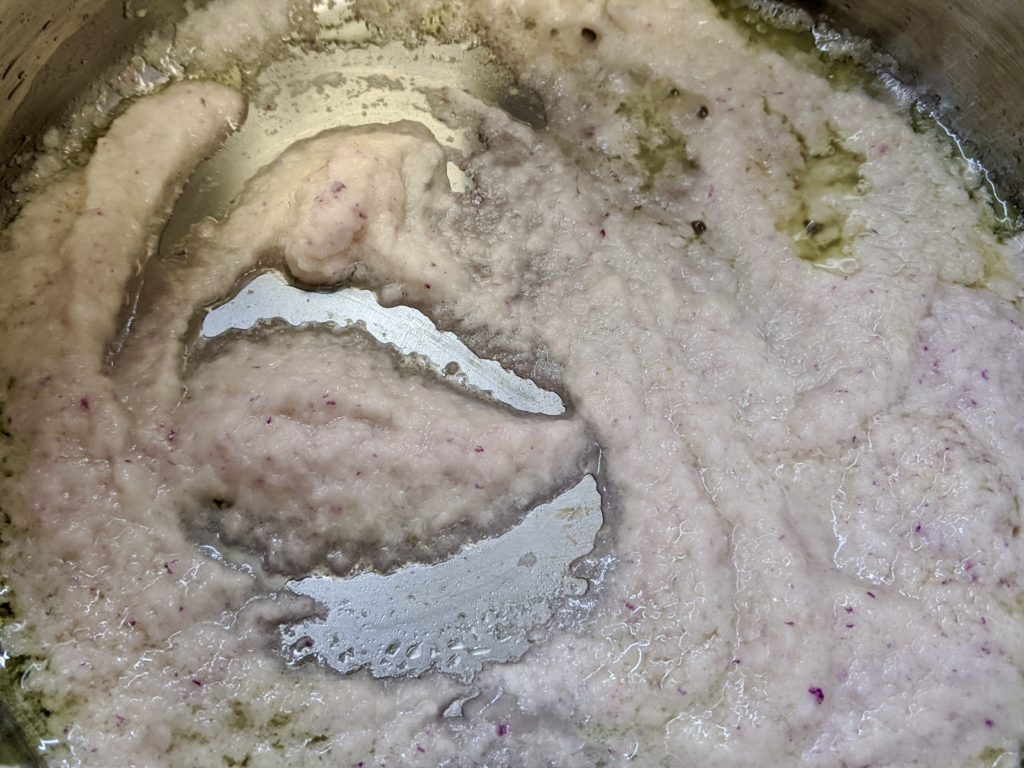 After peeling almost an entire head of garlic, the garlic cloves were then blended with one onion, a thumb-sized piece of ginger, olive oil, and turmeric. While the paste had a moment to rest, oil was heated in a pan to toast peppercorns, cloves, cardamom pods, and cinnamon – once these were aromatic, the garlic paste was added to the pan and sautéed over low heat. As the kitchen, our yard, and most likely our street became extremely fragrant, basmati rice joined the spices, and water was poured over everything. This was brought to a boil and then simmered for about 20 minutes until the fluid was absorbed and the rice was done.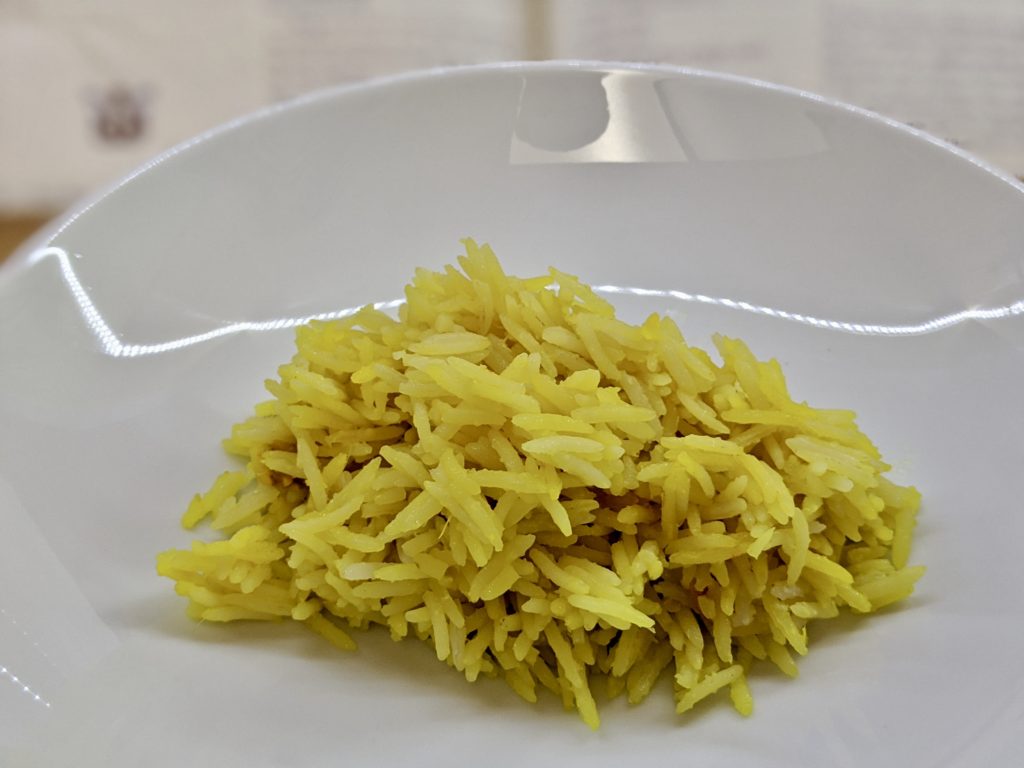 The rice was bright both in color and in flavor. The cardamom, cinnamon, ginger, garlic, and turmeric were wonderfully balanced to create a wonderfully spiced and fragrant dish. The dry rice also served as a solid accompaniment to our saucy stew, with its flavors being strong enough to not be overwhelmed by the chicken masala's coconut sauce. Good on its own as well as paired with a flavorful main course, this recipe also made for some great leftovers over the next several evenings.
Guizadas – Pistachio or Almond Sweets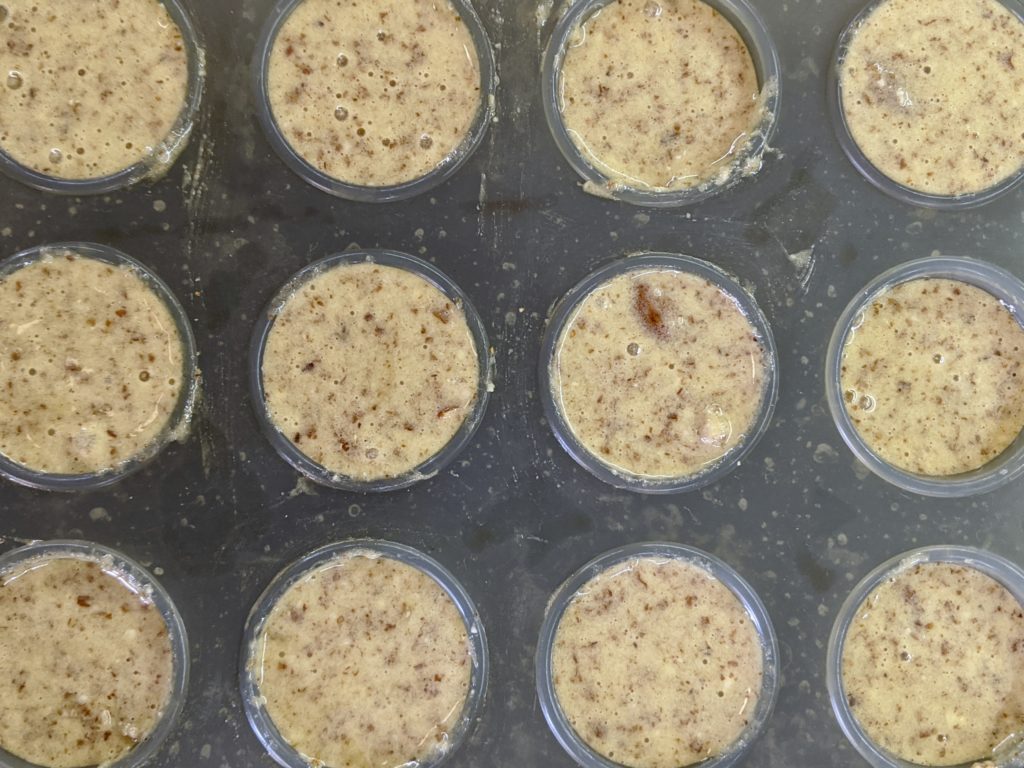 This Tunisian dessert has two options for its "flour" component, the traditional pistachio version or the almond variation, which is more commonly found in the pasty shops of Lisbon. We opted for the latter, as we had almonds in the pantry, and pulsed these in the food processor along with sugar, orange-blossom water, 2 whole eggs, and 2 egg yolks. The batter was dropped by heaping tablespoons into greased mini-cupcake muffin pans and baked at 350F for 25 minutes until firm.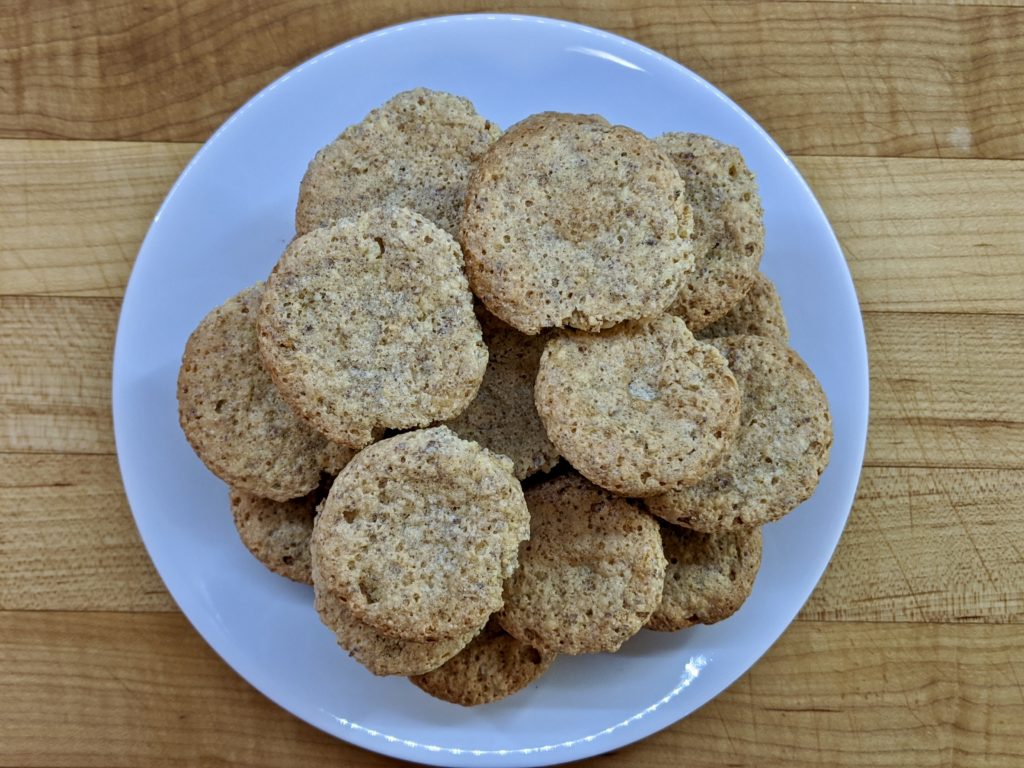 Once cooled, these released relatively easily from the pan and kept their shapes extremely well. While tender and moist on the first day, they actually improved in texture a bit on the second day, becoming a bit more firm and less crumbly. Their flavor was extraordinarily similar to the almond sponge cake a couple of weeks ago, which makes sense because they are both Tunisian in origin. With just a few recipes and short prep time, this is a great little dessert to make and keeps quite well for at least a week.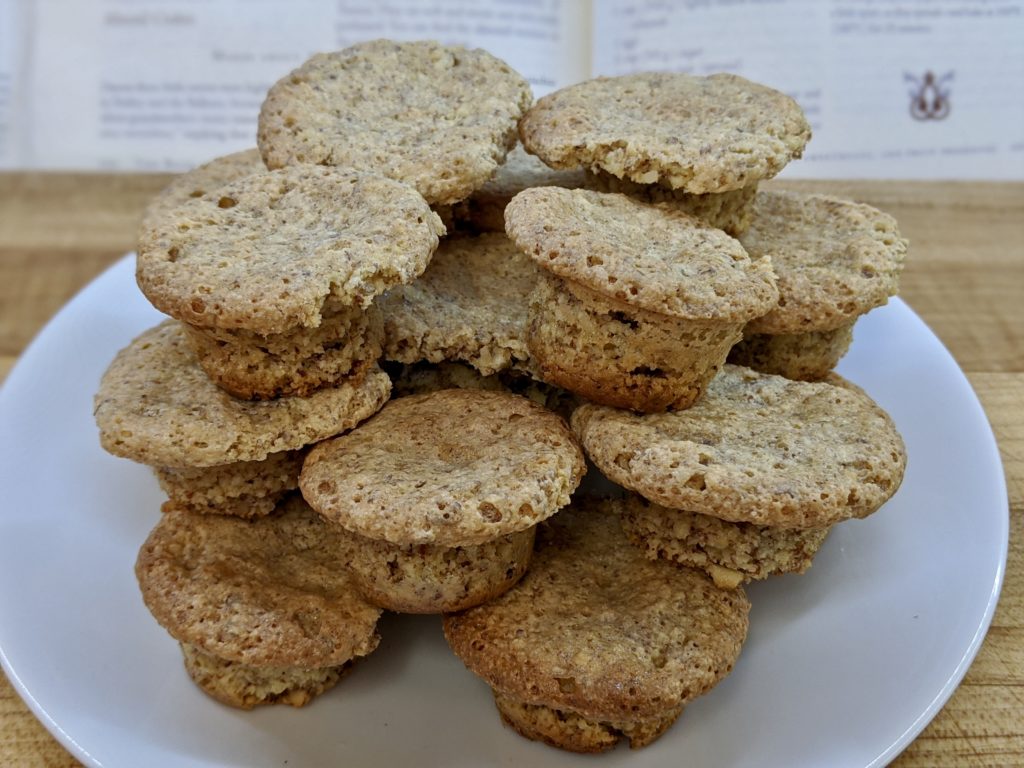 AND IN THE END, THE FOOD YOU MAKE IS EQUAL TO THE CARE YOU TAKE…
So how was Made In Marrow's meal number 82? As a reminder, our rating system is based on sticks of butter (because butter is best!), with 1 being the absolute worst and 5 being out of this world. Sticks of butter are assigned to Difficulty (how many kitchen fights were needed to complete the meal?), Tasty Goodness (was it a palate poor or did it make our mouths merry?), and Repeat Customer (how likely are we to return to the recipe?).
Difficulty  [][] 2/5
Despite tackling quite a few recipes, this turned out to be a relatively easy week, with not much time needing to be spent on prep, which was a plus!
Tasty Goodness
[][][] 3/5 Frittata di Carciofi – Artichoke Omelette – This omelet has a lot of heart (artichoke hearts, that is)
[][] 2/5 Fritada de Tomat – Tomato Cake – Big on the tomato, but not on the texture
[][] 2/5 Marcoude de Pommes de Terre – Potato Omelette – Big on the turmeric, but not on the texture
[][][][] 4/5 Macalcal or Masala Chicken – Chicken in a Coconut Sauce – Wonderfully creamy and coconut-y
[][][][] 4/5 Ginger Garlic Rice – Ginger-garlic goodness!
[][][] 3/5 Guizadas – Pistachio or Almond Sweets – A nice little almond treat
Repeat Customer
[] 1/5 Frittata di Carciofi – Artichoke Omelette – While we may not make this "omelet" again in the future, we will definitely consider adding fried artichokes to our frittatas
[] 1/5 Fritada de Tomat – Tomato Cake – While not terrible in flavor, just not our favorite side
[] 1/5 Marcoude de Pommes de Terre – Potato Omelette – Probably not, due to its odd texture
[][][][][] 5/5 Macalcal or Masala Chicken – Chicken in a Coconut Sauce – Yes, a thousand times yes!
[][][] 3/5 Ginger Garlic Rice – A great option for stews that needs strong sides
[][][] 3/5 Guizadas – Pistachio or Almond Sweets – A light and easy to make dessert option
Not everything was a winner tonight, but nothing was a huge loser either, so that is a win for us!
Sip, sup, and savor all you can, you curious cooks,
Elais & Gary