Just want the recipes and none of that other wordy nonsense? Click the links below!
Empanadas de Pishkado – Little Pies Filled with Fish & Walnuts
Budino di Zucca Gialla – Pumpkin Flan
Farka – Tunisian Couscous Cake with Dates & Nuts
Meal the Forty-Eighth
Tonight we go back to the fish section of The Book of Jewish Food, which happened to pair well with the starter salad and savory pie that all featured fish. There were some odd ingredient pairings in our chosen dishes, which we think speaks to how ingenious people can be when it comes to finding tasty pairings with the items on hand. My family was particularly in the habit of this, as "leftover casserole" was a common dish in our house. This was simply the odds and ends of all the meals leftover from the week combined into a baking dish to make an easy meal for Friday night.
This habit continues on Gary and me – salvaging leftovers to extend the life of a meal or taking leftover components from dinners to stretch them into one more night. Tonight's dinner allowed us to do just that, except it was from a very unexpected portion of our meal – so pull up a chair to the dinner table and join us for meal forty-eight!
We followed Claudia Roden's instructions and served this Tunisian dish as the first course of tonight's meal. Because of its high concentration of the antioxidant lycopene (found in bright red fruits, like tonight's bell peppers and tomatoes), it is often consumed by North Africans to reduce inflammation and heal infections.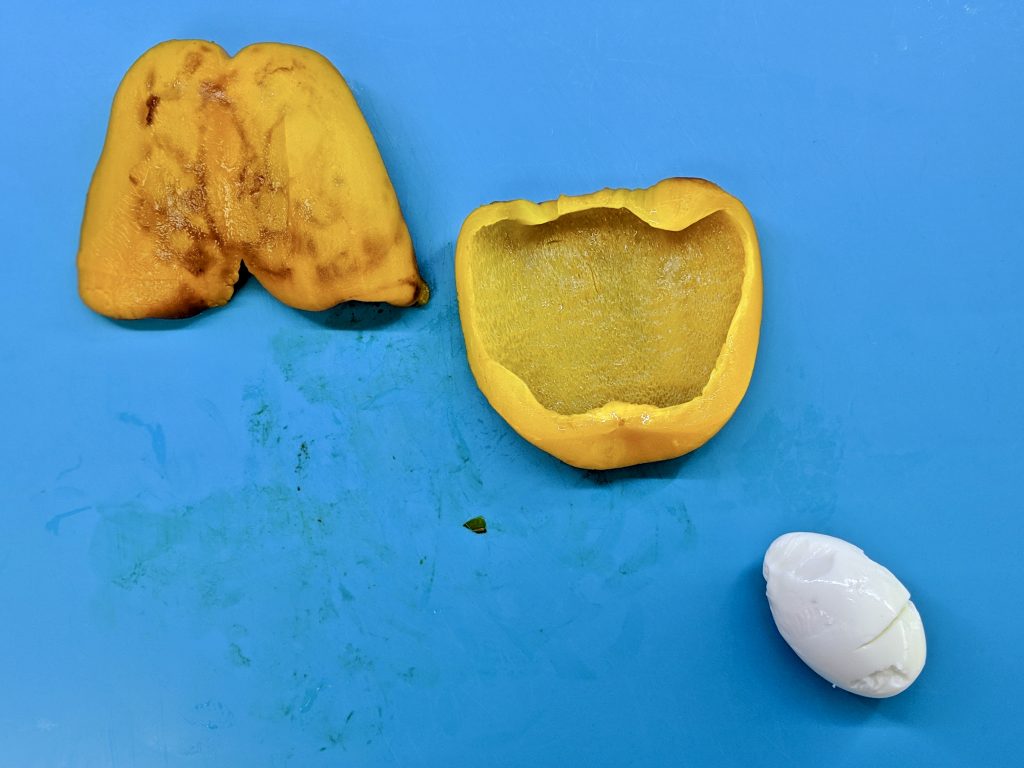 Like our last salad, the peppers and tomatoes were broiled to blister their skins and then peeled in preparation for the salad. We hard-boiled an egg, and combined this peeled protein with canned tuna, a little olive oil, lemon juice, salt and pepper.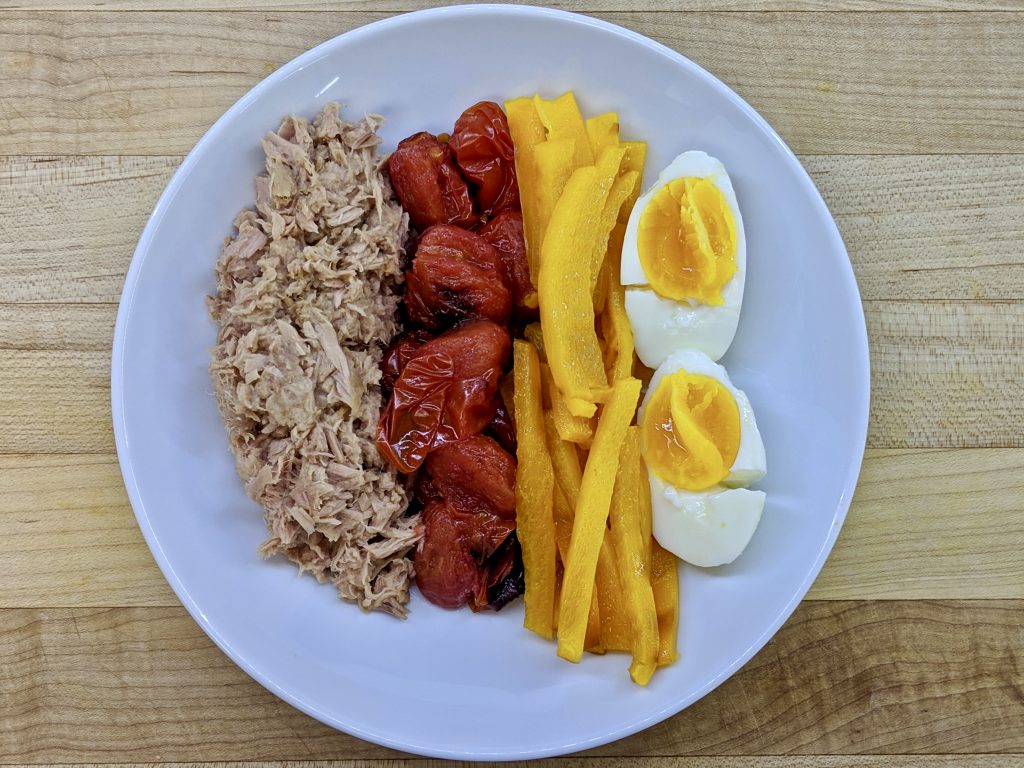 When the dish was mixed, it was like a very veggie tuna salad. The hard-boiled egg gave a richness to the dish that would typically found through the addition of mayonnaise. It was not our favorite dish, but it was a pleasant surprise and kept well over the next couple of days for lunches.
Continuing on with our exploration of savory pies, this week's flakey feast of fish was a specialty of the Jews of Turkey descended from Majorca. Majorca (or Mallorca, depending on your background) is a Spanish island known for its limestone mountains, beautiful beaches, and Roman and Moorish ruins. During the Middle Ages, Majorca had a large Jewish community in Palma, the capital of this popular holiday destination. Due to their location in the Mediterranean Sea and roots in Turkish cuisine, it is only natural that this hand pie contains white fish and walnuts.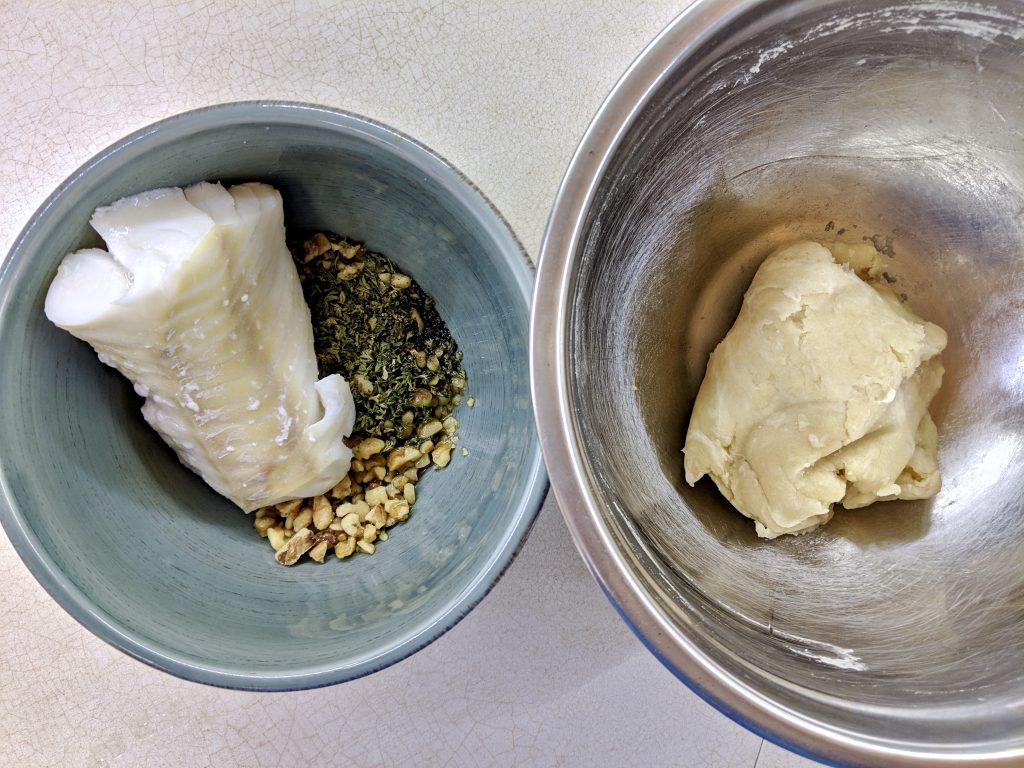 To start, we poached the cod in salted water for about 8 minutes until flakey and then drained it well. While this cooled, we stirred together coarsely chopped walnuts, salt, pepper, olive oil, and parsley, after which the broken up fish was added.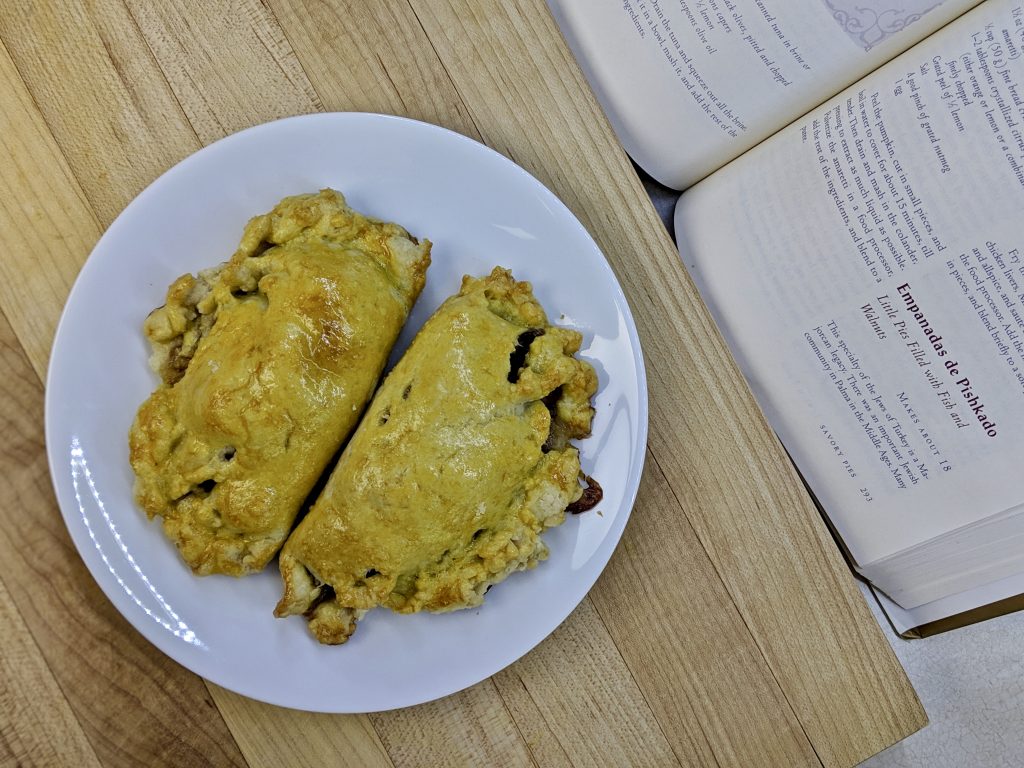 The dough was simply oil and water mixed together, after which a little salt and flour was added to make a very soft, oily dough. This was divided in two and rolled out as thinly as possible. The little rounds were filled with the fishy mix, folded into half moons, and brushed with egg wash. The pies were baked at 350 degrees for 30 minutes until golden.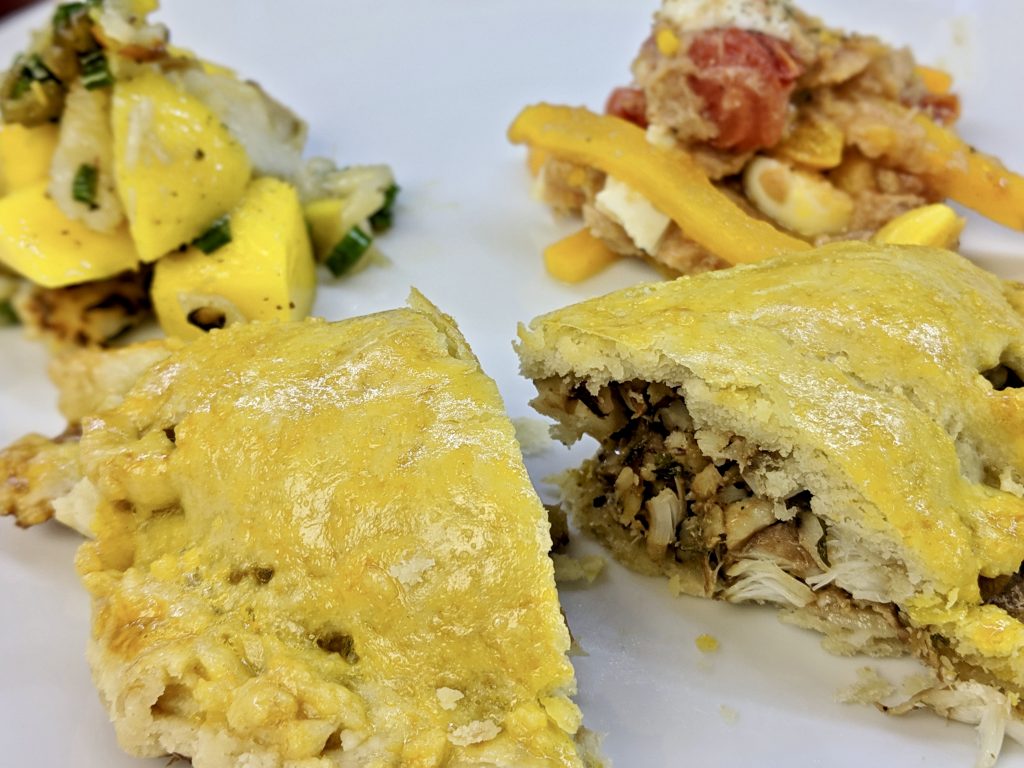 We were not sure what to expect out of dough filled with fish and nuts, but again, were pleasantly surprised by the outcome. The dough was light and flakey and the filling was moist and savory. The nuts had softened a bit, so they were not overly crunchy and added a nice bite of texture to the dish. The only change we would make is add either an acidic component (like lemon juice or capers) to break up the savory one-note tone of the pies.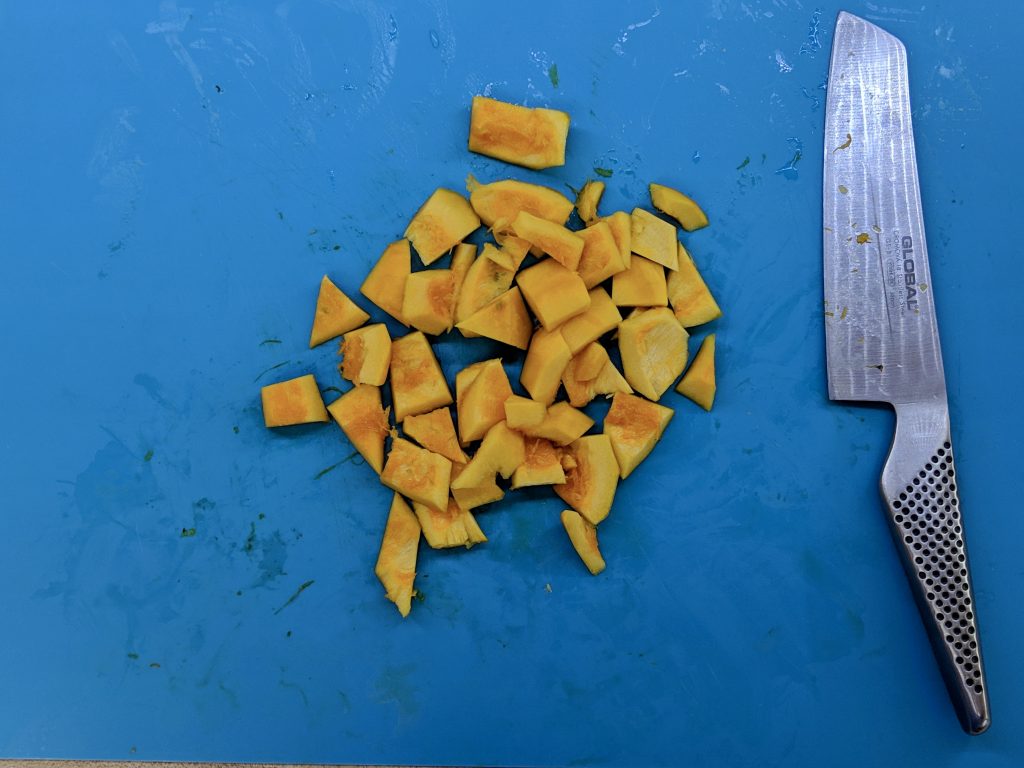 This Italian pumpkin dish hails from Veneto, home of Venice and star-crossed Verona. We had one remaining pumpkin from our Fall garden from last year, which turned out to be the perfect amount for our individual servings of savory flan. The pumpkin was peeled, cubed, and then steamed until soft.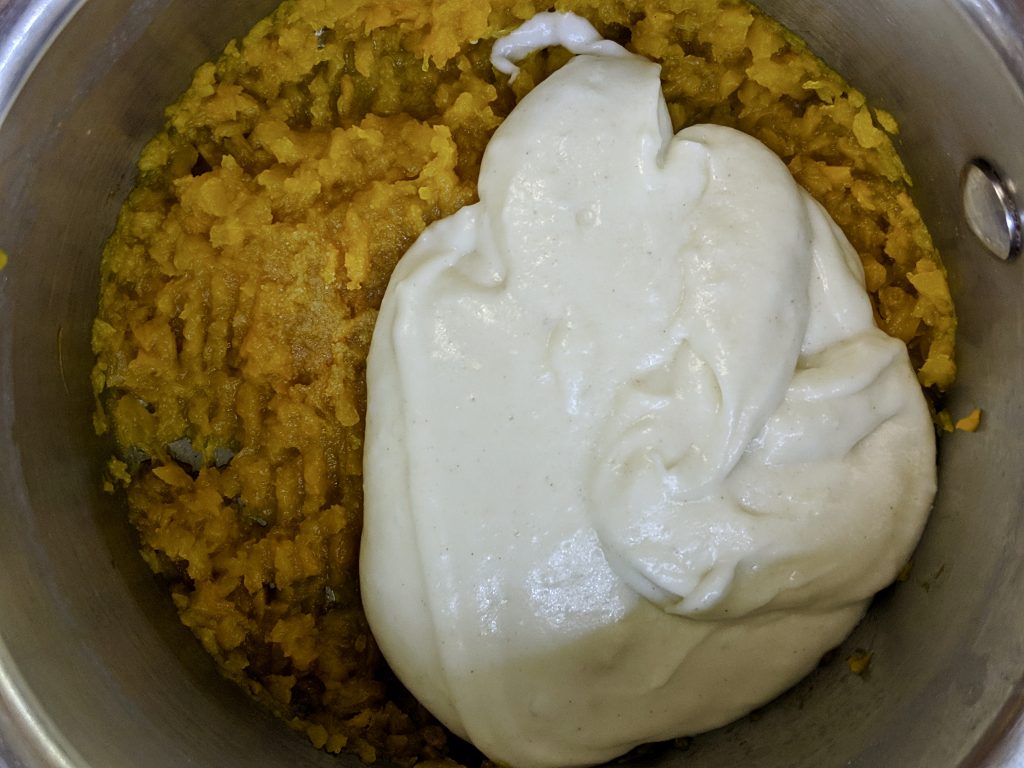 Meanwhile, we mixed melted butter with flour and milk until a stiff béchamel sauce was formed. The pumpkin was mashed and mixed with the bechamel sauce, a beaten egg, and a little bit of sugar. The orange mixture was then poured into ramekins and baked at 350 degrees for 40 minutes until set.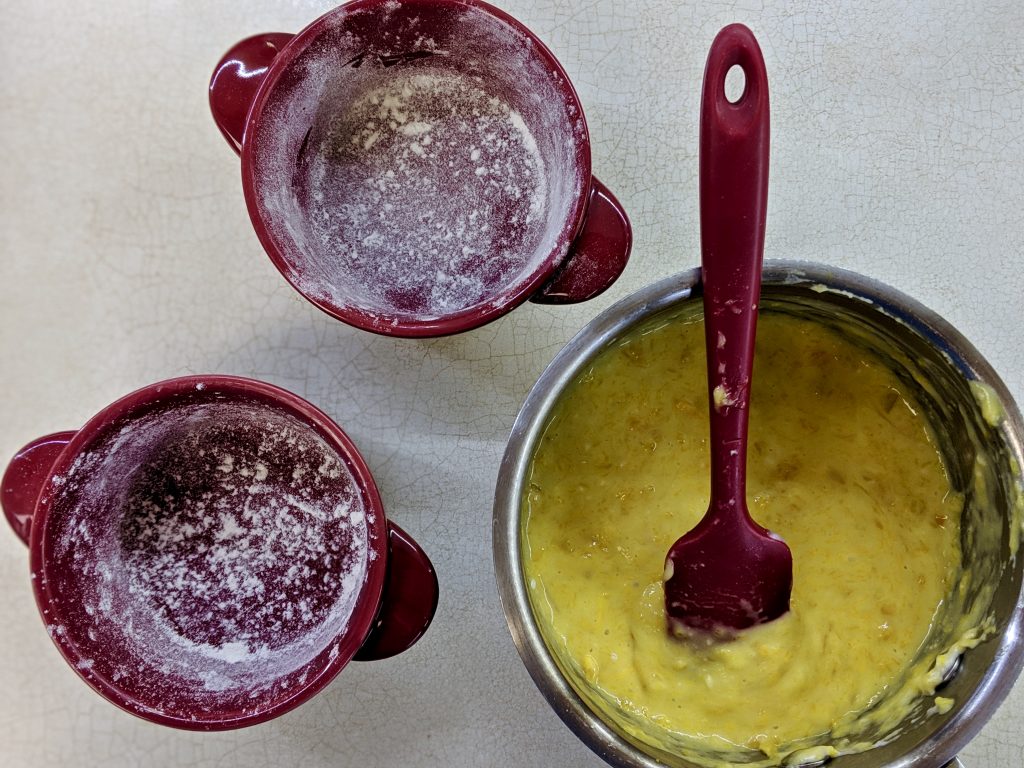 We enjoyed the flan, but actually liked the flavor more before it was baked. It was sweet and creamy, and just slightly savory, enough to make it a nice side dish and not a dessert. When it set after the baking process, it was not quite as creamy, but was still a tasty pumpkin addition to tonight's meal.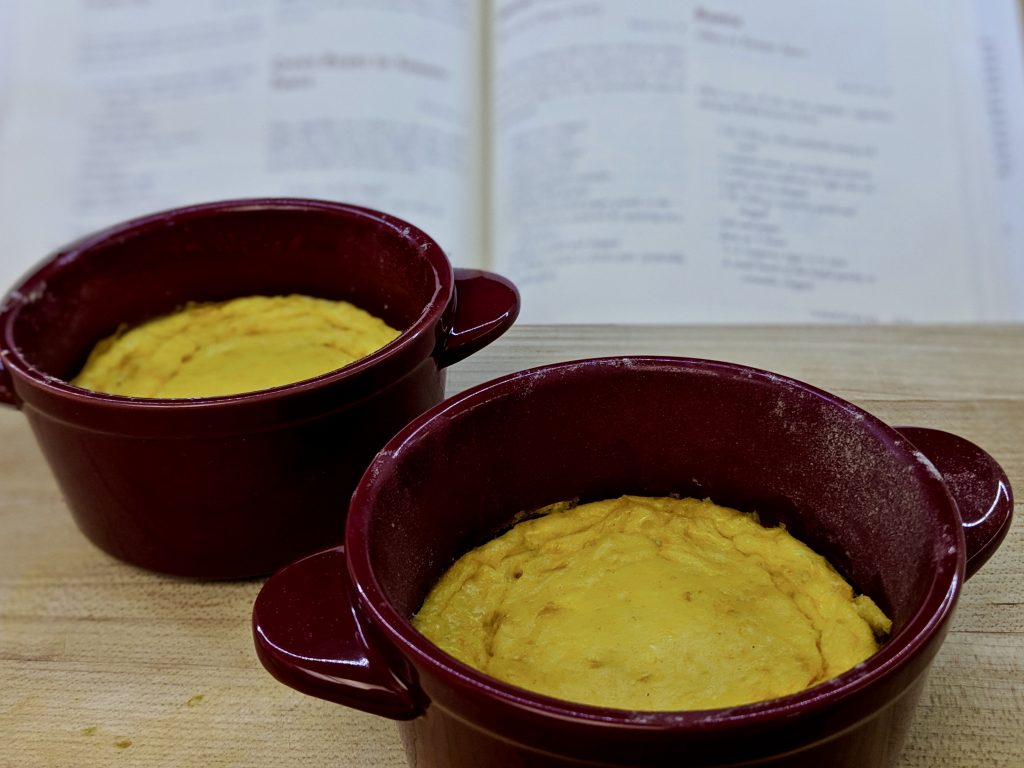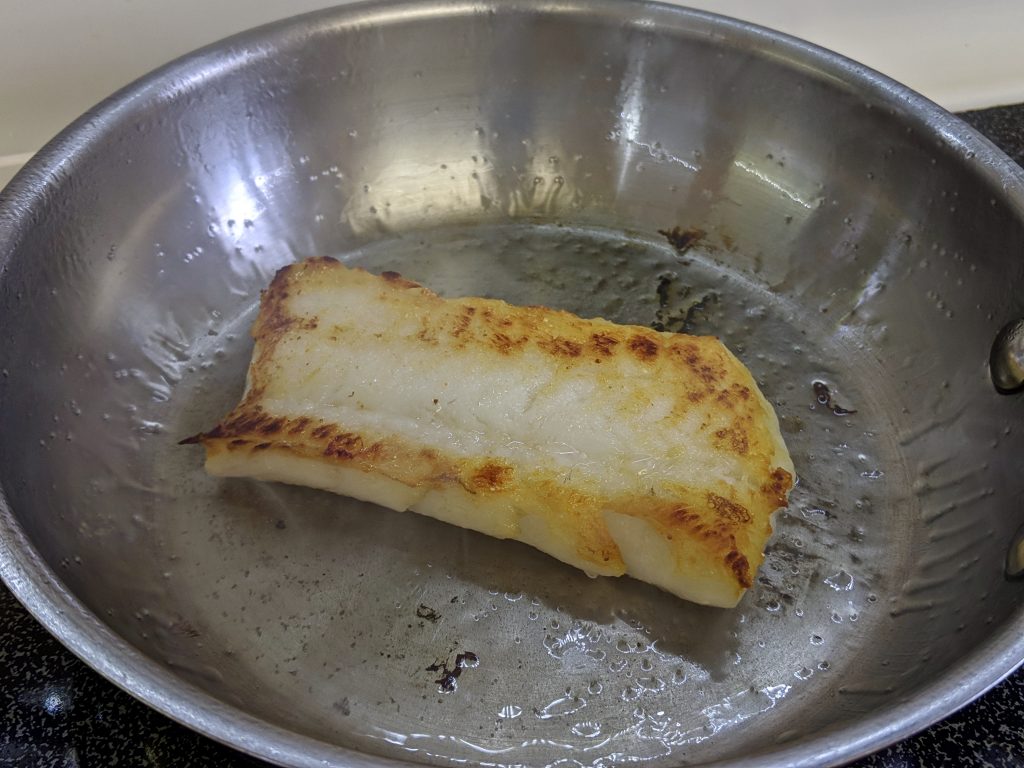 Our main fish dish of tonight's meal was a popular Saturday plate in the Bombay Baghdadi community. We again chose cod for our main dish (because that is what we had in the freezer) and quickly fried it until flakey.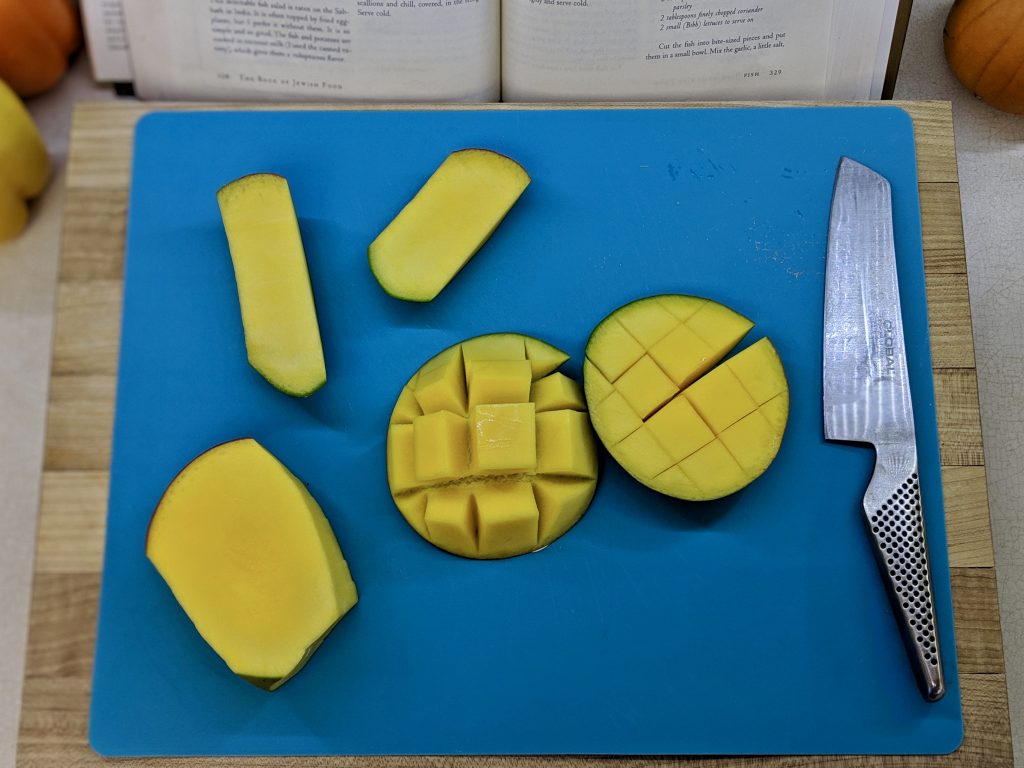 This cooled and then was broken up into flakes and mixed with diced mangoes, scallions, salt, pepper, and Hatch green chilis. The mixture was then poured into a bowl and chilled until dinner time.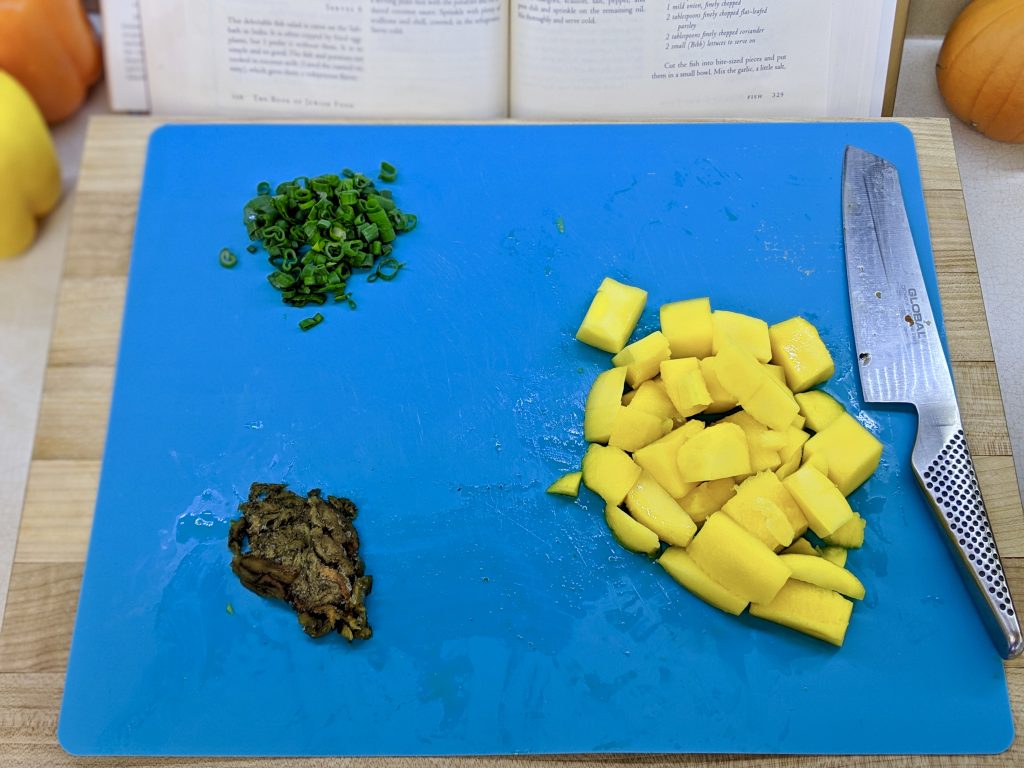 Much like the fish pies, were not sure what to expect of this fruit and fish salad. But wow, this was the best surprise of the night! Sweet and savory and a little spicy, this was a wonderfully flavored dish that perfectly complimented the fish pie. It was like a protein infused mango chutney and we enjoyed every last bite!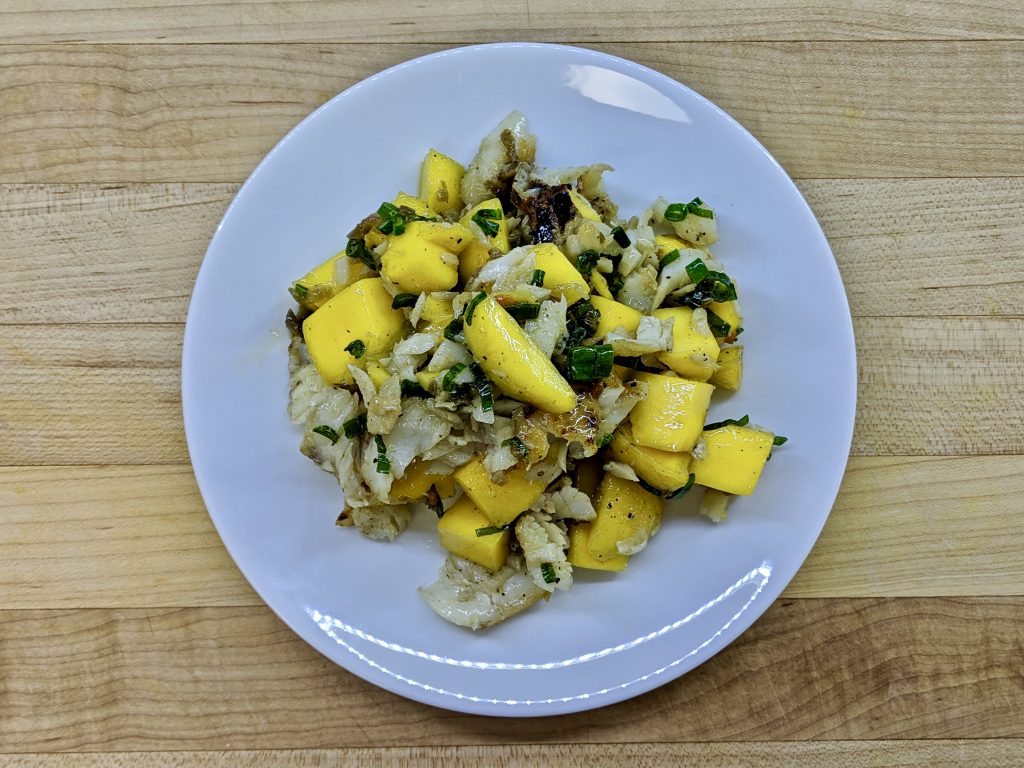 Farka – Tunisian Couscous Cake with Dates & Nuts
Rounding out tonight's conglomeration of odd pairings and mixtures is a dessert made with the durum wheat semolina. Roden does not even include an introduction to this dish, so again, we were not sure of what to expect. After a little research on trusty Google, we found that this dish is made by Tunisians during Hanukkah celebrations in honor of girls on the sixth day of celebrations. As it turns out, this cake is actually supposed to hold together to create a cake, but unfortunately, we did not achieve that with this recipe (but never fear, this sad story actually has a happy ending!).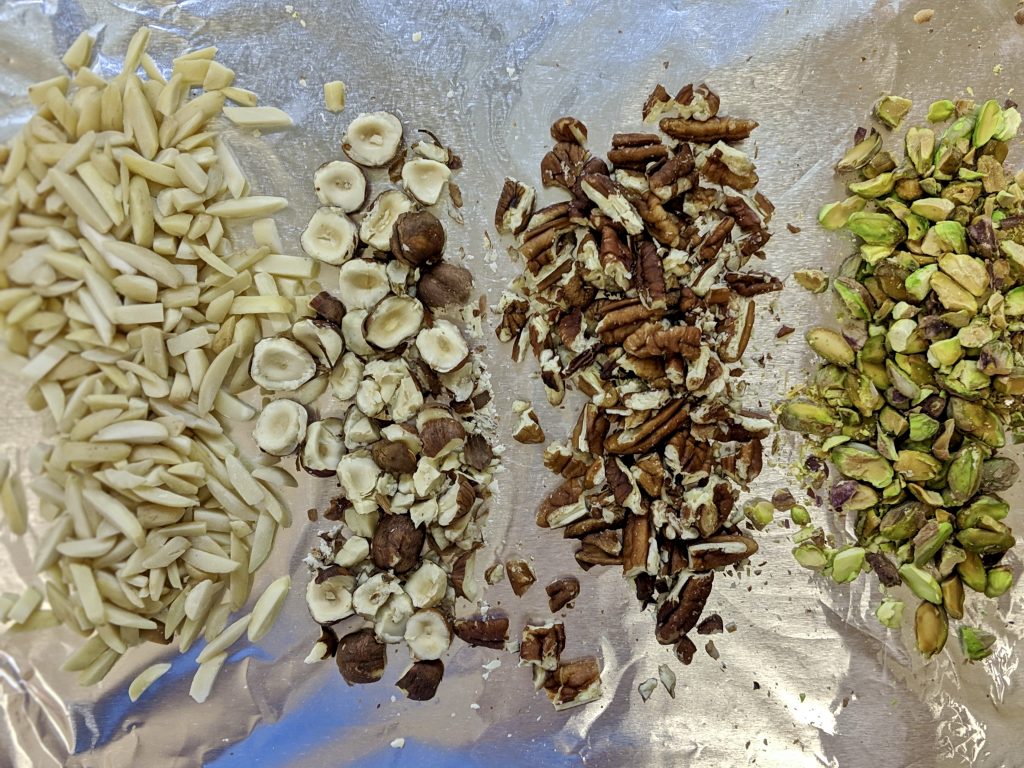 Water was boiled with sugar and lemon juice, and once the components had dissolved, this was poured over couscous. The orange blossom water was stirred in and allowed to sit for 30 minutes until the couscous had softened. During this time, almonds, hazelnuts, pistachios, and walnuts were roasted under the broiler and the dates simmered in water until soft.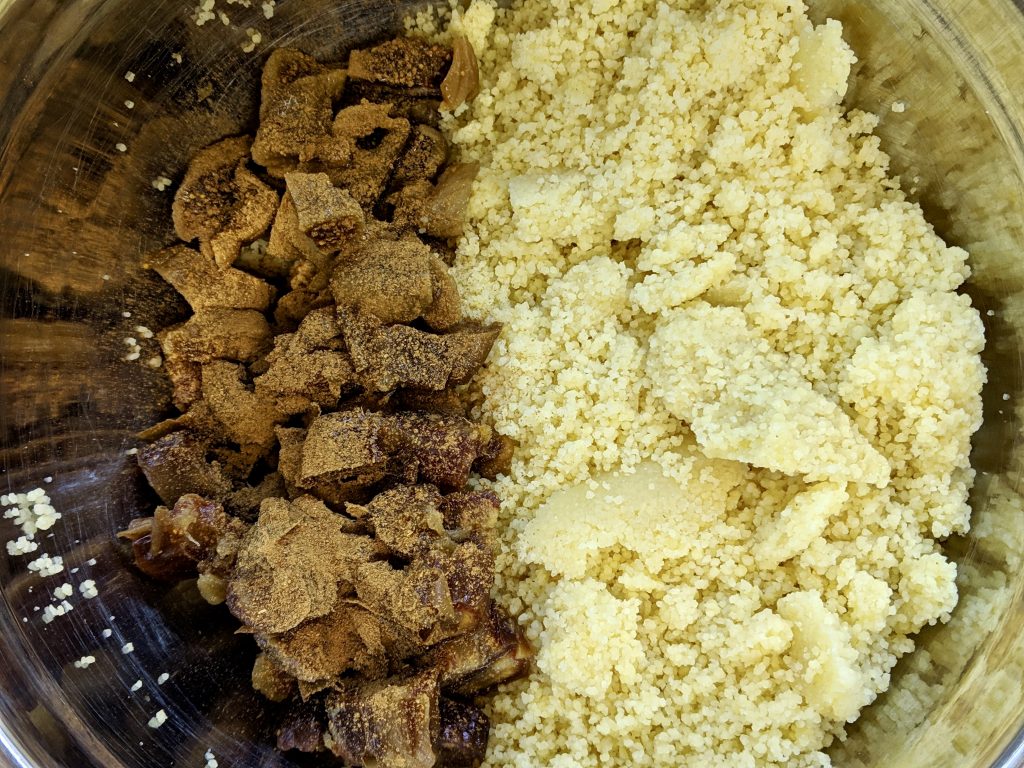 These side ingredients were all mixed together and then added to the softened couscous. This concoction was then baked until heated through – at this point it was supposed to be turned out like a cake, but we quickly realized it would fall apart into a pile of couscous and nuts. We had not pressed it down hard enough into the baking dish, fearing that we would mash the grain in the process.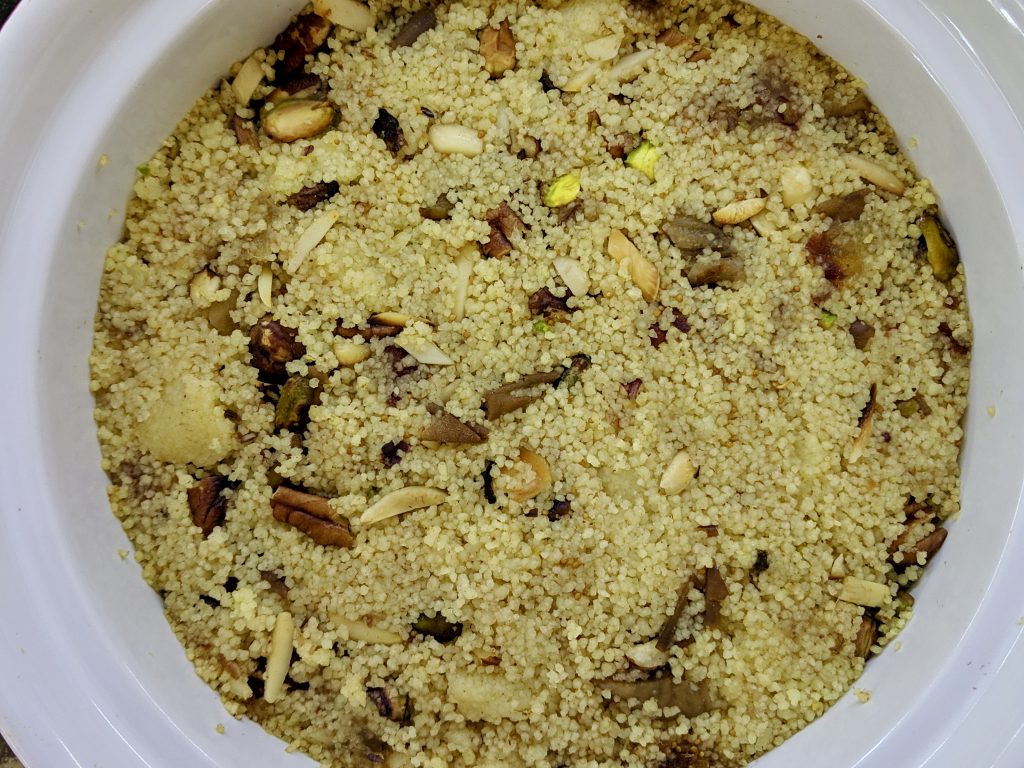 Despite it not eating as a cake, it still ate well, albeit a bit savory for a dessert. It was also fairly heavy, combining the couscous with rich nuts, and we had also inadvertently made quite a large amount, so we were perplexed as to what to do with this massive amount of dessert. In the tradition of letting nothing go wasted, we decided to repurpose this dish by mixing it with stewed tomatoes and ground beef fried with fennel and curry. We enjoyed this much better than the original dessert and actually had it two nights the following week because it was so tasty!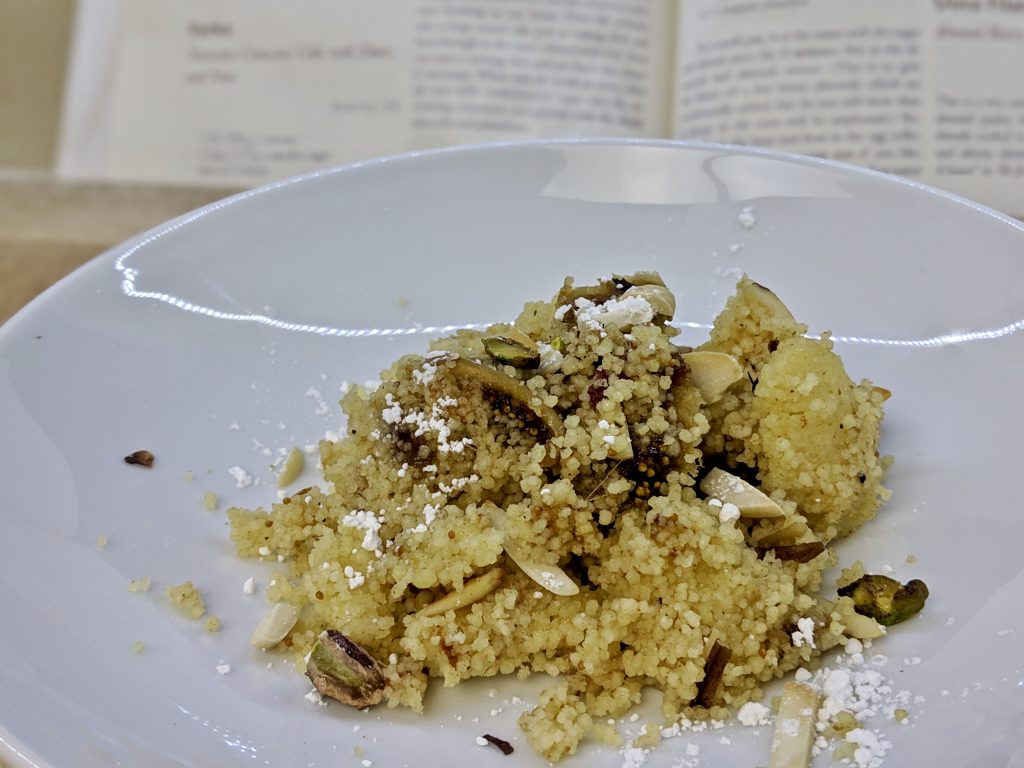 AND IN THE END, THE FOOD YOU MAKE IS EQUAL TO THE CARE YOU TAKE…
So how was Made In Marrow's meal number 48? As a reminder, our rating system is based on sticks of butter (because butter is best!), with 1 being the absolute worst and 5 being out of this world. Sticks of butter are assigned to Difficulty (how many kitchen fights were needed to complete the meal?), Tasty Goodness (was it a palate poor or did it make our mouths merry?), and Repeat Customer (how likely are we to return to the recipe?).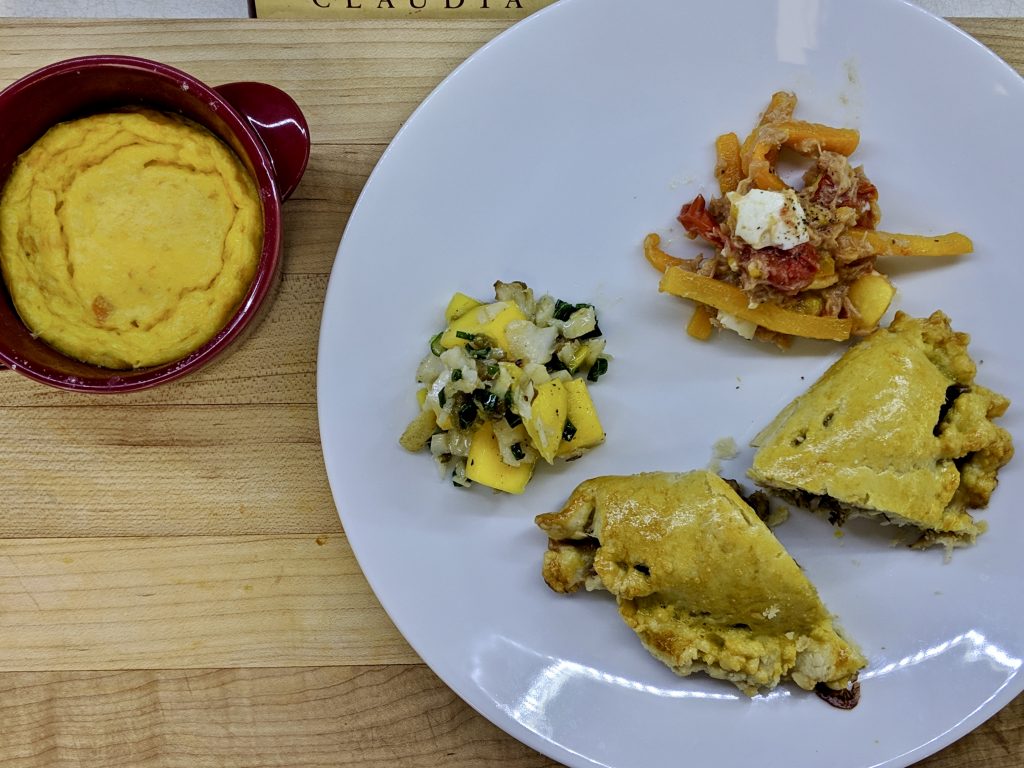 Difficulty 2/5
Tonight's meal was not too complicated – a little chopping and pastry rolling actually led to a pretty quick dinner!
Tasty Goodness
3/5 Mechouia – "Grilled Salad" – Tasty but lacking a more acidic component
3/5 Empanadas de Pishkado – Little Pies Filled with Fish & Walnuts – Again, tasty but lacking a acidic component
3/5 Budino di Zucca Gialla – Pumpkin Flan – Somehow this was more flavorful prior to baking, otherwise we would have given it a 4/5
4/5 Sardina – Fish & Mango Salad – The perfect balance of sweet, savory, and acid!
3/5 Farka – Tunisian Couscous Cake with Dates & Nuts – An odd dessert that gets extra points for becoming a key component of dinner over the next two nights!
Repeat Customer
2/5 Mechouia – "Grilled Salad" – Perhaps again, but maybe with olives or capers?
2/5 Empanadas de Pishkado – Little Pies Filled with Fish & Walnuts – Perhaps again, but maybe with lemon juice or capers?
2/5 Budino di Zucca Gialla – Pumpkin Flan – Perhaps again, but not baked!
4/5 Sardina – Fish & Mango Salad – Definitely again, but with more chili heat!
2/5 Farka – Tunisian Couscous Cake with Dates & Nuts – Perhaps again, but for dinner!
An interesting night full of fish, fun flavors, and only one (semi) food fail – on to meal forty-nine!
Sip, sup, and savor all you can, you curious cooks,
Elais & Gary