Just want the recipes and none of that other wordy nonsense? Click the links below!
Arroz kon Espinaka – Rice with Spinach
Ingriyi – Sweet-and-Sour Meat and Eggplant
Meal the Eightieth
Tonight's meal is very Middle Eastern, with our recipes centered around Turkey, Iraq, and Egypt. We also enjoy a dessert which turns out to be not what Gary and I expected it to be, but whose end result also happens to mirror many of the flavors and ingredients in tonight's meal. Most people have expectations when it comes to the stereotypical flavors of regions throughout the world, which has been a part of what has been so enjoyable about cooking our way through The Book of Jewish Food. Some regions and areas have fallen perfectly in line with our expectations of those regions' cuisines, while others have been a complete (and mostly) wonderful surprise. So while we did not expect too much spinach, leeks, or mashed potatoes in Middle Eastern cuisine, we were pleasantly surprised by tonight's dishes!
Tonight we were supposed to have rice with fava beans, but our fava beans are currently on an Amazon shipping tour of the United States, so we jumped ahead to rice and spinach. Our carby-side of the night hails from Istanbul and is a traditional Judeo-Spanish dish.
Onion was fried until soft after which basmati rice was added to the pan. Chicken stock, salt, sugar, and a hefty handful of spinach was then thoroughly stirred into the onion rice mixture. This simmered while covered for 20 minutes until the rice was tender and the fluid had been absorbed.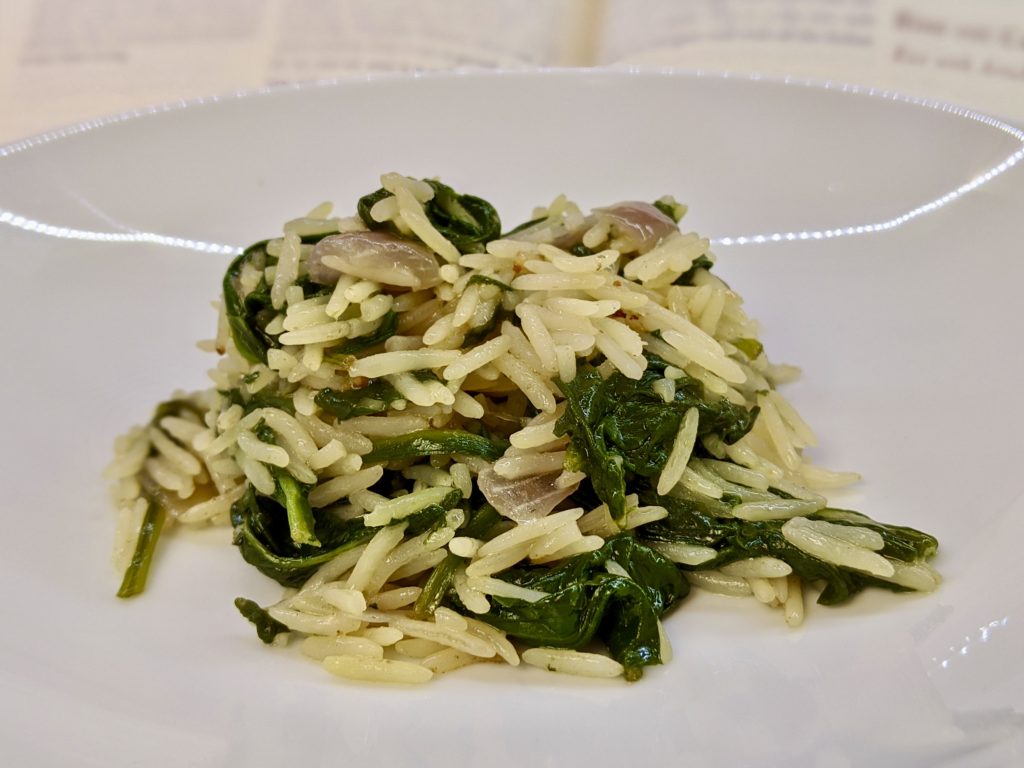 While not the most flavorful rice dish, it was the perfect earthy compliment to tonight's meaty mains. Simple to prep and quick to cook, this is a nice elevation of your standard side of rice.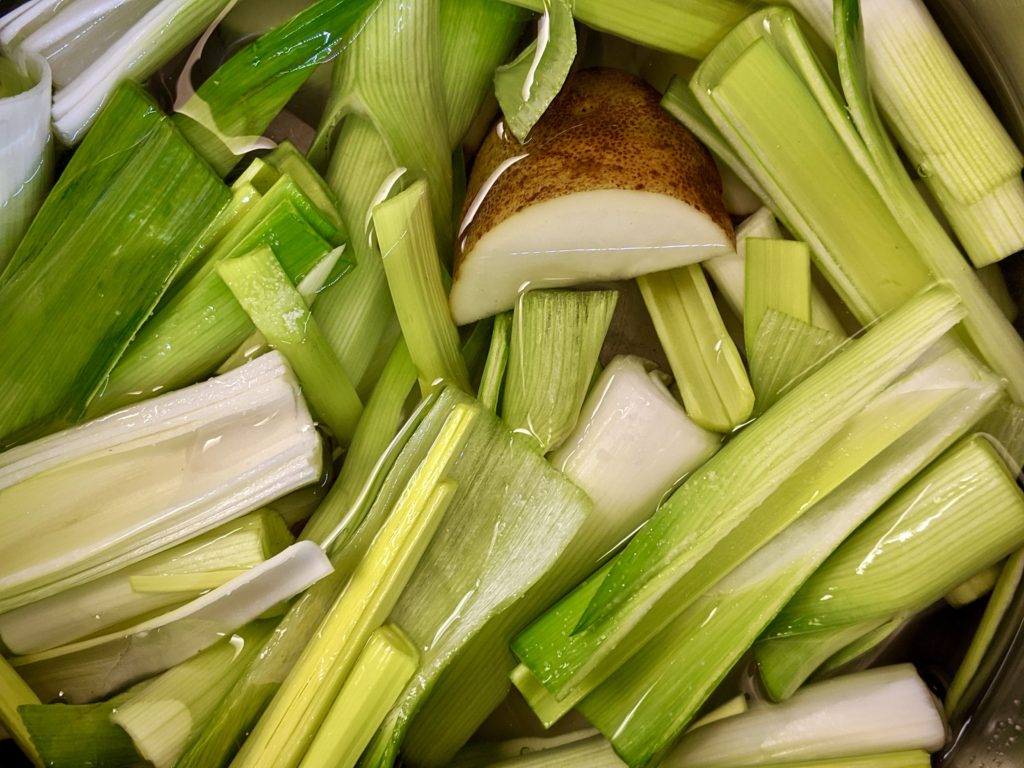 This "pâté" is a traditional dairy dish eaten in Turkey during the week of Passover. We put "pâté" in quotations because this is more like a mashed potato casserole than a true pâté. We were not sure what to expect, but we quite enjoyed our mashed potato surprise from last week and you can never go wrong when any recipe begins and ends with mashed potatoes!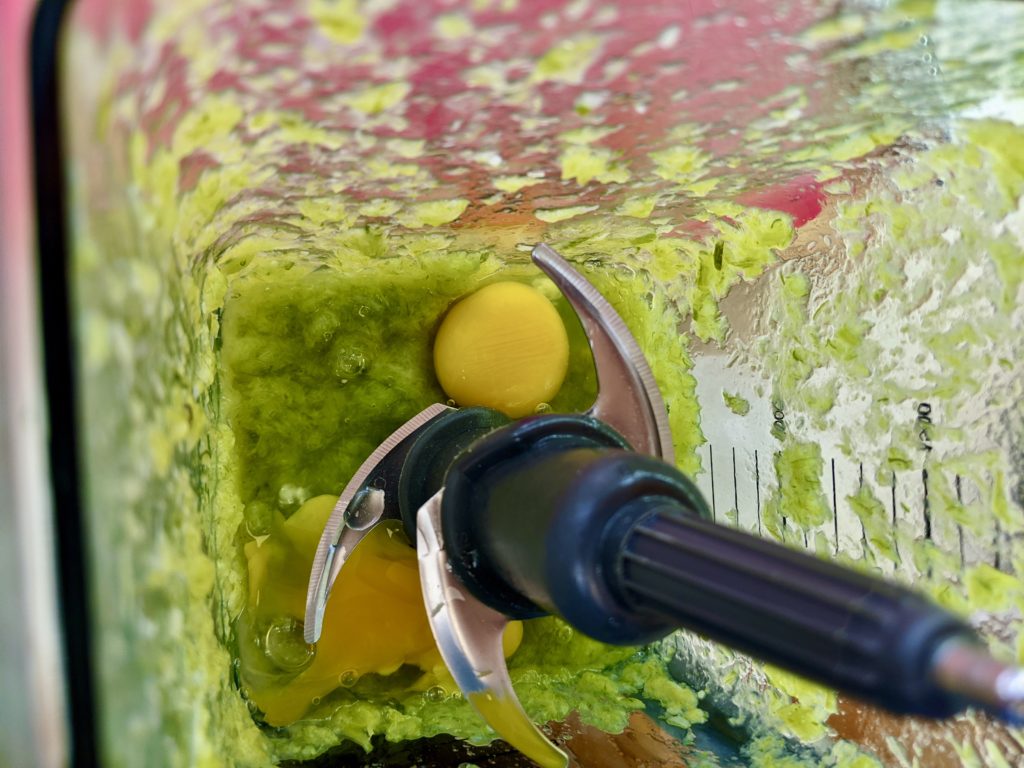 To start, our leeks trimmed, washed, and then boiled in salted water until very soft. These were then drained and compress to extract as much water as possible from the vegetable. Potatoes were also boiled and drained after which they joined the leeks in the food processor, along with eggs, parmesan cheese, nutmeg, and pepper. This was all blended briefly, which even the briefest of blending of these boiled vegetables resulted in a complete puree. The contents of the food processor were poured into a greased baking dish, topped with more parmesan cheese and a little olive oil, and then baked at 400F for 40 minutes until firm and slightly browned.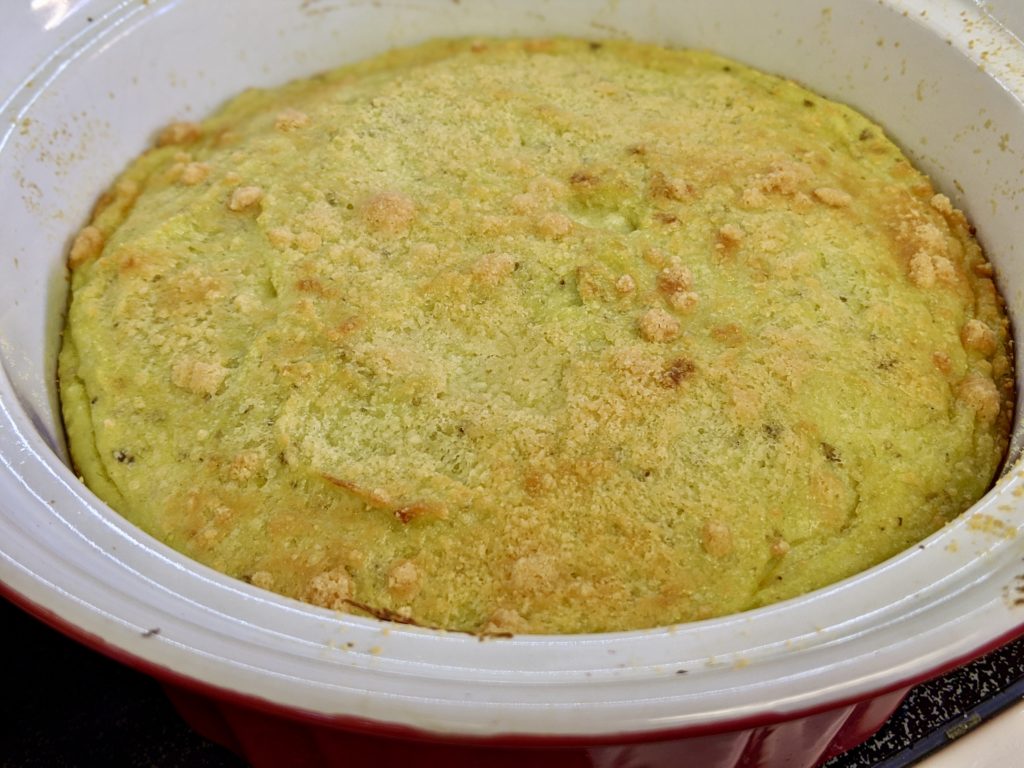 Like we said earlier, this was more like a mashed potato casserole and not dissimilar to the flavors of last week's spinach and potato pie. The leeks did significantly lighten the dish though, so we did not feel quite as bloated as we normally would when consuming mountains of Thanksgiving mashed potatoes. This was a fun and different side dish and is a great way to serve mashed potatoes hot out of the oven, instead of them cooling in a pot on the stove, taking up valuable burner space (obviously this a very common problem for our household during holiday dinners).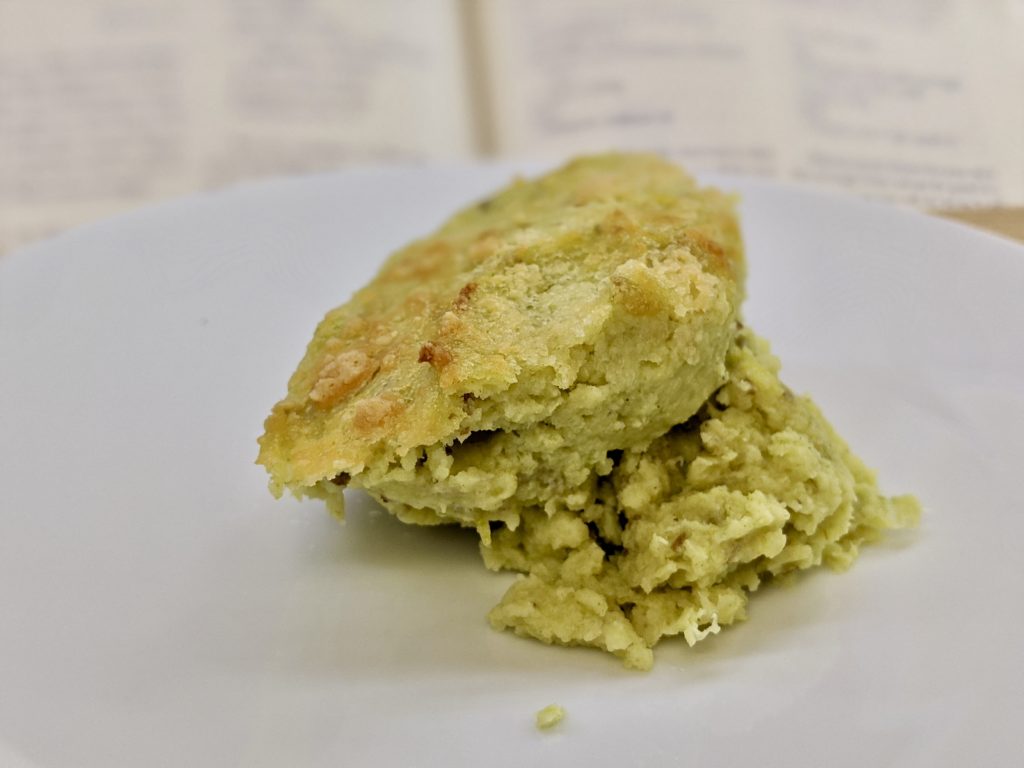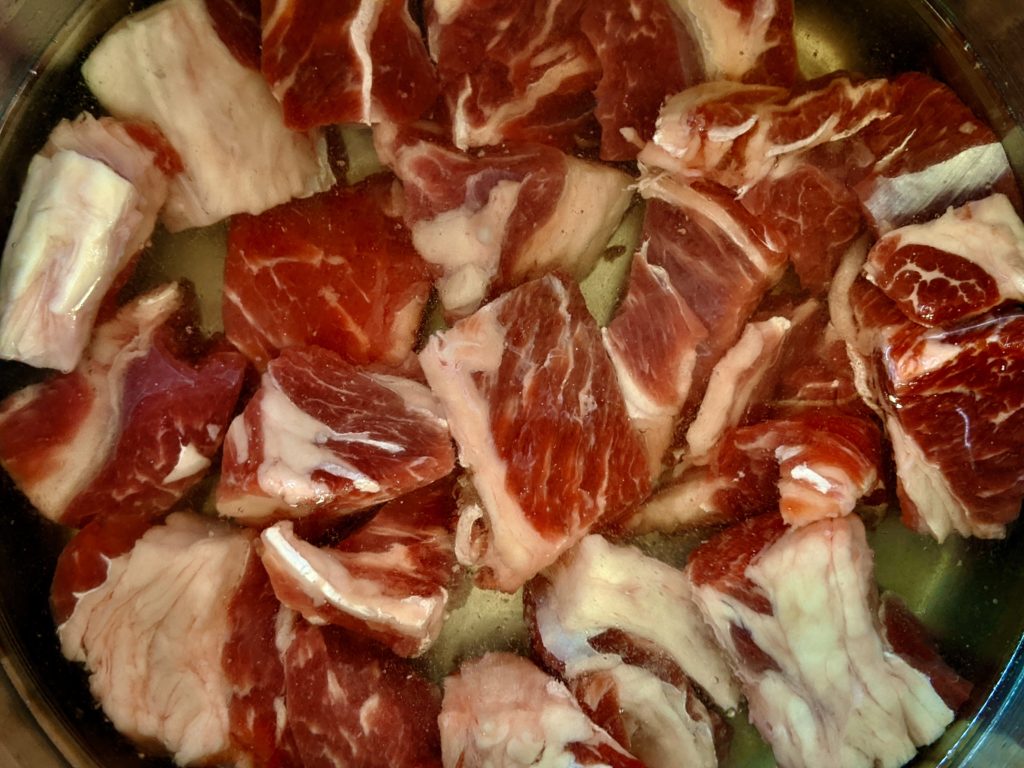 The first of our meaty mains is traditionally made with lamb, but beef can also be substituted, which worked out well because all we had on hand was chuck roast. There are many versions of this Iraqi-Jewish dish and it has also become a festive favorite of Iraqi Jews who have emigrated to Bombay, where chicken is used as the main protein. Regardless of where it is served, it is always accompanied by a side of rice, so we stuck with tradition and it turned out to be a perfect pairing with our above rice and spinach dish.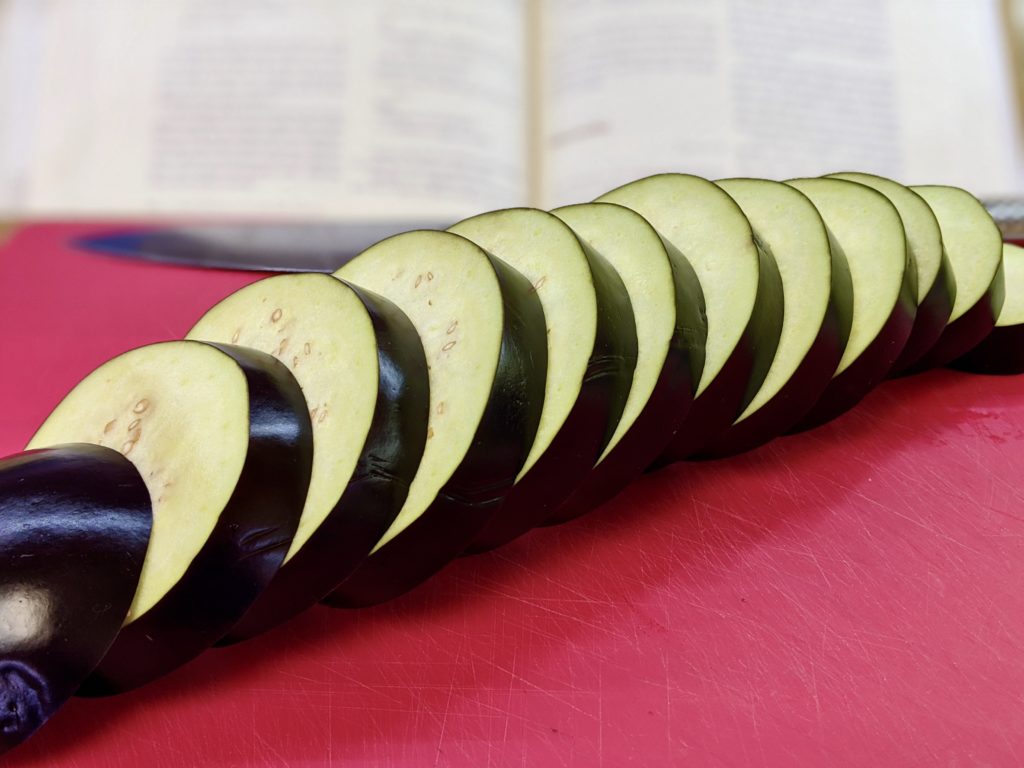 Our dish began by simmering the cubed beef in salted water for two hours until tender. The eggplant was sliced into half-inch rounds, salted, and left on racks to drain for an hour (this truly is a critical step and it was amazing to see how much fluid was drained off!). Next, onions were slowly caramelized while the eggplant slices were browned under the broiler.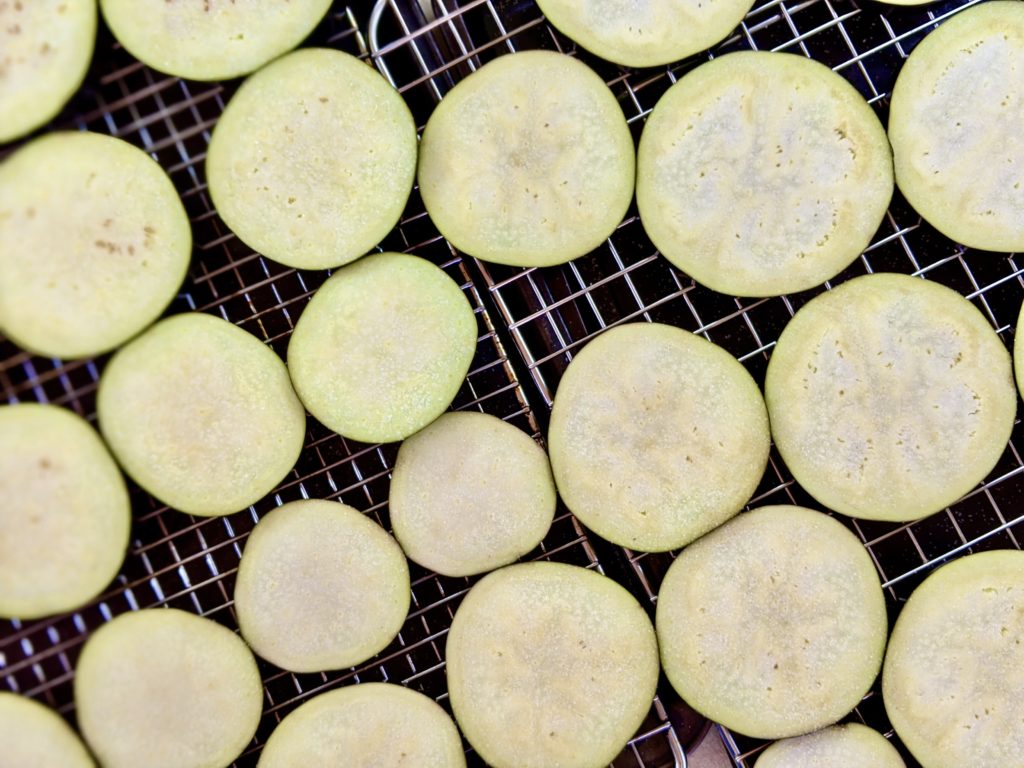 To assemble the dish for baking, eggplant was layered into a baking dish followed by the cubed meat, browned onions, and sliced tomatoes, with each layer being sprinkled with salt and pepper.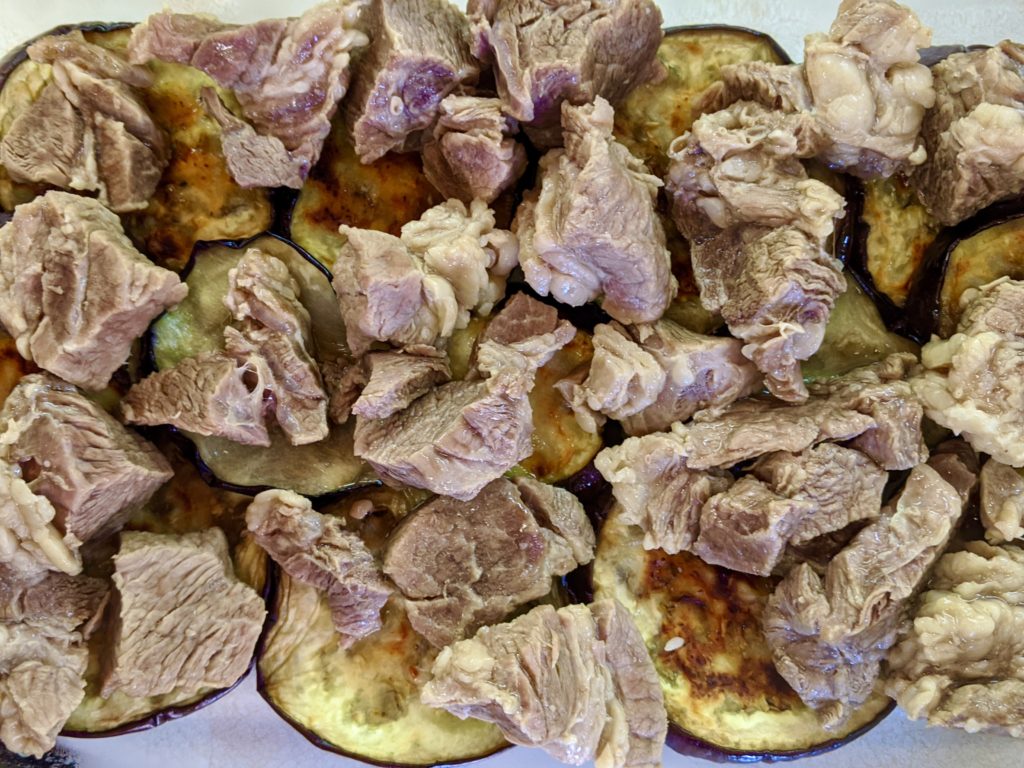 The remaining beef stock was brought to a boil after which tamarind paste and sugar were dissolved into the fluid and then poured into the baking dish. This was baked at 350F for 30 minutes until cooked through.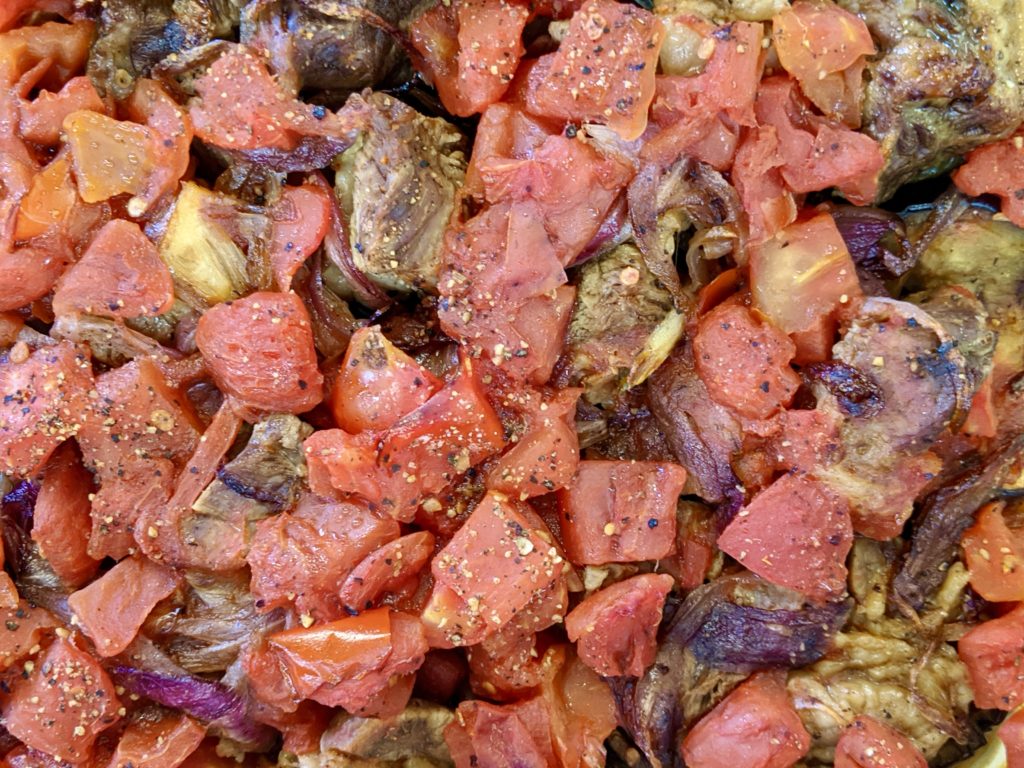 The eggplant was a nice, earthy complement to the bright tomato and tamarind flavors, which perfectly complemented the meaty flavor of the chuck roast. We could see why lamb would be a good choice for this dish as the flavorful vegetables would easily temper its gamey flavor. That being said, ground beef would also work well in this recipe, but that change would actually end up resulting in our next dish of the night!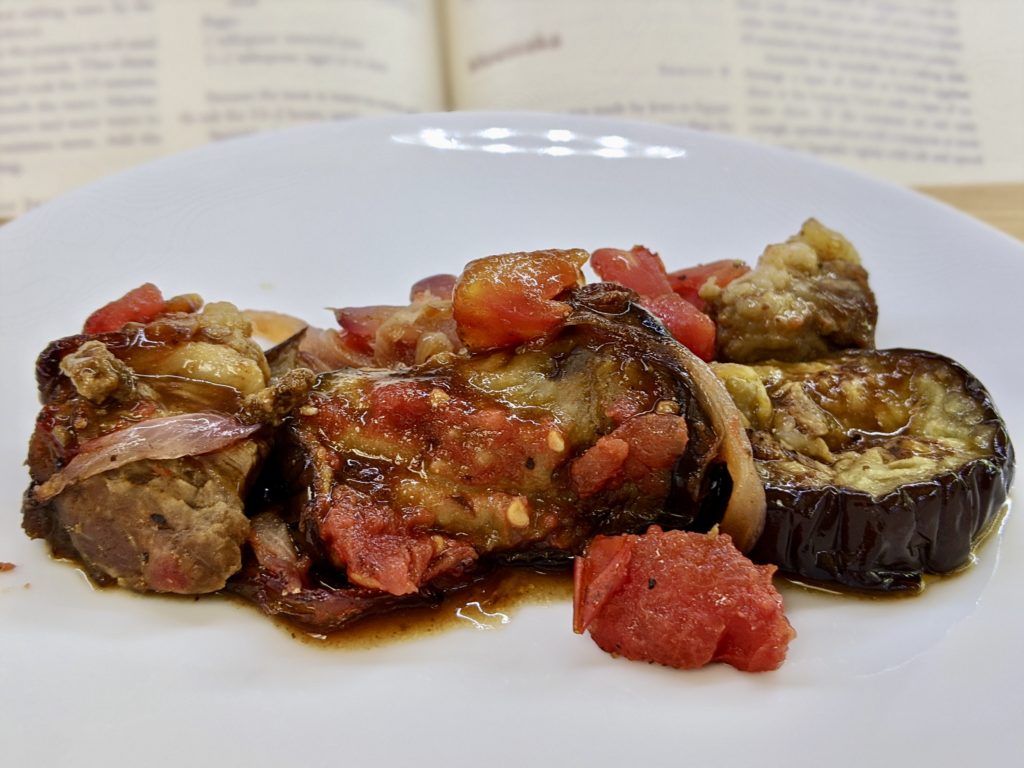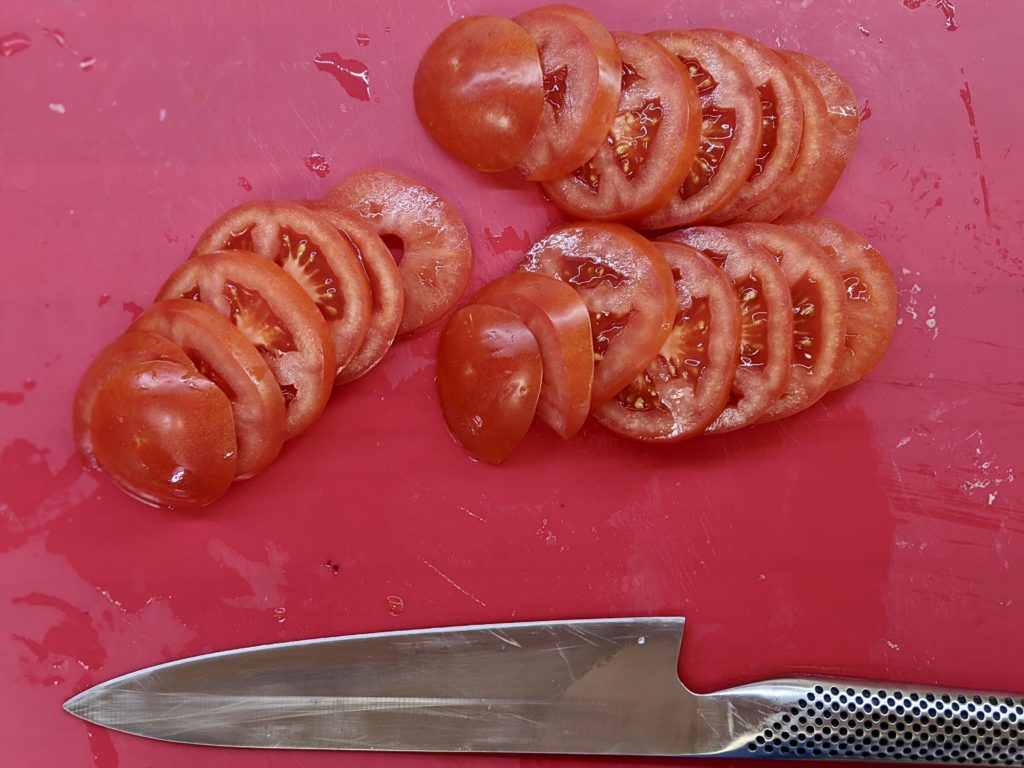 This is Claudian Roden's Egyptian version of Moussaka, variations of which can be found throughout the Balkans and the Mediterranean areas. The recipe first appears in records around the late 1800s, with most versions (except for the Egyptian one), featuring binding sauces similar to custard or béchamel. While we were a bit disappointed to not be making these tasty thickeners, we figured it was okay since summer is right around the corner and this was an already calorie-heavy meal (we have to be ready for those desert swimsuit competitions!).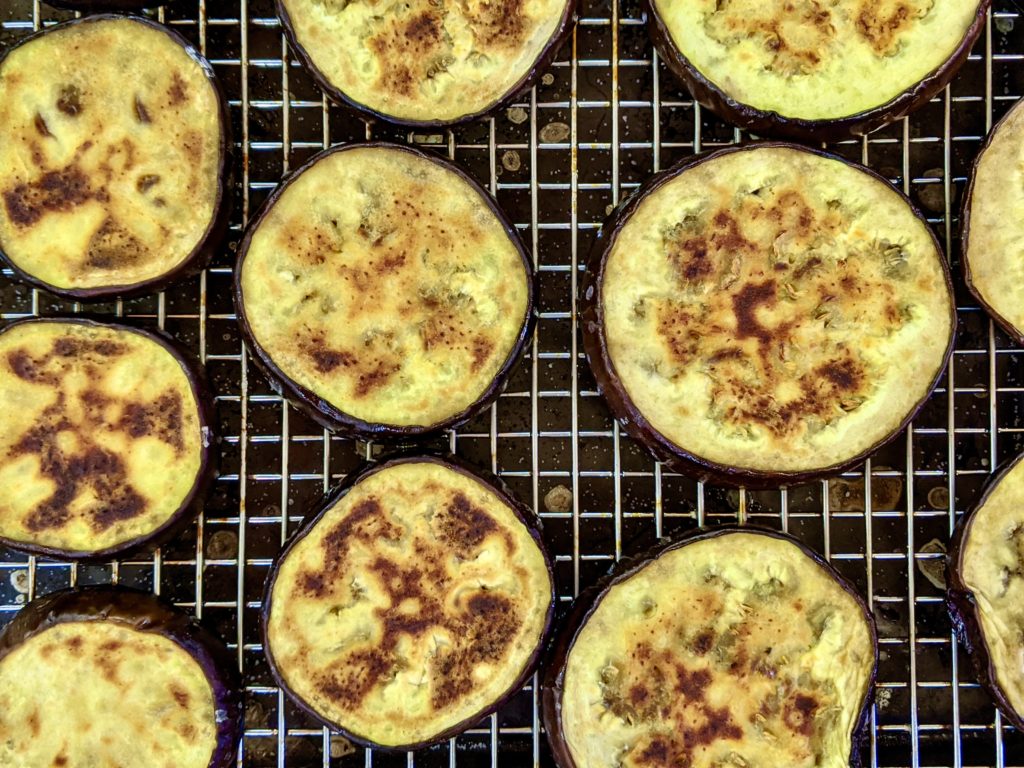 We chose to do two meat dishes tonight as both featured eggplant that was sliced, salted, and browned under the broiler, which is exactly how we started this dish! Onion was then fried until soft, after which garlic was added to the pan and sautéed until aromatic. Ground beef joined the mix, along with cinnamon, allspice, salt, and pepper. The meat was cooked until browned after which tomato puree was added to the mix and the entire pan simmered for 10 minutes. Prior to assembling, parsley was mixed in and the meat was set aside for assembly.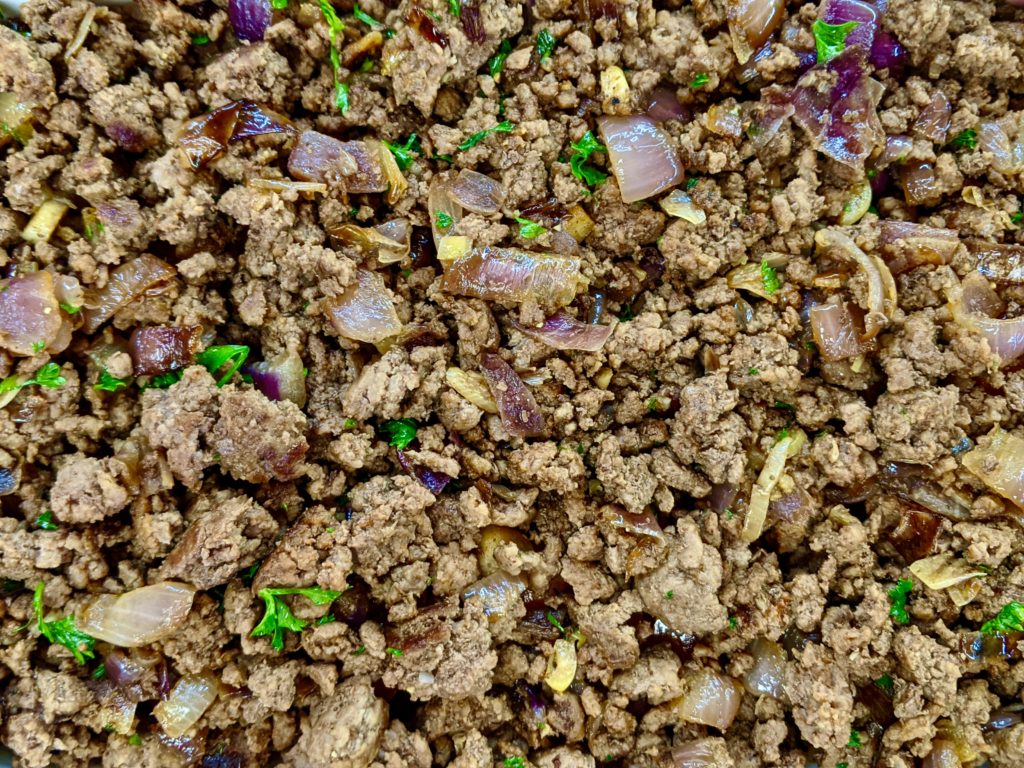 The broiled eggplant rounds were layered in a baking dish, which was then topped with a layer of tomato slices and then the ground beef mixture. Another layer of eggplant and tomato topped the meat and the dish cooked at 350F for 30 minutes.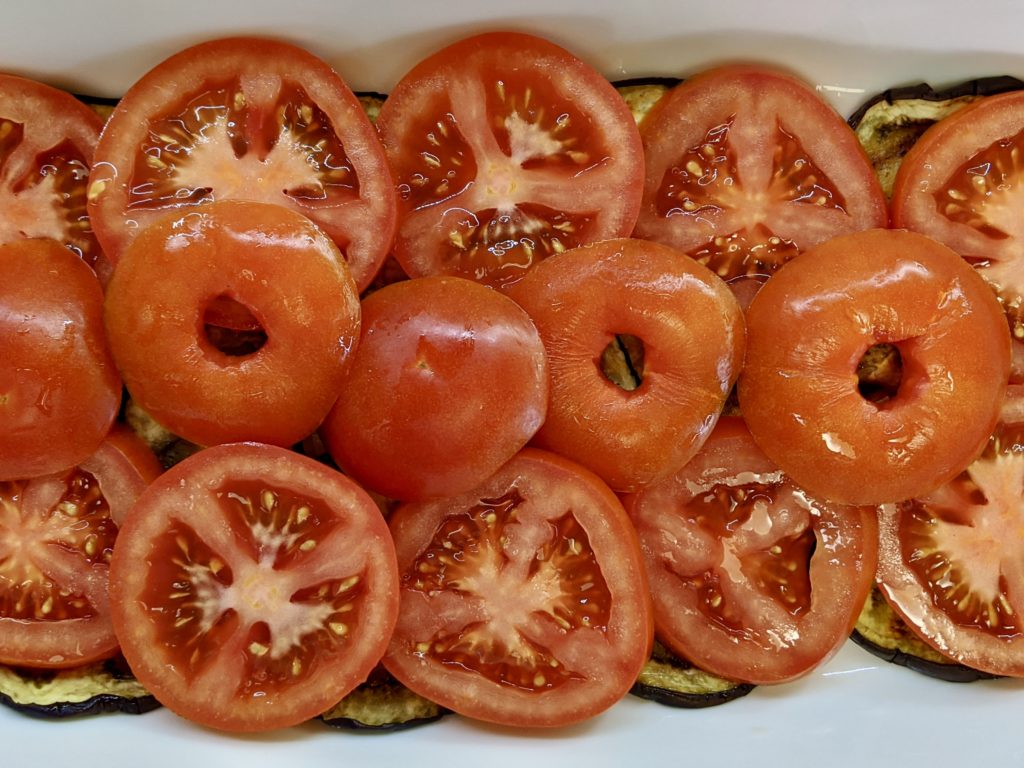 Without the addition of a creamy sauce, this was a much lighter version of moussaka, which was also significantly brighter due to a large amount of tomatoes in the dish. This was not unlike the flavor profiles of tonight's other meaty main and this recipe made for great leftovers for the next several evenings.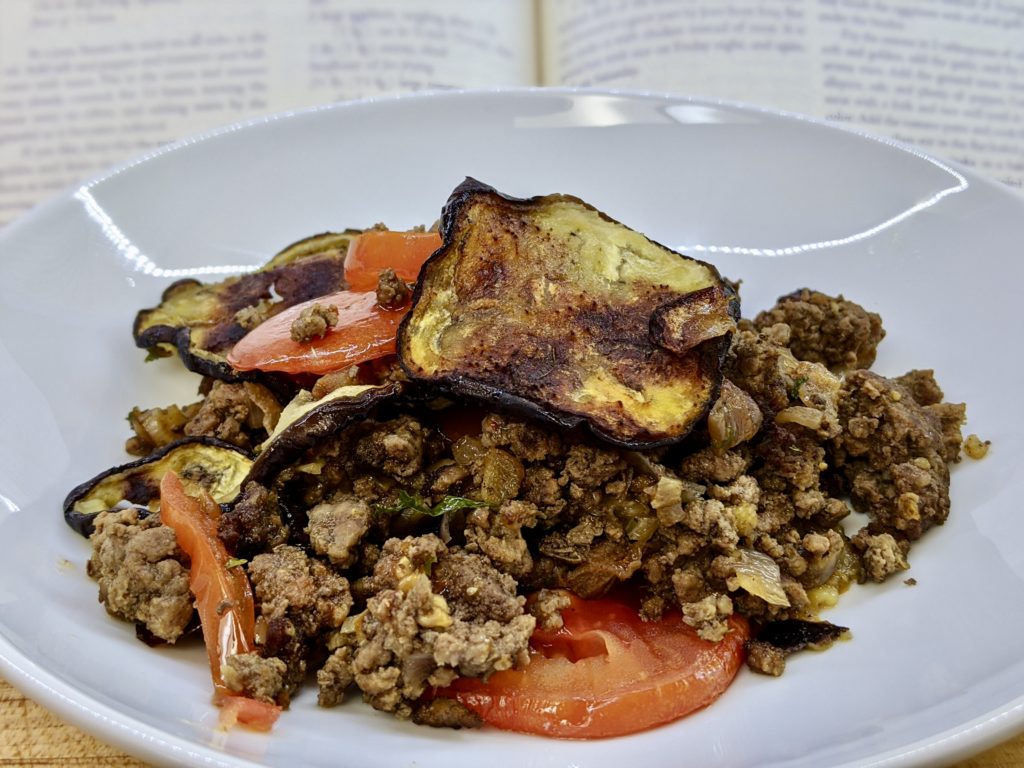 When Gary and I saw that macaroons were the next dessert, we both had very different reactions. Gary thought that these were macarons which are the brightly colored sandwich-like cookies brought from Italy to France by the chef of Catherine de Medici. These are made with almond flour, egg whites, and sugar and often have buttercream or jam filling. Gary hates these.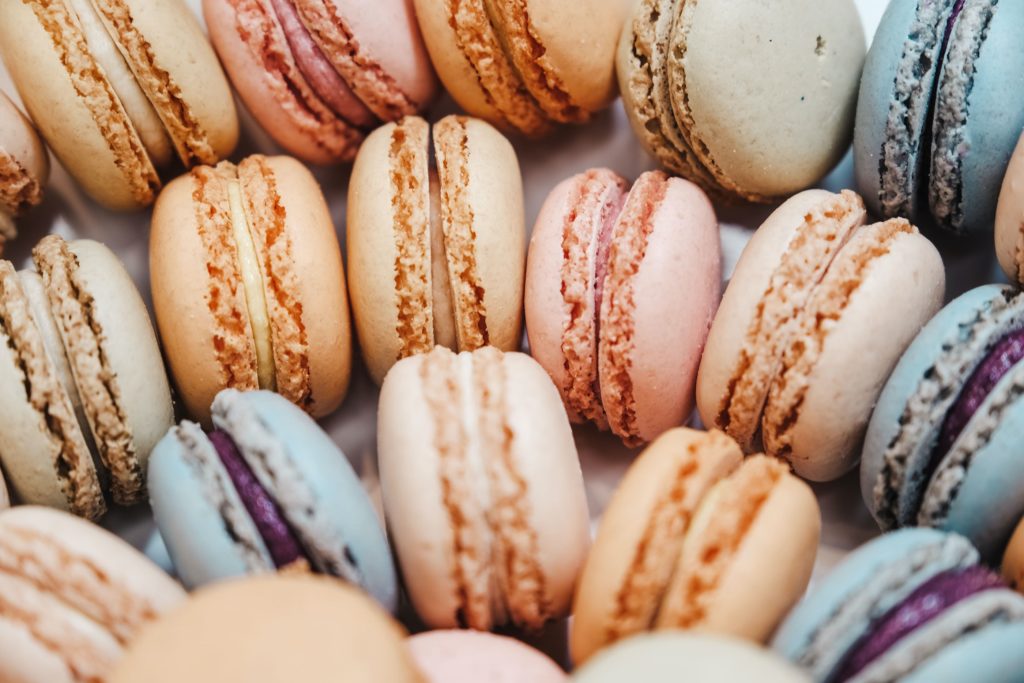 Macaroons are typically made with either grated coconut or almond flour, egg whites, and sugar. Elais loves the coconut version of these (Gary is not a fan).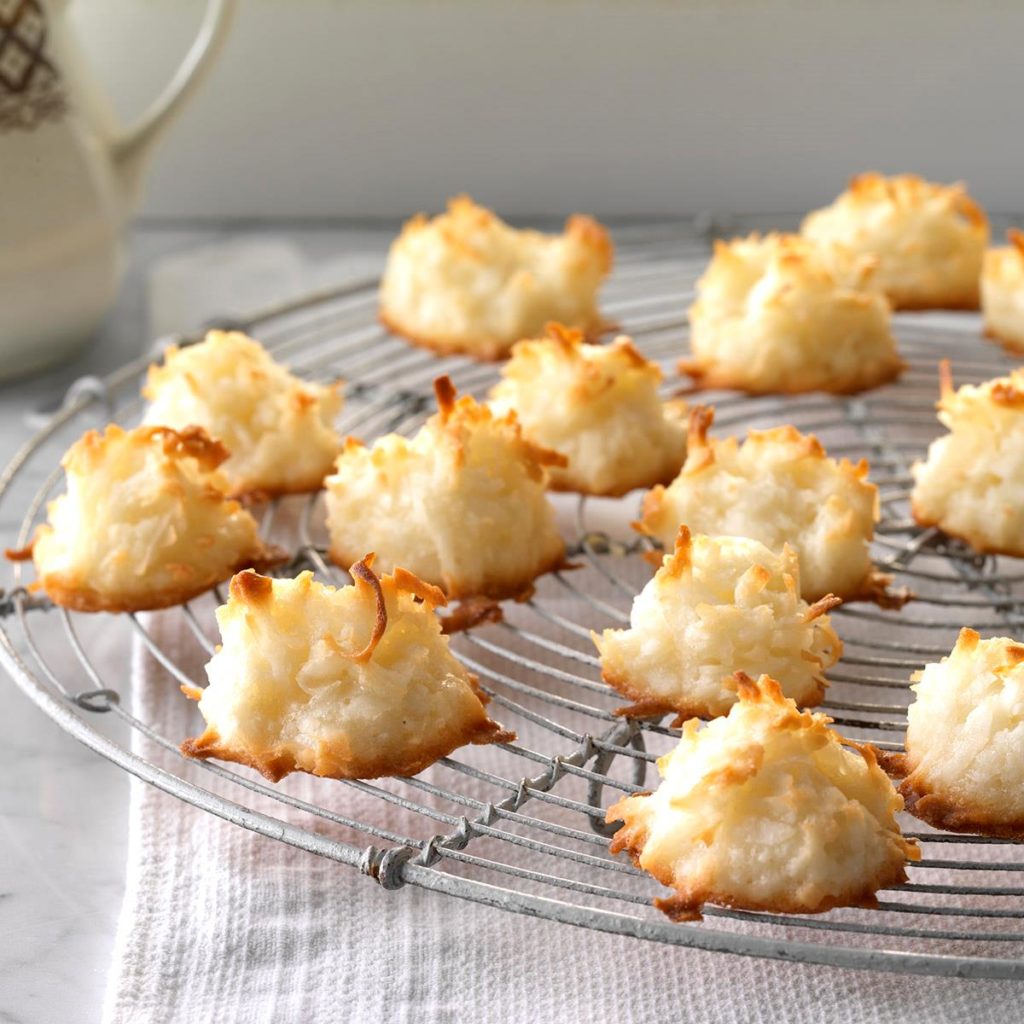 According to the big Book of Jewish Food, macaroons are a specialty of Passover and Purim throughout the Sephardic world. They can be found in every bakery in Turkey and are typically made with bitter almonds (but because bitter almonds are largely banned in the United States due to their high cyanide content are made to taste like bitter almonds through the use of almond extract). It appears that macaroons can be traced to an Italian monastery of the 8th or 9th century and that Italian Jews later adopted the cookie because it has no leavening agents, making it the perfect dessert for Passover.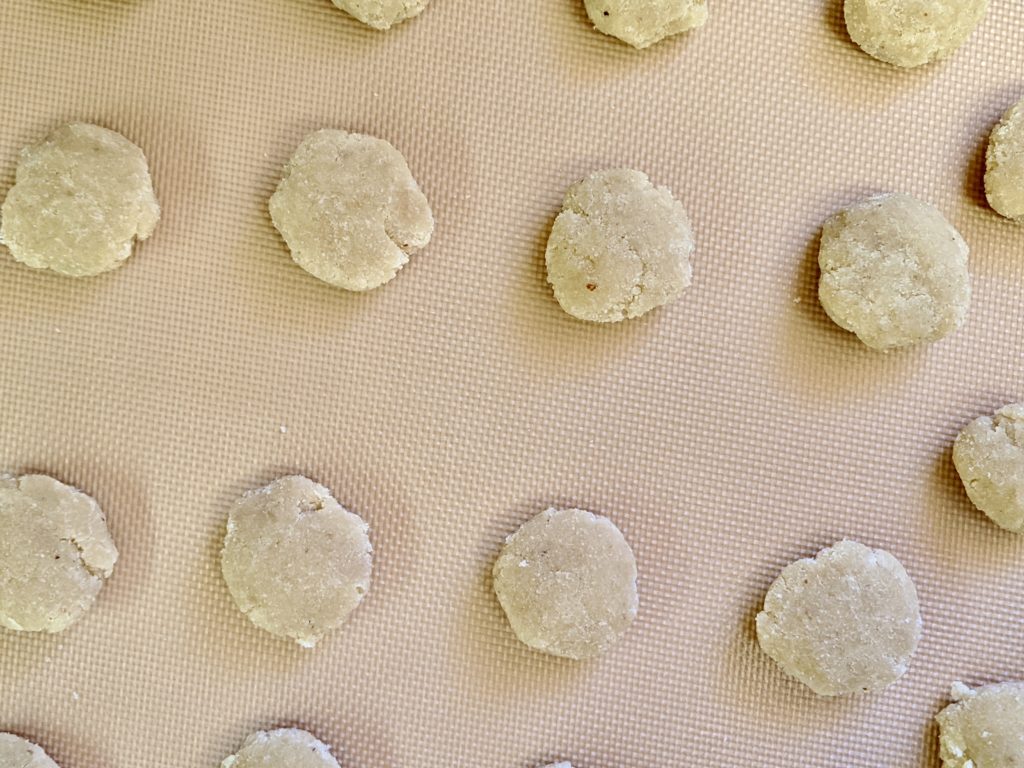 After that large introduction for such a small cookie with very few ingredients, we will jump into the recipe itself. Ground almonds were mixed with sugar and almond and vanilla extract. Egg white was added to this mix and kneaded by hand until a stiff paste was formed. The dough was rolled into lumps the size of walnuts, topped with a slivered almond, and then baked at 425F for 8 minutes until slightly colored.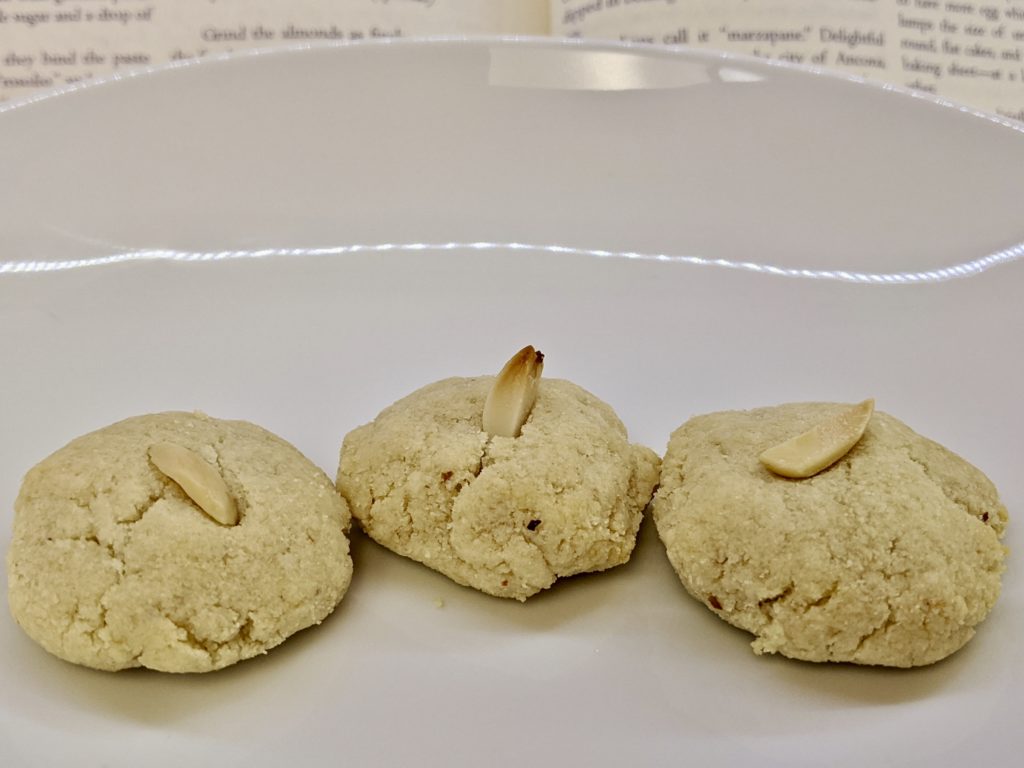 The result was less of the coconut macaroon for which I was hoping, not at all like the macaron that Gary was dreading, and more like the almond biscuits that you find at Chinese bakeries (which Gary loves, but of which I am not a huge fan). The macaroon was very crispy and crunchy and had a light almond flavor. It was not very sweet and kept well in a sealed container over the next couple of days.
AND IN THE END, THE FOOD YOU MAKE IS EQUAL TO THE CARE YOU TAKE…
So how was Made In Marrow's meal number 80? As a reminder, our rating system is based on sticks of butter (because butter is best!), with 1 being the absolute worst and 5 being out of this world. Sticks of butter are assigned to Difficulty (how many kitchen fights were needed to complete the meal?), Tasty Goodness (was it a palate poor or did it make our mouths merry?), and Repeat Customer (how likely are we to return to the recipe?).
Difficulty  [][][] 3/5
Managing oven space and timing was key this week, along with making sure that we gauged the draining time correctly for the eggplants, so tonight's meal was more difficult on the logistical side than on the preparation and cooking side.
Tasty Goodness
[][][][] 4/5 Arroz kon Espinaka – Rice with Spinach – An earthy and savory side
[][][] 3/5 Prasifouchi – Leek Pâté – A lighter version of your usual mashed potatoes
[][][][] 4/5 Ingriyi – Sweet-and-Sour Meat and Eggplant – A very meaty casserole
[][][][] 4/5 Moussaka – A lighter version of this standard savory dish
[][][][] 4/5 Macaroons – A crispy and very almond-y cookie!
Repeat Customer
[][][] 3/5 Arroz kon Espinaka – Rice with Spinach – Not the main star, but a good supporting actor
[][][] 3/5 Prasifouchi – Leek Pâté – We would definitely add more leeks as well as garlic next time
[][][][] 4/5 Ingriyi – Sweet-and-Sour Meat and Eggplant – We would definitely try this dish again with different cuts of meat
[][][][] 4/5 Moussaka – Despite missing out on the creamy sauce, this was a great substitution and would make for a nice weeknight casserole complete with leftovers
[][][] 3/5 Macaroons – Not my favorite version of a macaroon but it was Gary's, so we split the difference!
Tonight's successes were a welcome change from last week's failures and we are looking forward to next week's culinary capers!
Sip, sup, and savor all you can, you curious cooks,
Elais & Gary