Just want the recipes and none of that other wordy nonsense? Click the links below!
Almodrote de Berengena – Eggplant Flan
Marcoude aux Aubergines – Eggplant Omelette
Veau Sofrito – Braised Veal with Turmeric and Lemon
Meal the Seventy-Eighth
Tonight we hop around Tunisia, Turkey, and Egypt for our meals, with all of the recipes having many common threads between the three countries. This makes sense, as they all share borders with the Mediterranean sea, so one (i.e. Elais) can only imagine ships bobbing from port to port, sharing cultures, traditions, and ingredients. And this one little thought sent her down a rabbit hole of Middle Eastern history, reading about the ancient foreign relations of Egypt through to the outcomes of the dissolution of the Ottoman Empire.
The long and short of it is, Egypt and Tunisia are two of the earliest civilizations in Africa; they also have a long history of a love-hate relationship but were brought together through various empires, including the Roman Empire, the Arab Caliphates, and Ottoman Empire, then later having portions occupied by British and France (but were also targeted by Germany and Italy – how's that for covering centuries of history in one very long sentence?). Turkey is an interesting player when it comes to relations with these countries as it has both European and Asian segments of the country and were also a host to many Bronze Age civilizations, including the Hattians, Akkadians, Assyrians, and the Hittites (who are my favorite amongst this group, simply because Bill Murray's pronunciation requires correction by Sigourney Weaver in the *OG* Ghostbusters movie – ha, and I'm sure you thought I could not inject some SciFi nerdiness into Byzantine history).
And yes, we realize that Made In Marrow is not meant to replace your recently-moved-online history 101 class, and no, pretty much none of the above is relevant to tonight's blog, EXCEPT for one thing – all of the people and traveling and history and tradition saturates each of the above three country's cuisines, with some of tonight's recipes being eaten for at least the last 8 centuries. So, while we shelter in place during this historic time and try to amuse ourselves at home, we can make these dishes and participate in traditions from other histories found halfway around the world long ago. So read on for tonight's hiSTORY of consumption and we hope you enjoy!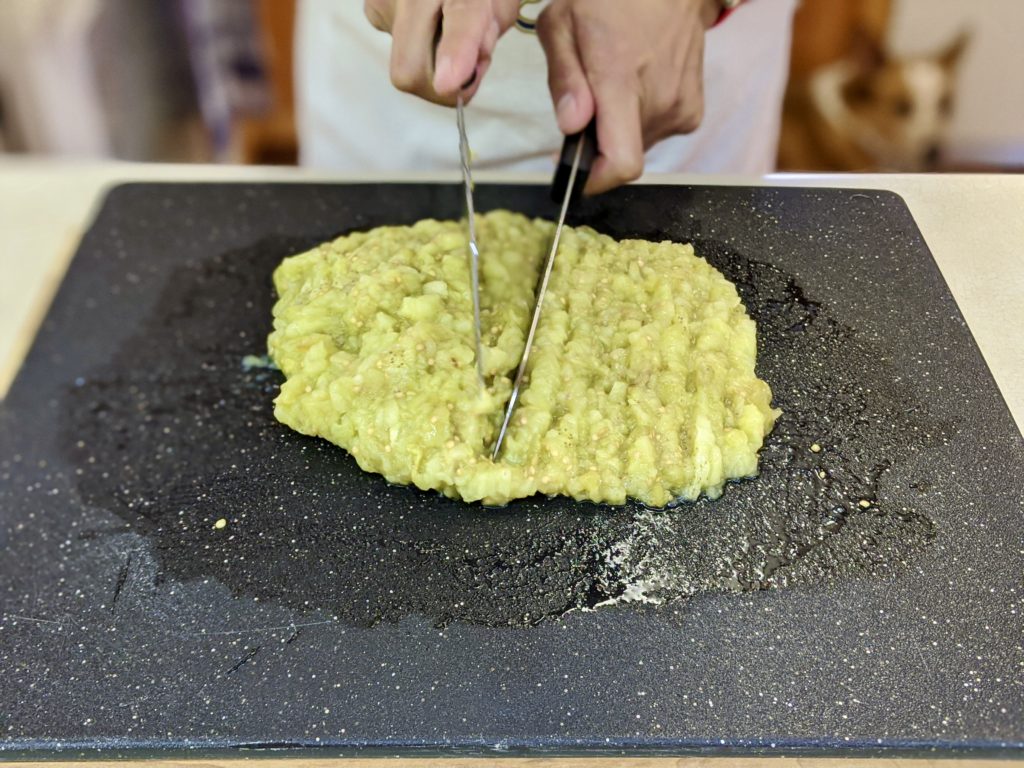 According to Roden in The Book of Jewish Food, this is one of the most distinctive and loved Jewish dishes of Turkey, which may be connected to a similar recipe in the records of the Court of Inquisition in Spain (unfortunately its consumption was also used as a red flag to hunt down Christian converts who still had ties to their Jewish faith). Moving beyond that unfortunate fact, eggplant was originally domesticated into two domestic species, with one being found in South Asia and the other in East Asia, which probably points to the Asian part of Turkey as origins for this dish. This recipe is the first of our two eggplant dishes of the evening, both of which require the aubergine to be roasted and peeled prior to the next steps of prep.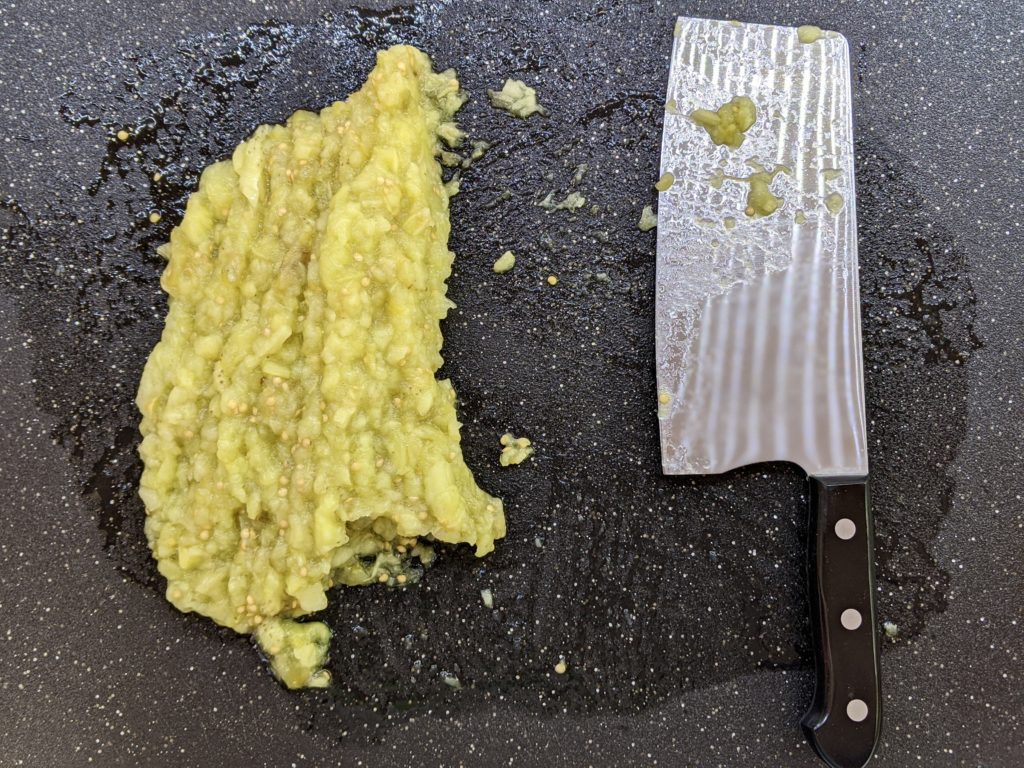 After the purple fruit had been broiled to peel it of its skin, it was pressed into a colander to release the juices. Next up, Gary's favorite part of prep tonight was chopping the flesh with two knives just like the Turks do.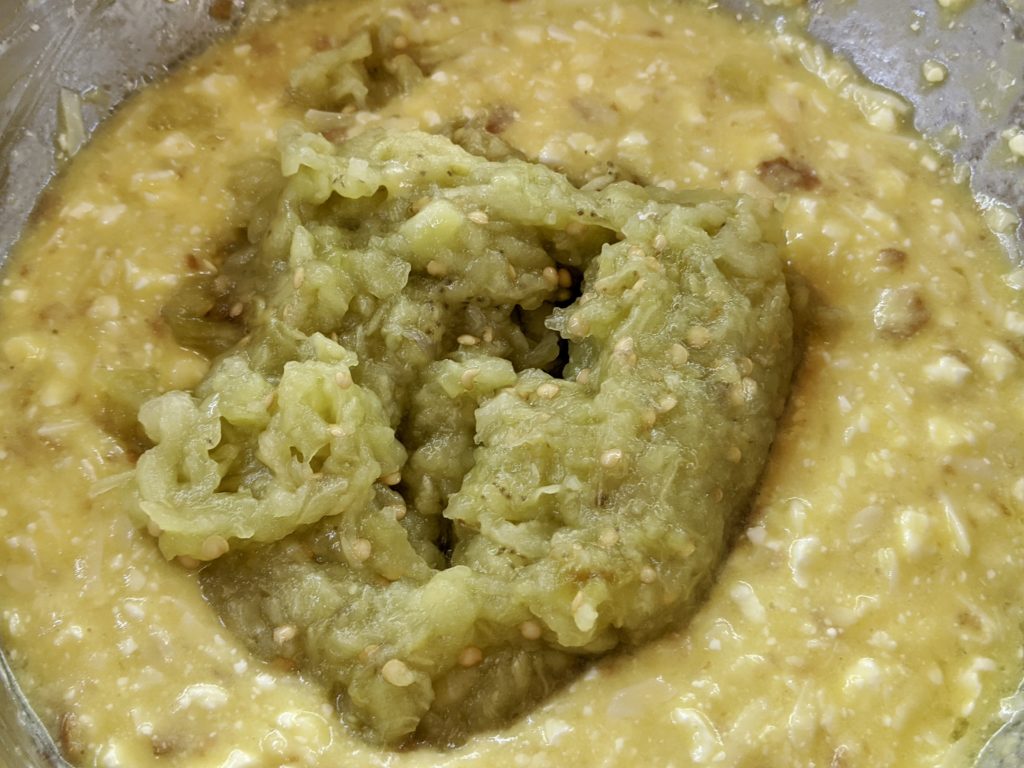 After Gary had his knife fun, feta cheese, beaten eggs, bread soaked in water, Gruyère cheese, and olive oil were all beaten in a bowl together. The chopped eggplant was mixed into this combination then poured into an oiled baking dish, sprinkled with more cheese, and then baked at 350F for 45 minutes until lightly browned.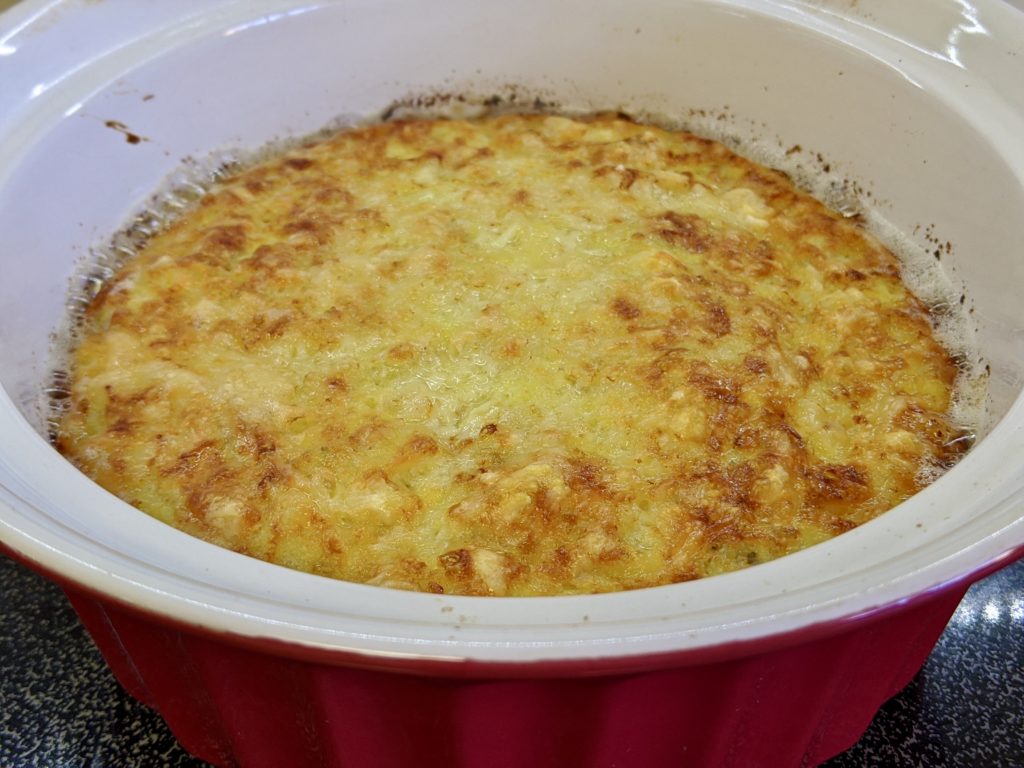 We were not sure of what to expect from the flan, our primary concern being that it would not set right due to the remaining moisture in the eggplant. However, the flan was fantastic and set perfectly! There was a light taste of brinjal (yet another word for eggplant) which nicely balanced the salty feta and creamy Gruyère. This was a great side dish and stood up well to multiple re-heatings over the next week.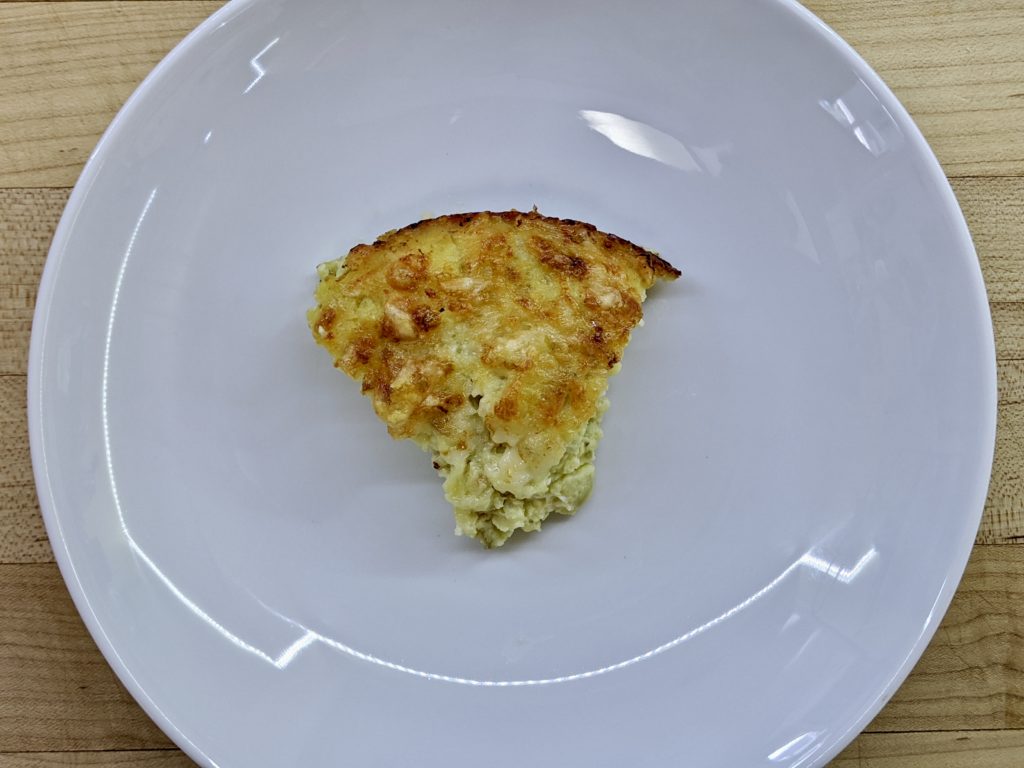 This Tunisian dish can be eaten either hot or cold, but we found it to be more like a frittata than an omelet. And, building off of the previous dish's history, while the eggplant was domesticated in Asia, it continues to grow wild in Africa, probably having made its way from Asia through India to Africa via Middle Eastern traders. Our eggplants were broiled until soft and the skin was easily peeled, after which they were pressed in a colander to drain the excess fluid. While these sat to drain to their maximum capacity, onions were fried until golden after which garlic was added to the pan.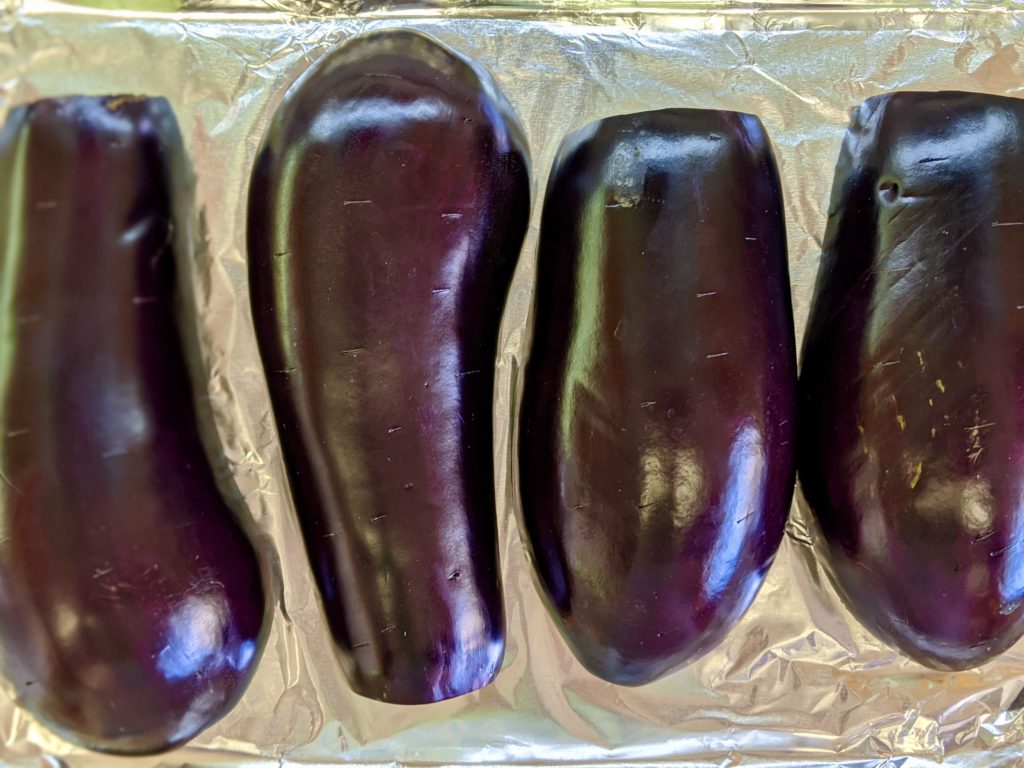 Beaten eggs were mixed with eggplants and the fried onions and garlic, along with parsley, caraway seed, coriander, salt, and pepper. All of this was poured into an oven safe pan over low heat to allow the bottom to set. The pan was then put into the oven, which was set to broil, and cooked for ten minutes until firm and cooked through.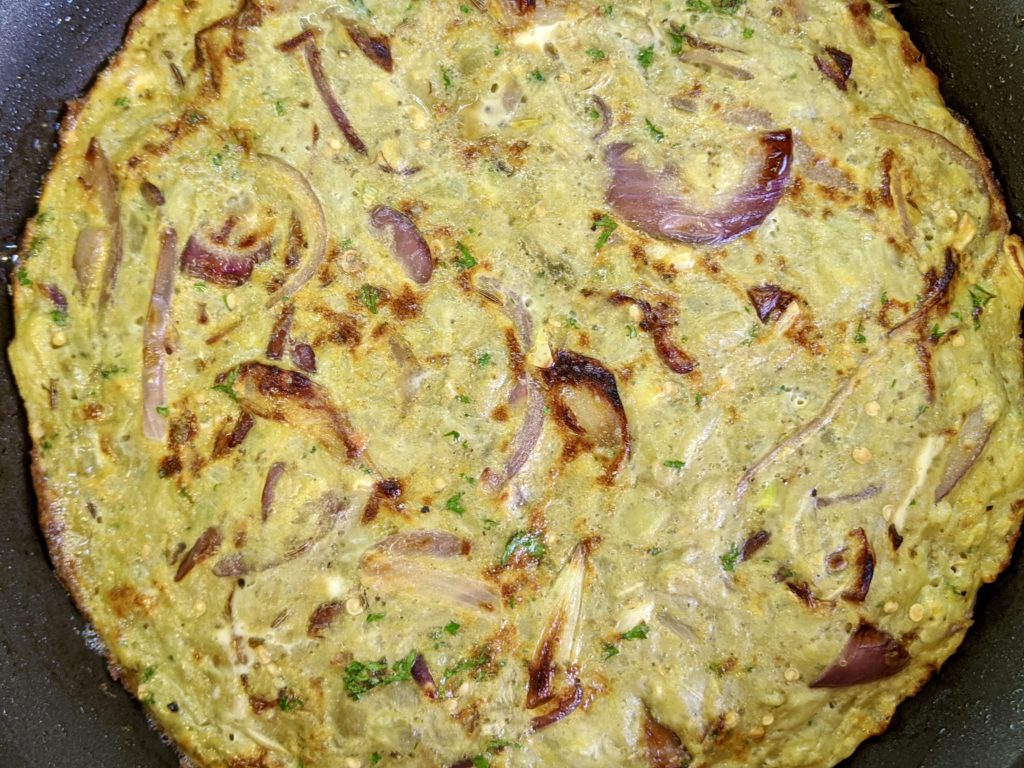 This truly was a frittata, with a light egg and eggplant flavor which was nicely accented by the spices and sweet red onion. The dish was tasty and reheated well, but it was also good cold, as well as tasty when topped with a variety of hot sauces!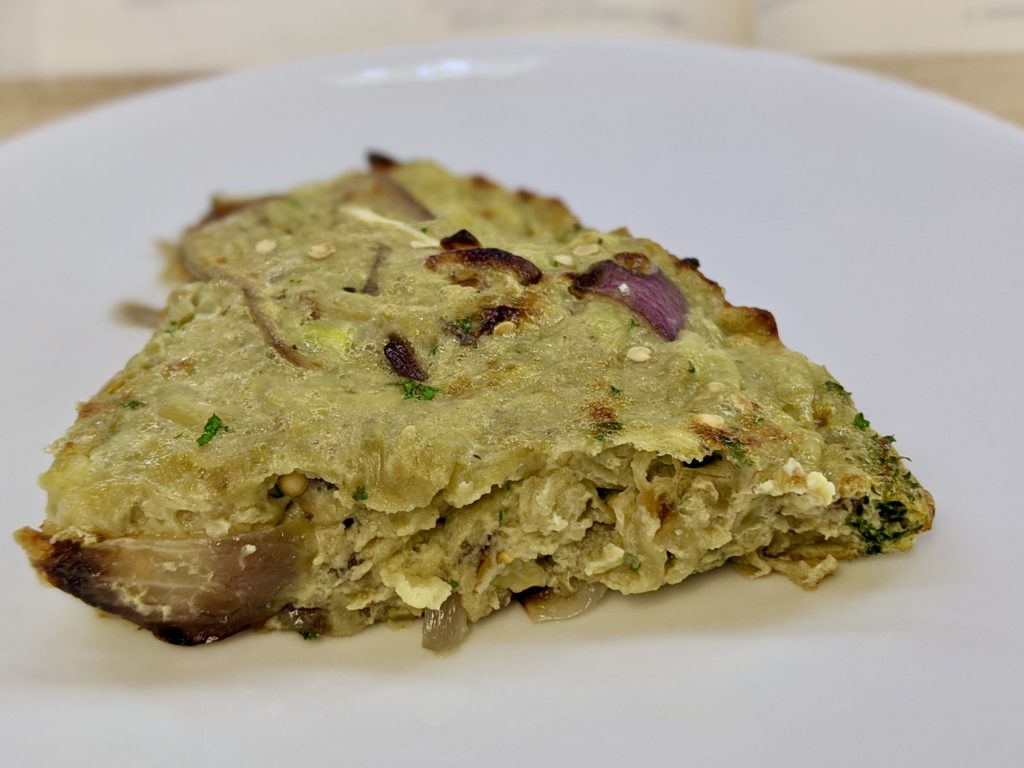 We have made other sofrito dishes in the past and just as a reminder, there does not seem to be any specific definition for what constitutes a sofrito. Depending on where it is being made, it can be meatballs in plum juice (the Turkish preference), an aromatic mix of tomato, garlic, cilantro, and pepper braising sauce (the Puerto Rican preference), veal shin braised in garlic and turmeric (tonight's Egyptian preference), and a ton of other global varieties in between. Sofrito was a traditional Friday night dish during Claudia Roden's life in Egypt, which can feature either fried or boiled potatoes. We chose to go with the Tunisian variation as veal shin was not to be found in Santa Fe, but we did happen across lamb shank, which was a suitable alternate for this dish.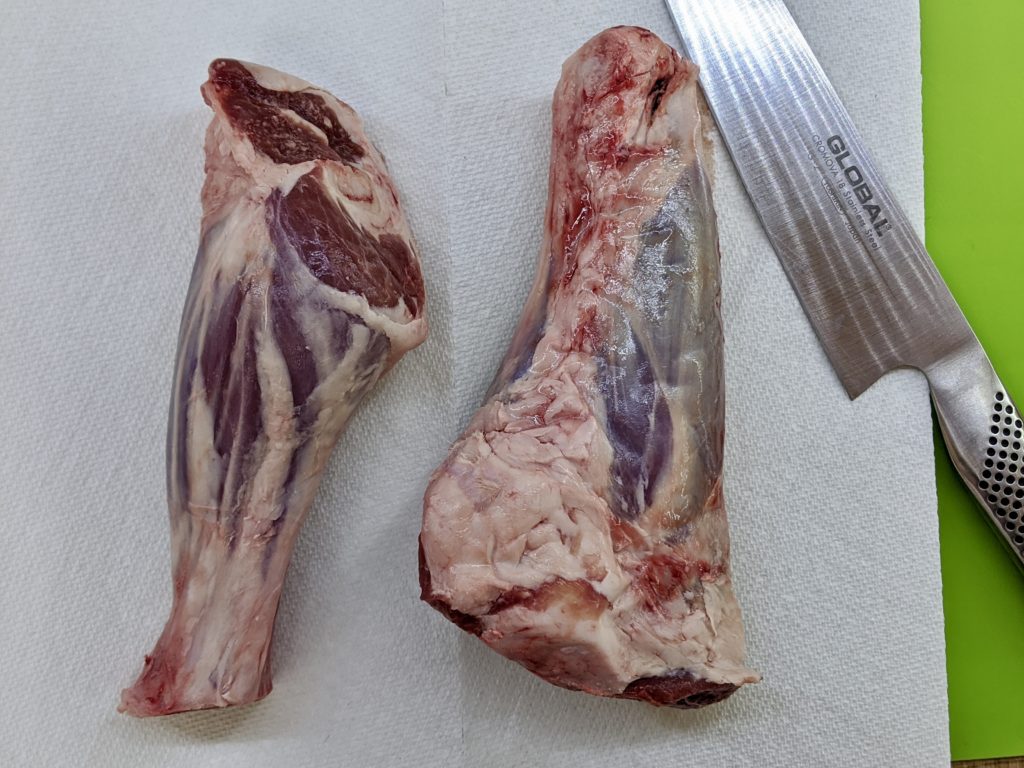 To start, the shank was browned in the pan after which salt, pepper, and turmeric (along with water to cover the shank) were added to the pan. This all simmered very slowly for about three hours, with the water being topped off as it reduced.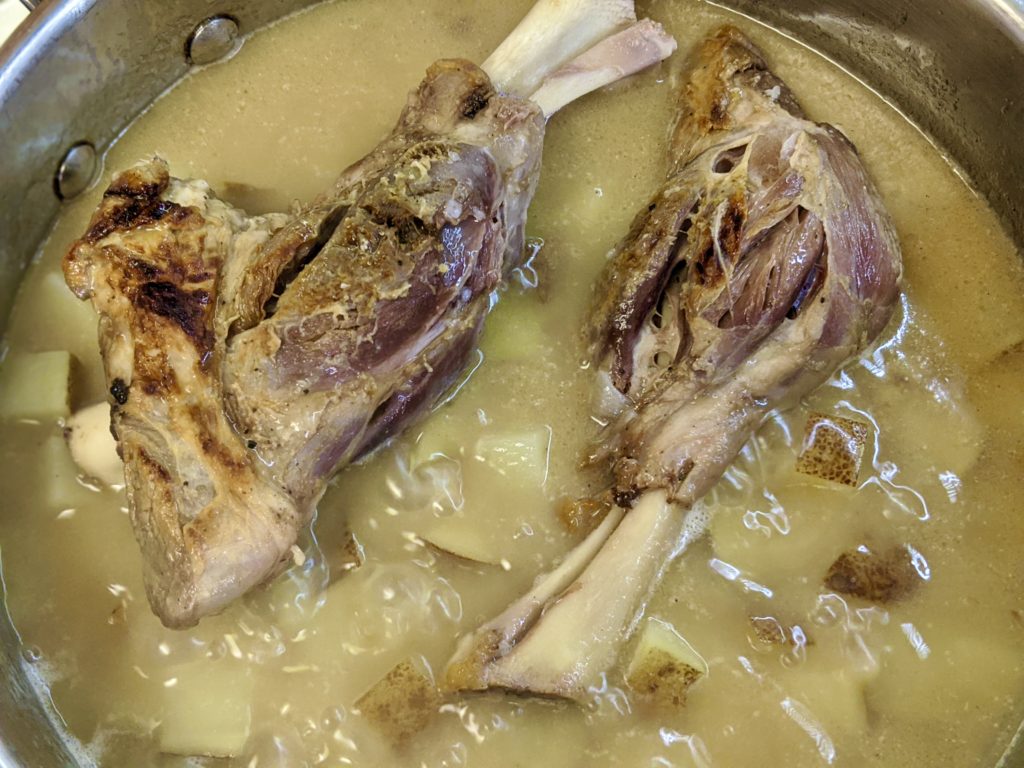 After this substantial amount of braising time, the potatoes were added to the pan and simmered until soft. The dish was served with a squeeze of lemon and, later on in the week, with some de-frosted challah from our freezer to sop up the savory juices.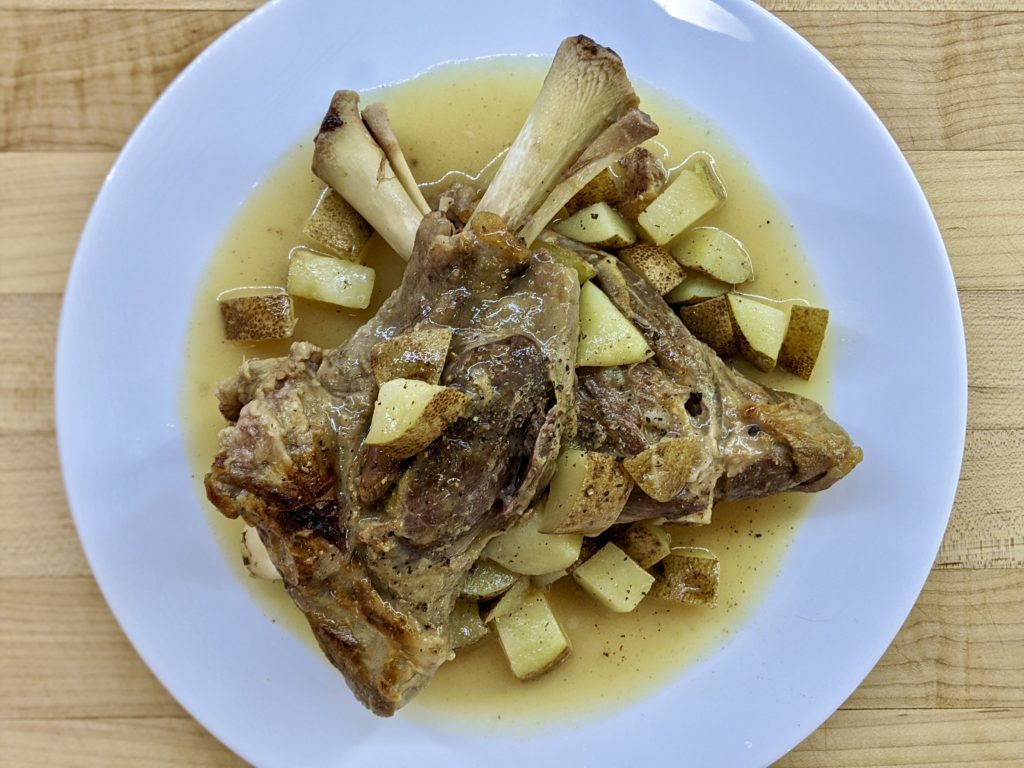 While a fairly pungent dish while cooking (braising lamb has a fairly gamey smell), this dish packed an equal punch when it came to flavor on the plate. The meat was tender, moist, and savory, and the sauce was fantastically meaty but quite rich. The potatoes did a great job when it came to leveling out this intense recipe, but even so, the lamb was best enjoyed in small servings.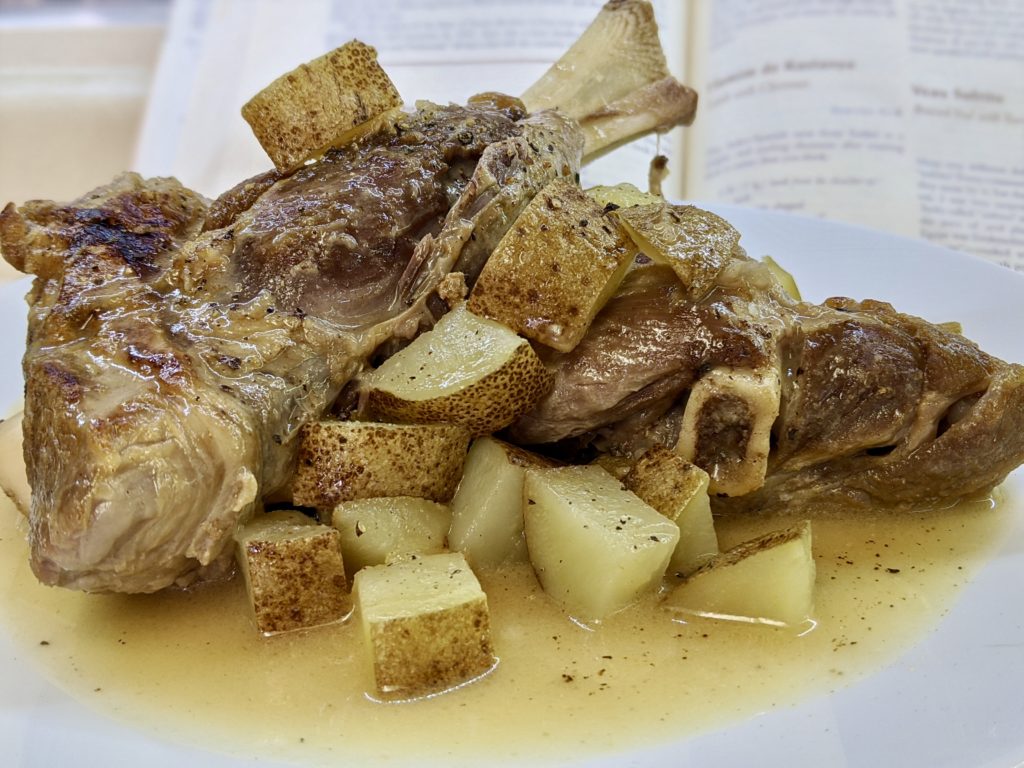 Claudia Roden is not clear about the origins of this recipe, but because she talks about it being her family's recipe, we are going to take an educated guess and say that it has Egyptian roots (but also has Tunisian and Italian variations). Roden also instructed us to grind whole almonds, but we took the easy route as Amazon has ground almond flour readily available for our consumption.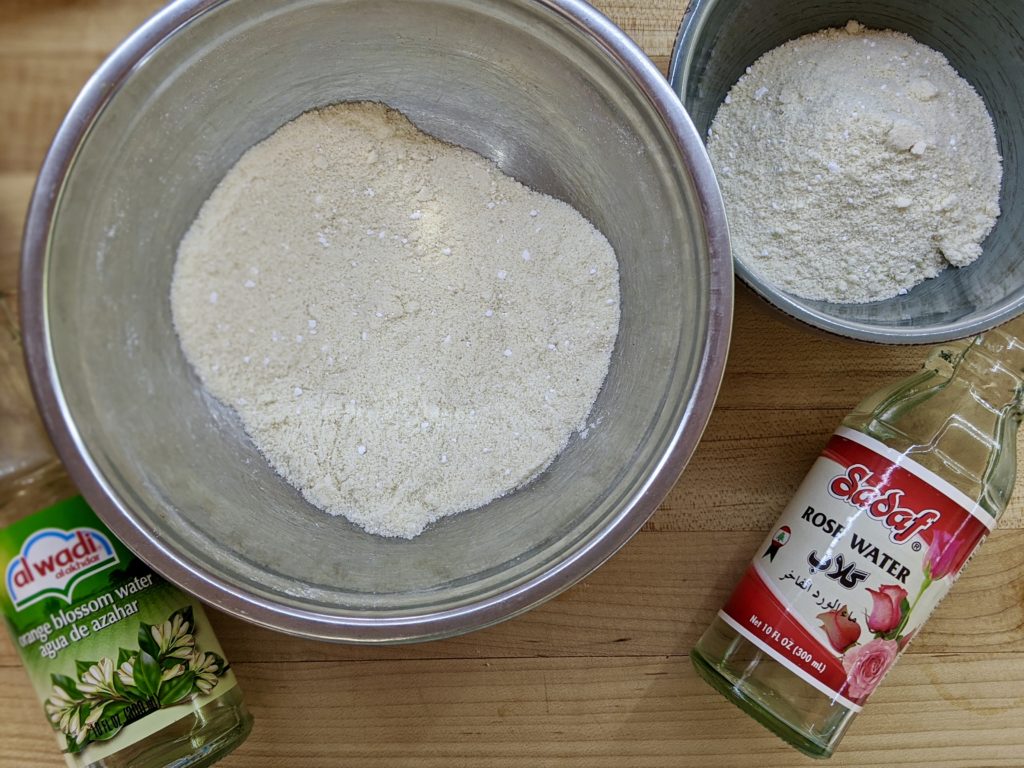 We took our internet ingredient, divided it into two portions (you will shortly find out why), and combined it with half the amount of sugar in two separate bowls. To one bowl we added rose water and to the other bowl we added orange-blossom water, so we would get to experience both flavors of the confectionary treat. The mix was then kneaded to a soft dough, then rolled in powdered sugar into 1-inch balls. The orange-flavored balls were topped with a piece of dried apricot (from our processed apricot preserves) and the rose flavored dessert was topped with a piece of slivered almond prior to serving.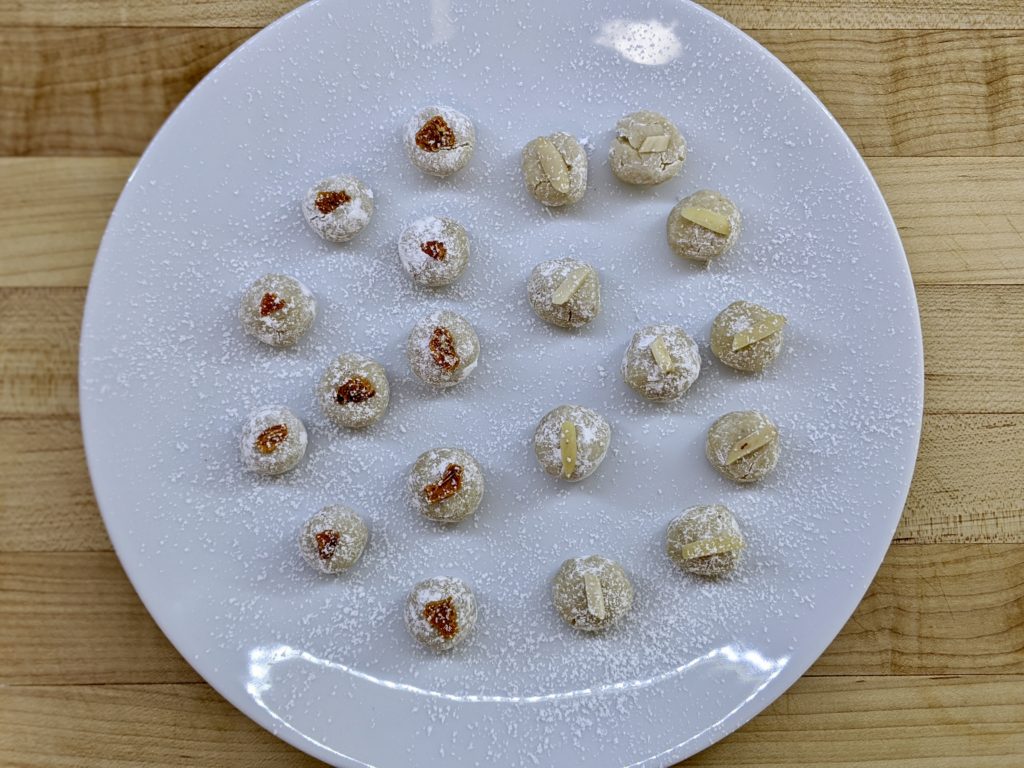 I quite like the almond treats, but Gary found the flavor of both to be a bit much. Just one or two of the rose water flavored balls was more than enough, as rose water tends to turn one's palate into a palace of perfumery. The apricot bites were easier to consume in larger amounts and our toppings of both almond and apricot turned out to be nice compliments for each flavored dessert variation.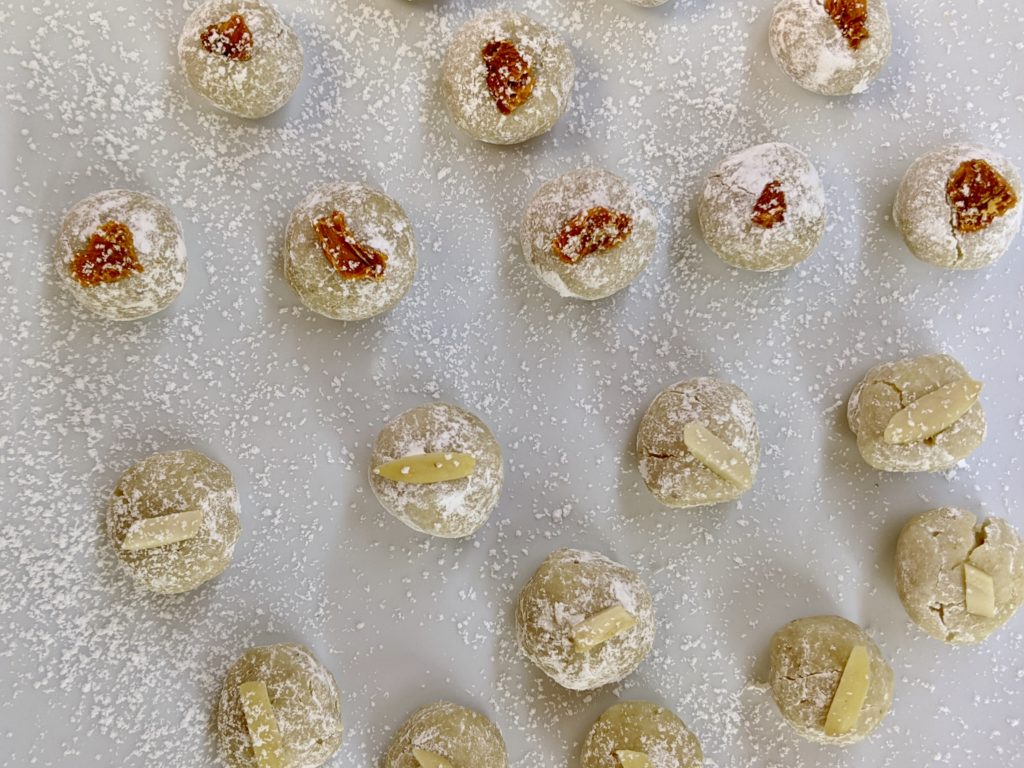 AND IN THE END, THE FOOD YOU MAKE IS EQUAL TO THE CARE YOU TAKE…
So how was Made In Marrow's meal number 78? As a reminder, our rating system is based on sticks of butter (because butter is best!), with 1 being the absolute worst and 5 being out of this world. Sticks of butter are assigned to Difficulty (how many kitchen fights were needed to complete the meal?), Tasty Goodness (was it a palate poor or did it make our mouths merry?), and Repeat Customer (how likely are we to return to the recipe?).
Difficulty [][][] 3/5
While dessert was a cinch, the lamb dish more than made up for this, with significant kitchen time invested to create tonight's meal.
Tasty Goodness
[][][][] 4/5 Almodrote de Berengena – Eggplant Flan – Savory, salty, and a succulent side
[][][] 3/5 Marcoude aux Aubergines – Eggplant Omelette – With a touch more salt this would be a great frittata
[][][][][] 5/5 Veau Sofrito – Braised Veal with Turmeric and Lemon – A masterfully meaty main
[][][] 3/5 Amandines – Almond Balls – A touch grainy in texture, with higher ratings going to the orange flavor versus the rose flavor
Repeat Customer
[][][] 3/5 Almodrote de Berengena – Eggplant Flan – We are not sure the broiling, peeling, straining of the eggplant is worth the addition to this cheese flan
[][][] 3/5 Marcoude aux Aubergines – Eggplant Omelette – Again are not sure the broiling, peeling, straining of the eggplant is worth the addition to this omelet/frittata
[][][][][] 5/5 Veau Sofrito – Braised Veal with Turmeric and Lemon – Well worth the effort of hunting down the protein as well as significant simmer time
[][] 2/5 Amandines – Almond Balls – Easy, but worth trying other flavors
So there you have it – we managed to travel from Turkey to Tunisia all from the comfort of our own home and without having to maintain a distance of 6 feet from all of civilization – here's to the places that next week's meal will take us!
Sip, sup, and savor all you can, you curious cooks,
Elais & Gary