Just want the recipes and none of that other wordy nonsense? Click the links below!
Sliced Boiled Carrot Salad with Caraway Seeds
Shorbet Sabanekh bel Zabady – Spinach and Yogurt Soup
Dondurma Kaimak – Mastic and Rose Water Ice Cream
Meal the Thirty-Ninth
Happy Hanukkah! Tonight is the first night of the eight-day long wintertime Jewish holiday the "festival of lights". Hanukkah commemorates the reclaiming of the Holy Temple in Jerusalem and the miracle of the lighting of the Temple's Menorah, which remained lit for eight days when there was only enough lamp oil for one night. The lighting of this Menorah is at the center of this holiday, with one of each of the flames being lit for every day of Hanukkah.
While we did not make any Hanukkah-centered foods for tonight's meal, we did make latkes earlier this year, which were quite tasty. When I was growing up in Southern California, family friends of ours invited us over every year for their Hanukkah celebrations, which were always hosted with love and lots and lots of tasty latkes. So while we share tonight's meal with all of our lovely readers, we also are sharing wishes for a happy first night of Hanukkah, hoping that you are sharing this evening with those you love the most.
This Moroccan dish is a simple salad born out of the city of Meknes, an ancient city in Northern Morrocco. Carrots were sliced and boiled until tender, then dressed with lemon juice, oil, salt, pepper, garlic, and caraway seeds. The mixture cooled on the counter (as Claudia Roden directed) until dinner was ready and served at room temperature.
The salad was slightly sweet from the simmered carrots with a distinct licorice flavor from the caraway seed. The salad was a bit spicy from the raw garlic, which acted as a counterbalance out to the carrots' sweetness. It was a good side dish, but was much better when chilled and eaten the next day.
This Egyptian dish is our next in our series of yogurt-based soups. When we compared it to online images, it was a bit thicker than usually served, which may have a bit to do with the thicker Greek yogurt we chose as the main ingredient. 
We fried an onion until soft and then added garlic and sautéed until aromatic. The spinach was added, then covered with chicken stock, after which raw rice and green onions were mixed in. The pot simmered for 20 minutes until the rice was tender, and the yogurt was beaten in along with a little mint.
While this paired well with the lamb (see below), it was not our favorite yogurt soup. Having gotten used to either the punch of pickles and the brightness of cucumbers, this one was a bit bland, so we probably could have added a bit more garlic or mint to the dish. While not bad, we probably would make the previous Persian Yogurt Soup or Bulgarian Yogurt and Cucumber Soup over this recipe.
The next two recipes in the meat section are cold lamb shoulder and cold veal, so knowing that we would not be able to easily find veal, we chose to go with the cold shoulder of lamb. This is an iconic dish that played a large part in the Passover rituals for Egyptians, especially for the author of The Book of Jewish Food.
Roden offered two options for the Zeroa, both beginning with the same preparation: trim the excess fat off the meat and cook whole, with the meat on the bone. As we have several lamb recipes in our future and not a very good source of lamb, we chose to ration our lamb and portioned a small piece for tonight's meal. We also chose to go with Moroccan variation of cooking that Roden provided – we stuffed our portioned lamb with crushed garlic, mint, and parsley and then steamed this for 2 hours. We chose to eat it right away, as it smelled amazing – the lamb was a bit gamey (as lamb always is), but the garlic, mint, and parsley balanced out the strong flavor of the protein. The lamb was surprisingly tender and quite flavorful, so all in all a success for our first steamed protein!
We had read ahead in The Book of Jewish Food, so had planned accordingly for this dessert with an almost impossible to find ingredient. Thank goodness for Amazon though, (even with our Prime membership we still waited three weeks for the main ingredient to be delivered), as our mastic part of mastic and rosewater ice cream was delivered right to our front door. Mastic is a resin harvested from the mastic tree and is essentially sap that is sun dried into small teardrop shapes. Mastic has been harvested for more than 2500 years in the Mediterranean and the Middle East and is often chewed as a sort of gum. Mastic is fairly hard to harvest and during the Ottoman Empire was worth its weight in gold, being used for everything from being a treatment for gingivitis to jam making to being used to protect and preserve photographic negatives. For this reason, mastic is sticky, chewy, and has a piney, almost anise-like flavor.
For this dessert, we created a custard by beating the egg yolks and sugar to a thick cream and carefully brought this mixture to a boil over a pot of boiling water. When this thickened, the rose water and mastic was added and the heavy cream was beaten in until firm. This was frozen overnight for the next day's enjoyment. The texture of the ice cream was excellent, with the smell/flavor being…interesting. It was kind of like opening a bottle of perfume and then tasting just the lightest touch of Pine-Sol. We did not dislike it, but we did not necessarily like it. We are glad we tried it, but this is definitely a one-time dessert!
AND IN THE END, THE FOOD YOU MAKE IS EQUAL TO THE CARE YOU TAKE…
So how was Made In Marrow's meal number 39? As a reminder, our rating system is based on sticks of butter (because butter is best!), with 1 being the absolute worst and 5 being out of this world. Sticks of butter are assigned to Difficulty (how many kitchen fights were needed to complete the meal?), Tasty Goodness (was it a palate poor or did it make our mouths merry?), and Repeat Customer (how likely are we to return to the recipe?).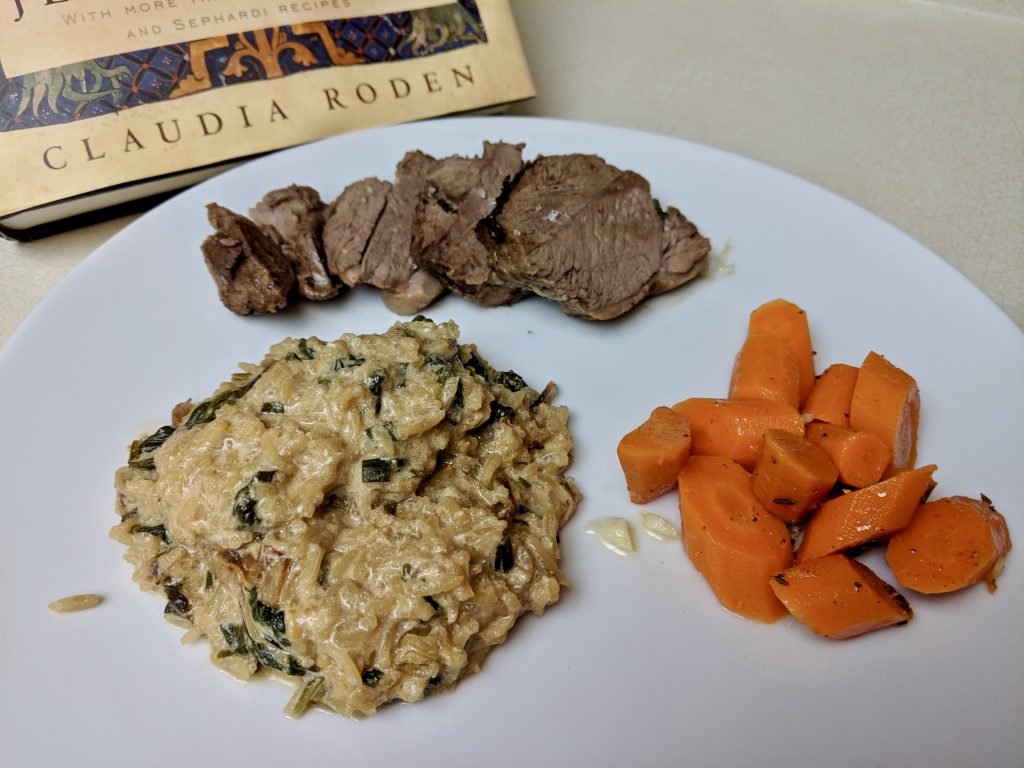 Difficulty [][]  2/5
This meal was not too difficult but required a few gadgets to get the job done, from steamers to hand beaters, so while not complicated the kitchen was a bit of a mess once dinner was done.
Tasty Goodness
[][][] 3/5 Sliced Boiled Carrot Salad with Caraway Seeds – Better when chilled, but not our favorite carrot salad so far.
[][][][] 4/5 Shorbet Sabanekh bel Zabady – Spinach and Yogurt Soup – Flavorful but also not our favorite yogurt dish so far
[][][][] 4/5 Zeroa – Cold Shoulder of Lamb – While not as tender as we were expecting, this was still a tasty protein
[][][][] 4/5 Dondurma Kaimak – Mastic and Rose Water Ice Cream – Odd but tasty!
Repeat Customer
[][] 2/5 Sliced Boiled Carrot Salad with Caraway Seeds – Maybe chilled next time?
[][] 2/5 Shorbet Sabanekh bel Zabady – Spinach and Yogurt Soup – Not terrible but we would go back to our previous yogurt dishes before this one
[][][] 3/5 Zeroa – Cold Shoulder of Lamb – Definitely different from how we would normally cook protein, so this is definitely a maybe
[][] 2/5 Dondurma Kaimak – Mastic and Rose Water Ice Cream – A hard to find and very odd main ingredient, so probably not!
This was quite an interesting meal with new cooking techniques, new ingredients, and lots of interesting flavors!
Sip, sup, and savor all you can, you curious cooks,
Elais & Gary