Just want the recipes and none of that other wordy nonsense? Click the links below!
Gondy – Iranian Chicken Soup with Chickpea Dumplings
Fazuelos – Figeolas – Mafis – Orecchie di Ammon – Fried Haman's Ears
Meal the Sixty-Second
Welcome back to Made In Marrow's Sunday blog! After a two week hiatus during which we covered more than 3600 miles, two countries, planes, trains, automobiles, boats, and buses, and many, many marvelous meals, we are back into The Book of Jewish Food for our weekly meal. But, while we may be back in the kitchen, our hearts are still just slightly in vacation mode, so this week's post is a bit short on recipes, but definitely not on flavor!
The big star of this week is the humble chickpea, which is featured in both our first and second courses. Chickpeas are high in protein are one of the earliest cultivated legumes, with remnants being found 7500 years ago in the Middle East. Also known as the garbanzo bean, this gram/bean/pea has been enjoyed from India up through Germany, where it is sometimes used as a substitute for coffee. Eaten hot or cold or ground to a flour, this nutrient-dense ingredient maintains its protein content regardless of method of cooking, making it a great substitute for meats (although that would never happen in our house). I love, love, love chickpeas and would often bring them as a snack in elementary school (which was definitely an odd choice and certainly did not make me any friends). Gary and I have been enjoyed their variety of uses in The Book of Jewish Food over the last several months and were happy to have them as tonight's feature.
So join us for tonight's meal and pass the (chick) peas, please!
This little salad may be simple but packs quite the flavorful punch. Garbanzo beans were soaked for an hour and then boiled until tender. The softened legumes were then salted and mixed with olive oil, lemon juice, cumin, cayenne, crushed garlic cloves, and parsley. Chilled for three hours, this salad was eaten as a bright little appetizer ahead of tonight's soup.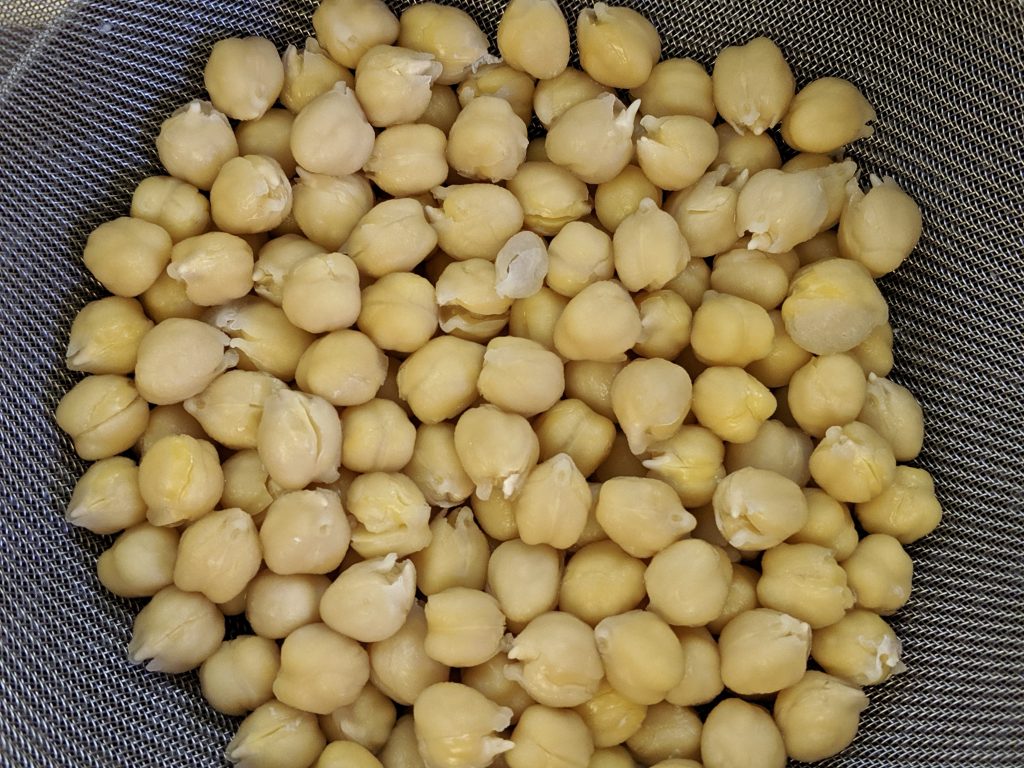 This salad was tasty, but man-oh-man was it garlicky! So garlicky in fact, that only a couple of tablespoons could be eaten, and they remained on the breath for at least two days following this dinner. We ended up roasting this garbanzo bean salad in our air fryer a couple of nights later, which was our first time trying crispy chickpeas, and we were not disappointed!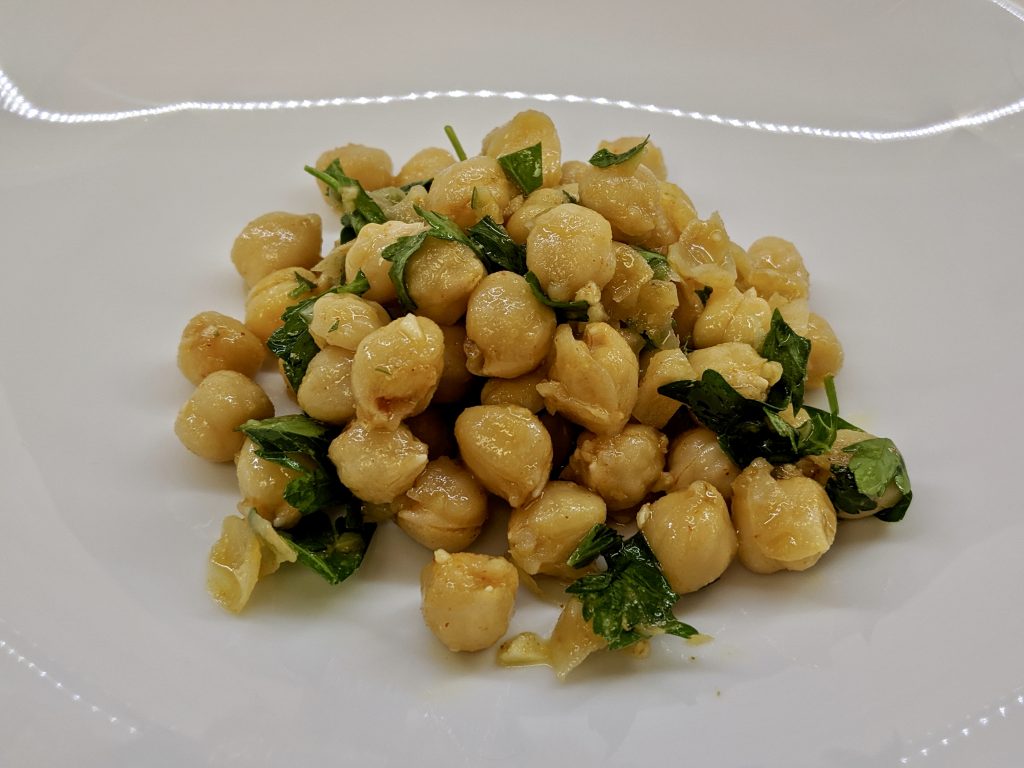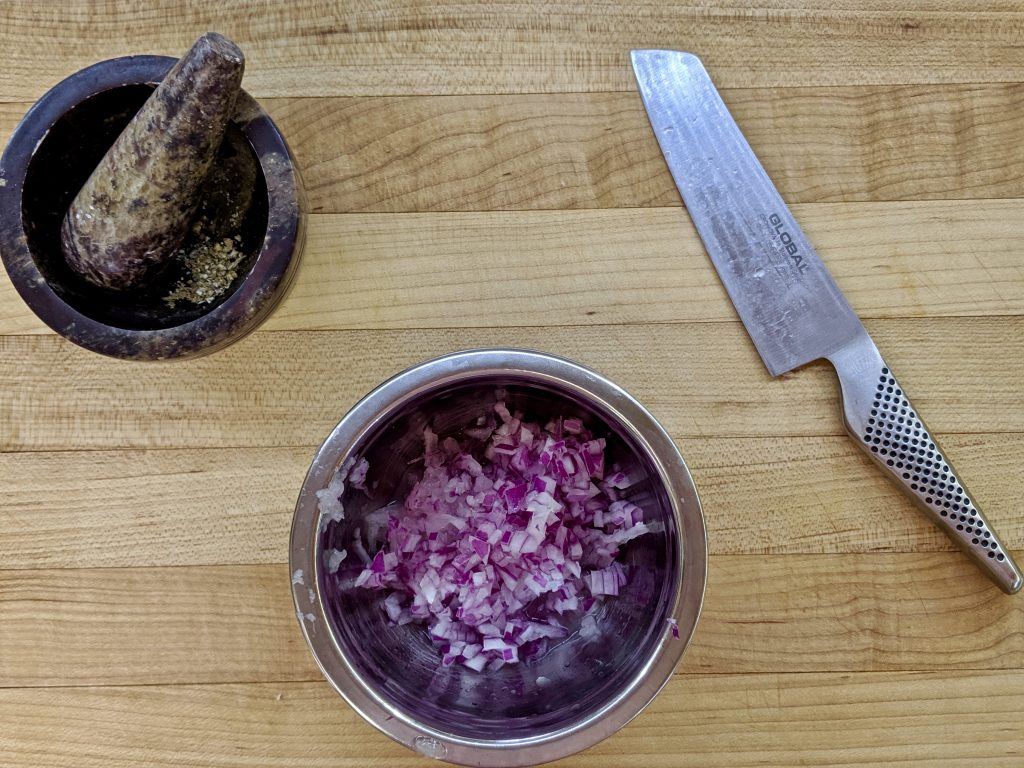 This soup is Persian in origin and often enjoyed by Jewish families on Friday nights. Like the above salad, it too features chickpeas, is fairly simple, and packs a punch of flavor. The chicken was placed in a large pot of water along with chopped onion, salt and pepper, and turmeric. While this simmered, the chickpea dumplings were assembled.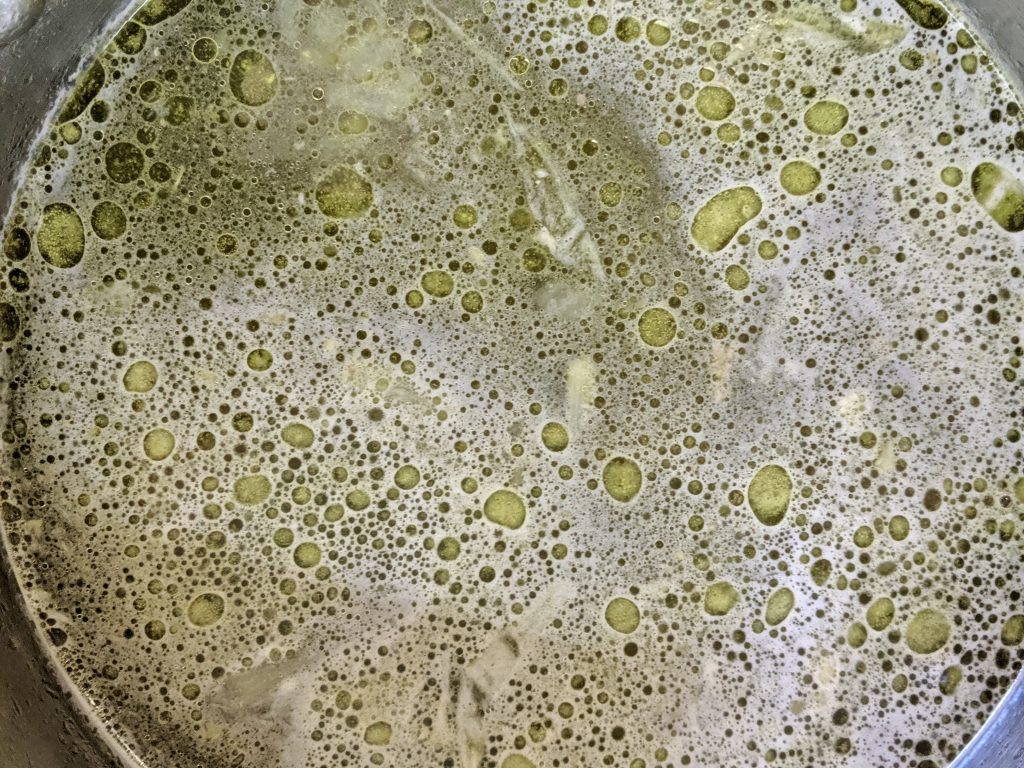 To make the dumplings, ground beef was mixed with chopped onion, chickpea flour, salt, pepper, and cardamom. The mixture was rolled into walnut-sized balls and carefully dropped into the chicken soup. This simmered for another 30 minutes until cooked through and lemon juice was added just prior to serving, along with a small amount of plain basmati rice.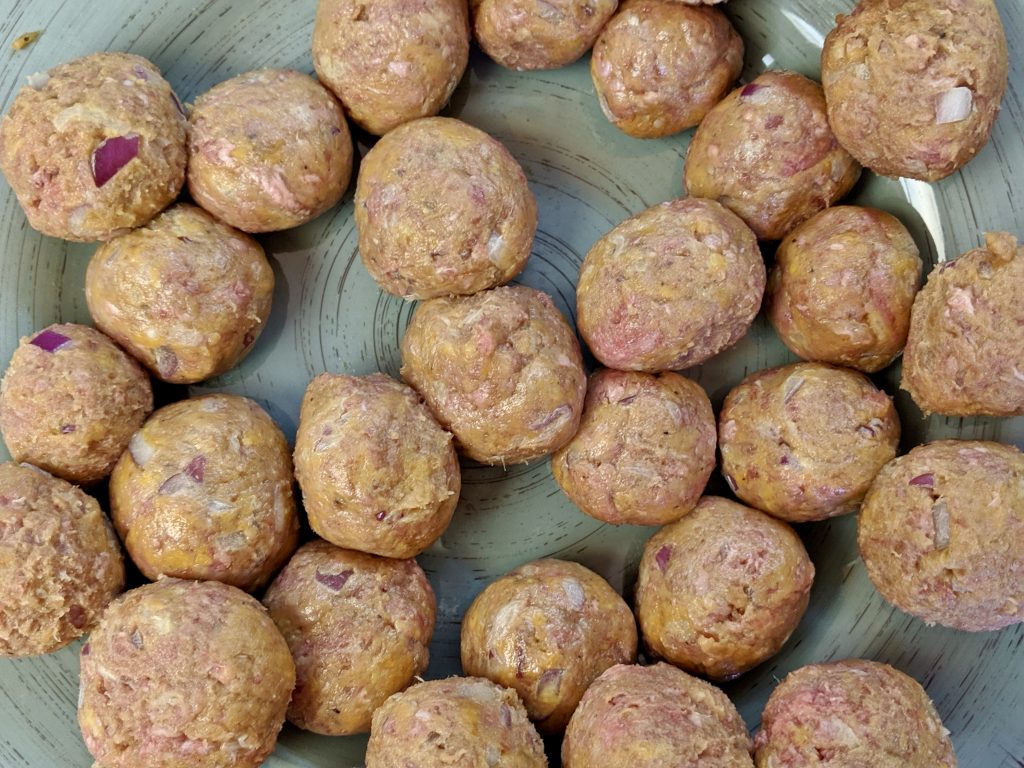 This soup lacked the garlic that the previous course had in copious amounts, so was able to be enjoyed in a more balanced serving size. It was nicely light and very bright from the lemon juice, turmeric, and cardamom. The meatballs had a nice toothy texture from the addition of the chickpea flour, which also lent a bit of a nutty flavor to the multiple protein dish. This also held up quite well for leftovers over the next several evenings.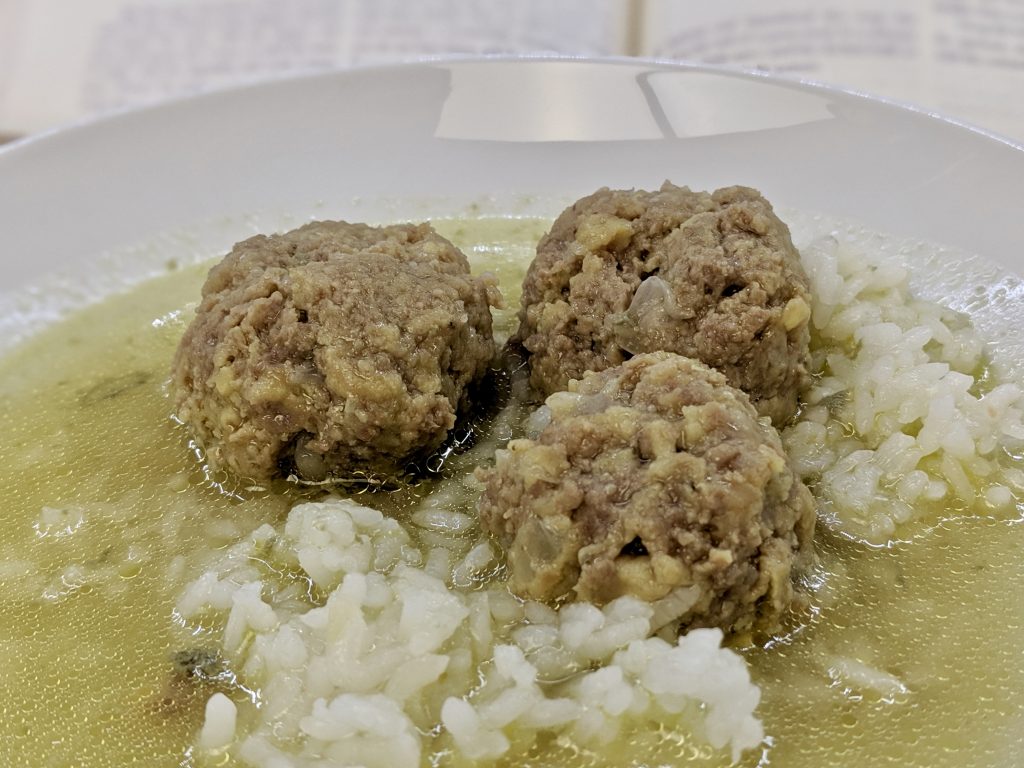 We have made several recipes that have been shaped like Haman's ears to celebrate Purim. This recipe hails from Turkey and is not unlike the Ashkenazi teiglach recipe we made so many months ago.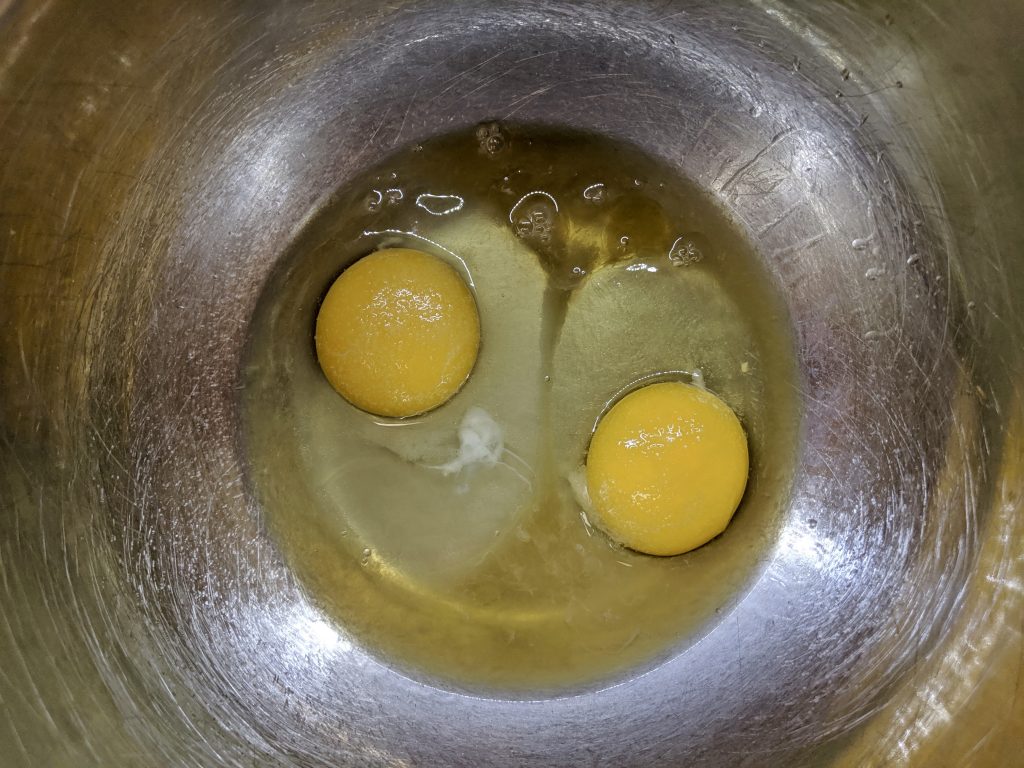 Eggs were beaten lightly with a snifter of brandy after which flour was added to the mixture until a soft dough was formed. This rested for 15 minutes prior to rolling out into large, thin rectangles. The dough was then cut into strips, then pinched in the center to form a sort of butterfly-like shape, which is supposed to resemble Haman's ears.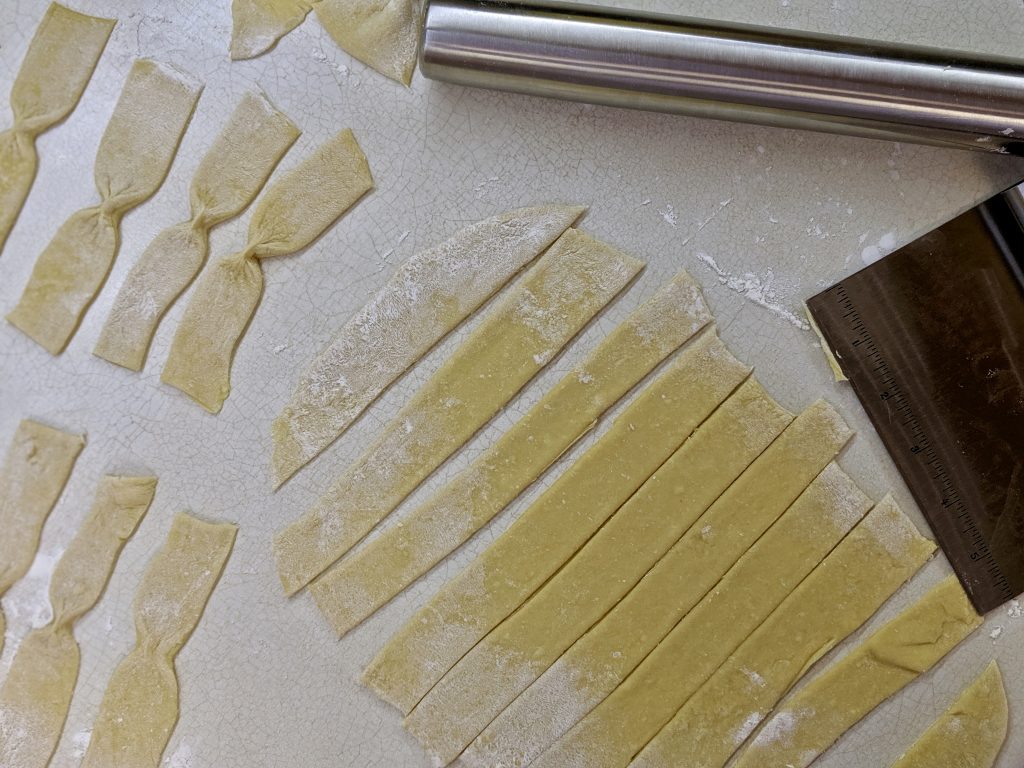 The strips were deep-fried until golden and allowed to cool after they were sprinkled with confectioners' sugar. We cheated a little bit on this one, as some were enjoyed fresh (i.e. not cooled) but others were enjoyed the next day (i.e. cool). These pastries were surprisingly light both in texture and flavor. They were just slightly sweet and paired well with coffee, and kept well in a sealed container over the next two weeks.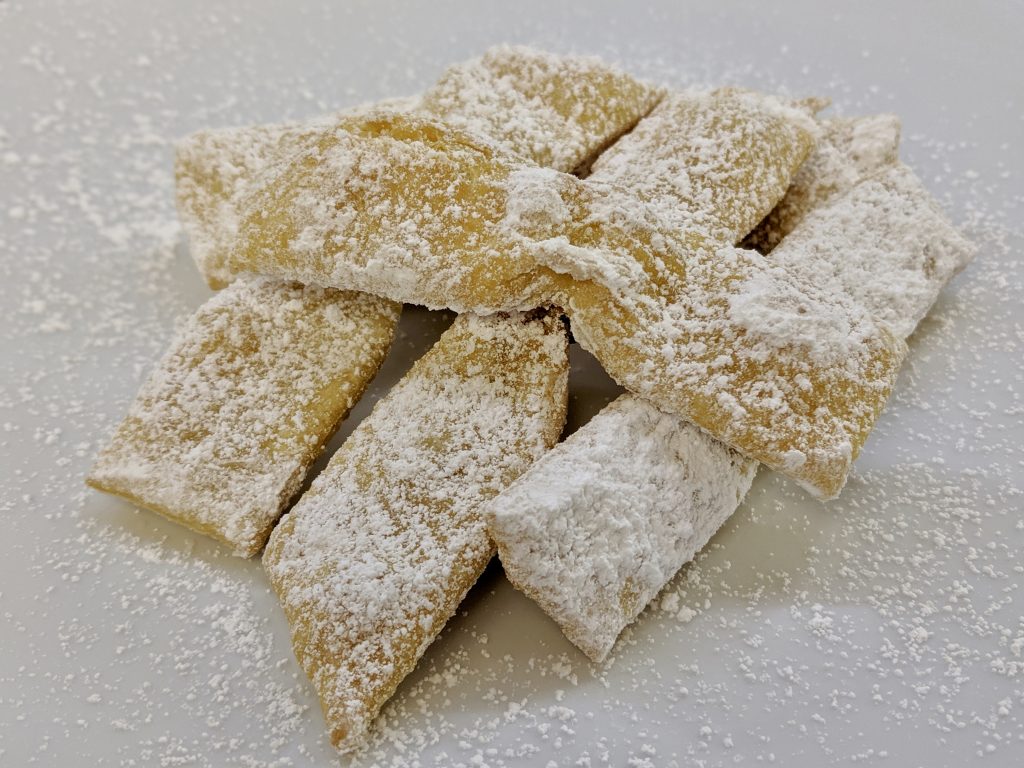 AND IN THE END, THE FOOD YOU MAKE IS EQUAL TO THE CARE YOU TAKE…
So how was Made In Marrow's meal number 61? As a reminder, our rating system is based on sticks of butter (because butter is best!), with 1 being the absolute worst and 5 being out of this world. Sticks of butter are assigned to Difficulty (how many kitchen fights were needed to complete the meal?), Tasty Goodness (was it a palate poor or did it make our mouths merry?), and Repeat Customer (how likely are we to return to the recipe?).
Difficulty [][] 2/5
Lots of boiling for tonight's meal, whether it was tenderizing chickpeas, simmering soup, or heating oil, which made for not-too-difficult cooking for our first meal back after vacation.
Tasty Goodness
[][][] 3/5 Chickpea Salad – Very, very garlicky – we need not fear vampires for a while!
[][][] 3/5 Gondy – Iranian Chicken Soup with Chickpea Dumplings – Very, very bright and light!
[][][] 3/5 Fazuelos – Figeolas – Mafis – Orecchie di Ammon – Fried Haman's Ears – A subtly sweet dessert.
Repeat Customer
[][] 2/5 Chickpea Salad – Maybe again, but we will definitely cook the garlic next time
[][] 2/5 Gondy – Iranian Chicken Soup with Chickpea Dumplings – Tasty, but could use a little garlic…
[][] 2/5 Fazuelos – Figeolas – Mafis – Orecchie di Ammon – Fried Haman's Ears – Tasty, but not one of our favorite desserts
While not the most magnificent meal we have had, it was not a bad meal for our first week back from break. Onward to our last recipe in the soup section of The Book of Jewish Food!
Sip, sup, and savor all you can, you curious cooks,
Elais & Gary