Just want the recipes and none of that other wordy nonsense? Click the links below!
Hamin de Kastanya – Lamb with Chestnuts
Patatas Kocas – Potatoes and Tomatoes
Gâteau au Coco – Moroccan Coconut Cake
Meal the Seventy-Sixth
Sufficed to say, things are a bit weird right now. Between the inundated by the constant news cycle about our global health crisis, trying to keep up to date on COVID in our community (shameless self-promotion here, if you want more info on COVID-19, check out my Nurses With Heart vlog), and maintaining social distancing as best we can, there is simply enough uneasiness to fill an Olympic-sized pool and then some. And while Gary and I both are quite used to working from home, simply the knowledge that the world around us has stalled and everyone else is now at home creates a constantly tense mindset. 
Not that we do not have enough to do around the house – I (Elais) have enough just-started and half-done projects to last me 3 lifetimes and we still have at least a quarter of The Book of Jewish Food left to keep us entertained for a well. It just seems that the uncertainty manages to make life both stressful and lackluster simultaneously, which unfortunately also came through in tonight's meal. Between lacking in flavor (and photos) and having to guess at doneness both in a tart and a cake, our dinner fell a bit flat. But full disclosure – we did have quite a bit of leftovers from tonight's meal, so we combined the potato and the lamb dish together and added some mushrooms to make a great Irish stew just in time for St. Patrick's day! 
Which is kind of the moral of our new normal right now – take what you have and find the silver lining, make lemonade out of those lemons handed to you by life, or take advantage of that open window because your main door just closed – whatever your preferred chestnut is (which, by the way, are literally on the menu tonight), we urge you stay safe, wash your hands, practice social distancing, and try to make the best of this substandard situation because just like bad gas, this too shall pass.
According to Claudia Roden, this Roman tart is also known as Jewish Pizza, in which the green vegetables represent newness of life, beginnings, and the year. It is comprised of a simple pie crust as well as vegetables that can be either frozen if you are stuck without supplies or fresh if you are celebrating the springtime.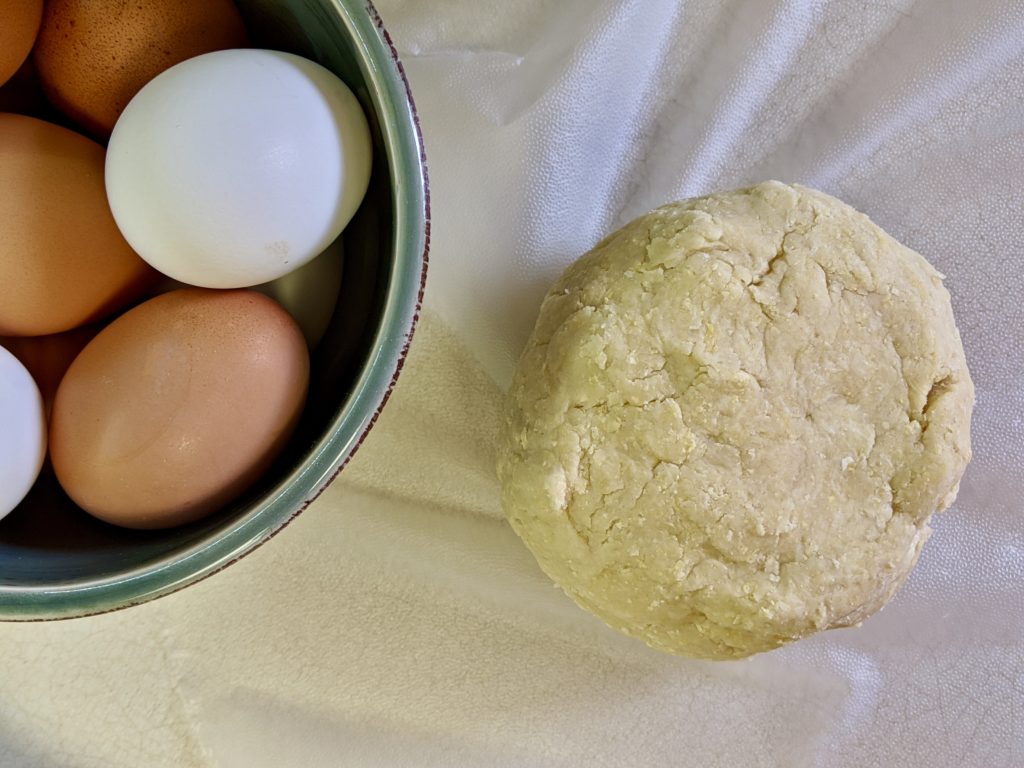 Start the tart (lol, rhyming!) by making the pastry – mix flour with salt and then rub in cubed butter by hand, which helps to warm the butter just a bit. Add an egg and continue to work the dough by hand until it is all mixed together, adding as little fluid as possible to allow the dough to combine to make a soft ball that holds together. Adding only a small amount of water or milk and warming the butter by hand-processing allows for a flakier crust, so while sticking to these two steps makes for a sticky dough, it also makes for a better crust after baking!
While the dough rested for 30 minutes, the tart's innards were created. Water was squeezed out of spinach and artichoke hearts while onion was fried in a pan. The artichokes and peas were added to onions along with salt and pepper, after which the spinach was placed on top and allowed to cook down until soft. This all continued to cook until the peas were tender and a small of moisture remained (no runny tarts in this house!).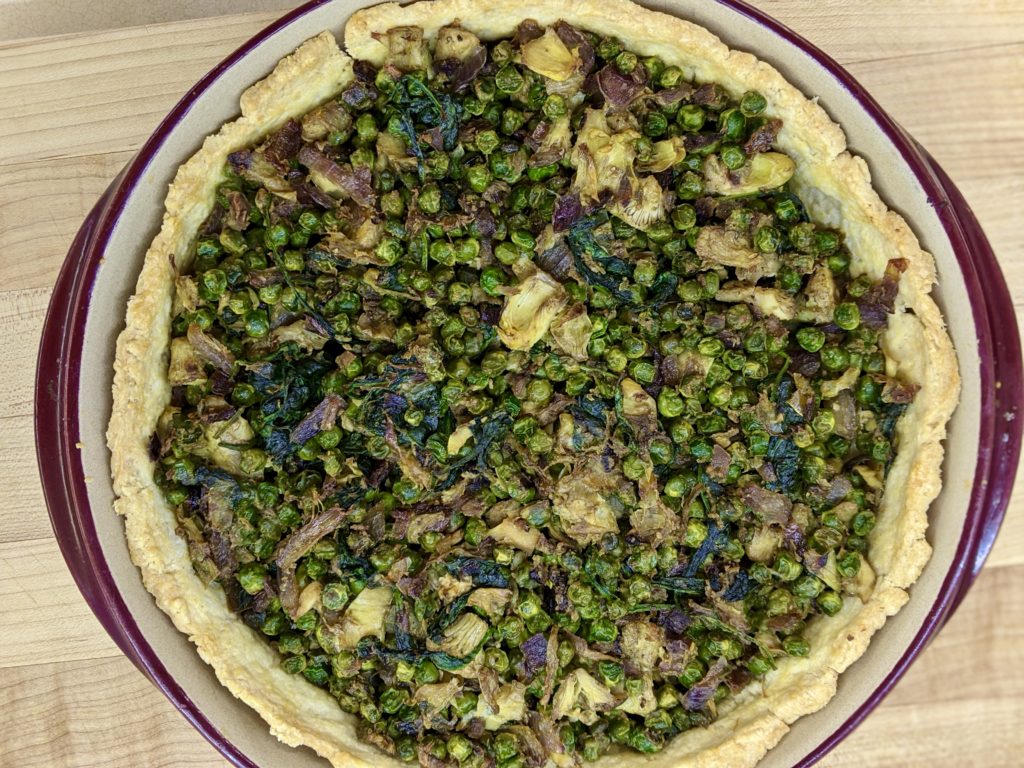 We rolled out our dough into our trusty tart dish and brushed the pressed pie crust with egg white. This was then blind-baked at 350F for 20 minutes. Baking blind, or pre-baking, is the process of baking a pie crust without any filling which helps to keep the pie crust from becoming soggy due to a wet filling or if the pie crust needs a longer cook time than its filling. There is quite a bit of discussion regarding the origins of the term "baking blind", with some arguments referring to the similarity of the French phrase "cuire à blanc" (which means to bake white, which would make sense because the crust needs to be cooked until just done so that it does not over-brown during the final cooking process) to the sound of the English word "blind", or that you are cooking the crust but will not see under it until the second bake time, hence being "blind" to the doneness.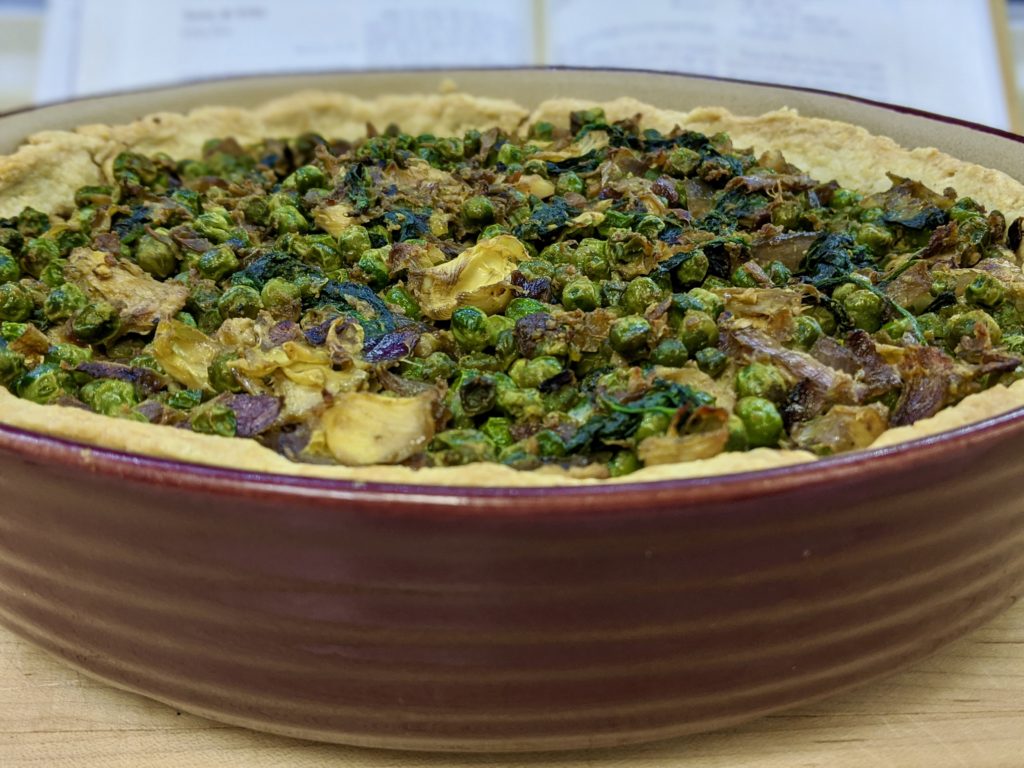 Regardless of the etymology, our crust was baked blind after which the green filling was added and the entire dish was baked for 30 minutes. Much to our relief, the filling and the crust held together quite well, which made it easy to serve. Unfortunately, though, the entire dish was a bit on the dry side and could have benefited from a sauce to add a little more flavor and moisture to the tart. The crust was quite tasty though and all of the elements inside were fine, it just seemed to be missing a final component to make it a really good recipe.
Our portions of protein for this evening is a Judeo-Spanish stew with origins in Turkey and features both lamb and chestnuts, so we knew it was sure to be rich in flavor. Luckily Amazon provided us with chestnuts that were already peeled so we were able to skip this tedious step which we knew from previous experience that there was no need to ever struggle through again.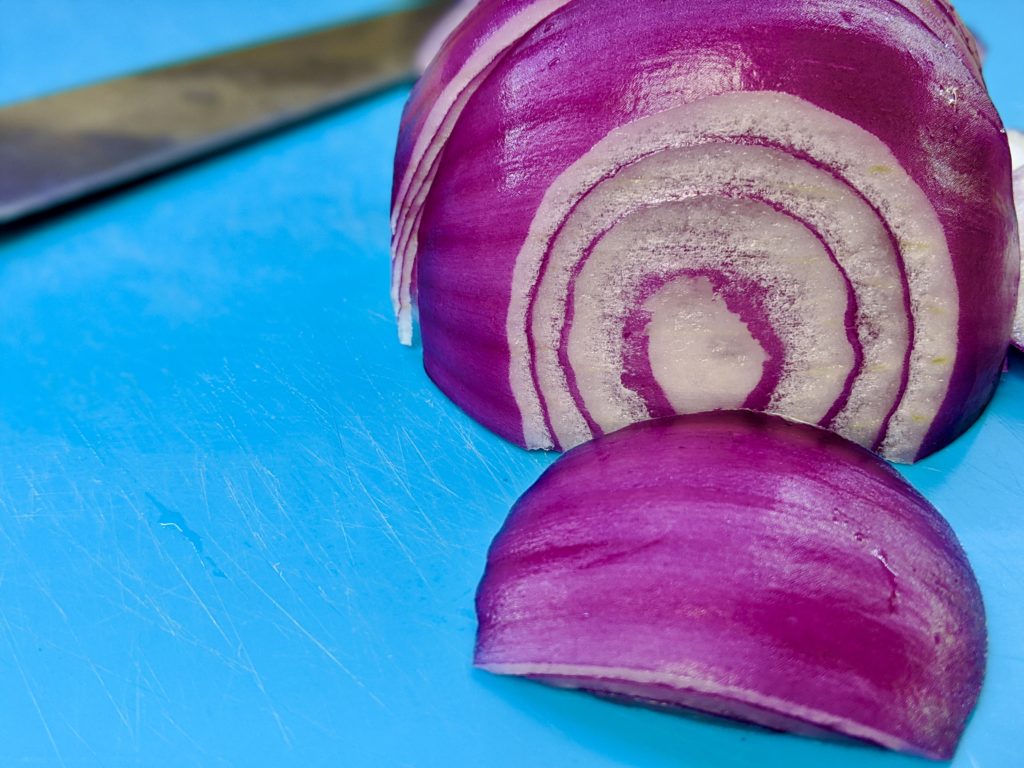 To start, the lamb was cubed and the onion was fried until golden. The meat was added to this pan and browned after which salt, pepper, cinnamon, allspice, and just enough water were added to the pan to cover the lamb. This all simmered for two hours until the lamb was tender and the sauce had reduced a bit. The chestnuts were added at the end, just so that they were just heated through for serving.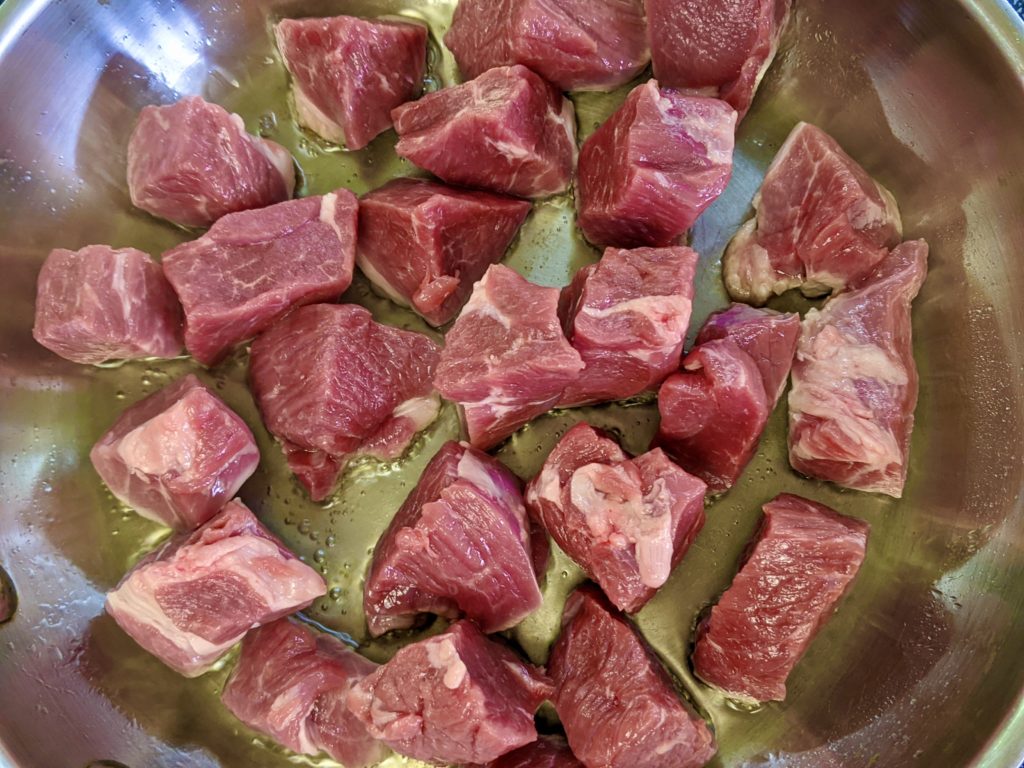 The dish was good but again needed a bit more oomph. The lamb was savory and spiced and the chestnuts were unctuous, so there definitely was enough fattiness in the dish. However, just like the tart, there was still something missing, which unfortunately just made this a good, but not great, dish.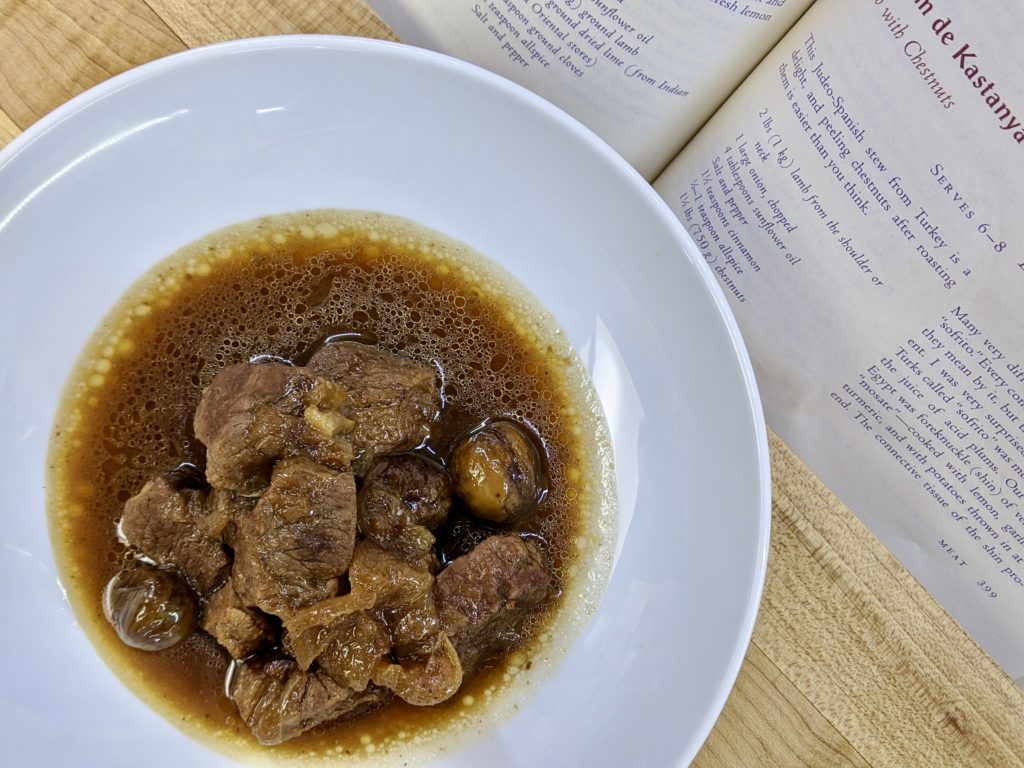 Tonight's veggie dish is a Judeo-Spanish side, which was simple and fairly fast to make. Small potatoes were boiled with tomatoes, chicken broth, and salt and pepper until tender. Towards the end of cooking, the pot was uncovered to allow the sauce to reduce and the potatoes were served hot. That's all folks!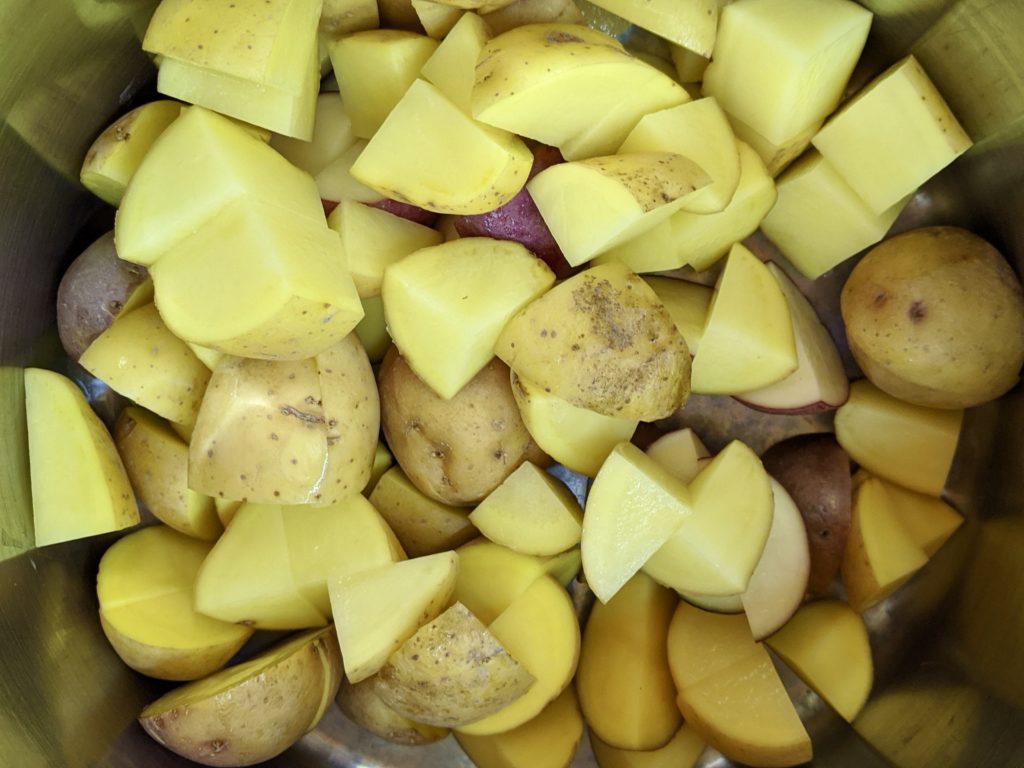 Like our above dishes, while not terrible, this was also not great, as it was a bit too acidic as well as bland. Perhaps some spices may have helped to perk up this plate of potatoes?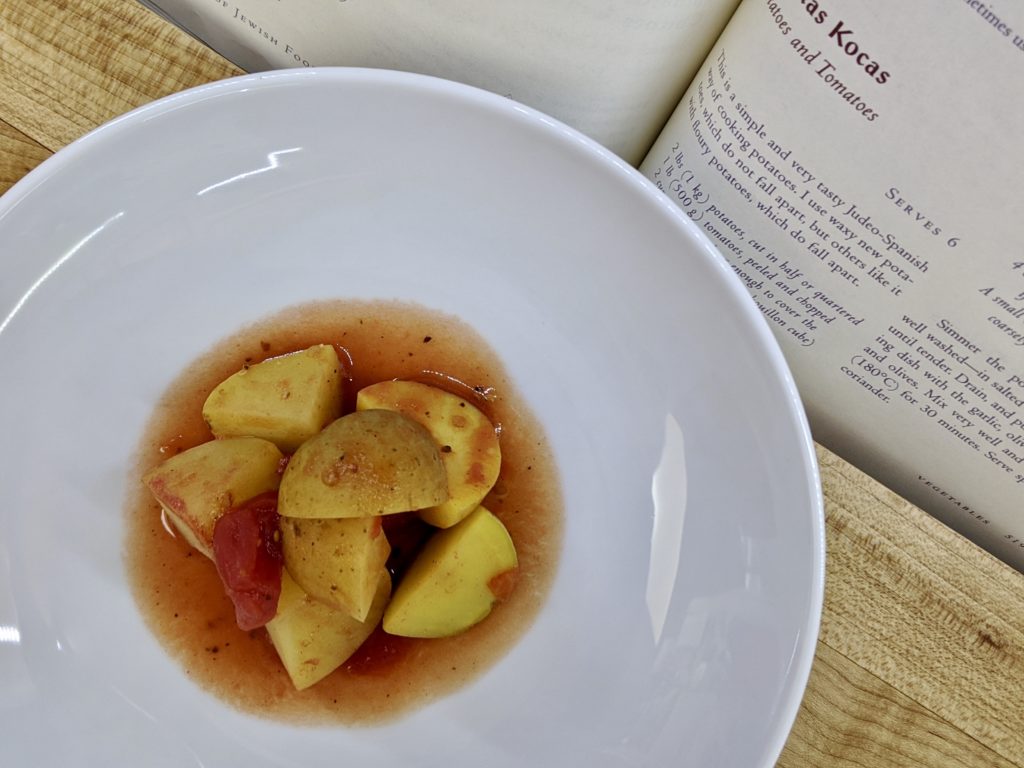 Our final recipe of the night does not even have a description in The Book of Jewish Food but appears to be a simplified version of Harrisah, which is a Middle Eastern coconut cake that looks very similar but has far fewer ingredients. The cake is very simple – just mix grated coconut with orange juice, sugar, oil, and egg yolks. Beat egg whites until stiff and then oh-so-gently fold these into the orange juice coconut mixture.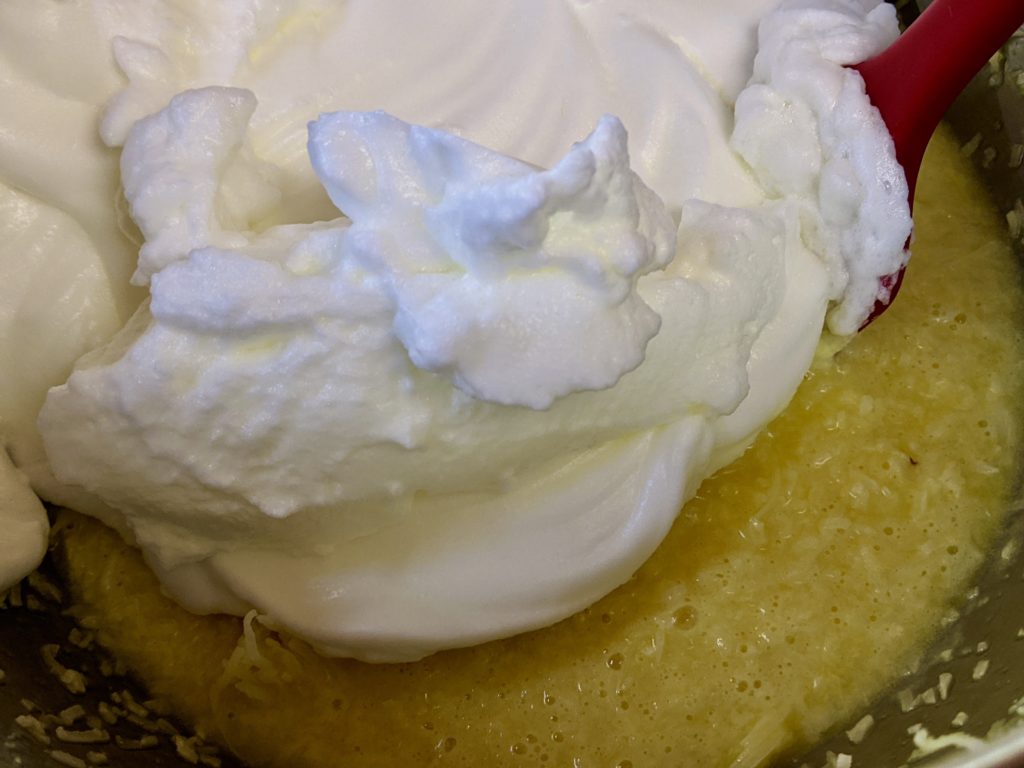 Folding egg whites *gently* into the batter (regardless of what it is) helps to maintain a light and fluffy consistency, which you worked so hard to initially create by beating the egg whites into peaks. By having a light touch and "folding" in the whites, you maintain the amount of air in the eggs, which you could easily knock out by stirring them in. So, back to the dessert, our folded batter was then gently poured into a greased springform pan and baked at 350F for 45 minutes until firm. After it had set, it was turned out onto a plate while still warm, which miraculously occurred without sticking (which is why you must, must, must grease the pan)!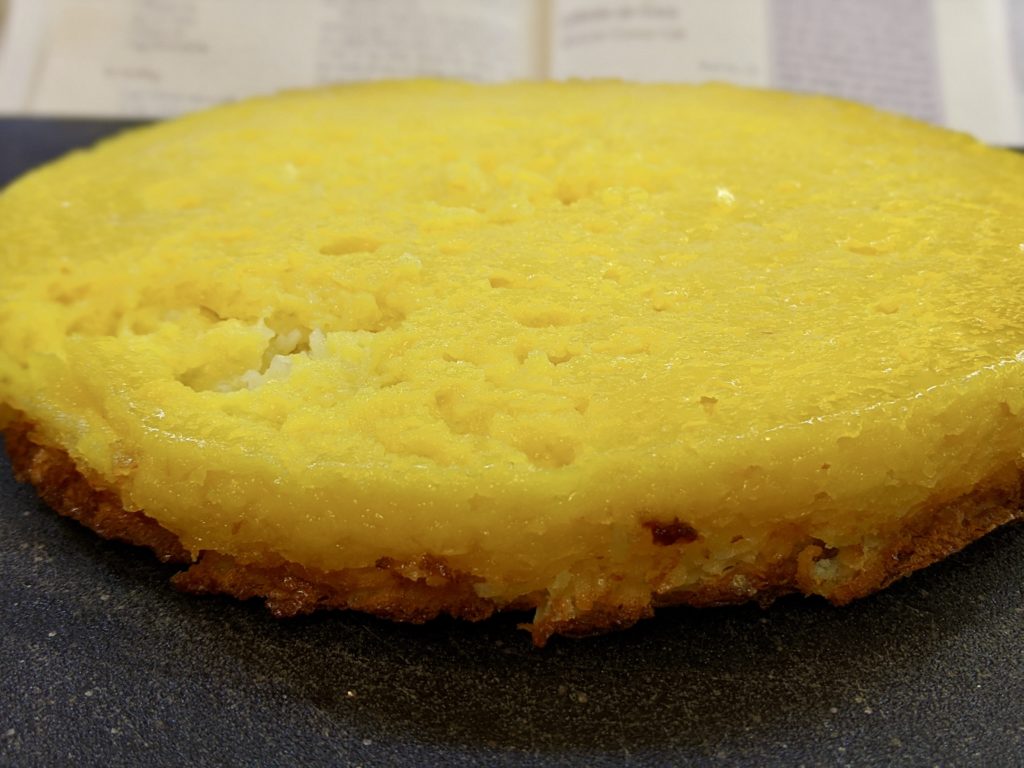 The cake had separated into two layers, a creamy egg mixture on the top and a more solid coconut mixture on the bottom, which was supposed to happen, so yay us! The cake was quite sweet, so only a small slice was required and it was most definitely coconut-y. Despite all of our previous dishes being too acidic, this is the one which could have benefited from a touch more acid to help balance out the sweetness and richness of coconut. Despite this, the cake was easy to make, so it definitely has some potential for future feasts.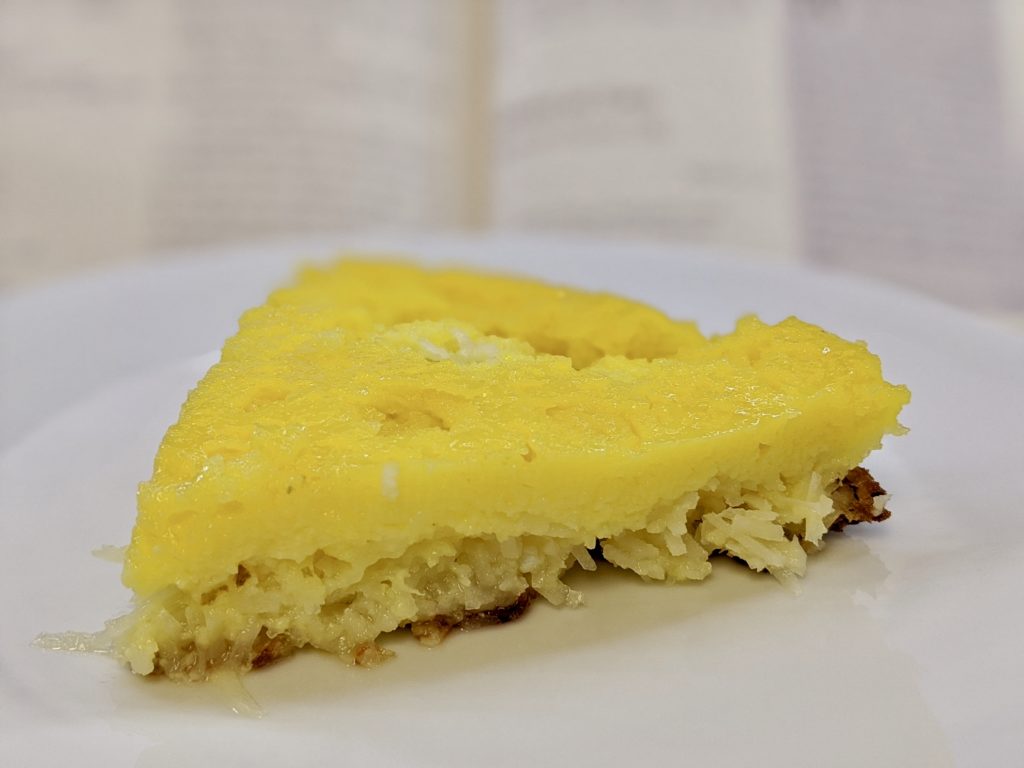 AND IN THE END, THE FOOD YOU MAKE IS EQUAL TO THE CARE YOU TAKE…
So how was Made In Marrow's meal number 76? As a reminder, our rating system is based on sticks of butter (because butter is best!), with 1 being the absolute worst and 5 being out of this world. Sticks of butter are assigned to Difficulty (how many kitchen fights were needed to complete the meal?), Tasty Goodness (was it a palate poor or did it make our mouths merry?), and Repeat Customer (how likely are we to return to the recipe?).
Difficulty  [][] 2/5
Despite the flavor failures, tonight's dinner was pretty straightforward when it came to cooking and technique, so at least it had that going for it?
Tasty Goodness
[][][] 3/5 Torta di Erbe – Green Tart – While the filling was lacking, the crust was fantastic!
[][][] 3/5 Hamin de Kastanya – Lamb with Chestnuts – Again, not bad, but was missing a little something, something
[][][] 3/5 Patatas Kocas – Potatoes and Tomatoes – Not bad, but a bit too acidic and lacking spices
[][][] 3/5 Gâteau au Coco – Moroccan Coconut Cake – Just a bit too sweet for our taste
Repeat Customer
[][] 2/5 Torta di Erbe – Green Tart – Maybe again, but with a sauce
[][] 2/5 Hamin de Kastanya – Lamb with Chestnuts – Maybe again, but with a different cut of meat
[][] 2/5 Patatas Kocas – Potatoes and Tomatoes – Maybe again, but with spices
[][] 2/5 Gâteau au Coco – Moroccan Coconut Cake – Maybe again, but with lemon juice and vanilla
The meal wasn't a total bland bust but was definitely lackluster, so we are looking forward to a bit more flavor in next week's dinner…
Sip, sup, and savor all you can, you curious cooks,
Elais & Gary