Just want the recipes and none of that other wordy nonsense? Click the links below!
Salade d'Oranges aux Olives – Orange Salad with Olives
Borekitas de Berengena – Eggplant and Cheese Pies
Shorba bi Djaj – Chicken Soup with Rice
Kofta Meshweya – Grilled Ground Meat Patties
Tatli Third – Stewed Cherries on Bread
Meal the Thirty-Third
Now that we are a month into the Sephardi section of The Book of Jewish Food, we are starting to see patterns in the traditional elements of cookery. One of the biggest changes we have noticed is the increase in ingredients needed – not only in spices and fruits and vegetables but in variety as well. The addition of large amounts of citrus (never before have we had so many lemons in the house!) to the kitchen being aromatic with saffron and cinnamon every Sunday is definitely not something we are complaining about, but certainly marks a stark contrast with our more simple meals from the Ashkenazi section.
This difference also indicates to us what a huge impact a region has on food – colder climates have shorter growing seasons with less variety in everything from proteins to crops. Not only do the warmer shores of the Mediterranean lend a gentler hand with a more temperate climate, but it is also a more centralized region on a well-established trade route. Unlike the remote steppes of Russia, the areas from Morocco to Turkey were well-trafficked, so a variety of ingredients was available not only due to more arid areas but from trading travelers as well.
What all of this means to us is that while our new recipes may have more foreign names and different spices, we are encountering a fusion of cooking styles and flavors a bit more familiar to us than in the previous section. While this week brings us a new spice (cardamom pods), it also brings us a congee-esque soup, with which Gary and I are quite familiar. It is fun to be able to literally taste the path that the trade routes took – with rice traveling from the East, a spice imported from India, brought into a family home in Baghdad, who you can picture holding warm bowls of yellow broth on a chilly fall morning, not unlike the ones we are experiencing now. It is these feelings and flavors that truly express what is best about humanity – the sharing and experiencing of culture through food, whether it was being traded in a bazaar in 1400 or created in our kitchen every Sunday in 2018. We hope you enjoy this week's little feast of global history because we sure did!
There will be quite a bit of use of oranges in the next couple of weeks as this citrus seems as ubiquitous to Moroccan cooking as apples and cabbage are to the Jewish recipes of Northern Europe. This bright salad is often served as a refreshing starter for Shabbat dinners and is full of spices typically found in Moroccan dishes.
We carefully peeled the orange, removed the piths and then cut them into pieces. These were dressed with lemon juice, grapeseed oil, garlic, salt, cumin, paprika, and cayenne peppers. A handful of black olives were tossed into the mixture and the salad chilled until serving.
As odd of an assortment that these ingredients are, this salad was wonderfully light and tasty. The oranges were sweet and tart, which was a perfect compliment to the spicy paprika and cayenne notes. The brininess of the olives balanced the flavors and the raw garlic was not overwhelming but surprisingly subtle. We both enjoyed this salad and it was the perfect accompaniment to our rich kofta (see below), and it even held up well in the fridge for several days of leftovers.
Next up in our journey through savory pies is an iconic Jewish recipe from the heart of Turkey. While typically served as a hand-pie, these can also be found in a larger form still sold in the bazaars of Istanbul, which is the route we chose to go for our dinner.
The dough was made by beating the grapeseed oil with water and salt and adding just enough flour until a malleable, oily ball was formed. Because our eggplants were fresh from the garden and tender, we chose not to peel them as Claudia Roden advised. After the eggplants were sliced, we mixed them with feta, Gruyère, and lots of pepper.
We then rolled out the dough and portioned it into our trusty pie plate (yes, we only have one). This was filled with our purple mixture, topped with the remaining dough round, and brushed with an egg wash and sprinkled with parmesan cheese. The pie baked at 300 degrees for 45 minutes until golden in all of its cheesy goodness. We both enjoyed this creamy, cheesy pie – each week Gary keeps finding a new favorite savory pie, and this week our eggplant and cheese pie took the top spot! This pie also held up well for leftovers over the following week and reheated wonderfully in the oven.
This almost congee-like soup is often enjoyed on cold mornings in Baghdad, whose temperatures can drop down below zero during the winter months. A flock's worth of chicken wings was boiled in the pot along with celery, rice, cardamom pods, turmeric, lemon juice, and cinnamon. We had to turn to Amazon for our cardamom pods as they proved hard to find in Santa Fe and they arrived just in time for this week's meal. As we discovered (both historically and for our personal finances), cardamom is the world's third most expensive spice (behind vanilla and saffron) and originates from southwestern India. Luckily, its intense flavor and aroma mean that not much needs to be used; but keep in mind to pull the pods after cooking, because just like a bay leaf, biting into the spice is highly unpleasant.
Unlike crunching a cardamom pod, this soup was extremely tasty – very savory and highly aromatic. The rice had cooked down to a mushy consistency and lent a creamy texture along with the shredded chicken from the wings that we had pulled out and stripped just before serving. The cinnamon and turmeric added a light and earthy spiciness which was well balanced by the lemon juice. This was also a perfect pairing with the below kofta and true to the dish's serving origins, Gary enjoyed this soup for breakfast over the next several days.
Egyptians love grilled kofta, which is ground meat wrapped around skewers, whether it be beef or veal or lamb or chicken. Many North African Jews also barbecue these meats during Passover, because it is thought to be how the Hebrews cooked in the wilderness when exiled from Egypt.
We chose to go with ground beef (because it is what we had in the freezer) and Gary seasoned it with grated onions, parsley, salt, and pepper. The meat was then carefully shaped into lumps around skewers as our barbecue warmed up to the highest heat possible. These were grilled until browned and cooked through, turned once and miraculously managing to not fall off the skewers while cooking.
We thawed pitas from several weeks ago and served these alongside the very filling kofta. One skewer was more than enough for me, and we wrapped the meat patties in the pita and dipped them in our chicken soup. The kofta was just salty enough and wonderfully savory and smokey from the grill. We both quite enjoyed these skewers and sufficed to say, there was more than enough for leftovers over the next week!
Another recipe which is Turkish in origin wrapped up our savory meal for this week. Unfortunately, cherries have disappeared from our grocery stores so we chose to go with the suggested substitute of apricots, which we only had in dried form, so added an additional hour onto their simmer time. Our dried apricots came up to a boil in a pot along with apricot jam, lemon juice, and a cup of water and then simmered until soft. We could not find any brioche bread, so we chose to go with Hawaiian sweet rolls for our base. The rolls were toasted and then topped with our apricot mixture and a dollop of mascarpone.
We were not entirely sure what to expect from this dessert, but it turned out to be quite tasty! The apricots were not too sweet and were well balanced by the almost savory richness of the mascarpone. The sweet rolls sopped up all of this tasty goodness, and we were glad we only made a small amount because this turned out to be quite a filling dish.
AND IN THE END, THE FOOD YOU MAKE IS EQUAL TO THE CARE YOU TAKE…
So how was Made In Marrow's meal number 33? As a reminder, our rating system is based on sticks of butter (because butter is best!), with 1 being the absolute worst and 5 being out of this world. Sticks of butter are assigned to Difficulty (how many kitchen fights were needed to complete the meal?), Tasty Goodness (was it a palate poor or did it make our mouths merry?), and Repeat Customer (how likely are we to return to the recipe?).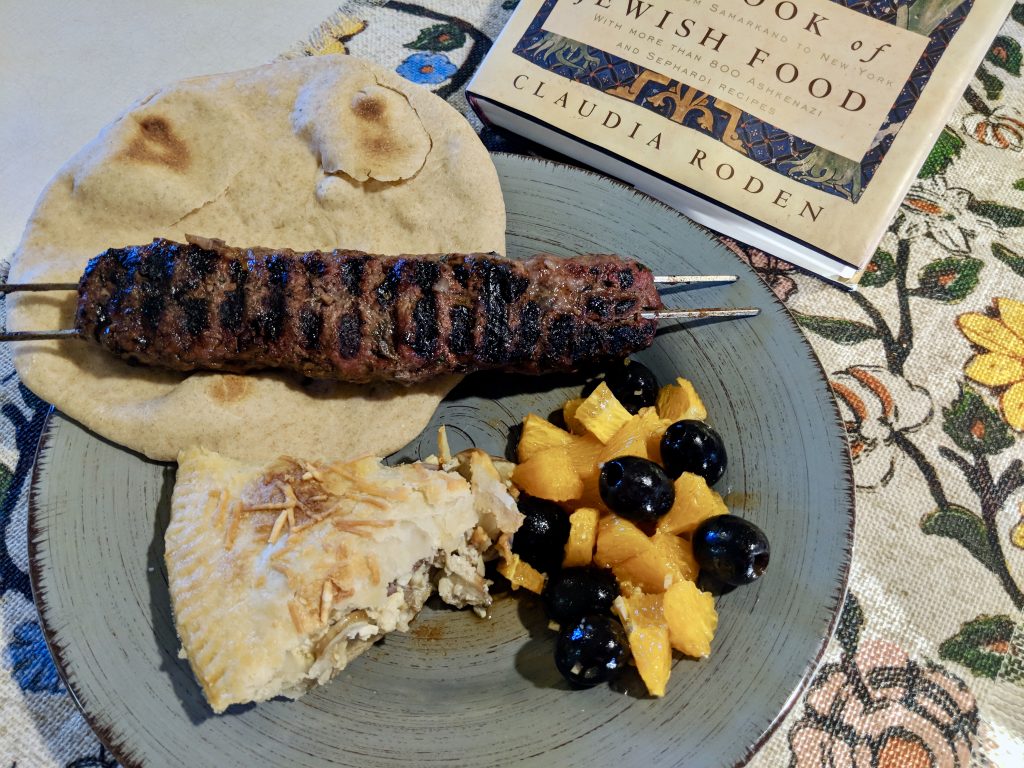 Difficulty[][] 2/5
Our savory and heavy meal was not difficult at all, with even the pie proving easy to make!
Tasty Goodness
[][][][] 4/5 Salade d'Oranges aux Olives – Orange Salad with Olives – Garlic and oranges – who would have thought they would be so tasty together?
[][][][][] 5/5 Borekitas de Berengena – Eggplant and Cheese Pies – "My favorite pie", Gary says for the third week in a row…
[][][][] 4/5 Shorba bi Djaj – Chicken Soup with Rice – We quite enjoyed this "fancy" congee
[][][][][] 5/5 Kofta Meshweya – Grilled Ground Meat Patties – Gary gives it a 10/5…
[][][][] 4/5 Tatli Third – Stewed Cherries on Bread – Surprisingly good and definitely different!
Repeat Customer
[][][][] 4/5 Salade d'Oranges aux Olives – Orange Salad with Olives – A perfect pairing for rich proteins
[][][][][] 5/5 Borekitas de Berengena – Eggplant and Cheese Pies – See above comment
[][][][][] 5/5 Shorba bi Djaj – Chicken Soup with Rice – Definitely again, perhaps with some crispy accouterments?
[][][][][] 5/5 Kofta Meshweya – Grilled Ground Meat Patties – Most definitely!
[][] 2/5 Tatli Third – Stewed Cherries on Bread – Tasty, but not a dessert we would normally make.
This was yet another meal that we greatly enjoyed, made for quite a bit of leftovers, and left us uncomfortably full. Sufficed to say, we are quite enjoying this portion of The Book of Jewish Food!
Sip, sup, and savor all you can, you curious cooks,
Elais & Gary