Just want the recipes and none of that other wordy nonsense? Click the links below!
Ajlouk de Potiron – Spicy Pumpkin Puree
Les Cornes de Gazelle – Pastry Crescents Filled with Almond Paste
Meal the Fifty-Seventh
In contrast with last week's blog, which was heavy on recipes, this one is short on plates, but definitely not on flavor. It is also a great fit for Mother's Day, with a life-giving symbolic starter, an eggy lamb main course, and a very elegant dessert. Our first Mother's Day blog featured Ashkenazi food and we are excited to present a Sephardi meal for our second Mother's Day blog. Made In Marrow wishes everyone a wonderful Mother's Day, whether you are a mother-to-be, a mother of three, a mother of dragons, or somewhere in between!
Happy Mother's day and we hope you enjoy this Sunday's sampling from The Book of Jewish Food!
This dip claims origins in North Africa, where the pumpkin symbolizes an egg-type world, containing seeds that are representatives of humans. Pumpkins originated in northeastern Mexico and the southern United States and were brought back to Europe and Africa by explorers of the New World. Sephardic communities embraced this hardy and easy to grow crop in the 16th century. While pumpkins were shunned by most Europeans as food for the poor, Jewish families turned pumpkin into everything from jam to a substitute for meat. This pumpkin appetizer dip is typically served with bread, so we thought a natural pairing would be the Algerian Anise bread which we made several weeks ago (and froze the excess).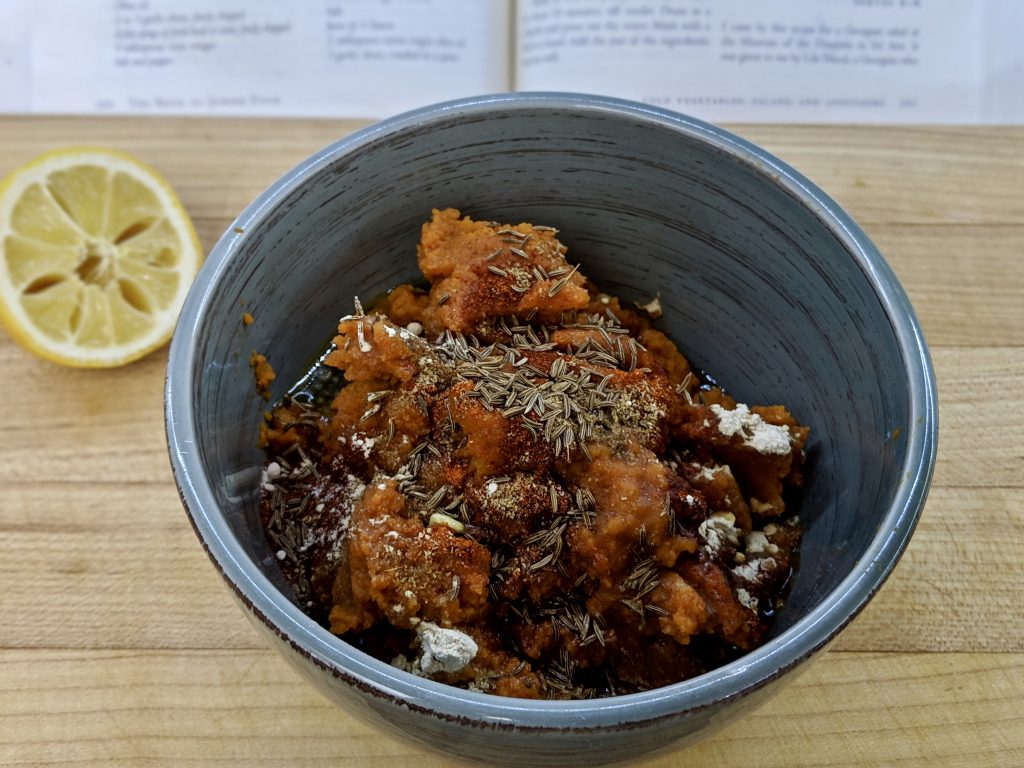 Pumpkin is just as hard to find in Santa Fe as it was last week (see our pastry fail), so we chose to go with canned pumpkin, which was far more appropriate for this dish. The pumpkin was combined with salt, lemon juice, crushed garlic, paprika, chili pepper, caraway seeds, coriander, and olive oil. Simple to make, chilled until dinner, and scooped up on anise bread, this was wonderfully tasty. A little sweet, a little tangy, and very hearty, this would make a great a great alternative to your standard party dips!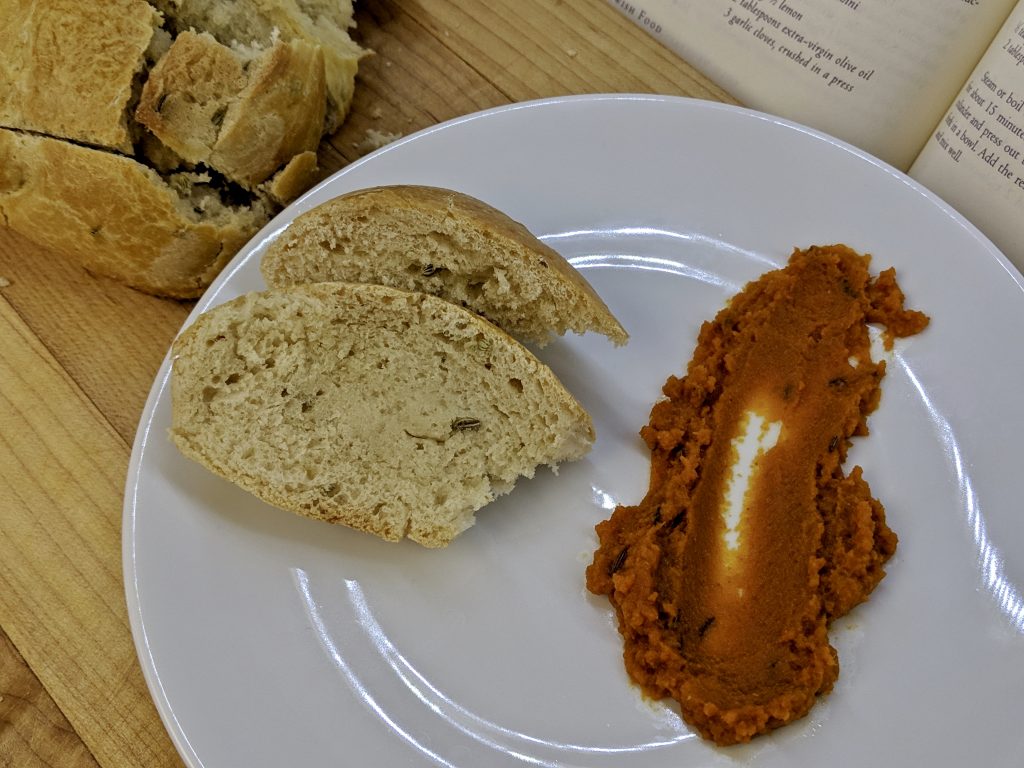 We return to "The Sabbath Pot" section for this week's main course for lamb harissa (which is another term for Sabbath stew, not to be confused with the spice). This Egyptian stew is very hearty, which is why we limited our recipes this week. It also involves a novel ingredient for us – ferik, which is also known as farrik, freekeh, or young green wheat. Ferik is durum wheat which is harvested while the grains are green and then sun-dried. The piles of dried grain are then set on fire to burn off the straw and chaff (the seed husks), after which the stripped seeds are threshed (a process of rubbing) and sun-dried again. This last part is what gives the wheat its name, as ferik means "rubbed". The first uses of ferik are traced back to early thirteenth-century Baghdad and is still used throughout the Middle East.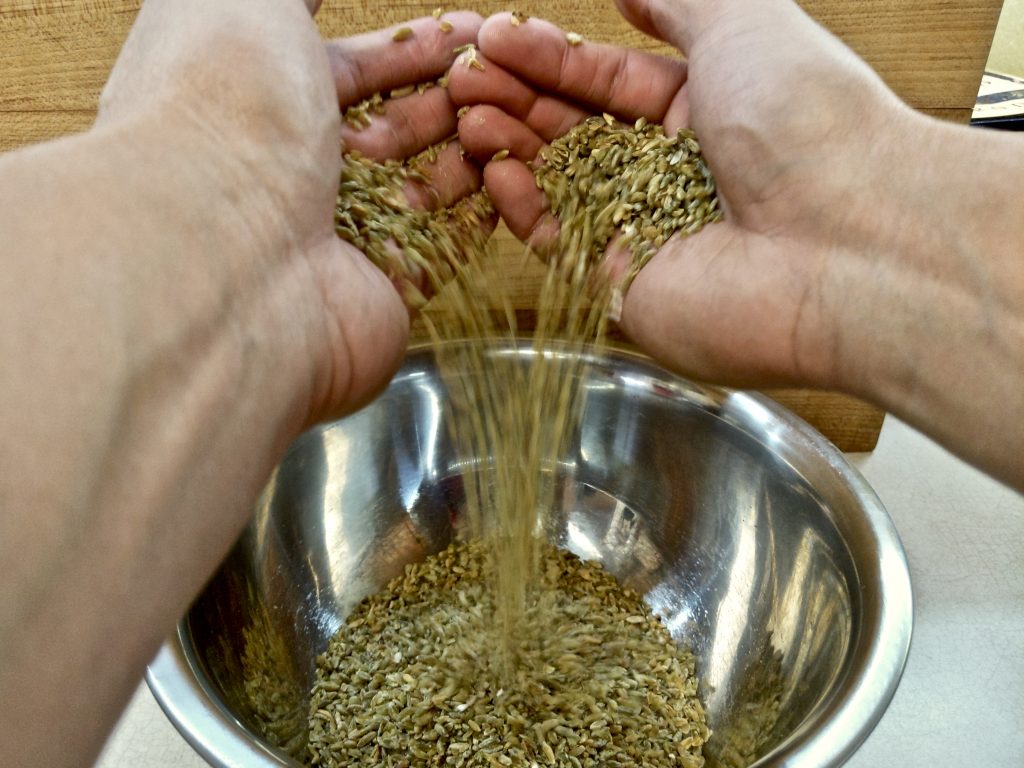 We washed our ferik (as per Claudia Roden's directions) and allowed it drain while we fried onions until soft. Cubed lamb was seared and then placed in the crockpot with the onions, along with the washed wheat, salt, pepper, cinnamon, and allspice. Fresh eggs in their shells were carefully placed in the crockpot and then the whole mixture was covered with water. This was cooked on low for 8 hours, filling the house with a wonderfully spicy and savory smell.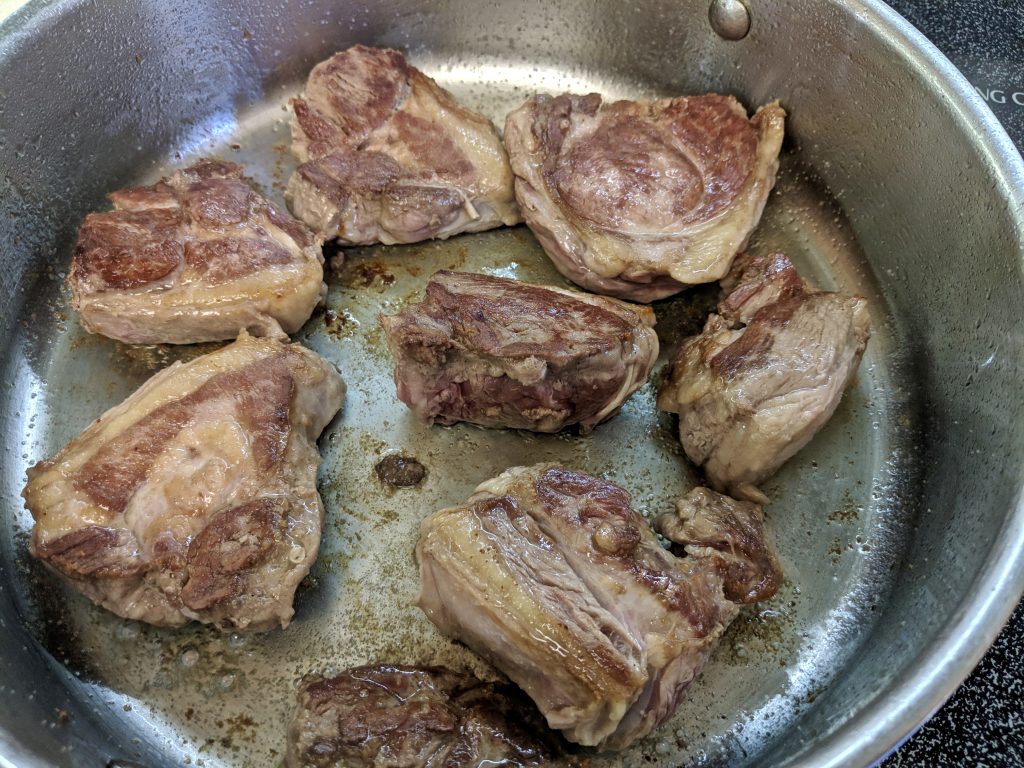 This soupy stew was wonderfully hearty and rich. The cinnamon and allspice were just gentle notes and accented the lamb quite well. The eggs added a nice creaminess to the dish and the wheat was toothy but soft and was a nice third texture in this complex combination. Ferik was worth the online hunt (we did find it in a small amount on Amazon) and we would definitely enjoy this again.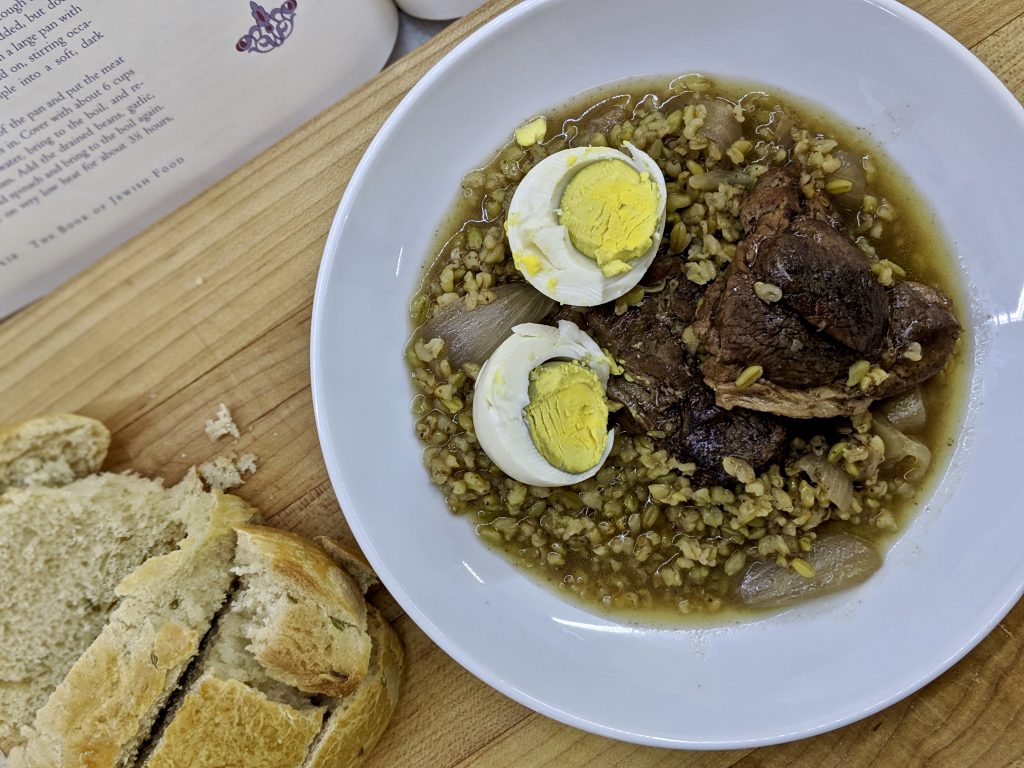 The translation of this dessert's name means "gazelle's horns" and these little pastries are a specialty of Morocco, born in the kitchens of Fez, often being included in many Jewish North African celebrations. They are a two-part recipe, with a pastry that needs to be prepared first.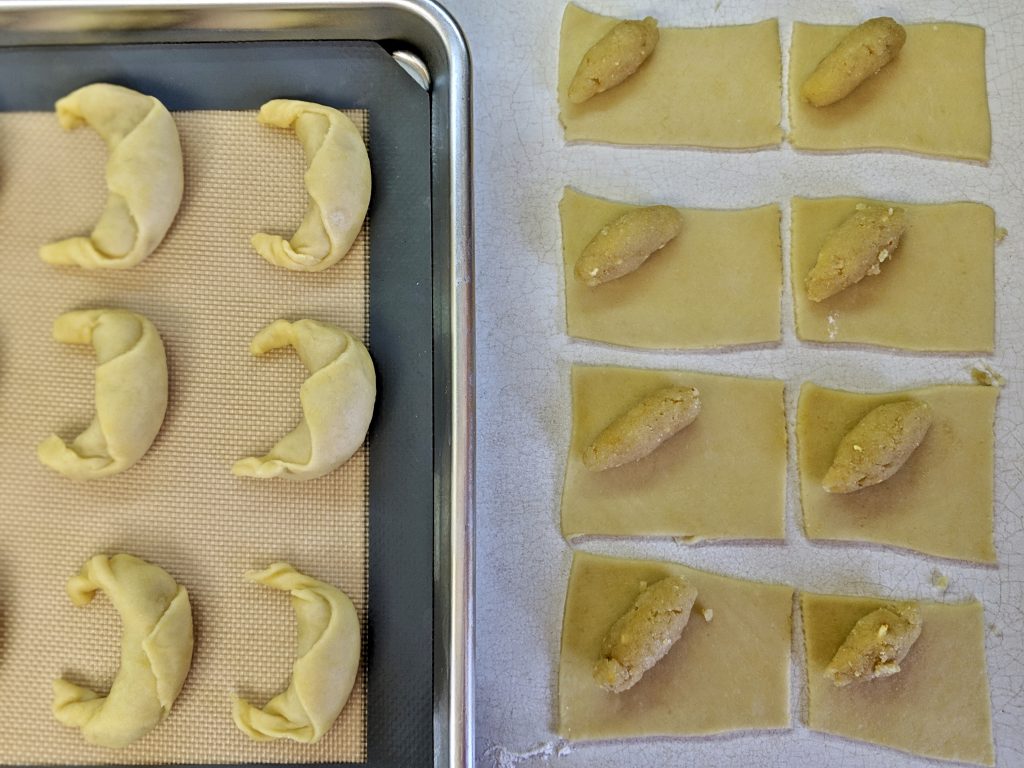 To make the pastry, flour, 2 eggs, orange blossom water, and oil were all combined to make a very soft dough, which rested for 30 minutes. While the dough took a break, the filling was made by combining ground almonds, sugar, an egg, orange zest, and vanilla extract. The dough was rolled out into a sheet and then cut into four-inch squares. A teaspoon of filling was rolled into a small sausage and then placed on a corner of a dough square. The square was then rolled up, the corners pinched shut and curved to seal in the nutty filling. The little horns were baked at 375 degrees for 30 minutes until just slightly colored.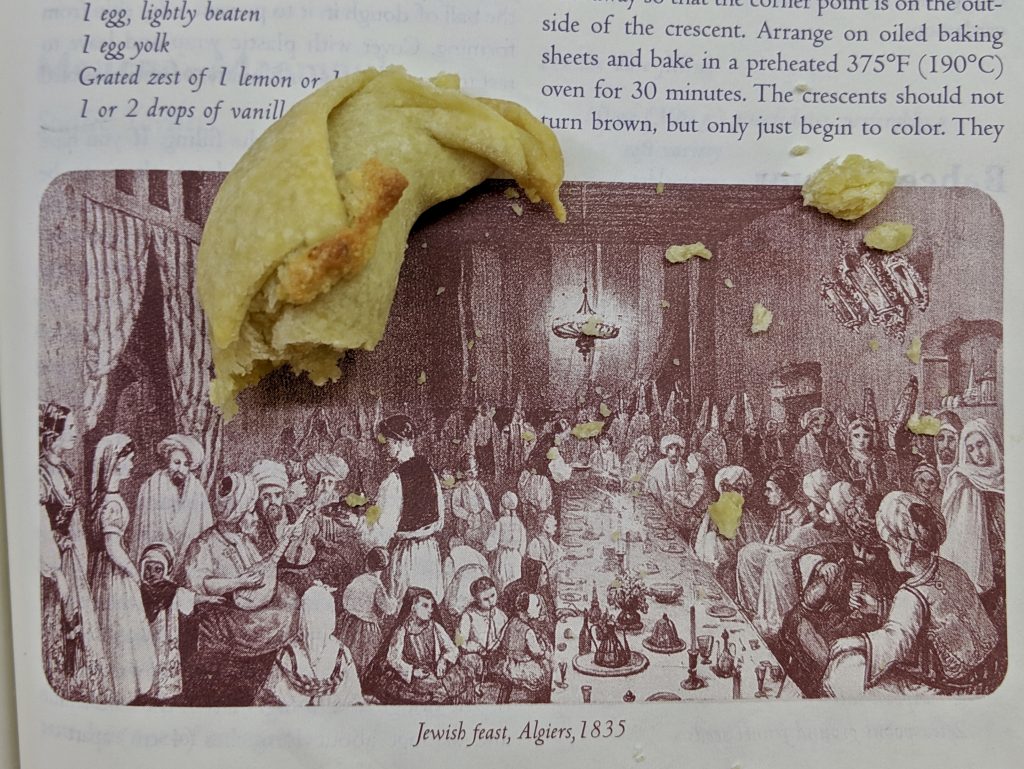 The pastries came out beautifully and were excellent! The creamy filling was slightly sweet and a little bright from the orange zest, which was well balanced by its crispy and light doughy wrapping. While these were an effort to make, they were well worth it and we can see why they have a place at celebratory gatherings!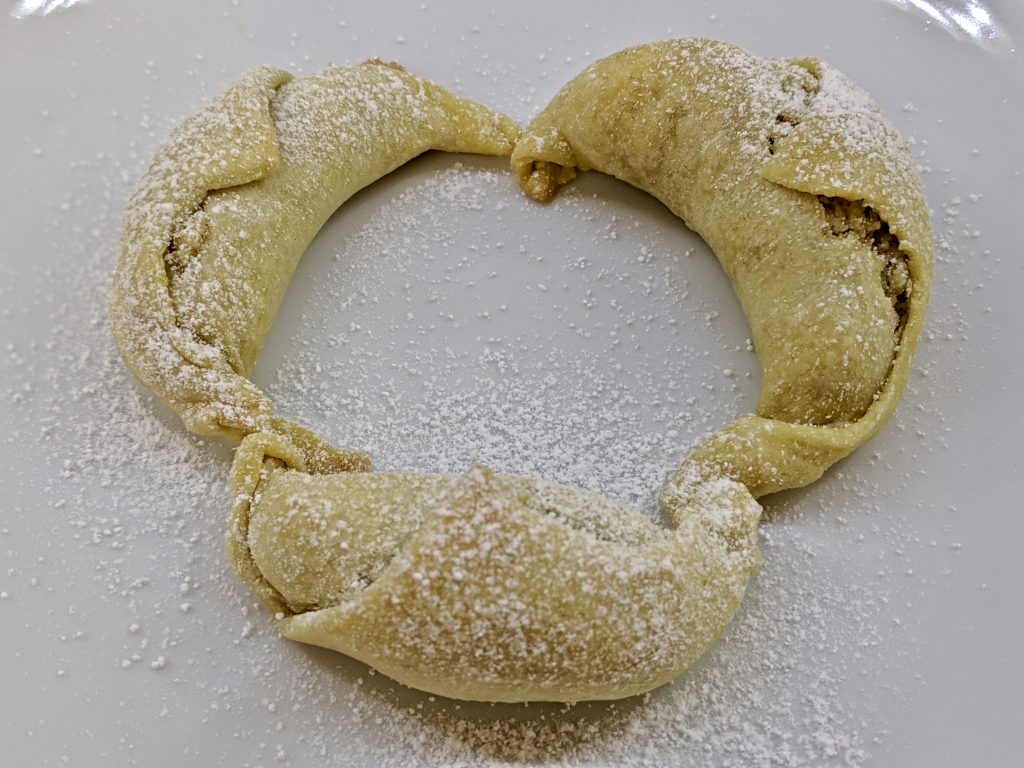 AND IN THE END, THE FOOD YOU MAKE IS EQUAL TO THE CARE YOU TAKE…
So how was Made In Marrow's meal number 57? As a reminder, our rating system is based on sticks of butter (because butter is best!), with 1 being the absolute worst and 5 being out of this world. Sticks of butter are assigned to Difficulty (how many kitchen fights were needed to complete the meal?), Tasty Goodness (was it a palate poor or did it make our mouths merry?), and Repeat Customer (how likely are we to return to the recipe?).
Difficulty [][][] 3/5
I was a little concerned about the pastry, as they had to be rolled out fairly thin and shaped in a pleasing manner, but other than a significant amount of time invested in the kitchen, tonight's dinner was not too difficult.
Tasty Goodness
[][][][] 4/5 Ajlouk de Potiron – Spicy Pumpkin Puree – Creamy, savory, and a little spicy
[][][][] 4/5 Ferik – Whole Wheat Casserole – Savory, flavorful, and hearty
[][][][] 4/5 Les Cornes de Gazelle – Pastry Crescents Filled with Almond Paste – Not too sweet bites of pastry perfection
Repeat Customer
[][][][][] 5/5 Ajlouk de Potiron – Spicy Pumpkin Puree – Soon to be a party hit!
[][][][][] 5/5 Ferik – Whole Wheat Casserole – A wonderfully different crock-pot stew
[][][][][] 5/5 Les Cornes de Gazelle – Pastry Crescents Filled with Almond Paste – A perfect pastry
Tonight featured a new ingredient which proved to be a hit in our house. We also had all successes in the kitchen, despite having a fairly difficult pastry to contend with – onward to next week's adventure!
Sip, sup, and savor all you can, you curious cooks,
Elais & Gary