Meal the Thirty-Eighth (well…kind of)
This past week was a busy one, what with Thanksgiving and its corresponding craziness, so we have just a short blog for today. Instead of carefully documenting and photographing a weekly meal from The Book of Jewish Food, we chose to just go with the flow and enjoy our meal of the week, which happened to be Thanksgiving dinner (albeit it being fairly labor intensive). So instead of culinary capers and food facts, we instead leave you this week for what we are thankful.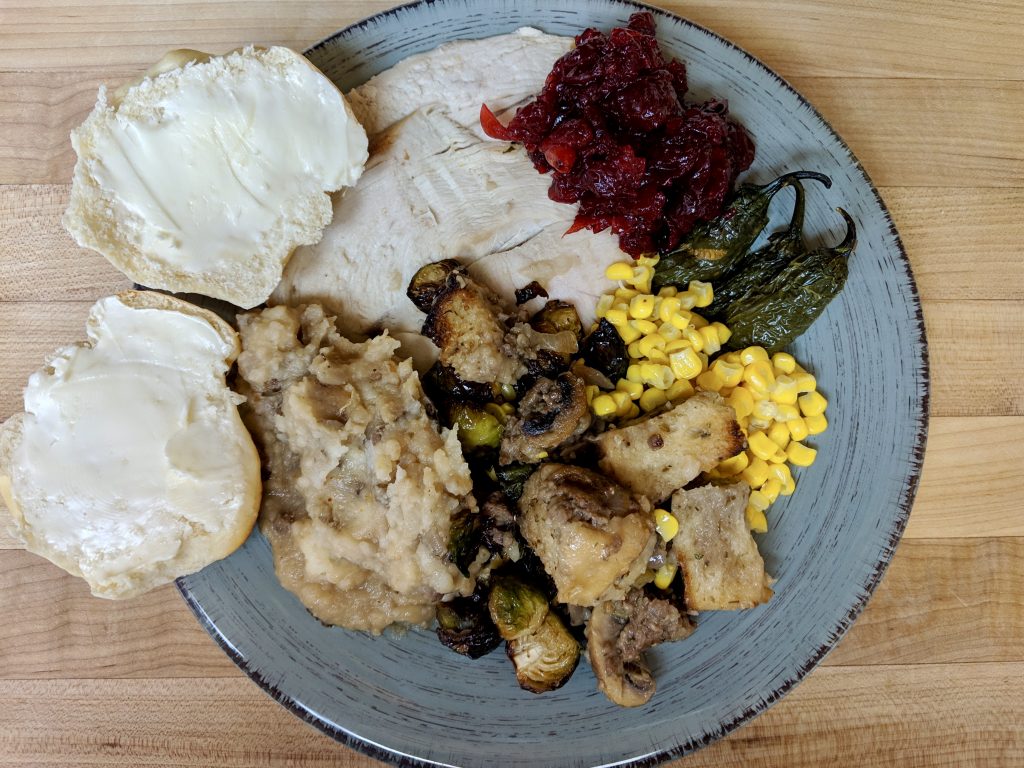 While Gary and I have many things in our lives for which we are grateful (including you, lovely readers), we thought we would highlight the very wonderful, flavorful, and useful, but often forgotten, leftover. After five hours of cooking Thanksgiving dinner, which included mashed potatoes, crispy brussels sprouts, mushroom and Italian sausage stuffing, candied yams, cranberry sauce, gravy, buttered rolls, and oh-so-tasty deep-fried turkey, three hours of dining, and two hours of clean up, we were left with a fridge full of Tupperware-d Thanksgiving. Enjoyed the day after, the weekend after, and the week after (as turkey soup – it is amazing how leftovers change phase the longer they hang around), the leftover gives us some of that cooking time back, recreates a wonderful meal, and acts as a comforting little hug on our cold Fall evenings. Leftovers are the unsung heroes of our house, allowing us to work a little longer during the day as well as avoid that tempting drive-thru window when we are both too tired to cook. Leftovers save us both money and time, as well as allow us to enjoy some of our favorite meals just one plate longer, and for that we are thankful.
Next week we will be back to our usual antics, but we wish you the most hearty and tasty of Thanksgiving weekends!
Sip, sup, and savor all you can, you curious cooks,
Elais & Gary