Just want the recipes and none of that other wordy nonsense? Click the links below!
Bruscadelle – Toasted Bread in Red Wine
Meal the Fifty-First
There's a saying about the third month of the year that goes something like this, "If March comes in like a lion, it will go out like a lamb". The general meaning of this is that if the month starts bad (or roaring like a lion), it should end well (or docile, like a lamb). This saying typically relates to the unpredictable weather of March, swinging between warm spring temperatures and end-of-winter snowstorms. March in Santa Fe is proving to be exactly this, going from a sunny 60 degrees and gusting fifty miles an hour to suddenly being in the midst of an icestorm.
Our work lives are proving to be fairly similar to the weather, so this week is a much smaller meal than we typically undertake (you'll notice the eggplant in the main photo, which was a dish we simply did not get to). One thing we did do to supplement this dinner was bake hallah (one of our favorite recipes from the previous section of The Book of Jewish Food) in preparation for tonight's stew and dessert. Going with the theme of the month hopefully calming to the docility of a sweet, little lamb, we feature that same protein in our main course this week. So while this week is short on recipes, it certainly was not in flavor – we hope you enjoy!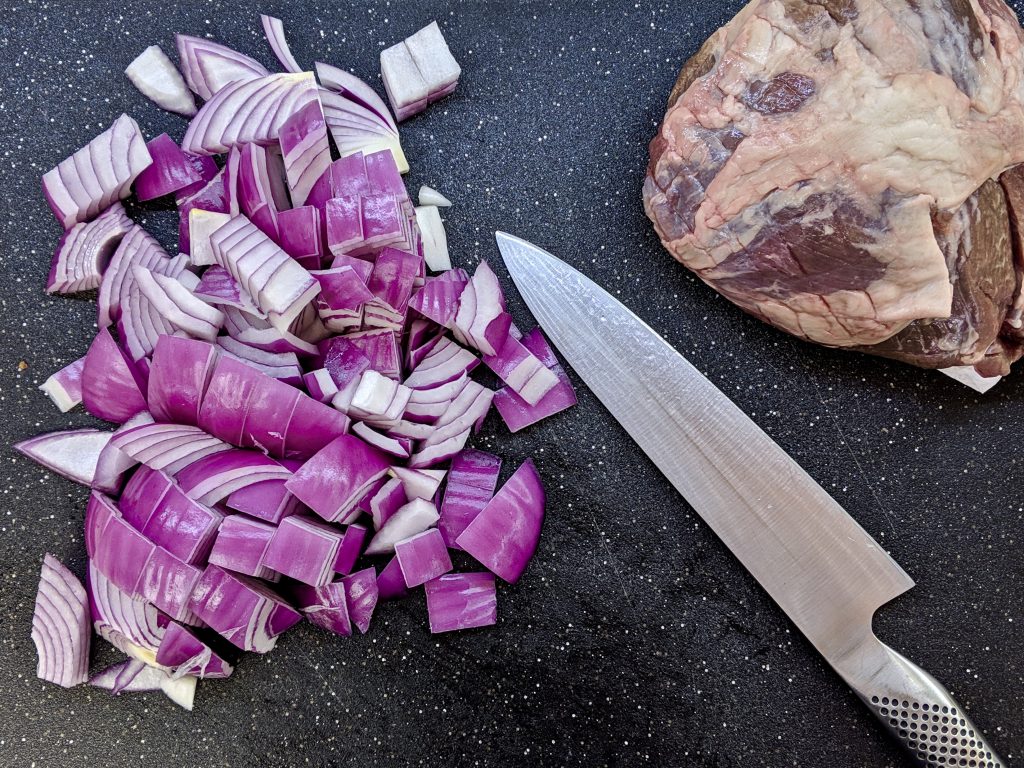 Despite Claudia Roden writing that this is a Persian Stew to be eaten with rice, we decided that the heavy combination of lamb, split peas, and quinces were probably enough to stand on their own. This basic stew began with onions fried in oil until soft after which lamb cubes were tossed into the pan to brown. Water was added to cover the meat along with cinnamon, nutmeg, salt, pepper, and 1/2 cup of yellow split peas. This all simmered for 3 hours (contrary to Roden's recommended 1 hour, because we knew that the lamb would need much more time to get tender).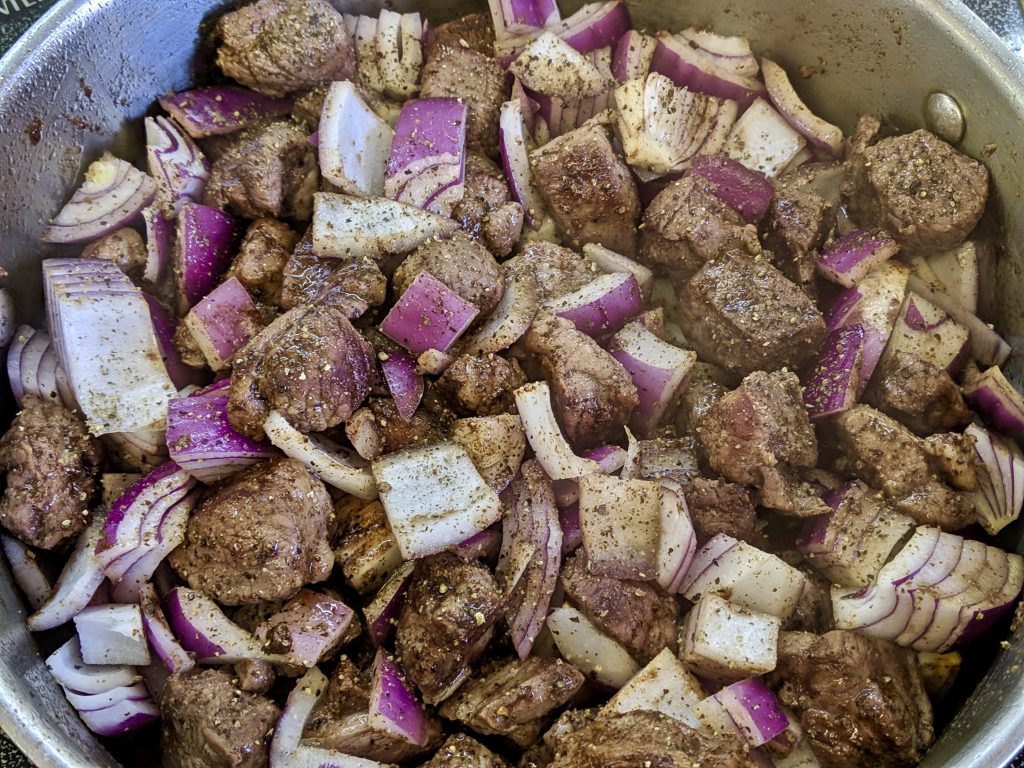 Thirty minutes before serving, the diced quince substitutes of firm red pears were added (see our previous quince post) along with lemon juice to simmer. The smell was wonderful and we could barely wait until the quinces were ready.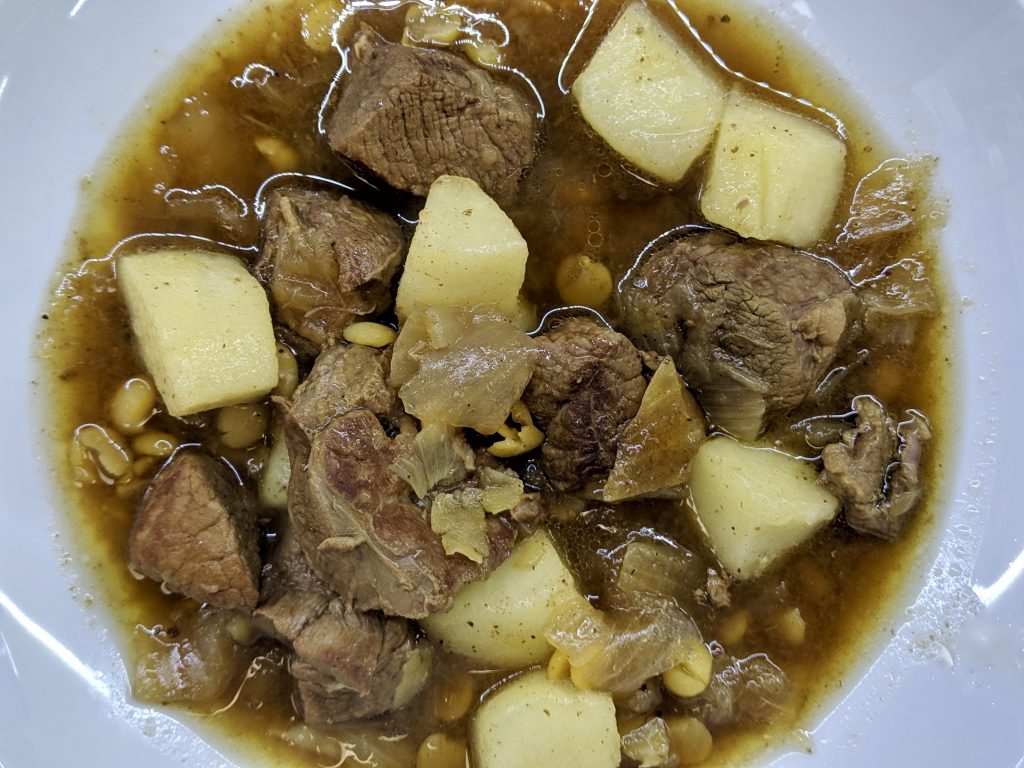 But wait we did, and we were sure glad we did. This stew was sweet and tart, with the quince substitutes nicely balancing out the lemon juice. We were happy we chose the most firm pears that we could find, as they added a nice touch of texture to the stew. The lamb was tender and had also created a nice gravy as it stewed for four hours. This is definitely a dish we would enjoy again!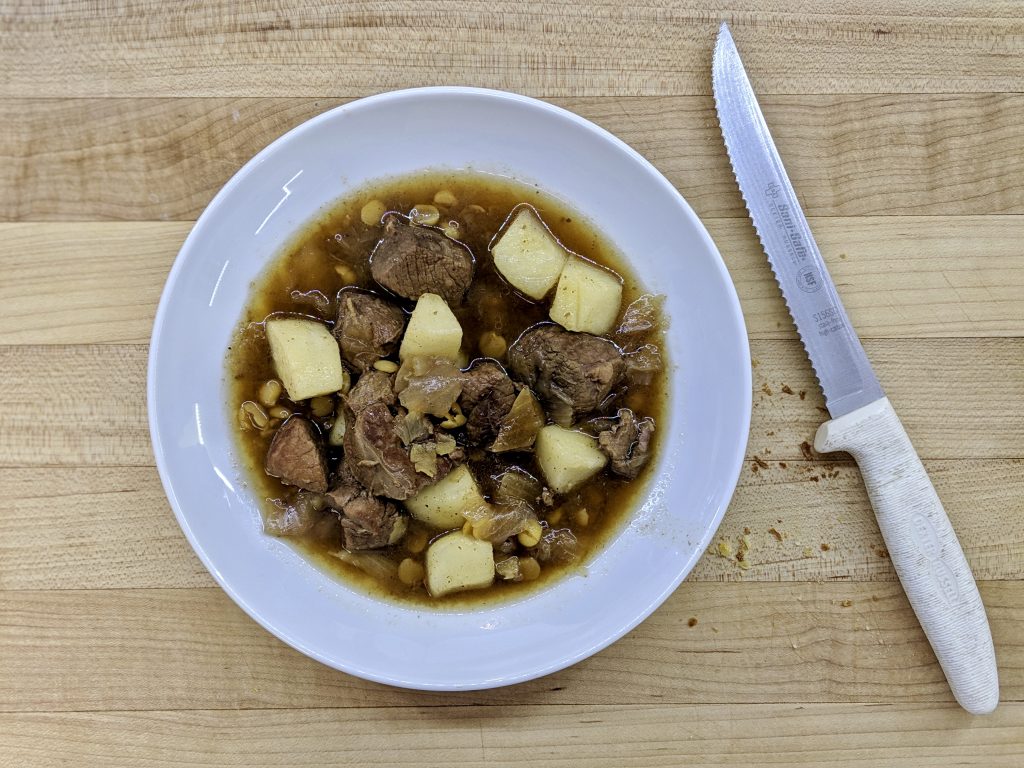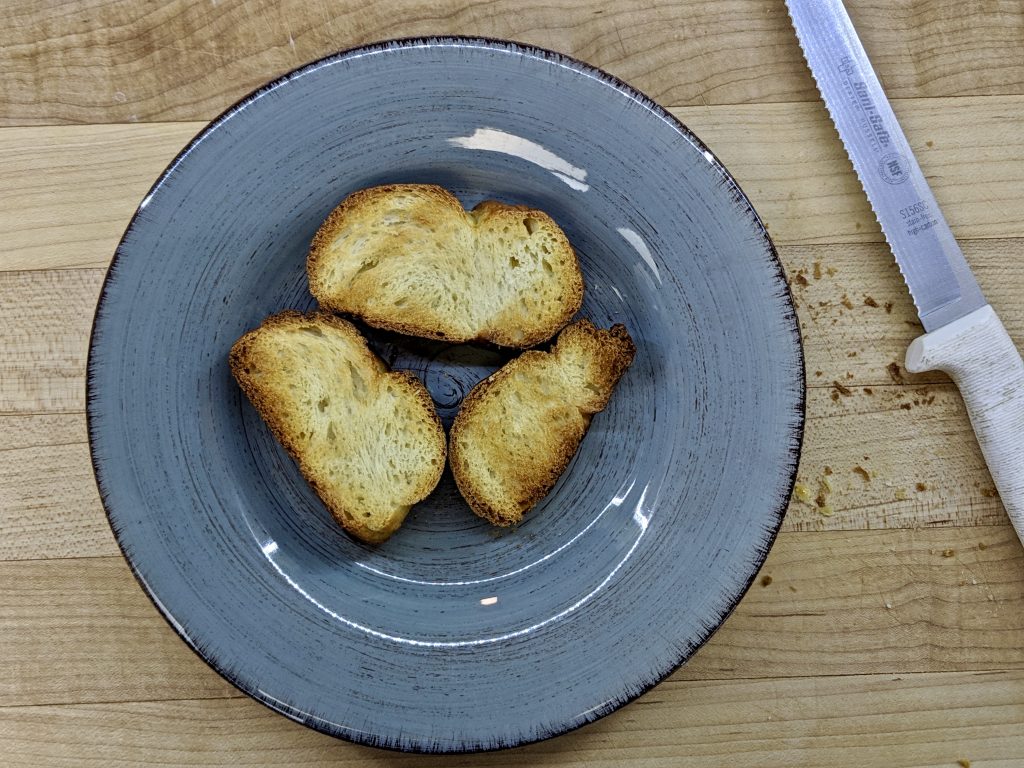 Our last dessert in the "Dessert" section (never fear, we have a "Patries, Sweetmeats, and Fruit Preserves" chapter coming up next) is toasted bread in red wine. This odd dessert is often used to break the fast of Yom Kippur in the Piedmont region of northwest Italy.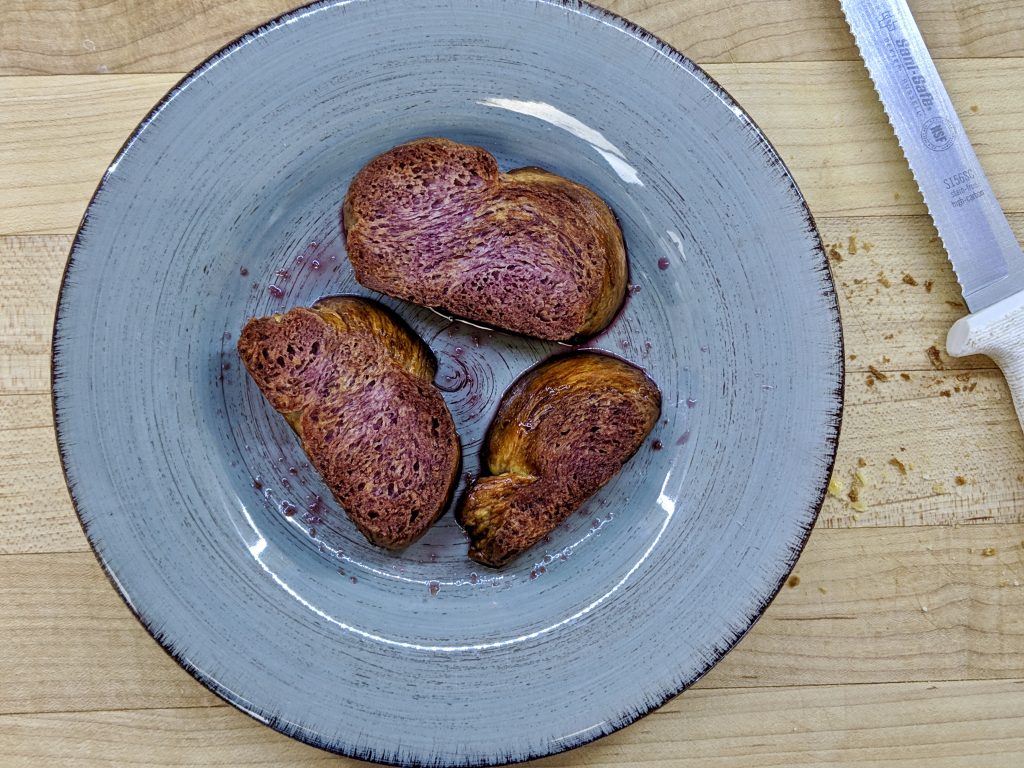 This dish is simply toasted hallah sprinkled lightly with sugar and cinnamon which has been left to soak in red wine until soft and soggy. Even after our quince stew (which was strongly flavored with lamb), this dessert was still a very strongly-flavored shock. The soggy bread took on an almost bread pudding-like texture and was heavily flavored with a very strong red wine essence. While we are glad we tried it, this is probably not something we would have again, and most certainly not for breakfast.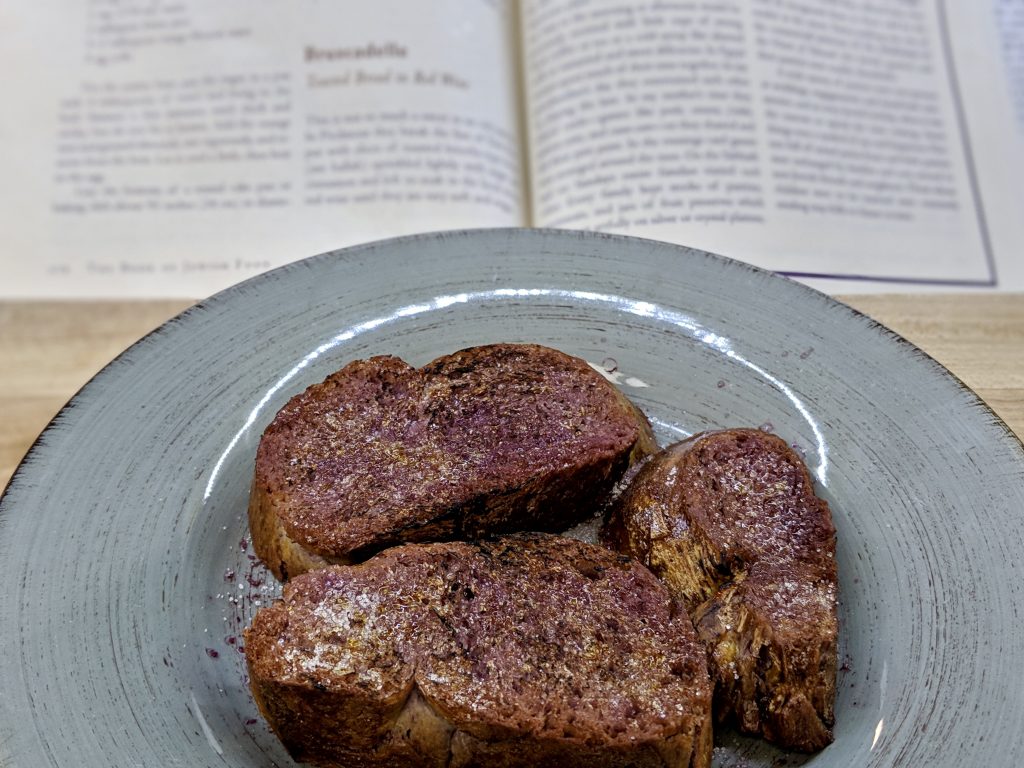 AND IN THE END, THE FOOD YOU MAKE IS EQUAL TO THE CARE YOU TAKE…
So how was Made In Marrow's meal number 51? As a reminder, our rating system is based on sticks of butter (because butter is best!), with 1 being the absolute worst and 5 being out of this world. Sticks of butter are assigned to Difficulty (how many kitchen fights were needed to complete the meal?), Tasty Goodness (was it a palate poor or did it make our mouths merry?), and Repeat Customer (how likely are we to return to the recipe?).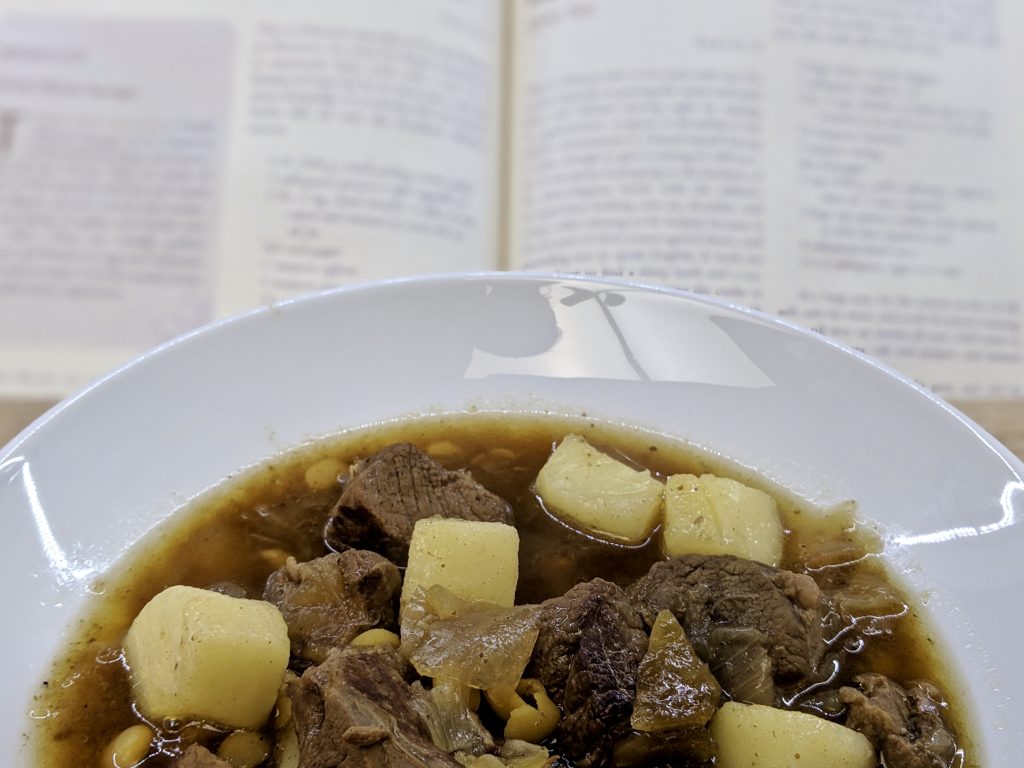 Difficulty 2/5
We made tonight's dinner slightly more complicated than necessary by making bread, but other than that, the stew was simple and it was not too difficult to pour wine over toasted bread slices!
Tasty Goodness
4/5 Khoreshte Beh – Quince Stew – Sweet and savory, a perfectly balanced stew!
2/5 Bruscadelle – Toasted Bread in Red Wine – While not terrible, this was a pretty odd dessert…
Repeat Customer
5/5 Khoreshte Beh – Quince Stew – Most definitely again!
1/5 Bruscadelle – Toasted Bread in Red Wine – Most definitely not again!
This week was a bit light on recipes, but featured some very different flavors, which we were happy to have tried. Here's to getting back to our regular routine as the month (hopefully!) calms down!
Sip, sup, and savor all you can, you curious cooks,
Elais & Gary