Just want the recipes and none of that other wordy nonsense? Click the links below!
Meal the Sixteenth
As you saw last week, not everything goes as planned in the kitchen. When Gary and I first started the Made in Marrow blog, we decided it would pretty raw (and not just food wise). It would be us figuring out how to take photos, tackling foods we had never eaten and had the potential for not enjoying what we made. We would also not gloss over our mistakes – Made in Marrow truly features how Gary and I cook in the kitchen, and like everyone on the planet, it does not always go perfectly!
Gary and I have been together for more than 12 years, and we have experienced our fair share of cooking fails between the two of us. From tool issues (we once spent an hour cleaning pea soup off the ceiling after the blender exploded), to mis-identifying an ingredient (I made inedible stuffed peppers with what were labelled as Jalapeños at our local Asian market, but actually turned out to be some other strain of demon-pepper-from-hell that must have been engineered to take your head off), and just outright disasters (that one time we tried to make sweet and sour pork and something went terribly wrong, because it was the most disgusting thing we had ever eaten). I will also always "fondly" remember one of our first dates when Gary invited me over for Mu-Shu pork and I spent two hours tediously rolling out pancakes with a wine bottle because he did not own a rolling pin.
So in honor of failures, we re-visit the failed Ginger Cake of last week's blog, with a hope for redemption. Read on and enjoy!
Continuing on with on brisket theme from the last couple of weeks, we dove into the next "Meat" recipe in The Book of Jewish Food, Beef Stew with White Beans. Because the stew had to be cooked for several hours, we opted for the crockpot so that we could safely leave the house while the stew simmered. Gary always keeps the pantry stocked with dried mushrooms, so we opted for shiitakes (because we already had them) and were also excited to use garlic for the first time in a long time!
The brisket was browned in a pan and then added whole to the crock pot full of white beans that had soaked overnight. The whole dried mushrooms, onions, and garlic were added to this, along with the delicious broth created by the Pot Roast we made last week. After about 4 hours in the crockpot, the potatoes were added and allowed to do their thing along with the meat mixture.
That evening, Gary pulled out the brisket and thinly sliced it for a perfect portion of stew-y, mushroom-y goodness. The broth was rich and flavorful, taking on the savory fattiness of the brisket and made heartier by the beans and potatoes. The brisket was perfectly tender and moist. Gary called this "Jewish Ramen" because of the flavorful broth and loved it despite the beans (which he usually hates!).
Baking at high altitude can be an absolute disaster, as we saw with last week's Ginger Cake. The gist of the problem is that the higher your elevation, the thinner the air. This results in lower atmospheric pressure and once you pass an elevation of 2500 feet, this starts to impact cooking. As the boiling point of water decreases (resulting in longer food cooking times), the faster moisture evaporates (ever heard of a dry heat? We desert dwellers like to console ourselves with that phrase constantly), and the faster leavening gases expand.
What this means for baking is that the center of cakes will take longer to cook, and then rise too fast and collapse when cooling (hmmmmm, this sounds very familiar). Because the majority of recipes are developed at sea level, high altitude bakers need to be careful in the kitchen. Weak (i.e. delicate) batters can be strengthened by reducing sugar, adding eggs, or slightly more flour. Leavening products should be reduced (remember, they are super potent at higher altitudes) and flavoring agents (like vanilla) can be doubled because these are also not perceived as strong.
So armed with a slightly better understanding of baking at a cellular level, I once again approached the Ginger Cake. I made the following adjustments in the hope of successfully pulling an actual cake out of the oven, and not a flat mess of stickiness:
added an extra egg, which helps to prevent the cake from drying out as well as strengthening the structure of the cake at a cellular level

decreased the sugar by 1 tablespoon – as the cake dries out, the sugar becomes more concentrated, which weakens the structure of the cake

eliminated the baking soda and decreased the baking powder by 1/4 teaspoon to counteract the super-potency of these leavening agents at our high altitude

added two extra tablespoons of flour to add more structure to the cake
(note: the recipe link reflects the original recipe in the book because not everyone lives at 7000 feet!)
Ginger Cake 2.0 turned out to be a success! There was the tiniest amount of collapse in the center, but more like a dent as opposed to a crater, so we will take that as a win. The cake was light and fluffy with just a hint of cinnamon and ginger. The top browned and crusted beautifully, creating an almost meringue-like flavor and crunch. In the end, it was worth the effort, and hopefully our new food-science knowledge will aid us in future baking adventures.
AND IN THE END, THE FOOD YOU MAKE IS EQUAL TO THE CARE YOU TAKE…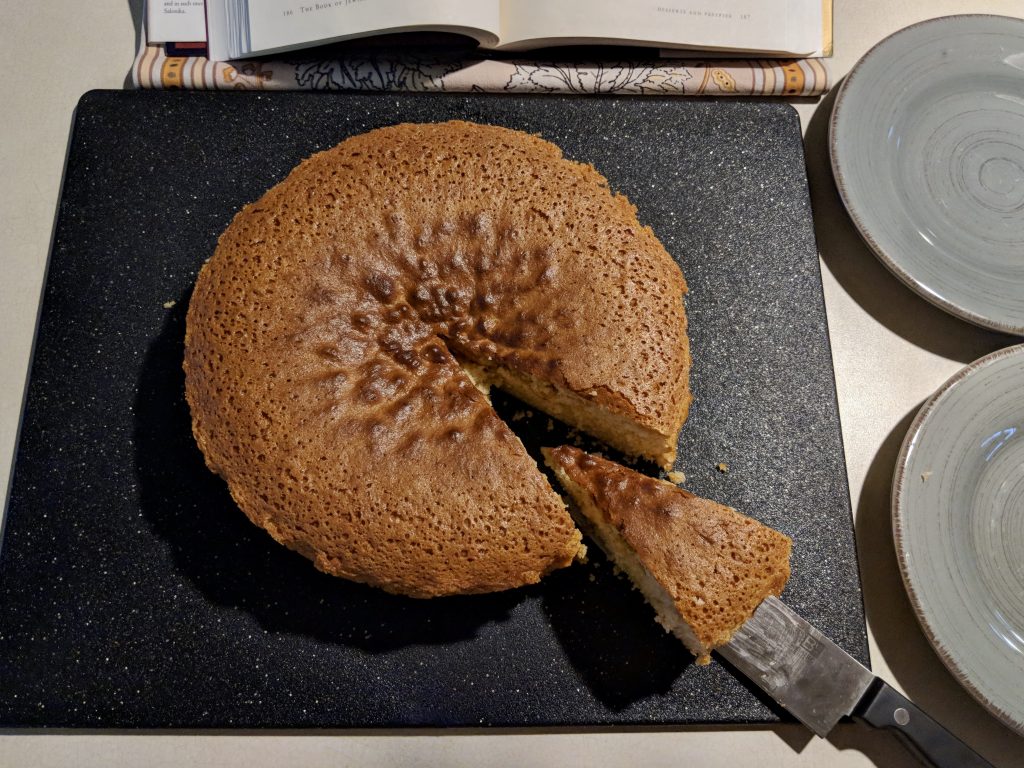 So how was Made In Marrow's meal number 16? As a reminder, our rating system is based on sticks of butter (because butter is best!), with 1 being the absolute worst and 5 being out of this world. Sticks of butter are assigned to Difficulty (how many kitchen fights were needed to complete the meal?), Tasty Goodness (was it a palate poor or did it make our mouths merry?), and Repeat Customer (how likely are we to return to the recipe?).
Difficulty [] 1/5
The stew was simple – brown the meat then throw everything into the crockpot. The cake (once I did a bit of research) was also simple – so overall we would say a pretty easy meal!
Tasty Goodness
[][][][][] 5/5 Beef Stew with White Beans – Flavorful and filling – absolutely wonderful!
[][][][][] 5/5 Ginger Cake – Tasty, light, and lasts for days!
Repeat Customer
[][][][][] 5/5 Beef Stew with White Beans – On top of being delicious, it resulted in a week's worth of leftovers, so an A+++ in our book!
[][][][][] 5/5 Ginger Cake – It's a yes from us.
Sometimes you can just throw everything in a pot and let it cook for hours and it will turn out perfectly. Other times you need to exercise a little care and consideration to execute that final dish. This week was a bit of both, and patience is always prudent when it comes to cooking. We hope you enjoyed our tale of redemption and learn from our mistakes to avoid your own!
So sip, sup, and savor all you can, you curious cooks,
Elais & Gary